Best Dive Computers in 2020 – Editor's Picks
Buyers Guide to Finding the Best Dive Computer 2020
There is nothing more tranquil than plunging into the abyss and watching the rays of light wafting into the water above you. It's just you and the never-ending blue. You have corals for a company and the occasional Great White.
Scuba Diving is fun, it's surreal, it's ethereal, and it can be dangerous.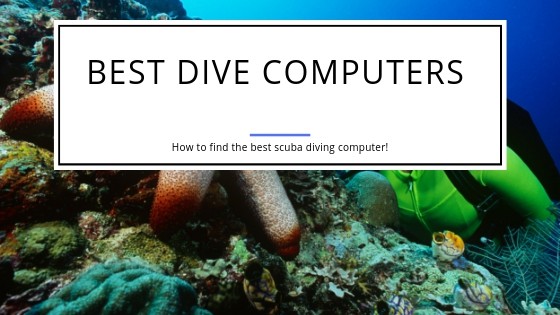 If you are a first-timer, you want to ensure that you spend more time awing at the many delights the ocean will throw at you, rather than fiddling with multiple pieces of equipment, trying to figure out how much time you have before you run out of air. That's always the first-timers' most important concern, isn't it?
If you are an experienced diver who scrounges the ocean floor for wrecks, you already know the importance of having a good diver computer. Those wrist-watched sized data crunchers that do all the hard work of computing a thousand different probabilities and displaying on a colorful screen that, 'Hey buddy, it's time to head back up. Civilization calls'.
Personal scuba computers can be lifesavers. Not to mention that with a few many additives thrown in, you get exclusive bragging rights in the scuba diving community. But if trying to select one off the shelf doesn't make your head spin, then you are not aware of the tech specifications and the gobbledygook you will have to navigate through, just to get numbers on the screen.
Thankfully, we help you pick the top dive computers for you, irrespective of your skill level or the tech that you are looking for. But before we wear our flippers and plunge headlong into it, let's quickly take a moment to understand what dive computers are all about and a few desirable features that can make or break you, when you are submerged 100 feet under the ocean.
We structured this post by highlighting what you need to know about picking the top choice diving computer for yourself and our suggestions of specific models to look at.
Our top picks
How to Pick the Best Scuba Diving Computer for Yourself
First things first, a dive computer is a computing device used by scuba divers that are worn on the wrist or inside a console. It resembles a smartphone screen and does some lifesaving calculations for you.
It measures your depth (built-in depth gauge), time of the dive (timer) and then it calculates and informs you about the amount of nitrogen you have absorbed in your body. The higher your nitrogen saturation, the longer time you'll need for your ascent. It shows this time on a large and often colorful screen that is easily visible under water.
Does that simplify things a little? Now it's time to venture into more complicated turf.
How do you pick the best scuba diving computer for yourself? Here's how.
What's your skill level?
Beginners should stick to the basics. Look for something that has a clear and visible screen and does what it's supposed to do without you having to fiddle with it. There are a lot of good scuba diving computers which do just that.
Some standard features you'd want in one are depth, time, no stop limits, ascent rate, no-decompression limit (NDL) or no stop time, emergency decompression and information about the previous dives. More advanced or recreational divers may want additional features like open circuit air/nitrox/trimix compatibility.
Reliability and Durability
Your dive computer tracks potentially life-impacting environmental information. Don't go just for the lowest price on a device that in a certain situation your health could depend on.
You want to get a computer that is reliable and durable. Diving is not kind to your gear. No matter whether you dive in the ocean, in caves, or just in a lake, you will expose your gear to harsh environments. Constantly changing temperatures, scratches, bumps, saltwater, many travels, to just name a few…
They build these computers tough to withstand all of these challenges. Just strapping on a waterproof sports watch or slightly improved fitness tracker will not do it.
Grab a specialized dive computer that is built to work reliably under those conditions. Flexible straps, scratch, and shatterproof screens will make sure that your device won't let you down when you most need it.
Display
You want to see the data large and clear. So look for a big (colorful) screen with a backlit display. A dot matrix display works equally well too as long as it is visible.
Some newer models offer the latest technology to display data. Top of the line displays today are OLED based, similar to high-end TV's. They offer brilliant colors and clarity that is hard to beat and makes reading the data underwater a lot easier.
Screen Size
With our trend to make everything smaller, you might think having a smaller screen underwater is better. That somewhat depends on yourself. Many divers prefer a smaller screen as they can use the dive watch also on land.
However, the purpose of a dive computer is, first of all, to be able to see important information underwater. Light conditions can vary and it's hard to read the data on a small screen. Soon this will improve as they will introduce more and more devices that use high-contrast and colorful displays that use OLED technology. Data displayed can in that case easily be read even on a small screen.
Specifically, if you are vision-impaired or you dive with prescription lenses, then pick a display size that is rather large. It will display the data on a bigger screen making it easier for you to read even if you can't rely on the corrective lenses in a dangerous situation.
Backlight
Nearly all available models today offer a backlit screen. Even LED or OLED variants use some sort of backlight to produce the vibrant displays on the device.
Some older low-end models do not have a backlight. You must use a flashlight or torch to be able to read the data on the screen.
Not having a backlight results in less battery consumption. A strong backlight potentially drains the battery nearly as much as the rest of the computer itself. Use it sparingly to conserve battery during diving.
If your dive computer does not have a backlight, then shining a flashlight against it to read the display sounds easy. It's not that easy when you have to fumble for the torch first to be able to read the data on the screen.
You should definitely go for a backlit screen as it's easy to read in darkness and even in sunlight. You'll avoid having to search for your torch to be able to read the data. One quick thought though. If you're looking at some of the latest dive computers with OLED based displays, then please know that they have minor issues when you try to look at the display in bright sunlight.
Sizing and Weight
Considerations on screen sizes we pointed out above have a direct impact on the weight and overall size of the device. Underwater, the weight aspect is of lesser importance than on land as you don't have to lift the weight. Usually, these devices are also too light to make a difference in your weight calculations for buoyancy.
However, the physical size of the device can very well have an impact. You most likely would not want a huge piece of equipment on your wrist during a dive. It can be a nuisance and you can't easily get to see the important information.
Similarly, a device that's too small can be hard to grab and read when you're immersed. Most devices you can get today are reasonably sized and allow for ergonomic handling underwater with or without gloves. Some technical dive computers end up on the larger side. They have a lot of features that need to be packed into a device so you potentially have to get used to such a larger device on your wrist if you get into sophisticated technical diving.
Lastly, having a small device works well in warm environments where you're probably only wearing a rash guard. If you dive in colder waters and you need a wet suit or even a drysuit, then most of these small computers offer the problem of not having a long strap. You will have trouble to mount them on your wrist on top of your suite as the straps are not long enough.
User-Friendly
As we said before, you don't want to be fiddling too much with your dive computer underwater. Look for something that's as hands-free as it can be. For the tasks that demand your fingers, look for models with large buttons. Remember that you potentially will wear thick gloves.
Another aspect of being user-friendly is how you prefer to navigate through the different options. Some entry-level models offer a single button. While this is simplifying things, on one hand, it makes it harder on another.
If there are a few menu options then using one button can make life a lot easier. Multiple buttons are necessary when you have a device with many features. In that case, it's easy to navigate to the specific option/display you're looking for without having to step through the whole set of menu choices.
Comfort
One thing many don't think about is that your dive computer should be comfortable to wear. It'll be with you at every dive and one thing it should not be is that it irritates you.
If you intend to use a small system you wear on land and in water then check that the straps are comfortable to wear all the time. If you use them on top of your wetsuit, then a slightly rougher material might not be an issue. If you wear it on your skin all the time, then you want something that can be worn comfortably.
Price
The average price for a personal scuba computer with standard features is around $250-$500. Advanced ones will make you poorer by $800-$1000. Beginners should pick an entry-level device that is not only more affordable, but that reduces the complexity of the computer.
More features usually result in a higher price. If you want a technical dive computer where you can change algorithms, have air integration, an integrated compass, etc. then you not only have to expect to pay more but you will also need to get a much better understanding of how to use the system.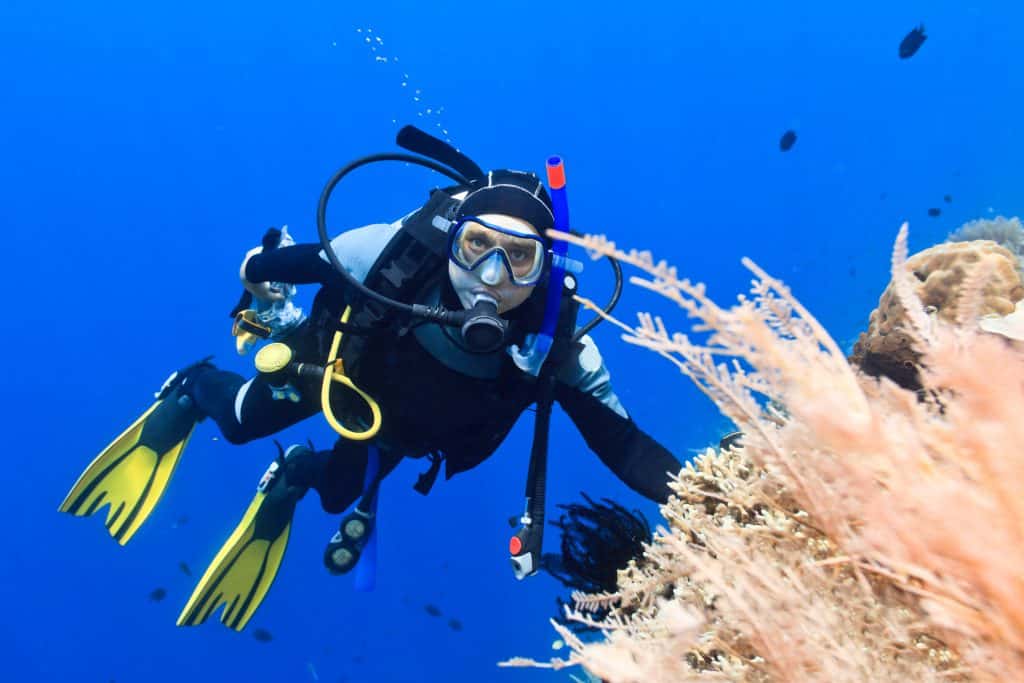 Mount Style
You have two different styles to choose from. One is a wristwatch styled dive computer which once again has two different varieties, one that looks like a hockey puck and the other which resembles a normal wristwatch and can be worn on land too.
The second style is a console or boot mount styled computer that has all the features packed into a compact device. You can often find the same device to be available in either a wrist- or a console-mount. It is somewhat of personal preference and not necessarily a safety or capability question on which type to choose.
In our opinion, it can be easier to use a wrist-mounted system as you always know where it is. A console, if not set up correctly, can have a life of its own and you potentially could end up trying to look for it. It can be a problem if you end up in a dangerous situation and you're not instantly able to see the data you're looking for as search for the console first.
Dive Modes
Pretty much any modern dive computer will offer you several modes. Most common in all models are gauge mode and air.
Nowadays pretty much any device will also be able to deal with at least one nitrox/gas mix. If you're thinking of venturing into technical diving, then having a computer that provides different models to deal with gas blends is of the essence. The modes to consider are multiple gas mixes including Tri-mix you can switch during a dive.
If you also enjoy freediving, then you want that mode to be part of the offered features. Technical divers that use a re-breather require a computer that can calculate limits for re-breathers.
Algorithms
All dive computers use an underlying algorithm that is tracking your absorption of nitrogen under pressure while you dive. These algorithms are based on a variety of different models and the goal is to keep you safe while you dive.
Every manufacturer has its own little tweaks on this and these algorithms are not all the same. Some are more conservative (less time underwater) while others are possibly even based on different models and are more liberal (more time underwater).
Nearly all available computers will allow you to influence and adjust the calculations. Usually, it means you can change them to be more conservative. This can be a good idea specifically if you are a beginner or just diving again after a while.
You'll often experience these differences when you dive with a buddy or group where everybody has a different brand of a dive computer. Some will alarm for decompression limits earlier while others will do that later. If you don't cheat your dive computer, you should be safe no matter how conservative or liberal the calculations are.
Oceanic tries to overcome this dilemma by having dual algorithms in their computers. You can pick which algorithm to use when you dive with a group or buddy that uses a different brand. That way you get your calculations close to each other.
Air Integration
Last but not least, air integration is one of the most sought after technologies in the top dive computers. It allows you to connect it to the oxygen tank using a transmitter and it will display the amount of air time remaining and the PSI reading of the tank.
This sounds straightforward but there are a few things you need to consider. First, how do you want your air integration to work? If you use a console-mounted dive computer, then it might have a pressure gauge integrated that connects to your tank via a hose.
Otherwise, the most common air integration is done through wireless transmitters on your tank. These typically work well.
If you are a dive guide or teacher, then you might need a more advanced setup where you can wirelessly track the air levels of all the members of your group. You can find dive computers that can connect to multiple wireless transmitters allowing you to track the pressure in each tank so you can safely get everyone to the surface.
Connectivity
One often overseen aspect of your dive computer is to be able to log your data and to download it to your PC. Log capabilities are different in nearly all devices and some can store data for many dives while others have a limited log capability.
The latest generations of dive computers often offer Bluetooth connectivity with your smartphone or computer. You can download your dive data wirelessly. Other options are that you can connect through a USB cable which most times are optional and will cost you extra.
Being able to analyze your dive log can be helpful. Not only does it give you bragging rights, but you actually can compare the data collected on different dives, so you can work on your air consumption, etc. That might not be your priority but once you gained enough experience, it can be an interesting aspect of using a dive computer.
Changeable Battery
All dive computers run off batteries. Some even come with rechargeable ones. That sounds at first glance like a great thing but is it?
Having a rechargeable battery has advantages. First, you won't have to change the batteries when they are empty. However, it can be quite negative when you're on a dive trip and you forgot the charger. Once the battery is drained you're stuck with no computer.
Another obstacle found with some models is that you can't change the battery yourself. It's required that you send your device to a service center where the battery gets changed. That many times is not an issue as you can plan around your dive trips but it can be if you miss having them changed early enough and during a dive vacation you find out that the battery won't last long enough. If you are in an area that offers lots of diving then you might be able to find such a service center and have the battery switched in a short period of time
The potentially best solution is that you get a dive computer where you can change the batteries yourself. In that case, you have a spare battery with you or at least you can purchase one of these standard batteries pretty much anywhere worldwide. The downside is that you will have to open the case to change batteries. Make sure that the system is protected from the water after you change and most battery replacement kits from the different manufacturers include O-rings that should be changed, etc.
The Best Dive Computers in 2020
Keep the issues listed in the above buying guide in mind. We have compiled the list of the best dive computers for 2019. We highlight their strengths and weaknesses and also suggest what each model is best used for.
Shearwater Teric – Best Overall
It's not that easy to introduce the Shearwater Research Teric. Why do you wonder? It's just an amazing new dive computer that was introduced recently and it's hard to figure out what would be missing.
The screen is amazing. Yes, it's a smaller size and you use the Teric as an everyday watch if you have a large wrist but it's crystal-clear and displays all important information. You won't have any issues reading the data underwater.
The Teric is the best technology available today packed into a top-quality case that also looks quite attractive. The glass is made from sapphire crystal and is highly scratch resistant. Even hard impacts won't result in a broken display!
You navigate the features in the menu through four separate buttons along the sides of the case. You can even program one button to quickly get you to a specific menu option. The screen itself can be configured to show any data you want in whatever font-size and color you prefer.
The dive watch is a little large to be worn every day (except if you have a pretty large wrist), and it is designed to not only have vibrating and audible alerts for dive limit violations and warnings but also so you can have up to two daily alarms.
Even more amazing is that this small device comes with an integrated 3D compass for diving. The readings are displayed along the outer edge of the display making it easy and intuitive to use.
The Teric offers air-integration. You can connect it to two separate wireless transmitters to track gas and air consumption in up to two tanks. It can deal with Air, Nitrox, and Trimix. You can even use it with a re-breather or in freediving mode.
It comes with a rechargeable battery you can't replace yourself. Battery life is up to 50 hours between charges and you can charge it wirelessly.
The Teric has a logbook with up to 500 hours of dive data. You can connect it through Bluetooth to your PC or mobile device to offload and analyze your dive information.
We've evaluated a lot of dive computers and this is truly the best we have come across in our opinion. You can also have a look at our in-depth review of the Shearwater Research Teric to get a better idea of whether this is the right device for you.
Best Features
Easy to use four-button navigation
A brilliant, colorful display
Five modes for recreational, technical, gauge, rebreather and freediving models and an everyday watch
Fully configurable display
Integrated 3D compass
Optional air integration
What Could Have Been Better
User-replaceable battery
High in price as you would expect with the offered feature set
Summary
There's not much else to say than 'Wow'. The Shearwater Research Teric offers it all. It's overkill for a beginner. Otherwise, it's a great scuba computer that has all the features and functions you could ever require.
We honestly don't know why anyone wouldn't be excited to have this technological marvel to keep you safe underwater. The only reason not to look at the Teric is if you're opposed to wrist-mounted diving computers. Besides that, it's hard to imagine a better computer on the market at the current time.
Cressi Leonardo – Best for Beginners
One of the most important features that beginner divers look for, is to get access to important information when they need it the most, without having to fiddle through unwanted screens. That's precisely what they get with the Cressi Leonardo. With a one-button user interface to get information and customize the dive computer, it is one of the most user-friendly models in the market.
You can toggle through the various modes and settings in the blink of an eye without getting lost while doing it. The Leonardo features a modular design that allows you to use it as a wristwatch and also remove it and mount it to a console. It comes in a variety of color combinations.
It includes an air and Nitrox mode (up to 50%), has a large segmented dot-matrix backlit display which displays all the information clearly. While it uses a conservative algorithm, it offers users enough options to tailor this level.
An in-built log stores data for up to 60 dives and there are critical audible alarms to sound the most important information. The backlight is not the strongest and could use improvements.
We've compiled a detailed review on the Leonardo if you want to dive deeper into what it offers and what features you'll be missing compared to more expensive alternatives.
Best Features
One button user interface
Air and Nitrox compatible
Nitrox settings can be retained
Audible alarms for critical information
What Could Have Been Better
Poor quality backlight
No air integration
Summary
This is a great dive computer for beginners and also a great choice for a backup dive computer for recreational divers.
If you're willing to spend a little more, then check out the Cressi Giotto (click here for a detailed review). It's a step up and offers some better features. You can also check out our head-to-head comparison of the two devices to learn more about the differences in detail.
Mares Smart – Best entry-level with a small display
The Mares Smart is a minimalist but efficient entry-level dive computer that trumps a lot of high-priced models with its intuitive user interface and two-button control. It may lack the bells and whistles you'll find in higher-end devices. But it more than makes up for it with its well thought out dive mode screen and comprehensive data.
It has a stylish and sleek design with both the buttons and the bezel ring made of stainless steel. This also gives it a more solid feel, unlike flimsy all-plastic models. The Smart can also double up as a sporty wristwatch when you are not diving. It comes in a variety of colors to match your style.
The main display shows you the vitals such as NDL, water depth, dive time and temperature. Besides this, there is an ascent rate indicator and tissue loading bar graph. There is an alternate screen that shows the gas mix, the average depth, the max depth, the current time and the oxygen toxicity.
The two-button controls make it easy to change the screen. The top button can be used to tweak the settings in the upper part of the display and the lower button allows you to navigate through the alternate displays.
It allows two gas mixes (21 – 99% Oxygen) and the Surface interval countdown is another stellar feature of the Mares Smart, which makes it a versatile choice at this price point.
There are visual and audible alarms for critical alerts and the backlight is excellent allowing clear visibility even in the dark. If you make the noob mistake of ascending too quickly, it sounds an alert with a large 'SLOW' on the screen.
We've compiled a detailed review of the Mares Smart that you can find here. It'll go more into depth on showing the available and missing features of this model.
Best Features
Two-button easy navigation
Air and Nitrox
​Dive log
Clear visible backlit screen
Audible and visible alerts
What Could Have Been Better
No air integration
No compass
Summary:
Priced at under $350, the Mares Smart offers enough features to make it a great buy at this price point. It may be considered as an entry-level dive computer because of the innocuous appearance and lack of a colored display. But it packs a punch with its features and is even used by professional divers.
Mares introduced another model of the Smart that comes with air integration. It's basically the same set of features as the Mares Smart except that it offers (optional) air integration through a wireless transmitter on the tank.
Oceanic Geo 2.0 – Best affordable dual algorithm
The Oceanic Geo 2.0 is a somewhat unique, affordable computer that targets beginners and recreational divers. What makes it unique is Oceanic's dual algorithm setup. You can switch between two different versions which makes it ideal if you're often diving with different buddies.
You can pick which algorithm to use based on what dive computer is used by your buddy. That will give a more equal match of computations and you are closely matched to the alarms and warnings of your partner.
The Geo is a wrist-watch sized device you can wear all day. It comes in several color combinations. It doesn't have all the bells and whistles of more expensive devices but it has features you wouldn't necessarily expect at this price point like automatic altitude adjustments.
The display is a little cramped, but it's still easy to read all the information shown. The backlight is good and allows to read the information in less than perfect lighting conditions. Navigation of the menu items and the overall use is simple through four buttons placed evenly around the display.
The Geo 2.0 can handle two gas mixes that can range between 21% and 100% Oxygen. The dive log is small with data being kept for up to 24 dives.
They do not offer air integration for the Geo. That's not surprising at the price point it's offered. Besides that, it offers anything a recreational diver could look for. You can even switch the battery by yourself.
You can check out our in-depth evaluation of the Oceanic Geo 2.0 here. There you can find a lot more detail on this amazing dive computer.
Best Features
Straightforward navigation with four buttons
Two gas mixes (Air and Nitrox)
Dual Algorithm with conservatism settings
Switch gases during a dive
​Automatic altitude adjustments
What Could Have Been Better
Smallish screen
Limited size of logbook
Summary:
The Geo 2.0 checks all the boxes for an entry-level and recreational dive computer. It offers Oceanic's unique dual-algorithm setup which makes it easy to adjust your computer to the one of your buddy to avoid getting alarms and warnings that don't line up.
The logbook is small and if you are looking at a scuba computer with air integration, then you're out of luck with the Oceanic Geo 2.0. The logbook can easily be downloaded to a PC so you usually won't run into an issue losing any data. The only time it can be a tight squeeze is if you go on a longer dive vacation and don't have a PC with you.
For the price you pay you get a stylish dive computer you can use every day. It'll last you for years to come until you require additional features like air integration. If you like to have the dual algorithm setup, then you'd be looking at the Oceanic OCi at that point. We have a detailed review of this device to be found here.
Suunto Vyper Novo – Best mid-level wrist mounted
The Vyper Novo is the upgraded version of the very successful and widely used Vyper (check the differences between the Vyper and the Vyper Novo here[GS16] ). The Novo model received some impressive upgrades like air integration, handling of multiple gases, etc.
These features make it also one of the best scuba diving computers you can find today. It's a great device if you're an experienced diver but is also not too complex to be managed by a beginner. The Novo can manage up to three different gas mixes.
Compared to models that are sized like a day-to-day watch, the Vyper Novo is large. The benefit is that the larger display shows all important information at-a-glance.
The number of buttons to press to get any information you might need is minimized. This way the gadget is what it should be, a device to help you stay safe while diving and not yet another technical nightmare you need a Ph.D. to understand!
The large size makes it easy to press the buttons even when you wear thick gloves. The display is sharp and easy to read in any light condition. The backlight allows seeing data even in the darkest spots underwater.
We prepared an in-depth evaluation of the Suunto Vyper Novo. Check it out if you're interested in this particular model that'll be a trusted device for years to come.
Best Features
​Easy to read display
​Navigation is intuitive with 4 buttons
​Large logbook for up to 140 hours
​Capable to integrate up to 3 wireless gas transmitters
What Could Have Been Better
​Large size which can't be worn as a daily watch.
Summary
The Suunto Vyper Novo is a feature-rich scuba computer that offers everything that an experienced diver needs. As a recreational diver, there are no capabilities you could require that are not delivered.
The features you get even include a 3D compass. If you combine that with the wireless air integration you end up not needing a bunch of other gauges and devices.
Even if you are in your early days of diving, you can have a closer look at the Vyper Novo. The air integration can be something you add later as it's optional. The base device offers features that will be satisfactory for years to come!
Atomic Aquatics Cobalt 2 – Best Console Mount
The Atomic Aquatics Cobalt2 is our pick for the best console-mounted dive computer. It's feature-rich and offers a brilliant color display. It offers all the bells-and-whistles you could look for as a recreational diver that uses air or nitrox for diving and prefers the console setup over the wrist mount.
Most other manufacturers offer a range of dive computers to choose from. Atomic Aquatics offers only the Cobalt 2. For good reason as it is a solid system that will usually not have you missing any features if you dive recreationally.
The display is colorful, provides graphics and can be configured by you. You can set up what data you want to see on the screen. Navigation is performed through four buttons on the device.
The computer offers air integration. It uses a hose to connect the Cobalt 2 to your regulator to measure the pressure in the tank and display it.
Another high-end feature that is part of the device is the integrated 3D compass. Having a rather large and colorful display helps with being able to get an instant view of your bearings through the compass. It can be harder to use a compass on smaller screens.
There's a lot of menu options for you to choose from. You can easily navigate through them with the four buttons on the bottom. The Cobalt 2 allows switching between up to six nitrox gas mixtures.
The computer is powered by a built-in lithium-ion battery you can recharge. Each charge allows the device to work for up to 60 hours so be sure to bring the charging cable if you go on an extended dive trip.
The logbook is large at around 600 hours of dive time. The color display makes it easy to display detailed dive data from past dives including graphics. You can connect the Cobalt2 to your PC to download dive data through USB cable.
Best Features
​Brilliant color display that can display curves and charts
​Intuitive navigation with 4 buttons
Logbook for up to 600 hours of detailed dive data
​Up to 6 nitrox gas mixes
​Integrated 3D compass for navigation
What Could Have Been Better
Rechargeable battery that can't be switched
Summary
The Atomic Aquatics Cobalt 2 is a console-mounted dive computer that leaves no wishes unfulfilled. It offers features you expect from a high-end device such as this.
Having air integration and a 3D compass together with up to 6 different nitrox mixes makes it a great scuba computer for experienced divers. The only things you might miss are trimix or rebreather setups.
We're also not that excited about the rechargeable battery. While in theory, it's great and environmentally friendly we think a user-switchable battery is helpful if you are on dive trips where you potentially have a hard time to find a charging possibility.
Oceanic VTX – Best Overall Display
The Oceanic VTX has a visibly different design than many other diving computers. The screen alone is amazing and displays the information clearly and in vibrant color.
The overall navigation and usage of the device is easy. The buttons are placed strategically and can be used even when you're in thick gloves.
The VTX is worn on the wrist. It is a very specialized device so it can't be worn as a regular watch! Looking at the features it is amazing though to have all those capabilities packed into a reasonably small device.
The Oceanic VTX targets experienced divers with demanding needs for features and data. It is feature-rich and allows to do a lot of data gathering and programming. It easily connects to a computer through Bluetooth.
The logbook is a little on the small side with enough capacity for around 24 dives. Going on a scuba vacation might push you over the limit here. The other caveat is that the battery life could be a little longer. It's around 20 hours. Diving trips where you're not having a computer handy to offload dive data and where you use the computer more than usual can easily end up with frustrating moments where you run low on battery and/or dive log!
Best Features
​A fantastic, colorful display
​Easy navigation
​Up to 4 gas mixes
​Bluetooth connectivity
What Could Have Been Better
​Somewhat bulky​
​Logbook could be larger​
Summary
The Oceanic VTX is definitely considered a high-end scuba diving computer. That's not only reflected in the features and capabilities it offers but also in the price.
Besides all the bells and whistles that this device offers, the highlight is the display. Colorful and vibrant, yet very clean. It shows all the information you need in a clear and concise way.
If you're not an experienced diver and do not you require all the data collection so you can slice and dice it as you please, then you'll definitely find other scuba computers that are cheaper and offer a set of features that matches your needs. The VTX has it all but that can end up being a little too much for many divers.
Shearwater Research Perdix – Best Technical
The Shearwater Research Perdix is one of the latest and flagship offerings from the Canadian manufacturer who commands a cult following among diving enthusiasts, ever since they launched into the market with the 'Predator', their first dive computer.
The Perdix is an upgrade worthy of every accolade it is receiving. This is a smartly designed dive computer that can be taken along for anything from recreational dives to deep water technical dives. It is small, has a slim profile and a long-lasting battery.
What greets you out of the box is a large 2.2-inch color screen display with ample space for displaying all the information you'd ever need. You can see adaptive safety stops, the number of stops, the depth and the duration of stops that are tailored according to your dive time and previous dive history.
The Time to Surface is displayed clearly and shows you the most important information, considering all the safety stops.
You can customize or choose from four different dive modes, OC recreational, OC technical, CC-INT and gauge. It's aimed at advanced and technical divers and can handle a rebreather.
Best Features
Large colorful display
Multiple modes including technical and closed circuit rebreather
Trimix compatible
Lots of customization options
What Could Have Been Better
Nothing. This is one of the top dive computers that you can invest in.
Summary
The Shearwater Research Predix bridges the gap between a recreational dive computer and a technical one. It is a flawless package. If you intend to go beyond the average recreational dive or into deeper waters, this is what you need.
Common Questions you might have
How much does a dive computer cost?
Dive computers are not a cheap piece of your scuba equipment. On the low side, you must estimate at least $200 to $300 to get an entry-level model.
On the high-end side, you can expect to spend more than $1,000 for the personal dive monitoring device plus a few hundred for wireless sensors. However, there's really no ceiling on how much you spend.
Should beginners use a dive computer?
There's no doubt that any diver should use one of these decompression calculators. Whether you're a beginner or an experienced diver, these computers will keep you safe and out of harm's way.
You can use dive tables to calculate your dives but the real-time tracking you get from using a computer can't be overvalued. It adds a level of safety as it measures data during your dive while using dive tables only allows you to plan your dive without taking the actual data into consideration.
A dive computer takes the guesswork out of whether you should do a deco stop, need a safety stop or whether you can just ascent slowly and safely. Tracking your dive history also allows taking remaining nitrogen levels in your body from previous dives into consideration.
What is air integration on a scuba computer?
Basic devices only monitor and track the time you spend underwater and the depth you reach. You still need a console that measures the air left in your cylinder and provides (usually) a compass to help to navigate.
More feature-rich dive computers usually offer (optional) air integration. Most modern systems connect your dive computer to your tank wirelessly. You have to connect a sensor/transmitter to your tank that then provides the information for your dive computer.
This way you can track the pressure in the tank and the dive computer can calculate time-remaining, provide warnings on when to come up, etc.
How does a dive computer work and what is it used for?
A dive computer is a computational device that tracks in the simplest case your time underwater and the depth you've been diving to. It then uses an algorithm to provide you with data on when you have to come up, what decompression limits you have to adhere to, etc. The data is used to compute limits on ascent speed and timing to prevent decompression sickness for the diver.
Higher-end personal decompression computers will also track multiple dives, air consumption, provide navigational help with an integrated compass, etc. Technical dive computers also let you influence the limits for diving to push boundaries and analyze collected dive data.
What do you do when your dive computer stops to work in the middle of a dive?
First things first. The safest action is to end your dive. You'll signal your dive buddy to call the dive and start your ascent together with him or her. Use her dive computer as a guide to doing your ascent.
If you and your buddy have different dives just before the current one then add a safety stop on your ascent to make sure that his or her computations don't endanger your health and potentially lead to decompression sickness.
Once you're safely above water, you want to change or charge your batteries. That should get you back on track quickly.
Some divers also have a backup computer with them. If you do then use that but keep in mind that the calculations can be off if the backup does not have all the dive data from your previous dives!
What is Nitrox and Trimix diving?
Most recreational diving is performed using compressed air. If you want to be able to extend your time underwater, then using Nitrox gas mixes can help you with that. In that case, the amount of oxygen is increased in the gas mix to allow to stay underwater longer. This has side-effects you have to be aware of though. You can read more here.
Trimix adds Helium to the gas you're breathing underwater. This is necessary to prevent the negative impacts of high oxygen and nitrogen levels underwater. Specifically, it's used for commercial deep diving. It can go as far as a mix of only Oxygen and Helium which is known as Heliox.
Do you still need to use Dive Tables when you use a Scuba Computer?
There's technically no need to use compression tables when you use a diving computer. All the calculations done with the tables are handled in real-time with the computer.
Having the computing device take over results in much easier, yet usually safer diving. Your computer tracks your dive history automatically and you don't have to constantly take that into consideration when you try to calculate your safety and dive limits with the help of dive tables.
This makes using a dive computer a much more reliable and safer planning and tracking tool than the old-fashioned tables. However, you should still be able to use the tables to calculate your dives so you get a better understanding of those limits and where they come from.
Conclusion
We hope you enjoyed browsing through our list of the best dive computers. We have tried to include a few entry-level models, something mid-range and something for the serious guys to play with. Always do your research and make an informed decision.
If you are just starting to scuba dive, then you want to check out our guide to find the top dive computer for beginners.​
Update 2019
The biggest update in 2019 was the addition of the Shearwater Teric in the list. It immediately took the top spot.
There has not been much else happening in our opinion to justify adding or replacing other models in the list. However, we are looking forward to 2020 to see what new introductions in the dive computer market will come and maybe change the list.
Save and happy diving in 2020!