Cressi Donatello Dive Computer Review
In this Cressi Donatello dive computer review, we'll go over the features of this entry-level device. It offers features that are sufficient for recreational divers. It also can be used as a backup decompression calculator for more experienced and technical divers.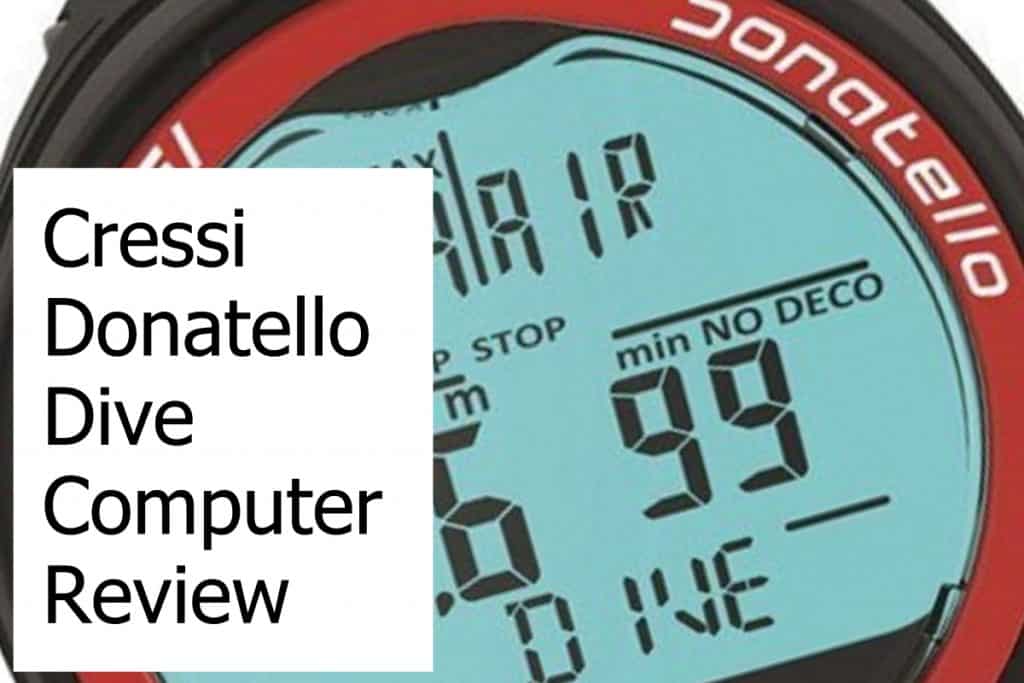 Cressi markets the Donatello as the successor of the Cressi Leonardo. It's a more modern version of the robust and best-selling Leonardo and offers comparable features. Even though it does not seem like Cressi will stop selling the Leonardo anytime soon!
The features you find on the Donatello match the Leonardo overall very well. There are a couple of differences that we will mention in the following review.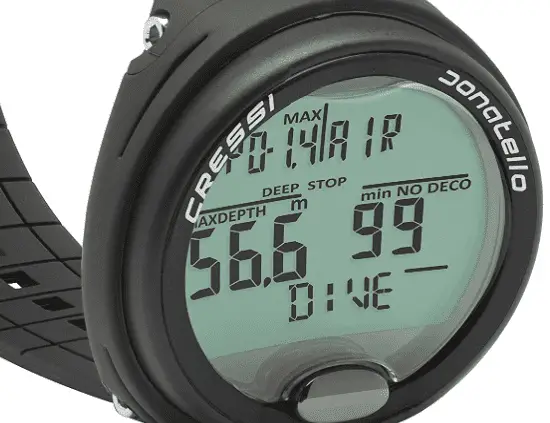 Review of the Cressi Donatello Dive Computer
The Donatello Scuba Diving Computer has very similar capabilities when you compare it to the Leonardo model. They even look quite similar when you hold them next to each other. Cressi designed the Donatello for use as a daily watch.
Don't be fooled, though. You still get a tremendous entry-level dive computer that is specifically catering to beginner divers. That's not only reflected in the features but also the price.
Modes
One major new capability that Cressi added to the Donatello is a specific freediving mode. This results in the following dive modes being available:
Air
Nitrox
Gauge
Freedive
Navigation
The Donatello Diving Computer continues the 'tradition' at Cressi to use a single button navigation for the entry-level devices. The navigation is straightforward and easy, and you'll quickly master skipping through the menu items and setting parameters with the large button.
The single-button navigation often is not ideal if there are many menu choices and parameters to be set. This disadvantage of a single button for navigation is not a problem with the Donatello as it has a limited feature-set tailored to beginner divers. Without an overwhelming number of menu choices, it is quick and straightforward to navigate with a single button.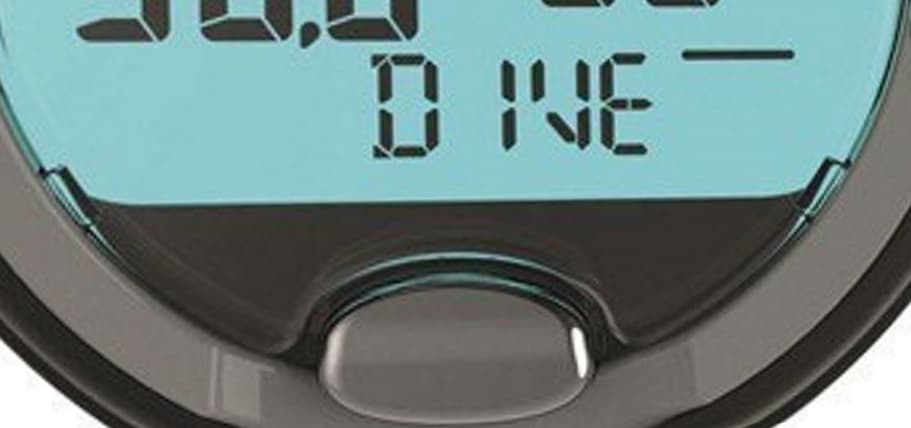 Gas Mixes
In addition to diving with air, you can also use the Donatello for diving with Nitrox. It offers the basics with regards to managing oxygen-enriched air for breathing. You can have one Nitrox mix with oxygen levels up to 50%.
You can set PPO2 (partial pressure of oxygen) levels between 1.2 and 1.6 bar. These settings will ensure that you stay well within the safety margins concerning oxygen toxicity. 
The Donatello also has a graphic display to show the oxygen toxicity levels with regards to the Central Nervous System (CNS). This is specifically helpful when you are diving for extended times and/or perform deeper dives.
Algorithm
The Donatello uses the Cressi RGBM algorithm that is well-established and safe. It's used in all modern Cressi dive computers and keeps you safe while diving.
Like many, if not most, other dive computers, you can adjust the conservatism of the calculations. You have three different conservatism settings to make the algorithm more conservative.
The Donatello can consider altitude when calculating decompression and safety stops and ensuring you're safely returning to the surface.
The Cressi RGBM algorithm is capable of handling repeated decompression dives stretching over multiple days. It keeps track of nitrogen saturation in your body so you can safely and repeatedly dive.
The Donatello can be completely reset. This history reset is similar to other Cressi dive computers and an excellent feature for dive shops that rent. It allows the dive shop to have the Donatello 'forget' any history, and if you rent it, any calculations will not consider previous dives.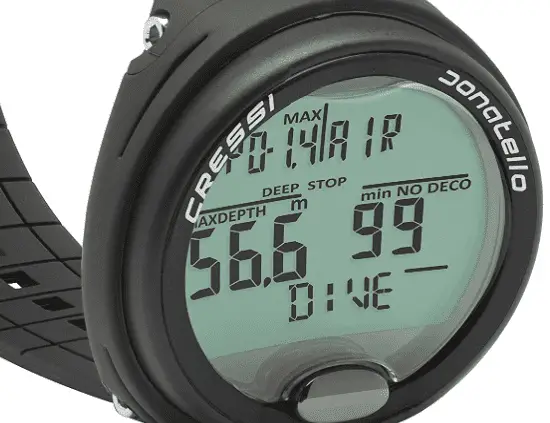 Alerts and Safety Stop Indicators
The Donatello provides several different alerts and indicators. The safety stop alert reminds you to take a stop before your last stretch getting to the surface.
You also get a host of different violation alerts that include
PPO2 violation
Ascent speed
Maximum Depth violation
Display
The Cressi Donatello diving computer comes with a high-contrast display. It is easy to read even in sunlight. The oversized letters help even further to read the numbers on the screen.
One of the gripes many users had with the Leonardo was the weak backlight. Cressi has addressed this in the Donatello as it features a sufficiently strong backlight that allows you to see the screen's data even in low visibility environments or during night dives.
The display is not glass, as in many other dive computers. Cressi chose to use a polyolefin display screen that is scratch resistant and works pretty much as well as glass.
The wristband is a TPU rubber and has a stainless steel buckle. It's easy to adjust in length.
Dive Calculator Activation
The Donatello has the capability that you can switch the dive computer functionalities off even if you are in the water. The ability to swim and snorkel without dive calculations is a great new feature. You can deactivate the dive computer functionality, which makes it possible to use the watch for any kind of water activity, like snorkeling, without switching decompression calculations on and confusing the dive computer. 
With devices that don't have that specific feature, you end up with wrong calculations for any dives you perform after snorkeling or swimming. If you wear your dive computer during those activities and you can't switch it off, these activities can be taken into consideration when calculating safety stops, etc.
Bluetooth Connectivity and Dive Log
The Cressi Donatello can connect to your computer or smartphone through Bluetooth. Unfortunately, the Bluetooth is not built into the scuba computer but instead is a separate module for purchase. You buy the adapter and place it over the Donatello to then be able to connect to your PC or smartphone through Bluetooth.
The dive log is of reasonable size. You can store data for up to 50 dives in each mode. That provides plenty of space and time to collect data even when you're not offloading it for a while and across several dives.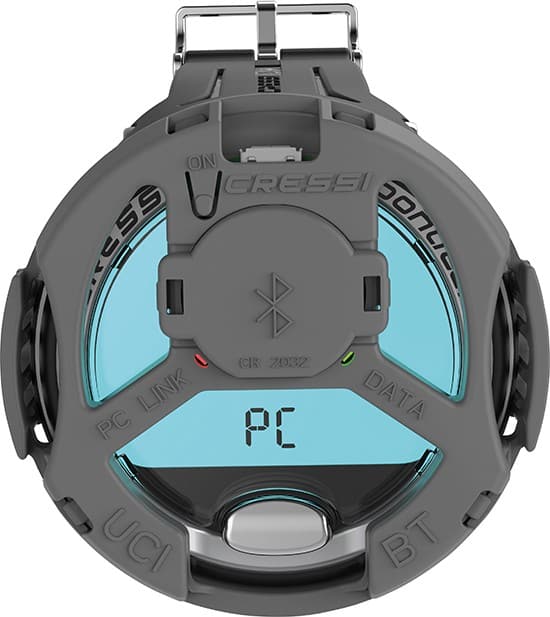 Wrist-mounted vs. Console Version of the Donatello
Cressi not only features the wrist-mounted version of the Donatello but also has two console variants available. You can get the Donatello in a console mount with either two or three gauge options. 
The Donatello element of the consoles is the same as the wrist-mounted version. The display and navigation are the same. The difference is that the dive computer is mounted in a console instead of wearing it on your wrist.
Two-Gauge Console
In this setup, Cressi combined the Donatello dive computer with an air-pressure and depth gauge. The console is connected to your regulator to monitor the pressure in your tank. It informs you of how much air remains in your scuba tank – How Long Does a Scuba Tank Last When You Dive Underwater?
Three-Gauge Console
This console is similar to the two-gauge variant. You also get a compass in addition to the depth/air-pressure gauge. The compass comes with a ratcheted bezel. You can rotate it easily to get the right bearings underwater.
Technical Capabilities, Functions and Features
Single Button Navigation with easy-to-handle menu choices
Various dive modes for Air, Nitrox, Gauge, and Freedive
High-Contrast display with oversized numbers
A strong backlight of dark environments like night dives
Calculations for desaturation, no-fly and surf time
User changeable battery
RGBM algorithm by Cressi with conservatism adjustments and altitude configuration
PPO2 configurable between 1.2 and 1.6 bar
CNS oxygen toxicity level graphical indicator
Audible and visible alarms
Temperature measurement
Total reset for rental dive shops
Logbook for up to 50 dives per mode
Optional Bluetooth connection for PC's and smart devices
Comparing the Cressi Donatello with the Cressi Leonardo Dive Computer
At first glance, it seems like not much has changed when you compare the Cressi Leonardo with the Donatello (Cressi Leonardo vs. Giotto – Recreational Dive Computers Compared). Yet, that's anything but true when you dig a little deeper.
One of the universal issues that many divers had with the Leonardo was the rather weak backlight. The Donatello offers a much improved backlit screen. The combination of strong backlighting with a crisp display with large numbers makes it much easier to get the information you need while scuba diving.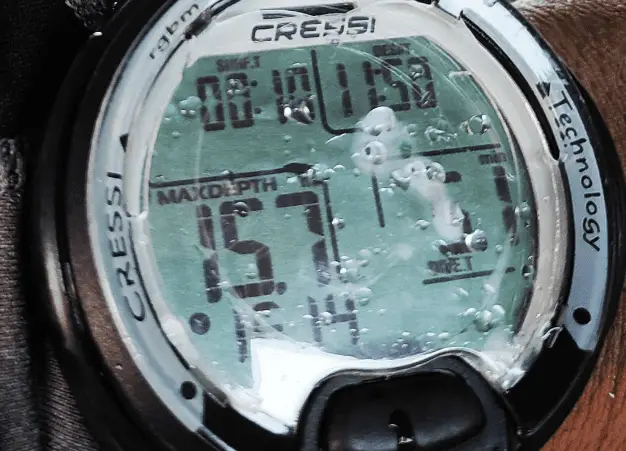 Both the Donatello and the Leonardo have a single button for navigation. The reason being that both dive computers have a limited feature set tailored to recreational and beginner divers, and therefore there's no complex menu structure to navigate through. The Donatello has pushed this approach forward with a streamlined menu structure that is easy and quick to navigate.
Connecting the Leonardo to your PC at home required an adapter and cable. You plugged the scuba diving computer into your PC and transferred your dive log. You still need an optional adapter on the Donatello, but you don't need any cables anymore. The adapter adds Bluetooth capabilities, and you can wirelessly connect the scuba watch to your PC or smartphone to transfer the data.
Overall, the Cressi Donatello is an improvement over the Leonardo (Cressi Leonardo vs. Suunto Zoop Novo). It would make sense that the Leonardo gets cheaper and the Donatello will take over the price category that it was in for years. If you want to spend less money and don't care about features like Bluetooth, you find yourself a good deal on the Leonardo and go diving. 
The Donatello is certainly a newer and more sophisticated model and will serve you for many years.
What about the Cressi Michelangelo vs. Donatello?
The Michelangelo is another new introduction from Cressi. It is a level up with regards to capabilities when you compare it with the Donatello.
Both models look very similar with the Michelangelo looking slightly more high-end. It also offers the functionality to handle two different gas mixes and switch them during a dive.
You can purchase the Donatello online or in dive shops. The Michelangelo is only available through specific dive shops with permission from Cressi to sell the dive computer. Cressi ensures this way that the prices are kept higher. Unfortunately, it does mean for you as the consumer that you can't get special deals that you can get online at times for the Donatello.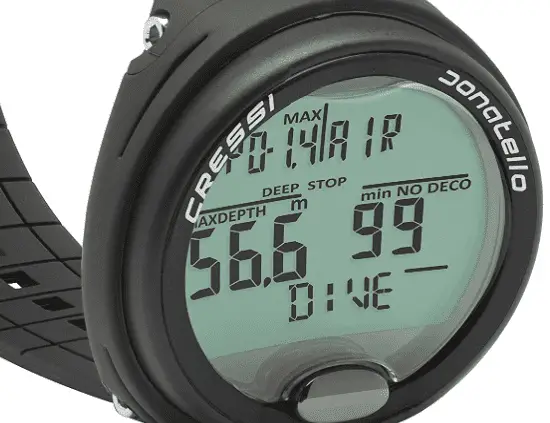 Do you need to know to use PADI Dive Tables when you have a Dive Computer?
Final Thoughts
The Cressi Donatello is a great, maybe even the best, entry-level dive computer available today. It offers smart improvements over the Leonardo and uses up-to-date technology.
The features delivered in the Donatello are what you need in an entry-level or backup dive computer. The complete reset makes it a great choice for scuba rentals, and you will see many of them for rent when you go to a dive shop at your next vacation spot.
If you're looking for an entry-level dive computer that comes with current technology and features, then go for the Cressi Donatello dive computer.