2
Guide to Find the Best Dive Computers for Beginners – Editor's Picks for 2020
One of the first pieces of equipment that a beginner diver nowadays needs to get is a scuba diving computer. Not too long ago it was getting printed dive tables but as capabilities have increased and prices have decreased, a solid dive computer has become essential for a new diver.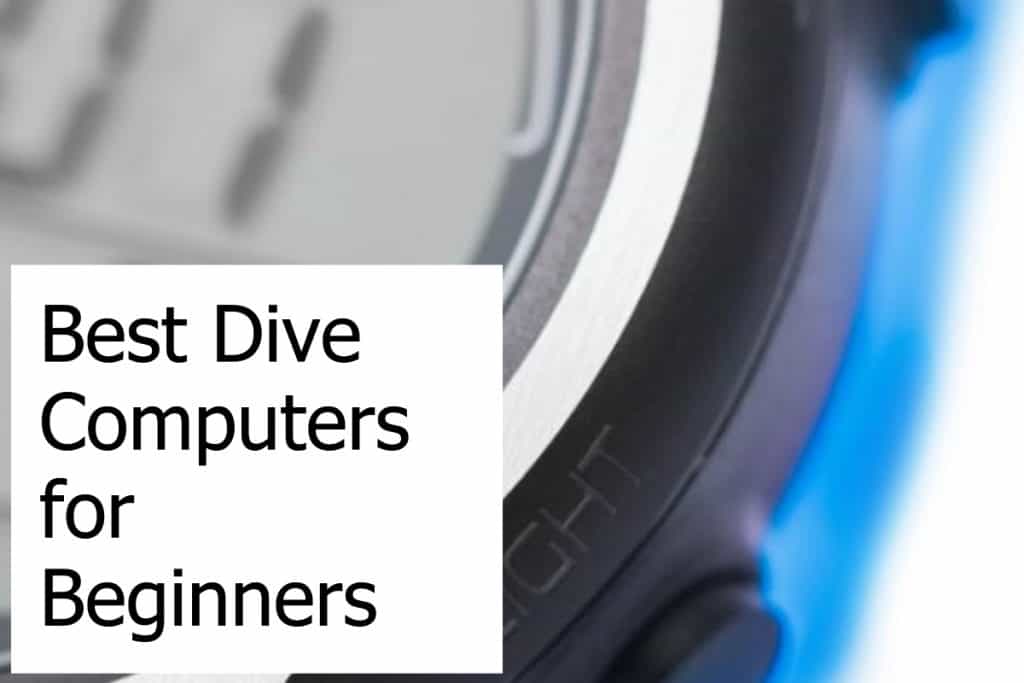 We'll guide you through the considerations you need to keep in mind to find the best dive computers for beginners and show you our best choices.
Best Beginners Dive Computers – What a Beginner Diver needs to know!
Eager, first-time divers, want to know everything about their newfound hobby.
We've got the scoop for you on everything you need to know about dive computers. A dive computer is your digital lifeline, allowing you access to real-time information for the perfect dive.
In a hurry?
Here are our suggestions for the best dive computer for beginners:
When you are looking to buy a new dive computer that is suitable for beginners then you should be aware of the features that such a device should offer.
These standard features include
Depth
Time
Emergency decompression
Ascent rate
No stop time remaining
Previous dive information
No stop limits
Low battery warning
Enriched Air (Nitrox) compatibility
Quick tips for purchasing a dive computer include: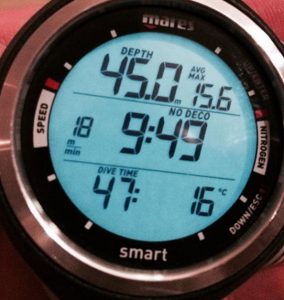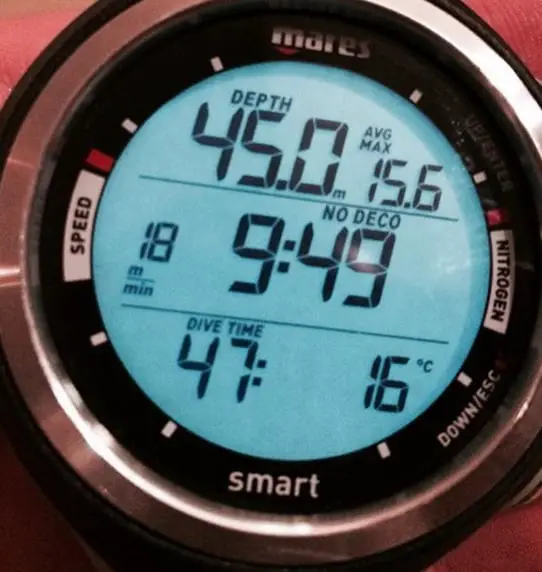 Things to Consider
Before we go into the three contenders, let's have a detailed look at some of the features you need to consider. If you just want to look at the scuba computers we picked, then simply click here and we'll take you right there!
If you are interested in an in-depth buying guide for scuba diving computers then check out our Dive Computer Buying Guide – What you have to consider! by clicking on the link.
When going diving you need to have a good idea where you are and where you're going underwater. Having supporting equipment to help with navigation is important for your safety.
The more pressure you find yourself in, the more disorienting it can be. No matter how much you think you know, under the water is another story.
Navigation is critical and owning a dive computer with an old-fashioned compass is pivotal in your safety. Without this, you may not know how to get to shore, or back to your boat for safety.
Life-Saving Depth Gauge
Without the life-saving component of a depth gauge, you may wander a little too far down to where you're too disoriented to function and ask for help.
A depth gauge works hand in hand with your decompression stops and calculates how much time you spent at a particular depth. If you're left guessing, it will negatively affect your calculations for decompression stops.
The Perfect Calculations
When you're at a low depth, it can be hard or near impossible to make any calculations yourself while functioning in the water world around you.
Dive computers take out this stressful aspect for you and perform the calculations for you. These life-saving calculations work alongside decompression calculations, decompression stops, and specific models that offer calculations of no-fly times for those who are diving on vacation.
It sounds morbid, but when you ascend in a plane after diving into a certain depth, the nitrogen in your body will expand because of the pressure. You may explode! (No, seriously, it's a thing and you need to adhere to some safety precautions). Some dive computers will let you know when you can safely fly again.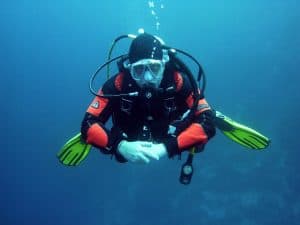 On-Board Memory
Most modern dive computers will have an onboard memory feature for you to review all the information stored away during your ascent into the aqua world. It's a nifty little feature and can help you predict and plan for future trips down.
Activation of Your Dive Computer
Any dive computer bought will have to go through an activation process, much like a phone. Thankfully, you don't have to activate your phone with water, though!
Automatic Activation
There are two ways to enable a dive computer for beginners including manual or water activation. The manual option requires the diver to press a button before going in the water.
If you're new, I should forewarn you that many divers FORGET this aspect of preparation, causing companies to come up with a solution that allows instant water activation as soon as divers are in.
Best Dive Computer for Beginners
Now that you've got the scoop on the different life-saving and data recording components, we'll go over our top three picks (and our top recommendation!) for the best dive computers for beginners.
#1 – Cressi Leonardo – Beginner Scuba Computer from Cressi
Not overly clunky and super fashionable, the Cressi Leonardo is one of the best on the market. Its design is sleek and not bulky/heavy, so you won't worry about it in the water constantly, with features that include:
Audible alarms
Easy on button
Air and nitrox modes
Large digits for better reading underwater
Backlit screen for night dives
Not only does this dive computer give you a readout for the different depths during your dive, but you can also read these numbers with no issues at night. The backlit screen function allows for safe tracking during dangerously dark dives.
Data Reset for Rental Shops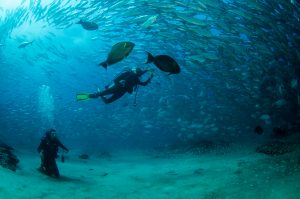 This device also has a data reset feature, which is perfect for rental companies working with beginners. This may be the only downside, as beginners may accidentally stumble into this section and delete their hard-earned data.
Another significant aspect of this computer dive watch is the audible and visual automatic safety stop countdown at 15 ft or 3 minutes. A wrist-held safety buddy, there's no real reason you shouldn't purchase this as a beginner! This dive computer has a 24-month limited warranty.
Review of the Leonardo from Cressi
We have reviewed the Leonardo in detail and you can view it at https://www.deepbluediving.org/cressi-leonardo-dive-computer-review/
#2 – ​Suunto Zoop Novo – Suunto's Entry-Level Scuba Computer for Beginners
The Suunto Zoop Novo is the successor of the Suunto Zoop. It's gotten a little bulkier and has several added features and functions compared to the first version of entry-level wrist-mounted scuba diving computers by Suunto.
Easy Navigation
The size is overall easy to manage and navigation is super easy with four dedicated buttons placed around the display.
Both other devices we listed in this guide, the Mares Puck Pro Plus and the Cressi Leonardo, have a single button for navigation. At first glance, this is an easier design, but it has a disadvantage.
Single-Button Navigation – Not on the Zoop Novo
If you page through the different menu options with a single button you have to step through each option as you cannot go back and forth with a single button. A design with multiple buttons lets you go back and forth as needed.
It can make it easier to get to where you want to be in your menu options. Having a single button simplifies the overall handling but can make it a lengthy process to get where you want to be in your navigation options.
The Zoop Novo is the entry-level dive computer for beginners by Suunto. It comes in different mounting options with the standard variant being a wrist-mounted design but there are also versions where you can get it as a console-mounted device. The overall features are targeting divers that only need the basic set of features and functions:
Air/Nitrox/Gauge/Freedive/Off modes
Audible and visual warnings and alerts
Four-button navigation
Large display with all data at-a-glance
Large log book with up to 140 hours of data
This is a no-nonsense beginner scuba dive computer with all essential features and functions for a new scuba diver. It's easy to use and makes it easy to read the information on the display. The backlight is strong enough to allow you to read the data on the screen in dark and murky waters.
Conservative Algorithm
The computer uses Suunto's own RGBM algorithm. This specific algorithm is seen as rather conservative. You can adjust the algorithm if needed, but that only allows you to make it even more conservative.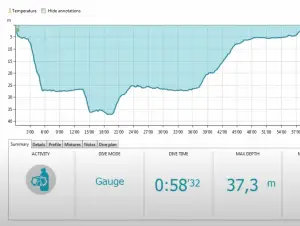 The Suunto Zoop Novo is a great scuba dive computer, and it's hard to find real negatives about it.
You won't get all the bells and whistles of a higher-end scuba diving watch but that's what you'd expect from an entry-level device for a beginner. It offers all the required basic features and you'll be diving for a while before you look at any higher-end functions.
Suunto Zoop Novo In-Depth Review
Our in-depth review of the Suunto Zoop Novo can be found here. Please check it out if you need any further detailed information.
#3 – Mares Puck Pro Plus – Bluetooth for Scuba Divers
The Mares Puck Pro Plus is the latest rendition of the original Puck scuba diving computer. In case there's any confusion about the name, it refers to a hockey puck regarding shape and size.
Wrist Mounted – Puck Sized – Mares Style
You can find many other wrist-mounted scuba dive computers that are smaller or that you can even wear as your daily watch. If that's your criteria then the Puck Pro Plus is not the best device for you!
Features of the Puck Pro Plus
It's designed as an entry-level scuba dive computer for beginners that provides all the basic features you would expect and need:
Air/Nitrox/Gauge modes
Visual and audible alarms
Single-button navigation
Clear and easy to read display​
Bluetooth connectivity
Bluetooth connectivity
The biggest improvement Mares had in store for the Puck Pro Plus is the Bluetooth connectivity. No more cables required to exchange dive data with your PC!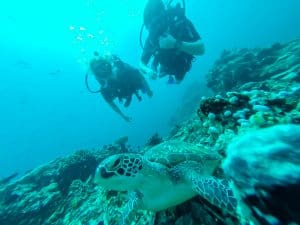 The display received a few minor changes and is as excellent as it has been on the Puck Pro. Large numbers that make it easy to read combined with a strong backlight so you can still see all information in dark environments.
The Mares Puck Pro Plus is a solid choice for beginner scuba divers with all the necessary features and functions you'd expect from an entry-level scuba computer!
In-Depth review of the Mares Puck Pro Plus
If the Mares Puck Pro+ is a scuba computer that is of interest to you then check out our in-depth review!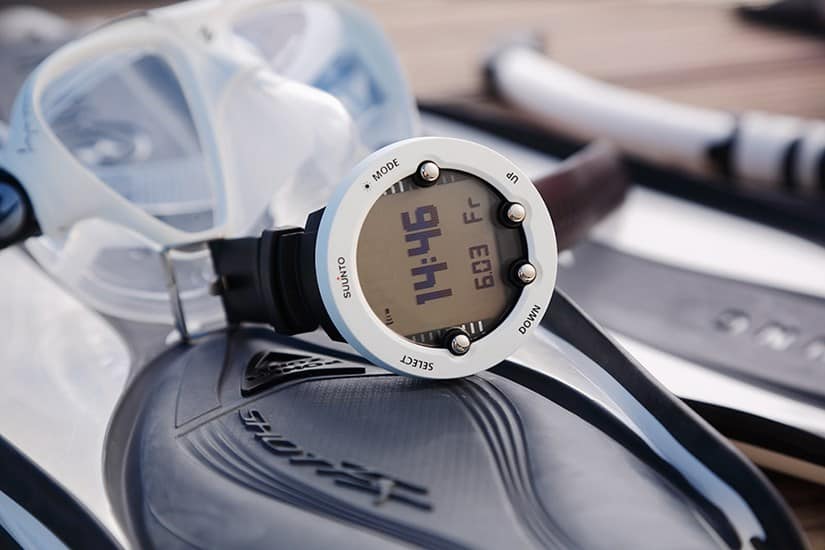 Best Beginner Dive Computer – Final Thoughts for Divers
We think the best dive computer for beginners is the Cressi Leonardo.
While the version with the stand and USB connector is nice, it's not a necessity. You might as well save yourself some money and go with the basic model without all the connectivity items.
You'd thought we would recommend the last one? While the added features are helpful, they aren't essential to most dives and scuba divers, and you can get those higher-end features with a more complex device at a later time.
For beginner scuba divers, it's important to feel out the piece of equipment instead of splurging on the biggest package possible. If you enjoy this watch and want those added features of a download cable and stand, those accessories are available online.
For beginners, this watch is fantastic. With large fonts, sounds, and all the readings you can hope for no matter the time of day, the Cressi Leonardo hits the nail on the head.
If you enjoyed reading the post then can we please ask you for a favor? Can you please use the image below to share this article on the best beginners' dive computer on your social media? We appreciate your support!