Aqua Lung i200C Wrist Dive Computer Watch Review
Aqua Lung has been manufacturing scuba equipment since 1952. While it is particularly well known for its regulators, it has recently become popular for its dive watches. The Aqua Lung i200 combines affordability with a range of features, including a comfortable, lightweight design that's suitable for everyday diving. We'll explore the different aspects of the i200 to see if it has everything you're looking for.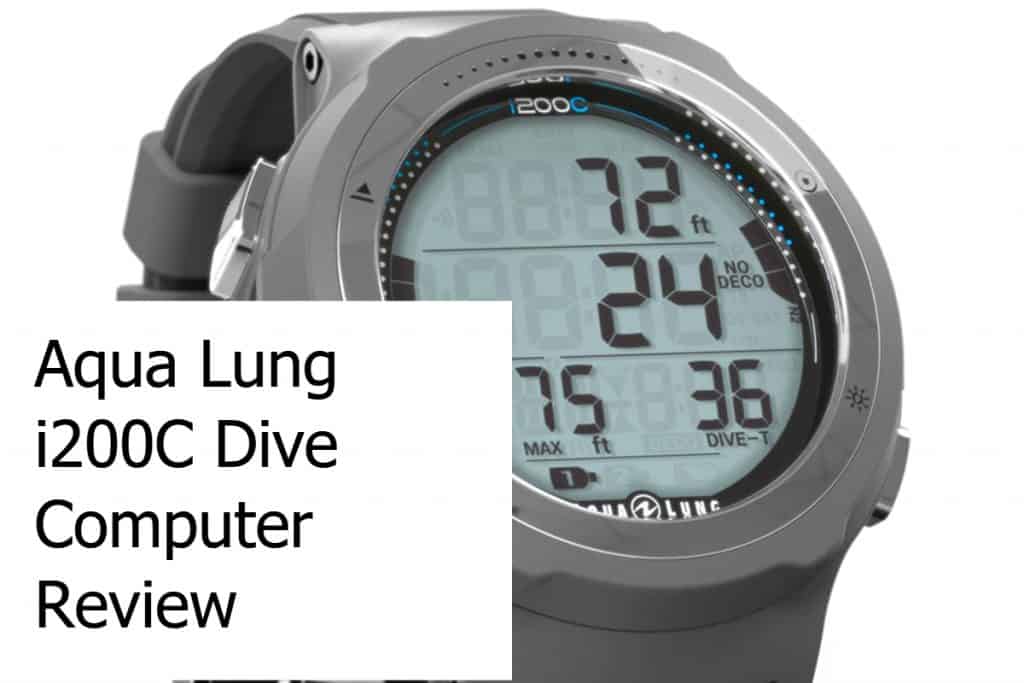 If you're comparing the Aqua Lung i300C and i200C, it's important to remember that both are pretty similar, with the major difference being the actual size of the watch. The i200 is better since it's a smaller design with a watch mode that makes it ideal for daily use, both in and out of the water.
Specifications of the Aqua Lung i200C
The core specifications of the Aqua Lung i200C are as follows:
4 operating modes
Multiple color options
33mm screen
4 side control buttons
Built-in LED alarm light
Lightweight- 76 grams
User-replaceable battery
Dual gas compatibility
Water-resistant to a maximum depth of 100 meters (330 feet)
Automatic altitude adjustment
Water-activated
History Mode- for dive data storage
Free switching from free dives to scuba diving
Ascent rate warning alarm
Low battery alarm
Built-in watch mode
Who Is the Aqua Lung i200 Best Suited For?
The reasonably priced Aqua Lung i200 has all the basic features of a dive computer, making it ideal for beginners. It's also a solid choice as a backup dive computer for advanced divers. Keep in mind that it can't be the primary option for pros since it doesn't have the advanced features that they're looking for.
We're going to look at all the features that are needed for a beginner/intermediate level dive computer to find out which ones are included in the Aqua Lung i200 and which ones are not.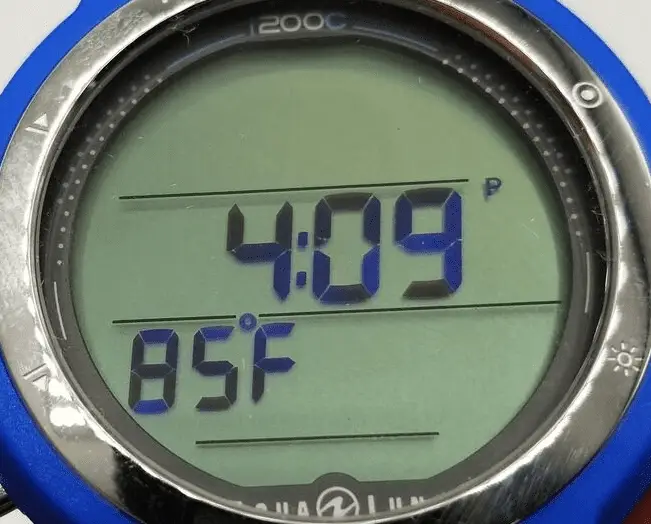 Features of the Aqua Lung i200C
We're going to cover the core features that are essential for even the most basic dive computer, as well as some extras:
Multiple Operating Modes
The Aqua Lung i200 has 4 different operating modes:
Air- standard, scuba diving mode
Nitrox- suitable for dual gas maxes with up to 100% oxygen
Gauge with run timer- the dive watch records the diver's depth and time, but the decompression stops are set by the diver themselves.
Free dive- meant for shallow diving where divers don't make use of any compressed air for breathing.
The computer is compatible with Nitrox gas mixes, and switching from the free to air diving mode is quick and easy. The i200 does not support Trimix.
Single Algorithm Function
Although the i200C doesn't allow you to choose the algorithm of your preference, it runs on the Pelagic PZ+ algorithm, which is neither too conservative like the RGBM model (can greatly reduce dive time) nor too liberal like the DSAT model. This basically means that you can get more bottom time without compromising on safety.
The PZ+ algorithm runs on the infamous Buhlmann Model and is designed to help increase dive time, even if you're completing multiple dives every day. Its non-decompression limit lies somewhere between the RGBM and DSAT set limits.
The only thing to look out for is that dive computer algorithms don't really take your physical fitness into account. If you feel like you're not too fit, make sure to leave enough time between two consecutive dives to avoid getting decompression sickness.
Auto Controls
Some features of the i200 activate automatically, while others need to be adjusted manually:
Switch On/Off– the watch is water-activated and automatically switches on once you get in the water.
Altitude Adjustment– automatic in both fresh and seawater between depths of 916-4,270 meters (3,000-14,000 feet). At 916 meters, the depth calibration automatically switches to seawater.
Display
The Aqua Lung i200 has a side LED alarm light so that you can see the screen even in dark, low visibility areas underwater. A single button displays the time and depth of your most recent dive.
The screen size is 33mm, which is on the smaller side, but this can also be seen as a plus point since the watch is lighter and more comfortable to wear underwater.
You can navigate around the watch through the 4 side buttons that are very easy to use, even if you are wearing gloves while diving.
The watch has an audible, visible alarm when the battery is running low so that you have sufficient time to replace it. In addition, you can also set your own alarms for depth, time-elapsed, etc.
Data Storage and Transferability
The i200C has a built-in History Mode that allows you to store data from your last 24 dives, after which you'll need to transfer the data onto your PC before it is automatically erased.
You can connect your watch to your desktop through an external cable to access the Diver Log program where you can adjust your dive computer settings, build a dive profile, check your dive history (and add notes if you want), and also share videos and pictures.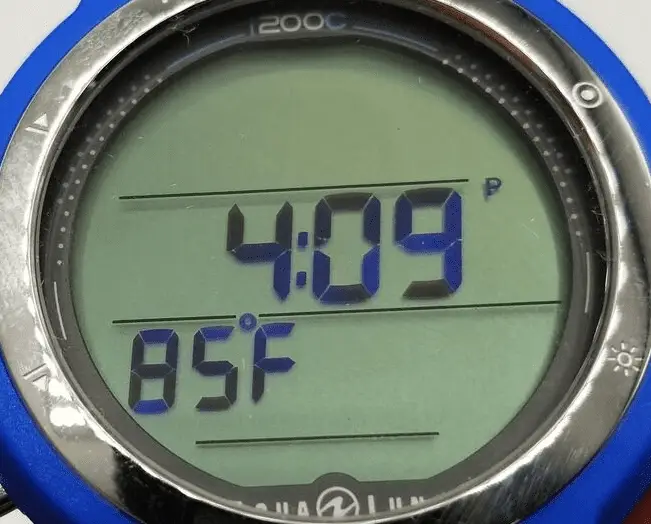 Optional Features
Some extras in the Aqua Lung i200C include:
Multiple Color Options
This dive computer comes in different color options, including the basics like black and gray, as well as some interesting options like yellow so that you can choose your favorite one.
User-Replaceable Battery
The lithium battery in the dive computer can be replaced by the diver, but the plus point is that the watch has data retention, so your settings and dive calculations will remain unchanged.
Deep Stop Function
The Aqua Lung i200 has a Deep Stop function paired with a countdown timer, and its software can easily be updated by connecting it to your PC through an external download cable.
What's Missing in the Aqua Lung i200C?
Some points where the i200 misses out are:
No built-in Compass- a built-in compass makes navigating underwater so much easier.
No Wireless Air-Integrated Transmission- air-integrated watches let divers know how much air is left in their tank, simply by looking at the watch screen. This is particularly important for advanced divers who need to keep track of their air supply for deep dives and require the ease of checking it through their watch, especially if there is low visibility.
Download Cable Not Included– the download cable has to be purchased separately if you want to access the DiverLog program and to make your dive profile.
No Trimix Compatibility- many advanced divers need Trimix tanks for specialty dives.
No Factory Reset- divers can't reset the watch manually, which can be a problem if the watch is being used by a rental shop, and the watch is used by multiple divers.
Single Algorithm- while the built-in algorithm works fine, many divers who may be accustomed to, say, the DSAT model will have to alter their dives according to the PZ+ in the Aqua Lung i200.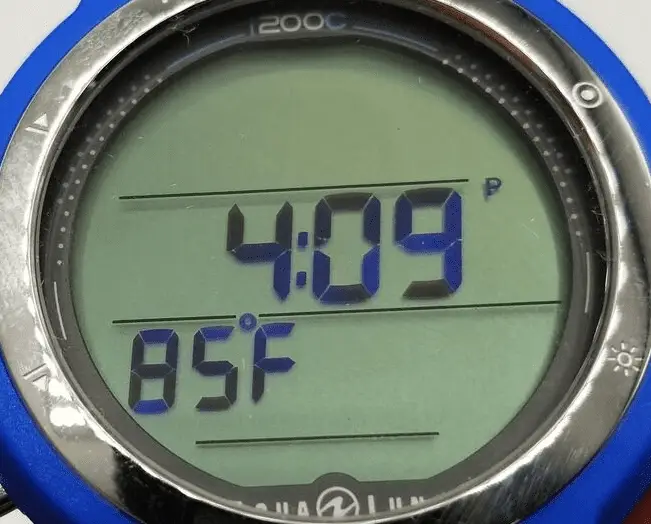 Do you need to know how to read a dive table when you have a dive computer?
Final Thoughts
While many people think of Suunto or even Oceanic when they're looking for a solid dive computer, the Aqua Lung i200 has proved itself to be a top performer.
While it isn't meant for advanced divers, it's a well-priced option for beginners and intermediate divers. The calculation model it runs on isn't too conservative or liberal, so you don't need to worry about your dive time being too restricted or more than you can stand.
Some other plus points are that it is a very lightweight dive computer that even comes with the option of being worn as an everyday watch, so you never have to take it off.
Switching between modes is quick and easy, and reading the screen display is pretty convenient, even if you're in a cave or diving at night (thanks to the built-in LED light).
An important factor to note is that the i200 is not Bluetooth compatible, and data cannot be transmitted wirelessly between the dive computer and your PC or smart device. Data transfer is possible through a cable. If this is something that affects you as someone who closely keeps tabs on their dive times, maximum depth, number of dives, etc. then you can opt for a slight upgrade, the i200C, which offers Bluetooth connectivity. The i200C is the newer model and successor of the i200.