Aqua Lung i300C Dive Computer Review
With an aim to make the underwater world more accessible, Aqua Lung has manufactured some of the best and top-of-the-line products over the years to help you explore the aquatic world like never before.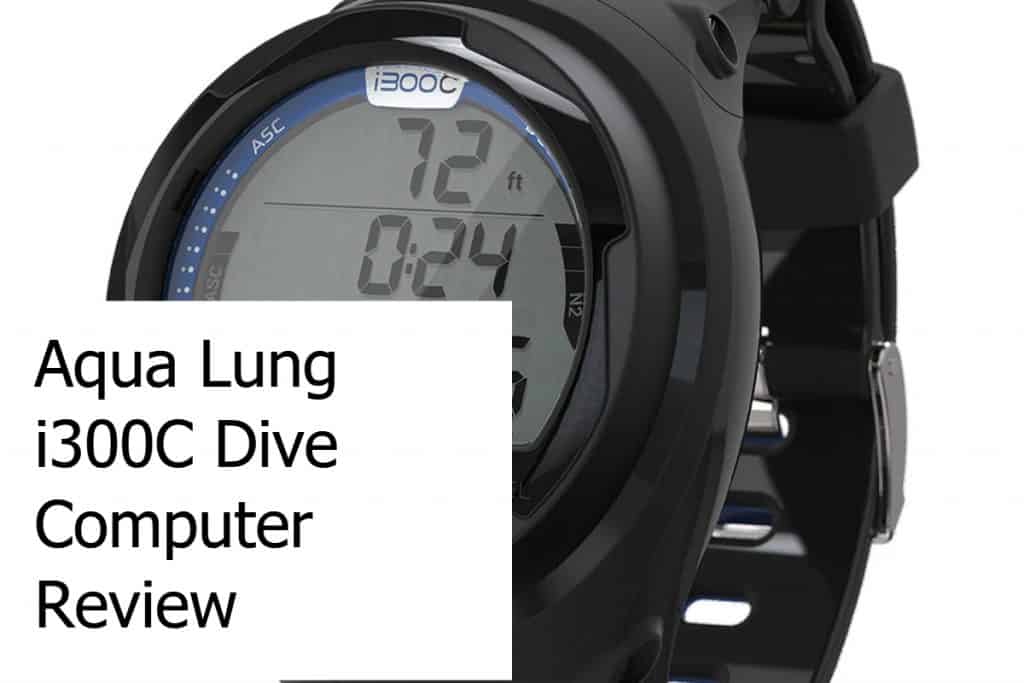 Previously known as U.S Divers Company, Aqua Lung was founded 75 years ago, and since then, it has been creating a plethora of diving products for underwater enthusiasts. From dive masks and snorkels to gear bags and water shoes, you can find a variety of innovative gadgets and equipment to help meet your underwater needs.
One of its most popular innovations is its line of dive instrumentation that was released in 2016. This includes a plethora of different dive computers and wrist gauges, among which, one of its bestsellers is the Aqua Lung i300C Dive Computer.
The i300c is an easy-to-use dive computer with a simple and uncomplicated design to help you focus and concentrate on your dive. Aqua Lung describes this gadget as 'rugged' and 'intuitive,' which makes it ideal not just for beginners, but also for those who are looking for something more than an entry-level dive computer.
It is a highly versatile piece of diving equipment with a wide range of useful features, such as Bluetooth connectivity, multiple operating modes, various auto-adjustment functions, LCD display screen, and increased readability, to name a few.
That being said, this dive computer is also quite affordable and has a great price point, so if you're new to diving and wish to invest in a reasonable, but all-in-one dive computer, the i300C might just be the one for you.
Take a look at some of its key features in detail below to help you decide if this is a good option for you.
A Brief Overview
According to the company Aqua Lung itself, the i300C is excellent for new and beginner divers, given its versatile yet easy-to-use interface. It's a fairly decent option for experienced divers as well, particularly those that are looking for a dive computer that also performs beyond the entry-level.
What makes the i300C dive computer ideal for beginners is that it comes with four different modes, through which you can choose to dive with either normal air or enriched air. The different operating modes allow you to choose the settings as per your requirements. This also lets you do scuba diving and free-diving both on the same day.
The interface of this dive computer features only two buttons that are accessible and easy to manipulate. This prevents you from fumbling with the settings while you're underwater.
If you're a beginner diver, you will especially love the i300C for its 'automatic altitude adjustment' feature that adjusts the algorithms for you and determines your exact height above sea level. It is one of the very few entry-level dive computers that offer this unique function, which is what gives it an edge over others. Another noteworthy feature here its 'user downloadable software,' which can easily be updated from your computer independently. All you need to do is download it with the help of an interface cable and then place it into the DiverLog application.
Additionally, it has a Bluetooth connection that provides you with long-term access to all the latest upgrades and features. The Bluetooth connectivity allows you to transfer all your dive-related data through the DiverLog application, which is available for Android and iOS devices alike. This greatly prevents you from the struggle of having to navigate through a number of menus on the dive computer. Instead, you can simply use the application to change your computer settings.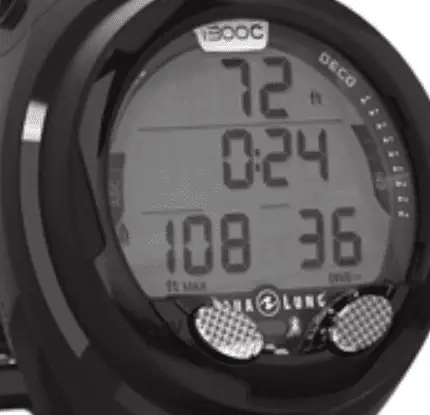 Technical Aspects of the i300C Dive Computer
Take a look at the most important technical aspects of the i300C Dive Computer that determine its efficiency and high-functionality.
Multi-Gas Use
The i300C is majorly known for its 'four operating modes' that also allow gas-switching during a dive. One of its modes is called the Nitrox Mode that lets you switch between three different gases in total during a dive underwater, which also includes 100-percent oxygen.
On/Off Switch
This device is water-activated, and it turns on the second its metal contacts touch the water and become wet. It also has a manual function through which you can switch it on with a simple two-button navigation menu that is easy to access, even if you have gloves on. When hitting the water, you are required to press and release either of the two buttons.
On the other hand, it doesn't have any 'off' button or command, so in case of no activity, the device enters sleep mode and shuts off automatically after two hours of operation.
Display
The underwater display of the i300C is big and readable even if you're somewhere at 85 feet underwater. It also provides a backlight, which is extremely useful for night dives. The buttons located below the display are also easily accessible even if you're wearing gloves. The display lighting further eases the whole process while you are diving. However, when compared to some other dive computers, the display of the i300C is a tad smaller, and it also isn't dot matrix, which can often make it slightly hard for divers to read the display when they are underwater. 
In terms of appearance, the i300C is also believed to look like a sports watch, given its small and compact size and the way it has been designed. If you compare it to the SuuntoZoop Novo, for instance, the latter does look like a computer with its huge display and super bright colors.
Dive Modes
The i300C offers four operation modes: Air, Nitrox, Gauge dive, and Free dive.
Air Mode: This provides you with factors like current depth, water temperature, dive time, and ascent speed, to name a few.
Nitrox Mode: This mode provides all the information given by air mode along with additional details about alarms and ppO2 (Partial Pressure of Oxygen).
Gauge Dive: This displays to-the-second information for dives that are exactly 59 minutes and 59 seconds, and is primarily meant for those divers that wish to use this dive computer for decompression diving.
Free Dive: True to its name, the free dive mode allows divers to customize the settings and set numerous alarms for things like checking nitrogen levels, countdown time, depth of the water, and dive time.
Battery
One of the key features of the i300C dive computer is its user-changeable battery that divers can easily change at home. The best part is that even after changing the battery, the device retains all the information about your previous dives. The batteries of this computer are also the standard ones that are easily available everywhere.
Data Transfer and Connectivity
This dive computer has a 'Bluetooth Connectivity' function through which you can sync all your dives into your phone. You need to download the DiverLog application on your phone, connect the computer to your phone through Bluetooth, and then transfer all the information with great ease and convenience. It further allows you to update your gas usage, gear bag, and all other dive-related details. You can also use the application to ensure several different settings for fresh water or salty water, gas settings, safety stops, and diving time, among other things. Lastly, the app saves your last diving location and the relevant statistics, where you can add your diving photos and videos along with all the other digitally stored information.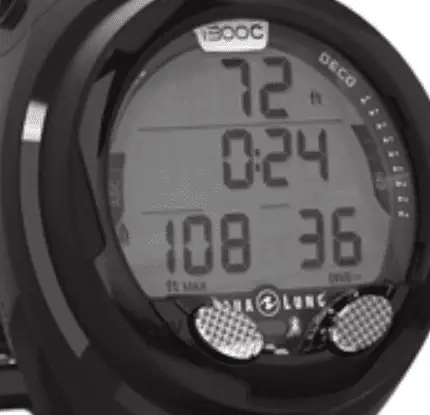 Altitude Adjustment
With many other dive computers, you are required to choose between a limited number of altitude ranges. However, the i300C easily determines the exact height above sea level and then makes changes in the setting accordingly. This feature ensures an accurate profile and is also super useful for all those people who dive on altitude on a frequent basis.
Optional Features
Some other handy, but optional features of the i300C include a deep stop function that lets you set a countdown timer for an optional deep stop. Furthermore, it has a wrist or console option that depends on the diver's preference.
Conclusion
To sum it all up, the i300C is clearly a great option for beginners and newbie underwater-enthusiasts. Some of its advanced features, such as the automatic altitude adjustment, different dive modes, and multi-gas use, make it ideal for recreational, experienced divers as well. The Bluetooth connectivity function of this device is one that gives it an edge over its competitors because it ensures an easy and smooth connection and helps you transfer all your diving information to your phone.
To add to that, the computer keeps and saves a record of your dives even when you replace the old battery with the new one, which is also a very useful feature for divers.
For all the enthusiastic divers out there, you can also perform a scuba dive as well as a free dive both on the same day with the help of this dive computer!
If you don't mind a small display and a few unclear abbreviations in the menus, the i300C dive computer is as good as it can get!
Please use the image below to pin this post!