Suunto D5 Wrist Dive Computer Review
Suunto has been manufacturing sports watches for a couple of decades now, and its dive computers are used by beginners and professionals alike. The Suunto D5 is meant to be used by pretty much any type of diver and has an easy-to-use interface. It is designed to make your dives as safe and enjoyable as possible.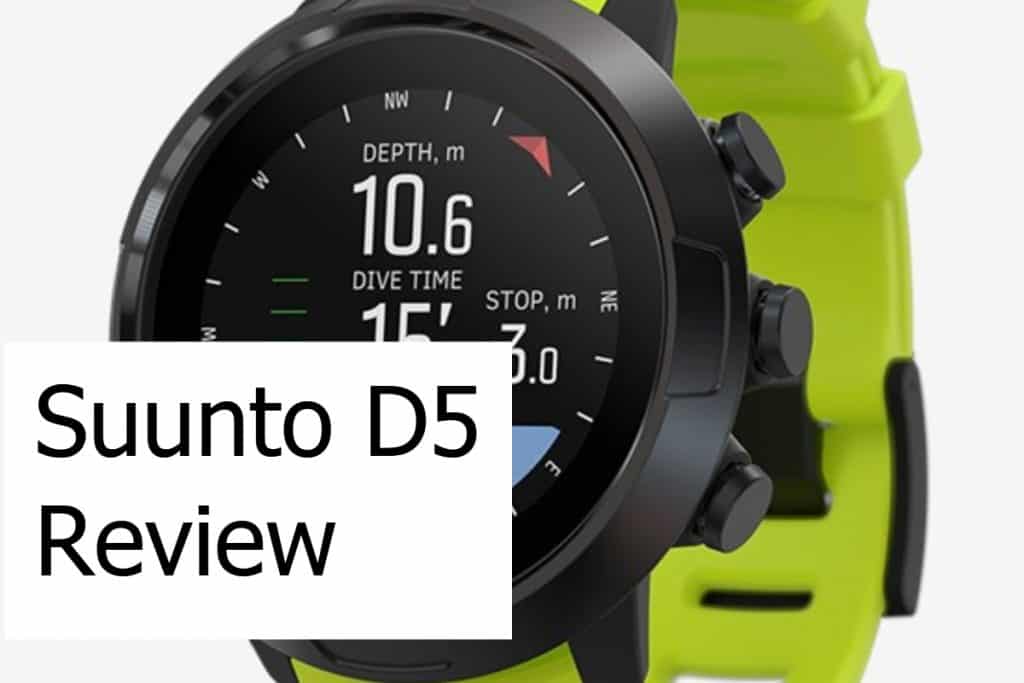 With an incredible range of features and a customizable look, the Suunto D5 may be the dive watch you've been looking for.
Core Specifications of the Suunto D5
Metric and imperial display
Multiple strap options in different colors- silicone
Adjustable language settings
USB included
Multiple dive modes
Maximum depth of 100 meters (328 feet)
Adjustable conservatism settings
Rechargeable battery (6-12 hours dive time)
Built-in compass
Gas switching option
Customizable dive modes.
Who Is the Suunto D5 Suitable for?
The Suunto D5 is best for both professional and beginner level divers who have room in their budget. The conservatism setting sets the watch's decompression model to function based on whether you're deep or shallow diving.
You can also keep a tab on your dive history, especially if you're trying to improve your dive by, say, spending more time at a certain depth, etc.
The Suunto D5 is not designed for technical use based on factors like the depth to which it can be used, the decompression model on which it works, and so on.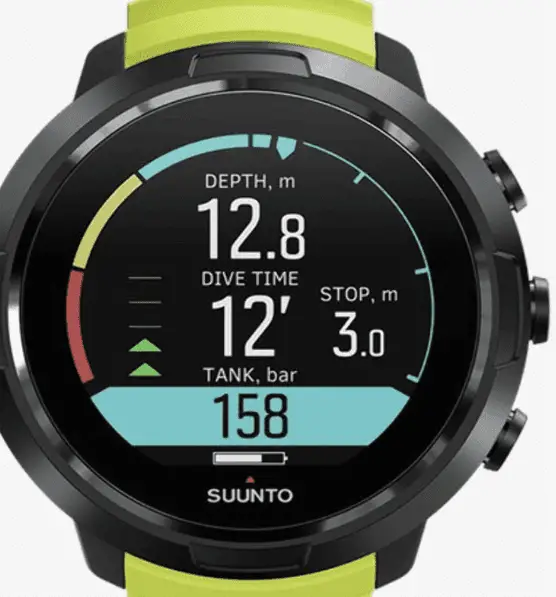 Features of the Suunto D5 Wrist Dive Computer
The Suunto D5 is packed with a range of useful features:
Multiple Modes and Air Integration 
The Suunto D5 has 4 different modes:
Air/Nitrox
Free dive
Compass
Gauge
What's great about this watch is that it also has air integration, which allows divers to see how much pressure is left in their tank just by looking at the watch screen. This air integration is done through wireless pairing with your Suunto Tank POD Transmitter. It not only tells you the air pressure but also the air supply remaining.
The watch is also capable of identifying different gas mixes, and in the Air/Nitrox mode, you can add up to 3 different gases. You can even make adjustments based on your current altitude or your desired level of po2 (partial pressure of oxygen, which may be toxic if it exceeds a certain level).
The watch makes use of the RGBM 2 decompression model for calculations, which takes into account the way the gases dissolve and form bubbles in a diver's body and bloodstream. This ensures that the diver makes the right stops and doesn't experience any discomfort like the bends during their dive.
Auto Switch On/Off
The watch has an idle mode, which turns the watch off if it has been inactive for more than 2 minutes (to preserve battery life). Tapping any button on the watch will turn it on.
There is also a deep sleep mode that is activated when the watch has not been in use for a day or two. In order to restart your watch, you need to connect the watch to your PC via a USB cable and press any button, or just submerge it in water.
These modes basically help the watch preserve the power it needs to run its full-color display.
HD Display
The Suunto D5 is certainly not a budget buy, but with great price comes great display quality. The watch has an HD LCD color display with a backlight that enables you to see the screen, even if you're deep diving or diving at night.
Reset Option
Your Suunto D5 can be reset after connecting it to your PC and going to the Reset settings. This is particularly useful if the watch is being rented out by a dive shop.
Connectivity
The dive computer can be connected to your PC via a USB cable. The battery is also rechargeable and can be connected via a USB cable to your PC when you need to charge it.
It also has some great wireless connectivity features. It can be synced to the Suunto app via Bluetooth, which opens up an entire world of diving for you because this app is a social media platform of sorts for divers.
Once your watch and app are synced, you can download your dive data onto your smart device and create a dive log and have a complete record saved on your device. There's even an option that allows your friends to watch your dive and "like" or comment on it.
Suunto even has support videos online to help you figure out the entire process easier.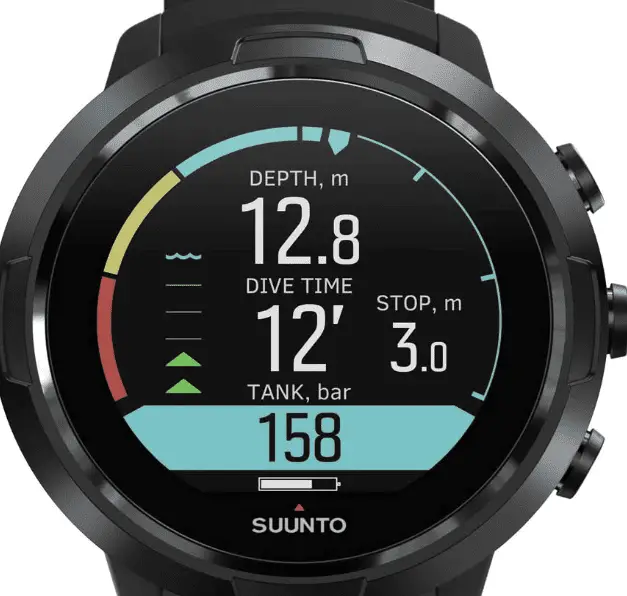 Is the Suunto EON Steel a good choice? Check out our dive computer review
Optional Features
Apart from all the essentials, the Suunto D5 has a number of extra features that can make your dive as comfortable as possible:
Digital Compass
The watch has a built-in compass so that you can navigate where you're headed without having to carry any more extra baggage.
Ascent Rate Control
Ideally, divers should ascend slowly to allow the compressed gases to escape their bodies without forming gas bubbles and causing decompression sickness. The Suunto computers (like the Suunto Zoop Novo in this review) allow for a maximum ascending speed of 10 meters (32 feet) per minute. If the diver ascends at a rate faster than this, the watch will vibrate to let the diver know that they should stop for a bit. It will also let them know how long to stop for and when to resume their ascent.
Deep Stops
One of the major uses of a dive watch is to guide you on when to make decompression stops. The factory setting of the Suunto D5 is designed to include decompression stops in any dive deeper than 20 meters (65.5 feet). If you feel like you're experienced enough to manage on your own, you can manually turn this feature off in the settings.
Adjustable Conservatism Setting
Decompression models may be conservative (+2 and +1) or aggressive (-2, -1, 0) – a conservative model means less time in the water with fewer decompression stops and vice versa. With the Suunto D5, divers can set their desired level of conservatism to suit their dive.
What's Missing in the Suunto D5?
Like all dive computers, the Suunto D5 isn't perfect (although it comes pretty close). Shortcomings of this dive watch include:
The compass has to be recalibrated after you recharge the battery
If you break the decompression cap set by the watch by more than 3 minutes, the algorithm will be automatically locked, and you won't be able to get any more decompression information.
Final Thoughts
The Suunto D5 has pretty much everything you need if you're a recreational diver. It's loaded with some great features such as multiple modes, conservatism, a customizable display, a built-in compass, and so much more. The sleek, customizable appearance makes it all the more appealing, and it's solid, durable build make it a worthy investment.
Please use the image below to pin this review to Pinterest. Thank you!