Suunto Vyper Novo Dive Computer Review
When you look at the Suunto Vyper Novo, and you think you actually might be looking at the Zoop Novo, then you are correct. They look like twins. Yet, under the hood (so to speak), there are a lot of differences.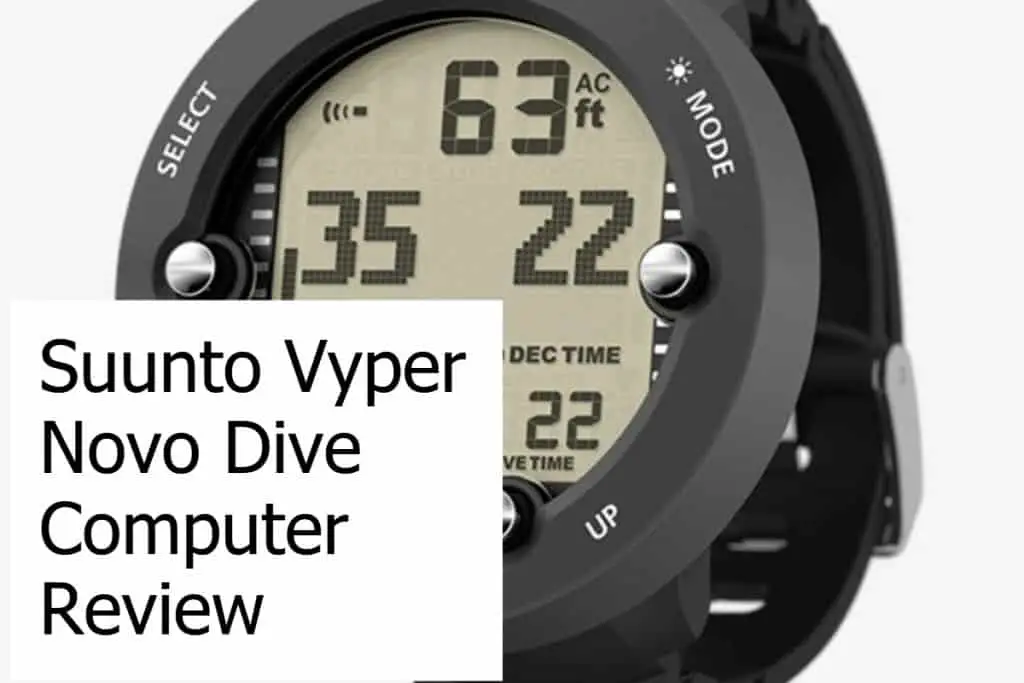 The Vyper Novo sports a large display and high-end functionality that shows in the price that it's offered for. The large screen allows displaying all essential information at a glance.
Summary of the Review of the Suunto Vyper Novo Dive Computer
The Suunto Vyper Novo targets experienced recreational divers. It's a wrist-mounted scuba computer that comes with a large screen to show all pertinent information at a glance.
The menu navigation and selections are handled through four buttons. These buttons are spaced around the display and allow easy access even when you're wearing gloves. Suunto priced the device in the medium range for dive computers. This is in line with the features and functionality that is offered with the Vyper Novo.
What we liked
Large and clearly readable display
Intuitive navigation with four buttons
Features for the experienced diver
Large log book with 140 hrs of dive time logging
Digital Compass
Connect to PC with USB cable
Maximum Depth (operational) of 80m
What we don't like
Too large to wear as a watch
Summary
Suunto scored a home-run with this dive computer. It doesn't lack any functionality you might ever ask for as a recreational diver. 
The optional wireless air integration makes the Suunto Vyper Novo a device for scuba diving that will grow with your needs. You can use up to three wireless air transmitters for three tanks. On the safety side of things, you get visual and audible alarms for the most common violations that happen underwater during a dive.
Last but not least, you have a 3D digital compass in the watch computer to free you from another instrument when you dive. The Vyper Novo is at a reasonable price point considering all the functionality included.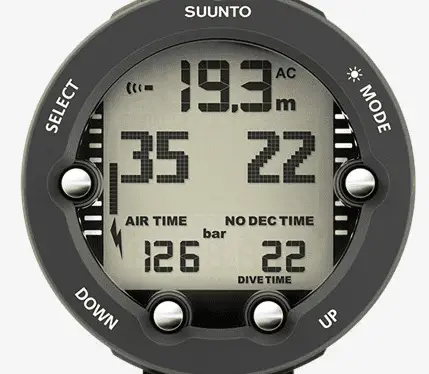 Overview and Review of the Suunto Vyper Novo
The display is large and cleanly divided to show all data when scuba diving you need to have in one view. The switching between functions is easy and quick through the clear four-button navigation on this dive computer.
Available Colors
The Suunto Vyper Novo is available in two different colors:
​Even though the Suunto Vyper Novo is worn at the wrist, it's anything but a wristwatch. It's pretty large and not what you'd wear day-to-day. This large size makes it easy, though, to view all data on display underwater. Being a dive computer, this is more important than being designed as a watch-sized decompression calculator for scuba diving.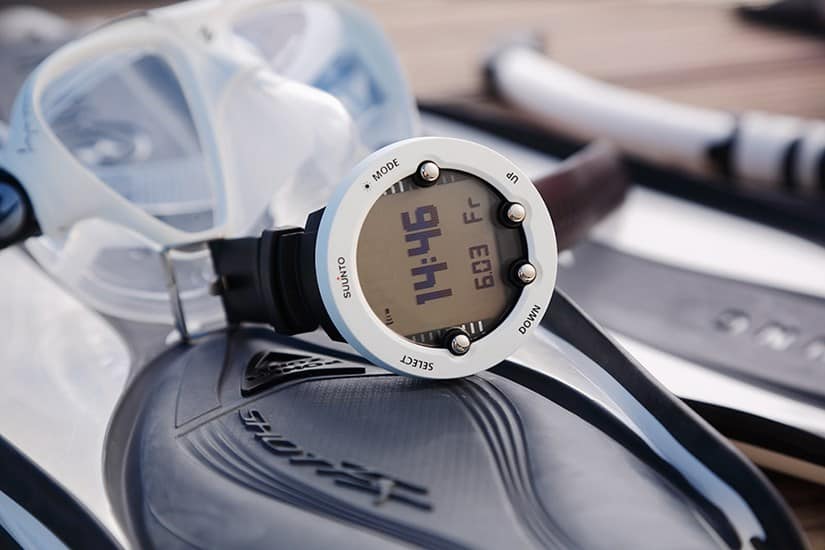 Capabilities
The Suunto Vyper Novo is a wrist dive computer. The size is large, which provides a lot of real estate on the screen to display all the vital information.
Dive Modes
It offers five different dive modes:
Air
Nitrox
Gauge
Free Diving
Off
The Suunto Vyper Novo is a dive computer that you wear at your wrist. There is no console version of it. It has optional air integration, which is working wireless.
The large size of the display of this dive computer allows showing all critical information on the screen. You will be able to see everything you need to know, including the air time remaining (if you use wireless air integration) on the screen.
Compass
The only functionality that needs switching of the screen is to view the digital 3D compass. Lower battery capacity will also show clearly on the screen to remind you to replace the battery before you take the dive computer underwater.
Change battery yourself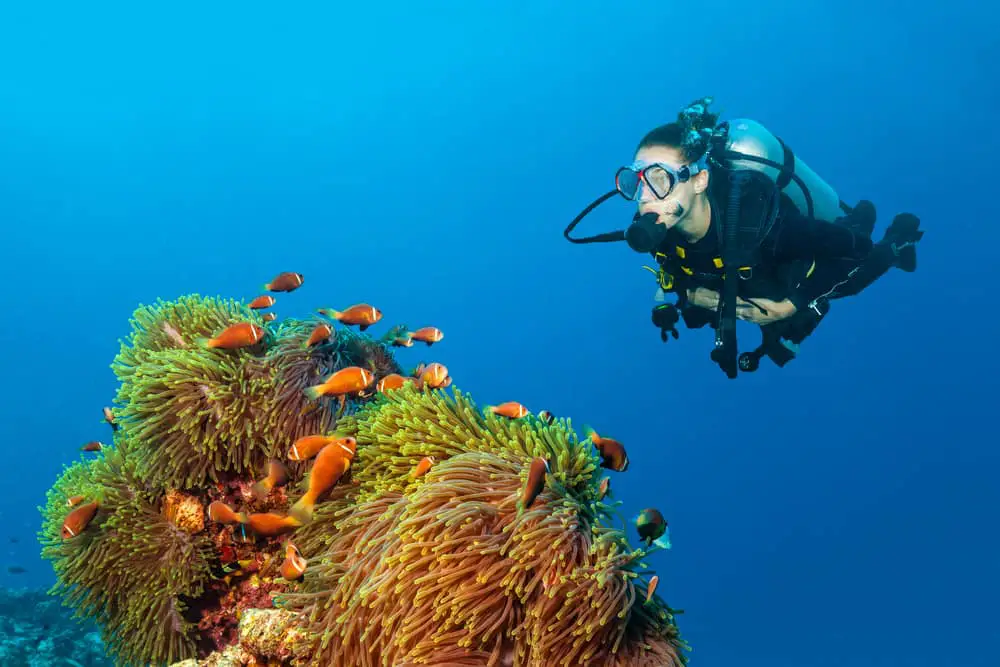 Simple Navigation
Navigation to get to secondary functions like the logbook can be easily accessed through the simple four-button design. The buttons on this dive computer are spaced far apart, so you won't run the risk of pressing a wrong button by accident when you wear thick gloves when scuba diving.
Alarms
The Suunto Vyper Novo provides a range of visual and audible alarms for the following conditions:
Dive Time
Maximum Depth
Tank pressure
Gas time
High PO2
Decompression ceiling violation
CNS/OTU (OLF) 80% / 100%
Switch gas (better gas is available)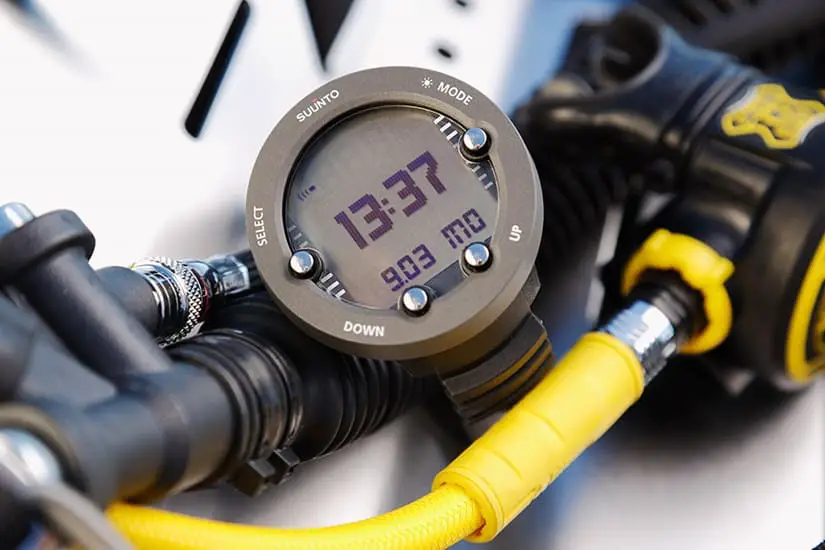 Technical Capabilities of the Vyper Novo
​The Suunto Vyper Novo dive computer can handle three different gasses with oxygen levels between 21% and 99% for managing air or Enriched Air Nitrox. The pO2 limits can be set between 1.2 and 1.6 bars.
Altitudes
The maximum operational dive depth is 80 m (262 ft). There are altitude adjustments available to specify the altitude in four different settings up to 3,000 meters (9,843 ft).
Algorithm
​The wrist computer uses Suunto's RGBM algorithm. It's in all their models, like the Zoop Novo, and the reduced gradient bubble model developed in cooperation with Dr. Bruce Wienke. You can adjust the conservatism of the algorithm on the Suunto Vyper Novo wrist computer with two different settings. This way, you can set a more conservative dive profile.
The off mode of the Vyper Novo wrist computer is a nice feature. Setting the dive computer into that off mode prevents it from switching itself on when you take it into the water for swimming or scuba diving. This way, you can conserve battery life while your swimming with the device on your wrist.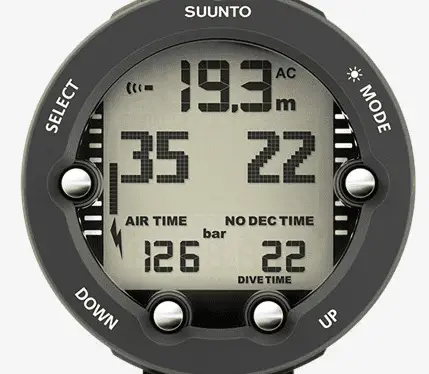 Dive Log and Connectivity
​The dive log of the Suunto Vyper Novo is rather large and can hold data for up to 140 hours at a sampling rate of 20 seconds. You can adjust the sampling rate to be either 10, 20, 30, or 60 seconds. For freediving, you can set the sampling to 1, 2, or 5 seconds.
Transfer data to your PC
You can transfer the data to your computer through a USB cable. Suunto's software on the computer is the DM5 application. You can load your data into the software to analyze past dive data or plan future dives after you connect to your PC with the USB cable.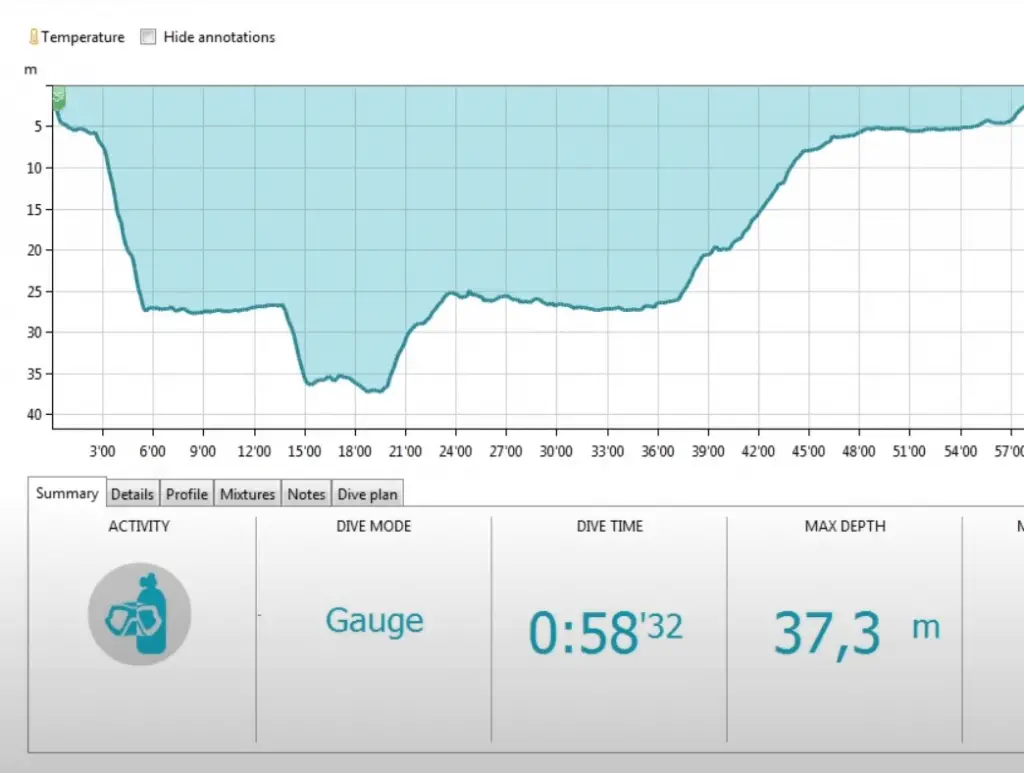 Share your dive impressions with friends
You can additionally upload your dive data to the Suunto Movescount portal. You can then share your diving data with friends and family and even add photos and videos to it.
Missing Functionality
There's not much missing with the Vyper Novo wrist computer. It's easy to use and has all the functionalities that a recreational diver could ask for.
You can start with getting the dive computer itself and later add the wireless transmitters as needed. Beginning with the essentials will save you money, and you can expand the capabilities as you go and gain more experience.​
​Features/Specifications of the Vyper Novo
Simple four-button navigation
Numerous audible and visual alarms
Large display showing all necessary data at a glance
Five dive mode settings for Air, Nitrox, Gauge, Freediving, and Off Mode
Three air or air nitrox gas mixes from 21% to 99%
pPO2 limits between 1.2 and 1.6 bars
Adjustable Suunto RGBM algorithm with two conservatism settings
Optional Air Integration to measure tank pressure
Operational maximum depth of 80 meters/262 feet
Four altitude adjustment settings up to 3,000 m (9,843 ft)
Data displays in either imperial or metric data
Dive log up to 140 hours at a sampling rate of 20 seconds
Adjustable sampling rate at 10, 20, 30, and 60 seconds
Freediving sampling rates adjustable at 1, 2, and 5 seconds
Built-in digital 3D compass
User-replaceable battery
Available in two different colors
Two years limited warranty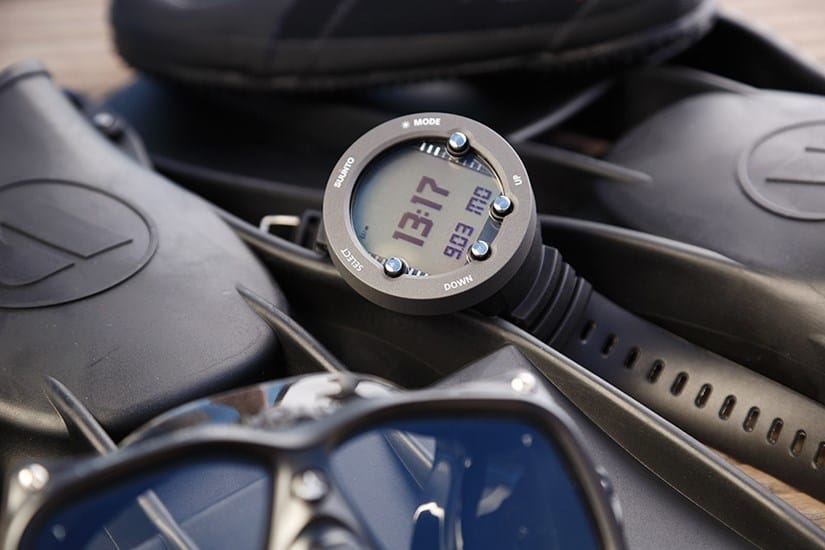 Pros and Cons of the Watch Sized Device
The Suunto Vyper Novo wrist computer provides all high-end functionality that a recreational diver could ask for. Being able to grow the capabilities of the dive computer by adding wireless air transmitters for wireless air integration at a later point of time allows starting with the dive computer only.
The Suunto RGBM algorithm is somewhat conservative. You can adjust the conservatism in two levels yourself.
Pros
Simple and easy four-button navigation
Adjustable Suunto RGBM algorithm
Five different dive modes (Air, Nitrox, Gauge, Freedive, and Off)
Three gas mixes
Switch gases during dive
Wireless air integration (optional)
Digital compass with 3D directions
All capabilities that an experienced recreational diver would require
Cons
This dive computer is an excellent choice for a recreational diver. It does offer a ton of functionality and might be a little too much for a beginner. As an experienced diver, you'll pretty much get everything you can ask for.
What do others think?
Let's have a look where you can buy the Vyper Novo and what others think of it.
Where to Buy?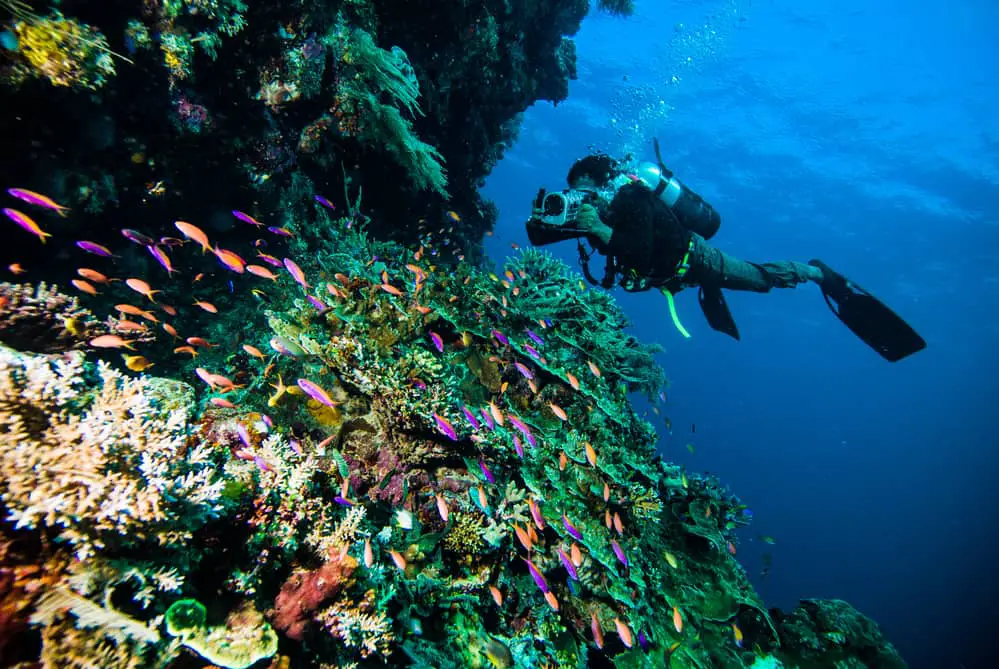 You can find and buy the Suunto Vyper Novo wrist computer locally or online. You might find a wider variety of options online at large retailers like Amazon. We recommend Amazon due to their easy ordering and reputation.
Customer Feedback
Looking at the customer reviews of people that bought the Suunto Vyper Novo shows that most are very happy with their purchase. The major complaints are that some of the scuba dive computers broke right at the first couple of dives. Make sure you purchase the unit from a reputable online retailer, so you get the service that's required if you have any issues.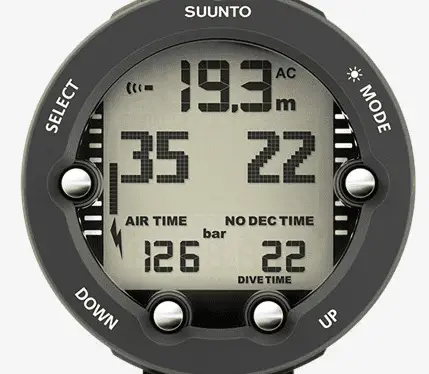 Final Thoughts on the Vyper Novo
The Suunto Vyper Novo has everything you can ask for as a recreational diver. It'll take a long time, should it ever happen, that you require to dive with three gas mixes. In that case, you'd be prepared with this dive computer. 
If you overall like the Suunto design and capabilities but do not need all those high-end features, then have a look at the Suunto Zoop Novo instead. It's similar in design yet offers only the features that are sufficient for most recreational divers.
The large display of the Suunto Vyper Novo allows viewing all essential and essential data in one view. With optional wireless air integration, you can also see the current pressure and dive time remaining for up to three gas mixes. 
The built-in 3D digital compass rounds out the set of features in this dive computer. These provided functions should be enough for many years of diving to come.
Whom is the SUUNTO Vyper Novo not for?
The Vyper Novo might be overkill for a beginner or if you dive only a few times a year. As an experienced diver or one that is working to become one, it's a fabulous dive computer with all the necessary features. A beginner might be better off with the Suunto Zoop Novo or the Cressi Donatello dive computers. We created a post specifically comparing the Suunto Zoop Novo vs Suunto Vyper Novo if you want to check a detailed comparison between the two models.
There's not much you could ask for in functionality if you're diving. If you prefer a similarly capable recreational dive computer that is also usable as a daily wristwatch, then have a look at the Suunto D5 or check out the Shearwater Teric.
Pin It
Use the image below if you like this post and want to pin it to Pinterest!