Suunto Vyper Dive Computer Review
Suunto does not produce or sell the Vyper anymore. It has been replaced by the Vyper Novo and you can check our review of that scuba diving computer at https://www.deepbluediving.org/suunto-zoop-novo-dive-computer-review/.
The Suunto Vyper has been available on the market for quite a few years now. Having been around for a few years doesn't make it an old dive computer.
It does provide fewer capabilities than, for example, the Suunto Vyper Novo. However, it still does offer a lot of functionality for the recreational diver at a much lower price than the Novo model!
You get an oversized wrist dive computer with a pretty complete set of features required for a medium-experienced recreational diver. The functions you miss compared to higher-end devices are possibly nothing you'll need for years or maybe even ever.
Suunto Vyper Dive Computer Review Summary
The Vyper targets the recreational diver with some experience or even just the beginner. It's a pretty large device that is worn on the wrist like a watch.
Suunto kept the navigation straightforward and simple. You handle the menus through three buttons on the device. Since the successor, the Vyper Novo, has been introduced, you'll find some Vyper's online and at local stores for a reasonable price.
What we liked
Large display displaying all data in one view
Easy navigation with three buttons
Sufficient features for beginner and experienced divers
What we don't like
Too large to wear as a watch
No compass
Only able to handle one gas mix
Summary
The Suunto Vyper is not the newest dive computer that you can buy. However, it does have pretty much everything you need during your first years of diving. Might you miss the ability to handle more than one gas mix and to have air integration?
You eventually might miss it, but that's usually a few years down the road. As such, you can save yourself some money today and get a reliable device like the Vyper. When it comes to upgrading to a more sophisticated model, new technology might already have brought out new dive computers that are more capable than today.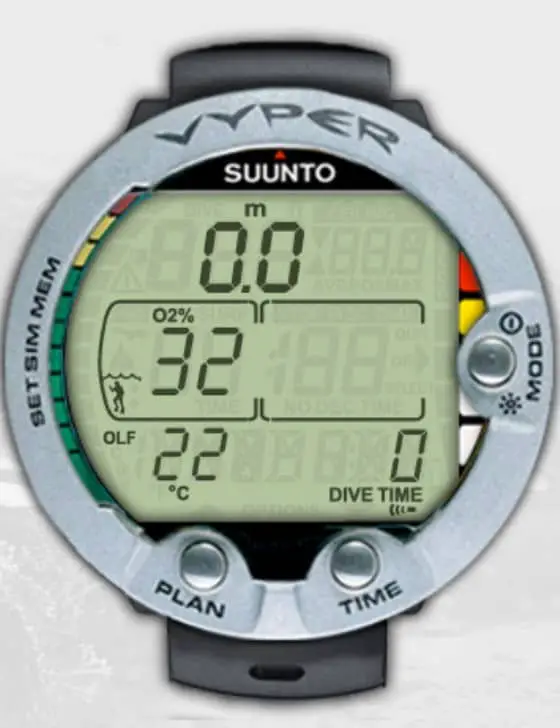 Overview and Review of the Suunto Vyper
The large display shows essential data at a glance. The information is showing visible and in their separate sections.
The Vyper is a wrist-mounted diving computer. It does not come as a console mount. It is, as most wrist dive computers, too large to be used as a regular watch.
Capabilities
The Suunto Vyper has a large screen that allows viewing all data required for a safe dive without having to navigate to get to it.
Dive Modes
It offers three different dive modes:
Air
Nitrox
This is a no-nonsense dive computer that sports essential features for recreational diving. It doesn't provide functionalities like air-integration or gas mixes and switching.
Visual Alarms
The visual alarms show on the main display without the need to navigate away from the main screen.
Battery Replacement
The same is the case if the battery gets low. A low battery indicator will show on the screen, reminding you to switch the battery. You can easily change the battery with no need to send the device off to a service center. This saves money and speeds up the replacement of the battery.
Navigation
The navigation on this device is easy and consists of the usage of three buttons. They are spaced out on the top of the dive computer. This also ensures that you press the right button even if you wear gloves during the dive.
Alarms
The Vyper has the essential signals available. They alert you both visually and through sound when the limits for the following settings are violated:
Dive Time
Max. Depth
High PO2
Decompression ceiling violation
Too fast ascent
Technical Capabilities
​The Suunto Vyper can handle one gas mixture between 21% and 50%. It cannot handle different gas mixes during dive. You can set the pO2 limits between 1.2 and 1.6 bar.
Depth and Altitudes
The Vyper has a maximal operational depth of 100 m (328 ft). If you intend to dive at higher altitudes, then you can specify the height up to 3,000 meters (9,843 ft) in four steps. These altitude settings allow the algorithm to calculate all data correctly.
Algorithm
The calculations are all based on the Suunto RGBM algorithm. It's used in all Suunto dive computers and is known to be a reliable yet conservative algorithm. You can change the conservatism settings of the Suunto Vyper through two different settings to influence the calculations.
Dive Log and Connectivity
​The dive log is on the small side with being able to hold dive data for around 36 hours when the sampling rate is 20 seconds. The sampling rate can be adjusted and set to 10, 20, 30, or 60 seconds.
Connect to the PC
The Suunto Vyper can connect to your computer through a USB cable. You have to install Suunto's DM5 software on your computer to allow you to download the dive data from your dive computer. The software enables you to analyze your log data from a dive or to plan future dives.
Suunto Movescount Portal
You can upload the log data to the Suunto Movescount portal. There you can add information, including videos and photographs, and share the information with others.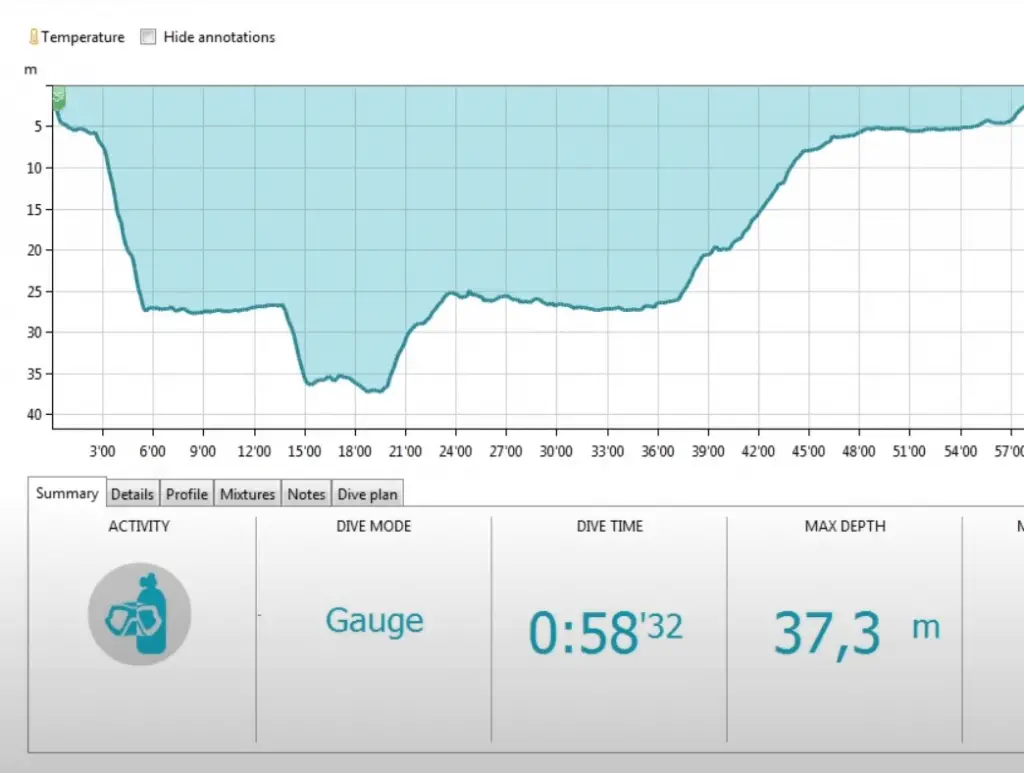 Missing Functionality
The SUUNTO Vyper provides the most needed features and functions you need as a recreational diver. It is missing the ability to handle multiple gas mixes, and it also has no air integration. Lastly, it also does not provide an integrated compass.
Features/Specifications
Easy navigation with three buttons
Most important alarms are visible and audible when limits get violated
Large display showing all necessary data at a glance
Three dive mode settings for Air, Nitrox, and Gauge
One gas mix from 21% to 50%
Set pPO2 limits between 1.2 and 1.6 bars
Adjustable Suunto RGBM algorithm with two conservatism settings
Max. operating depth of 100 meters/328 feet
Altitude settings up to 3,000 m (9,843 ft) in four different settings
Can handle data in either imperial or metric data
Around 36 hours of dive data in the log at a sampling rate of 20 seconds
Sampling rate adjustable to be 10, 20, 30 or 60 seconds
User-replaceable battery
Pros and Cons of the Watch Sized Device
You get a robust and reliable dive computer when you purchase the Suunto Vyper. It does not have high-end features and functions, but it does provide the essentials you need as a recreational diver.
When it gets time to upgrade to more sophisticated features, you will have to trade up. However, that would most likely be years out in the future if it ever happens at all.
Pros
Navigation through 3 easy to use buttons
Suunto RGBM algorithm with two adjustment settings
Three different dive modes (Air, Nitrox, and Gauge)
Basic features that a recreational diver requires
Cons
Not a wristwatch
No air integration
No compass
No gas switching
As a recreational diver, you might not need more features, even in the long run. It could be a wise move to buy this dive computer and save some money compared to other higher-end models while still getting a robust and reliable device that can handle all your essential requirements.
Where to Buy?
The Suunto Vyper is no longer produced. You can find some last ones online at retailers like Amazon or possibly on eBay.
What do others think?
The customer reviews of folks that bought this dive computer are overall very positive. A few people received a Suunto Vyper that wasn't working. In the case of buying it from Amazon, this would require a simple return or exchange. Other online retailers might end up giving a customer a hard time. Keep that in mind when ordering.
Conclusion
​The Suunto Vyper is not the latest and greatest gadget you can get. It does not have all the bells and whistles you might need to show off your dive computer to your buddies.
However, it is a robust and reliable partner that will help you to dive safely. It offers the essential features you need as a recreational diver without the bells and whistles that you might or might not need when you do more sophisticated dives.
If you're looking for an even more basic entry-level dive computer, then have a look at our review of the Suunto Zoop Novo. It is cheaper and offers the essential features that you need when beginning with the scuba diving sport.
Who is the SUUNTO Vyper not for?
The Vyper is an excellent and reliable dive computer for a diver with some experience that doesn't need to spend the extra money on multiple gases and/or air integration. To say it differently, if you do need to dive with multiple mixes and/or to have wireless air integration, then this is not the scuba computer for you.
You get a lot of dive computer for the money. You won't get the highest-end and most sophisticated features, but you do get a reliable scuba computer for years to come. If you need a dive computer with more features, then you might want to look at the Suunto Vyper Novo.