What is the Difference between a Dive Watch and a Dive Computer?
With the rise of dive computers, the old-fashioned dive watch became obsolete.
Did it?
You'll find more on that further down!
A nice dive watch works well with every type of outfit, whether it's a wet suit for diving or an Armani suit when going to the opera. That cannot be said for a dive computer though!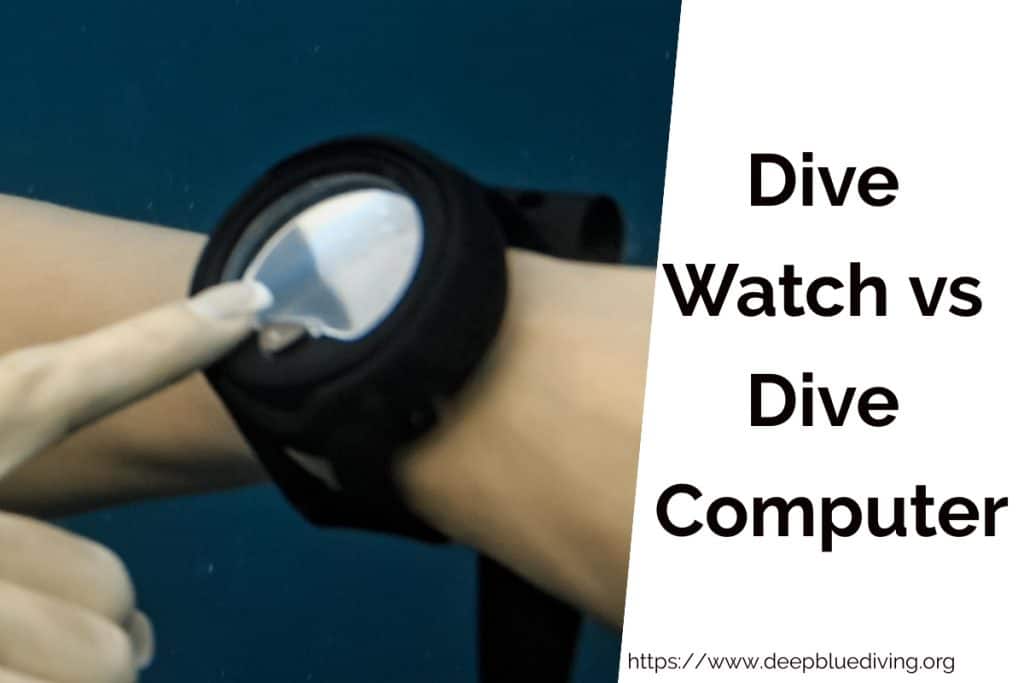 Dive Watch vs Dive Computer – What are the Differences?
A dive watch or dive computer is a type of diving gear that has been developed to improve safety while underwater. They are a great way to make a safe and enjoyable dive.
While both watches and computers can be used to track your time underwater, a watch usually has a more streamlined display. Many models have a domed crystal for better pressure resistance.
The dive watch's most important feature is probably the dive timer. It tells you when you've been underwater for a certain number of minutes. This helps to prevent decompression sickness.
A dive computer has many of the same functions, with the added bonus of being able to move the bottom timer to your wrist. In addition, dive computers provide increased accuracy, saving divers precious dive time.
Dive watches and computers come in a variety of styles, from digital to analogue. However, no matter the style, they all have the same gimmick.
Most dive computers have a flashing backlight to alert you of low air pressure or a dangerous decompression limit. Diving computers also typically have audible alarms and a visual display, to make navigating through the water safer and easier.
The most advanced dive computers aren't the most expensive, but they'll give you a lot more bang for your buck. Some even include software to download your data to a PC.
Whether you choose a watch or a computer, it's important to choose a model that's comfortable, waterproof, and easy to read.
Are Dive Watches Obsolete?
Dive watches are not obsolete and continue to be popular among divers and non-divers alike. Dive watches are specifically designed for use during scuba diving and are meant to be worn on the wrist. They are typically equipped with features such as a rotating bezel, water resistance to depths of at least 100 meters (330 feet), and a luminous dial to make them easy to read in low light conditions.
Many people appreciate the durability, functionality, and style of dive watches and continue to wear them as everyday timepieces. While technological advancements in dive computers have made it easier for divers to monitor their dive times and depths, dive watches remain a popular choice for their reliability, versatility, and aesthetics.
Can you dive with a Rolex?
Rolex has a storied history linked to the sea. They are the innovators of dive watches and have pushed creations to new heights.
The Rolex Submariner is an iconic watch. It was the first water-resistant timepiece for divers. With its domed sapphire crystal and luminous filling, it unlocked the deep. Today's Rolex Submariner has been updated over the years, but it's still true to its DNA.
Rolex isn't the only manufacturer of dive watches. Several other manufacturers have released waterproof watches, including Seiko, Sinn, OMEGA, and Luminox. However, there are some key differences between Rolex and the others. For example, a vintage Rolex Submariner may not be able to be submerged for an extended period of time, whereas modern Rolex models are waterproof below 100 meters.
A Rolex dive watch features a helium escape valve, which helps prevent damage during decompression. These watches are also tested and certified by ISO. This means that they are resistant to humidity, dust, and moisture.
While a Rolex is unlikely to become your lifeline in the water, it's a useful accessory to have. You'll need to have your second hand running, especially if you're planning a timed dive. If your watch is not running when you start diving, you might get lost or banged against something hard.
Rolex has collaborated with many famous deep-sea explorers, such as James Cameron, Jacques Piccard, and Don Walsh. Through these partnerships, Rolex has made it possible to fund their research and expeditions.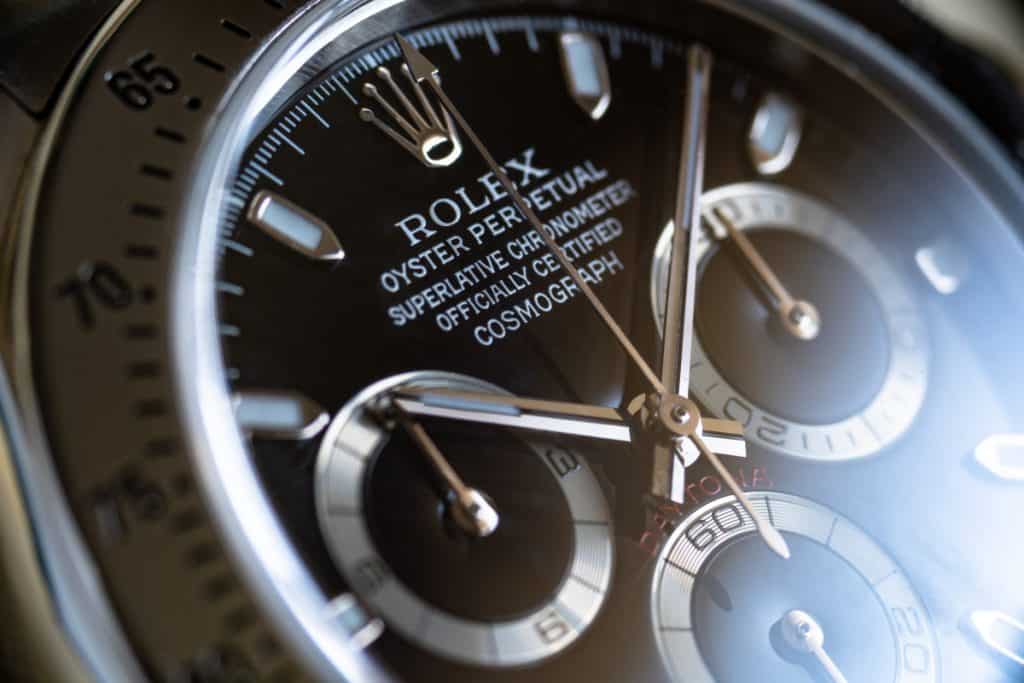 Why do Dive Watches use Orange?
Orange dive watches have been around since the 60's. They make great conversation pieces on land, but they're also very readable underwater. The color orange is also commonly used for signage.
Many dive watch makers use orange because it's a bright, easy-to-read color. However, you might not think orange is a good color for diving. Besides, it's not as visible as blue or black. So, what's the best color for a dive watch?
A report by the US Navy recommends that the best colors for a diver's watch are black, white, or orange. Black is the most visible color, but white or orange are easier to see in the dark.
Orange is one of the first colors to fade underwater. That means that the color of an orange watch will show up less clearly under water than a darker color. But it's still a good choice.
When it comes to dive watches, it's important to get a watch that has more than 100 meters of water resistance. In addition, it's a good idea to have a backup timer, as well as a dive computer.
For the most part, a black dial is the best choice for a diver's watch. This is because it's easy to read in the dark. You can also use white or bright green lume to improve visibility underwater.
If you're looking for a cheaper watch, look no further than the Seiko Diver. It's priced to go and has a very sturdy, grippier bezel edge. Plus, it's a mechanical watch, so you don't have to worry about manual winding.
Can a Diver use an Everyday Watch?
A diver's watch is a timepiece that is specially designed to last in the water. It is often considered as an item of sport and luxury. You can wear a diver's watch with a suit or business attire.
Diver's watches are also known for their superior readability. This is made possible through a mirrored minute scale. The bezel can be rotated to show the hours, minutes, and seconds.
Diving watches are also useful in poor light conditions. They feature lume that makes telling the time in low light easier.
Diver's watches come in different colors and sizes. You can buy a diving watch with a stainless steel case and bracelet. Other materials include titanium and ceramics. Usually, the bezel is unidirectional, which is a good thing.
While a diver's watch is a great timepiece to have, it's not necessarily the best choice for everyone. If you're planning to use your watch while you're swimming or snorkeling, you should check its water resistance regularly.
The ISO 6425 standard, a set of international guidelines, lists the various metrics that can be measured by a watch. One of them is the number of meters of water resistance. However, this does not mean that a watch can be used underwater.
Watches with more than 30 meters of water resistance are generally not recommended for swimming. However, they are fine for everyday use. For instance, a watch with five ATM can be used daily.
In addition to water resistance, diving watches have other features that are not often seen in other watches. Some dive watches have a helium valve, a jumping hour, and a double graduation. These features are intended to increase your safety while diving.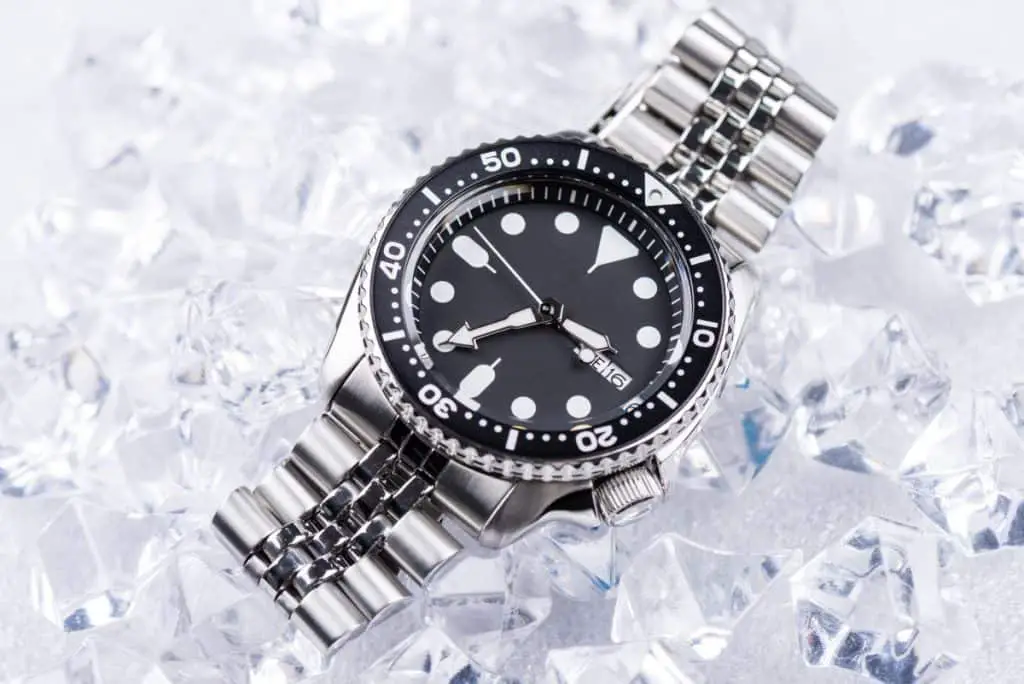 Can a Dive Watch be an Everyday Watch?
A dive watch is a timepiece designed for underwater use. It's durable and has a water resistance of at least 100 meters. The main purpose of a dive watch is to keep track of the time you've spent under the water. But they're also useful for everyday wear. They don't have to be gaudy.
When you're diving, you want to be able to see the time clearly. Dive watches have a rotating bezel that allows you to keep track of the elapsed time. You also want lume, or luminous paint on the hands, to help you read the time. Luminescent hands are a necessity if you plan to dive into darker or deeper water.
There are many different types of diving watches. Some are simple and practical, while others are expensive and feature complicated functions. However, you can get a good diving watch for under $1,000.
If you're looking for an affordable watch, consider the Seiko Turtle. This watch has a rotating bezel with a helium escape valve, automatic movement, and 38 hours of power reserve.
Another great option is the Tissot Seastar 1000 Powermatic 80. This watch has a polished ceramic bezel and a very shiny finish. With an 80 mm case, it fits well on a larger wrist.
Aside from the features listed above, the G-Shock has a moon-phase indicator, tide graph, and almost infinite battery life. Powered by a Casio Tough Solar quartz, this watch is a reliable timepiece for any adventure you have.
What is the Deepest Dive Watch?
A deep dive watch is one that is able to function at depths greater than the watch's rating. It is also usually made from high quality steel and sapphires. Some of the more extreme watches can work at depths up to 6,000 meters.
Rolex's latest deep dive watch, the Deepsea Challenge, broke water resistance records and proves that the company is a leader in this field. This is the brand's first titanium watch.
Rolex has been testing and developing their water-resistant abilities since 1926, and their deepest diving watches are no exception. The Deepsea Challenge is the most capable diving watch on the market.
The Deepsea Challenge features a helium valve, which allows helium to escape safely and prevents any damage to the watch. It has an automatic Sellita SW 200-1 movement, a screw-in case back, and a flat sapphire crystal with a patented A/R coating.
Other manufacturers have created timepieces with the same rating. For instance, Swiss Military Watches by Charmex developed a 12,000 Feet CX Diver, and Bremont produced a technical diver's watch. However, neither of these models is ISO 6425 certified.
The Omega Ultra Deep is also an extreme dive watch. Although it is not rated to a specific depth, the watch has passed eight METAS tests. METAS is an industry standard that requires a watch to be waterproof up to +25% above the stated water resistance.
The Ultra Deep's dial has cyan Arabic numerals, a gradient seconds hand, and white lume that glows green. There are four versions available, including a stainless steel bracelet and rubber strap.