Best Scuba Diving in Maui – Find the Best Dive Spots in Hawaii!
Maui, also known as the Valley Isle, is the second-largest island in Hawaii and pretty much encapsulates everything we picture when we think of Hawaii – from ancient, dormant volcanoes to cultural relics to interesting animal species (both on land and in the water) to the deep blue waters. Its coastline extends for over a hundred miles with a range of diving spots for divers of all levels.
Maui's main attraction underwater is its incredibly colorful reef garden. These hard corals are home to a number of tropical species of fish and some other varieties like barracudas, nudibranchs, and lionfish. Its incredible beaches, breathtaking sunsets, numerous diving locations, and delicious local cuisine have been an attraction for countless divers, tourists, and vacationers every year.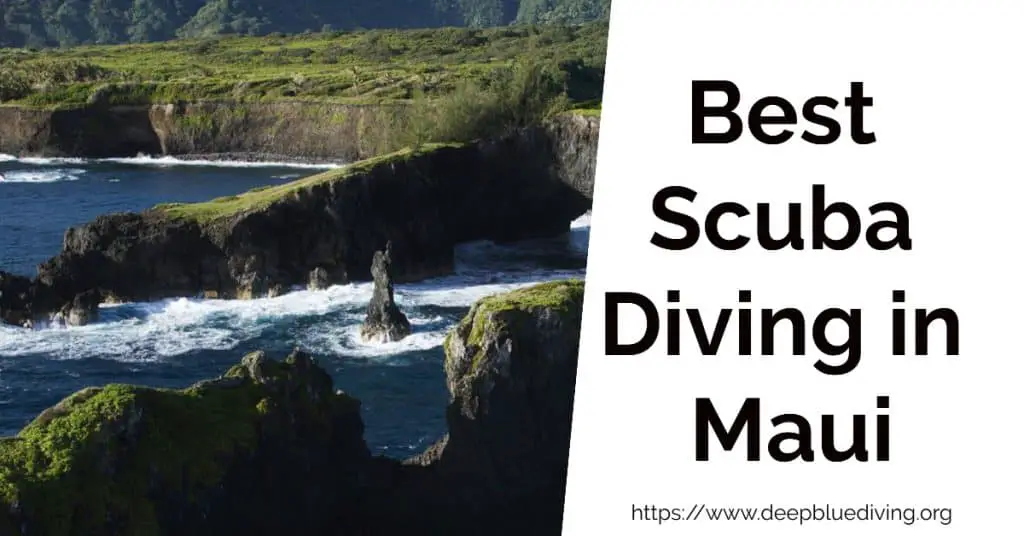 Thinking of going to Croatia to dive? Find the best locations!
Why Dive In Maui?
While scuba diving in Maui is generally quite expensive, the region still welcomes many tourists and divers. People come to this region because of the diverse underwater landscape, such as corals, caves, lava formations, and an endless array of marine animals.
Although you can dive here almost throughout the year, the best time to visit is between January-March. Many people also come during this time since it's Humpback Whale season, and while spotting one is rare, divers still keep a lookout. Even if you don't see one, you can hear the whale song in the background. During the winter, the water is pleasantly cool at around 24 degrees Fahrenheit (23 degrees Celsius).
From July-August, you won't see any whales, but diving is still enjoyable, with water temperatures varying in the 80s.
Check out the short history overview of scuba diving. Get a timeline of when it was invented up to today!
Is It Good For Beginners To Dive In Maui?
The great thing about scuba diving in Maui is that not only are there a number of dive sites accessible to beginners, but it is the ideal place to get certified if you aren't already. Many people choose to get their Open Water Diver certification (how many dive certifications can you get?) from here. Others come here for specialized training like Boat Diver, Deep Diver, Wreck Diver, and so on.
While beginner-level divers are welcome, it's a good idea to do some research beforehand on Fish Identification, given the multiple different species of marine animals you're likely to come across.
Is It Easy To Get There?
Getting to Maui is fairly easy. You can look for a direct flight to its international airport, Kahului. Alternatively, you can land on the international airport on Oahu, Honolulu International, and use one of the local, interisland airlines such as Hawaiian Airlines to get to Maui. If you live in America, you can even use local airlines like Southwest and JetBlue.
Once you're in Maui, if you intend to visit other places in Hawaii, you can use local airlines, ferries, or rent a car.
Are There Good Dive Sites For Families?
There are plenty of dive sites in Maui that are great for beginner level divers and families. Ideally, you should select a hotel or resort that is close to the starting point of your dive. If you sign up for a liveaboard, you may also get discounts and package deals for your family.
What Aquatic Life Can You Find?
Like the rest of Hawaii, the waters around Maui are rich in marine life. Monk seals and sea turtles can be found relatively close to the shore. You'll also find nudibranchs, barracudas, manta rays, butterflyfish, schools of snapper, coral heads, goatfish, lobsters, crabs, damselfish, puffers, eels, and much more.
Apart from that, you'll find a diverse variety of corals, including some rare species like black and cauliflower corals.
Wanting to dive the Florida Keys? Have a look at these dive sites!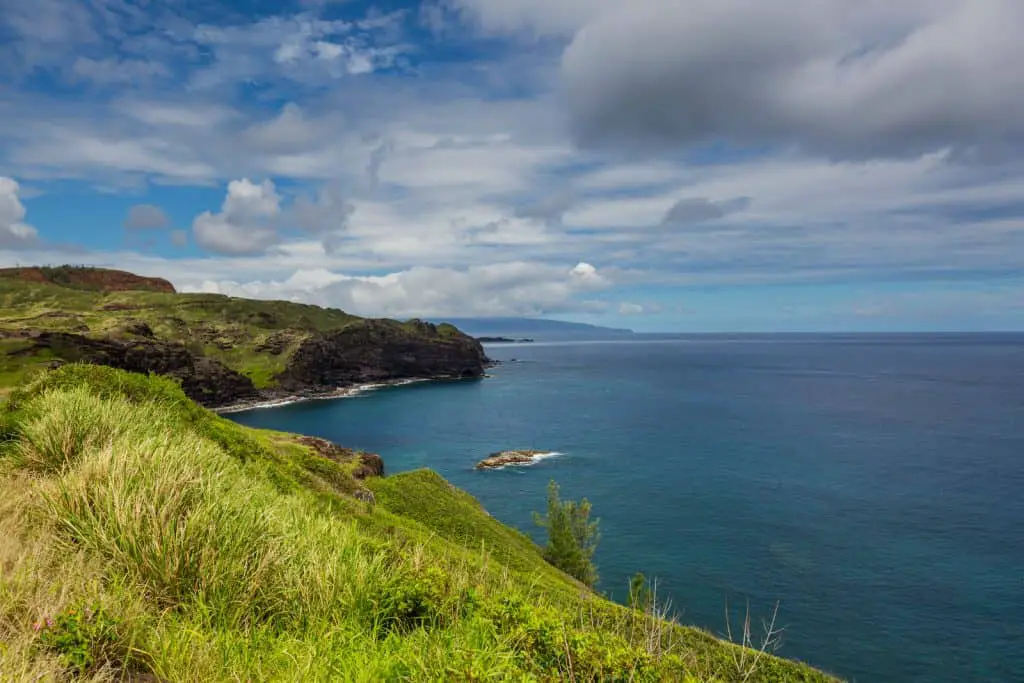 Best Scuba Diving Destinations in Maui
Maui is home to some of the best scuba diving destinations in the world. They vary from easily accessible dives, ideal for families, to locations best suited for advanced divers:
Honolua Bay, Molokini Island
With dives varying between a depth of 5-13 meters, this location is ideal for divers of all levels. You'll get the opportunity to see a range of bright corals and tropical fish like barracuda, manta rays, Ulua, and Omilu.
The best time to dive here is bright and early before you have to deal with tourists and boat traffic. The water is also calmest during this time, so you won't have to worry about battling strong currents.
Apart from scuba diving, you can enjoy a range of water activities with your family, like surfing and snorkeling tours.
Airport Beach
Located along Kaanapali Beach and accessible by shore, this dive spot is meant for all shore divers. Dives go as deep as 12 meters, but you'll have the best experience at depths of 6-9 meters. Apart from corals, you'll find incredible marine life here like yellowtail coris, lionfish, lemon butterflies, needlefish, and more.
You'll need to watch out for the strong current that runs along the south end of Airport Beach. Divers usually start from the north side.
This area is particularly vacation-friendly because you'll get access to a free parking facility, gardens where you can enjoy picnics, and outdoor showers to hose off after your dive.
Lanai Cathedrals
You'll need to get here by ferry from Maui. The 45-minute ride is worth the heavenly view at the end. With massive caverns (known as cathedrals) at a depth of around 12 meters, Lanai has won the status of being one of the best dive sites worldwide.
From reef sharks and nudibranchs to dolphins and turtles, the marine life here is quite impressive. The first cavern features lava lacework on one of its walls, giving the stunning effect of a stained-glass window.
Lanai also offers night diving where you get to see octopi, lobsters, and the real colors of the corals. The best part is that it only requires an Open Water Diver certification. You can opt for boat tours during the day and night to get the full Lanai experience.
What do you need to know about scuba when you're a beginner?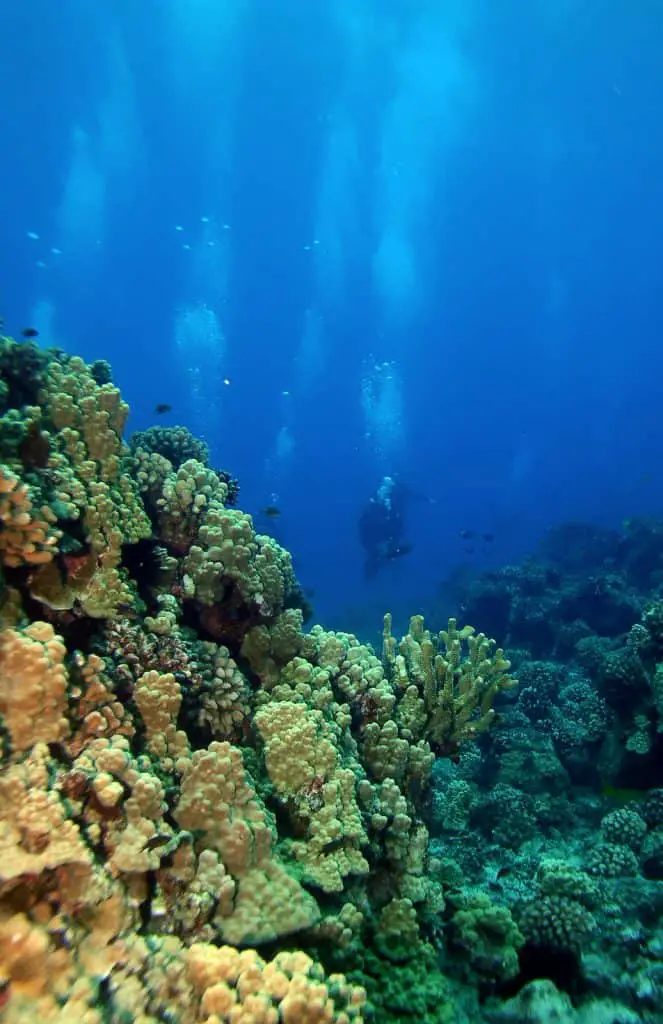 Makena Landing
The reef here is home to Hawaiian green sea turtles and has received the nickname Turtle Town. Apart from these lazily swimming turtles, you'll also get to explore caves, corals, and intricate lava formations. With its unique underwater makeup, this site is a delight for photographers.
Molokini Crater
Formed over 200,000 years ago, the Molokini Crater is accessible by boat, a couple of miles away from the southern shore of Maui. It is particularly well-known for its sparkling, clear water with a number of different fish species.
Only advanced level divers can experience the real magic here, including the opportunity to see magnificent whale sharks. This is because most of these incredible marine creatures are found lurking deep in the heart of the ocean.
Olowalu
Olowalu has corals that are hundreds of years old and hide within them a variety of exotic aquatic animals. You'll get to see manta rays, reef sharks, and turtles. Diving is a magical experience for everyone, including beginners. You even have the option of viewing the true colors of the corals during night dives.
In Olowalu, you have the chance to experience the true spirit of Maui. You can stay at nearby hotels and 5-star resorts, and when you're done scuba diving, you can enjoy other activities like camping, kayaking, and underwater submarine adventures.
What Specific Gear Do You Need To Dive In Maui?
For starters, you'll need the basics like your dive watch, fins, scuba mask, wetsuit, and regulator. Apart from that, you'll need some additional gear like:
An underwater camera to capture the bright corals, lava formations and marine animals you'll get to see
An underwater light to navigate through the caverns
A dive knife in case of emergencies when navigating through narrow tunnels
Snorkeling gear if you're on a liveaboard for a few days
A buoy in case you're diving in an area that has a lot of boat traffic
A wetsuit or dry suit depending on the season you're traveling in.
A dive compass can be useful to help with underwater navigation.
Is It Dangerous To Dive In Maui?
Regardless of where you are in the world, scuba diving does involve taking some risk. However, there are some dangers specific to the waters of Maui. For starters, the current can be quite strong on some days, which is why it's important for you to check the water conditions before setting out for your dive.
Moreover, you need to avoid touching anything while you're underwater. For instance, not only will touching the coral damage their health, but you might accidentally touch some camouflaged fish that can try to sting or poison you.
Most experienced divers opt for travel insurance as a security measure for unfortunate occurrences. As long as you have all the right gear (and it's in working order) and the right skill set, you should be fine.
Final Thoughts 
Exploring the waters around Maui is as close to Paradise on Earth as you'll get. There's something unreal about diving in the Pacific amidst whale songs and coral walls and marine animals swimming with you. Many of the animals you see here are unique to the area, such as large green sea turtles, eels, and the humuhumunukunukuapua'a.
Whether you're snorkeling or scuba diving in Maui, remember to be respectful of the marine ecosystem. According to the local law, you are required to keep a distance of at least 10 feet from all marine life, including the turtles that will float around you (unless they come closer on their own). You can enjoy your marine experience fully by taking lots of pictures (without the flash) of all the surreal views you get to soak in.
Traveling to and scuba diving in Maui can be quite expensive, so make sure to plan your trip ahead. The incredible ocean views, gleaming corals and night dives, the sparkling waters, and the vast array of marine animals make it an experience of a lifetime.
We collected some of the best dive locations in the Carribean. Have a look!