What is Shore Diving? – Considerations for Shore Divers
Shore diving simply refers to diving from the shore as opposed to jumping off a boat. Some people consider it to be a beginner form of diving, but the experience is pretty much the same and just as challenging.
If there is plenty to see right by the coast, it's somewhat pointless to charter a boat to take you to another dive point. In some cases, you might be less than 10 feet into the water, and the ocean floor may suddenly give way to a deep abyss, filled with bright corals and plenty of marine life. Just remember, while going down this abyss may not be too hard, coming back to the surface will require a lot more effort.
Can You Shore Dive Anywhere?
Shore diving can technically be done anywhere where you can scuba dive, but you will find that in some places, there'll be nothing much to see so close to the shore.
If you have a particular dive site in mind, do a little research to find out if you'll be able to see corals or marine life if you shore dive. If you're planning a vacation, there are plenty of great shore diving locations, some of which you'll read about in a later section.
Plan Your Dive
If you're going shore diving, you, as the shore diver, are in charge (unless you have a dive instructor with you). This is why you need to pre-plan everything about shore dives.
You will need to obtain information about the dive sites you are visiting, how you'll get to that dive site (you may obtain map coordinates), what the ideal entry points for your dive are, etc. All this info can be obtained by speaking to a local dive shop or institute in the area.
Also, find out what the weather is like, how strong the water current is, and how high or low the tides are by referencing local tide tables. Speaking to someone who has previously been shore diving in that location will help you understand what sort of problems may arise and what you need to do if there is, say a sudden change in weather, etc.
Things to Consider When Shore Diving
When you're planning for your shore dives, you will have to consider a number of factors before you're ready to get in the water:
Stow Your Items on Land
Leave anything that is not required for your snorkel/dive on the land. You don't have the capacity to carry anything extra when entering the water from shore. Get a waterproof bag or container to store your valuables safely on shore!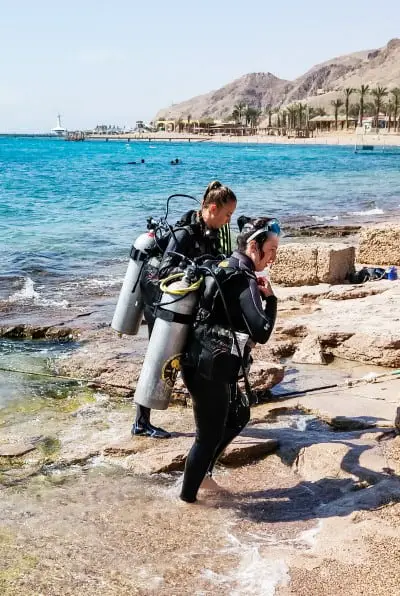 Check Your Gear
Since you're starting from shore, you may need to snorkel for a short distance before you're ready to begin your descent. This means that apart from having your standard scuba equipment, you'll need a snorkel (preferably one that can be folded and stowed away when you begin your descent).
You will also need a compass to help you navigate your way through the water and find your way back to the shore. You might want to consider a dive computer with a 3D digital compass to help with navigation for shore divers.
Apart from this, check your equipment to ensure that everything is in running order and that there is plenty of air in your gas tank so that you don't have any emergencies underwater.
Putting on Your Gear
Put on all your dive gear, except the fins before getting in the water. Once you're chest-deep in the water, you can put your fins on and start snorkeling until you're ready to begin your descent.
What dive equipment do you need for kids? What do you have to consider?
Check Your Surroundings
Evaluate your dive site and check guidebooks, maps and speak to local divers and dive shops to find out about the tide, currents, and weather in the area. Also, find out which spots are best to dive from and which areas are dangerous and should always be avoided.
What methods for entry into the water should you use? Is falling backwards when diving the best way?
Get Your Bearings and Mark Navigation Points
Check for any dangerous areas by the coast, such as steep or jagged surfaces that could hurt you or damage your gear. Discuss your entry and exit points with your dive buddy and use a compass to navigate your route in water.
Check the water conditions- if the water is too rough and choppy, you'll have to swim a little deeper until you reach the point of descent. Make sure you account for this and adjust your dive time accordingly to avoid straining yourself.
Be Physically Fit to Enter the Water
Shore diving can be quite strenuous and you need to be physically fit to rise to the challenge. You will have to carry your gear across the shore, snorkel for a short distance and still need enough energy and stamina for the dive itself.
Are fins for scuba diving the same as for snorkeling and freediving? What are the differences?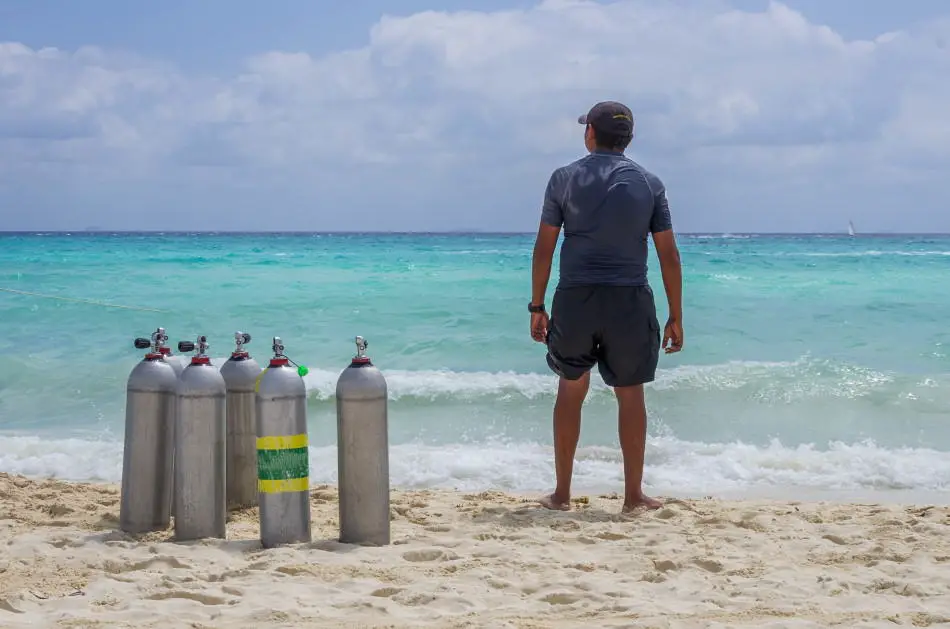 Be Able to Tow Your Buddy Back to Shore
It's always a good idea to have a dive buddy, but it is particularly important to have one when you're shore diving. Whether it's helping each other put on your fins, coordinating your entry and exit in the water, or helping each other in case an emergency arises, good communication is key.
Always be in touch with your buddy in case they need help getting back to the shore or their equipment gets damaged.
Plan Your Exit
When you dive off a boat, finding your way back to it doesn't require any special planning. However, the shore isn't as predictable as your dive boat.
You will need to locate safe entries and exits that don't have too many jagged rocks or too much surf at the dive sites. Speak to experienced divers or staff at a dive center beforehand to find the ideal entry point and exit point from the shore. When you're exiting the water, swim back to the beach with the waves.
Consider marking your entry point and exit point before your dive with a dive flag. It'll be easy to find when you come up from underwater and you won't have to tread water trying to find the place you wanted to use to get back to shore.
Be Aware of Low/High Tides
Make sure to check with the local divers and weather reports to find out whether there's a high or low tide on the day you're going for a dive. Keep an eye on the general tide levels during that season when you're planning. If there is a high tide or a forecast for a high tide, stay out of the water.
How to Get Out of the Water with All Your Gear
If you have the stamina, swim back to the shore underwater unless there are too many boats or people around. One way to maintain stability while handling all your gear is to crawl back to the beach on your hands and knees. Take your fins of first (or you'll trip on land) and then wash off.
Benefits of Shore Diving
Shore diving offers a number of advantages, particularly for scuba divers who are prone to seasickness. In fact, there are plenty of night diving opportunities for shore scuba divers. Don't forget though, that you need a decent dive light because visibility can be quite low.
Some of the Best Spots to Shore Dive
The whole point of scuba diving is to be able to explore the beauty of the ocean – the bright corals, the colorful fish, and maybe explore a cave or two. There are some fantastic dive sites to take a dive trip to where you can shore dive:
The Caribbean
The Netherlands Antilles – Curacao is one of their largest islands, well-known for shore diving. Curacao has a whopping 52 beaches where you can deep dive, explore shipwrecks or coral reefs, all through shore diving. Night dives here are especially magical.
Bonaire (it's also quite close to Curacao and has also received the top ranking for shore diving in the past)
South Devon in the UK.
There are many shore dive sites across the world. If you live by the coast, you can contact a local dive agency to find out if you can shore dive in the area and experience the thrill close to home.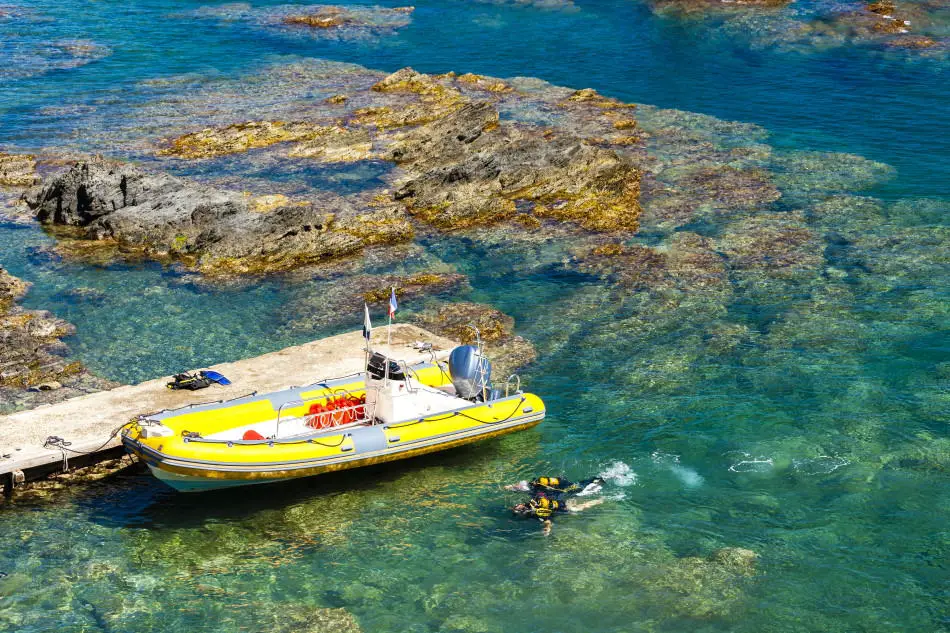 Final Thoughts 
Shore dives can be just as exciting and challenging as diving off a boat. Just remember, unlike on a boat where you will have a guide, when shore diving, you're in charge. Just make sure you have all the right gear for shore dives, you've done all your research, and that you plan your dive thoroughly in advance.
A good tip is to keep a landmark in mind before getting the water- a particularly strange tree or a fancy umbrella or something- so that you know you've exited in the right place. Most importantly, have fun!