Best Scuba Diving in Malta – Enjoy Fabulous Diving in the Mediterranean
Located in the south of Sicily, Malta's temperate climate, warm Mediterranean waters, stunning corals reefs, and caves attract scuba divers and tourists from all over the world. While scuba diving in Malta, you can enjoy the local culture, cuisine, and UNESCO World Heritage sites in between dives. Many people also love visiting the tranquil and car-free island, Comino.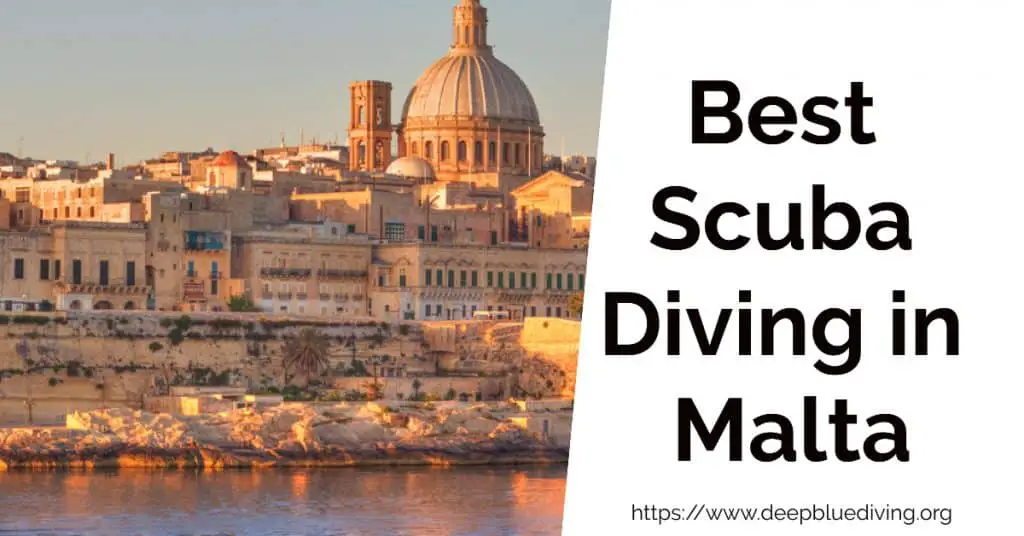 Malta is ideal for a complete experience of wreck and shore diving and getting the opportunity to see architectural structures that date back to thousands of years ago. Despite its longstanding ancient architecture, the capital city, Valletta, is quite well developed.
As the largest inhabited island in the area, Malta offers a range of hotels, resorts, guesthouses, and other accommodation for tourists, making it a travel destination that is suitable even for those on a limited budget.
Why Dive In Malta?
You can dive reefs, caves, and wrecks for beginner and advanced-level divers in Malta. These diving locations are accessible by boat and from the shore. The climate in this region is thought to be the best in the world. Winters are short and not too chilly, with the minimum average temperature being 50 degrees Fahrenheit (10 degrees Celsius). Summers are relatively warm and dry, with the maximum temperature shooting up to around 83 degrees Fahrenheit (30 degrees Celsius).
You can scuba dive here all year round since the water is nice and cool in the winter, reaching a minimum of 60 degrees Fahrenheit (15 degrees Celsius). During summer, the water is warm but not hot, reaching a maximum of 79 degrees Fahrenheit (26 degrees Celsius). Most people prefer going during the summer.
Is It Good For Beginners To Dive In Malta?
The warm waters of Malta have some dive locations that are suitable for all divers, including beginners, while others are meant for more experienced divers. The general visibility levels are quite high in these Mediterranean waters.
Apart from basic scuba diving certification, it is ideal for divers to be certified in technical courses like Deep Diver Certification and PADI Peak Performance Buoyancy to explore the ocean walls freely. Underwater Photography Certification is also recommended so that you can capture the incredible views that lie beneath the waves.
Malta is also known globally for technical scuba diving, which is why you might want to look into advanced courses like Rebreather Diving.
Is It Easy To Get There?
There is only one international airport that caters to all the Maltese islands. This airport is on one of the islands, around 8 km (5 miles) southwest of the capital, Valletta. While you can find some direct flights from Europe and North Africa, for others, you'll need to look for connecting flights through European hubs like Amsterdam or London.
Once you're in Malta, you have a few commute options:
For short trips like from the airport to a nearby hotel, you can get a taxi for around €15-20.
Many resorts and hotels offer their own shuttle services.
You can travel to different cities by bus, which is quite cheap and costs around €2 on average, but it can be quite hectic.
Renting a bike or scooter to commute at your own leisure is a safe and reasonable option.
You can also rent a car, but driving in Malta is chaotic, to say the least, so only opt for this if you're a great driver.
Ferry and water taxi services are also a good option if you're traveling to different islands in Malta.
Can you go Scuba Diving after Flying? Or flying after diving?
Are There Good Dive Sites For Families?
Malta is a pretty family-friendly destination. Apart from having a range of dive locations that are easily accessible from the shore and are suitable for beginners, it also has snorkeling activities for the whole family.
Once you're done scuba diving, you can enjoy eating some incredible seafood at harbor-side restaurants. Malta also has activities outside the water, such as temples, coves that are great for picnics, and local festivals where you can join in the food and fun.
What Aquatic Life Can You Find?
The warm waters of Malta are a thriving breeding ground for many marine animals and underwater plants. The ocean floor is covered in seagrass with wrasse hiding among it. Sabellidae (also known as fan worms) sway on the seabed like feather dusters, picking up plankton.
You'll find plenty of octopi and red and orange starfish among the rocks and cracks. Apart from that, during summertime, you'll find seahorses waltzing in the water. Groupers, red mullet, and moray eels also lurk around.
During the winter, John Dory fish come out from the depths of the ocean in search of warmth.
Best Scuba Diving Destinations in Malta
Malta has a host of scuba diving spots complete with colorful reefs, caves, and shipwrecks:
The Wreck of Um El Faroud
For many scuba divers, this is the best location for wreck diving in the entire Mediterranean region. The 10,000-ton tanker wreck is intact for the most part and is around a hundred meters long. It has been an established dive site since 1988. The rudder and the propeller are accessible, starting at a depth of around 33 meters (108 feet). There is also a coral reef close to it, which can be fun to explore.
Barracudas, congers, and squid can be found lurking in the waters. It's safe to say that this dive site is meant for advanced divers who can comfortably explore the inside of the shipwreck.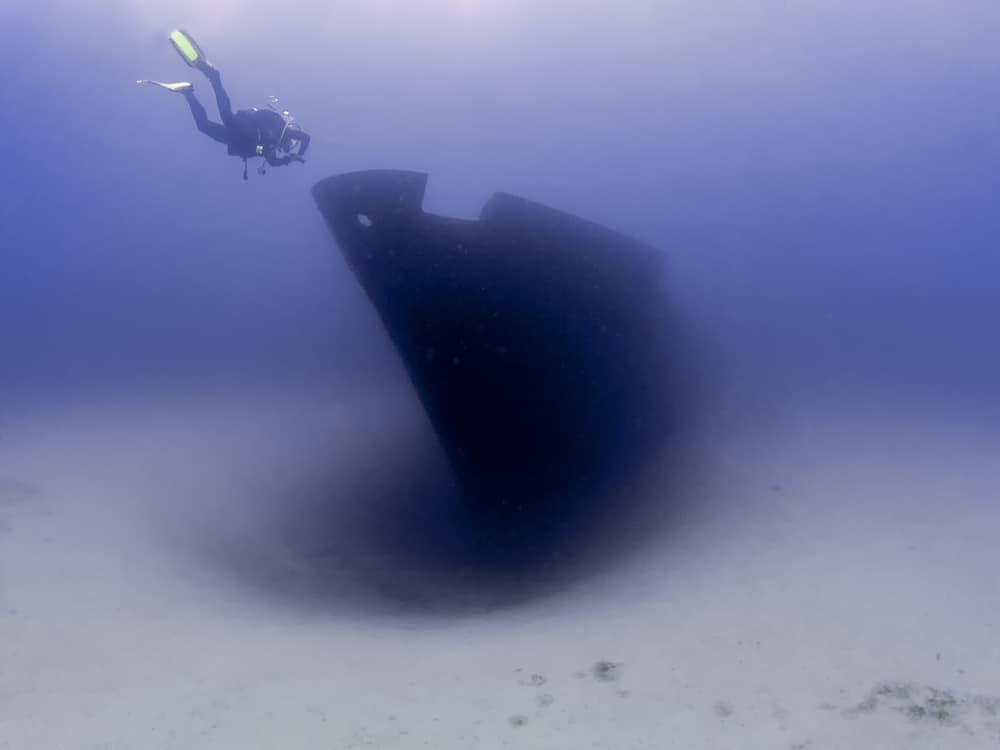 HMS Maori
This ship sank in the Valletta Harbor all the way back in 1942 after it was bombed during World War II. It is accessible from a depth of around 16 meters (55 feet), making it an ideal wreck dive for divers of all levels. The visibility in this area is also quite high, making it an ideal family diving destination. You'll probably run into some moray, octopi, seahorses, conger eels, and John Dory in these waters.
The region is pretty well developed with plenty of accommodation for tourists as well as diving centers where you can sign up for group dives. Diving here is possible all year round, and you only need an Open Water certification.
Gozo Wrecks, South Gozo
Dives here start at an average depth of around 35 to 40 meters and go to around 46 meters deep. The region is famous for the remains of 3 shipwrecks, all of which are accessible by shore. The first ship sank in 1999 and turned upside down as it went under while the other two sank fairly recently in 2006. One of these wrecks has a particularly magnificent staircase that attracts underwater photographers from all over the world.
Accessing these wrecks is tricky and requires Deep Diver certification. Divers also need to be trained in technical diving, such as using double or Nitrox tanks.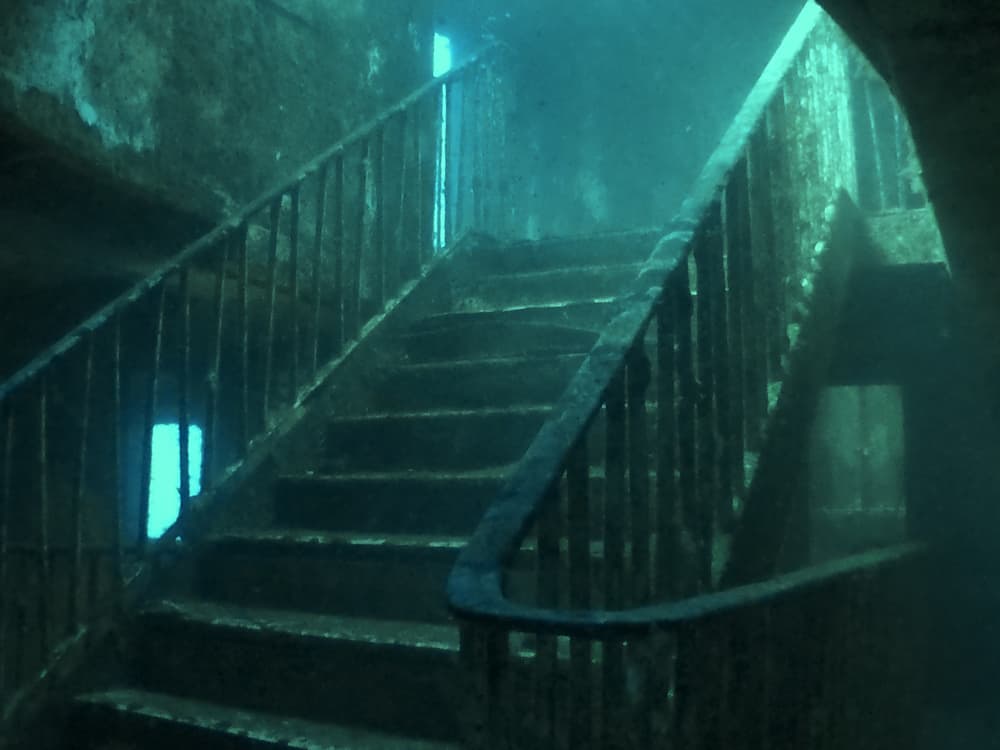 Cirkewwa, North Malta
Accessible by the shore, this dive goes to a maximum depth of around 36 meters. What makes this place particularly interesting is the presence of a number of spectacles like a coral reef, a statue of Madonna, and the wrecks of two boats. The reef forms an arch and starts at around 12 meters going down to around 20 meters. The reef alone is ideal for a beginner-level shallow dive or as a safety stop during a deep dive. The wrecks are accessible to advanced divers.
Cirkewwa has quite a few hotels, and there's also a port where you can stroll around when you don't have your fins on.
Blue Lagoon, Comino
This relatively peaceful location is known for its quaint charm and incredible scuba diving. Dives start at just 2 meters and go to around 15 meters. You'll find a range of marine animals here like octopi, barracuda, and Mediterranean flounder.
Comino is great for vacation, even in the winter. Apart from scuba diving, you can snorkel, take incredible photographs, enjoy the clear blue waters, and the local cuisine.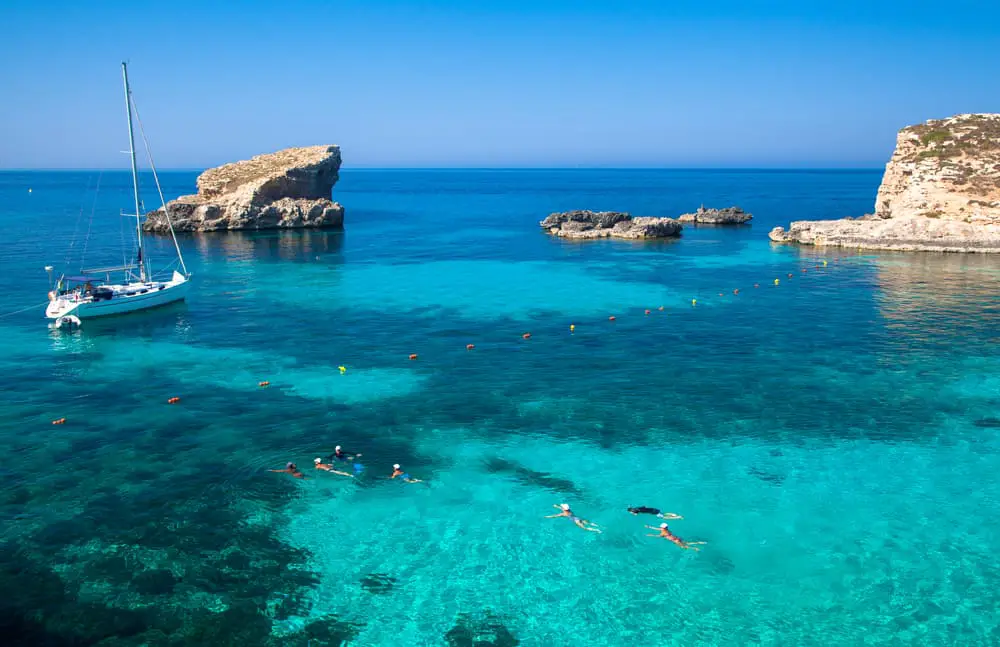 Santa Marina, Comino
The 10 caves of Santa Marina have a personality of their own. You can explore some by swimming, some by snorkeling (Check out the best full-face snorkel masks!), and some by diving since they're completely submerged.
Scuba diving takes place here all year round, but if you want to avoid the crowds, it's better to go during the offseason. The caves are home to a number of aquatic creatures like bream, nudibranchs, moray eels, and even damselfish. This dive spot is suitable for divers of all levels and is particularly a favorite among underwater divers.
Reqqa Reef, Gozo
Reqqa reef goes to a depth of around 60 meters and has a vast range of marine animals like barracuda, lobsters, moray eels, groupers, scorpionfish, and sponges. There are also a number of underwater caves here that are worth exploring.
You'll also find the Shrimp Cave here where shrimp stare at you through the cracks in the cave walls. While the dive site is accessible by shore, you'll have to walk in your fins for quite a bit, which makes it fairly tricky.
While you're staying in this area, you can also take out some time to visit the salt pans nearby with your family when you're not spending time in the ocean.
These are just a few of the many dive spots in Malta where you can explore ancient ships, boats, and tanker wrecks, discover schools of fish swimming through the rooms and find other aquatic creatures lurking in the shadows of the underwater caves.
What Specific Gear Do You Need To Dive In Malta?
Diving in Malta doesn't require much special gear. Firstly, you'll need the basics like a dive computer, swimsuit, fins, scuba mask, and tank. Apart from that, you may need a drysuit if you're diving during the winter. Since a lot of the dive sites involve exploring shipwrecks and caves, you'll need a dive light and a dive knife for emergency situations. There are also many reefs and a whole host of marine creatures, which makes it a must for you to keep an underwater camera with you.
Is It Dangerous To Dive In Malta?
Scuba diving in Malta is relatively safe, given the gentle current and high visibility in the clear waters. The important thing to remember is that certain complex dives like exploring wrecks at the bottom of the ocean and going into caves are meant only for experienced divers.
As long as you have the right scuba gear and necessary certification, you'll be fine. Many travel divers also opt for travel insurance as an extra emergency measure.
If you're diving during the colder months, keep an eye on water temperature and wear a drysuit (What is the difference between drysuits and wetsuits?) to avoid illnesses like pneumonia.
Final Thoughts 
Malta is favored by divers globally all year round. The waters hold wrecks of around 80 ships and aircraft collectively, with some located so close to the surface that they're accessible even by beginners.
The locals are also quite friendly and will welcome you to join their festivities. English is spoken quite commonly, and you'll enjoy a mix of modernity with the rich culture of the region.
With plenty to explore, both on the land and in the ocean (corals, caves, wrecks, and fish), Malta is a travel destination meant for adventurers and families alike.