Scuba Diving Gear List – The Complete Dive Equipment Guide
You might have wondered what scuba diver gear you need and what the best use for the different pieces of scuba gear is. If you are new to diving, then you most certainly will struggle to know what you should have and what different scuba dive gear you need.
Let's dive into reviewing the items that are making the complete gear list for scuba diving!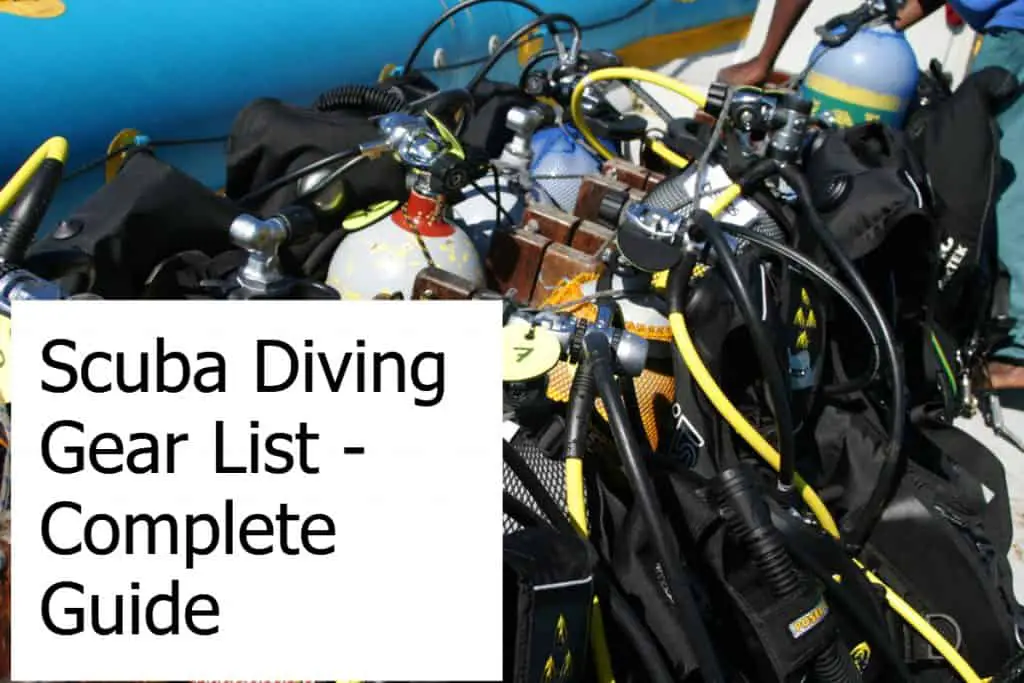 This guide and the equipment for scuba diving list will provide you with a list and explanation of the most commonly used scuba dive gear. Find out the essential pieces of equipment scuba divers need to have to dive safely and comfortably.
It also aims to provide you with an overview to know what to look for when you're out buying scuba diving equipment like dive computers, exposure suits, and other diving equipment and accessories. Nobody ever said that diving equipment for open water will be cheap!

Diving is a very gear-intensive activity and buying scuba gear can cost you thousands of dollars. You as a scuba diver can't just jump into the water, hold your breath, and hope for the best. It won't be an enjoyable activity and you will need a bunch of scuba diving equipment before you go underwater!

To make it easier for you, we separated the different pieces of scuba gear into categories. Everything you see in the Basic/Essential dive equipment section that includes items like scuba BCDs and scuba fins is what you should consider owning or renting.

That is also true for the scuba gear listed in the Breathing Equipment and Diving Gauges and Electronics sections.

The next category is called Exposure Items like suits, gloves, boots, etc. Following this is a list of Scuba Accessories like dive lights, then Safety Gear, and then lastly the Repair and Maintenance Corner.

Let's dive right into it… We picked the best-rated gear in each category to speed up your search. If you want to learn about the specifics to consider when you're looking for diving gear for kids, then follow the link!
Have a look at the History of Scuba Diving!
Basic/Essential Diving Gear
This section covers the necessary gear that you should own when you go diving regularly.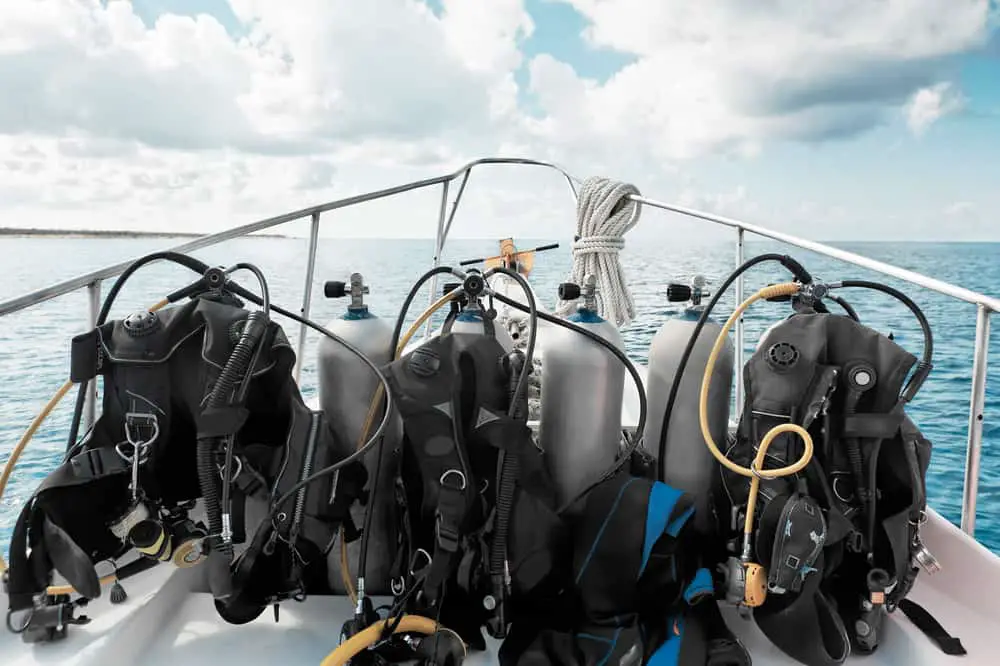 Buoyancy Control Device – BCD
These devices allow you as a scuba diver to control your buoyancy underwater. When you're on the surface, this piece of scuba gear keeps you afloat. In addition, it's also the piece of scuba gear that attaches your scuba tanks when you go underwater.

Check out all you need to know about buying a BCD here: https://www.deepbluediving.org/scuba-bcd-buying-guide/.

Our pick is the ​Scubapro Litehawk, which combines excellent quality at a reasonable price.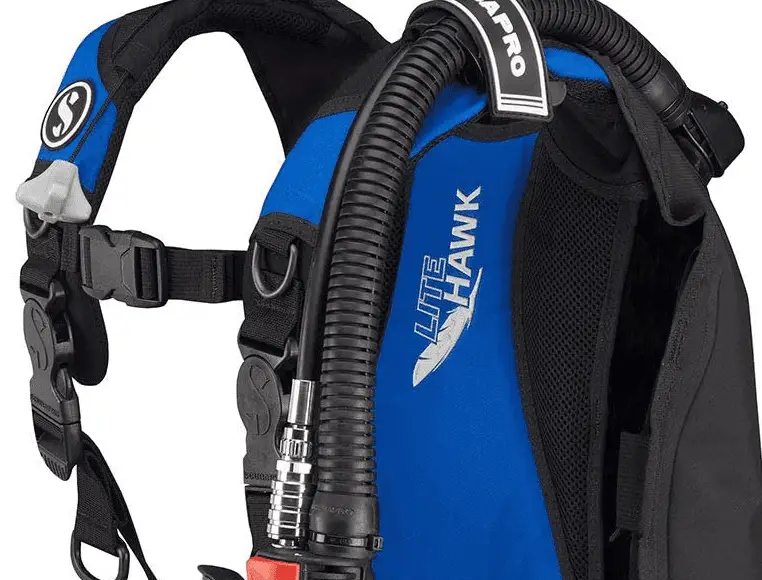 Diving Mask
The diving mask is the most recognized piece of scuba equipment there is. And a scuba mask probably the essential piece of scuba gear too as it allows you to see underwater.

Our top pick is the Cressi F1 – Scuba Diving Snorkeling Frameless Mask. It offers everything you need at a great price.​
Scuba Fins
Scuba fins are the best way to get you moving through water. As we don't naturally grow them, we need to attach them to our feet…

Our pick for scuba fins is the Cressi PLUMA. A full foot lightweight set of fins for diving and snorkeling​.

Breathing Equipment
We're not fish and we don't have gills. Underwater we need gear that allows us to breathe.

Below is the list of breathing related scuba gear that you should consider to have.
Regulator
A scuba diving regulator allows a scuba diver to breathe air or Nitrox from the scuba tank (How Long Does a Scuba Tank Last When You Dive Underwater?). You can check our in-depth guide on scuba diving regulators with the following link https://www.deepbluediving.org/regulator-buying-guide/.

Our pick for a scuba regulator is the Scubapro MK21/S560 Regulator. High quality at a reasonable price.​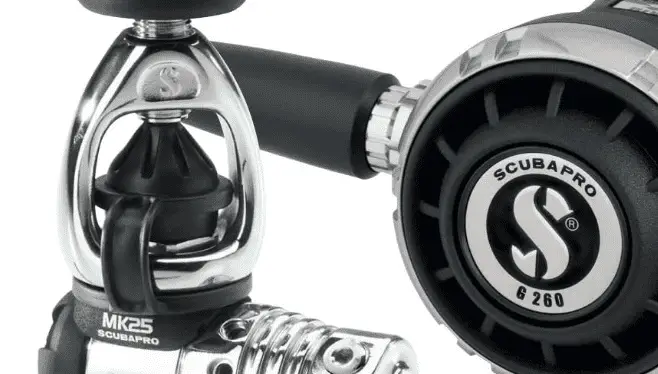 Octo Regulator
The octo(pus) regulator allows sharing air with your dive buddy if necessary. Find out what types of octo's you can find: https://www.deepbluediving.org/scuba-octopus-regulators/.

Our best choice is the Oceanic Alpha 8 Scuba Diving Octopus Regulator.​ If you need both a scuba regulator and an octopus then check to see that you can buy them as a regulator set. It can save you some money to get a set compared to buying separately.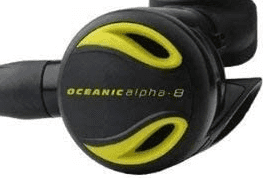 Scuba Tank
You typically will rent a scuba tank instead of dragging it with you on your travels. However, if you live close to where you dive, then you might very well own one or two scuba tanks as part of your scuba gear.

Have a look at whether you should go for a steel or aluminum tank here: https://www.deepbluediving.org/aluminum-tanks-vs-steel-tanks/.

Our pick is the Faber 80 Cubic Foot Blue Steel Tank. It's a steel tank with 80 cf capacity at a great price.​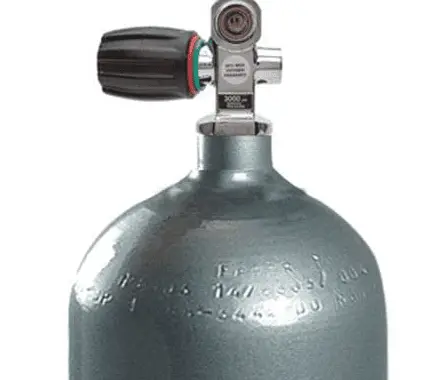 Diving Gauges and Electronics
Staying informed about where you are, how much time you have left, how deep you've gone is essential to keep you safe when diving. Different gauges and decompression calculators are required when you go underwater.
Depth & Pressure Gauge
The depth and pressure gauge lets you know how deep you are and how much air is still in the tank. Many modern dive computers have the option to integrate the air into the computer and will give you the same (or better) information.

Depending on the quality of your dive computer (see below), you can forego this piece of equipment if it is integrated into the scuba computer.

Our pick for the depth & pressure gauge is the ScubaPro Depth And Pressure Gauge.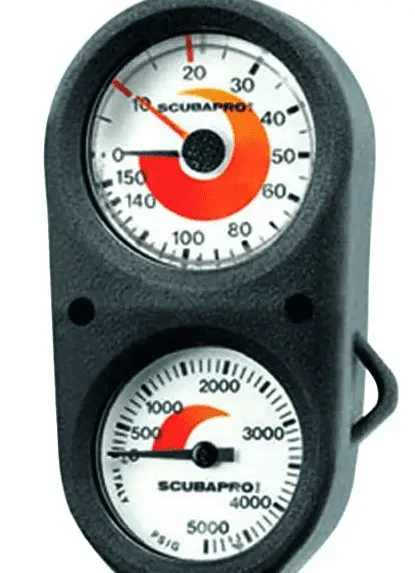 Dive Computer
Dive computers come in all different shapes and functionalities. You can pick a simple entry-level model or go high-end with air integration to monitor tank pressure, etc.

A dive computer in our opinion is part of your safety equipment and life support system. It makes sure you're not getting yourself in danger from suffering decompression sickness or pulmonary barotrauma from too quick of an ascent rate, among other warnings and alerts it'll give you.

If you choose one of the high-end dive computers, then you can save yourself a few other pieces of equipment, The higher initial cost is entirely offset by not having to spend money on other scuba gear.

Our pick for a dive computer is the Shearwater Research Teric Wrist Dive Computer. It's a high-end model with air integration and all the bells and whistles you can ask for.

Even though it's kept simple enough that even a beginner can handle it! You can check an in-depth review of the Shearwater Teric here: https://www.deepbluediving.org/shearwater-research-teric-wrist-dive-computer-review/.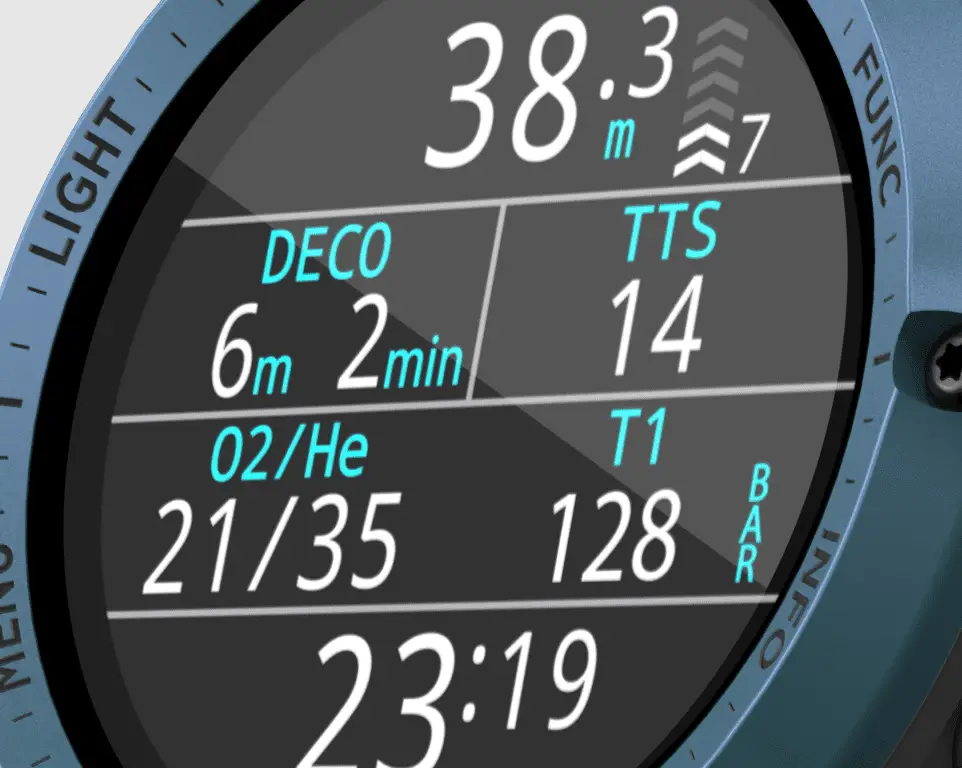 ​Exposure Items
In this area, we shed some light on items you need to keep yourself protected from the environment underwater. It also can help to protect you from scratches and injuries while you explore the world down there.
Scuba diver suits keep your body warm in cold water – at least somewhat. They also protect you from injuries and scratches as do gloves and boots.
​Gloves
Scuba diving gloves keep your hands warm underwater. They also protect them when you for example go cave diving or wreck diving. If you're diving in colder regions and/or in deeper waters, then gloves are essential to have.

Our top pick for scuba diving gloves is the NeoSport Neoprene Velcro Gloves.​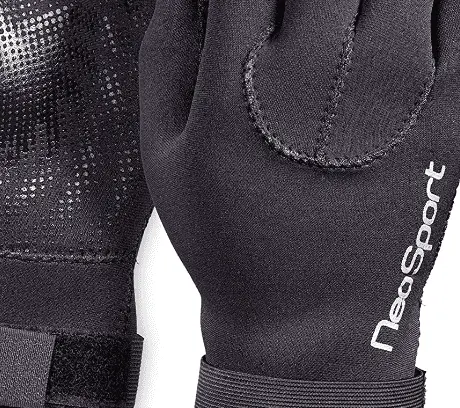 Boots
Similar to the gloves, the dive boots are there to keep your feet warm and to protect them. You specifically need booties as part of your scuba gear when you dive with open-heel dive fins as well as when you go diving in cold waters.

Our pick for scuba boots is the NeoSport Wetsuits Premium Neoprene 3mm Hi Top Zipper Boot.​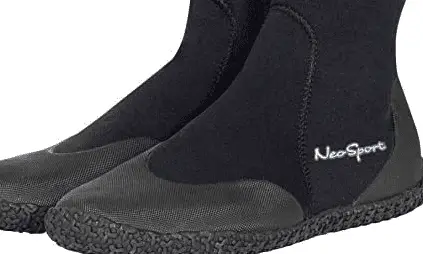 Wetsuit
Wetsuits come in many different shapes and forms. Mostly the difference is the thickness of the neoprene material and what type of neoprene is used. They are used to keep you warm and to protect you somewhat from the surrounding environment when you dive.

Be aware that they are not the best choice if you dive into freezing water. Also, remember that a thicker wetsuit will be stiffer. The more diving you do in cold environments the thicker the wetsuit has to be until you reach the point where a wetsuit is not keeping you warm enough!

Our best pick for a wetsuit is the Seavenger Men and Women 3mm Full Wetsuit.​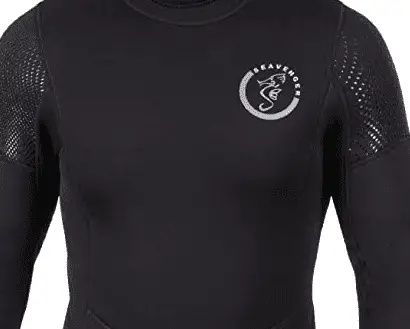 Drysuit
A drysuit keeps you even warmer than a wetsuit. And, as the name states, you also stay dry. If you dive in cold climates, then use a drysuit instead of a wetsuit.

A thicker drysuit keeps you warmer but is also stiffer. Drysuits will also cost you a lot more than a wetsuit but they are essential for cold water diving! For warm water diving you will not need a drysuit but instead want to opt for a wetsuit that we listed above.

Here's a comparison between a drysuit and a wetsuit if you want to dig deeper: https://www.deepbluediving.org/scuba-wetsuit-vs-drysuit/.

A recreational diver will typically never be in a diving situation where a drysuit would be needed. In case you disagree, though, check out the Scubapro Everdry 4mm Dry Suit and make it part of your scuba gear.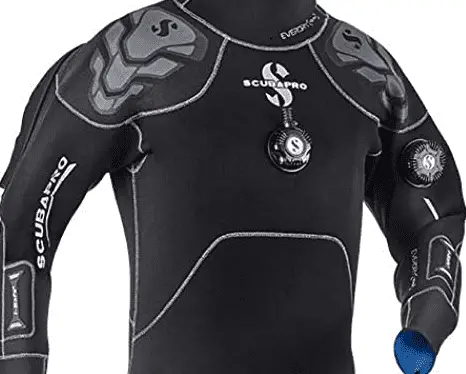 In addition, there are many other clothing items that protect you from the environment. We have not listed all of them in detail, but you can get hoods, hooded vests, and undergarments for drysuits, etc.
Scuba Diving Accessories
Here we have a look at some scuba accessories that are helpful, yet you will only require them in certain situations. For example, you don't necessarily need a dive torch if you're not going to scuba dive at night or in bad light situations.
Dive Light
You need the ability to produce light if you dive during the night or if you need to look into cracks and crevices or you go cave diving or wreck diving. A dive light should always be part of your dive gear.

We have a look at the best scuba dive torches here: https://www.deepbluediving.org/the-best-scuba-dive-lights/.

Our suggestion for your dive torch is the ORCATORCH D520 Diving Flashlight.​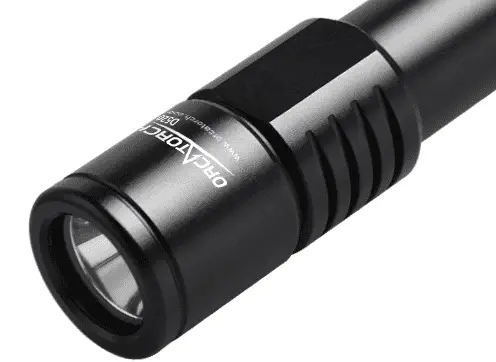 ​Dive Knife
Another piece of equipment you should always bring with you. No, you won't use it to fend off sharks, but in case you get entangled in kelp or a net, you can cut your way out of the entrapment.

Here's how you can find the best knives for scuba diving: https://www.deepbluediving.org/best-dive-knives/.

Our top pick for a dive knife is the Promate Scuba Dive Snorkel Titanium Knife, which provides durability at a great price.​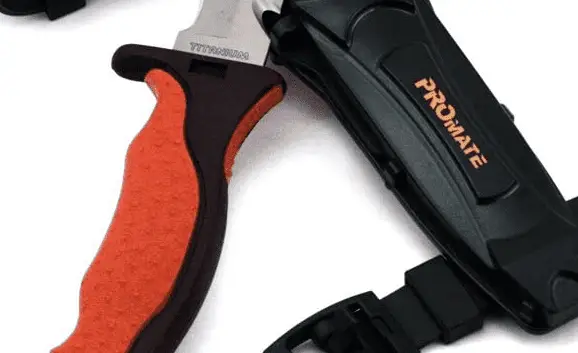 Compass
A compass is essential to help you navigate underwater. Higher-end dive computers often also feature a built-in digital 3D compass. In that case, you can save yourself the money to buy another separate unit.

Find out how to use a compass when diving: https://www.deepbluediving.org/scuba-diving-compass/.

Our top pick for a wrist-mounted compass is the Oceanic Wrist Mount Compass.​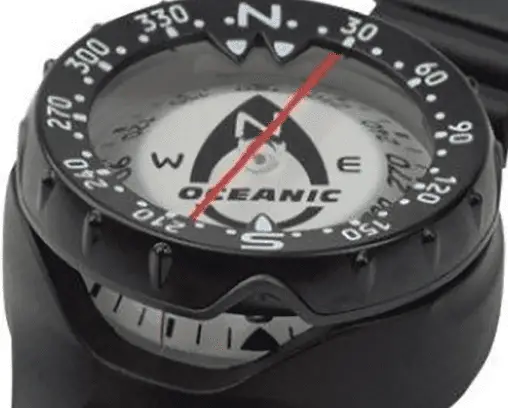 Snorkel
It's a great idea to have a snorkel to breathe in case you swim with your head underwater.

Do you even need a snorkel when scuba diving? Find out here: https://www.deepbluediving.org/snorkel-when-scuba-diving/.

Our pick for a snorkel is the Cressi Alpha Ultra Dry Snorkel for Diving and Snorkeling.​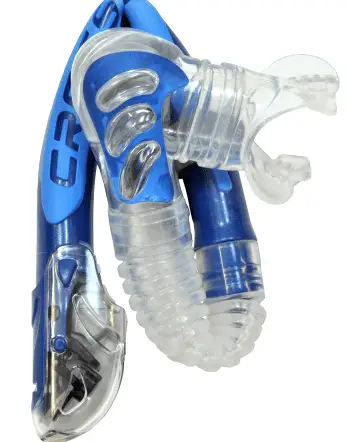 Dive Bag
A dive bag lets you carry all your dive gear. There's a ton of choices ranging from high-end rollers that look like suitcases to mesh backpacks.

Mesh is a good idea as it will let air get onto your wet gear to dry it out.

Have a look at the different storage and travel bags and what the best of them are at https://www.deepbluediving.org/storage-and-travel-bags-for-scuba-gear/.

Our top pick for a dive bag is the Mares Cruise Mesh Backpack Deluxe.​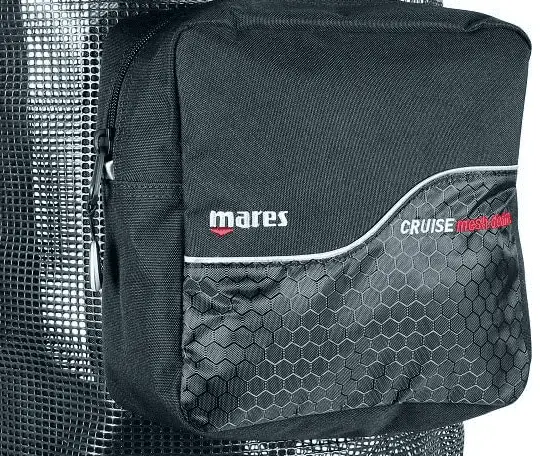 Safety Gear
Let's talk about some scuba diving safety gear you should consider to have. Below is a list of essential safety-related dive gear. Have a look at what would make sense for you to have.
​Surface Marker Signal/Buoy (SMB) Kit
Mark your position for boats and other divers with a surface marker buoy. Reel and whistle are included.

Check out the best ways of surface signaling: https://www.deepbluediving.org/best-ways-for-surface-signaling/

We picked the Seafard 4ft Red Scuba Diving Open Bottom Surface Marker Buoy (SMB). It includes the reel and clip, and you don't have to try to find the different pieces one by one.​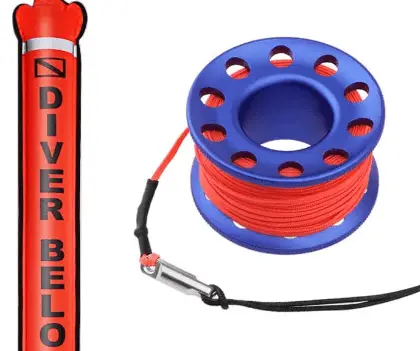 Spare Air
The nightmare of every scuba diver is to run out of air. And it happens when you have to put in a safety stop to avoid decompression sickness.

The Spare Air device is the right item to have with you. It gives you the extra minutes of air you need to safely come up again without risking your health.

Find out what other alternative air sources you can find: https://www.deepbluediving.org/alternative-air-sources-spare-air-and-pony-bottles/

The best pick for spare air is the Spare Air 3000 3.0 Kit.​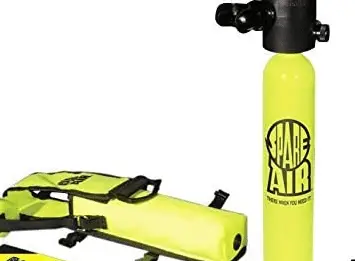 Marine Rescue GPS
A marine rescue GPS device can be a lifesaver if you get into an emergency. It can send a distress signal and allows you to be found through the signal and GPS location.

You can't go wrong if you pick the Nautilus LifeLine Marine Rescue GPS Submersible Dive Alert Scuba.​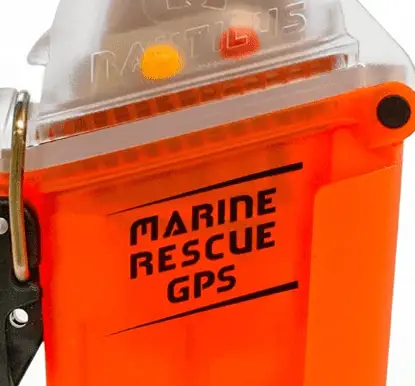 Dive Gear Repair and Maintenance Corner
When you have a lot of scuba gear, then something always breaks or needs maintenance. A first step to preventing that you ever have to fix your scuba gear is to maintain it. Keep it clean and store it correctly and it'll last a lot longer.

Below is a list of essentials to help you fix any of your equipment and to make sure it's in great shape!
Tool Kit
Nothing is worse than going out to dive and then finding out that some part of the gear is broken or just needs to be screwed in. This tool kit is designed to allow you to make quick repairs when necessary!

The best choice is the Deluxe Diver Tool & Repair Kit. All the tools you need in a handy package.​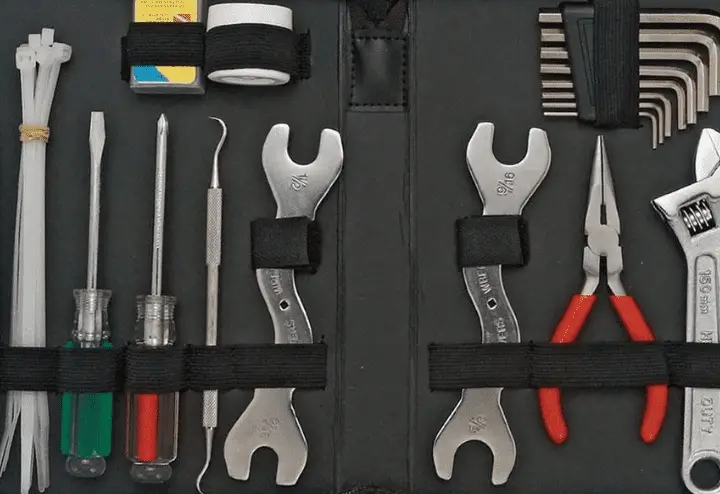 Save-a-Dive Kit
Have the most important replacement parts with you. Otherwise, you might end up not diving because of a little broken piece that you can easily replace yourself.

Have a look at our in-depth post on what a save-a-dive kit is: https://www.deepbluediving.org/save-dive-kit/.

For a quick repair, you can find the most common items you might need in the XS Scuba Save A Dive Kit.​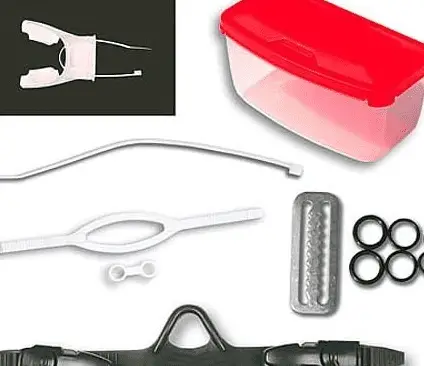 Suit Cleaning and Care
Like any other item you wear, a wetsuit or drysuit needs to be kept clean. Use special shampoos to get rid of algae, bacteria, etc. that get picked up in the water. 

Have a look at some of our guides to cleaning your gear:
It is best to use a specialized shampoo like the McNett Wetsuit Shampoo. Be sure you have enough at hand as you need more than a small tiny bottle!​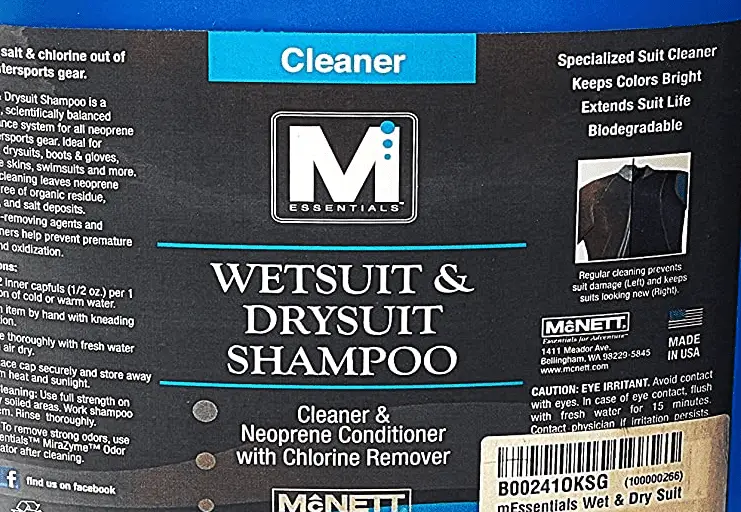 Changing Mat
The wetsuit changing mat allows you to change on it instead of concrete or sand. It helps to prolong the life of your suit (wet or dry).

Check out the COR Surf Wetsuit Changing Mat / Bag.​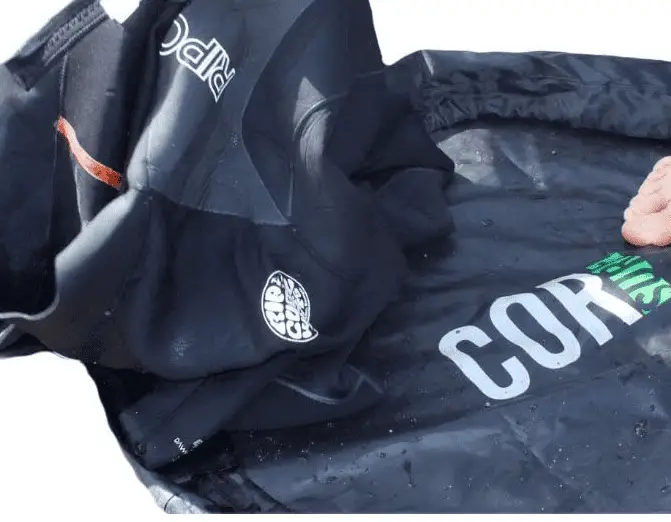 Final Thoughts
Scuba diving is a gear-intensive activity. You will not get away with just buying the cheapest scuba gear and then hoping for the best.
Diving gear is usually expensive. For many, the scuba gear cost can be too high to purchase everything themselves. When you're diving once in a while then renting would make a lot more sense than buying scuba diving gear.
Buy all Diving Equipment at once?
Buy less dive gear at first but get the proper and high-quality scuba gear. Rent any scuba gear that you can't afford to buy and save money that way in the beginning. You are better off with a few pieces of equipment that you own and that are top-quality compared to buying cheap and sub-par scuba gear.

Don't forget that your safety depends on a lot of this scuba gear. If you initially spend a little more to get higher quality scuba gear and you take care of that equipment, then you will enjoy it for a long time.