Best Dive Boots for Warmth and Protection – Reviews and Buying Guide
One of the most underrated pieces of equipment for a scuba diver are a good pair of dive boots. The right boots will be a massive factor in how safe and comfortable you are while underwater. Let's have a look at the best dive boots and what you need to consider to find the best scuba boots!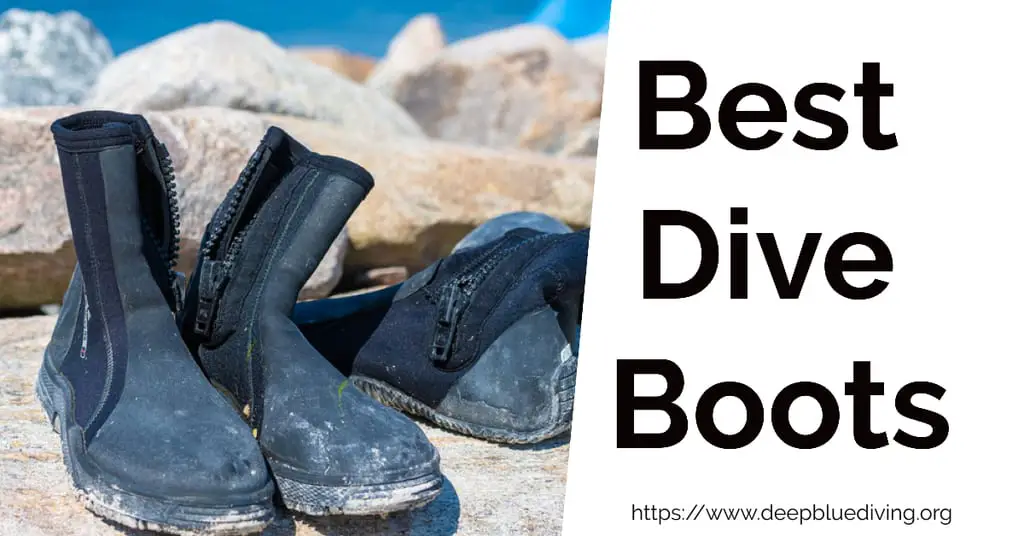 A good pair of dive boots will prevent a deep cut from sharp rock and make the walk from the entry point of a shore drive quite a bit more comfortable and offer a decent amount of buoyancy control.
In addition to helping keep your feet warm, scuba diving boots are going to keep your toes all warm and cozy. They are an essential piece of scuba gear specifically when you're diving in cold water and with open-heel fins.
While dive boots may not be the most essential pieces of equipment you wear on a dive, they will help make the dive that much more enjoyable, and there is no need to have to spend a considerable amount on a good pair of boots. It is not just scuba divers who choose good scuba boots, but surfers, snorkelers, and other water sport enthusiasts.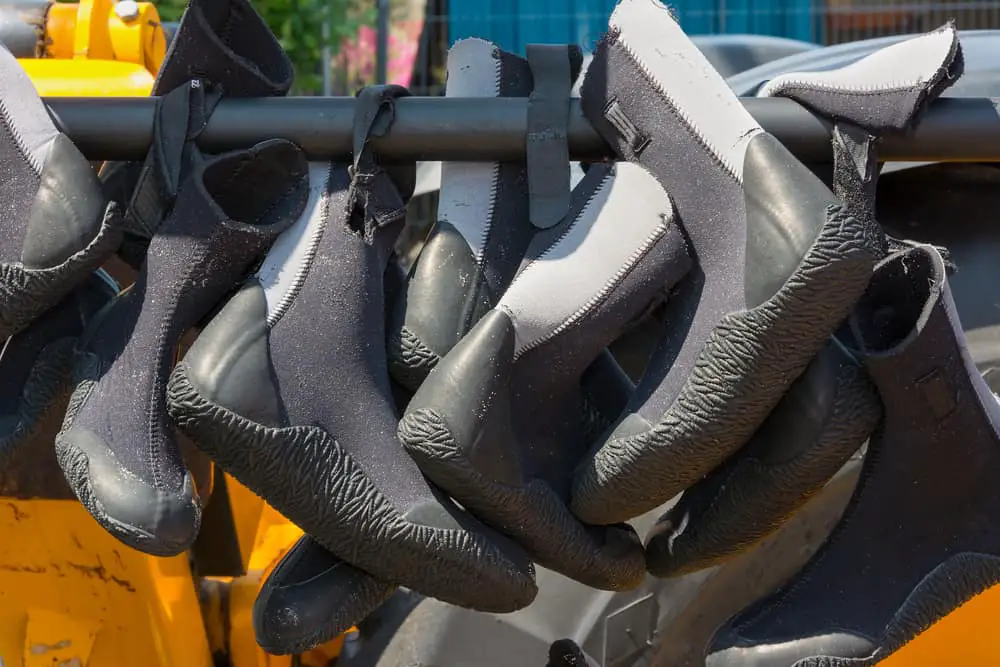 Dive Boots Buyers Guide
Purchasing scuba diving boots is a very different process compared to buying regular shoes. Since they are sports equipment, specific components are critical for fit, safety, and functionality purposes.
The following are top tips that are important to know when purchasing new scuba diving boots.
Thickness
Diving boots, just like wetsuits, have various available thicknesses of neoprene. They usually range in thickness from 2mm up to 7mm. When it comes to choosing the best thickness for your scuba diving suit, the same general rules apply to dive booties as well.
So, in other words, you need to match the thickness of your dive boots with your dive suit's thickness. For warm water dives over 62° Fahrenheit, 2-5 mm is sufficient, while it is recommended to have a minimum of 5 mm for cold water dives with less than 62° Fahrenheit temperatures.
Low Cut Or High Cut
Like most boots you will purchase, there is either low cut or high cut boots. The significant difference between these two options is that one of them provides more ankle protection. A high-cut boot option is the best option if you have a long-distance to travel and have lots of scuba equipment to carry. The high cut provides more ankle protection, and there will be a lower risk of straining or twisting your ankle while you are on the go. A low-cut boot will be sufficient if you don't need to carry your scuba equipment too far.
When you are considering high cut versus low cut, you need to factor in how comfortable the boot is. A high-cut boot contacts your body more. That can provide added support and keep your dive boots in place. However, it can cause more friction as well and rub against your ankles. Low-cut boots are lighter and smaller. If your gear needs to be packed up for transport purposes, or if you are concerned about how much your boots weigh, then the best way to go is to choose a low-cut boot.
Soft Sole Or Hard Sole
Soft soles and hard soles are precisely what they sound like. You can get dive booties that come with a hard sole, which is most useful for shore diving, or with a soft sole that is best used when you dive off a boat.
If you are diving close to the shore, you will probably be walking over the beach or across another area to reach the water. Once you get into the water, you will be potentially walking over rocks in the water where a hard sole will help keep your feet safe. For this kind of scuba diving, it is best to choose a boot with a hard sole so that your feet are protected.
If you are getting to deeper waters by boat, where there is a low chance of you stepping on rocks or other types of surfaces that can damage your feet, it will be adequate to wear a boot with a soft sole. Compared to stiff soles, soft soles are a lot more flexible. They are more comfortable and are useful if you have unusually shaped or wide feet.
Size
It is imperative to choose the right size for your diving boots. It is probably the most critical factor when choosing your dive boots. If your boot is too small, it will be uncomfortable and constrictive. If you purchase a boot that is too large, then it could chafe you and be loose. It could also fall into the water, and you could ultimately lose it.
When you are purchasing the best dive boots, it is vital to make sure you know your size. If you aren't sure, you can try some on at a diving store to ensure the right fit. The boots will usually be the same size that your shoe size is, but sizes may vary. Also, there are no half sizes with diving boot sizes. So if your shoe size is a half size, you will want to round up to the next size. It can also be challenging to find diving boots for women. For that reason, women will often purchase men's diving boots. In that situation, you will want to round down by one or two sizes.
It is vital for your diving boot to fit comfortably and not be too tight or too loose. If you use diving fins, then you need to account for this when choosing your diving boots. You need to ensure that the boots that you are purchasing are compatible with your diving fins.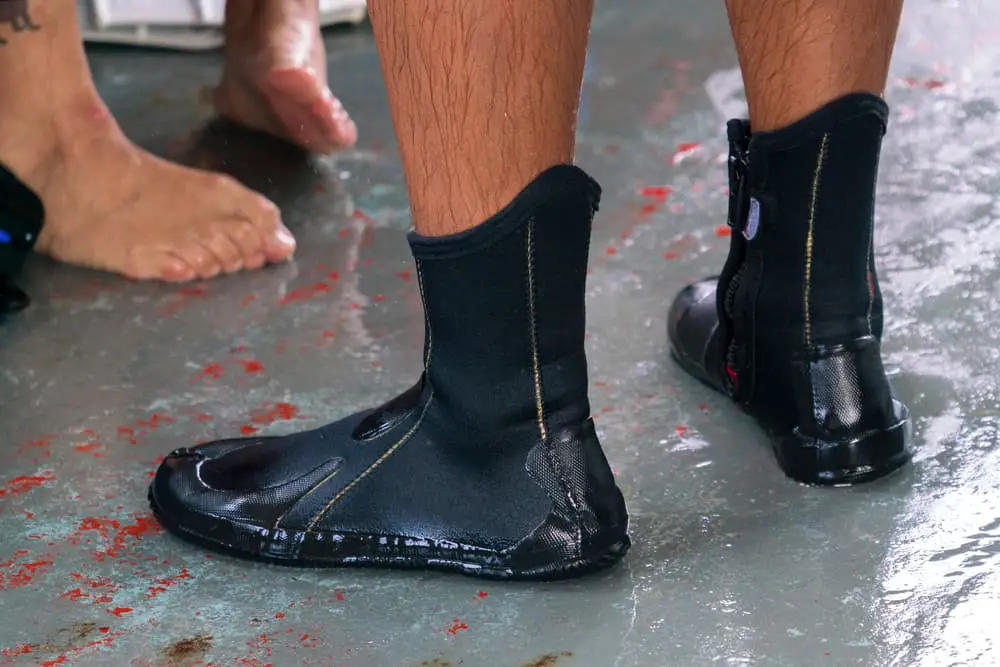 Arch Support
When wearing shoes, you might wear a pair that offers extra arch support or want to add arch support to the shoes. In that case, you should search for dive boots that provide good arch support. You are not going to be doing as much walking that you would do while wearing regular shoes. However, you will be carrying around more weight.
If you need to have extra support, many dive boots are equipped with arch support already. You don't want to have sore feet when getting into the water. If you're going to add your arch support, you should consult with a medical professional to ensure you have the best arch support to support diving and your arch support fits appropriately with your diving boots. If you will adding support to your soles, you might need to order dive boots that are one size up.
Heel Counter
The heel counter is the back area of the boot. It is the stiff part that protects your ankle and heel. The counter on the back of the boot needs to be stable. Whenever you step, your heel first touches down and takes on the initial weight. When you step on something jagged, you will want your heel support to take on most of the impact and damage.
The heel counter can also prevent your ankle from rolling. As you walk, the heel support in your boot needs to provide your ankle with enough support. So if you land awkwardly on the ground, you don't want your ankle to roll to the side. If you stumble, you might injure yourself, which will be less problematic than potentially ending up with torn ligaments in your ankle. However, if you do roll your ankle, it could cause enough damage that it ends your scuba trip before it even has a chance to start. The heel support, along with making sure your ankle doesn't roll, should take plenty of stress off of your ankles as well.
Good dive boots have excellent heel support to ensure you are not subjected to any strain or stress.
Forefoot Rails
These prevent your feet from sliding around inside of your scuba boots. With more open boots, it will prevent your feet from completely sliding off of the soles. They raise over the edge of the boot's sole and then surround the foot. Make sure it is made out of high-quality, durable materials.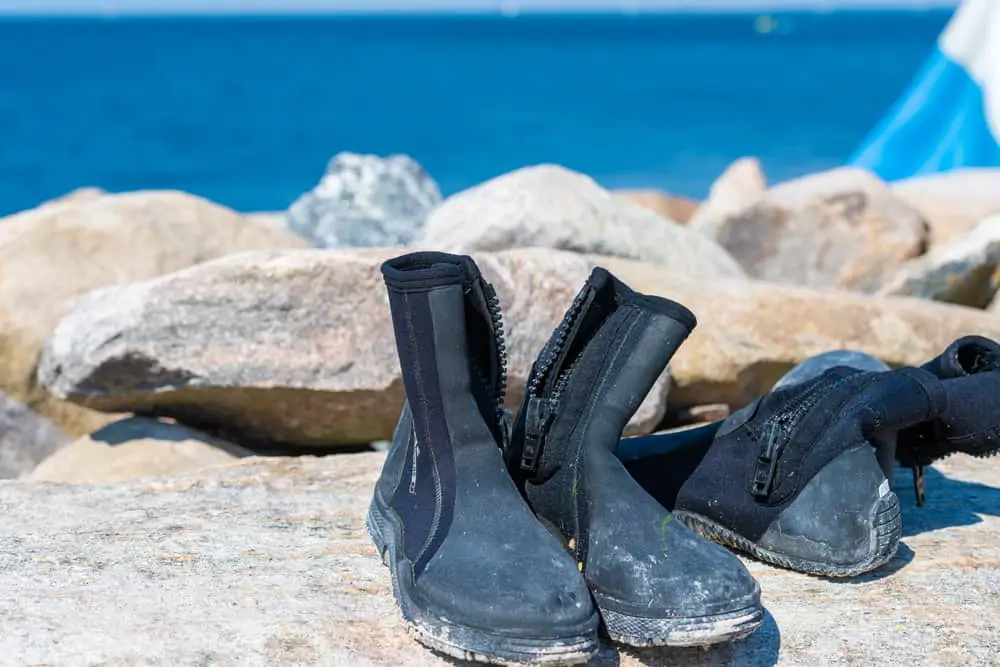 Best Dive Boot Reviews
Let's take a few minutes and look at the reviews for the top ten best dive boots. Choosing the right dive boots will ultimately depend on your specific preferences and the type of diving that you enjoy.
For example, if you prefer cold water dives, you will want to search for thicker boots than tropical diving boots. Besides, if you plan on doing extensive shore dives, it is best to choose a pair of boots with thick soles. If you are unsure which dive boot is best for your needs, continue reading our guide for the best dive boots on the market.
Mares Equator 2 mm Dive Boots
The Mares Equator 2 mm Dive Boots are considered a mid-top boot that is perfect for warm water use and other water sports. They offer a rubber grip sole, which will help to prevent slipping.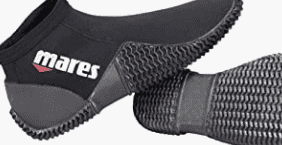 They are lightweight and offer flexibility, making them the perfect choice for traveling.
Phantom Aquatics
Phantom Aquatics brings you this exceptional 3 mm dive boot. These scuba boots are designed to fold over on themselves for more compact traveling, making them the best dive boot for traveling. With that being said, these thin soles will not offer the best in protection, and the 3 mm thickness will only provide warmth up to 100 feet.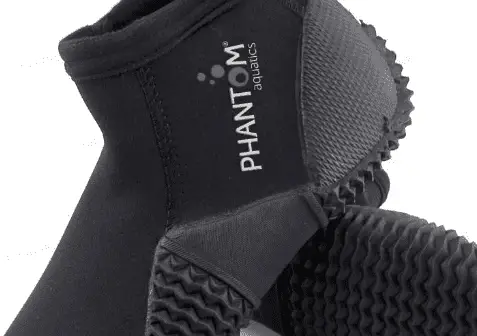 These are the best dive boots for those looking for a budget-friendly option to other boots on the market designed for shallow waters and warm climates.
Seac Pro HD 6 mm Diving Boots
The Seac Pro HD 6 mm Diving Boots are a durable and tough neoprene boot designed to offer you the best protection during your dive. The long zipped heal allows for easy on and off, and the integrated heel notch will help keep your fin strap in place. The hard sole of the boot helps to make exiting and entering rough terrain much more comfortable.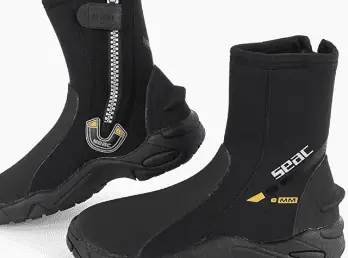 These are a perfect fit for divers who enjoy shore dives.
Cressi Isla Dive Boots
The Cressi Isla Dive Boots have been selected by many to be the very best dive boots on the market. They feature a reinforced toe and heel, offering unprecedented protection without the need to sacrifice the comfort level.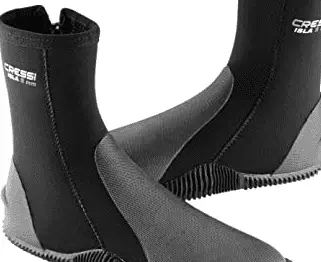 These boots provide a nice look and intuitive design. Also, a built-in fin strap holder allows full compatibility with open heel dive fins. Finally, these dive boots are fitted with a zipper that makes them easy to slide on and off.
Oceanic Venture 5.0 5mm Soft Sole Dive Boots
The Oceanic Venture boots may be made for the water, but you are free to wear them on rocks, gravel, and pavement and move with ease. The rubber sole of the boot enables a grounded feel which keeps you from slipping.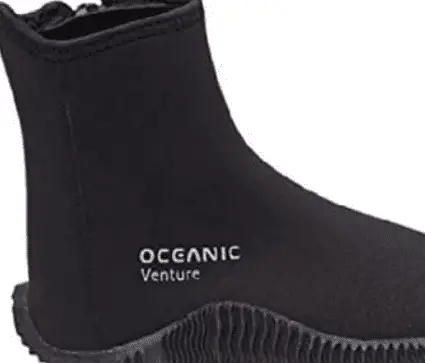 The boot also features a seam that lays flat to ensure it will not chafe your skin, providing for a more comfortable fit. The material may be light, but it is thick enough to keep your feet dry and warm without feeling weighed down.
Tusa Imprex 5 mm Dive Boots
The Tusa Imprex 5 mm Dive Boots are designed with 5 mm neoprene, making them beneficial in warm and cold water. They feature a long zipper that allows for easy on and off.
A velcro zipper retainer helps keep the zipper firmly in place during the dive. There is a strap saver on the heel that will stop the fins from working off the heels.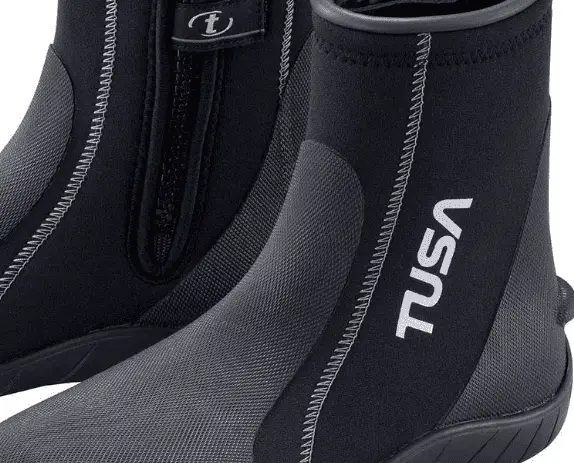 These boots are among the best choices for an all-around dive boot.
Mares Flexa DS 5 mm Dive Boots
The Mares Flexa DS 5 mm Dive Boots offer a hard rubber sole that creates a firm grip when entering or exiting the water in any terrain. The toes and heels have been reinforced to provide a durable, lasting boot.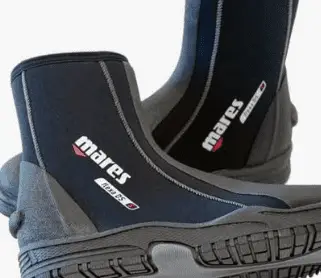 With its 5 mm thick neoprene, it is the perfect choice for cold weather diving.
XS Scuba 8 mm Thug Dive Boots
The XS Scuba 8 mm Thug Dive Boots are a generous 8 mm thick and meant to be used for extreme cold water diving. The large zipper features a cold water dam to help minimize the amount of cold water seepage.
There is also a velcro tab zipper retainer and nylon zipper, ensuring that the sipper will stay in place during a dive. These are very well built and designed boots with seams that have been double-blinded, stitched, and glued.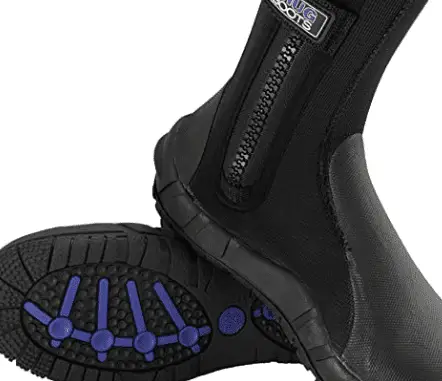 These are some of the best cold-water diving boots you could hope for that are long-lasting as well.
Mares Trilastic Diving Boots
The Mares Trilastic Dive Boots are well-built dive boots that feature a highly comfortable sneaker-like sole. The heel and the front of the boots have been reinforced with vulcanized rubber, making them much more durable than the average dive boot. They are quite warm and have been equipped with a zipper dam to help prevent water seepage.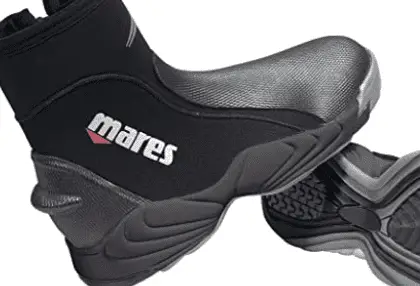 These are great boots for both cold water and temperate diving and offer extreme ease in entering and exiting the water.
Aqua Lung Superzip
The Aqua Lung Superzip dive boot is available in a wide range of sizes for about any water temperature. These boots have been designed for ultimate comfort.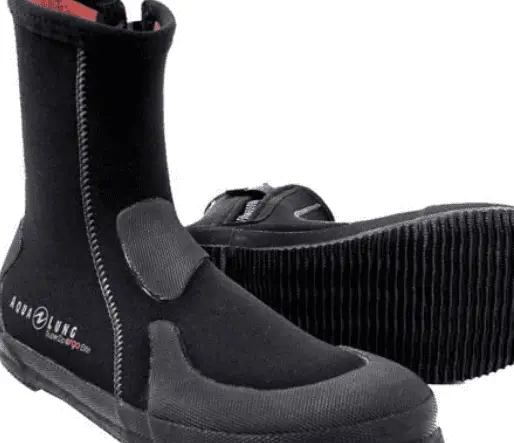 The hook and loop lock mechanism found on the zipper allows the boots to stay on your feet all of the time. Keep in mind that when ordering these boots, the size tends to run small, so it is best to order a size larger than you usually would.
Scubapro Delta Dive Boots
Scubapro Delta Dive Boots are designed to be rather versatile and are a good fit for cold weather and temperate diving. It features 5mm 2 neoprene along with a zipper and internal gusset deeps water that will help to keep your feet incredibly warm during your dive. They feature a durable construction that will keep them in your gear for years to come.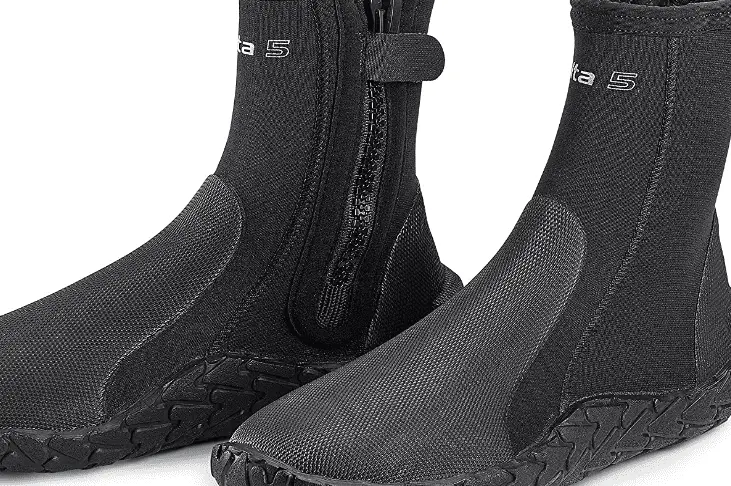 They are one of the best overall boots to have in your dive collection.
Final Thoughts
The more money you pay, the more you will receive. In general, this is true. However, if you shop around, there are many additional features and extras that you can find without needing to pay a premium. What else do you want your diving boot to have?
There are many scuba diving boots with fin straps. So if you are going to combine diving boots with find, make sure the boots are compatible with your fins.
Also, you want straps that are tough, durable, and high-quality. You don't want your traps to fail while you are in the water. The straps need to hold the fins tightly.
Cushioned soles also can provide extra comfort. If you are walking across rocks, even while wearing boots with hard soles, your feet can still feel it. Search for diving boots that have a foam or gel foam sole. Your top priority is comfort. If your feet' undersides have issues, then your best bet is to choose a cushioned sole.
We recommend that you search for boots with a velcro fastener across the tip (if your boots come with a zipper). It is good to have an easy to use zip and one that quickly goes up and down. However, you don't want the zip to go down while you are in the water. Velcro straps seal across the zip and prevent it from going down when you don't want it to.
Determine what you need in your dive boots, and then make your decision based on your requirements.