Best Cold Water Regulators (2023) – Buying Guide and Reviews
Cold-water diving is not for everyone. Most divers run for the hills when they dive in cold surroundings and more often than not will not invest in the right gear for frigid environments, like cold-water regulators. There's no doubt that it is more fun and a lot more comfortable to dive in tropical environments.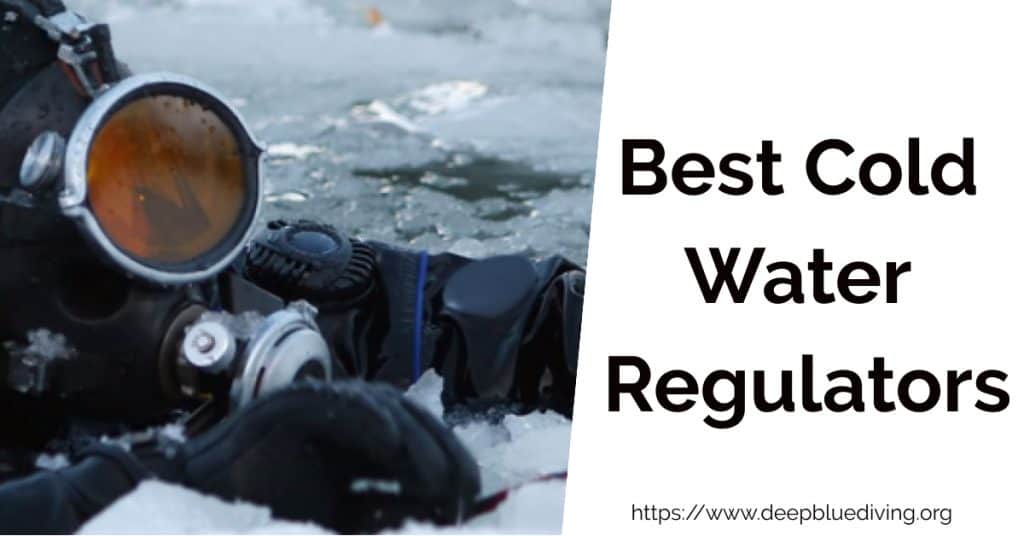 Diving in cold water not only requires you to wear either a thick wetsuit or a dry suit, but you also have to think about specialized regulators that won't freeze easily.
For this reason, many brands have their specific models for cold water. In this post, we'll give a little background and then dive right into finding the best cold-water regulators for your next dive in freezing waters!
Diving in cold water can be a lot of fun. You see a completely different marine life compared to diving in the Caribbean. If you're thinking that this could be amazing but you don't want to freeze then remember that diving in cold water doesn't mean that you have to be cold.
It only means that you need to get dive gear that is made for those environments to keep you safe and warm. We're having a closer look at cold-water regulators in this guide which are necessary for cold water diving.
What are the Best Regulators for Cold-Water?
We've compiled the list of the best cold-water regulators that are readily available. You can find individual reviews for each of the scuba regs for cold-water towards the end of this guide.
Here are the regs we picked to be the best for cold water diving:
Aqua Lung Leg3nd Elite
Zeagle F8
Hollis 500se Dc7
Sherwood Scuba Blizzard Pro
Atomic Aquatics M1
Apeks MTX-R
Mares Abyss 22 Navy II
Scubapro MK25 EVO/S620
Oceanic Delta 5 eDX
What is 'Cold-Water'?
PADI defines cold-water diving to start at temperatures that are lower than 60ºF or 15ºC. That might not sound that cold but it gets chilly fast when you're underwater.
There's no risk or health issue to dive into such conditions if you have the right equipment – Diving and Hypothermia – Is It Really A Risk?. This can be a dry suit with warm underwear, hood, booties, gloves, etc.
On the technical equipment list (Scuba Diving Gear List – The Complete Dive Equipment Guide) should be a specialized cold-water regulator that ensures that it will function and let you breathe while in the cold surroundings. We'll look at the best of these in the reviews below.
Best Scuba Diving Gear for Kids for Underwater Fun for the Family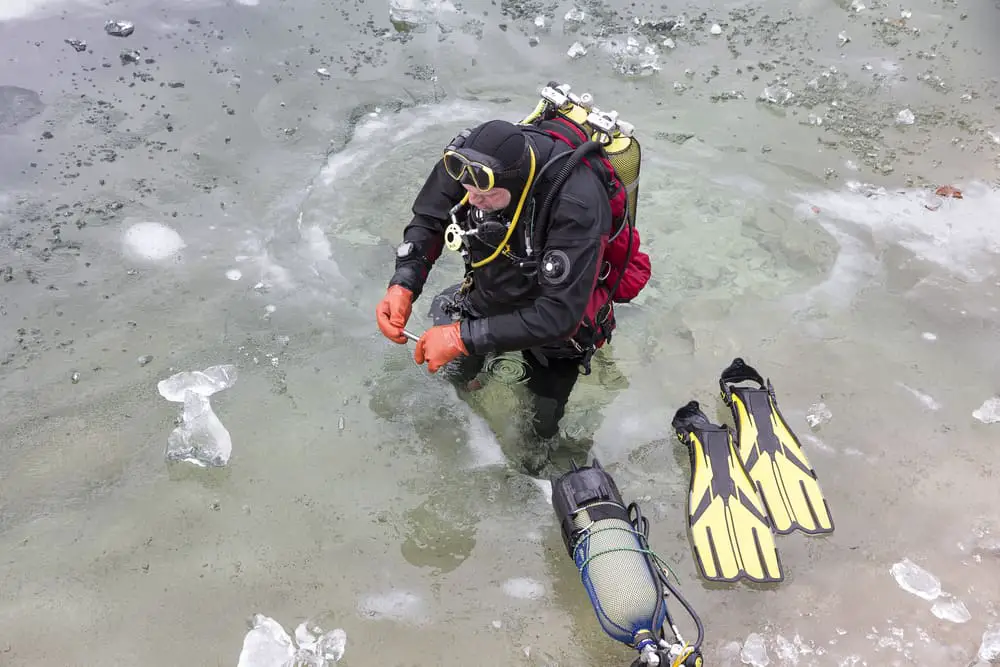 Do you really need a Special Scuba Regulator when you Dive in Cold Water?
Short Answer: Yes.
The problem with your regulator in cold water is that the internal parts can freeze. In the worst case, you can't breathe through the mouthpiece anymore, which, as we all know, is a bad thing to happen underwater.
Now, you might be thinking that only fools would dive in cold enough water that's close to freezing. That's actually not the reason why the regulator might freeze. You don't need to dive in freezing water to have your regulator freeze, it just needs to be cold.
The freezing of the regulator does not come from the water being close to freezing. The issue is that the gas coming from the tank is expanding and forcing a drop in temperature inside of the regulator. That drop is cold enough to potentially freeze the regulator internals.
The following video explains this in detail:
What makes a Good Cold Water Scuba Regulator – Cold Water Scuba Regulators Buying Guide
There are a number of cold water regulators you can choose from. They are overall not much different from your standard regulator, at least not when you're looking for a regulator that you can use in somewhat cold water.
While a cold water regulator can and will work in warm water, the opposite is unfortunately not necessarily the case. In very cold or even icy environments you definitely need a specific reg for cold environments. They are using special material and design choices to prevent freezing over and freeflow.
Not everything you have to take a closer look at is specific to cold water regulators. The following are some of the features and considerations you should take into account when you're thinking about scuba diving in cold or freezing conditions – Best Scuba Diving Masks – Reviews and Buying Advice.
What features do you need to consider? Let's have a look.
Valve Style – DIN or Yoke
It does not matter for warm water environments whether you prefer to use Yoke or DIN valves. For cold and freezing environments you do want to pick a DIN valve though.
They are more securely attached to the tank as they screw directly into it. Yoke valves require an O-ring for the seal. This can lead to some issues in icy cold waters as the seal might end up not being 100% tight and secure.
Environmentally Sealed Regulator
Having an environmentally sealed regulator means that there's a protective seal/case around the outside of the regulator. Its main purpose is to keep any contamination out of the mechanics of the reg.
Yet, it also provides additional insulation which helps with preventing your regulator from freezing.
Balanced or Unbalanced?
For cold water dives you want a balanced regulator – What is the Difference between a Balanced and Unbalanced Regulator?
Why you ask? The reason is that a balanced regulator will provide consistent airflow. It won't matter how much air is left in the tank, you will get the same amount of air for each breath.
An unbalanced regulator will give you less air per breath when the gas in the tank gets low. Unbalanced models are typically cheaper and easier to maintain but will not work as well as balanced regulators in cold water and for deep dives – Shallow Diving vs Deep Diving – What are the differences?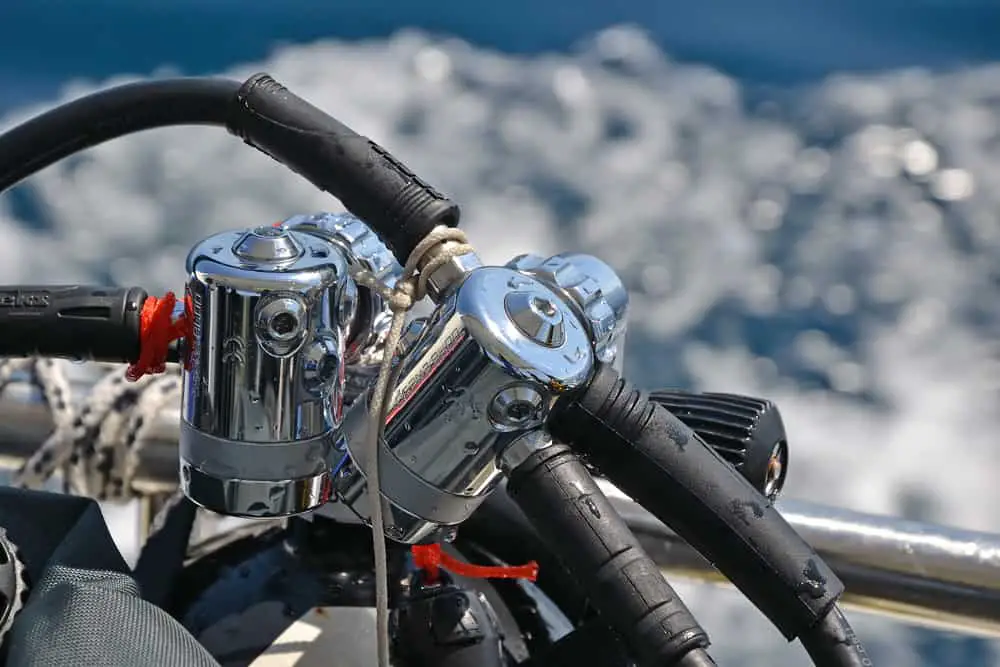 Diaphragm or Piston Regulator
Both types of scuba regulators work equally well in warm environments. When diving in cold water you want to consider picking a diaphragm regulator – Comparing Piston vs Diaphragm Regulator – Differences Explained.
Let's take a step back. Both variants refer to the first stage regulator. They are simply two different designs and affect the part of the regulator that lets the air flow when you breathe in and stops it when you breathe out.
A piston regulator has fewer parts. The piston is the part that regulates the airflow and your breathing forces it to open or close. This design lets the air flow more freely with a higher flow rate. Many divers breathe easier with a piston regulator.
The downside is that in cold environments they can be a little more susceptible to freeflow. That's one of the dangers in cold water diving that you want to avoid at all costs.
A diaphragm design uses a diaphragm to regulate the airflow. They tend to have a lower flow rate and divers often feel that they have to breathe harder to get air. However, in cold environments, they do not easily freeze and they also have a lower chance of freeflow making them a better option for regulators for cold water.
Number of Ports
Most first stage regulators offer a limited number of ports. In warm water that's enough to connect your second stage, BCD hoses, and potentially two other pieces of equipment on the often available four low-pressure ports. You also have one high-pressure hose to connect your console for monitoring the pressure in the tank.
In cold environments, you might need a few more connection ports. Equipment tends to fail more often when you get to freezing points and many divers tend to take redundant consoles and gauges on such dives (Wrist Mounted vs Console Dive Computer). You also might need a dry suit with a connection to the first stage.
Out of the box a first stage has the number of ports it comes with. You can't expand the number of available ports by adding additional ones.
Weight Considerations
Specifically, when you're traveling, you want a light regulator. The light ones are usually made from Titanium, Carbon Fiber, or other lightweight materials to make them easy to travel with. Unfortunately, many of these materials are not that great when it comes to resisting freezing.
Unfortunately, lightweight and cold water don't work well together. The best materials for extreme cold are insulating metals like nickel or brass.
Adjustable Flow Rate
Many regs feature an adjustable flow rate. This lets you adjust how much air you get with each breath. When you dive in frigid environments you require more air and being able to adjust the flow rate can help tremendously.
One thing you need to consider though is that you will most likely be wearing thick gloves. It's therefore important that the regulator has a sizable adjustment dial that you can use with thick scuba gloves.
Best Split Fins for Scuba Diving – Reviews and Buyers' Guide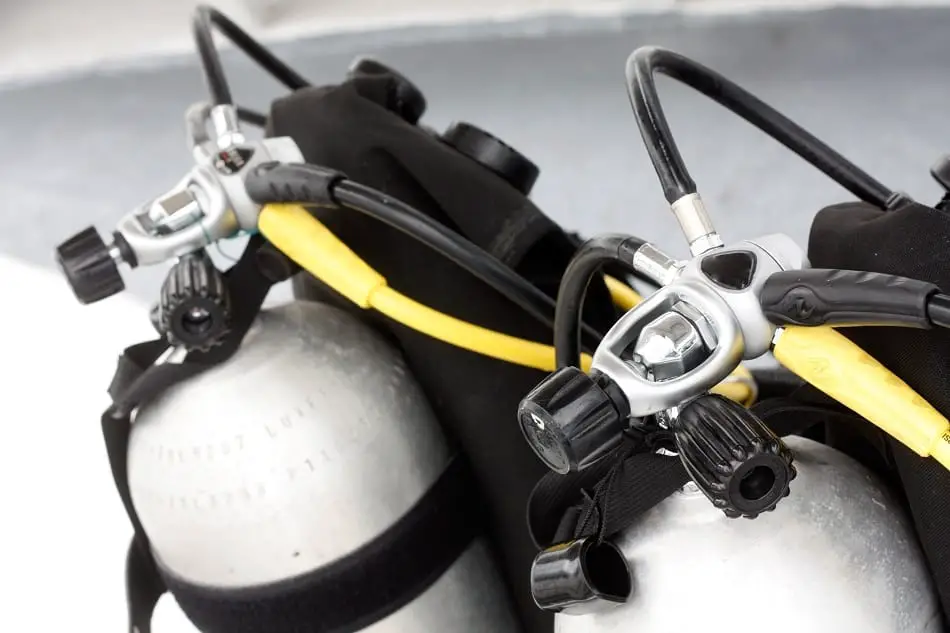 Best Cold-Water Scuba Regulators
Here are the picks for cold-water regulators for scuba diving with short reviews for each of them. There are a number of factors that we outlined above that you should consider to find the best cold-water regulator for your diving needs!
Aqua Lung Leg3nd Elite
The Aqua Lung Leg3nd series is the successor of the Legend models and is the 3rd generation of Legend regs. The Legend lineup had the Legend Glacia which was specifically designed for cold-water environments.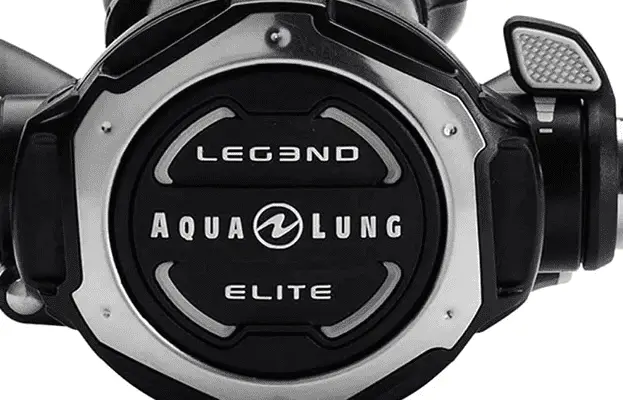 With the Leg3nd introduction, Aqua Lung did no longer offer a Glacia model. Instead, the Elite regulator ended up with many of the design features that made the Glacia a great choice for freezing environments. Aqua Lung pushed the envelope with resistance towards freezing and the Elite offers even better ice forming prevention compared to the Glacia.
The Leg3nd Elite, like all other Aqua Lung Leg3nd regs, is an (over-) balanced diaphragm design. Aqua Lung added a few new features to make these regulators perform better in cool environments and to prevent freezing.
The first stage has four low-pressure and two high-pressure connection ports. It's environmentally sealed and all internal components are sealed against moisture entering the regulator. In combination with the improved heat exchanger, you get excellent performance in cold environments.
The adjustment knob on the second stage is sized appropriately so you can control and adjust everything when wearing thick gloves. Aqua Lung significantly improved the usability of the Leg3nd regulators for diving in icy water and the Elite is one of the best all-around models you can buy that work great in freezing and warm environments.
Aqua Lung Legend (LX, LUX, Glacia) Regulator Review
Zeagle F8
The Zeagle F8 has been around for a while and is a reg that is designed specifically to prevent freezing when diving in cold waters. It's known as a reliable regulator that works great in cold (and warm) water environments.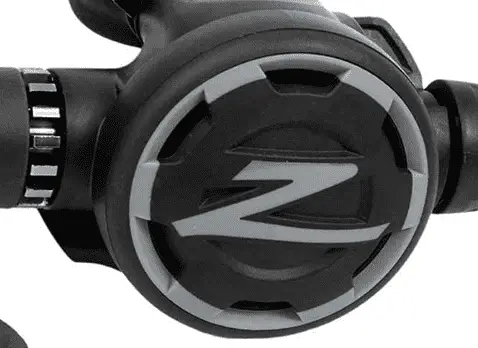 The Zeagle F8 is compact and the weight is 2.6 pounds making it one of the best travel regulators available. The F8 is a balanced diaphragm design that is environmentally sealed. The chamber in the reg to regulate the airflow is sealed to prevent any moisture from entering and freezing.
The first stage comes with two high-pressure and five low-pressure ports. The second stage features reduced exhaling resistance due to an improved exhaust valve that's also designed to ensure dryness to reduce any chance of freezing. The control knob is sufficiently large and usable with thick scuba gloves.
Hollis 500se Dc7
The Hollis 500se DC7 is an overbalanced regulator that is specifically made for cold water. The regulator is designed to deliver consistent gas delivery even in extreme conditions and depths.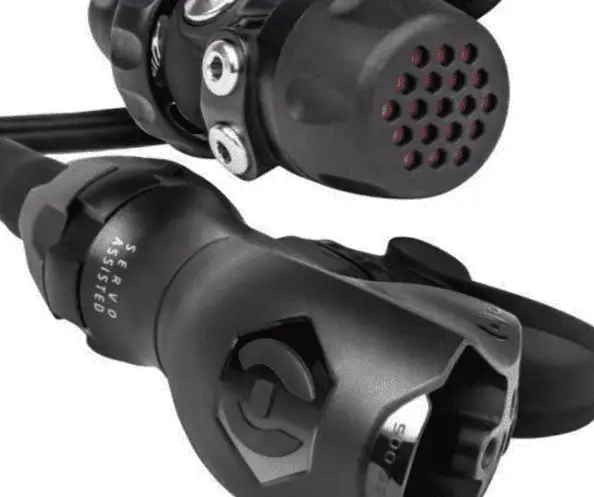 The first stage is available with DIN or Yoke adapter and for cold water, as mentioned, you should consider using a DIN connection. It features a servo-controlled valve that optimizes the airflow and improves breathability. It also improves resistance to freezing in cold environments.
The mouthpiece on the second stage is comfortable and light. A great feature for underwater photographers is that the Hollis DC7 500se has a side exhaust that keeps bubbles off to the side and out of the frame.
The Hollis DC7 is environmentally sealed to prevent any contamination as well as increase cold environment performance. The regulator comes with a 30-inch lightweight hose. It can be set up to work with Doubles or with Sidemounts.
Sherwood Scuba Blizzard Pro
Sherwood picked the right name by calling this reg 'Blizzard'. It is built specifically as a cold-water regulator.
You'll find that divers that purchased this reg are extremely satisfied. And the good news is that this is one of the more affordable choices you have.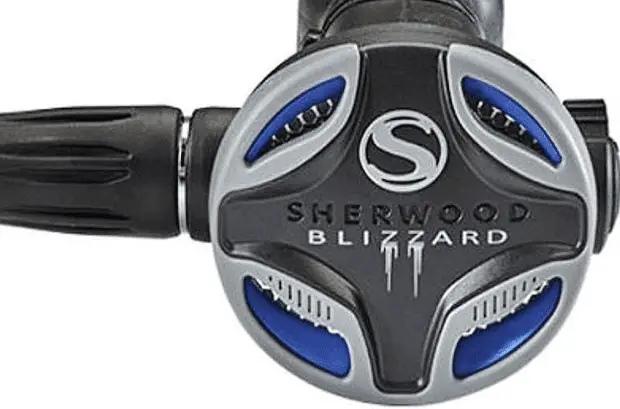 The Sherwood Scuba Blizzard Pro comes with a first stage that has a balanced piston inside a dry sealed chamber. This keeps moisture out and prevents freezing.
The first stage features two high-pressure and four low-pressure ports. Due to the streamlined design and available ports you can route the hoses in an optimized way.
The second stage of the Sherwood Blizzard Pro also features design choices to prevent freeze-up. The reg is balanced and while the housing is plastic, it does have an internal metal sink that is used to warm up the internals. Your warm breath is routed over the heat sink which takes that heat to prevent internal freezing.
All knobs on this reg are oversized to make it easy to adjust them while you're diving with thick gloves.
Atomic Aquatics M1
The Atomic Aquatics M1 is the cold-water regulator you'd expect from that brand. It's top-quality and will work in pretty much any environment. The M1 is based on the platform that is also used for the T2 and B2 regulators from Atomic Aquatics.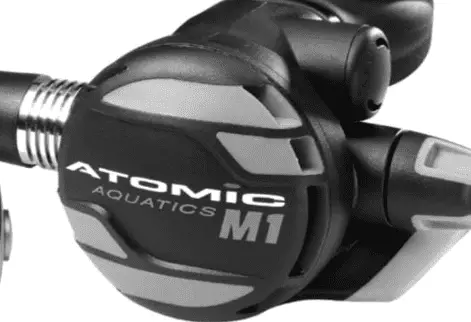 The first stage is an environmentally sealed balanced piston design. This keeps silt, sand, and freezing water out of the internal mechanics like the piston shaft and spring. The piston first stage provides you with two high-pressure and five low-pressure.
The second stage features a front cover that is specifically designed to prevent strong currents from influencing the functionality of the diaphragm. Atomic Aquatics added heat sinks to prevent freezing and an auto venturi control (Venturi switch).
The controls on the reg are decently sized for use with thick scuba gloves.
Apeks MTX-R
The Apeks MTX-R is one of the most rugged regulators you can get. It is based on military design and works great in extremely cold and icy environments.
Another positive feature is that you don't need any special tools to perform any maintenance on the reg. This is tremendously helpful when you need to perform a quick check-up at the dive site or on the boat.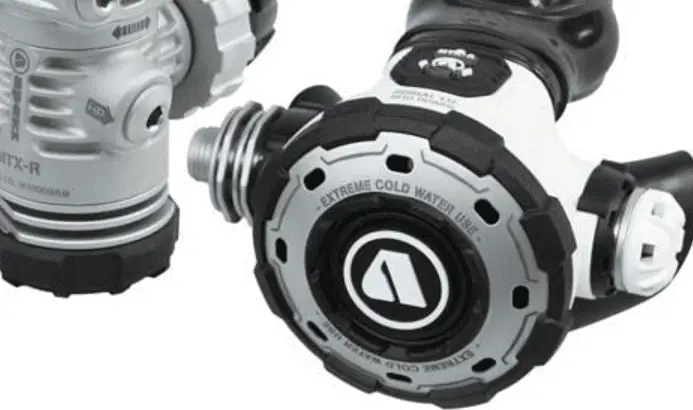 It comes with a balanced diaphragm first stage. The first stage is environmentally sealed to keep water and dirt out and significantly improve resistance to freezing. You find five low-pressure and two high-pressure connectors in the first stage.
Everything in the second stage is built to withstand the environments. It comes with a heat exchanger around the valve mechanics to prevent any freeze-up. The exhaust can be exchanged so you can guide the bubbles to the side and away from the face.
Apeks also offers the MTX-RC which is offering the same capabilities for freeze resistance as the MTX-R. In addition they added a Venturi switch to adjust air flow settings so you can breathe according to your comfort level.
Mares Abyss 22 Navy II
Mares designed the Abyss 22 Navy II specifically for cold water use. It was designed to pass the US Navy tests for frigid water diving and it did pass.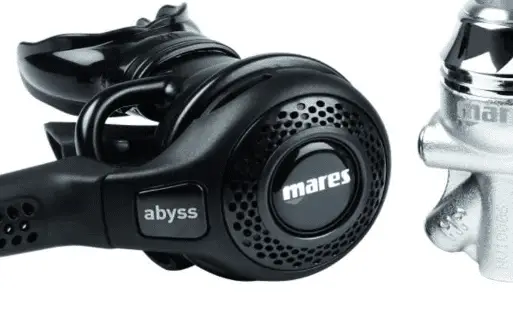 The first stage is the Mares 22. It is a balanced diaphragm first stage that is environmentally sealed making sure that the surrounding water and silt stay out. It features four low-pressure and 2 high-pressure ports.
The Mares Abyss second stage is made from metal to improve its thermal performance in freezing environments. It is an unbalanced second stage with no adjustment needs for the diver. Mares designed the second stage so it provides constant airflow under any conditions.
Scubapro MK25 EVO/S620 Ti
The Scubapro MK25 EVO/S620 Ti combines a balanced piston first stage with a high-performance second stage. The MK25 EVO is Scubapro's top-performing first stage.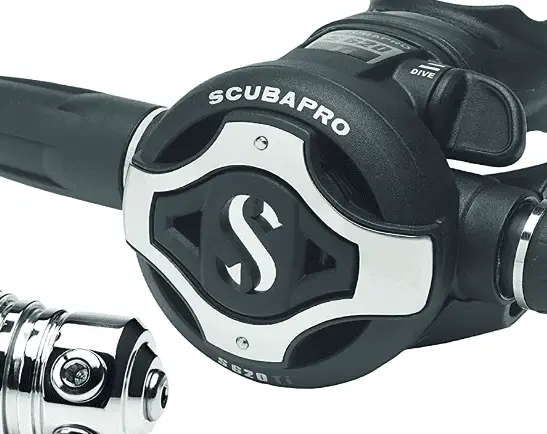 It's an air balanced, flow-thru piston design. An air balanced piston pushes more air to the second stage compared to other designs.
They are also not changing performance depending on tank pressure. Best of all, it works great in cold water environments. The MK25 provides five low-pressure and one high-pressure ports.
The S620 Ti second stage is the successor of Scubapro's S600 reg. Scubapro designed the S620 Ti to perform in all environments. They added anti-freeze design elements to allow you to breathe effortlessly in freezing conditions.
Oceanic Delta 5 eDX
The Oceanic Delta 5 combined with the eDX first stage is a formidable cold-water regulator. The Delta 5 continues Oceanic's long line of outstanding regulators that work in all environments.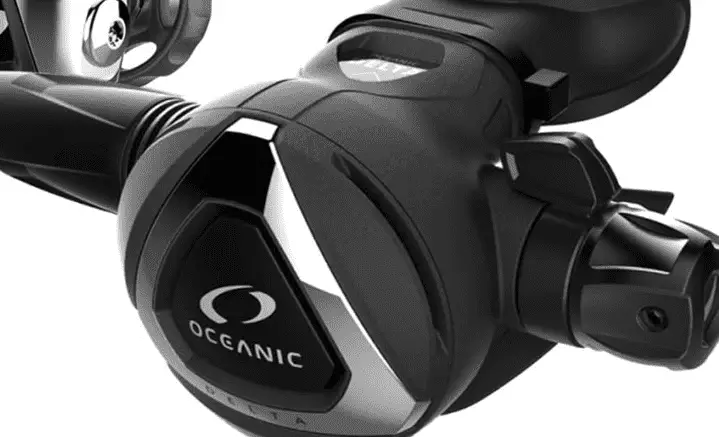 The eDX is a balanced diaphragm first stage that's environmentally sealed. The water is kept out to reduce any chance of freezing.
In addition, Oceanic added ribbed heat exchangers to improve performance when you're ice diving. The Oceanic eDX provides two high-pressure and 4 low-pressure ports.
The Delta 5 second stage has a pneumatically balanced all-metal valve with a heat exchanger for enhanced usage and performance when scuba diving in frigid waters. It is out of the box ready for Nitrox up to 40%.
Final Thoughts
Ice diving and diving in colder waters have become more popular over the years. You can also find a lot more other scuba gear specifically designed for freezing environments and cold-water diving.
We've reviewed and introduced a number of the best cold-water regulators that are available today. You can safely pick any of these regs for cold-water or ice diving or any other kind of diving you want to do.
You will probably not find a single best cold-water regulator today. It does depend on your preferences, how comfortable the mouthpiece feels, whether you travel a lot or not, etc. We tried to get you the background information for each cold-water regulator in the reviews above.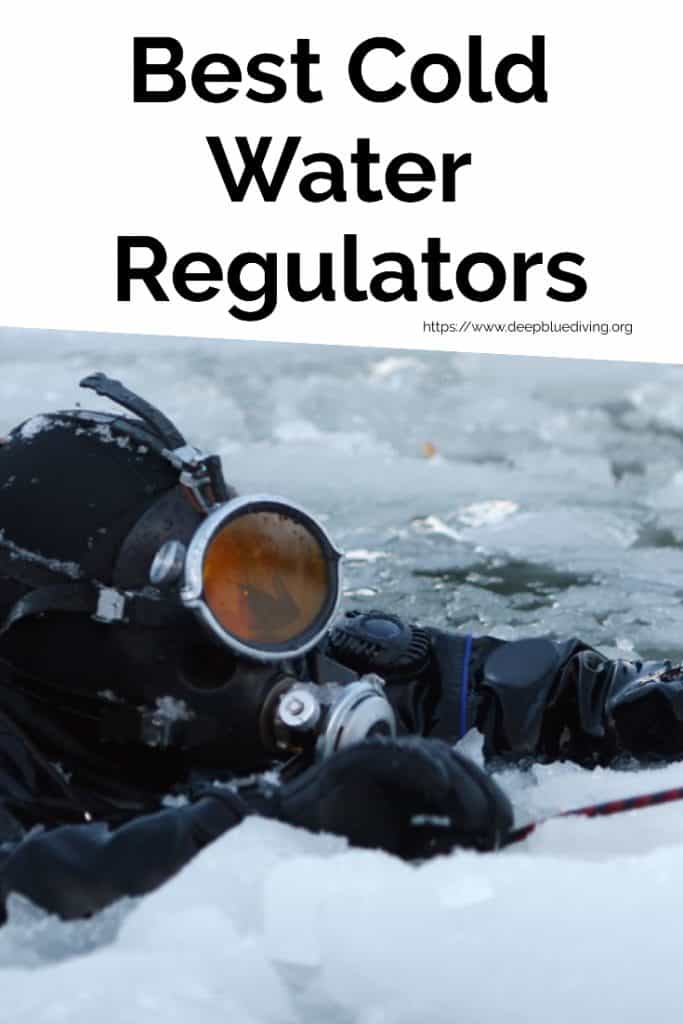 Best Scuba Regulator reviews and information