Best Scuba Fins (2023) – Reviews and Guide for Divers
Fins might seem like a piece of equipment that you don't have to think about a lot. After all, you're strapping a piece of rubber or plastic onto your feet to help you propel yourself faster through the water. That's it!
Or, is it? Having a pair of the best scuba diving fins can have a huge impact on your dive experience. They help you with maintaining positive buoyancy before and after diving and do provide the thrust underwater.
So, what do you have to look for? What is important? And, last but not least, what are the top-rated scuba fins to check out? Let's have a look to make sure you get the best dive experience possible!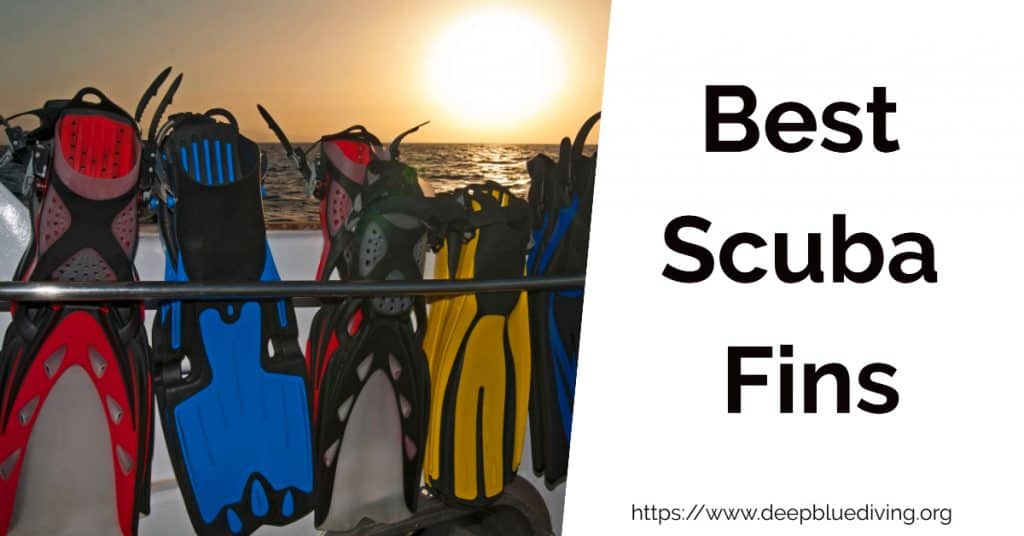 The Ultimate Guide to Finding the Best Fins for Scuba Diving
Fins are an essential part of your scuba gear. They propel you underwater and make or break your dive experience.
If you don't own your own set of scuba fins you will rely on the dive shop to have some to rent. In many cases, you'll end up with lower quality fins that kind of fit but are not comfortable. It can seriously put a damper on your dive experience!
Having your own gear and having it fit perfectly is important in scuba diving. The familiarity you gain with your gear improves your precision during dives and builds your trust in your gear.
Scuba fins should be comfortable and provide you with the ability to transform the power from your kicks into forward motion. Along with that, they should be easy to put on and off, to transport and certainly sturdy enough to last a long time.
Finally, they have to fit your dive style. Our guide to the best scuba diving fins will provide you with the information you need to get the best fins that match your diving style.
The 10 Best Fins for Scuba Diving
If you're in a hurry, then here's the shortlist of the top 10 diving fins.
Below you can find the details on each of these best 10 scuba dive fins. Please also check out our Buyer's Guide for Dive Fins as well as our short overview of important things to consider when buying new fins. Let's have a look at the reviews of the Best Scuba Diving Fin below.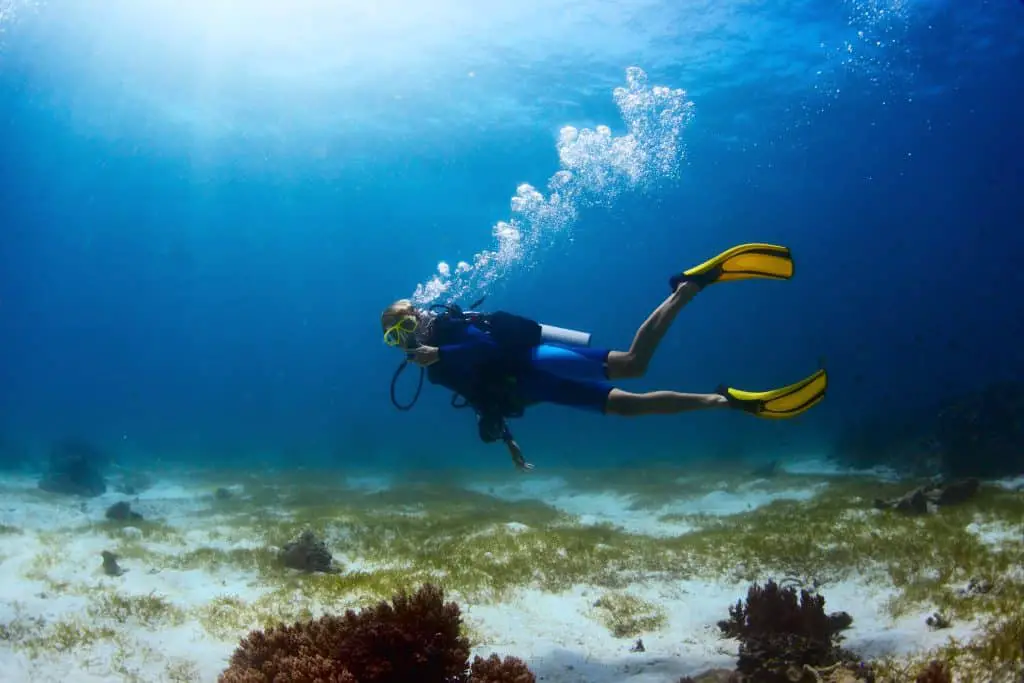 Aqua Lung Stratos 3 – Best Full Foot Scuba Fins for Warm Waters
The Aqua Lung Stratos 3 are full foot fins that are durable and affordable. They are comfortable and easy to put on and off. The inside of the foot pocket is finished with a special material that makes sure that you get in and out easily while not slipping out during a dive.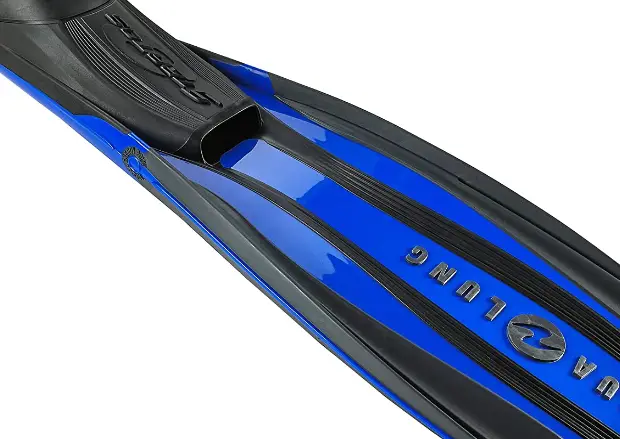 The bending point is close to the front of your foot. This way the entire fin is used for a powerful kick with the least amount of effort.
The Aqua Lung Stratos 3 full foot fin comes in six different sizes and you shouldn't have an issue finding the best fit for your size. The toe area and foot pocket offer a lot of space which makes it very comfortable to wear. The overall design and build quality are impeccable.
The Aqua Lung Stratos 3 is best used for dives in warm tropical waters. It's our best choice for a full foot scuba diving fin for warm waters.
Mares Avanti Quattro Plus – Best Overall Open Heel Scuba Fins
The Mares Avanti Quattro Plus are open heel scuba fins. They have a bungee strap so you're able to quickly get in and out of them. The huge advantage is also that you won't have to adjust any straps on the fin. Simply slide in and let the bungee heel straps do the rest. Easy donning and doffing is practically guaranteed with these scuba fins.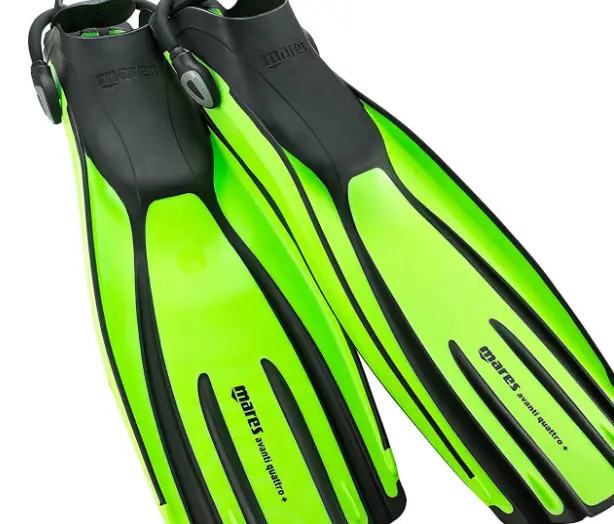 The Mares Avanti Quattro Plus is made from somewhat stiffer material which is combined with four soft channels to provide the most possible thrust when kicking. The blade is overall a little stiffer than other dive fins. However, it creates a lot of thrust with each kick and makes sure that every kick counts!
These scuba fins come in four different sizes and a large variety of colors. You'll find the perfect fit amongst those four sizes as the bungee heel strap makes sure that you're securely in the fin once you put it on. The foot pocket is comfortably sized and will work for nearly any shape of feet.
The Mares Avanti Quattro Plus is a great all-around choice for diving. It works well in warm and cold water and adjusts great for fit with the bungee strap with a finger loop securing it around your foot. It's our choice as the best scuba diving fin.
DiveRite XT – Best Open Heel Scuba Fins for Technical Diving
The first thing you'll see when you look at the DiveRite XT is that it's surprisingly non-flashy looking. Most newer fins have shapes and designs and color schemes that make them look 'cool'. These fins are just what you see – excellent scuba diving fins.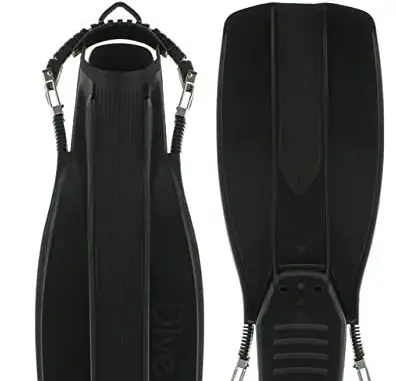 They are specifically designed for strong and ripping currents and tougher conditions. They are made from a Monoprene blend which is used by DiveRite since the 1990s in some of their best performing fins.
The XT fins are designed as open-heeled fins with spring straps for the heels made from reinforced steel springs. The fin straps are designed to provide a tight fit while being able to get in and out quickly. The foot pockets are comfortable and provide a good connection between your feet and the fins. Size them so you can wear booties when diving and you have a great pair of fins for warm and cold water.
The blades are designed to maximize the thrust with every kick while making sure that they stay stable in rough conditions. The DiveRite XT fins are a great choice for technical divers in varying conditions.
ScubaPro Seawing Nova – Best High Thrust Split Fins
The ScubaPro Seawing Nova offers a unique design. They combine the advantages of paddle fins and split fins. The design provides the thrust of a paddle fin with the comfort and efficiency of a split fin.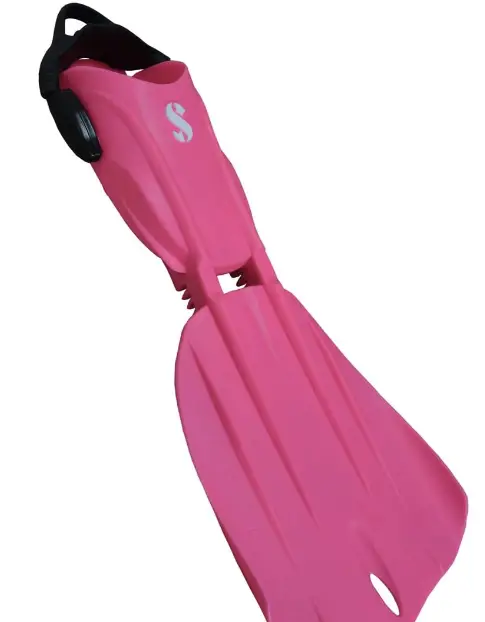 The design of the Scubapro Seawing Nova is unique in that it offers a joint in the blade that maximizes thrust while reducing drag through a pivoting motion. The fins offer tapered edges which make it useable for different kicking styles. The bungee strap makes it easy to get in and out of the fins and have the perfect fit.
The Seawing Nova fins come in five different sizes and a variety of color choices. The well designed and sturdy bungee heel strap ensures a perfect fit.
There's no question that these are some of the best fins you can buy. However, the complex design results in one of the highest prices you can find for any diving fins.
Atomic Aquatics – Best Split Fins
Atomic Aquatics is known for its high-end design of scuba gear and the Atomic Aquatics full foot split fins make no exception when it comes to quality. However, compared to other scuba gear from this manufacturer, they are actually affordable.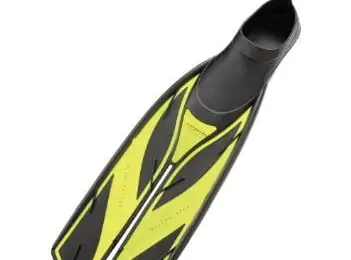 These Atomic Aquatics fins have a full foot split design. During a kick, the split fin blade changes shape into a pair of wings. These wings reduce drag when slicing through the water while creating thrust to propel you forward. This blade design works great in calm waters but does not provide enough thrust in strong currents.
Overall these full-foot fins allow you to move through the water with less effort. They can help to reduce air consumption during a dive.
These full-foot fins come in six different sizes and two color combinations. Make sure to study the sizing information with your shoe size to find the best fit. Full-foot fins can be somewhat tricky when it comes to finding the perfect fit.
The Atomic Aquatics Full Foot Split Fins are a great choice for diving in calm warm waters. The split fin design reduces drag and helps you to conserve energy and air.
Tusa Solla – Best Affordable Scuba Fins
The Tusa Solla is a paddle fin with open heels that has some very interesting features. It uses a thermoplastic elastomer mixing hard and soft materials within the blade. The same combination of different stiffness levels is used in the side rails and the foot pocket of the scuba diving fin. This improves the thrust while reducing the energy required to generate that thrust.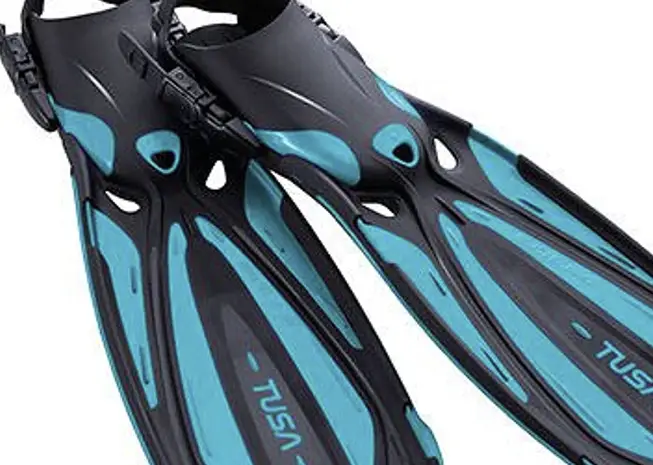 The fins use an anatomically formed strap to secure your foot to the fin. It's not a bungee strap, but the heel strap is still easy to use and fits the back of your heel perfectly and comfortably.
The paddles are medium in size which provides a good compromise between maneuverability and thrust. The Tusa Solla is affordable and definitely worth a look.
Mares X-Stream – Best Fins for Reduced Turbulence
The Mares X-Stream is one of the newer dive fins on the market. It is an open heel paddle scuba fin that has a comfortable foot pocket. The shape of the blade is rather unique, and it is designed for less turbulence while you're scuba diving.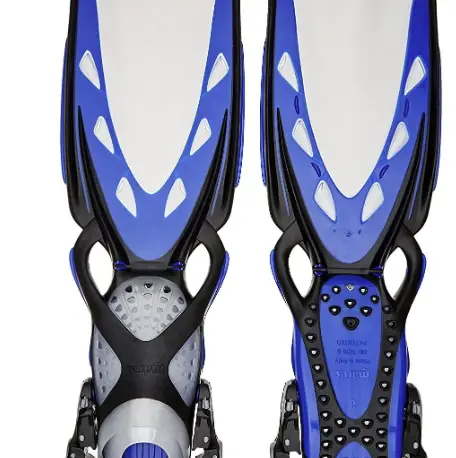 The X-Stream blade design works on a similar split mechanism as the ScubaPro Seawing Nova in that it has a flex area right in front of the foot pocket that allows the blade to act similar to a split blade. This way the fin provides the thrust of a paddle fin with the reduced effort and drag from split fins.
The heel strap is designed to provide a secure closure while your foot is in the fin. It's comfortable to close and initially needs adjustment. A bungee strap would be a good change, but the standard strap works fine.
The blade transfers your kick and transforms it into a powerful thrust forward. It features a center channel that is designed to force the water down the blade instead of allowing it to spill over the sides. This reduces the energy needed to propel yourself through the water.
The Mares X-Stream comes in four different sizes and a variety of different colors. They are not the cheapest pair of flippers on the market, but you get high-tech fins for a good price. They are not more expensive compared to other high-quality blades on the market!
Cressi FROG Plus – Best Overall Paddle Fins
The Cressi FROG Plus fins are open-heel paddle fins. Coming from Cressi you can trust to get the highest quality and latest technology.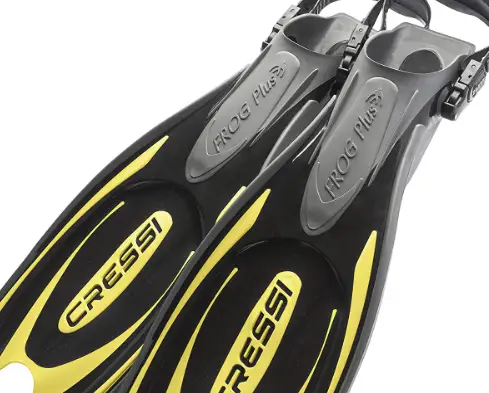 That's not different for these fins. They are combining several materials into one fin to optimize the flow of water during a kick and reduce the drag. The blades combine stiffness with flexibility in material to optimize performance.
They are designed to require the lowest amount of energy for each powerful thrust. The combination of the different materials provides strength and flexibility as needed during each kick. Cressi designed the foot pocket to be comfortable and provide a good transfer of power from your legs and feet to the fin.
The strap is adjustable and allows you to get in and out of the fins quickly and easily. While not a bungee strap, the heel strap is still easy to initially adjust and use.
The Cressi FROG Plus comes in four different sizes and a few different colors. They are very affordable in price and made of the highest quality products.
Sherwood Triton – Best 'Old Style' Dive Fins
The Sherwood Triton looks at first glance like a pretty old-fashioned scuba fin. However, it is anything than that. These are open-heel paddle fins with an adjustable strap.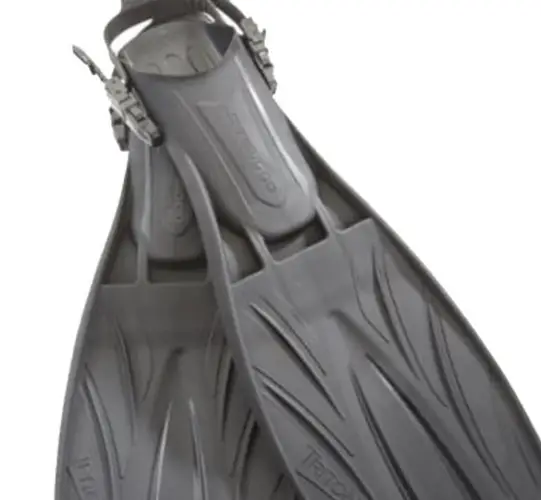 It features three vents in front of the foot pocket that are designed to increase the thrust on the downward motion of the kick. They also decrease the drag on the upward motion of the kick. This blade design element increases the thrust while reducing the energy needed to kick and recover.
The straps are adjustable and offer quick-release buckles. The large heel pull tab on the heel strap makes it easy to put the fins on or take them off. The foot pocket is ergonomically designed and should comfortably fit with a pair of booties.
A great feature of these fins is that they float. They are positively buoyant so they won't sink to the bottom should you ever lose one in the water.
The Sherwood Triton comes in three different sizes and is only available in black. They are not any of those futuristic looking fins but rather look like fins from old times. Yet, when it comes to the power they produce, they are top of the line. Due to their light weight, they offer great flexibility when it comes to diving, snorkeling, or even surface swimming with fins.
Pricing of the Sherwood Triton is what you would expect of a high-quality pair of fins. They won't break the bank but are also not the cheapest fins you can find.
Tusa SF-15 X-PERT ZOOM Z3 – Best New Split Fins
The Tusa SF-15 X-PERT ZOOM Z3 are split blade fins with open heels with a patented fin design. The blades are angled at 27 degrees. In combination with the three-material design, this creates a powerful thrust during a kick.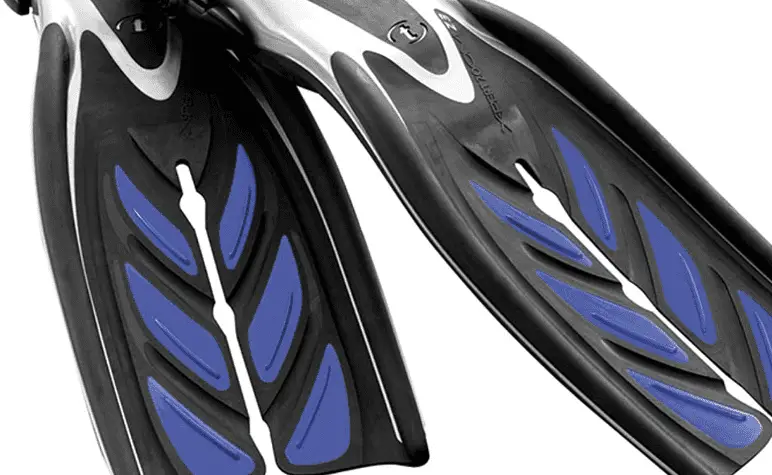 The blades are designed to provide a powerful thrust while using the least amount of energy. They combine three different materials to provide the stiffness where needed while being flexible at other places with sturdy side-rails. This allows providing a quick response to any movement.
The foot pocket is developed to increase the power transfer to the blades for improved performance. The multi-compound design of the foot pockets increases the comfort as well as improves the transfer of power to the fins to optimize the outcome of every kick. The fins have adjustable straps with quick-release buckles.
The Tusa SF-15 X-PERT ZOOM Z3 comes in three sizes and four colors. Pricing for these fins is great for the quality you will get.
Things to Consider when Buying New Diving Fins
Without repeating the information you can find in the Scuba Fin Buying Guide, let's have a quick look at the important factors you should consider when buying a new pair of scuba fins.
Full Foot or Open Heel Fins?
Full foot dive fins are usually better for snorkeling and for warm waters. You will have a harder time getting a tight fit compared to open heel fins which have a heel strap to keep your foot securely in the foot pocket of the fin.
Donning and doffing is in many cases easier with open-heel fins. However, the easy donning and doffing is also very much dependent on the thickness and choice of materials for the foot pockets.
Check out our Buying Guide for Scuba Fins for more information on those two kinds of foot pockets.
Split of Paddle Fins? – Which Blade Style is Better?
Split fins are a relatively new invention and innovation. These blades work like a propeller when you kick, and the advantages are that you need less energy for a kick.
However, in rough currents, the power is simply not transferred as well, and you won't be able to maneuver quite as good as with a paddle fin.
You can find more information on split fins vs. regular fins to help you make the best choice with regards to the blade design!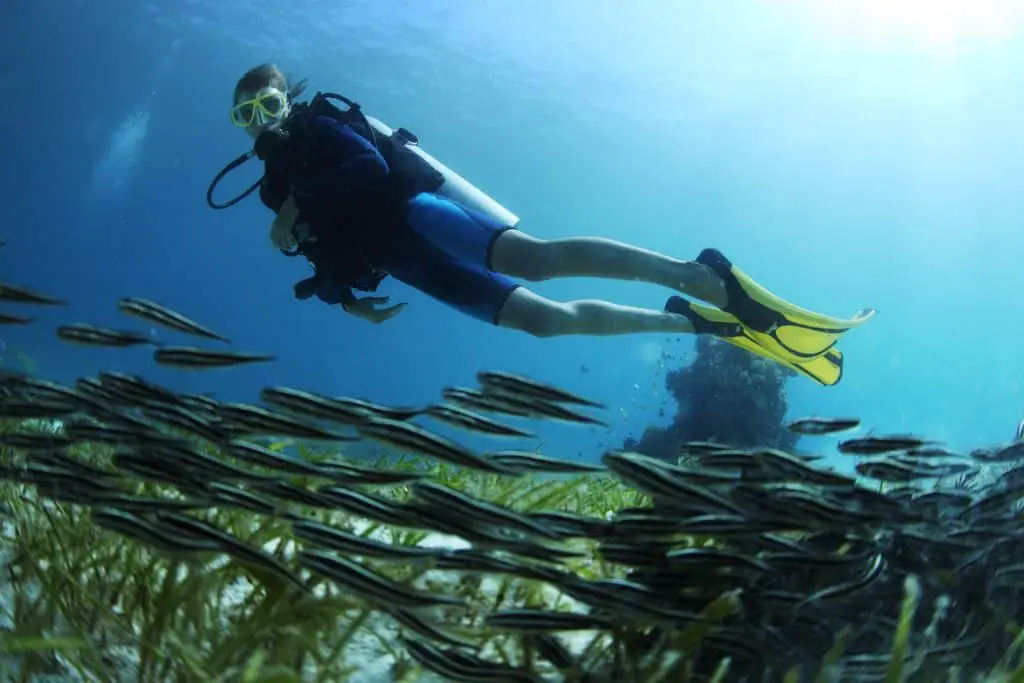 Size of the Blades of Fins – Travel Anyone?
The overall size of the fins can become an issue when you want to bring them for traveling. Most fins are ok to bring but some, specifically fins for freediving, are simply too large to pack as they have oversized blades. The ones reviewed above have regular-length blades and will all somehow fit into a suitcase but none of them are specifically designed for travel.
You can get travel fins that have either shorter blades or can be disassembled. This can be an important factor for you, but you might consider trying to find a way to pack our preferred fins instead of compromising on either the quality or performance of your fins.
Other Considerations
There's not much else to consider except that you need to make sure that you get scuba fins that fit comfortably while keeping your foot secure in the foot pocket. Nothing's worse than losing a fin during a dive or a foot pocket that has the fins rubbing against your feet causing discomfort and blisters!
Get the Right Size
Make sure that you get the right size of fins for your size of feet. If you wear booties during scuba diving, then take the additional size of those into consideration.
Lastly, and the least important consideration, is whether you want to get fins in a specific color. Color or patterns on the fins have no impact at all on the quality of the fin. However, if you have a specific color scheme going then you might not want to disrupt the colors of your wet suit, etc. with fins that don't match at all.
Conclusion
​There is no one-size-fits-all when it comes to finding the best scuba diving fins. All the flippers we highlighted above are a great scuba diving fin that have upsides and downsides.
In the end, you will have to find out for yourself what style of diving you perform, in what surroundings you dive, what kick style and technique you use, and how often you dive. It makes sense to have your own gear no matter what and picking the best scuba diving fin from the list above will make a good addition to your equipment.
If you don't specialize in specific types of scuba diving, you might simply go for scuba fins that work in a variety of conditions.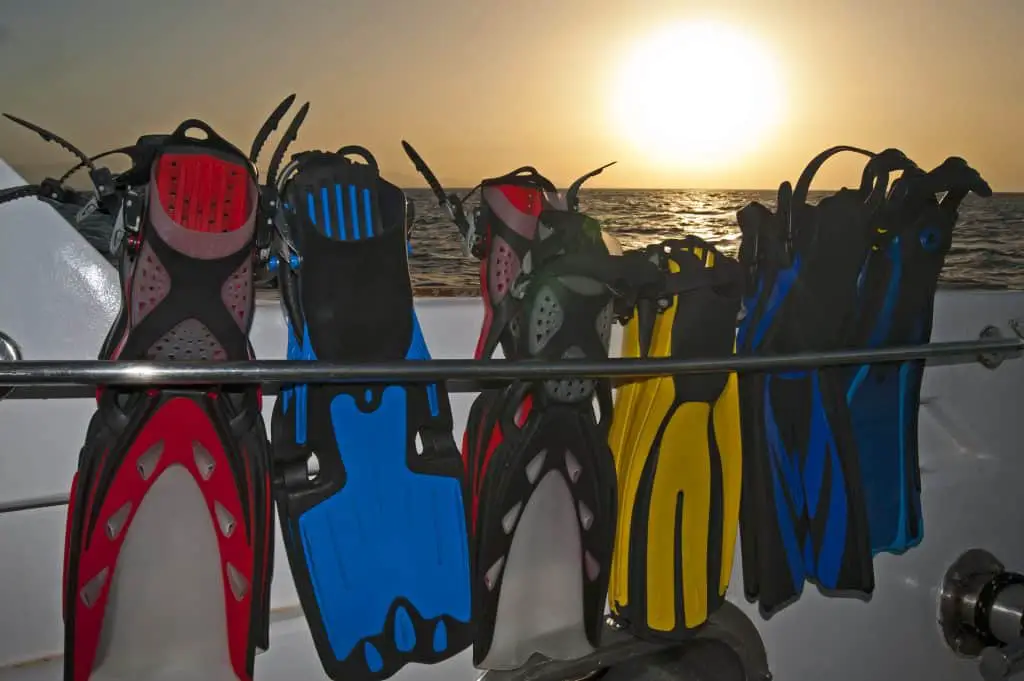 Commonly Asked Questions
How do I choose a scuba fin?
First, figure out in what environments you usually dive. If it's warm waters then open heel fins are the obvious choice. Otherwise, you might want to consider a pair of full foot fins.
Next, get fins that are the right size. When you order them online then make sure that you get them from a retailer where you can return them in case the size is wrong.
Depending on the heel design, you want to try them with booties if you use open heeled fins. You definitely want to see a few inches coming out from the foot pocket. A closed heel fin is worn barefoot and should sit snug and comfortably.
Make sure the fins sit tight and you can move and tilt your feet. Do not pull the heel straps on an open heel fin tight. Open heel fins should stay in place with the heel straps just tightened a little.
Raise your foot and pretend to kick as if you're underwater. Flex the fin to see that it sits securely and doesn't come off. If it slips off then you need fins with a smaller foot pocket. Go a size smaller if your heel comes out when you kick.
Can I use scuba fins for snorkeling?
Well, there's no law that says you can't. However, snorkeling fins are usually shorter and softer. They don't have to withstand high pressure you experience during diving.
The material on scuba fins is specifically designed for those deep depths and the strong currents that you have to swim through underwater. In short, you can use scuba fins for snorkeling but don't use snorkel fins when you go diving!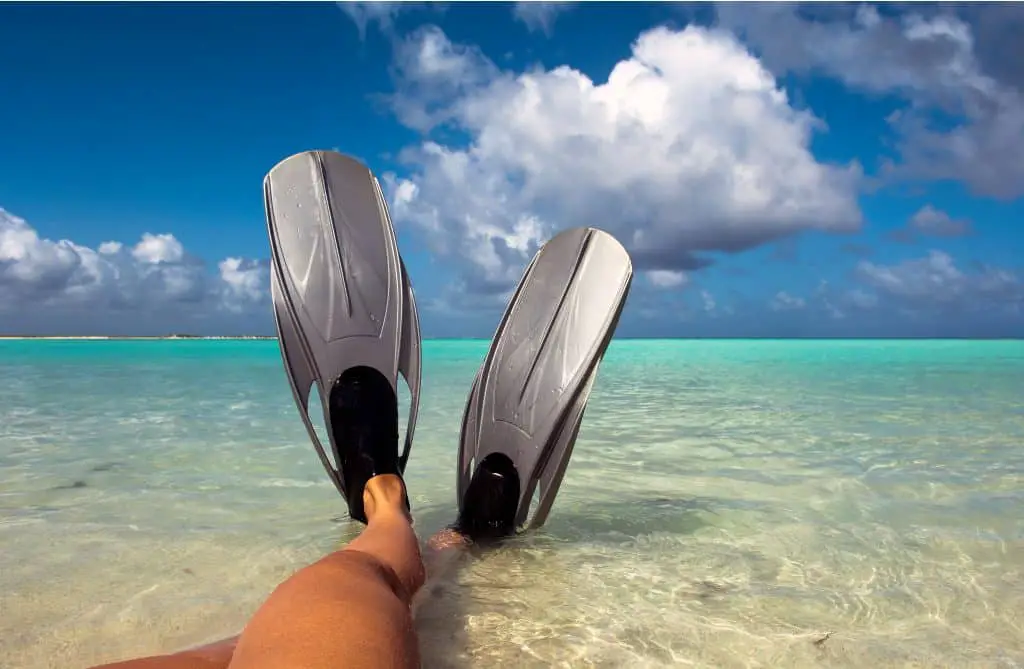 Is there a difference between scuba and snorkel fins?
There are some differences that are very obvious. First, scuba fins are longer. Some snorkel fins are designed so it's easy to walk with them on land. That makes sense as you usually enter the water from a beach when you snorkel.
Scuba fins are technically more complex. They are built to propel you underwater when you're in deep depths and strong currents. Snorkel fins don't face such extreme conditions and are not built for it.
You can find more information on the differences in our post at https://www.deepbluediving.org/snorkeling-fins-vs-scuba-diving-fins-vs-freediving-fins/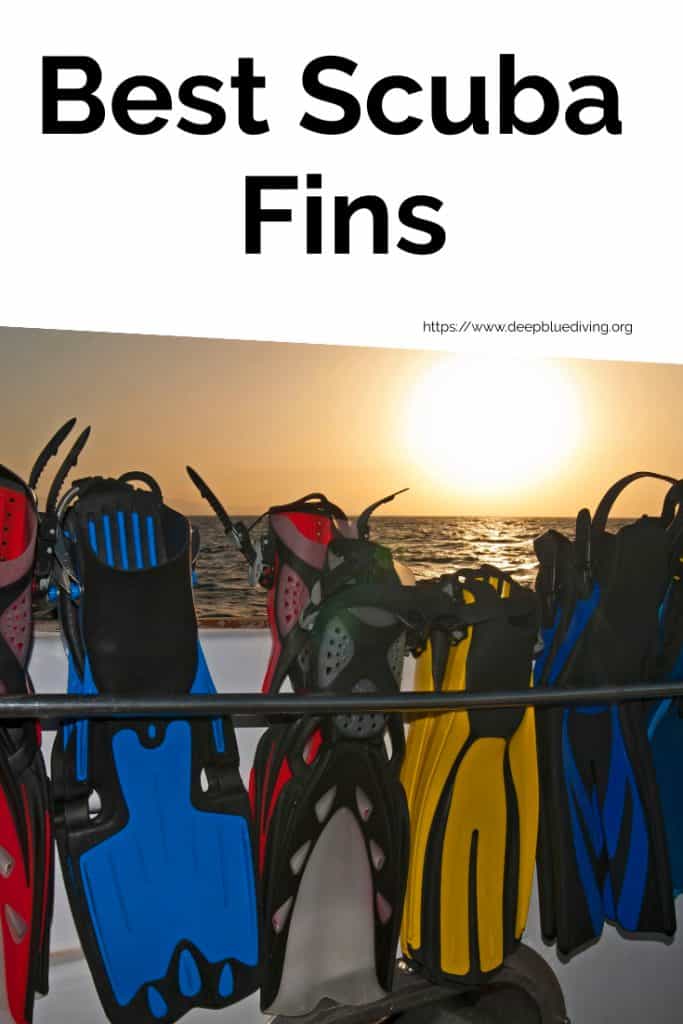 Update 2020
There have been a number of new flippers that hit the market during 2019. However, none of them was so outstanding that we would have felt the need to change the list above.
Therefore, our best diving fins for 2023, 2022, 2021 and 2020 are the same as for 2019. Well, at least for the beginning of the year. If we come across some great new fins in 2020 then we will certainly change our picks and provide you with the latest and greatest to make sure you're staying safe and having a great experience as a scuba diver!
Update 2019
When we reviewed our best scuba diving fins choices that we made in the latter half of 2017 we concluded that since then really nothing much has changed. There were no new fins that would have been better than the best scuba fins we have picked above for scuba divers so we decided that we leave the list the same and keep an eye out for new introductions. When and if we find new noteworthy fins for scuba divers that make the list then we'll update the post, so you know for sure to have the up-to-date selection available!