2
Atomic Aquatics Z3 Regulator Review
Atomic Aquatics are known for the top-of-the-line quality and technology when it comes to dive gear. This reputation is reflected in all their equipment including their regulators like the Atomic Aquatics Z3 Regulator.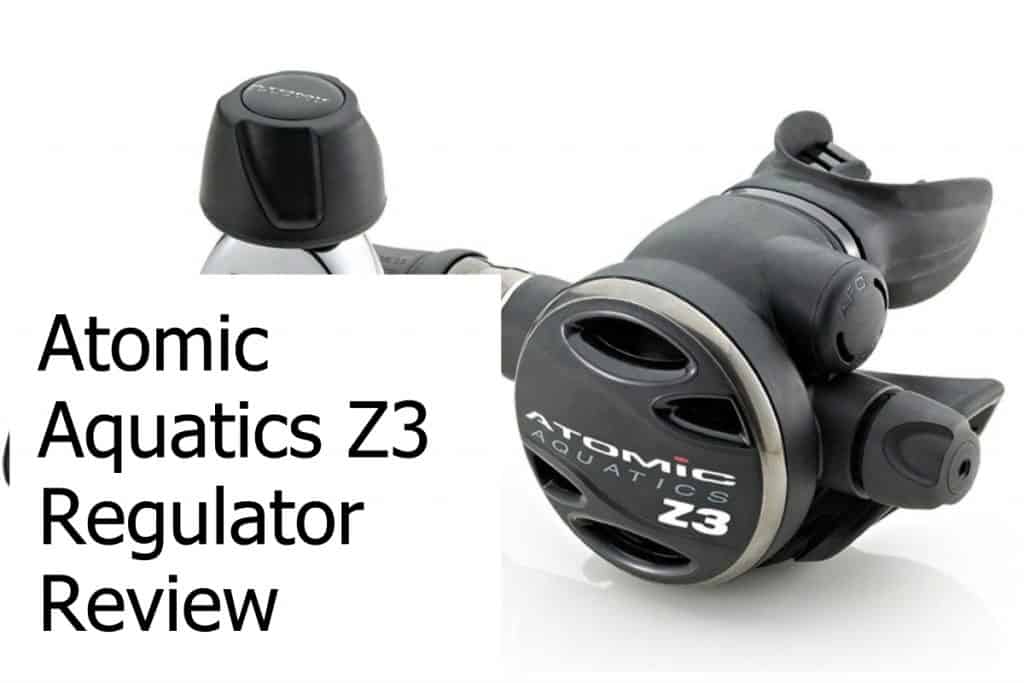 Yet, they are also known for these features and design to come at a premium price. However, the Z3 is a relatively affordable high-end product with no compromises in quality.
All Atomic Aquatics regulators leverage the same principles in their design. Combining top-quality materials with solid construction to produce long-lasting regulators that work and that have low maintenance requirements.
The Z3's lower price point is due to using materials that are high-quality but not quite as top-of-the-line as what they use in their highest-end regulators. This design features for example the use of a specific plating process where a layer of Zirconium (hence the 'Z' designation) is on top of a chrome layer on brass. This increases the resistance to corrosion by a factor of 3 to 4 resulting in a long-lasting design with low maintenance.
While not as high-end as the titanium used on their top regulators, it's a great compromise to achieve a long-lasting regulator at a reasonable price. It will outlast many of the competitor products while not completely reaching the performance levels of the titanium designs. Yet, for nearly all recreational divers this is a more than satisfying design and material choice!
Check out what you need to know about regulators in our Buying Guide for Regulators!​
Let's have a detailed look at the components of this regulator in the following sections.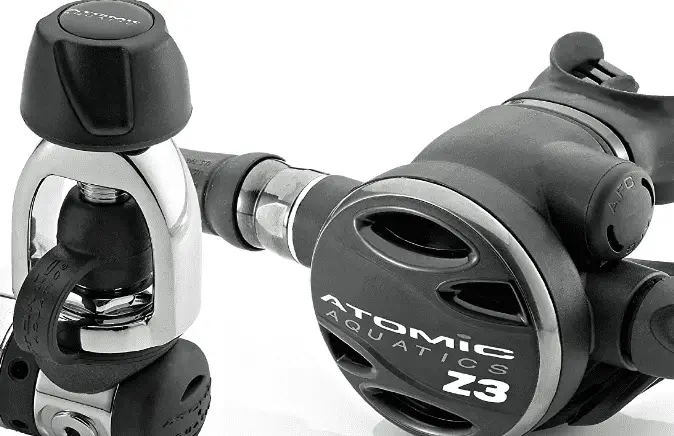 First Stage
The first stage is a compact design using chrome plated brass and stainless steel as the materials of choice. It uses Atomics' Jet Seat high-flow piston design to provide the diver with a natural breathing experience.
The Jet Seat system is unique to Atomic. There are no sharp edges used for the piston design increasing the durability and reducing any maintenance needs. The piston is also self-lubricating providing a practically friction-free design to further reduce maintenance requirements. This design in combination with the high-quality materials increases the maintenance interval to 2 years or 300 dives (whichever is first).
The first stage can also optionally be purchased being factory sealed. This keeps silt, sand and other contaminants out and prevents mechanical failures. It also improves the capabilities of the regulator to not freeze in cold conditions. You can get the first stage either as a DIN or Yoke design depending on your needs!
The Z3 offers two high-pressure ports and seven low-pressure ports on a fixed cap. More than enough ports to connect all kinds of gear requiring pressurized gas. It is compatible for Nitrox diving with mixes of up to 40%.
Second Stage
The second stage of the Z3 consists of a housing crafted from high-grade polymers. The internal components are made from zirconium and chrome plated brass and titanium elements. This material mix offers a long-lasting, corrosion-resistant second stage.
Atomic also included their seat-saving orifice. The valve is lifted away from its seat when the regulator is not used. The result is that the pieces don't get fused during the periods where you don't use it and that leads to prolonged usage and life of the gear.
Compared to the predecessor, the Z2, Atomic added a swivel connector to the regulator (How to Recover and Clear Your Regulator When Scuba Diving). This allows the hose to move up to a 30 degree angle reducing the pull on the regulator. The swivel has a specific PVD coating which prevents scratches that in turn could prevent movement. It's a lot more comfortable to wear and use.
The second stage also comes with a single adjustment knob. It allows to rapidly de-tune the valve if necessary. It is designed to provide a balanced linear flow to make breathing comfortable and effortless in all conditions and depths. The Z3 has a high-flow case which is designed to optimize the breathing effort irrelevant of the depth.
The front cover is made from two different materials and comes in a variety of colors. The entire front plate of the second stage of the Z3 is used to purge it if needed. The mouthpiece is made from different silicone elements with bite tabs made from harder material to prevent wear and tear such as biting through it.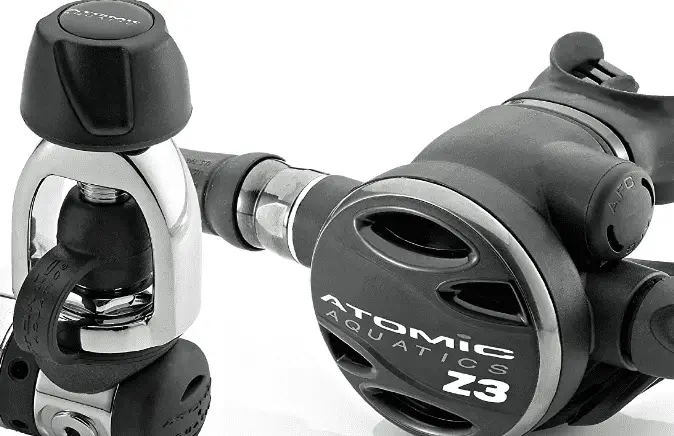 Technical Specifications
First Stage
Compact design
Chrome plated brass and stainless steel components
Atomic Aquatics Jet Seat piston design
Factory sealed to prevent outside contamination (optionally)
Ready for Nitrox mixes up to 40% – Does Nitrox Increase Bottom Time When Scuba Diving?
2 high-pressure ports
7 low-pressure ports
Second Stage
Internal parts made from Zirconium plated brass and Titanium
Hose connected through swivel with PVD coating
Seat Saving Orifice made from Titanium (Atomic patent)
Automatic Flow Control (Atomic patent)
Rapid de-tuning through single adjustment knob
Reduced breathing effort through high-flow second stage case
Dual material front plate for purge
Tear-resistant bite tabs in the dual-silicone mouthpiece
The Z3 regulator kit offers a 2 year or 300 dive service interval. It also comes with Atomic Aquatics' limited lifetime warranty.
Accessories and Options
Most divers will combine their new Atomic Z3 regulator with a lower cost octopus regulator. A good choice to add to the Z3 is the Mares Prestige Octopus Diving Regulator. It's light and compact and easily connects to the first stage of the Z3.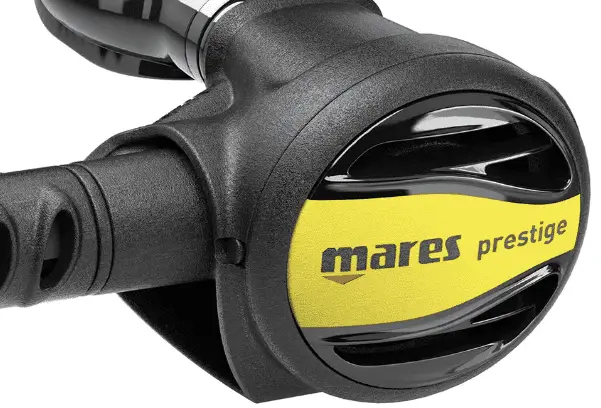 Is a Balanced Regulator better than an Unbalanced Regulator?
Most divers will travel with their regulator and it is strongly advised to get a regulator bag to keep your gear safe. The Atomic Aquatics Deluxe Regulator Bag is the perfect storage and travel companion to make sure your Z3 regulator stays safe.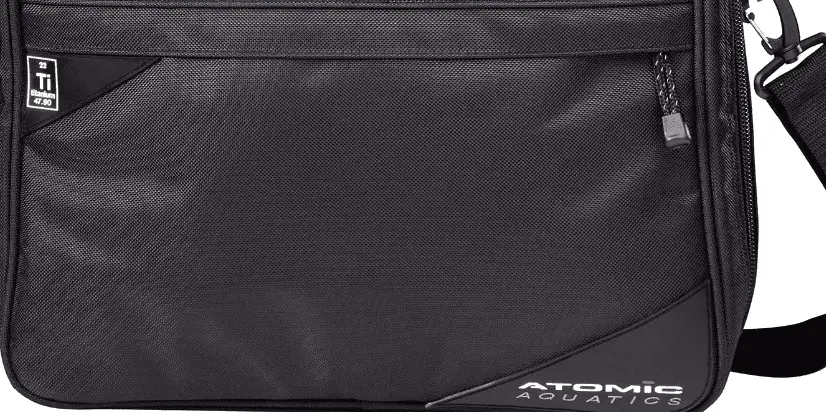 Where to buy?
You will usually find the widest selection and fastest shipment for the Atomic Z3 on Amazon.com. They typically also have the widest selection of colors available.
The first stage is available as either a DIN or a yoke design. You can also get them sealed which prevents outside contamination.
Conclusion
If you're looking for superior design combined with a solid material mix and a reasonable price then the Atomic Aquatics Z3 regulator is what you're looking for. It offers all the design features you get with the (way) more expensive T3.
The difference is that the T3 uses titanium throughout which reduces the weight and is practically corrosion-free. If you can live with a little more weight and a bit more maintenance to prevent corrosion then the Z3 is the way to go.
You get the famed Atomic Aquatics design and quality in an affordable package without compromises. The regulator comes with a limited lifetime warranty and requires service only every two-years or 300 dives which significantly lowers your maintenance costs!