Best Travel BCD's For Your Next Trip – Reviews and Buying Guide (2023)
Ever wondered how scuba divers scour different spots in the world with just a backpack and manage to breathe effortlessly underwater? You see them swim downwards and upwards without going adrift, so you can't help but be amazed at such skill.  
Four letters: TBCD. Or, to be specific, Travel Buoyancy Control Device.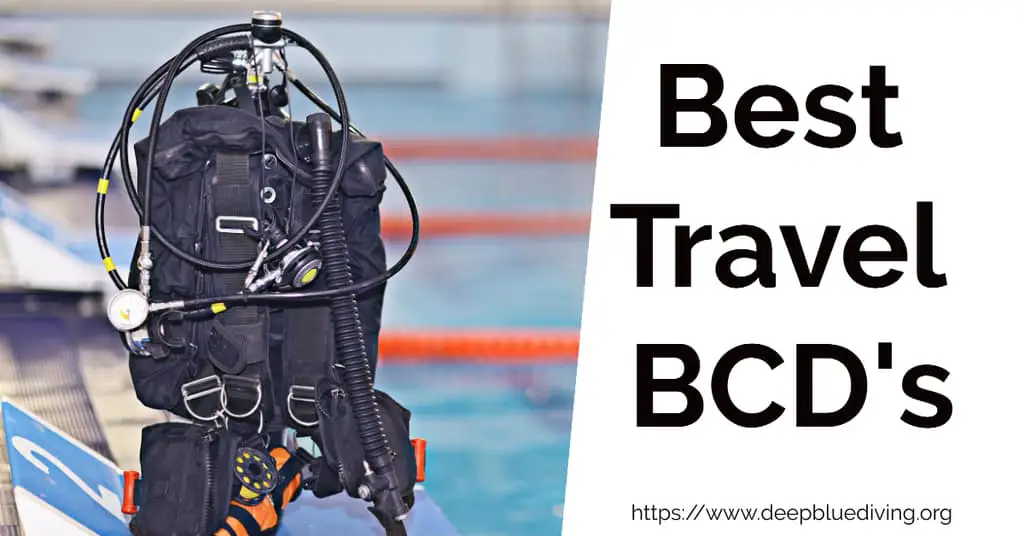 What is a BCD?
A BCD (also referred to as buoyancy compensator) is one of several diving essentials that make up a diver's scuba gear. It helps a scuba diver to achieve control while in the water.  
It comes in the form of a fancy-looking rubberized vest filled with air, which allows for movements such as staying afloat, sinking deeper, or even standing on the bottom. It also prevents you from damaging coral reefs and disturbing bottom dwellers, which otherwise will happen if you just come crashing down on them.
The BCD holds the oxygen tank and typically has a backplate, inflation and deflation system, expandable bladder, adjustable buckles, and tanks holders, among other things. Backplates usually hold the oxygen tank and serve as a shield for divers, so they don't get hit by their tank directly in case of an accident. You have bladders which store air and can be found either at the back or around the stomach.  
Meanwhile, straps with velcro hold the inflator's hose and can also come with D rings and buckles. Such accessories allow divers to wear their BCD just like a typical jacket. Nowadays, though, people tend to take it for granted and use it as a spot where they would clip their waterproof camera and lights that will allow them to document the otherworldly beauty underneath.
What should you look for?
Going to specialty shops to start building your gear can be quite intimidating for a novice scuba diver, and may feel like you are lost at sea with so many options. Some who tend to be impressionable may buy according to how nice it looks.  
It's important to know what you need and what you should consider, so you don't end up buying either the cheapest or most expensive BCD without any understanding at all. You could be picking out the most affordable option but at the expense of quality and fit, which is not the right way to go about it.
Travel BCDs deviate from a regular BCD because of its lightweight and slimmed-down design. They may be made from flimsier materials, making you rethink your diving options by sticking to freshwater, but you can still get high-quality construction depending on the product.  
Anyhow, it would be best if you asked yourself these questions before diving into it (pun intended):
Is scuba diving your passion or merely a recreational activity?
Do you dive in warm or cold water?
Getting the right fit
Gender equality aside, while you don't have to choose a BCD that is gender-specific still, you should pick according to what fits you best. 
Try it on for size.  
To get the best fit possible, wear it while wearing a dry or wet suit. There should be enough space for you to move your arms without much issue. Men tend to have a longer torso than women. BCDs for men will consider that aspect of the male body and be designed appropriately.
Similarly, BCDs for women skip the chest straps so that they don't constrict the bust area. They would typically have built-in weights and shorter back length to maximize comfort. They also conform to the length of the spine a lot better.
While you have them on, play around with the peripherals such as the straps by clipping and unclipping them. You can also tinker with the inflating and deflating mechanisms to know to what extent they can become too restrictive when you try to inflate the BCD.
The weight of your BCD is also another factor to take into consideration. After all, you will be carrying this for as long as you're into your diving activity. 
You will even have to walk around with it as your backpack. You should be able to bear just enough weight realistically. This way, you will not have to compromise with excruciating back pain afterward.
It would be best if you remembered that comfort, vital as it is, should not be at the expense of your safety. You might dislike a snug BCD, but you wouldn't want it slipping away from your body either because that can be a hazardous proposition.
Styling options
Where style is concerned, we are not talking about fashion so much, but rather how the BCD is designed for your diving activity.  
BCDs come in various designs, with the jacket and the harness-type being the most popular. A BCD jacket has bladders on both front and back that are inflated. This type is ideal for recreational diving and deemed more comfortable when you're just afloat.  
On the other hand, the harness-style is more for advanced or pro divers because its design encourages the wearer to go forward. Its minimal and streamlined construction inflates the backside and has an allowance for multiple tanks and other options. This type is also combined with a mounted bladder that connects to the back portion. This is most common among travel BCDs.
There are buoyancy devices that have weights built into the vest, and that just means having one less peripheral to worry about. This also makes for a safer option because a separate weight belt may tend to slip down the waist, given various underwater maneuvers. Therefore, it tends to be a bit precarious. And besides, this feature is useful in keeping your BCD in place. The obvious disadvantage of having this type of BCD, though, is the additional burden that makes it heavier than you may be comfortable with.
What about functionality?
We mentioned backplates and wing-type BCDs. There are three components that most divers look at, and they are the plate material, wing size, and tank peripheral.  
Plate materials that are commonly found in BCDs include steel, aluminum, and composite. As expected, steel is the heaviest, which can be up to 6 pounds and is ideal when diving in cold water. In this case, there should be an integrated weight for thicker suits.  
As the middleweight of up to 3 pounds, aluminum plates are great for warm water diving. But the most lightweight material will be the composite type, which is perfect for travelers who often have to observe weight restrictions. You would think that the more lift your BCD allows you, the better it is.  
10 Best Travel BCDs on the Market now
We have come to the part where you are dying to know which travel BCDS in the Market are worth buying. Here they are:
Cressi Ultralight BCD Foldable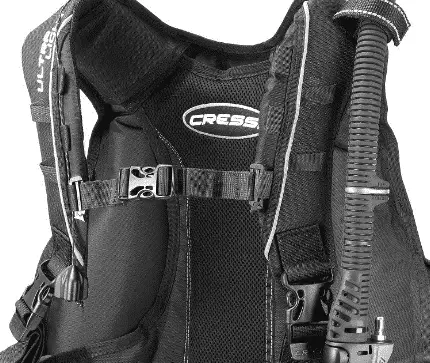 Prominent Features:
made of 420 Denier Nylon urethane laminated material 
equipped with pull dump, which is cable activated
lift capacity of 20.2 pounds
inflates the backside with overpressure relief and dump valves
adjustable waist, chest, and shoulder straps
integrated weight system 
This no-fuss travel BCD allows you to slip in and out of your gear with its anatomical shoulder strap design. As such, you can focus on your diving adventures and not struggle with burdensome equipment. It even has a hideaway pocket and quick-fold action so you can conveniently store it without taking up so much space.  
The controls of this BCD are also fuss-free. You can find and operate them quite easily. The dump valve is conveniently located on the right shoulder, which is good access when you descend from above. While there it has no backplate, your back still feels supported.
Scubapro Litehawk BCD with BPI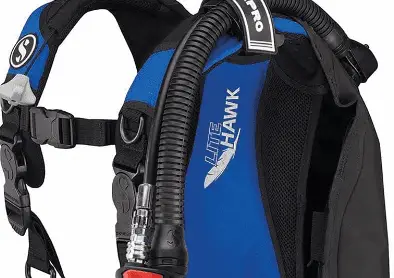 Notable Features:
made of 420 Denier nylon
back inflation with a 3-way air dumping system
lift capacity of 29.2 pounds
equipped with Balanced Power Inflator (BPI)
adjustable waist and shoulder straps
standard integrated weight system
This buoyancy compensator stands out with its combined professional functionality and affordable pricing. The lightweight size at less than 9 pounds makes for hassle-free travel. It easily doubles as a dry backpack where you can stash the diving essentials that can last you a good amount of time because the interior is compartmentalized. 
In other words, it will enable you to squeeze in everything you need for your diving trip without the awkward bulk that other multipurpose items would have. 
Another aspect of the Scubapro Litehawk BCD is its inflation system located on the backside, which means you will have more leeway with your chest and arms. The 3-air dump system is also an efficient feature that can isolate specific areas you want to dump air from.
Oceanic Jetpack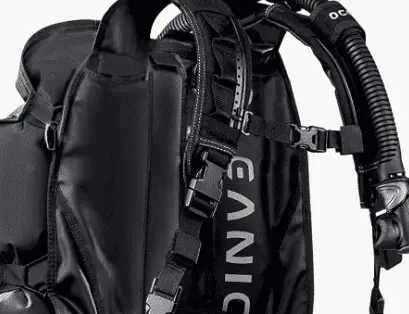 Features:
made of 800 Denier nylon
lift capacity of 30 pounds
standard size 
weight pockets can be adjusted
water-resistant zipper closure
We know about the jacket type, but a BCD backpack? Yes, please. 
This is why you will adore the Oceanic Jetpack Travel BCD. It is thoughtfully designed to make traveling with your scuba gear much more efficient. As with a regular backpack, you can put your essentials in, such as your clothes, toiletries, gadgets, and accessories. Yet, this one is relatively compact in its category, which matters a lot when you talk about having many divers on board with all their respective equipment in tow by taking up only a small space.
Minus the fins, you can pack your whole dive gear without having to place them in another bag. This gives them plus points on versatility. More than that, its 420-Denier Nylon Urethane Laminated material will ensure it is tough enough to last you for many years of diving expeditions.
Hollis LTS Light Travel System BCD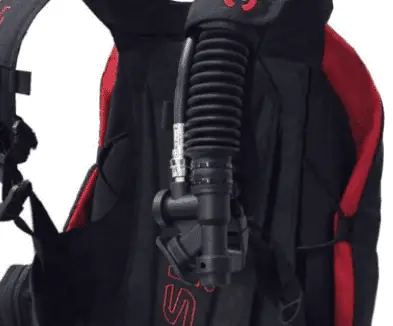 Features:
made of 1000 Denier Nylon wing material and Urethane-laminated 420-Denier nylon bladder
comes with back padding and two zippered pockets
lift capacity of 30 pounds
inflates the backside with pull dump that is cable activated
adjustable waist and shoulder straps
integrated weight system 
Another lightweight BCD is this Hollis LTS. With its eye-catching black and red colorway, you also get additional accessories such as D rings that allow you to bring more on your person. However, it must be noted that this being a travel BCD, it has more straightforward provisions, which is excellent for single tank dives. 
Otherwise, you might want to opt for another BCD with more comprehensive features. This gear is constructed very well for its price, especially the inflator tube that is thick yet flexible. If there's one small complaint, it would be the tiny weight pockets that can barely hold anything.
Cressi Light Travel Scuba Diving BCD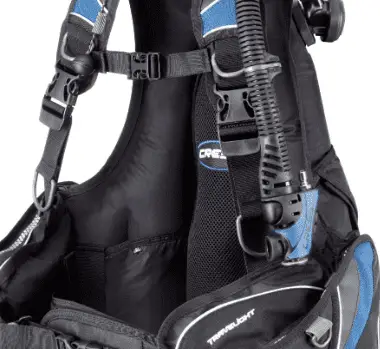 Prominent Features:
made of 210 Urethane Laminated Denier nylon
jacket style with adjustable waist and shoulder straps
lift capacity of 20 pounds
equipped with Balanced Power Inflator ( BPI)
waist and shoulder straps that are easily adjusted
standard integrated weight system
Another travel BCD worthy of being included in your diving arsenal is the Cressi Travelight. True to its name, it is lightweight at only a little over 2 kilograms when you get it in medium size.
You get to inflate and deflate this thing a lot quicker than its predecessor. When you need to stash it away, it folds easily without much fanfare. It is pretty comfy to wear, too, with its sand-proof feature and metal inserts as filters. You can take advantage of the generous amount of pockets where you can keep your keys and dive gadgets even. This being from a reputable brand for everything scuba, Cressi, you are getting a lot of bang for your buck.
Aqua Lung Zuma Travel BC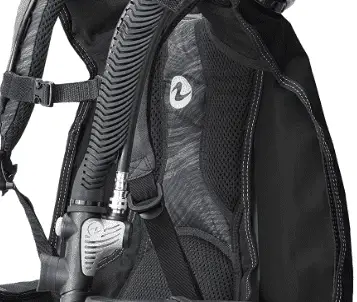 Remarkable Features:
wing-type BCD
made of 420D material
equipped with power line inflator
lift capacity of 20 pounds
inflates the backside with two valves for overpressure relief
waist, chest, and shoulder straps are adjustable
Aqualung Surelock II integrated weight system 
The Aqua Lung could not have been named more appropriately. 
It makes your diving experience much more comfortable as it is essentially your lung extension underwater.
And the best part is that it is only a little over 4 pounds, which will not be a burden at all. It packs up nicely that you can include it in your luggage because it has no backplate. The overpressure valves are not bulky themselves either.
The removable pockets can hold up to 10 pounds, which are always useful to a diver. With the padded back, you can bring all the devices and accessories you want while getting enough lumbar support.
Oceanic Biolite Travel Scuba Diving BC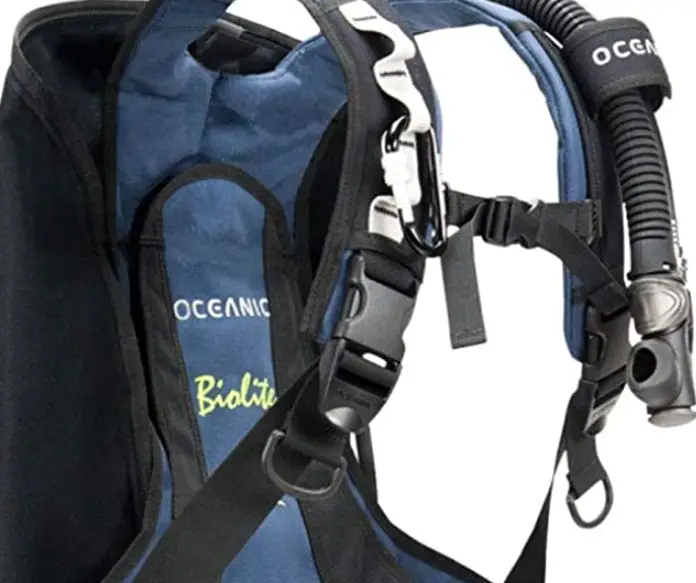 Features:
made of patented Bioflex, which is a living fabric that follows the body contours
cable-activated dump mechanism
lift capacity of 14 pounds
inflates the backside, wing style 
adjustable waist, chest, and shoulder straps
weight release quick drop system
Many will agree that this travel BCD is an excellent option, whether you are a diving rookie or an intermediate one. It comes in 3 colors and more sizes that will cater to different needs.  
With weight being a factor to be considered one of the best travel BCDs, the Oceanic Biolite, which is less than 6 pounds, is definitely offering more comfort when lugging it around. It's so lightweight you will feel you have nothing on.
Underwater, you will appreciate the quick drop mechanism for a smooth transition. With just a few adjustments, you are trimmed yet comfortable within your gear.
Cressi Air Travel BCD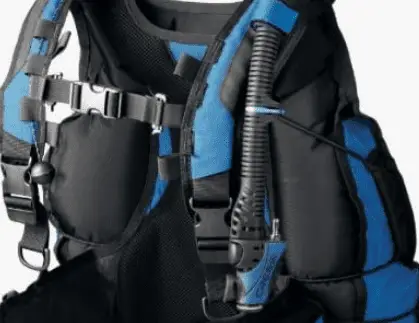 Notable Features:
made of 420-Denier nylon bladder
comes with back padding and straps for tank 
lift capacity of 20 pounds
inflates the backside with cable pull dump 
adjustable waist, chest, and shoulder straps
integrated weight system with two cargo pockets
This is one travel BCD that is a little more than for a novice but may come up short for the advanced diver. The Cressi BCD has pared down to a more lightweight size, and better foldability is perfect for nomadic divers. Simultaneously, it has good construction built-in weight pockets that are strategically located on either side. 
However, it has no pocket provision for trim weights but easily forgivable because it is just one of the tradeoffs of having a compact size at an affordable price. As for the straps, the shoulder and back ones are adequately padded and can be tightened as needed, especially when you are mid-dive.
Zeagle Express Tech Deluxe BCD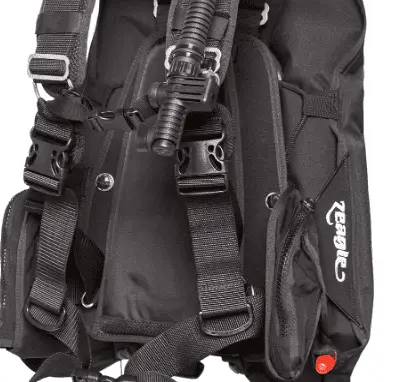 Notable Features:
made of 1,000 Denier Nylon material bladder and polymer backplate
equipped with a power inflator
lift capacity of 24 pounds
inflates the backside with overpressure relief and dump valves
adjustable waist, chest, and shoulder straps
integrated weight system 
Perhaps one of the most affordable travel BCDs you can find relative to its quality. The Zeagle Express Tech is lightweight at less than 5 pounds and comfy to wear with its bladder that serves as padding on the rear side.
It's simple and easy to wear even if you're accustomed to jacket-style BCDs. It is minimalist due to the absence of built-in pockets. At the same time, it is customizable such that you can add peripherals according to your needs, such as weight pockets. You will be delighted to know that this travel BCD offers two tank bands for those who use single tanks.
Palantic Scuba Choice Travel BCD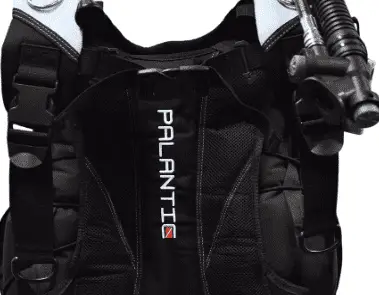 Notable features:
made of 420-Denier nylon bladder
comes with back padding and two zippered pockets
lift capacity of 30 pounds
inflates the backside 
adjustable waist and shoulder straps
integrated weight system
Some would prefer manual controls, and this BCD might be their best. Its bladder is located on the backside and has integrated weight pockets. It is a flexible backpack and lightweight at less than 6 pounds.
The air deflation has a three-dump setup, which allows for transitioning from one position to another much faster. The quick-release mechanism balances your position underwater.
More Tips for Buying a Travel BCD
Buy According to the Intended Dive Location
It may make common sense to buy a travel BCD based on preference, but you should consider where your diving spot is. It would be impractical and cumbersome to drag heavy equipment for those locations that require extensive travel, which can take on toll on your body. 
After all, you wouldn't want to expend all that energy for that purpose, ending up wasted even before you begin your diving expedition. Aside from that, you should note that buoyancy differs between freshwater and saltwater, which can impact your BCD's performance.
Maintenance 
Just like any other gear, proper maintenance should be observed to prolong the lifespan of your device. For BCDs, it is recommended to hose them with tap water after every use, covering inside and out to ensure you can clear them of dirt and sand.
You can even soak them in a tub for at least 5 minutes and rinse afterward. Allow your BCD to dry completely before storage. However, it should be partially inflated before stashing it away, with weights removed from their pockets.
You should check your device for any signs of wear that will manifest jn cracks as well as the valve caps that must remain tight.
Final Thoughts
We only want what's best for you, so we hope you find this article helpful in your buying decision to find the best BCD's for traveling, which can be a lifetime investment. 
With other supplemental info, you may have gathered from other sources. You will be setting yourself up for one of the most enjoyable adventures one will have in his lifetime.