Finding the Best BCD for Women – Buying Guide and Reviews
BCD's traditionally had been designed for men. This often made them uncomfortable to wear for women even if they used small sized versions.
In recent years more and more BC's hit the market that were designed and tailored for women. Let's have a look at the best BCD's for women so you can pick the perfect one for you.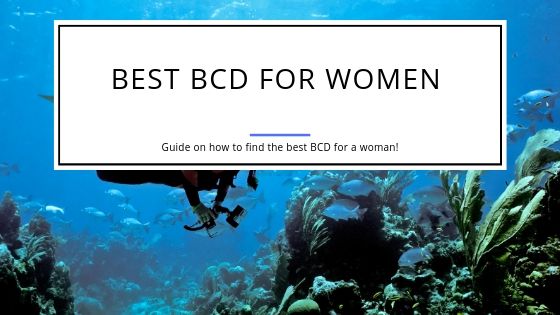 Over the years more and more labels introduced BCD's specifically designed for women. Usually, they differ in length, width of shoulder straps, cummerbund, etc. To get a better idea on which criteria to consider overall for buying a BCD, have a look at our buyer's guide.
A women's BCD needs to be easy to handle on the surface and easy to adjust to get a snug/perfect fit. In addition, it certainly needs to be stable and easy to control in the water.
This does also mean that a particular women's BCD is the best for one woman but not necessarily for another. Finding the best women's BCDs depends on size, adjustment abilities, weight, etc. Last but not least, it depends on personal preference.
So, to say that there's a Best BCD for women might end up not being the case. There are a number of great BCD's but the best of those you will have to find for yourself.
The List of the Best Women's BCD's
If you're in a hurry then here's the list of the best Women's BCD's. Scroll further down to get to the detailed reviews of each of them:
Zeagle Zena
Scubapro Ladyhawk
Aqua Lung Pearl
Oceanic Hera
Cressi Ultralight Lady
The following section will provide you with a quick overview of what you need to consider before buying a BCD. If you know all those factors already then jump straight to the reviews of the best BCD for women.
BCD for Women Buyer's Guide
You will get closer to finding the best women's BCDs for scuba diving by taking the following criteria/suggestions into consideration.
Style/Type of BCD
You'll typically find two dominant types of BCD's:
Jacket BCD
Back-inflate BCD
Both are commonly found by most brands. The Jacket BCD is overall the more common style. As the name suggests, it's basically like a jacket that you wear around your torso. They slide on and off like a coat and you'll typically find them being the style of choice for beginners, recreational divers, and rental shops. A great advantage of them is that they keep your head above water when you surface.
The Back-inflate BCD have their advantages when it comes to traveling. They are more compact and much easier to pack. An advantage of the Back-inflate vs the Jacket-style BCD is that they are less bulky. You fell like you can move much more freely underwater as they are by far not as restrictive as a Jacket BCD. This makes them the style of choice when you're doing wreck or cave diving as they allow to move around more freely due to their more streamlined design.
Available Sizes to match your body
Make sure to look for BCD's that have a number of different sizes for female divers. That'll make it easier to find a matching size that will fit perfectly. Check the sizing charts for each BCD as a large size women's BCD probably matches a small or even an X-small men's size!
Weight System – Integrated or not?
If the BCD has an integrated weight system then you want to make sure that you can easily ditch the weights if you need to. Most BCD's with a weight system that's integrated into the BCD have mechanical latches to ditch the weights if necessary.
Lift – How much lift is produced and necessary?
Any women's BCD needs to be able to produce lift through an air cell to counteract the integrated weights. The lift capacity usually depends on the size of the BCD and for most starts at 25'ish pounds. Due to the typically smaller and lighter body of a woman, the lift capacity is usually a little lower compared to the men's BCD's.
Remote Exhaust Valves
No, these are not really 'remote'. Remote valves simply mean that there are exhaust valves on the BCD that are on different locations than the primary valve on the shoulder.
Most women's BCD's have two of these remote exhaust valves. If you end up in too rapid of an ascent then you can overcome it by bleeding air through these valves.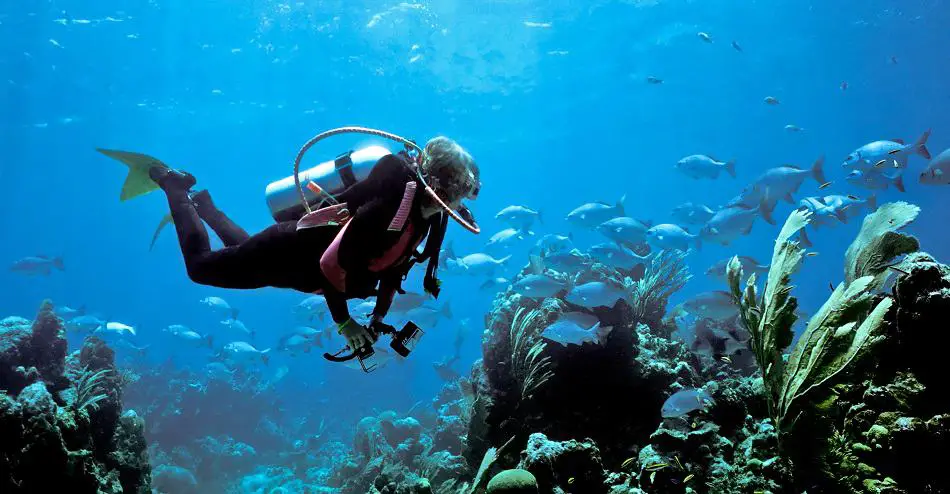 Our List of Best BCD's for Women
The following BCD's are designed specifically for women and received overall good reviews. They are from name-brand companies that produce high-quality and reliable scuba gear.
Zeagle Zena – Lightweight back-inflated BCD
The Zeagle Zena is a lightweight BCD with a back-inflation system. Its low weight and the ability to be folded makes it a great BCD for travel.
The Zena is designed for female divers and features an innovative zip-jacket system. This system has the front panel of the BCD attached to the back panel with adjustable straps. You adjust those straps once you put the BCD one and have the front zippered up to get a perfect fit.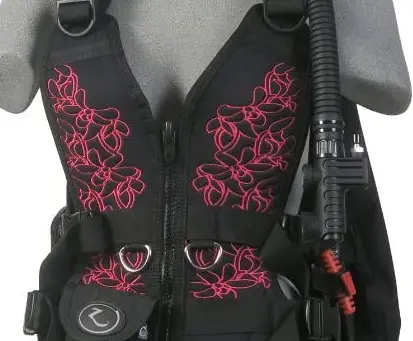 The Zena weighs 6.2 pounds. It offers four metal D-rings as well as integrated weights. The weight system consists of a ripcord system on the sides and non-ditchable trim pockets on the tank straps.
For storage it provides a detachable and expandable mesh pocket on the front. It's large enough to hold a dive light or to put small items in from a dive. Yet, if you don't want to bring it then you can simply remove it.
Pros
Available in a variety of colors
Super-comfortable and secure front panel with zipper
Adjustable straps to provide a perfect fit
Cons
Not a lot of storage space
Scubapro Ladyhawk – Back-Inflation system
The Scubapro Ladyhawk has been available for a few years now and has seen some continuous improvements and changes. It features a back inflation system and is designed specifically for female divers.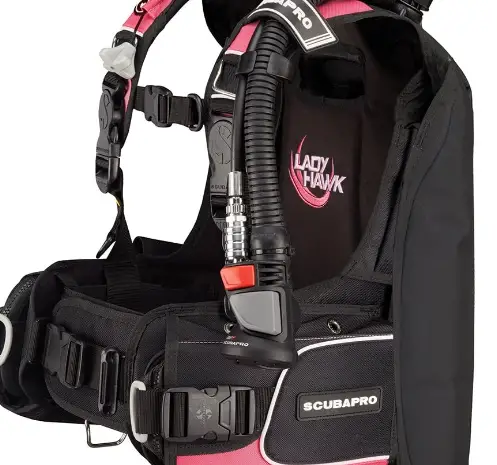 It offers padded shoulder and a narrow neck yoke specifically sized for women. It also has rotating shoulder buckles with a quick-release mechanism to route the straps perfectly for a snug and tight fit while still being comfortable to wear.
The Ladyhawk weighs between 7.2 and 8.1 pounds depending on the size. It features four metal D-rings to attach gear and accessories to. It has a weight system that's integrated. The weight pockets are secured with a quick-release system that allows you to ditch them easily if necessary.
Storage on this BCD is ok. It offers one zippered storage pouch that is large enough in size to hold a few essential scuba accessories.
Pros
Large range of sizes
Various color options
Sturdy and comfortable
Streamlined design
Cons
Oversized buckles for weights. Smaller buckles might make it easier to ditch weights if needed.
Aqua Lung Pearl – Hybrid-Style BCD
The Aqua Lung Pearl is one of the best-selling BCD for women. It's designed and shaped specifically to fit women and even sports the integrated, proprietary, and patented sports bra to improve the fit and comfort.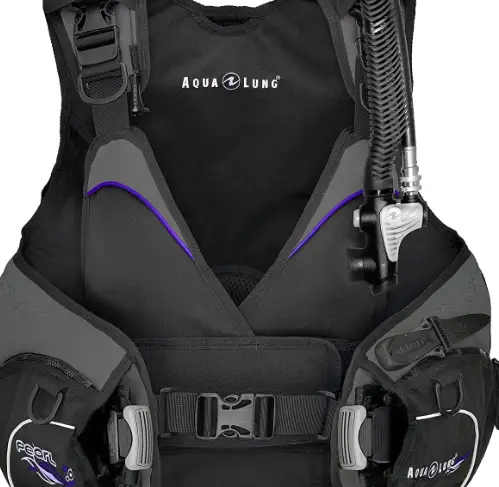 The Aqua Lung Pearl BC is a hybrid-style system that combines the advantages of the back inflate and jacket systems. It's a very streamlined design where even the valves are designed to be flat.
All straps are easily adjustable to get you to find the perfect fit. The BC is available in a range of sizes so you can find the perfect one.
The Pearl features an integrated weight system and Aqua Lung's SureLock II weight pockets which align themselves. Ditching the weights is easy with a single pull release.
The lift capacity and non-ditchable weight of the Pearl BCD depends on the size you're getting. The table below shows the different specifications for each size.
| Size | Non-ditachble weight (lbs) | Lift Volume (lbs) |
| --- | --- | --- |
| XS | none | 23 |
| S | 6 | 28 |
| M | 10 | 32 |
| ML | 10 | 37 |
| L | 10 | 44 |
The latest version of this BC has a larger zipper on the storage pockets which makes it easier to handle underwater. There are two pockets to store accessories which is plenty for any BCD. You will find 4 D-Rings on this BCD but they are made from plastic.
Pros
Very comfortable to wear
Great internal weight system
Large range of available sizes
Cons
Oceanic Hera – Compact, Hybrid BCD
The Oceanic Hera is a compact, streamlined BCD that is specifically designed for women. It's a hybrid BC that combines a back-inflated system with a jacket.
The BC features Oceanic's patented custom fit harness. With it, you can adjust the shoulder strap length and cummerbund to fit a shorter woman's torso.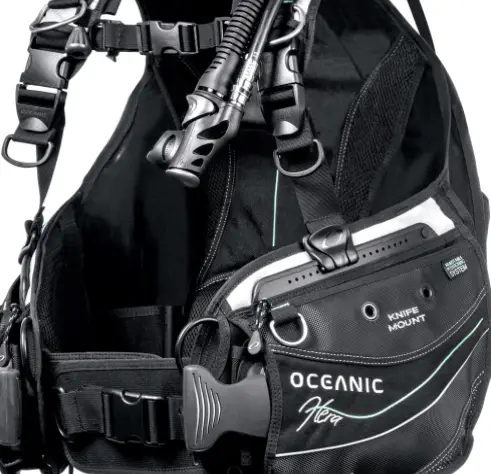 The Hera has an integrated weight management system. The pouches for the weights feature mechanical latches as well as Velcro closures. Both are easily unlatched if you need to ditch the weight yet are also very securely linked to the BC.
There are two rather large pockets on this BC. They close with zippers so any accessories you place in them are secure.
The pockets are large enough so you can put your dive light, pocket snorkel, etc. into them. There are four D-Rings made out of steel which means there's no risk that they might break.
Lift capacity on the Oceanic Hera is size-dependent:
XS – 9 l
SM – 12 l
MD – 15 l
LG – 18 l
The BCD has non-dumpable rear weight pockets for up to 11 lbs/5 kg and maximum integrated weight capacity of 20 lbs/9 kg.
Pros
Compact design that works for travel
Easy to adjust and to find the perfect fit
Easy to fill and use integrated weight management system
Large pockets
Cons
Could be a little on the bulky side around the waist if you are very petite
Cressi Ultralight Lady – Back-Inflated and made for Travel
The Cressi Ultralight Lady is a back-inflated BCD specifically designed for travel and in women's size. It's one of the lightest, if not the lightest BCD's you can find. It merely weighs 4.6 pounds and you can squeeze it to fit into a duffel bag that you can bring onto a flight.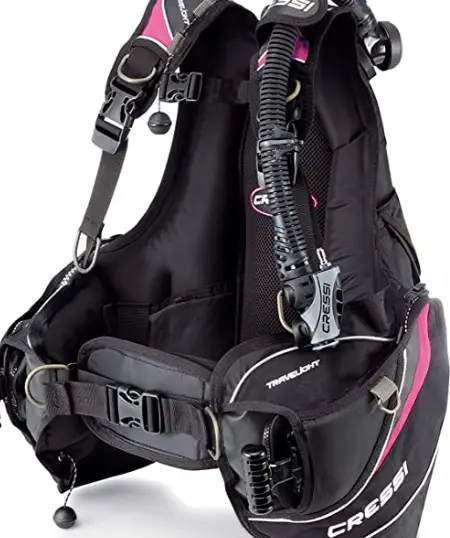 The Ultralight Lady is easily adjustable to get the best fit available. It features a padded back and a weight management system that's integrated into the BC. Of all the BCD's it's the least colorful with only a few purple/lilac stripes on the BCD.
It is a very compact built BCD and as such, there's unfortunately barely any storage space on it. The pocket is small and even the D-Rings are made out of plastic to save weight.
The trade-off for being that light is that you miss on some heavier and higher quality accessories and attachment points. Yet, for travel, this is the BCD to use!
Pros
Very compact and lightweight
Easy to adjust and carry
Cons
D-Rings made of plastic
Material overall a little thinner and less durable than on other BCD's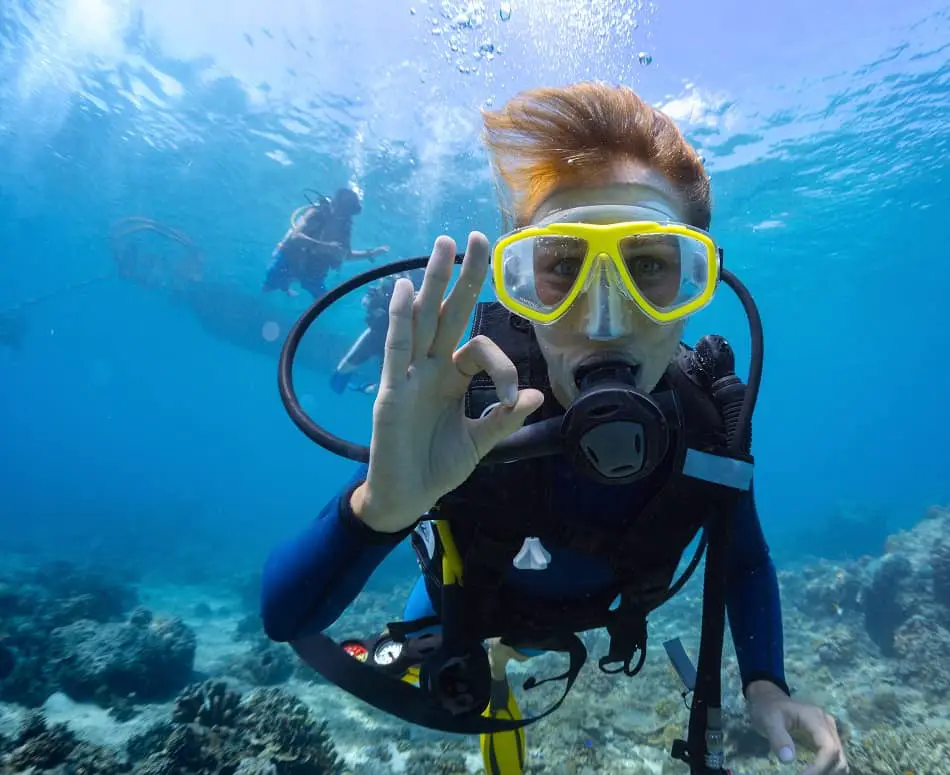 Conclusion – What are the Best BCDs for Women?
There is no one-size-fits-all when it comes to finding the best BCDs for women. That is true for both men and women. Women might even have a harder time to find the perfectly fitting BCD.
However, all the ones listed above are among the best BCDs for women and will allow you to feel comfortable underwater and on land. You want to make sure that you get a BCD that is the right size for your body. Then adjust it to fit for you and you should end up feeling secure and good with any of these BC's.
We'd love to hear from you and your experiences on women's BCD's. Please leave a comment below and share your personal experiences and your personal picks for the best BCD for women!