Cressi Start Pro 2.0 BCD Review
The Cressi Start Pro 2.0 BCD is designed for beginner divers. It's the latest revision of the Cressi Start BCD series. The original BCD was (and still is) one of the most used buoyancy compensators you can find.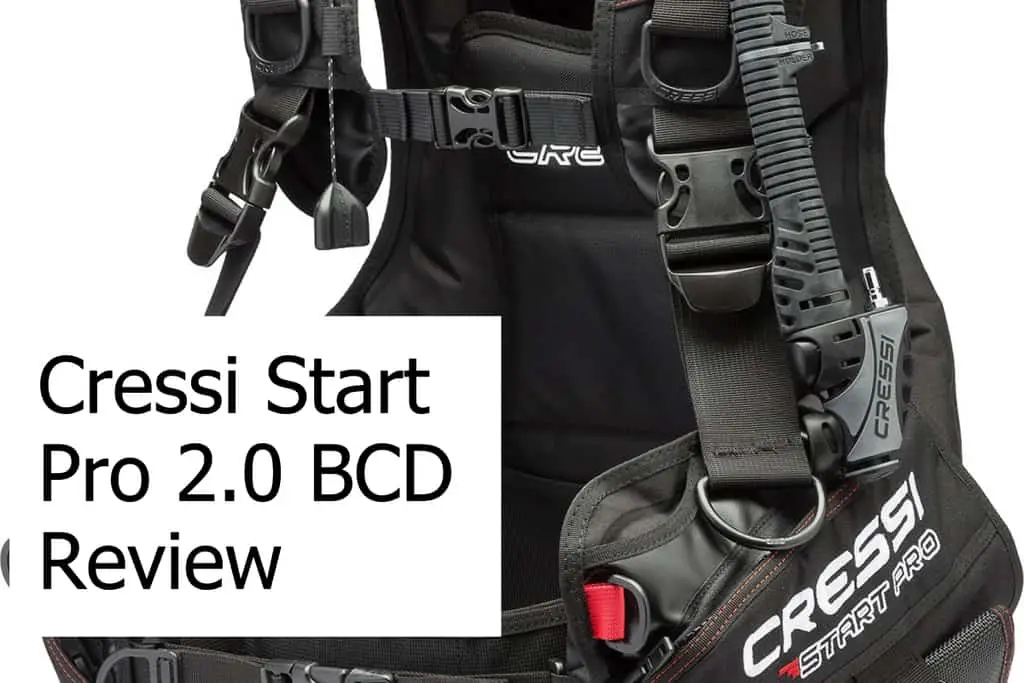 Just because it has the word 'Start' in its name, doesn't mean it's not a durable and solidly built BCD. Quite the opposite – which makes it a great choice for rental shops to have.
This BCD is simple and sturdy. And it comes at a great price! This makes it a great choice for the first BCD to have as a diver. The bladder is quite large and provides a lot of lift.
Cressi Start Pro 2.0 BCD Review Summary
The Cressi Start is a jacket BCD. It offers adjustment possibilities that allow first-time BCD owners and experienced divers to find the right fit easily. The overall build is sturdy and will last you for a long time. Despite all these great features, it's very affordable.
What we like
Easy adjustments
Very durable build
Large handle to carry BCD
Great for rental shops
Simple, integrated weight system
What we don't like
Plastic D-Rings
The material will fade with UV light exposure
Summary
The Cressi Start BCD is just what the name says. It's a BCD for beginners and due to the ease of use and sturdy build, it's a great choice for dive shops to rent out. It is built sturdy and with high-quality materials that can take a beating. 
The Pro version is the successor of the original Cressi Start which was lacking an integrated weight system. The Cressi Start Pro does have such an integrated weight system where you can add weights up to 20 pounds.
It would also be preferable to have metal D-rings instead of the plastic ones on the BCD. Not a big deal but metal simply is sturdier while the plastic ones definitely are of high-quality! 
All these low-issue complaints aside, you get a sturdy and well-designed BCD for a low amount of money!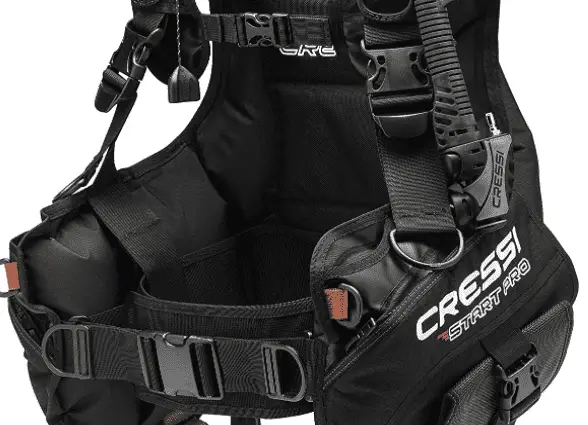 Overview and Review of the Cressi Start Pro 2.0 Buoyancy Compensator
The Cressi Start Pro 2.0 is designed as a buoyancy compensator for beginner divers and for rental shops. For this target group, it offers everything you can ask for and quite a bit more.
One would not expect such a high-quality of a BCD for the price. The materials used are tough and resistant and make it a great BCD for rental shops. The jacket is constructed from very rugged materials, namely 500 and 1000 denier Condura. This piece of equipment can withstand a lot of use and tear without as much as a scratch!
The downside of the material is that it does fade when exposed to chemicals and UV light. It won't happen instantly but over many years you will have to expect the colors to fade and the material to lose some of its strength. That's nothing of concern in the short to medium timeframe but over many years you have to expect some degradation.
The BCD comes with all the necessities you'd expect. It has two large pockets for storage and a number of D-rings to attach small gear. 
With the upgrade of the Cressi Start series to the 'Pro' model, you do also get an integrated weight system. The original Start model did not have that. The weight pockets are on the sides and hold up to 20 pounds. Handling the weight system is easy and quick.
The Start is reasonably light at under 7 pounds of weight. The lift capacity depends on the size of the BCD you're getting and goes up to 45 lbs. A nice feature is a large and sturdy handle that allows you to pick up the BCD easily.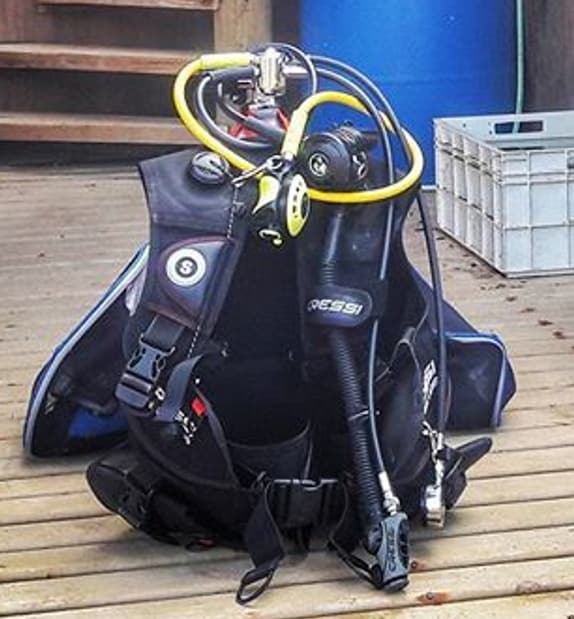 Technical Specifications
Jacket style BCD
Two large pockets with zipper closings
Two plastic D-rings and two spring-clip holdings
Adjustable straps with quick-release buckles
Up to 45 lbs lift capacity (depending on size)
Large carry handle for BCD and tank
Inflation System
The Start Pro 2.0 has three exhaust valves. Two are located on the shoulders (one left, one right) and the third is round on the rear of the air cell on the right side. The two shoulder valves can be manually dumped with pull cords. The back one is used through the power inflator system.
The BCD has a 3/8" low-pressure hose connector allowing to attach it to the first stage regulator. Setup and connection are easily handled even by a novice diver.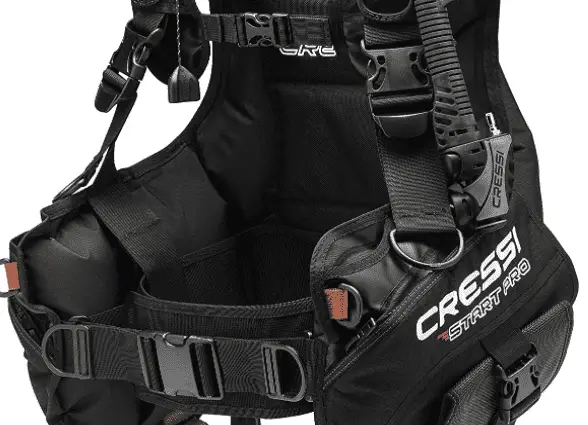 Storage
Cressi's Start Pro 2.0 has two large side pockets. They close with zippers and are large enough to keep small dive accessories like a dive light, gloves, etc.
In addition, there are two D-rings and two spring-clip holdings to attach other small dive accessories. Two are found on the shoulders and the other two are on the sides. You can use any of those to attach accessories or snap-in hooks for dive gear like a console. They are built from high-quality plastic but are not made from stainless steel!
Adjustments and Comfort
The jacket/harness is easily adjusted to the diver. Similar to most modern jacket BCD's it offers a 4 release design. The cummerbund is easily adjustable and provides padding for great mid-section support. It also makes sure that the weight is evenly distributed.
All straps on the jacket are adjustable to allow you to fit it perfectly. These straps are the sternum straps, torso and waist straps. All straps come with quick-release buckles.
The cummerbund/waist strap is independently attached to the back-plate and does not interfere with the air cell. This allows the air bubble to inflate away from the diver without creating a squeeze effect when it gets inflated.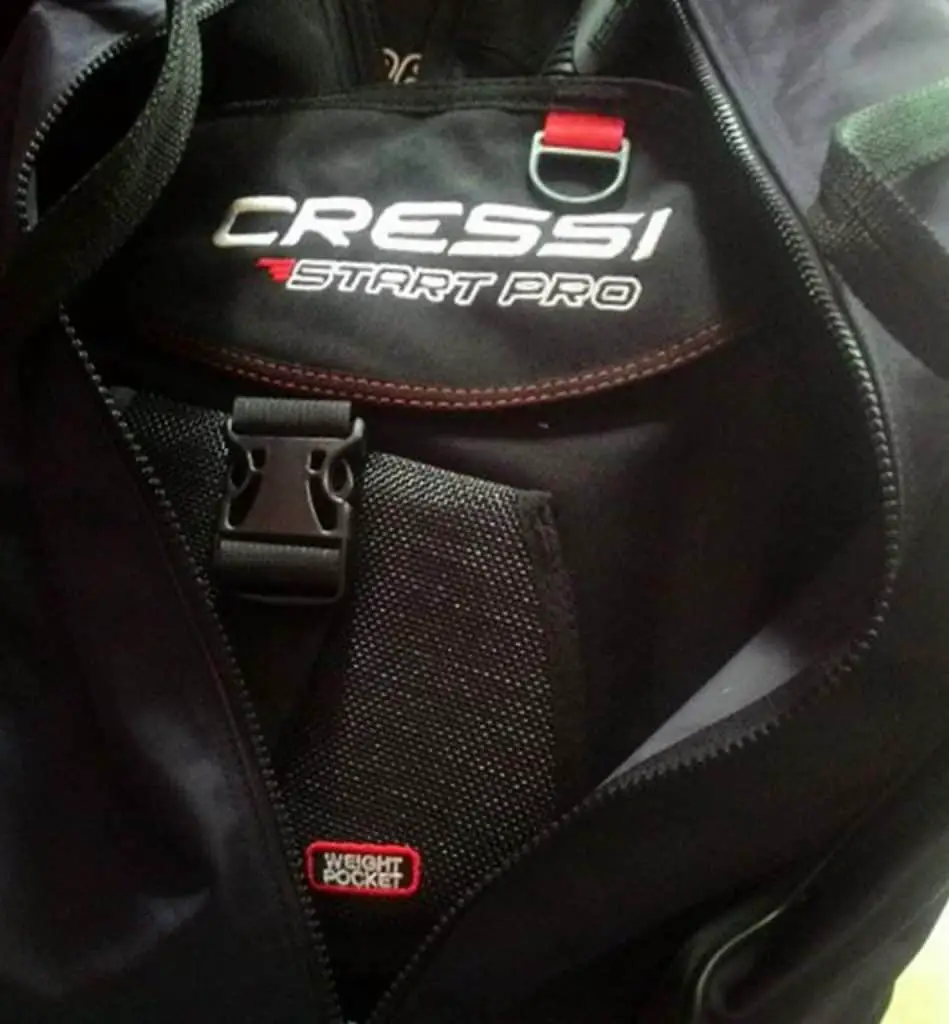 Where to Buy?
You usually can find the selection on sizes and packages for the Cressi Start Pro 2.0 BC online. Usually, Amazon has a large variety of sizes available.
There are also a few different gear packs with the BCD, gauge with a Cressi Leonardo dive computer, regulator and a regulator bag. You can usually save some money on such a package compared to buying all components separately.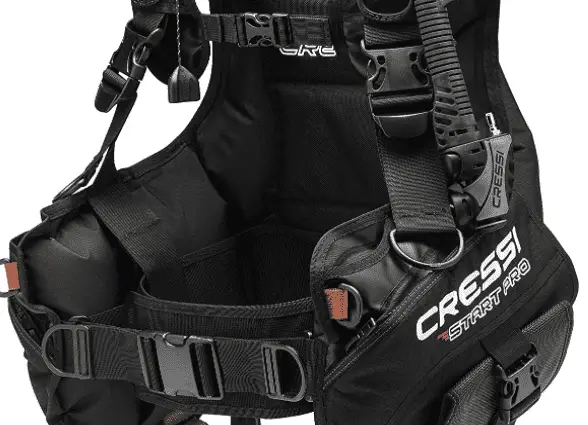 Detailed information about the Cressi Leonardo Dive Computer
Customer Feedback
The overall feedback for the Cressi Start Pro 2.0 is positive. Looking at the Start and Start Pro, you'll find that they are some of the most reviewed BCD's you can find as it's a very popular piece of equipment.
The only real complaint that we found was that the owner did not get all the air out of the BCD. Honestly, there's no reason why you couldn't completely empty the air cell out so our assumption is that it was handled wrong or that the BCD was defective for any reason.
The majority of feedback you can find is super-positive. There are practically no complaints to be found that would prevent you from considering to buy this BCD.
Conclusion
If you're beginning with diving then the Cressi Start Pro 2.0 is a fantastic BCD. If you're looking for a back-inflated BCD then you have to look elsewhere. Otherwise, you won't find anything better for the price!
You'll get a sturdy and well-built BCD that will not let you down for years to come. It's a little bulky and unfortunately, the material will start to fade due to UV exposure.
You do get a lot of BCD for the money and it's hard to find a better piece of gear for a beginner! If you are on a budget and don't need the weight system then look online to find the Cressi Start model. You'll usually get it cheaper and it's until today a great BC for beginners!