2
In-Depth Cressi Leonardo Dive Computer Review – Buying Advice
Dive computers are used by many or nearly all scuba divers today. They replaced the complicated dive tables through the years and gained capabilities with every new model coming out. A reliable and established model is the Cressi Leonardo dive computer that we'll have a closer look at in this review.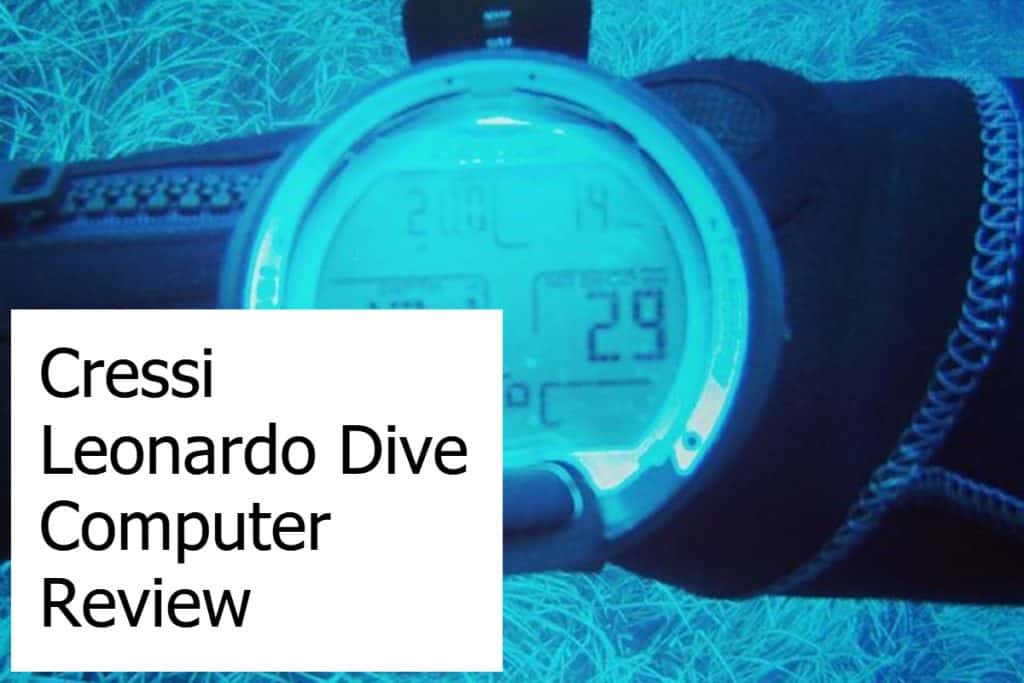 The Cressi Leonardo wrist dive computer is no exception to this. It's a powerful personal scuba accessory in a wrist-mounted watch casing that is targeted mostly at the beginner market. It is designed and produced by Cressi, an Italian dive gear company that's been around since the 1930s.
If you're in a hurry then please quickly read through our Cressi Leonardo dive computer review summary in the next few paragraphs. It will give you an overview of this model without diving too deep into the details. The in-depth review of the Cressi Leonardo dive computer can be found after the summary if you're interested to dig deeper.
Summary of the Cressi Leonardo Wrist Dive Computer Review
The Cressi Leonardo is a large-sized, easy-to-read wrist-mounted dive computer that is geared towards the beginner and recreational diver. It's designed like a wristwatch but it is too large to be worn every day.
The navigation is kept very simple and handled through a single button on the Cressi Leonardo dive computer. Pricing is kept on the low-end which is what you should expect from an entry-level scuba diving computer. 
What we liked
Easy to read display
Ease of use with a single button navigation
All dive modes required for a beginner.
Reasonably sized logbook
What we don't like
Too large to wear as a watch
Backlight could be stronger
Summary
The Cressi Leonardo is a fantastic entry-level diving computer. It offers many features that are sufficient for beginner and medium experienced divers. It is missing, as to be expected, features that can be found in dive watches that are targeting the experienced divers.
The Cressi Leonardo is the first scuba computer that is completely designed by Cressi. Evaluating the device shows that they designed a great entry-level diving computer.
The Cressi Leonardo dive computer comes in a variety of color combinations: black/grey, black/orange, black, black/blue, black/pink, blue, black/green, black/yellow, white/black, white/pink and white/lilac.
This entry-level dive computer is however too large to be worn as a casual watch. You might be able to use it as a wristwatch if you have a large wrist.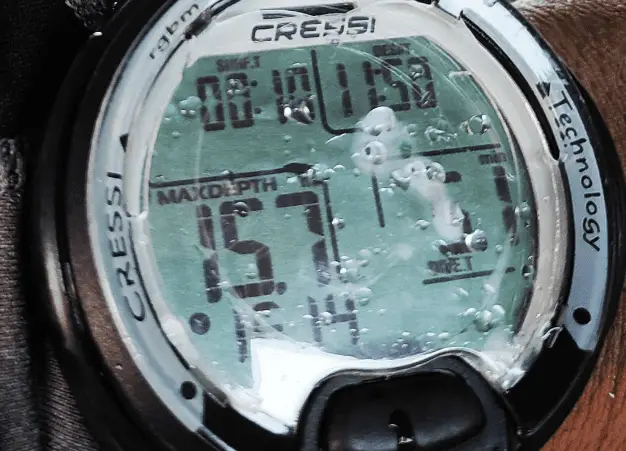 Review of the Leonardo Scuba Diving Computer
In the sections below we're having a closer look at what this entry-level dive computer has to offer and whom it's for. More important though, who is it not for! You don't want to end up with a diving computer that doesn't fit your needs.
Capabilities and Design
The Cressi Leonardo comes in the style of an oversized wristwatch. Due to its size, it can display a lot of data at one time on the screen. It is capable to work with three different dive modes:
​The display on this scuba computer is oversized and this allows to see all necessary information like time, mode, etc. It's easy to read when you're in reasonably good lighting conditions.
The only downside is that the backlight of the Cressi Leonardo dive computer is, unfortunately, not that great which makes it hard to read the information when it gets murky and dark. It's simply not strong enough to make it easy to read when it's dark. You can always shine your torch onto the display to read but an area for improvement for Cressi would be to make the backlight stronger.
The display of the Cressi Leonardo will reveal any wanted information on depth, dive times, decompression status, ascent rate, and surface interval times between dives. In addition, it displays the battery status to ensure that you can switch out the battery before you run out of it.
The one-button menu navigation on this entry-level dive computer is simple — press to toggle or advance; hold to enter menus or select. Since the single button allows you to move only in one direction through the menu choices, you sometimes have to do a fair bit of pressing, but even the newest diver won't get lost in the menu.
There are audible and screen warnings for deep and safety stops, and for approaching deco. An ascent-rate indicator uses an ascending stack of arrows to get the point across, and there are an oxygen-toxicity bar graph and alarm. The audible alarms on the Cressi Leonardo are designed to be loud enough to ensure that you can hear them.
You also find a safety stop alert with an alarm on the device. If you dive below 32 feet then you will see a STOP signal on the screen once you ascend to a depth of 10 to 20 feet. The display will show a countdown timer from 3 minutes to guide you on your safety stop.
Technical Capabilities
Air Nitrox Handling and PO2 Limits
The nitrox levels on the Cressi Leonardo can be set for oxygen levels between 21% and 50%. The PO2 limits can be set between 1.2 bars and 1.6 bars.
The operational maximum of this entry-level dive computer is 120 meters/393 feet. It is capable to be adjusted to altitudes up to 3,700 m / 12,139 ft.
RGBM Algorithm by Cressi based on Haldane Model
The algorithm is Cressi's own RGBM (Reduced Gradient Bubble Model) and is based on the Haldane model. Cressi modified the Haldne and Wienke algorithm as a basis of their own.
The Cressi Leonardo dive computer algorithm ​is capable to calculate ​safe decompression ​limits even if you are diving multiple times within a few days​. The software continuously processes your body's Nitrogen absorption and release​.
It takes into account the amount of inert gases in the different mixtures ​that you can use. The Cressi Leonardo dive computer additionally allows setting safety factors to make the algorithm even more safe dive experience.
Complete Reset Capability – Perfect for Rental Shops
The Cressi Leonardo dive computer can be completely reset after each dive. This makes it a great choice for dive shops that rent this entry-level dive computer out and need to completely reset the data after it comes back.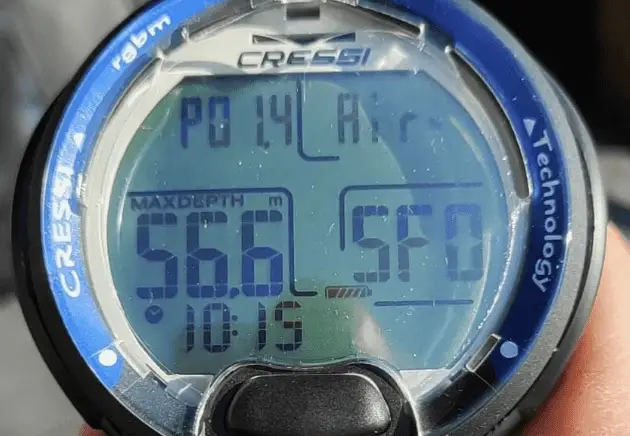 Dive Log and Connectivity
​The built-in dive log is capable of recording data for 60 dives (75 hours). The data during a dive is sampled every 20 seconds to provide a solid record of your historic dives.
The diving log of the Cressi Leonardo dive computer can then be easily transferred to your PC with the help of a connected device and cable. This device has to be purchased separately and allows you to download all dive data to your PC.
You can then alter that information to run dive simulations to plan for future dives. Checking your dives allows you to plan better in the future as well as to work on your technical diving capabilities by analyzing air consumption and mastering buoyancy.
Missing Functionality
As to be expected from entry-level dive computers like the Cressi Leonardo does not have all the functionalities as a higher-end scuba computer has. One item that is missing is for example that there is no compass.
Features like a compass, programmability, etc. are reserved for higher-end and more expensive dive computers. None of the beginner dive computers like the Leonardo, Donatello, or others will provide any of these features.
No Air Integration
In addition, the Cressi Leonardo dive computer does not have an ability for air integration. This will not be a big issue if you are a recreational diver or just beginning to dive.
However, it will not allow having this entry-level dive computer grow with your experience and increased functionality needs.​ You'll always need to have a pressure gauge on your console.
Backlight needs improving
The last downside (not really a missing functionality) is that the backlight of the display is not bright enough. While diving in clear waters this is not really an issue but if it gets murky and dark you will need to have a strong backlight to see the data on the display.
Features/Specifications
Easy to use single button navigation
Audible and visual alarms
Segmented Dot Matrix display that is easy to read
Three dive mode settings for Air, Nitrox, and gauge
Adjustable  settings of FO2 (Nitrox) between 21% and 50% and PO2 limits between 1.2 and 1.6 bars
Cressi RGBM algorithm based on a modified Haldne and Wienke model
Maximum depth display to 120 meters/393 feet
Four adjustable altitude settings up to 3,700 m (12,139 ft)
Imperial and metric display options
Diving log up to 75 hours/60 dives
Lithium battery (CR2430)
Available in a variety of colors
2 year limited warranty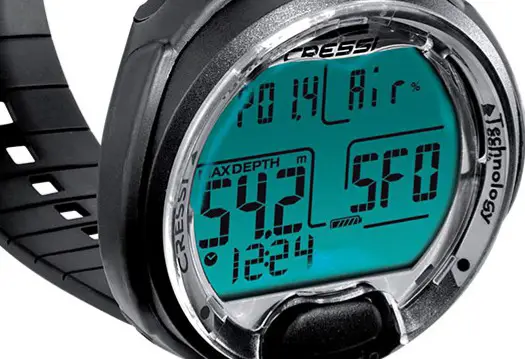 Pros and Cons
The Cressi Leonardo is a good entry-level personal diving computer. To be honest, it's one of the best. It's well-built and it is reliable and has the right set of features you want in your first dive computer.
The Cressi Leonardo is one of the beginner dive computers that doesn't have all the bells and whistles you'll get when you buy one of the higher-end dive computers but if you are a beginner or you want a backup for your more expensive wrist calculator then this is a great choice. It is one of the best-selling diving computers and made its way into the scuba gear collection of numerous scuba divers.
Pros
Super-simple one-button navigation and selection
Cressi's own RGBM algorithm
Safety factor settings which add to overall safety when diving
Multiple modes (Air, Nitrox, and Gauge)
Easily connects to your computer (PC or Mac)
Solid product that is reliable and adjustable
Can be completely reset after each dive – making it perfect for dive shops
Cons
No compass
The backlight is not very strong
No air integration
There's not much bad to say about this scuba calculator. The only thing that could be better in this price range is that the Cressi Leonardo dive computer could have a better backlight.
The other two listed missing features are in all honestly nothing you could expect from a device that is aiming at the entry-level diving market. You'll have to raise your sight to the higher-end models which are several times over the price of this gear.
Where to Buy the Cressi Leonardo?
It's easy to find this wrist dive computer online or at your local dive shop. It's one of the most commonly found dive computers so you won't have an issue finding it. Chances are that you can even try one if you rent it at a dive shop on your next (first) scuba trip.
If you're looking for one of the not-so-common colors then your best bet is an online retailer like Amazon. It can also be easier to deal with an online retailer as often the returns are easier to manage should you have to send the unit back.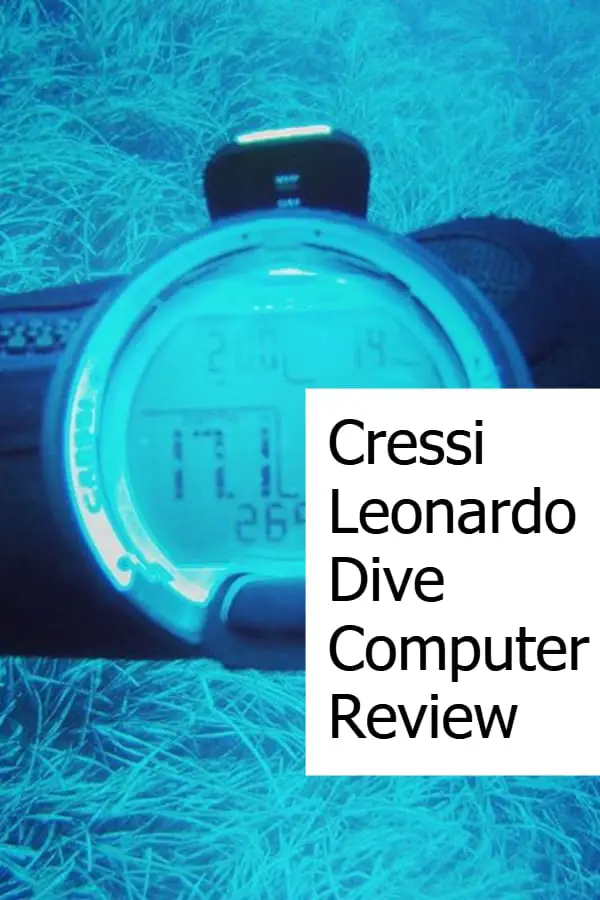 Customer Feedback
Most customers that purchase the CRESSI Leonardo do not regret it at all. It's one of the highest-rated and most sold scuba decompression calculators available today.
There are rarely any complaints to be found. The few you can see are related to the backlight not being strong enough and that you have to get used to the single button navigation.
In low-light conditions, the backlight is simply not what it could be. Typically, a diver that is new to the sport will not dive in dark and low-light conditions as you're probably better off doing that when you have gained some experience. However, it would be nice if this could be improved.
Using a single button to navigate through all the display settings might take some getting used to. When you get the hang of it, then it becomes super easy to use and navigate with the single button.
But initially, you might have to take a few minutes to figure out how it all works in order to get satisfied with the usage patterns.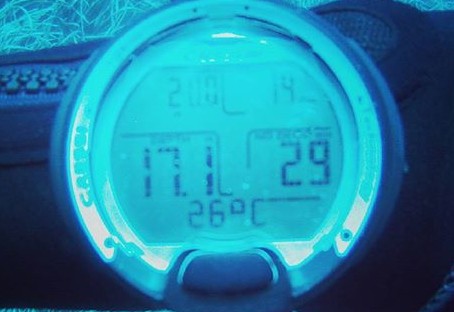 Conclusion – Final Thoughts
The Cressi Leonardo is a great choice for an entry-level dive computer. It's a great option if you're looking for a first dive computer. You might want to look at other dive computers if you are an experienced diver as it covers the basics but doesn't come with all the bells and whistles.
Besides the missing functionalities, it does what it's supposed to do. It helps you dive safer and within the limits. It is compact enough to be packed in your travel back but it's not small enough so it could be worn as a wristwatch.
Overall, while Leonardo is indeed a great scuba diving computer, it's not for everyone. If you are a more experienced diver then it might be too basic for you. However, it is offering essential features at a great price. It's one of the best entry-level devices you can get!
Who is it not for?
​As an experienced diver, you might want and need more capabilities than the ones offered. You want to look at dive computers like the Suunto D4i Novo instead which offer those features and are capable to grow with your needs.
Besides that, there's not much to complain about with this scuba wrist computer. You'll be hard-pressed to find a better entry-level unit. If you prefer a watch-sized device then you want to consider the Mares Puck Pro as an alternative.
​
Infographic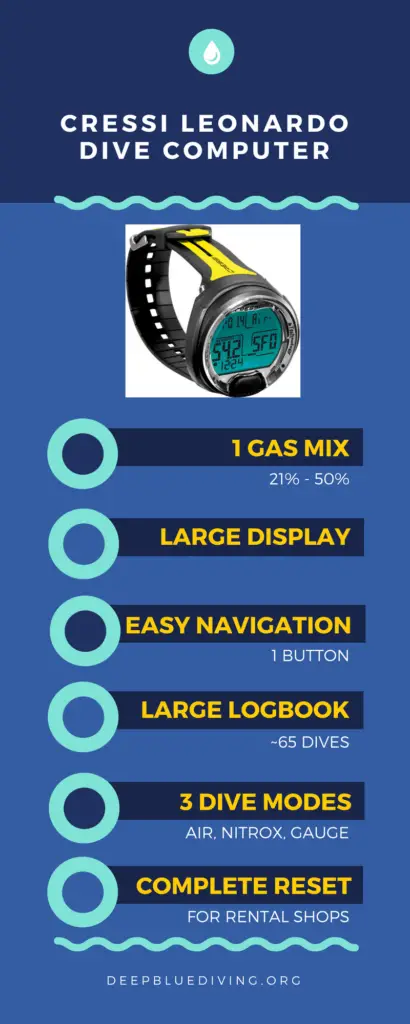 Use the code below to share the infographic on your site