Suunto D4i Novo Dive Computer Review
Since dive computers were introduced they gained more and more popularity. There are many models out there targeting all levels of different divers with regards to their experience.
One of these is the Suunto D4i Novo dive computer. The D4i series has been around for a while and the 'Novo' indicates that this is the latest evolution in this dive computer family. Find out how good it is in the following Suunto D4i Novo review.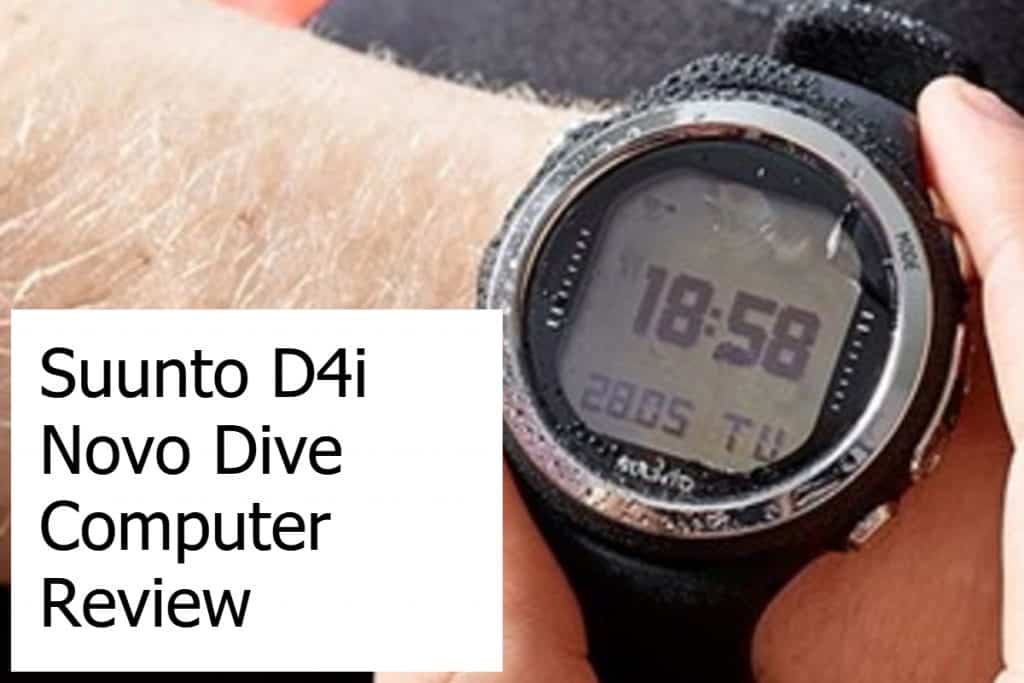 The Suunto D4i Novo is a mid-range diving computer with all the features you'd expect as a medium experienced diver. It is made by Suunto which is known to produce high-quality dive equipment and personal scuba diving computers. Suunto was founded in 1936 and makes a range of dive gear, including scuba equipment for kids.
Review Summary of Suunto's D4i Novo
A watch style dive computer that can be worn day-to-day. The Suunto D4i Novo targets the medium experienced diver. It has very simple navigation and a good dot matrix display to show important data. Pricing is what you expect for the offered functionality.
What we liked
Compact and Light
Ease of use
Multiple Dive Modes
Large Dive Log
Optional wireless air integration
Silicone strap that can be extended
What we don't like
Can't change the battery yourself
Too small when you dive with thick gloves
Summary
This is a great every-day scuba diving computer that can be worn as a watch. It offers everything you can ask for in a mid-range diving computer except for a compass.
In-Depth Suunto D4i Novo Review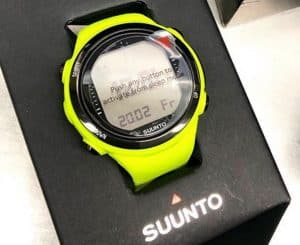 The Suunto D4i Novo dive computer is the follow-up model of the successful D4i personal scuba diving wrist computer. Looking at the technical specifications shows that there's basically no difference between the two models.
Its updated design allows wearing it as a dive watch. It comes in a multitude of different colors: black, white, blue, grey, lime, ocean, pink, sakura, and sun. The most common models are the Suunto D4i Novo Black and the Suunto D4i Novo White. It can be worn as a casual watch.
Besides the different colors, the biggest difference to the D4i model is the soft silicone straps and that the buttons are made of metal instead of plastic. The new silicone strap ensures superb comfort and a perfect fit. You can also purchase a silicone strap extension to the silicone strap so you can wrap the Suunto D4i Novo around your wrist on the outside of a thick wetsuit or dry suit.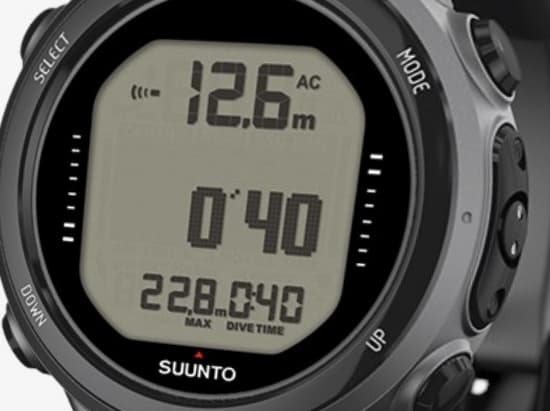 Suunto Diving Computer Capabilities
The Suunto D4i Novo watch is a compact and lightweight dive computer. It is straightforward to use and provides the features you would expect from a mid-level dive computer.
Dive Modes
Suunto designed the D4i Novo to feature four different modes:
Air
Nitrox
Free-Dive
Gauge
As a recreational diver, you should not require more than these modes from your dive computer, namely the Suunto D4i Novo. It's not having the functionalities that a technical diver would require from her dive computer. If you require these, then have a look at our review of the Suunto D5 which offers a lot more capabilities albeit at a higher price. Nonetheless, the Suunto D4i Novo does provide what you need for recreational diving.
The standard dive mode deals with regular air as your breathing gas. The Nitrox mode on the dive computer is able to manage gas mixes with Oxygen levels up to 50%. You will have to adjust the settings for every dive if you change your levels of Oxygen from one dive to the next.
The freediving mode is set to sample data at a higher frequency to enable the scuba computer to capture and process the depth data quicker. Suunto designed the mode to sample depth three times per second.
The gauge mode on the Suunto D4i Novo is basically providing a timer mode with no other functionality attached. Lastly, you can switch the dive computer to Off mode so you can go swimming or snorkeling without triggering any alarms or impact any of your next diving calculations.
Wireless Air Integration
Additionally, an optional wireless air transmitter can be purchased and connected to monitor the tank pressure and keep track of air remaining on the display. This air integration has to be purchased separately and the transmitter is added to the regulator first stage.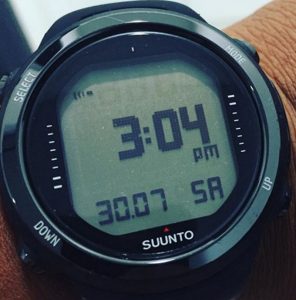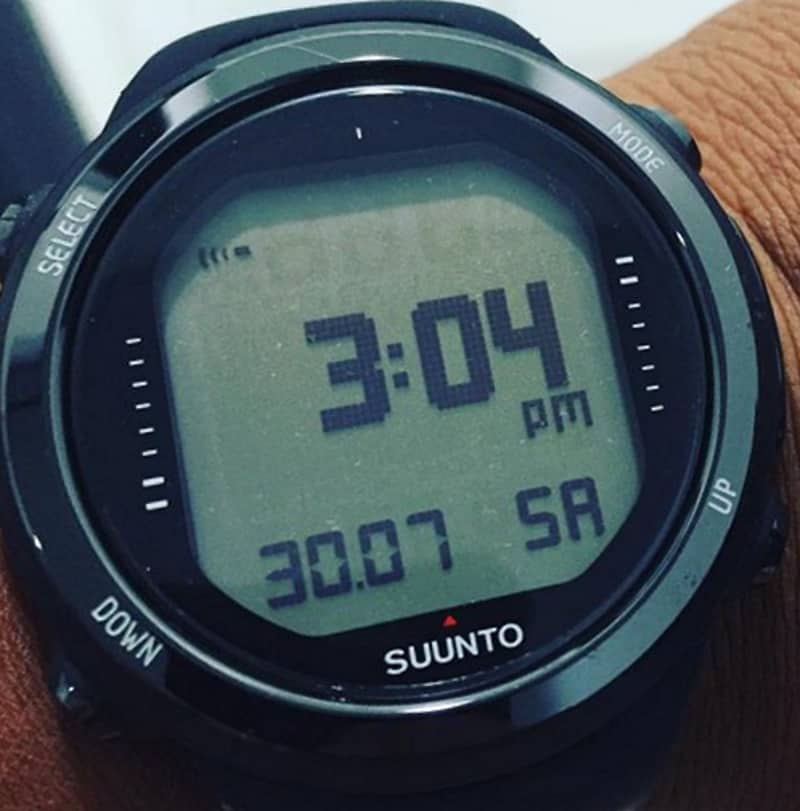 The optional air integration will typically not be necessary for an entry-level to the medium experienced diver. It does, however, provide the ability to increase its capabilities to grow with the experience level of the diver that owns this dive computer.
Adding the wireless air integration to your Suunto D4i Novo lets you have a more accurate idea of dive time left in the tank. The optional wireless air integration reads and displays the cylinder pressure left in the dive tank which then enables you to gauge how much more dive time you have safely left.
Display of the D4i Novo
The display on the D4i is sufficiently large. It is a dot matrix display with a strong backlight.
The watch screen of the D4i Novo dive watch from Suunto shows the essential information including current and maximum depth, dive time, decompression time, and current time as well as the temperature. It's not a color display and it certainly doesn't have to be!
When using the device in freediving mode, it will sample the depth three times per second to provide an accurate real-time depth reading in this dive mode. This allows you to store and track a free dive in the computer.
Alarms
To keep the diver safe, the scuba watch offers both audible and visual alarms for safety stops and depth as well as for time. This provides clear signals when to start the ascent.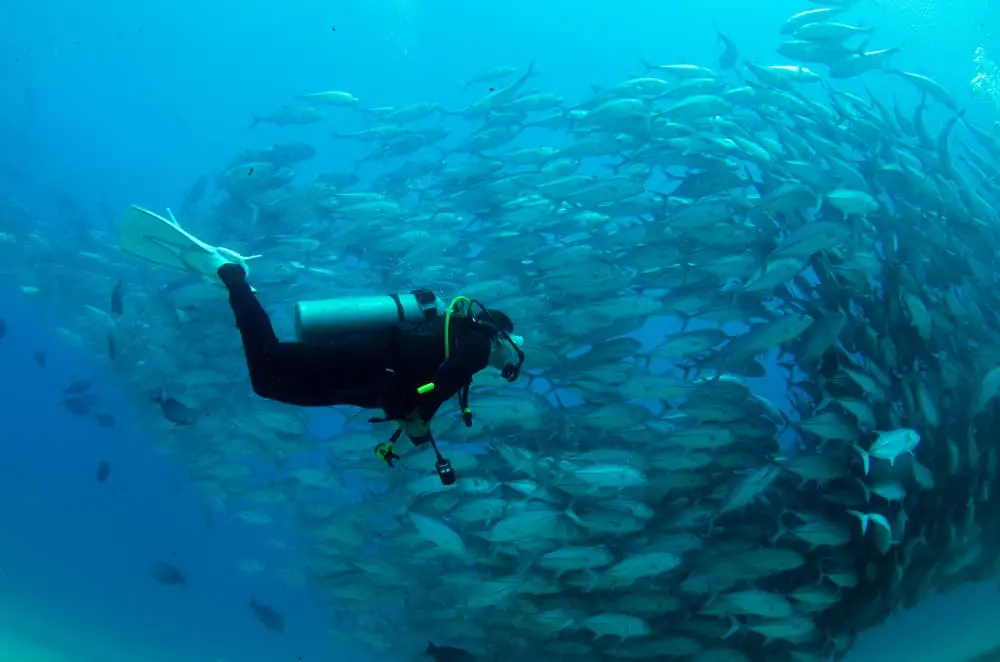 Technical Capabilities
The Suunto computer allows programming nitrox mixes with oxygen levels between 21% and 50%. The PO2 limits can be set between 0.5 bars and 1.6 bars at the same time.
The operational depth of the Suunto D4i Novo ranges from 0 to 100 meters/0 to 328 feet. In Gauge Mode it will display and function down to depths of 150 meters/492 feet. The D4i is also altitude adjustable up to 3,000 meters/10,000 feet.
RGBM Algorithm
The algorithm used is based on the Suunto Reduced Gradient Bubble Model (RGBM). It is based on laboratory data as well as diving data. Suunto developed it together with Bruce R. Wienke and it is one of the best and most modern algorithms available.
It allows for safe dives as it predicts dissolved and free gas in the blood and tissue based on depth and time underwater. It's a reasonably conservative algorithm that makes sure that recreational divers stay within their limits.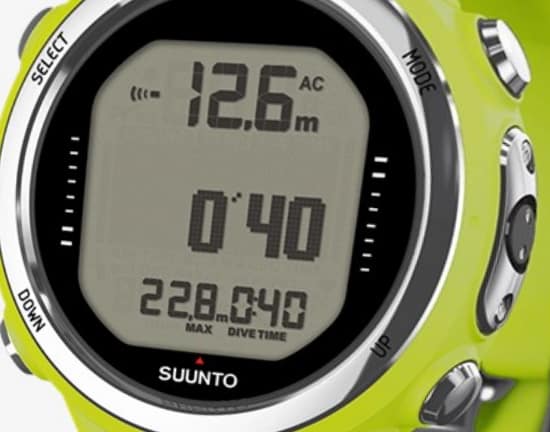 Dive Log and Connectivity
The Suunto D4i Novo has a built-in dive log that is capable of recording up to 140 hours of scuba diving information. It can be exported to your computer (both Mac and Windows) through a USB cable and then can be uploaded to the Suunto Movescount portal where you can track all your exercising from all Suunto watches including their dive computers. You can even add photos and videos of your dives to the uploaded logbooks to share with others.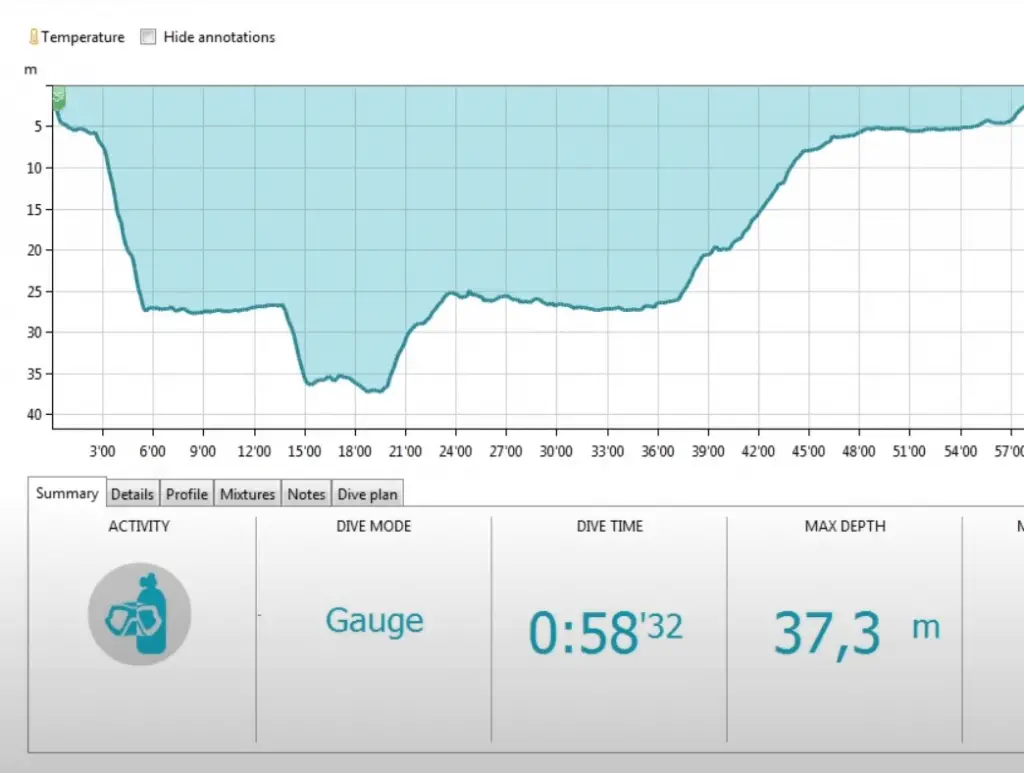 The portal also allows for planning future dives based on historic data. Dive data from the log can be analyzed in-depth and displayed in charts. This allows to make better choices and adjust alarms and dive times for future dives.
Missing Functionality
What is missing in the Suunto D4i Novo scuba diving computer is a digital compass (How to Use a Diving Compass). This is provided in the next model up, the Suunto D6i Novo.
It's one of the features that can rarely be found on any mid-level dive computer so it's not like the D4i from Suunto would be the only mid-range model that doesn't have it.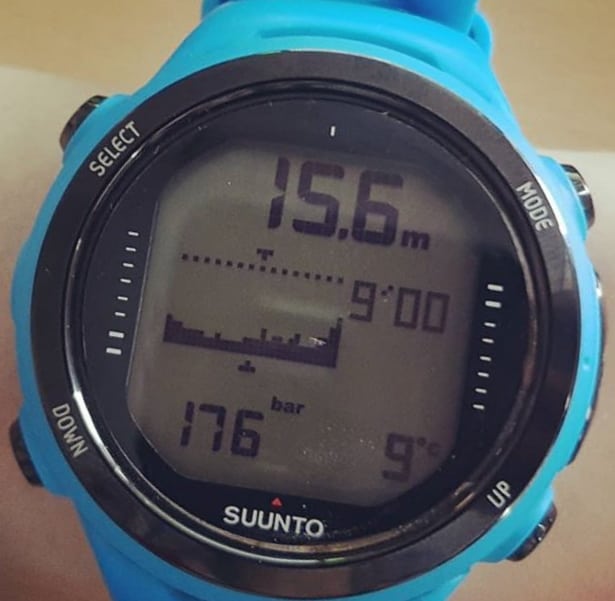 Small Buttons
Another small downside of the Suunto D4i Novo is that the buttons can be hard to handle when diving in cooler water with thick gloves. This is overall an issue with any watch-style dive computer.
Due to the size of the Suunto D4i Novo computer, the buttons can simply be too close together when trying to press them while wearing thick dive gloves. This issue typically is not an issue when wearing no gloves or thin ones or when you have small hands.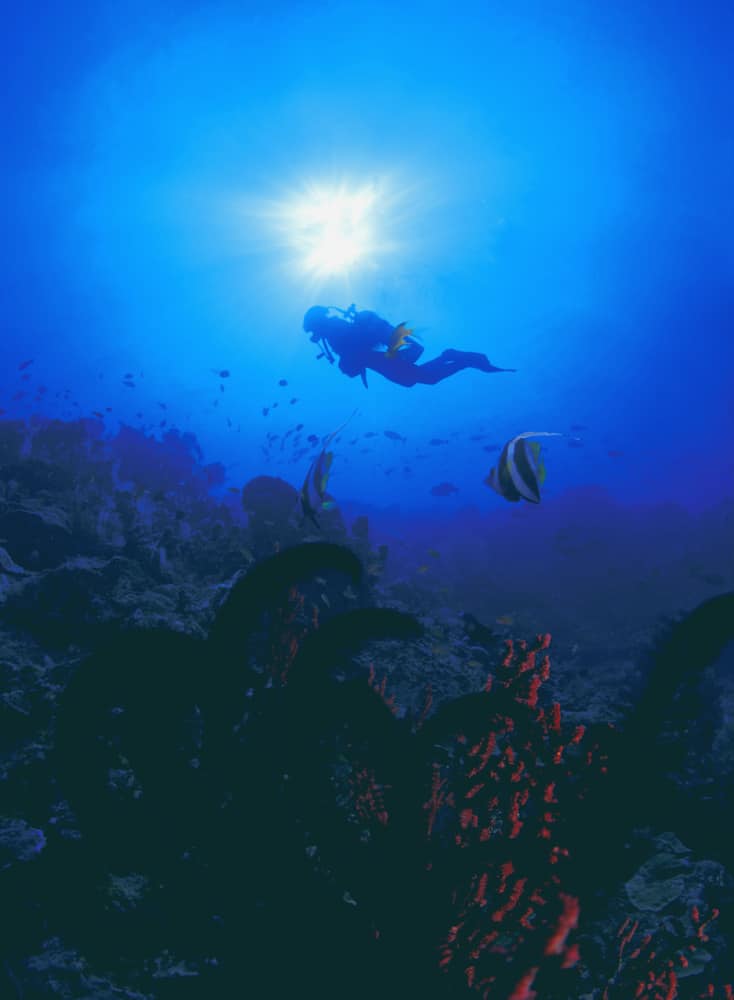 How big is big enough?
There are a lot of benefits to having a wristwatch sized dive computer. However, there are not only good things about it.
The D4i Novo by Suunto is such a scuba diving computer that is sized for everyday wear. It combines the features of a decompression calculator with a watch.
While we do like the idea, it does bring with it some limitations. Specifically, with dot-matrix displays as the Suunto D4i Novo is using them. The display size is small underwater which can make it hard to read the numbers.
Small Display can be Cumbersome to Read in Low Light
It's not a problem in good lighting conditions but if the water around you is murky then it can become a problem. The backlight helps but it does not make up for screen size that's simply not available.
The newest generations of wristwatch sized diving computers use OLED screens (Shearwater Teric vs. Suunto D5 vs. Garmin Descent Mk1 – Best Wrist Watch Dive Computers!). These are in color and brilliantly bright and more than make up for the missing size of those smaller dive computers.
Features/Specifications – D4i Novo
Easy to use with only 4 buttons
Adjustable alarms for ascent rates and maximum depth and time
Freediving mode sampling depth information 3 times per second
Clear and precise dot matrix display with backlighting
Four dive mode settings including Air, Nitrox, free dive, and gauge
Adjustable Nitrox settings between 21% and 50% with PO2 limits between 0.5 and 1.6 bars
Maximum depth display to 100 meters/328 feet
Adjustable Altitude
Both imperial and metric display options
Built-in dive log up to 140 hours
Lithium battery (CR2450)
RGBM (Reduced Gradient Bubble Model) algorithm
Built-in dive planner
Connect to your PC or Mac through a USB cable
Available in different colors
Compact design to be worn as an everyday watch
Optional wireless air integration – Best Air Integrated Dive Computer – Reviews and Buying Guide
2 year limited warranty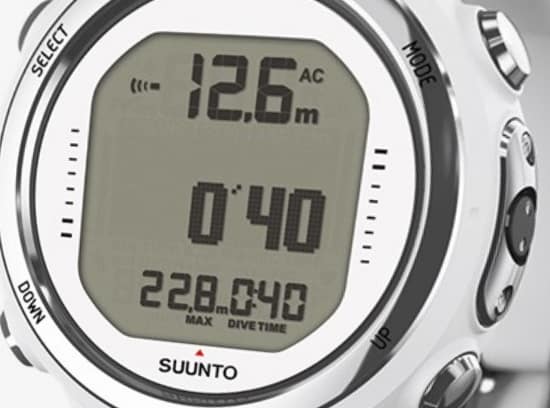 Pros and Cons
No product is perfect and this Suunto dive computer certainly isn't either. However, it is a great scuba diving computer for the money and suits entry-level as well as medium experienced divers well.
Pros
A compact and light design which makes it easy to use and wear even when used as a day-to-day watch
Multiple modes (Free Dive, Air, Nitrox, and Gauge)
Optional wireless transmitter to measure tank pressure and display remaining air time on the screen
Simple 4 button usage with clear and backlit dot matrix display
Easy connectivity to a computer through included USB cable and extensive upload and log capabilities when used in conjunction with Movescount.com
Safe and reliable RGBM algorithm
Easy adjustment of the strap to ensure a tight and safe fit
Cons
No digital compass
Not easy to use when thick gloves are worn
The battery has to be replaced in a Suunto service center
The pros and cons clearly show that there's not much negative to say about it. It has a lot of features for a mid-range scuba computer and anything more than that would actually put it into the high-end category.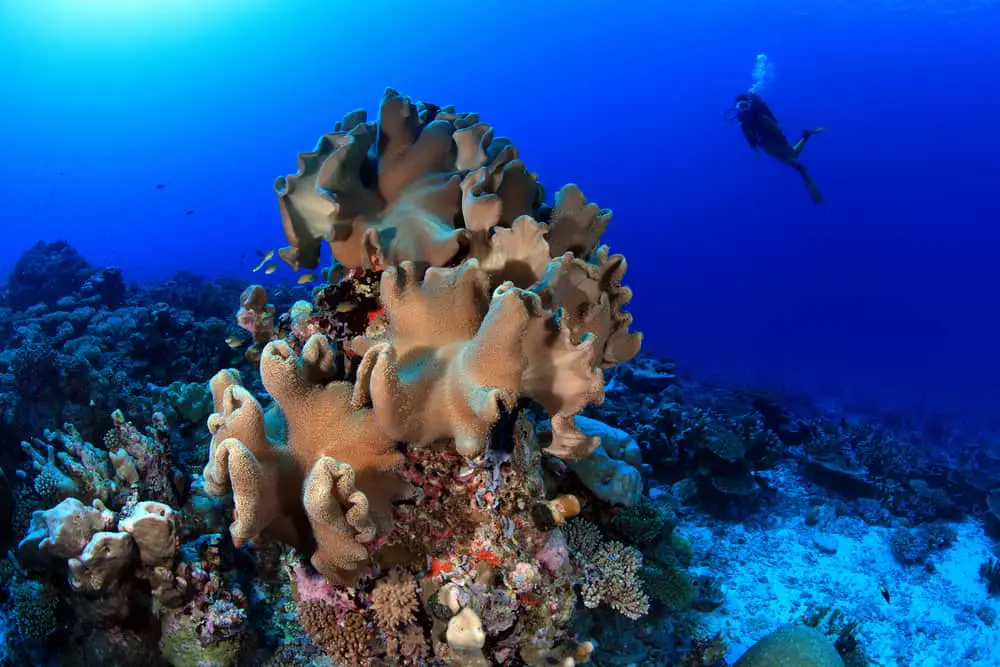 Do you need to know to read Dive Tables when you have a Dive Computer?
Where to Buy the Suunto D4i Novo?
You can find it online at retailers like Amazon or at your local dive shop. You will find the widest variety of colors and prices online.
If the scuba diving computer doesn't suit your needs then it's easy to return at Amazon.com. Smaller retailers and dive shops might not have all the colors and might also give you some grief should you need to return the unit.
Dive Computer Customer Feedback
The overall feedback that can be found online and in forums, as well as any other Suunto D4i Novo review, is absolutely positive. People that purchased it are happy with the product and there's barely anybody who has a complaint besides what was already mentioned in the cons above.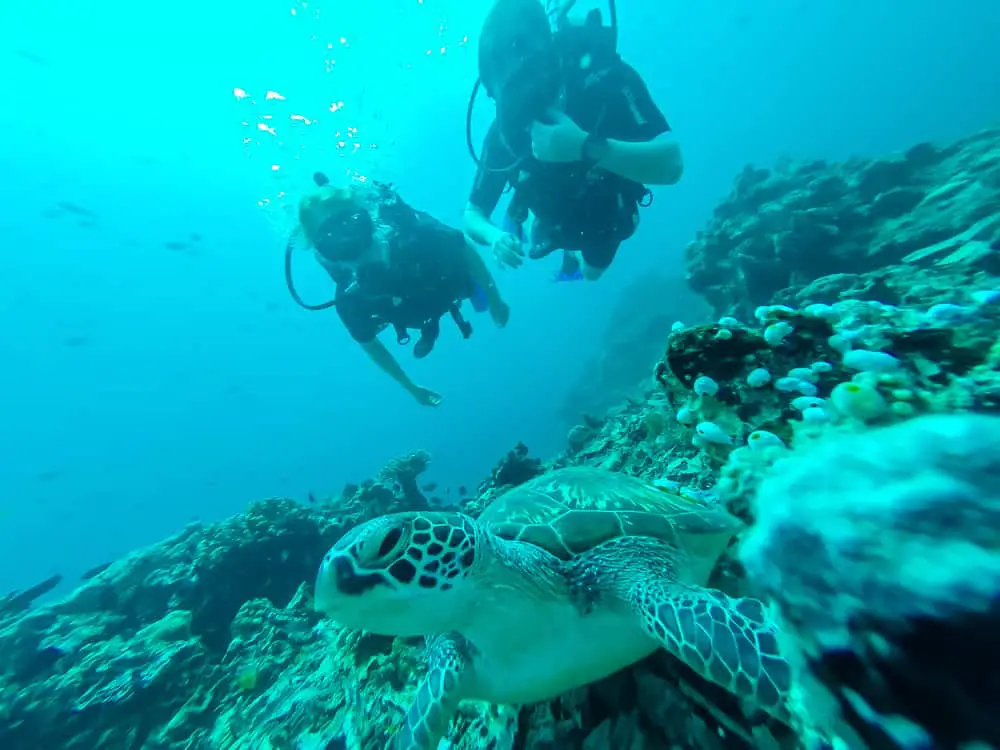 Besides that, the only other complaint is that the battery can't really be changed without bringing or sending the dive computer to a service center. This can be a major hassle when you want to use the dive computer just as the battery warning comes on.
Many people use it as their day-to-day watch. It's compact enough and comes in such a large variety of colors that anyone can use it exactly like that.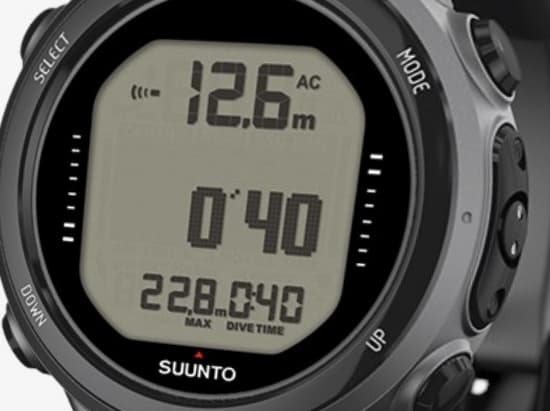 Conclusion
The D4i Novo from Suunto is a well-rounded scuba computer that provides nearly every capability you might need. There's only one functionality you might be missing which is the compass but that will not necessarily be a problem if you are a recreational diver.
Other than that this dive computer simply fits the bill of what the beginner to medium experienced diver would need and expect from a dive computer. It is a reliable piece of dive gear that can easily be worn as an everyday watch.
One big plus is that the dive watch can grow with you. If you're a more experienced diver and you're going to do more sophisticated dives that require air monitoring.
Adding the optional wireless transmitter allows doing just that. At that time the D4i Novo basically upgraded to the semi-professional level and can hold its own when it comes to those offerings by Suunto.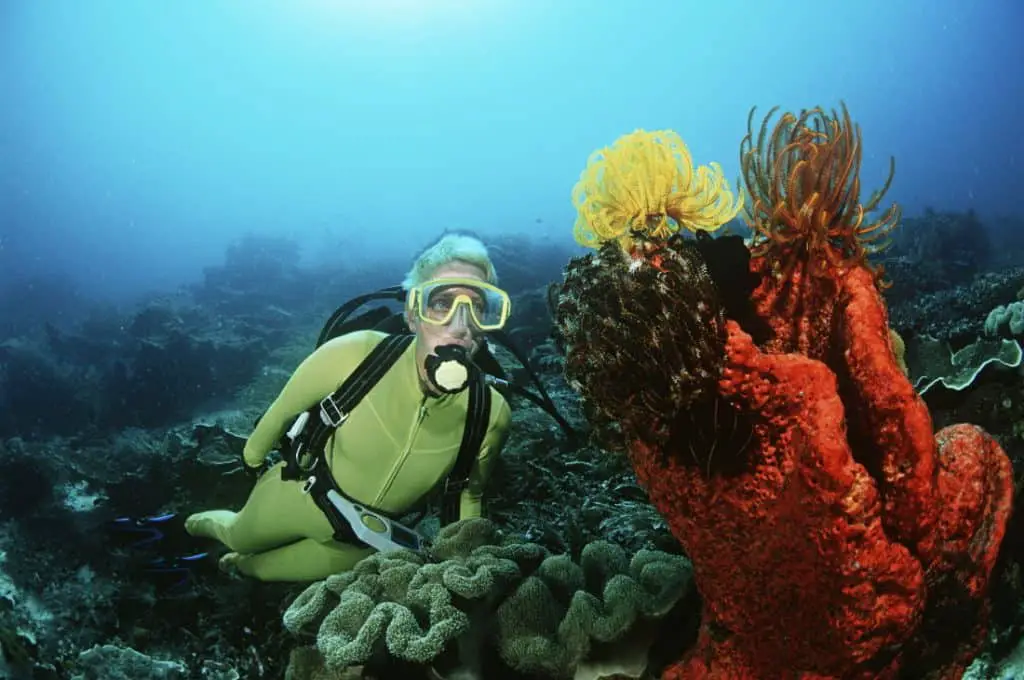 Suunto Zoop Novo Dive Computer Review – Divers Buying Advice
Who is it not for?
If you are already a truly experienced diver requiring more capabilities of your dive computer then you should consider the Suunto D6i Novo instead. Both dive computers have been designed a few years ago and do not offer the features you get on some of the latest models like the Suunto D5 or the Shearwater Teric. They are among the best wrist-watch dive computers that you can get your hands on today.
Suunto is one of the leading manufacturers of dive gear and dive computers. They also have a wide range of exercise watches and a stellar reputation.
This scuba computer watch is the redesign of the D4i and Suunto did a great job with it. They improved on the straps and made it overall more modern looking.
Pin It!
If you enjoyed reading this post about the D4i Novo by Suunto then we would appreciate it if you could share it with your friends. You can use the image below to pin to Pinterest. Thank you!