Best Air Integrated Dive Computer – Reviews and Buying Guide
Air integration for a scuba dive computer has become the standard for mid-level to high-end technical and recreational devices. Find the information you need to get the best air integrated dive computer for your dives below.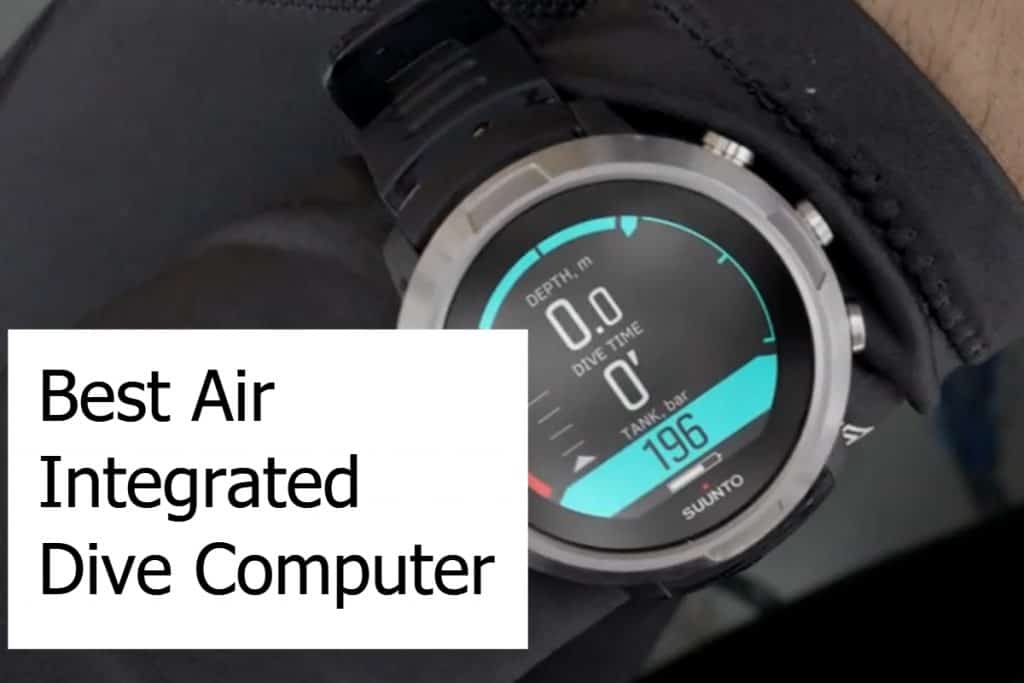 What Are the Basics of an Air Integrated Dive Computer?
Air integrated scuba dive computers increase the function of the standard dive computer, allowing you to monitor air pressure and time remaining. They also come with a lot of basic features to compare.
You can find two different methods on how your air integrated computer connects to the tank:
Hose connection
Wireless transmitter
Let's have a look at that as well as other features you will typically get.
Measuring Depth
As with a standard dive computer, an air integrated computer should include a depth gauge. This allows you to accurately track and record depths for calculating decompression stops for scuba divers.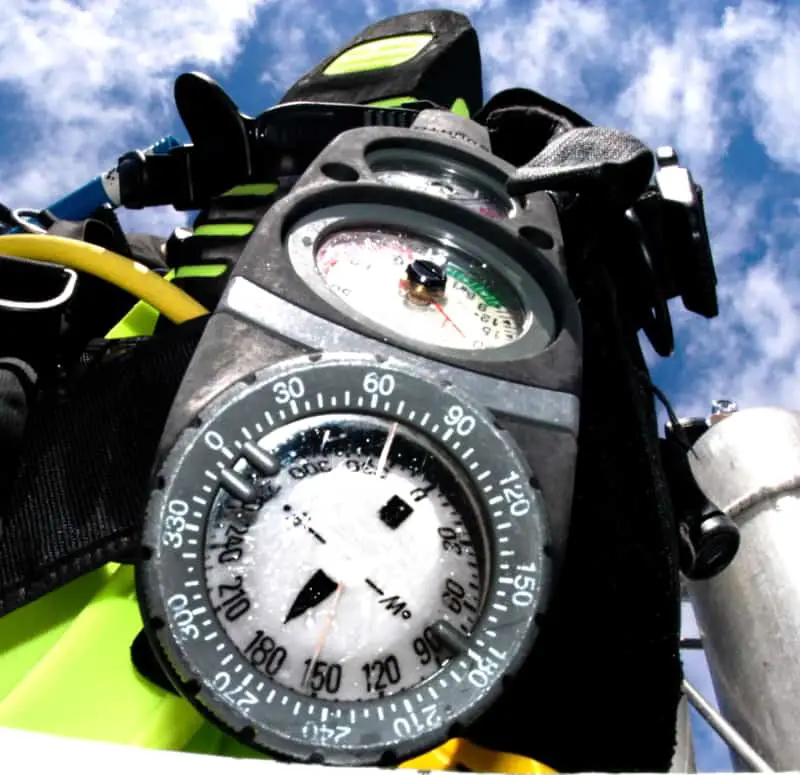 The computer should log the information and track how much time you spend at each depth. With less time spent calculating your dive and ascent, you have the freedom to focus on your surroundings.
Technical Diving, Rebreathers and other less common features
While all dive computers track depth, other features may not appear on every model. For example, some computers are designed for different diving levels or equipment such as rebreathers.
Some air integrated dive computers may include settings for both technical and recreational scuba dives while others are designed strictly for recreational diving or offer features that only technical divers need.
If you do not plan on going on technical scuba dives or using a rebreather, it does not make sense to spend the money on a dive computer with those features. Not only do dive computers with these additional features cost you more money but they also make it more complex to handle the device. Don't overspend and make your scuba life more complex than it has to be if you're not in a group with technical divers.
Wireless or Hose Connection?
Another detail to consider is the setup. Air integrated computers either connect to the tank via a hose or wireless transmission. The wireless options are wrist-mounted, typically designed to resemble a large watch.
Dive computers with wireless transmitters are often capable to handle multi-gas mixes. They can connect to more than one transmitter at a time to monitor tank pressure in multiple cylinders.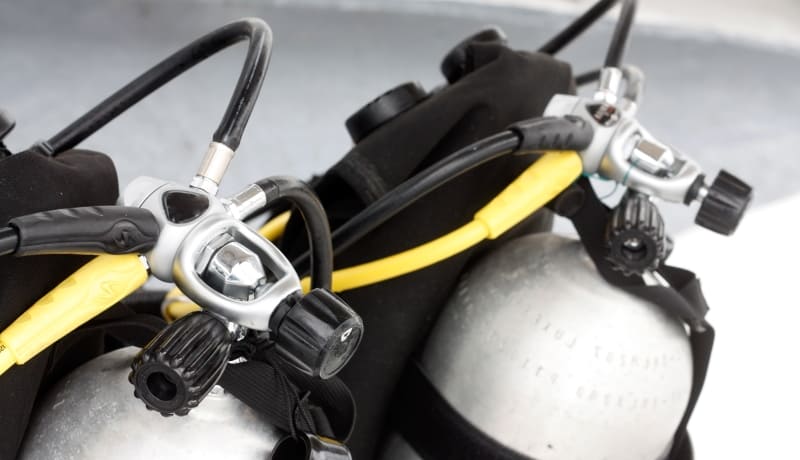 Large or Small Display? Wrist or Console Mounted?
Air integrated scuba dive computers tend to have circular displays and come in a variety of sizes. A larger display on dive computers is easier to read underwater and provides more screen space for displaying readings. It also typically is better suited for displaying graphs and compass readings.
Higher-priced air integrated dive computers may include backlit displays. Backlighting eliminates the need to use your flashlight every time that you want to check your depth or remaining time.
Handling Different Gas Mixes
You also need to ensure that the scuba decompression calculator is compatible with your air supply. For example, if you plan to use an air Nitrox mix, you need a computer that allows you to input the percentage of oxygen in the mix.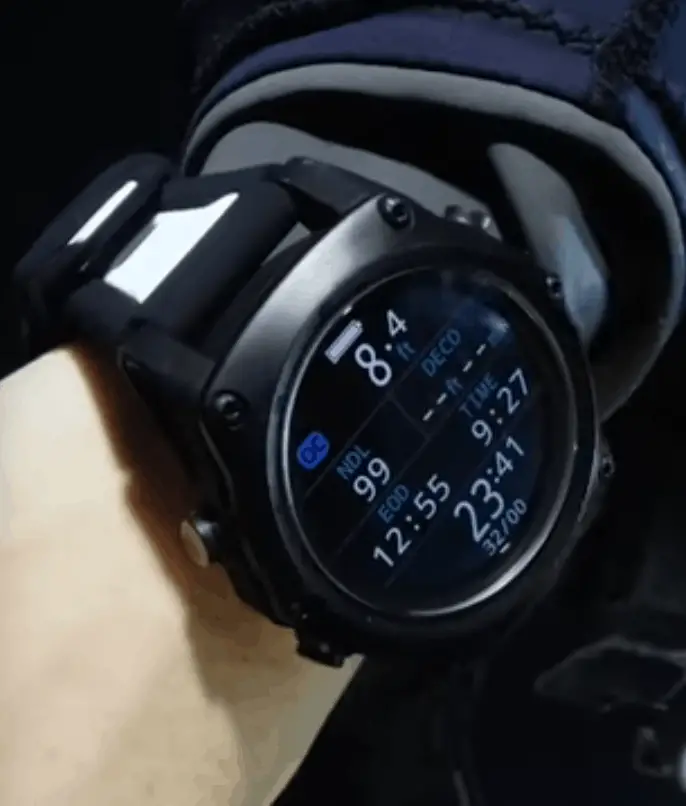 What Typical Functions Can You Expect in a Dive Computer?
Some of the main functions of air integrated dive computers include gas switching, navigation, dive logs, and PC transfers.
Switching between multiple gas mixes
Gas switching is mostly used for technical divers and dives but more and more recreational divers use multiple gas mixes on a single scuba dive. It provides the ability to switch the air nitrox gas mix that you breathe in the middle of your dive. If you are working on your technical divers certifications to dive with different gas mixes then make sure that your air integrated dive computer is capable of switching gas during a dive.
When diving on air, you typically have longer decompression times due to lower oxygen levels. With gas switching, you could switch to the oxygen-rich air Nitrox mix to shorten the wait during the ascent. This can be a very useful feature for recreational and technical divers.
Navigation Support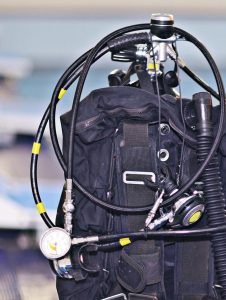 Another useful function is navigation. Several air integrated dive computers have built-in compasses. An integrated compass eliminates the need for a bulky analog compass.
You can quickly check the scuba diving computer to get your bearings. Be aware though that not all built-in digital compasses are the same.
Some lower-end air integrated dive computers do not have great guidance on compass direction. You should look for tilt-compensated 3D digital compass functionality on an air integrated dive computer which you'll typically find on dive computers with a larger screen.
Managing your Data from your Dive Computer
All dive computers, whether air integrated or not, include a log function to keep track of your past dives. Older dive computer models logged just your most recent dive. The latest models can log up to 10 dives.
If you perform many scuba dives without the chance to upload the data to your computer, look for a device with more memory. Technical divers might want larger log sizes and easier transmission to a dive computer to evaluate their dives in detail.
Offloading and sharing your dive data
Transferring dive logs to the computer is another beneficial function. Some air integrated dive computers come with software and a micro USB connection for connecting to a computer. You can then keep a permanent log of all your scuba dives.
Several of the newer dive computers allow you to connect to your smartphone or PC through Bluetooth to offload data and manage your device.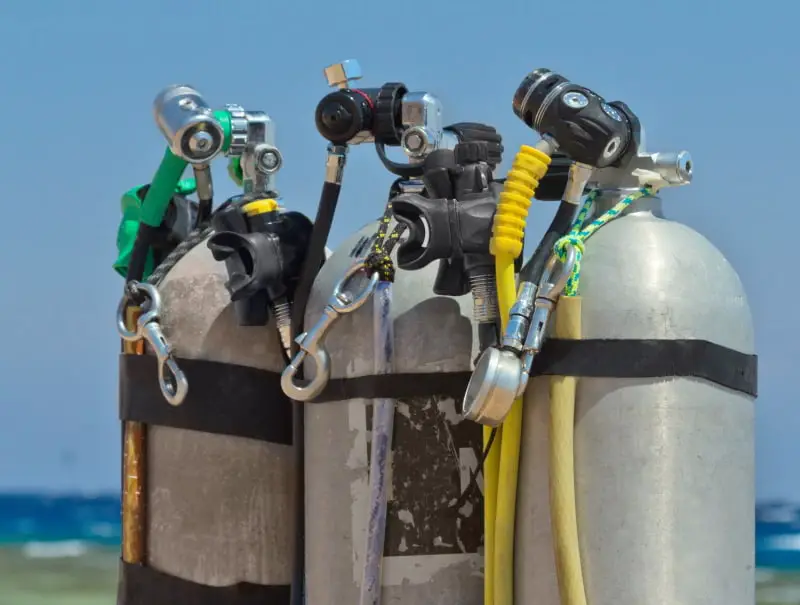 The software also typically includes extra features such as scuba dive graphs, giving you more data for analyzing your past dives. When choosing a dive computer, ensure that the software is compatible with your PC.
While most scuba dive computers with PC connections include software for Windows, Mac, and Linux, some options may only include Windows software.
Multiple Transmitters for Air Integration
Most dive computers include the ability to monitor more than one type of gas mix. With a typical scuba dive computer, you can use air or an Air Nitrox mix.
If you require multiple air nitrox or even trimix mixes, look for an air integrated dive computer with multiple wireless air transmitters to monitor multi-gas mixes. Each gas mix in a tank needs a wireless transmitter connected to the first stage for sending data to the scuba dive computer.
What features might you not find?
Air integration in dive computers does not necessarily mean that you'll end up with a scuba dive computer with all the bells and whistles. You will, typically, find fundamentals like a compass functionality and gas switching on these devices.
Deep Dive into your collected data
Things you might not find in all air integrated dive computers are the detailed data crunching and analysis parts you get from top-end scuba devices like the Shearwater Perdix air integrated dive computer or similar units. These have all the features and adjustments you need for serious technical scuba diving.
Limited number of air integration PODs to track
Other limitations you often don't find on the mainstream air integrated devices is the capability to track a larger number of wireless air transmitters. For your typical use that's not a big issue if you can only connect to one or two sensors to the first stage regulator.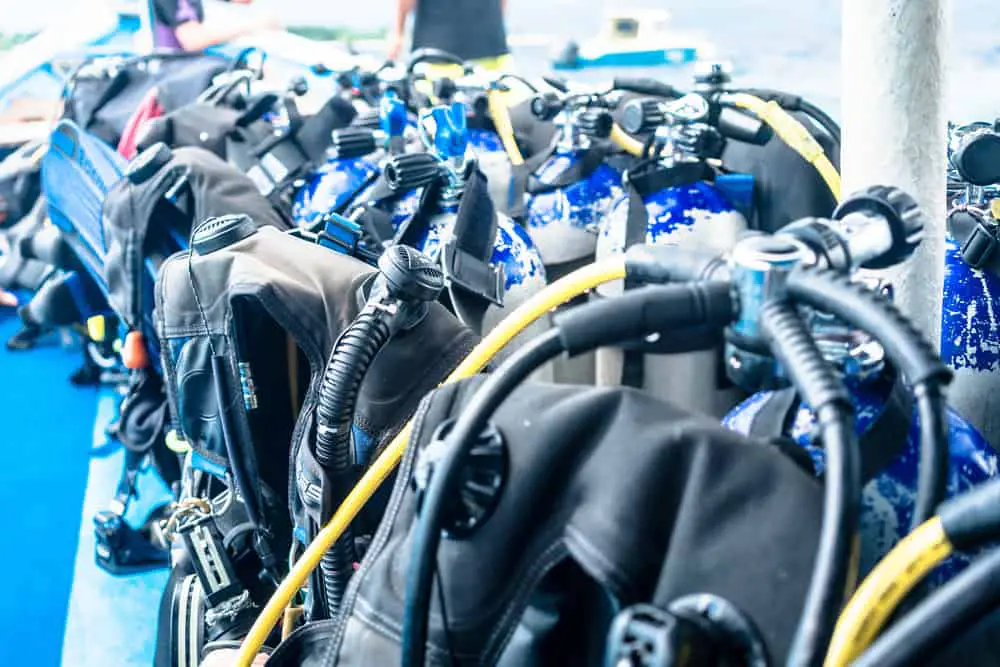 Dive Instructor – Many PODs to connect
However, if you are a scuba dive guide or instructor then it can be quite helpful to have wireless air integration to track the tank pressure of all the divers in your group.
It allows you to be prepared to end a dive at the right time when the scuba diver(s) with the highest air consumption is getting to a level to finish the dive. You might have to dig through some submenus on the air integrated dive computer to find where to connect multiple wireless sensors.
Some of the recreational scuba dive computer devices will only allow you to connect one air transmitter. This is usually enough for recreational divers as they're not diving with more than one mix at a time.
What Are the Best Scuba Diving Computers with Air Integration?
The following best air integrated dive computers provide a range of options to fit any budget and diving experience level.
Shearwater Teric
The Shearwater Teric wrist dive computer is one of the more versatile air integrated dive computers with multiple diving modes and gas options.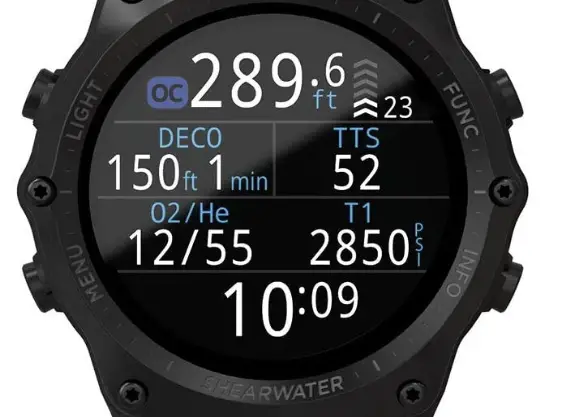 Main Features and Performance
The Shearwater Teric scuba computer includes settings for technical, recreational, and free dives. It also works with air Nitrox and Trimix mixes and comes with up to two wireless transmitters to monitor multiple gas mixes for recreational and technical divers. The watch-sized scuba diving computer only needs to pair with the air transmitter once.
Instead of an LED display, the Teric air integrated dive computer features a full-color LCD display. The high-resolution 1.39-inch dive computer screen is easy to read in low light settings, thanks to the deep black background and bright colors. The screen is also customizable, allowing you to adjust the layout of the dive computer display to suit your preferences. Menu navigation is performed through four buttons around the bezel that are easy to access even when you wear scuba gloves.
Instead of plugging the dive computer into your computer after your dives, you can wirelessly sync dive logs using Bluetooth technology. It also comes with a docking station for wirelessly charging the rechargeable watch battery.
This accessory makes it possible for you to charge the scuba dive computer even if you're on a liveaboard trip. You don't have to buy a stack of batteries upfront to take with you.
If you prefer a technical dive computer with a larger display and more technical features from Shearwater then have a look at the Shearwater Perdix. It offers more capabilities compared to the Teric. The Shearwater Perdix has more graphing capabilities, a larger display, and is squarely aimed at technical divers. The Shearwater Perdix can handle multi-gas setups for diving with ease.
Pros
Switchable vibration and audible alerts
Ability to support most diving modes including open-circuit, fixed PO2, and freediving
Compact design that is comfortable and lightweight
Cons
This is one of the more expensive air integrated dive computers.
Aqua Lung i470TC
The stylish Aqua Lung i470TC air integrated dive computer is a watch-sized computer intended for recreational dives. It is also one of the more affordable dive computers recommended for novice divers.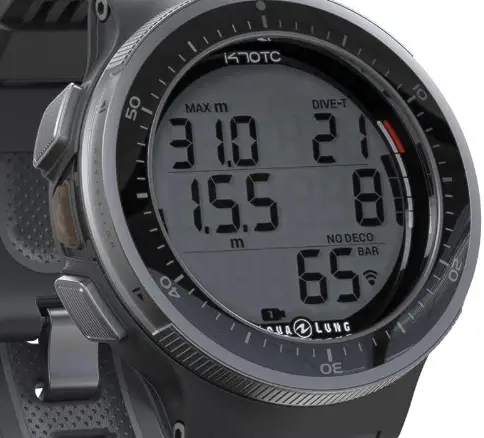 Main Features and Performance
The watch-mount Aqualung i470TC fits comfortably on your wrist, eliminating the need for bulky gear. It has a round LCD display with a backlight, allowing you to read data in low visibility.
The recreational dive computer can monitor up to three air Nitrox mixes. It also includes three transmitters to provide individual PO2 points for each mix. Using a hose-less gas integration algorithm, the computer provides real-time calculations for accurate gas mix management.
The device is intended for recreational dives and includes a free dive mode. To keep track of your direction, the computer also includes a digital compass with north reference and return bearing lock.
Pros
Automatic altitude adjustment and real-time calculations for convenient monitoring
Ability to allow up to three Nitrox mixes with individual PO2 set points
A menu that is easy to navigate and read in low visibility
Cons
The digital compass of the dive computer is not very user-friendly.
Scubapro Mantis 2.0
The Mantis 2.0 from Scubapro is a wrist-mount air integrated dive computer for technical and recreational divers.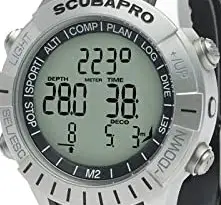 Main Features and Performance
The Scubapro Mantis 2.0 is a versatile little wireless air integrated dive computer. It mixes up to three gas mixes, including air and Nitrox. However, it does not include compatibility for Trimix mixes.
The Mantis 2.0 features a wristwatch style design with a digital display. It is compact and ergonomic, taking up less space on your wrist compared to other options.
The interface on this air integrated dive computer includes four buttons on the sides. Unfortunately, the buttons are stiff. You may also need to play around with the settings to fully understand the complicated menus.
As with many air integrated dive computers in this price range, it comes equipped with a digital compass. Unlike other most other options, it also includes a heart rate monitor and custom computations.
It uses biometrics for customized functions such as alerts when you overexert yourself.
Pros
The compact design is comfortable and ergonomic.
The custom features provide a more personalized experience.
It includes full time-keeping functions.
Cons
The complicated menus require a learning curve.
The buttons are a little stiff, making them difficult to press underwater.
Suunto Eon Core
Suunto is one of the top manufacturers of dive computers. With the Suunto Eon Core Wrist Dive Computer, the company offers a high-end device for recreational and technical divers.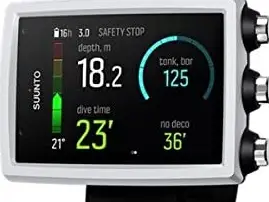 Main Features and Performance
The Eon Core is a wrist-mount wireless air integrated dive computer with a large rectangular display. It shows your total depth, depth with no decompression, tank PSI, dive time, and more. The information is displayed in bright colors against a deep black background.
No matter the type of gas that you use for your dives, the Eon Core wrist dive computer should have you covered. It can connect and transfer readings from up to 10 gas mixes using separate Suunto Tank PODs. You can connect wireless transmitters to up to the first stage regulators on 10 tanks to monitor multiple gas mixes.
Thanks to Bluetooth technology, you can wirelessly sync your log data from the dive computer to your smartphone or tablet after each dive. You can also use the connection to customize the display and plan for your next dive.
It is a relatively expensive wireless air integrated dive computer intended for experienced divers. If you want to step it even higher then have a look at the Suunto Eon Steel. The technical capabilities between the Eon Steel and Core are similar with the main differences being that the Eon Core is smaller and lighter. The Suunto Eon Steel has a larger water-resistance of 150 meters vs. the 80 on the Eon Core. The operational depth for both is 80 meters which makes them both useful for technical divers.
Pros
The Suunto Movescount App allows you to plan your dives and customize the display.
This dive computer includes a tilt-compensated 3D digital compass for accurate navigation.
The always-on LED-backlit display with high contrast is easy to read underwater.
It is suitable for all types of diving including gauge, air, Trimix, Nitrox, and fixed-point diving.
Multi-gas monitoring with up to 10 wireless transmitters
Cons
The price may exceed the budget for novice divers.
The large display is a little cumbersome on your wrist.
Sherwood Vision
For those who prefer hose-mounted dive computers, the Sherwood Vision Dive Computer stands out as an impressive choice. It features a simple interface and dual decompression algorithms.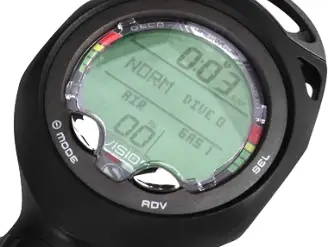 Main Features and Performance
This hose-mounted air integrated dive computer is equipped with a locking-style hose fitting to make it easier to quickly disconnect the device. It is easy to install and use.
The three-button interface and organized menu system allow you to easily browse the settings and operating modes.
The Sherwood Vision air integrated dive computer also comes with advanced features including two separate decompression algorithms. You can select between the two options based on your diving preferences for more accurate calculations.
During your dive, you receive real-time calculations to let you know how much time you have left. You may also customize the display settings to suit your needs with multiple display modes and data options.
Rounding out the features is the three-axis digital compass. It includes full tilt compensation to provide reliable navigation with the 3D compass.
Pros
It is one of the most affordable recommendations.
The simple interface and menu navigation is perfect for novice divers.
The algorithms provide accurate and reliable data.
Cons
It is relatively heavy, especially compared to the wristwatch-style computers.
The display is not backlit, requiring a flashlight in low visibility areas.
Atomic Aquatics Cobalt 2
The Cobalt 2 dive computer from Atomic Aquatics is a hose-mount computer with a large display and several useful features, including the ability to mix up to six Nitrox gases.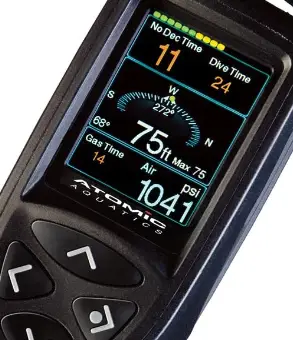 Main Features and Performance
The Cobalt 2 is a high-end hose-mounted dive computer. It is compatible with air and Nitrox mixes and features leak-proof magnetic buttons.
Compared to some of the cheaper hose-mount computers, Cobalt 2 has a large display. The 256K full-color LCD display is backlit with bright fonts on deep black background. It is easy to read in the dark without the need to shine your flashlight on the computer.
Menu navigation is simple with the buttons on the console. The Cobalt 2 also features a digital 3D compass with tilt compensation.
After your dive, you can easily upload data to a computer using the provided software.
Pros
The large display is easy to read in most environments.
The four-button menu navigation interface provides streamlined navigation.
The rechargeable battery provides 40 to 50 hours of dive time.
Cons
The compass loads slowly, requiring you to wait for a second to check your orientation.
This is one of the more expensive recommendations.
Suunto D5
The D5 Wrist Computer is another option from Suunto. It is a stylish choice that supports multiple diving modes and comes with a durable travel case.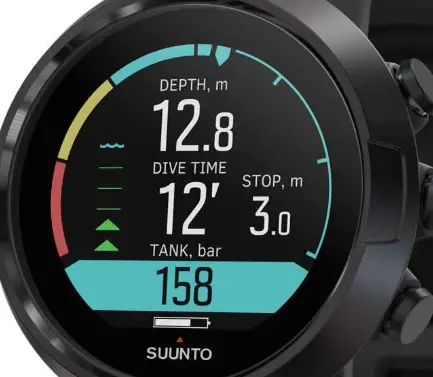 Main Features and Performance
The Suunto D5 wireless air integrated dive computer has a wrist-mount design. The display is a little larger compared to most wrist-mount options and features a colorful LCD display.
The readings on the Suunto D5 are clear and easy to read, only requiring a quick glance at your watch to check the depth and other data.
The available diving modes include air, Nitrox, and free dive. It is easy enough to use for novice divers, allowing you to focus on the underwater experience instead of worrying about the controls on your dive computer.
If you prefer a slightly cheaper but also less feature-rich model from Suunto then check the Suunto Vyper Novo. It can handle wireless air integration for multi-gas mixes but does not have a color display. The Suunto Vyper Novo is also larger in size and while being a wrist-mounted device, you can't use it as an everyday wristwatch.
The Suunto Vyper Novo can really only be used for diving while the D5 can be your everyday watch and fitness tracker. The D5's display and menu navigation is also easier to manage compared to the Suunto Vyper Novo.
Pros
Has easy-to-use interface for beginner divers
Provides reliable computations and accurate readings
Water-resistant up to 100 meters
Cons
Does not include settings for technical dives
Is relatively expensive for a recreational dive computer
Final Thoughts on the Best Dive Computer that is Air Integrated
Each of the best air integrated dive computers reviewed offers reliable performance. They also include a diverse range of features.
Some of the best air integrated dive computers listed above are only intended for recreational scuba diving while others provide multiple modes.
A word on other scuba diving calculators that you might expect to find here. There's no question that multi-gas air integrated dive computers from Oceanic, Mares, or other top-tier scuba gear brands are great air integrated dive computers for recreational or technical diving that will work well for you.
We picked our selection of the best air integrated dive computer based on experiences and reviews. This in no way would mean that an outstanding scuba diving computer with air integration like for example the Oceanic VTX or the Oceanic ProPlus X would not deserve to be on this list!
More budget-conscious choices like the Suunto Vyper Novo don't offer all the features as newer models like the Suunto D5 but are more affordable wrist computers for recreational divers. The same is true for technical dive enthusiasts and 'data junkies' that would be better off with a wrist computer like the Eon Steel from Suunto or the Shearwater Perdix.
Which is the best of the computers with air integration?
The Shearwater Teric Wristwatch dive computer includes settings for recreational, technical, and free dives.
The Eon Core from Suunto dive computer also provides multiple operating modes and supports up to 10 gas mixes.
These options are better suited for experienced divers who require versatile dive computers.
The one for beginners
Novice divers looking for air integrated dive computers may prefer the simplicity of the affordable Aqua Lung i470TC. It has an easy-to-navigate interface but only offers logging for recreational dives.
Wrist or Console – Wireless or Hose?
While most of the dive computers discussed feature wrist-mounted designs, some divers may enjoy a hose-mount computer. All wrist-mounted dive computers that are listed in the reviews above are wireless air integrated dive computers and most can handle multi-gas dives.
The Sherwood Vision Dive Computer is one of the cheapest options. The simple three-button interface and quick-disconnect hose fitting make it a popular choice when you're having a look at air integrated dive computers.
To select the right option, consider your typical diving conditions and overall experience to pick the best air integrated dive computer.
Share It!
If you like this post about finding the best dive computer that is air integrated then can we please ask you for a favor? Can you please share it on your social media channels like Pinterest, Facebook, Twitter, or Instagram? You can use the image below.
We appreciate your support! Please use the image below to pin to Pinterest!