Suunto Dive Computer Settlement
Suunto has settled a class-action lawsuit in the US. It covers a number of Suunto dive computer models that were allegedly defective. They agreed to pay $50 million due to 'faulty' scuba computer hardware and software.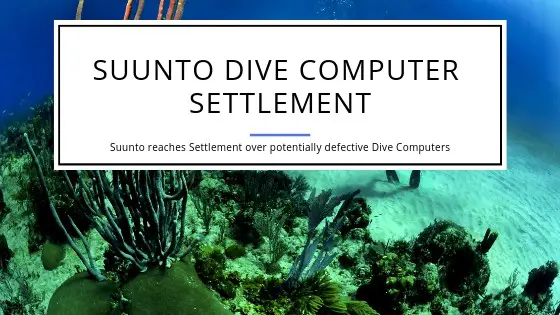 Which Models are affected?
The models included had been built between 01/01/2006 and 08/10/2018. The following models are/were affected:
Cobra (Cobra, Cobra 2, Cobra 3, and Cobra 3 Black)
Vyper, Vyper Novo, Vyper 2, and Vyper Air
HelO2
Gekko
Vytec and Vytec DS
Mosquito
D4, D4i, and D4i Novo
D6, D6i, and D6i Novo
D9 and D9tx
DX
The lawsuit states that the models were built and sold by Suunto and distributed by Aqua Lung. The claim is that these dive computers were defective. The readings for depth and temperature were not accurate and potentially could put divers in danger.
The settlement enables you to get a free inspection, repair or replacement for these dive computers. After getting a RMA number from Suunto and you sending your dive computer in, they will determine whether your model has a faulty depth pressure sensor. If it does it will either be repaired or replaced for free.
How did it start?
Getting the accurate depth and temperature is critical while diving. Some divers determined that the depth shown on their Suunto dive computer did not match the real depth they were diving at.
Being aware of your depth is important as it impacts how long you can stay underwater, how quickly you can ascend, whether you need safety stops, etc. It's obvious that wrong readings can put you in danger to get the bends.
After researching these initial issues, it became clear that this was not a single occurrence of a faulty dive computer. Many divers over the years have experienced the inaccurate depth readings on their different Suunto models.
The claim is that both Aqua Lung and Suunto knew about it but did not efficiently fix the issues even when the devices came in for repair. Supposedly, the remedy was to replace the dive computer with a new one. The problem here certainly is that the new dive computer had the same faulty depth sensor in it and that resulted in not fixing anything for the affected divers.
The lawsuit stated that both Suunto and Aqua Lung knew of those defects but did not issue a recall. Instead, they continued to sell these models. The lawsuit further states that both companies should have stopped selling the products and replace the faulty depth sensors in their design.
Both Aqua Lung and Suunto denied any wrongdoing on their part. The settlement was reached to keep the issue out of the courts.
What do you have to do now?
You can find out whether you qualify for the settlement at http://www.suuntodivecomputersettlement.com/ and/or at https://www.suunto.com/en-us/Support/dive-safety/suunto-dive-settlement/. Both pages provide detail on how you can find out whether your Suunto dive computer is affected and how you can have it checked out!