Cressi Leonardo vs Donatello Entry-Level Dive Computer Comparison
Two of the best entry-level dive computers come from Cressi. First, there's the Cressi Leonardo which might be overall the best-selling dive computer so far.
Next, the one touted the Leonardo's successor, the Cressi Donatello. It's more modern in looks and slightly more capable. Is it overall worth going for it, though?
We compare the two models side-by-side for you. Pick whichever suits your needs best. Neither of those two dive computers will let you down when you scuba.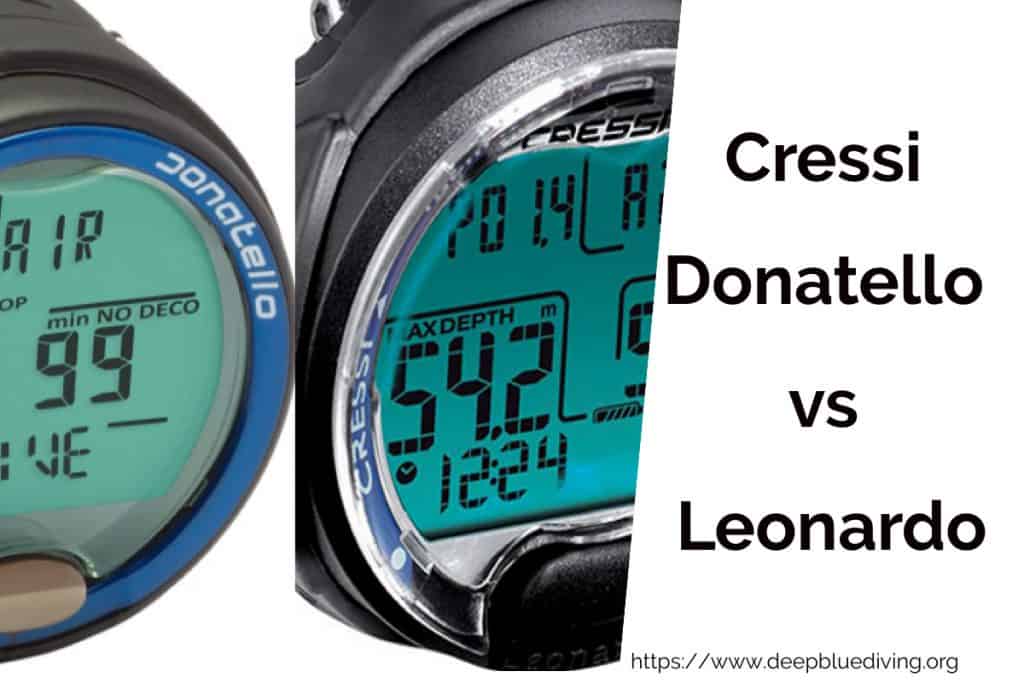 Cressi Leonardo Dive Computer
The Cressi Leondardo is one of the best entry-level dive computers (Best Dive Computers for Beginners – Buying Guide and Reviews) you can get. It's a wrist-watch design that is easy to navigate with a single button.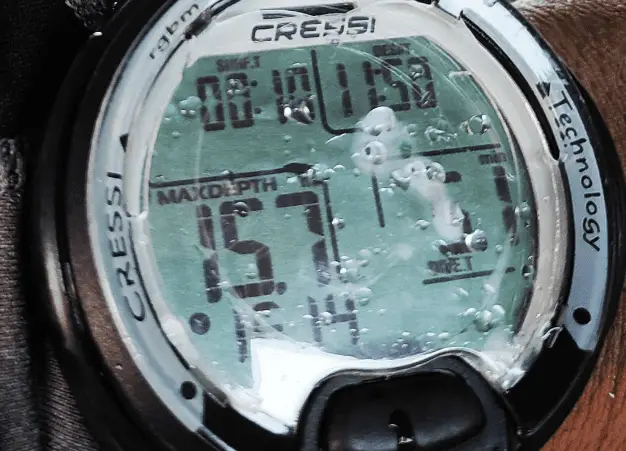 It uses the Cressi RGBM algorithm with three user-adjustable conservatism settings. One of the reasons the Leonardo became so popular is that it was a perfect dive computer to rent by dive shops. It could be completely reset to forget any history and give each new diver a fresh start.
The display is relatively easy to understand and read. However, one of the downsides of the Leonardo is that the backlight is not very strong. There are a number of divers that feel like a slightly brighter backlight would have been a considerable improvement.
Cressi Leonardo Review – A dive computer worth buying?

Cressi Leonardo vs. Giotto – Recreational Dive Computers Compared
Cressi Donatello Dive Computer
The Donatello uses many of the design features of the Leonardo. It also comes with a single-button navigation that you can quickly master.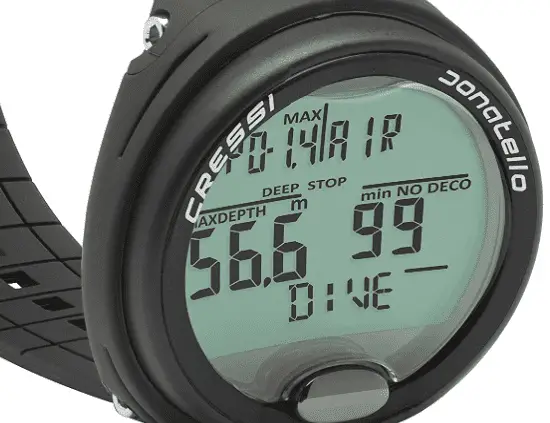 Aside from the sleeker looks, some small yet essential improvements are to be found under the hood. 
First, the Donatello uses an improved version of the Cressi RGBM algorithm. It also separates the dive modes into Dive (Air/Nitrox), Freediving, and Gauge. The free (Apnea) program is an addition that you won't find on the Leonardo.
The biggest improvement is the display and backlight. The screen is easier to read and intuitively understandable. The backlight is stronger, and you won't have any trouble reading it underwater in low light conditions.
Lastly, the Donatello has a significantly better battery life. You can expect the battery to last around twice as long as with the Leonardo. Both dive computers allow you to change the battery yourself.
The Donatello does keep proven and desired features found on the Leonardo. You have many alarms and warnings and the capability to reset the device to erase all history. This makes it an exciting option for dive shops that rent out dive computers.
Side-by-Side Comparison of the Cressi Donatello vs Leonardo
Cressi Leonardo
Cressi Donatello
Navigation
Single Button
Single Button
Modes
Air, Nitrox, Gauge
Air/Nitrox, Free/Apnea, Gauge
FO2 Adjustment Range
21% – 50%
21% – 50%
PO2 Adjustment Range
1.2 – 1.6 bar
1.2 – 1.6 bar
Algorithm
Cressi RGBM
Modified Haldne and Wienke
Cressi RGBM
w/ uncontrolled Ascent Protection Algorithm
Conservative Adjustments
3
3
Visual and Auditory Alarms
Yes
Yes
Ascent Alarm
Permanent
On/Off
Deep Stop
On/Off
On/Off
Log Book
60 dives/75 hours
50 dives per mode
Sampling Rate
20 seconds
5 seconds (Air/Nitrox, Gauge)
2 seconds (Free)
Battery
User-Changeable
CR2430
User-Changeable
CR2430
Est. Battery Life at 50 dives per year
2 years
4+ years
Total Reset
Yes
Yes
PC/Mac connectivity
Optional USB interface
Optional USB interface
Final Thoughts on comparing the Cressi Donatello vs Leonardo
In our opinion, it's not a big decision to make. It's clear that the Donatello has various improvements over the Leondardo that make it worth choosing it.
The improved display and backlight alone are worth the slightly higher price to get the Cressi Donatello. If you're just looking for a solid backup dive computer and want to save some money, then by all means, go for the Cressi Leonardo. It's a proven device that is used by many scuba divers.