Cressi Leonardo vs. Giotto – Recreational Dive Computers Compared
Comparing the Cressi Leonardo and the Giotto
Cressi designed two dive computers themselves: Leonardo and Giotto. While the Cressi Leonardo dive computer targets the entry-level market, the Giotto targets pretty much any experience level in the recreational diving market. Besides them targeting slightly different markets, what are the differences when you compare the Cressi Leonardo vs Giotto?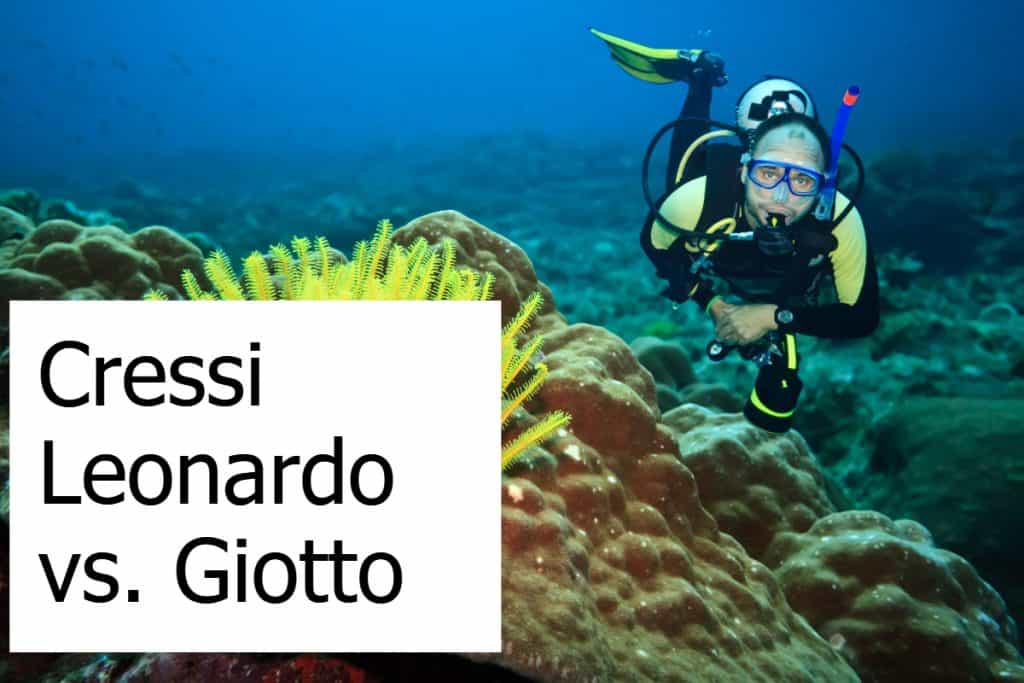 After giving them a first glance, you see they have quite a few differences between both of these entry-level scuba diving computers. And no, that's not only the price point. The Leonardo is cheaper and is one of the most affordable scuba computers you can find. The price point of the Giotto is higher but it does in return offer more functionality.
Functionality Differences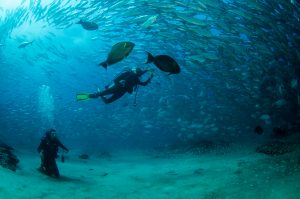 The immediate difference you will see is that the Giotto has three navigation buttons vs. one on the Leonardo. This has advantages and disadvantages.
It makes for quicker and easier navigation through the menus as you can go back and forth with two of the buttons. The single-button navigation on the Cressi Leonardo dive computer forces you to step through each menu choice to get to the one you want to go.
However, having a single button interface also has a nice advantage. You won't press the wrong button by accident. That is true if you're diving with thicker gloves. The single button navigation can make it easier for divers in those circumstances.
Having three buttons can make it a little hard to press the right one in that case. Assuming though that the Giotto is used by a more experienced diver also means that one would expect that the diver is calm enough to take the time to press the correct one.
Both dive computers are very similar in size. They both provide a large and sharp display. The data displayed on the screen shows clearly and is easy to read.
The Giotto besides showing the standard data like depth, dive time, etc. also has a graphic CNS oxygen toxicity indicator. This measures and displays the oxygen toxicity level for the Central Nervous System (CNS).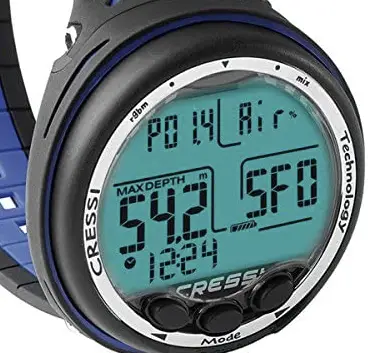 User Changeable Batteries
The Leonardo and the Giotto have user exchangeable batteries. They cannot be hot-switched, meaning the current data is lost while you switch, but you don't have to bring or send the dive watch to a service center or dive shop.
This makes it easier to have a spare battery with you so you change it yourself if needed. They display the current battery level on the display of both models.
Nitrox Handling and Sophisticated Functions
The Cressi Leonardo provides the basic functionality you'd expect from an entry-level scuba computer. It allows using one air nitrox gas mix up to a 50% oxygen level.
You can dive with air or Enriched Air Nitrox but you can't switch the gas during a dive. Being designed for a beginner, it does not provide the capability to switch from air to Air Nitrox during a dive.
The Cressi Giotto can handle two Air Nitrox mixes up to 99% oxygen. To support more experienced and technical divers, you can switch between gases during a dive. It is also equipped with handling an Air Nitrox dive after a dive with air even if you're desaturating.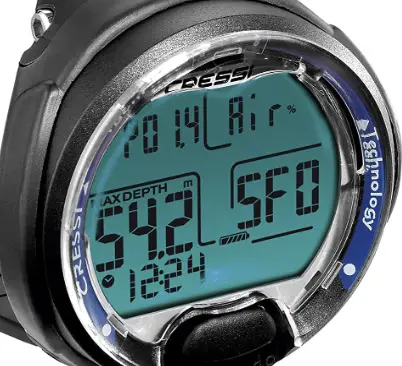 Is the Suunto Vyper Novo an alternative to the Cressi Giotto?
Reset Capability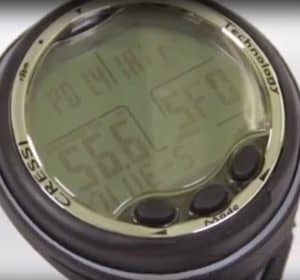 A feature that makes both models attractive for rental shops is that they can be reset after a dive. Many other dive computers don't have this capability. At that moment they take data from previous dives into consideration when they calculate dive limits for the current dive.
Both the Cressi Leonardo and the Cressi Giotto dive computer can be completely reset so they calculate the current dive without considering a previous dive.
Missing Capabilities
Neither the Giotto nor Leonardo offer the functionalities you can find in higher-end computers. Specifically, you won't find any sort of air integration on these scuba computers.
Neither is a good choice for a Dive Instructor
For most recreational divers this does not pose a problem. If you are a scuba instructor that needs to monitor the air levels of students or like the convenience of seeing your tank levels (How Long Do Scuba Tanks Last?) on your wrist, then neither the Giotto nor the Leonardo will be a good choice for you.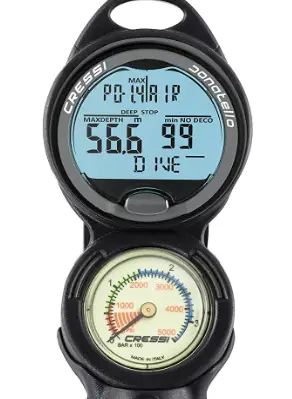 The same is true for both devices not having an integrated compass. Both dive computers come in a console setup though instead of a wrist computer. The console version is equipped with a second instrument which can either be a compass or a pressure gauge.
Console Mount Option
Both the Giotto and Leonardo come as consoles. These console setups combine the computer with either a compass or a pressure gauge. While this is a tempting proposition, it also has its disadvantages.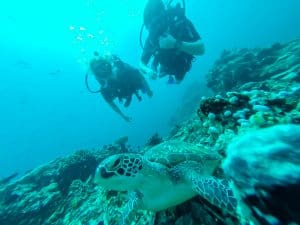 Go for the console if you want to see the data which can be tricky if you have your hands full, e.g. in an emergency when you help your buddy. It's easier to look at your wrist in those cases.
This comparison only highlights the major differences between the two models. You can check out our detailed review of the Giotto dive computer here. If you lean towards the Leonardo dive computer, then have a look at this in-depth review which should answer all your questions.
Verdict
If you're a beginner and you know you will stick with the sport, then you might be better off investing the additional money and choosing the Giotto. The additional functions allow it to grow with your experience.
Cressi Leonardo – Great Entry-Level Scuba Computer
The Leonardo is a fantastic beginner and budget dive computer but it has its limitations when it comes to the functionality offered. Does it have enough capability to get you through your first 100 or even 200 dives?
Yes, it does. Will you hit the ceiling with what it offers afterward? There's a chance you might.
Cressi Giotto for more Experienced Recreational Divers
If you're able to pay a little more by getting the Cressi Giotto, then you push that ceiling farther out. You most likely will never run out of functionality on it if you're recreational diving or even want to venture into some mainstream technical dive certifications.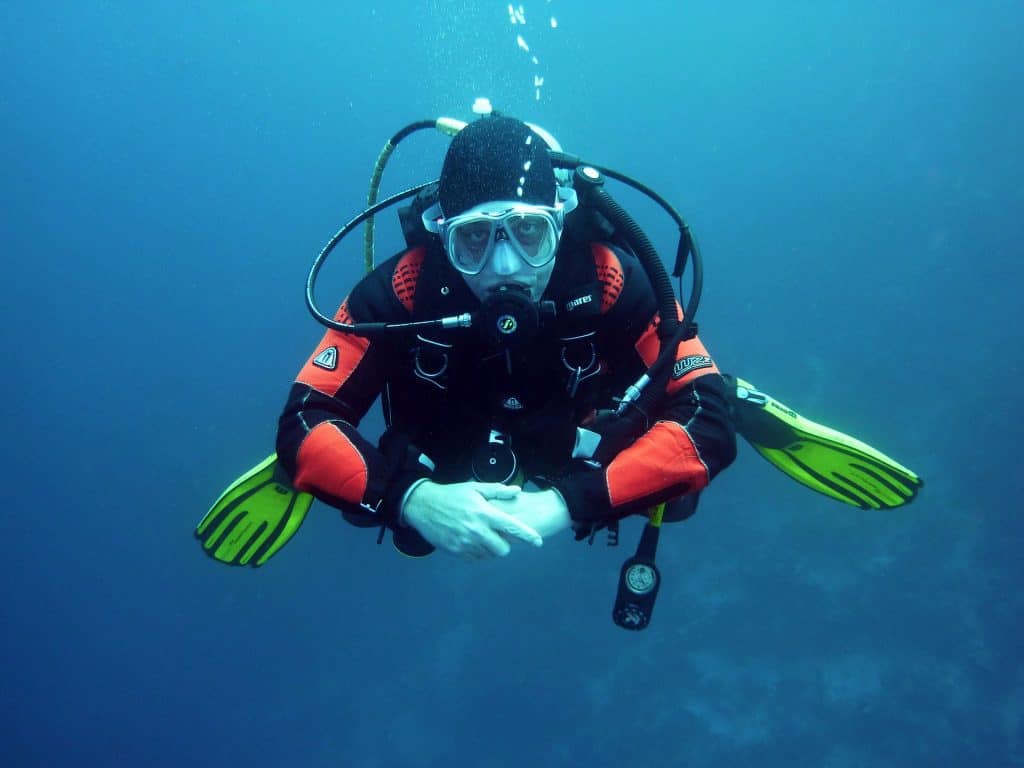 A big advantage of the Giotto vs the Leonardo for more experienced divers is the three-button navigation. As a beginner, it might end up being a little confusing to use three buttons to step through the different features but with some experience, it's faster and more intuitive.
Before you buy any of the two models think about how long you might need to reach 100 or 150 dives. If that'll take you a few years then go with the Cressi Leonardo. By the time you will require more functionality, there's a good chance that the technology has evolved and you get a newer model than what is available today.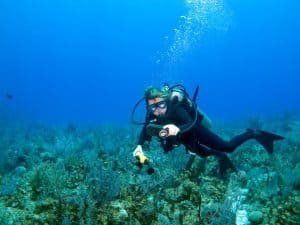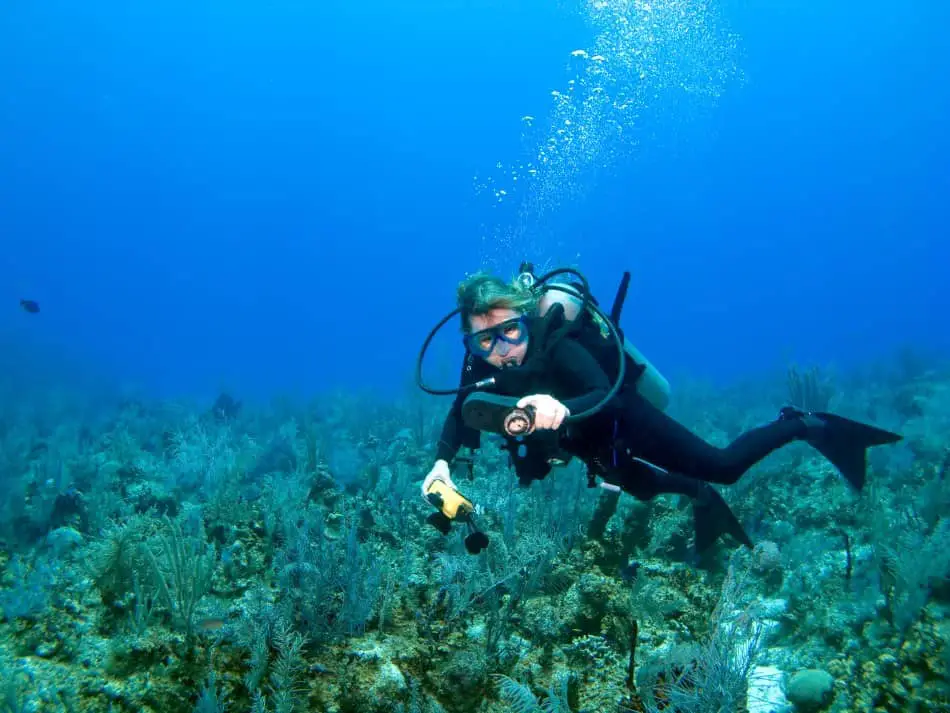 If you think you'll be able to reach that number in a year or two then opt for the Cressi Giotto. It offers what you need for the next years to come.
There's a good chance that there won't be any significant technology changes by the time you reach the need to take advantage of the more sophisticated functions.
Neither of these two models will be a good choice for divers that already have numerous dives under their belt and that look for features like air integration. There are numerous scuba computers available that offer all the bells and whistles. Have a look at our overview of the best diving computers you can get. You can find this selection of top products here.
If you're furthermore interested in devices that compare to the Cressi Leonardo dive computer then we have done several other comparisons that might be of interest.
First, we compared the Suunto Zoop Novo dive computer to the Leonardo. Both are entry-level scuba diving computers that match up pretty closely in their capabilities. You can have a look at the comparison to get the information to make a good buying decision.