2
Cressi Giotto Dive Computer Review
Dive computers are abundant on the market and cater to every type of diver. Whether you're a recreational or technical diver, you can and will find a match. The Cressi Giotto is targeting the recreational diver.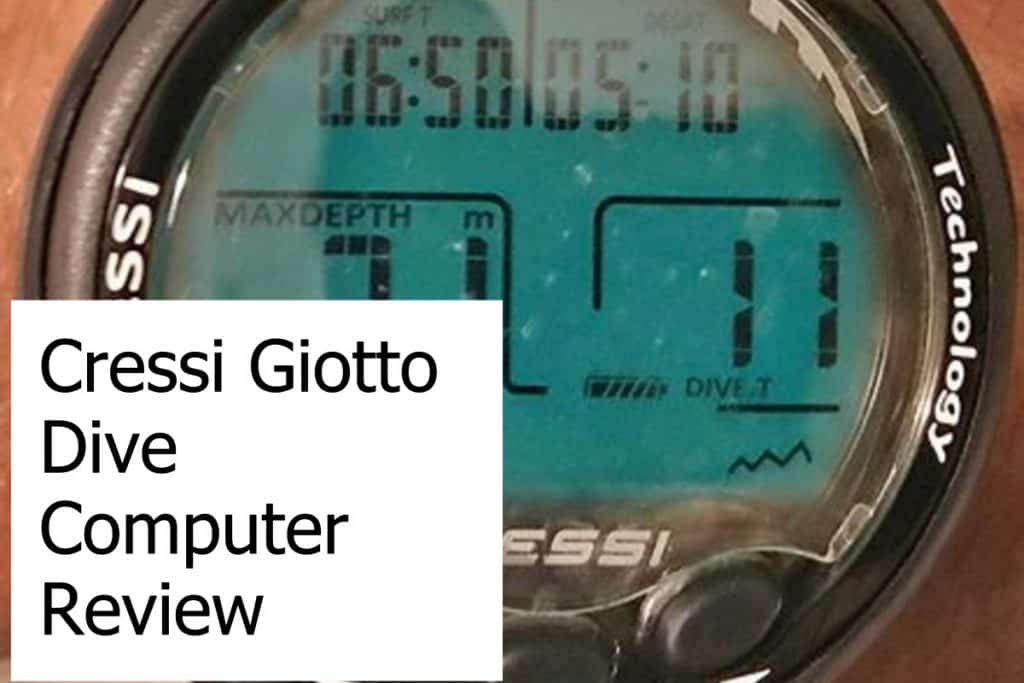 The device has a large display and functionality that allows it to grow with the experience of the diver. The display shows all the necessary information on a high-resolution screen. A quick look is usually enough to get the information you need.
Cressi Giotto Dive Computer Review Summary
The Cressi Giotto is designed for beginner to medium experienced recreational divers. It is a rather large wrist or console-mounted scuba computer. It is not usable as a wristwatch.
The menu navigation is kept straightforward on the Giotto. Compared to the Leonardo, it comes with three buttons instead of one. You're getting good value for the price. It is priced just above the basic entry-level diver computer.
What we liked
The display is large and sharp
Easy navigation with three buttons
Features for entry-level and experienced divers.
Logbook that is large enough to store data for 60 dives
Complete reset mode for rental shops
What we don't like
Too large to wear as a watch
Summary
The Giotto from Cressi is an excellent diving computer. Cressi added a few features to the functionality that make it a device that you can use for many years. It will grow with you, and the only missing thing might be air integration. Other than that, it's a scuba computer that works for beginners as well as experienced divers. And all that comes at a great price point.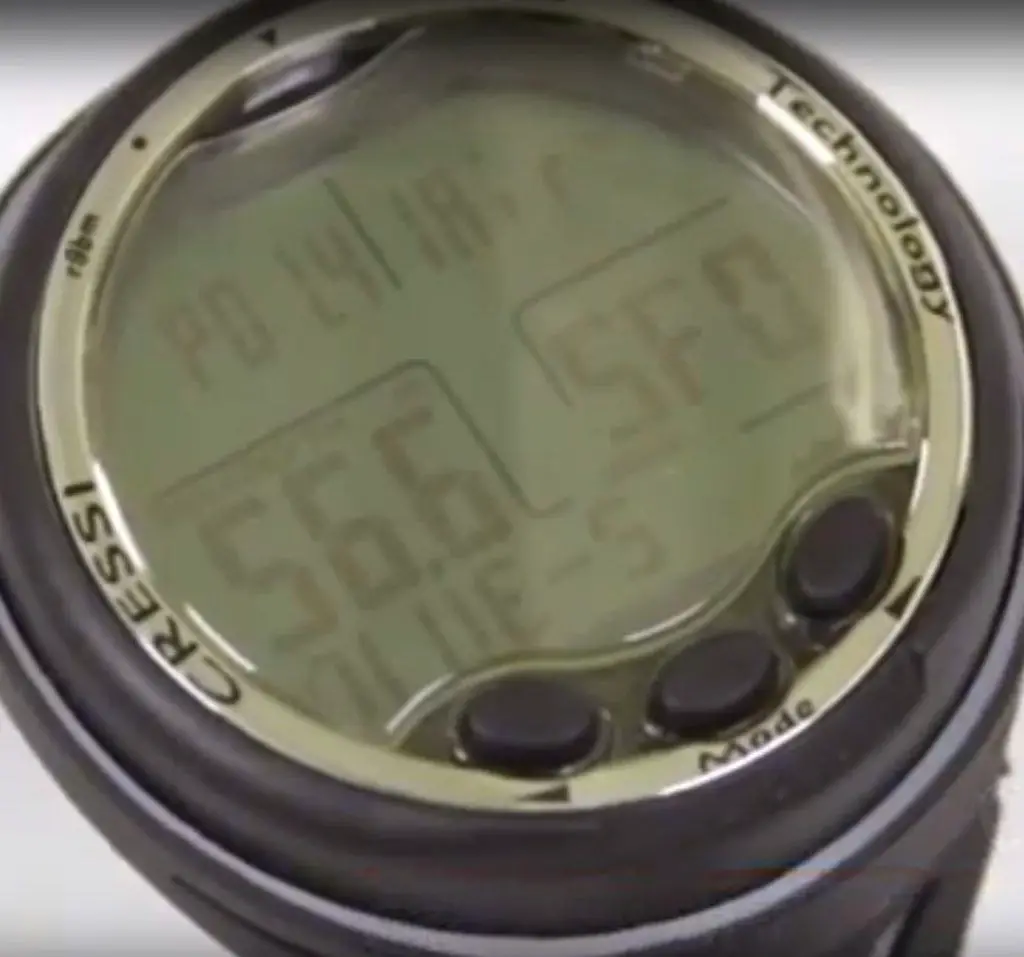 Overview and Review of the Cressi Giotto
You will notice that the display is quite clean as it is not stuffed or bombarded with strange abbreviations that beginners might have a hard time understanding. There are lots of personal diving computers with advanced information displays that are better suited for professionals.
The Giotto is available in a large variety of colors:
Black/Red
Black/Blue
Black/Green
Black/Grey
Black/Black
Black/Yellow
Black/Pink
Black/White
White/Lilac
​While the shape is that of a traditional wristwatch, the size is not. Its size reminds more of a hockey puck in diameter but not in height. For a diver computer, though, small size is not the most important thing, yet being able to read the information on the screen quickly is. And the Giotto does an excellent job with that.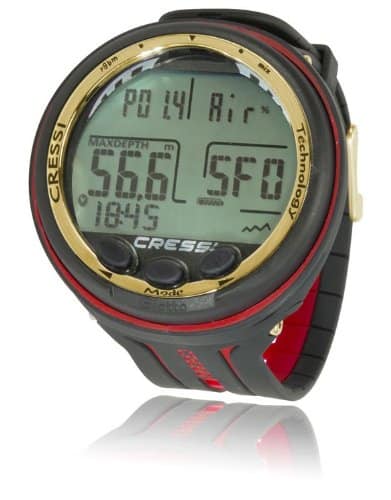 Capabilities
The Cressi Giotto has the basic shape of a wristwatch, but due to its size, it is too large to be used as one. The large size has advantages, though, as the screen allows you to read all data at a glance.
It offers three different dive modes:
Air
Nitrox
Gauge
It is a wrist-mounted scuba diving computer. It's also available in two console versions. One with a mini pressure gauge and the other with a compass. In all three variations, the Giotto shines as a reliable and functionality-rich dive computer.
The large display size allows seeing all critical data in one view. The data is separated and easy to read. It makes it easy for a diver of any experience level to get the vital information that is needed for a safe dive.
Navigation is managed through three easy to access buttons. They are accessible and usable even when wearing gloves. With thick gloves, it can start to get a problem to hit the right button, but that should not be a problem for most divers. 
The battery level is visible on the screen. The battery itself can be changed by yourself without a problem. No need to having to bring the computer to a dive shop or service center!
The navigation overall is straightforward with the three buttons. Compared to single-button design, you also don't have to switch through all menu choices to get back to where you want to be. The forward and backward buttons allow for quick switching to get to the menu you need.​
The Giotto has numerous audible and visual warnings for a wide range of conditions:
Max. Depth
CNS Toxicity Alarm
Ascent rate violation
High PO2
Decompression depth warning alarm
Decompression air and nitrox warnings
Deep stop warning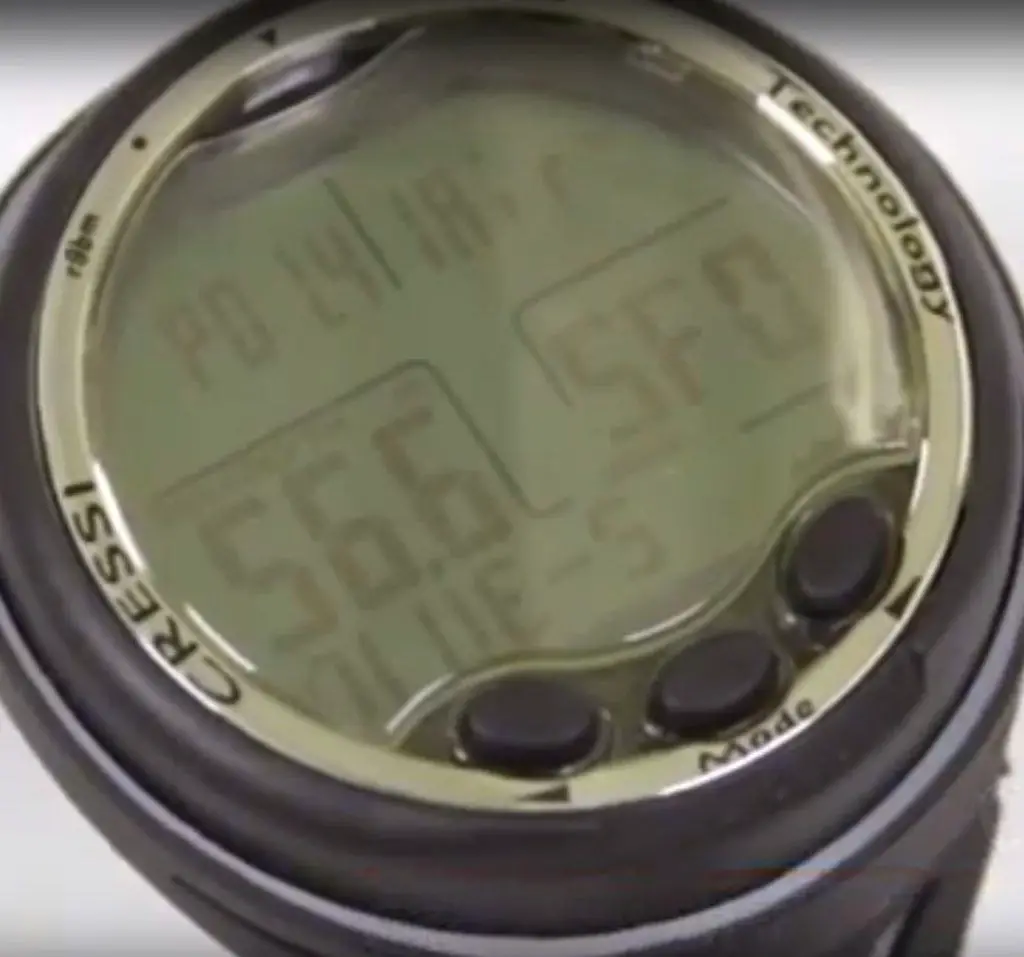 Do you need to know how to use scuba dive tables when you have a diving computer?
Technical Capabilities
This personal scuba diving computer can handle oxygen levels between 21% and 99% in Nitrox mode. It is capable of handling two different gas mixes, which can be switched during a dive. The pO2 limits for this device can be adjusted between 1.2 and 1.6 bars.
The maximum operational dive depth is 120 m (394 ft). For dives at higher altitudes, it can be set to altitude levels of up to 3,700 meters (12,139 ft) in four different altitude settings.
The underlying algorithm is Cressi's RGBM. ​It is based on the Haldane model. The Haldane/Wienke model was modified by Cressi to adapt it to their needs.
The algorithm itself is rather liberal. The Giotto allows adjusting the conservatism of the algorithm in case you prefer to use a model with higher safety margins. The computer supports three safety settings/factors. By default, the computer will take the Cressi model without any safety factor added on top.
The Giotto has a specific display to show the oxygen toxicity level for the Central Nervous System (CNS). This CNS Toxicity display relates to the partial oxygen pressure taking into consideration the diver's exposure time. The resulting toxicity level of oxygen is continuously monitored and displayed in a graph on the screen.
Dive Log and Connectivity
​The log in the device can hold data for up to 70 hours of dive data. Assuming typical dive lengths, this is enough for around 60 dives. The data is sampled every 20 seconds. The sampling rate cannot be changed. The information for past dives can be accessed on the device itself. A detailed analysis of previous dives can be performed on a PC when the dive log has been transferred to it.
The connector to the PC or Mac is sold separately. You can then analyze the detailed dive information with the provided software. You can also adjust the data to run simulations of future dives.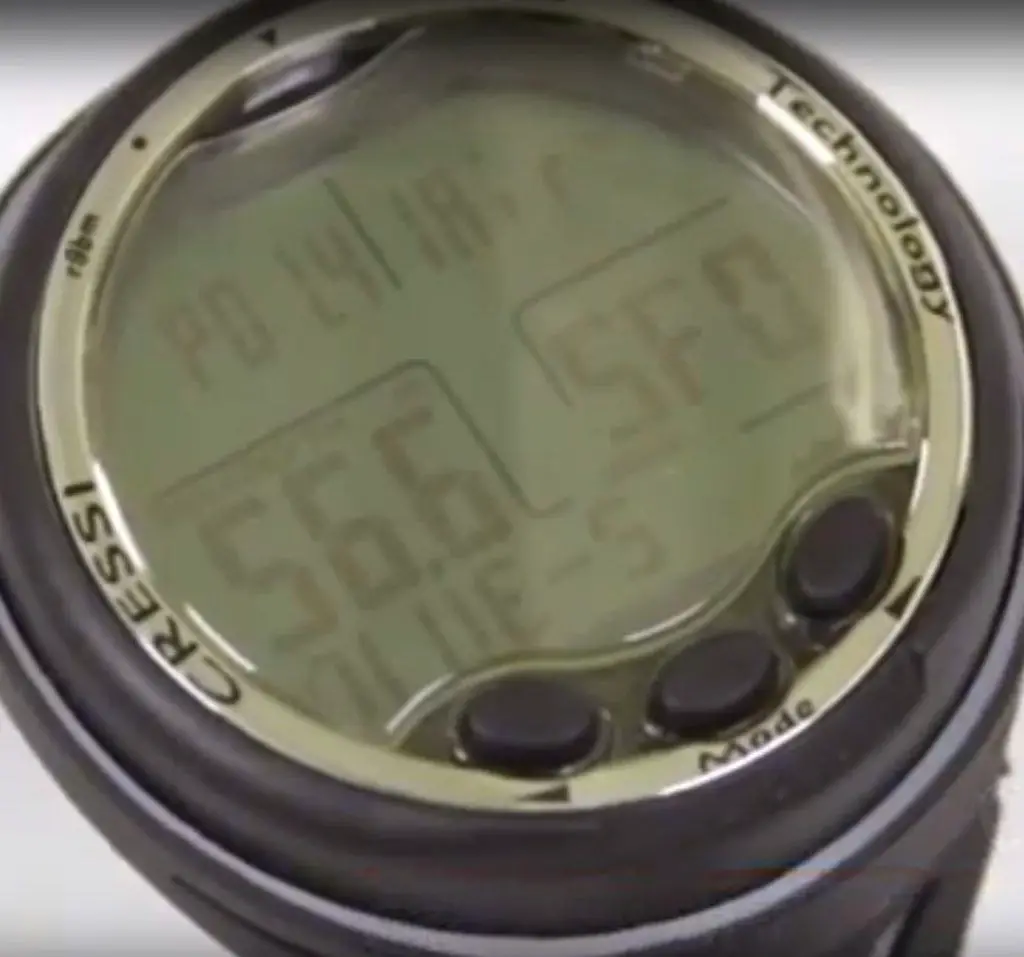 Could the Suunto Vyper Novo Dive Computer be an alternative? Check out our review!
Missing Functionality
It is considered to still be an entry-level dive computer. Being that, there is functionality missing that you will get from a more sophisticated and expensive device.
The two most apparent missing functions are the lack of a built-in compass (which you can get when you buy a console) and the missing air integration (also available through the console). Both are not common in any scuba computer in this price range, so you will have to pay a lot more to get them in a higher-end scuba diver computer.​
Be aware, though, that these missing functions are not necessarily a problem for a recreational diver. Typically, the set of features provided is sufficient for recreational diving, and you won't need more.
Features/Specifications
Easy to use three-button navigation
Alarms both audible and visual
Large high-resolution display with clear sections to display data
Three dive mode settings for Air, Nitrox, and Gauge
Two Nitrox settings between 21% and 99%
Limits for PO2 between 1.2 and 1.6 bars
Cressi RGBM algorithm
Maximum operating depth 120 meters/393 feet
Four altitude settings up to 3,700 m (12,139 ft)
Display either imperial or metric data
Dive log up to 70 hours equaling 60 dives
User-replaceable Lithium battery
Available in a large variety of different color combinations
Two years limited warranty
Pros and Cons
The Cressi Giotto is an excellent personal diving computer for medium experienced recreational divers. It's built and designed by one of the leading brands in the scuba realm, and it provides all features that you could ask for. 
The display is sharp and provides an easy view of the essential data. The pricing is right for the capabilities you get. It's an excellent wrist computer that can grow with your increased needs over the years.
Pros
Easy navigation with three buttons
Cressi RGBM algorithm
Three different dive modes (Air, Nitrox, and Gauge)
Two Nitrox mixes
Gas switching during a dive
All capabilities included for a medium experienced recreational diver
Cons
No compass
No air integration
Not a wristwatch
The functionality provided by the Giotto makes it a solid choice for a diver that has some experience. It's easy enough to use so that a beginner diver can use it and grow with it. 
Being able to program two different Nitrox mixes and switch gases during a dive is a great feature that a diver could need after gaining some experience. It does not offer high-end features like air integration or a compass, but that is reflected in the price. Unfortunately, it cannot be extended with air integration at a later time. Most recreational divers will not miss this functionality, though.
Where to Buy?
The most color combinations for the Cressi Giotto can typically be found on Amazon. All optional equipment like the PC connector is also available.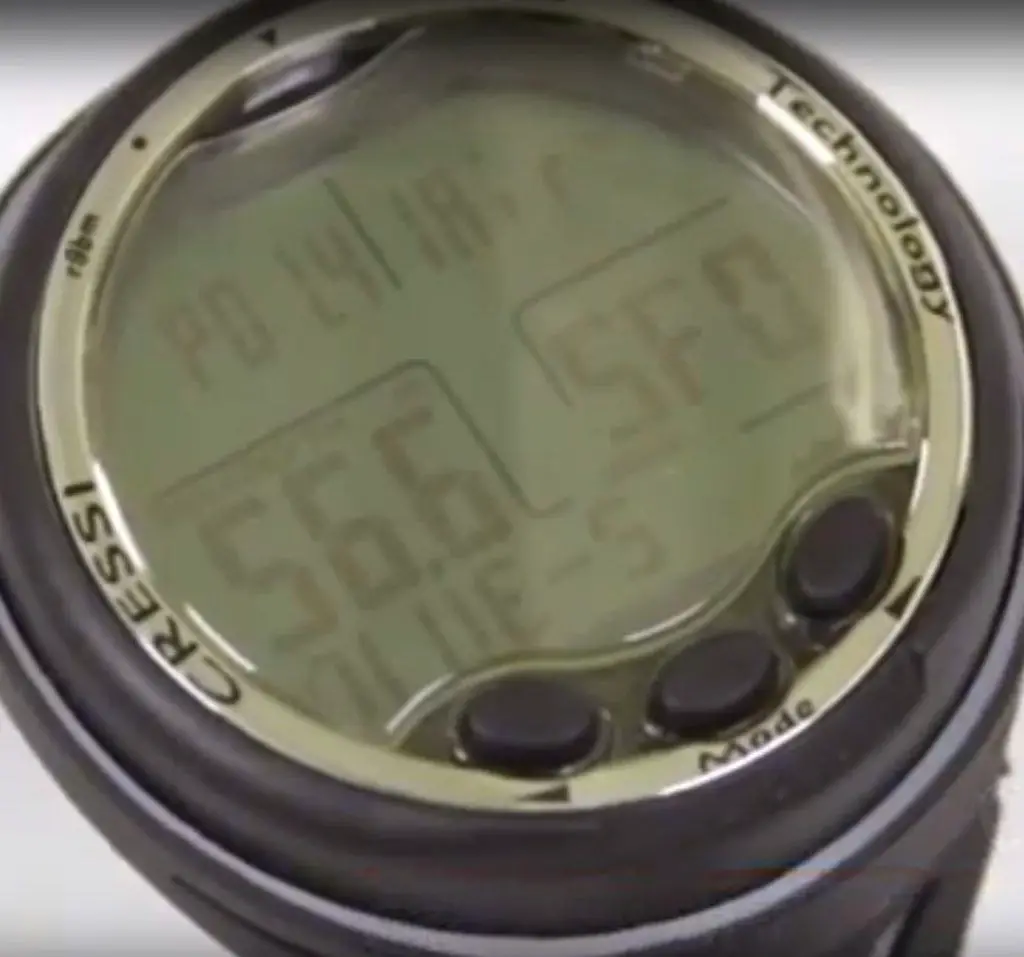 Customer Feedback
Having a look at the customer reviews on Amazon shows that divers who bought the Cressi Giotto are overwhelmingly happy. You'll be hard-pressed to find any negative reviews on this item except for some connectivity issues to specific macOS versions as well as a device that was dead on arrival.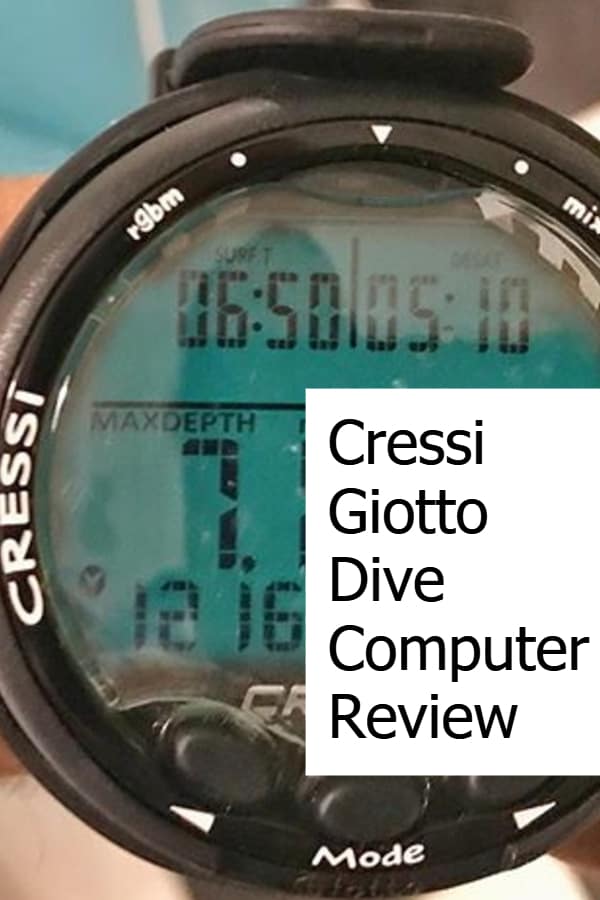 Conclusion
The Giotto is offering all the features you can ask for in a diving computer for recreational divers. It's a step up from the Cressi Leonardo, which is one of the best entry-level wrist computers available.
The screen is easy to read and provides all necessary information separated in a single view. With up to two Nitrox mixes, you'll be able to use this diving computer for many years to come as it can grow with your needs.
There should not be any functionalities needed for a recreational diver besides what it offers. For technical divers, a compass and/or air integration might be required, which is not supported by this device.
Who is it not for?
​This is an excellent question. We think that it fits the bill for pretty much any level of recreational divers. A technical or professional diver might ask for a few more functions, but otherwise, you'll be happy with this device.
The Cressi Giotto does offer all the features you can ask for as a recreational diver. Some might prefer to have a watch-sized device with similar capabilities. In that case, you might want to consider the Mares Smart.
Infographic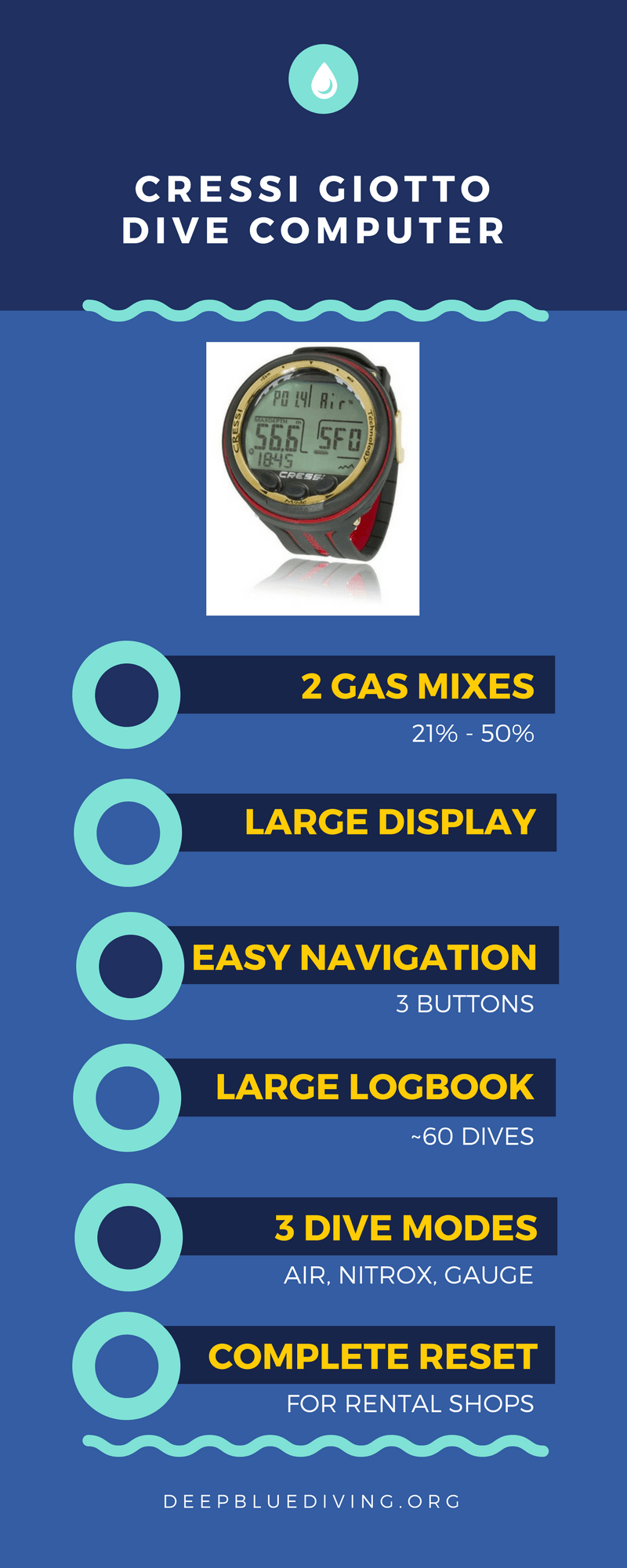 Use the code below to share the infographic on your site