Cressi Goa Dive Computer Review
Cressi introduced the Goa dive computer not too long ago. It's a wrist watch-sized device that comes packed with functionality.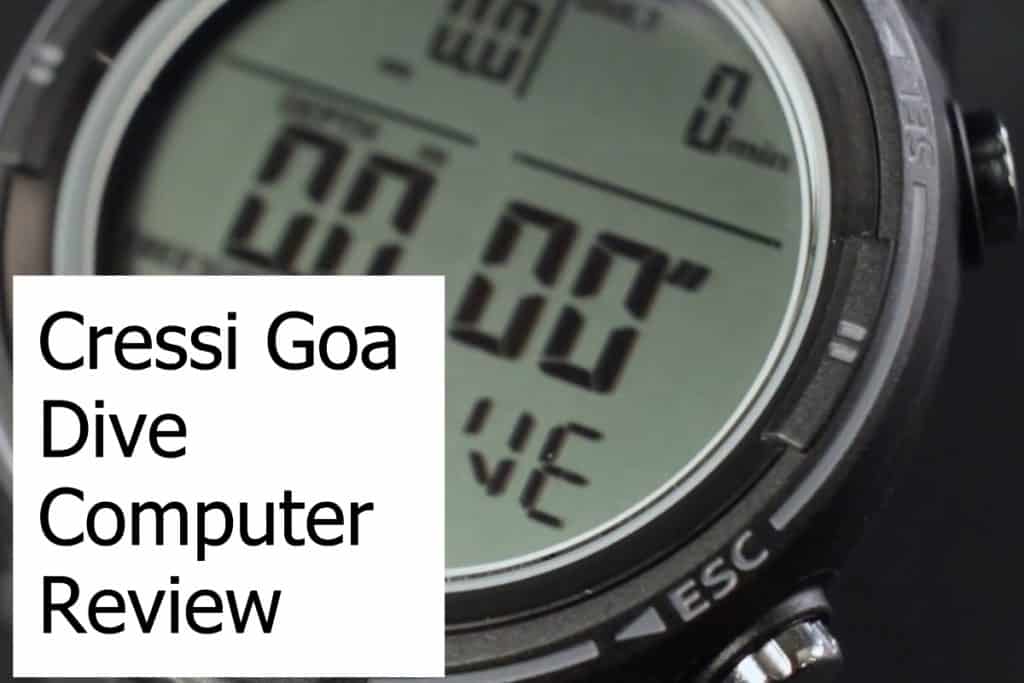 Initially, it had not available yet in the US. In the meantime though its here and it's a solid contender for the lower-end dive computer segment. You're looking at similar features as in a Cressi Leonardo. The Goa is sized as a watch that you can wear every day.
Review Summary of the Cressi Goa Dive Computer
The Cressi Goa is a dive computer for beginner and recreational divers. It is wristwatch sized so it can be worn every day.
The simple two-button navigation allows quick menu access. It is very reasonably priced for the features it offers.
What we like
Can be worn as a day-to-day watch
Large numbers on display for quick reading
A large number of dive modes
Can be completely reset
What we don't like
Summary
The Cressi Goa is a very compact scuba wrist computer where most of the features match the Leonardo. You're ​looking at a great dive computer for beginners and recreational divers. 
Many divers never require the missing features like air integration or a compass and as such this might just end up being the only one you ever get.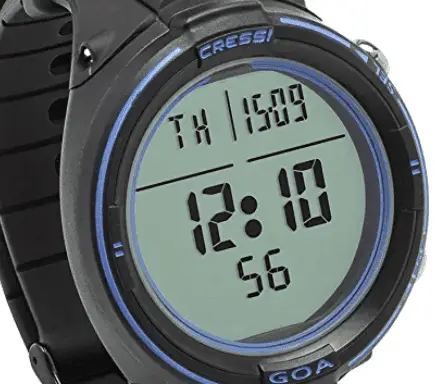 Overview and Review of the Goa from Cressi
The Cressi Goa is available in a number of color combinations: black, black/grey, black/blue, white/pink and white/grey. You'll be able to find a stylish color combo that you can wear every day.
Capabilities
The Cressi Goa supports the following dive modes:
Air
Nitrox
Gauge
Free Dive
Off Mode
The Cressi Goa has a diameter of only 48 mm making it a great size to use and wear as an everyday watch. It features a high contrast display with large numbers to make it easy to read under any circumstance.
As you would expect, the display is backlit for dark environments. The time can display in 12/24 time format and it has a calendar function.
Navigation on the Goa is managed through two buttons on the side. The navigation is easy and straightforward.
The Goa offers a number of alarms that are both visual as also audible:
​Breach of ascent speed
Decompression ceiling violation
pO2 limit violation
Low battery
A great feature included in the Goa, similar to the Leonardo, is that the computer can be completely reset. This makes it a perfect device for dive shops as they are able to perform the reset between different divers. At that moment no dive history is in the memory anymore and the calculations for decompression, etc. start from zero.
Technical Capabilities
The Cressi Goa can handle Air and Nitrox diving. You can switch between nitrox and air during desaturation.
The operational max. depth is 120 meters/393 feet. Additionally, the Goa provides altitude adjustments. It also includes no-fly time calculations as well as a surf time and a desaturation calculator.
The algorithm used is Cressi's RGBM. It can be adjusted for different conservatism settings. Cressi's algorithm has a long history and is proven to be safe and sound.
Dive Log and Connectivity
The dive log is reasonably large. You can keep dive data for the last 50 dives for each category. So, you can save 50 air dives, 50 nitrox dives, etc. That's plenty of capacity to store data on the dive computer itself.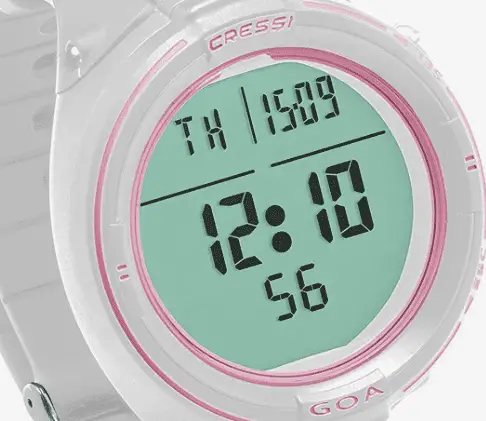 Missing Functionality
If you are a beginner or a recreational diver without the need for multiple gases then this could very well be the dive computer for you. If you are already considering switching to technical diving then this will not be the right device for you.
It's not to be expected to have air integration for a dive computer in this category. It is also not necessary to have it. It's pushing the price point up a lot to have wireless air integration and it quickly becomes uneconomical for most divers.
A built-in compass is also a nice-to-have feature that is missing. However, assuming you have a console with a compass and a pressure gauge does already take care of both of the missing features for the Cressi Goa.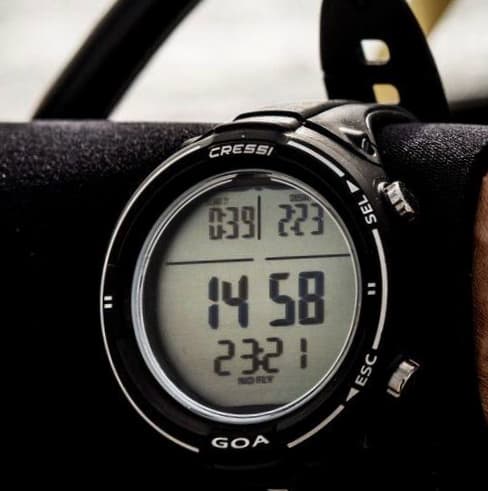 Features/Specifications
Two-button navigation
Air/Nitrox capable
Five different dive modes (air, nitrox, gauge, free diving, off)
Cressi RGBM algorithm with adjustments for additional conservatism settings
Maximum operational depth of 120 meters/393 feet
Cressi RGBM algorithm based on a modified Haldne and Wienke model
Maximum depth display to 120 meters/393 feet
Data displayed in either metric or imperial units
Dive log of up to 50 dives for each mode
You can change the battery yourself
Pros and Cons
The Goa does have the features you'd expect from a recreational dive computer. Judging the features based on the Leonardo, you'll be able to get a great dive computer for the money. In the case of the Goa you even get more features in a smaller package for some more money.
Pros
Simple dual button navigation
Small size, can be worn as a daily watch
Cressi RGBM algorithm with conservatism settings
Different Dive Modes(air, nitrox, gauge, freediving and off)
Complete reset capability
Cons
No air integration
No compass
​The features match at least the functionality that the Leonardo provides. This alone ensures that ​you get a great dive computer. A couple of missing features are nothing you'll be missing in a scuba computer in that price range.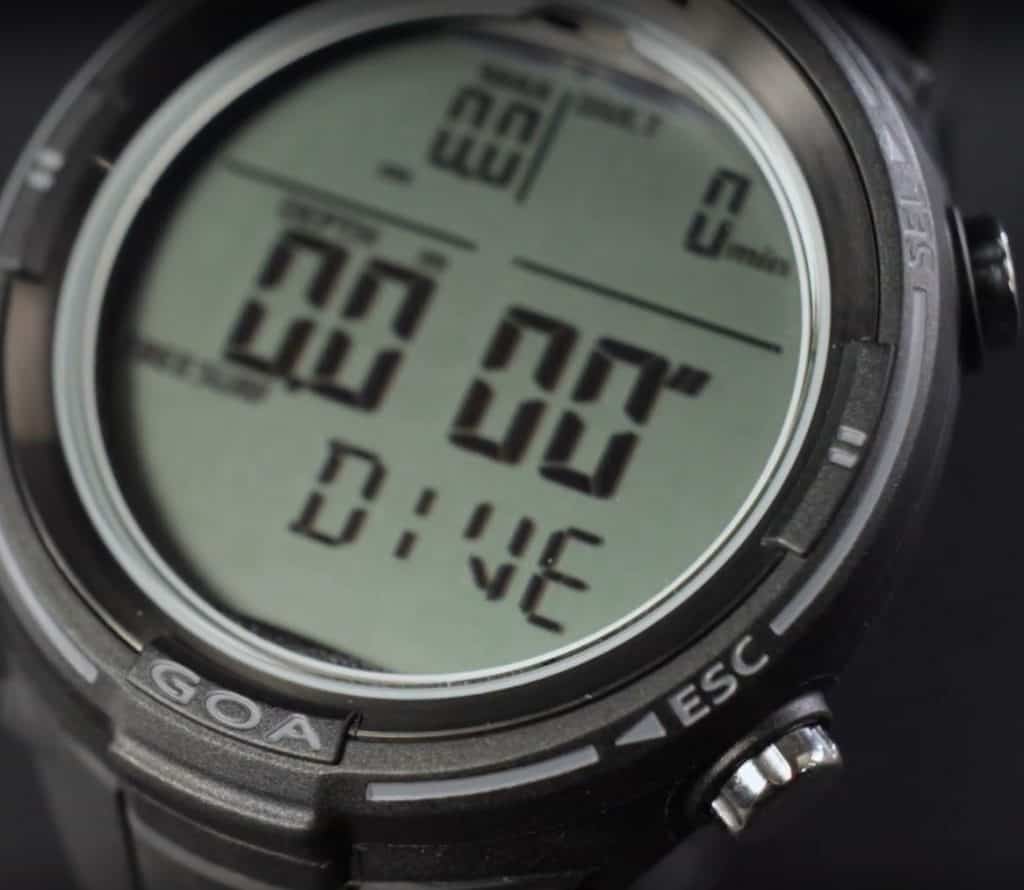 Where to Buy?
The Goa ​is available for purchase online. As with any purchases you will usually find that Amazon is one of the best places to get any of your dive gear including the Cressi Goa​. You typically have the widest selection of different colors as well as availability there.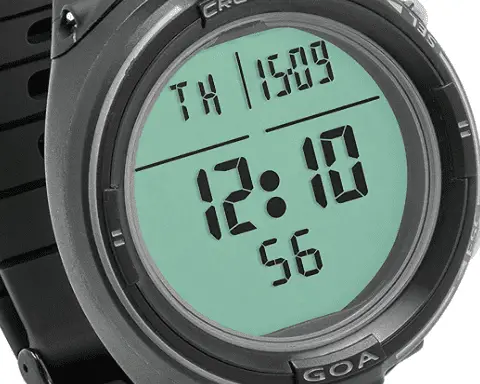 Conclusion
​The Cressi Goa ​is a dive computer with more features than the Leonardo yet all packed into a smaller package makes us believe that it'​s a great device to have. Based on the technical data you can expect a lot of functionality in a small device for a great price. ​
Who is the CRESSI Goa not for?
​If you are into technical diving then you will need features that the Goa doesn't offer. You might want to consider looking at the Suunto Vyper Novo in that case as a great choice.