DIVEROID Mini Review – Turn Your Smartphone into a Dive Computer
While many divers like their dive computers to have a large, color screen, these can often be quite expensive. Most recreational divers end up with the wrist-style dive computers with a small screen. DIVEROID has come up with a solution for such divers.
The DIVEROID Mini is essentially a device that converts your smartphone into a dive computer. It's a mini dive computer that can be used once it's connected to your smartphone and works with an app that basically treats your phone camera as an underwater camera.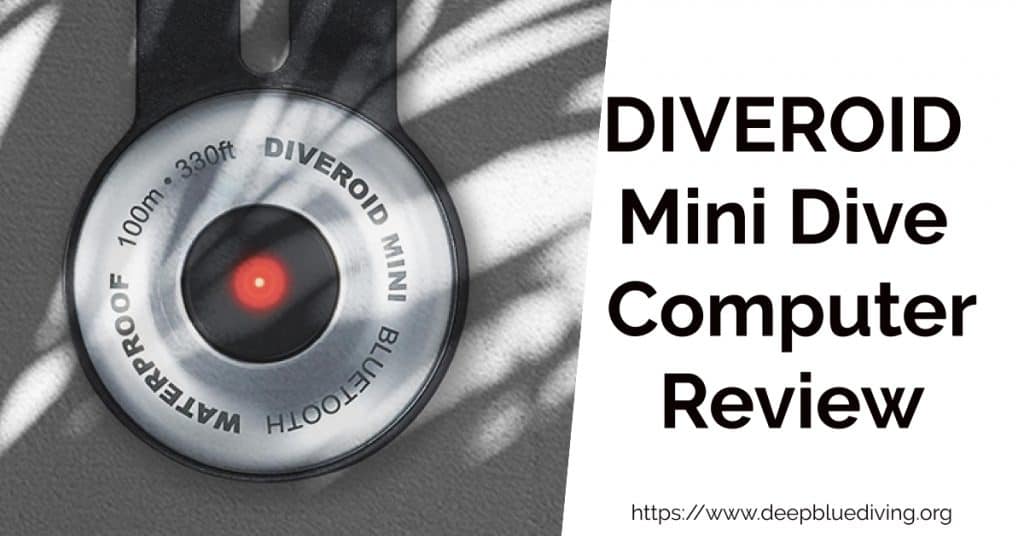 This dive computer combines affordability with a range of features, including the option to take incredible photos underwater. It comes with a waterproof case for your phone and can be connected to it via Bluetooth.
So, let's dive right into the features of this fancy new dive computer:
Specifications of the DIVEROID Mini
The core specifications of the DIVEROID Mini are as follows:
Waterproof (with your phone attached) to a depth of 60 meters (200 feet)
RGBM Algorithm
Vibration-based safety alerts
Pack includes the dive computer, O-ring and a waterproof case for your smartphone
Free access to the DIVEROID app after purchase
Bluetooth connectivity
Ascent rate monitoring
Coin cell battery
2-year battery life
Data and stats display on a smartphone screen (customizable)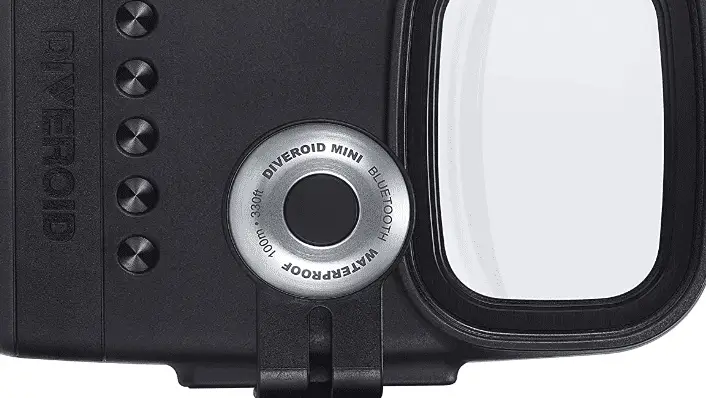 Who is the DIVEROID Mini Best Suited For?
Usable to a depth of 60 meters, the DIVEROID Mini is suitable for beginner and intermediate divers. It is also a solid choice as a backup dive computer for advanced divers. That being said, both its depth and features are somewhat limited for it to be the first choice for advanced and professional divers.
Since the dive computer can't function on its own, it needs to be connected to your phone at all times. Advanced and technical divers can't rely on the battery life of a smartphone, especially if they're going deep diving.
Features of the DIVEROID Mini
The DIVEROID Mini offers a bunch of extra features once it is connected to your phone. Combine these with the basic requirements of a scuba diver, and you've got yourself good value for money:
Dual Modes
This dive computer offers two modes for diving:
Air– for the standard gas mix used in recreational scuba diving
Nitrox– for scuba divers using nitrox tanks.
The app also offers the option of freediving, and you can set depth alarms to know when it's time to return to the surface.
Single Algorithm
The DIVEROID Mini runs on the RGBM algorithm, which is on the conservative side. This means that its limits are stricter to avoid decompression sickness. Numerically, this refers to reduced bottom time, a shallower NDL (Non-Decompression Limit), frequent decompression stops, slower ascent rate, and so on. It also means that consecutive diving on the same day becomes limited.
Smartphone Compatibility and Data Storage
The DIVEROID Mini is compatible with a range of different smartphone models via Bluetooth. It can work with most models of Apple, Samsung, Google, LG, and Oneplus phones. The dive computer has three built-in buttons through which you can control your phone like a dive computer. Once you buy it, you can access the DIVEROID app in your phone, which will then display necessary data related to your dive, including time, depth, water temperature, and other necessary stats every diver needs to avoid decompression sickness.
The app also maintains a log of all your dives. A major plus point is that unlike dive watches that have limited storage for dive history, you can store unlimited dive history on your phone without having to worry about transferring data onto your desktop. 
Using the DIVEROID Mini underwater is a delight because you have a backlit, full-color screen, and the buttons on the dive computer, both of which are easy to use.
Data sharing also becomes easier – you can add commands to the app that will enable it to post your dive data straight onto your social media accounts. You can also share your underwater photos almost instantly without having to transfer them from the dive computer to your smart device first.
Underwater Camera
It converts your phone camera into an underwater camera, and the DIVEROID app offers a range of different photo modes, including wide and ultra-wide angle, selfie, and zoom. You can also record underwater videos, and the app also gives you the option to keep track of the depth at which each photo is taken.
There's also a red filter to see a preview of the images in real-time so that you have the opportunity of a second shot. Images can be layered with data graphs from your dive, and you can create a complete record with graphics in your digital dive logbook.
Data Reset
A factory reset is an option many people look for in dive computers, especially if they are renting out scuba equipment. Although with the DIVEROID Mini, you just need to make a new user account on the app; it isn't really a concern since this dive computer is usually for personal use (hence the reasonable price point).
Bonus Features
Since you now have the option to take your smartphone underwater with you, you also get to enjoy some extra features like:
Calling a Boat
You can send a text mid-dive through the app to call a boat if you're diving far from the shore. The app will share your exact location so you won't have to swim very far.
Compass
You can navigate through the water easily using the compass included in the app.
User-Replaceable Battery
The dive computer runs on a coin cell battery that lasts for approximately two years (depending on how frequently it is used) and can be replaced quite easily.
Different Casing Options
Depending on the phone you have, the DIVEROID package offers a hard or soft casing to protect your phone both from the water and from getting scratched.
Safety Strap
The DIVEROID Mini comes with a safety strap that attaches the casing to your hand so that even if you accidentally drop your phone, it won't get lost (or disconnected from the dive computer).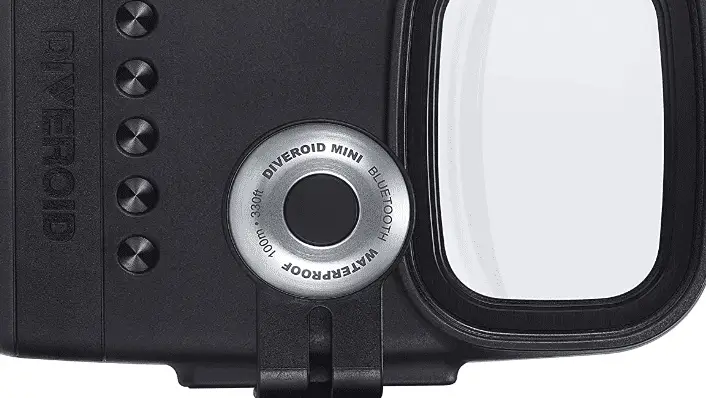 What's Missing in the DIVEROID Mini?
Although this dive computer pretty much fulfills every recreational diver's requirements, it does fall short in a few areas:
It isn't Air Integrated, which would allow divers to check how much air is left in their tank directly through the phone screen.
It needs to be 3 cm or less from your phone at all times. This can be a bit tricky underwater because if it moves too far and gets disconnected, you are exposed to the risk of getting the bends.
It runs on a single algorithm, the RGBM, which can be quite conservative, especially for those divers who are used to enjoying the liberal amount of bottom time offered by the Pelagic algorithms.
The run-time of the dive computer is dependent on your smartphone. This is alright if your phone has a long battery life, but if your phone tends to drain faster, you might be in trouble.
It doesn't offer Trimix compatibility – again, this is mostly required for expert and technical divers.
Final Thoughts
Overall, the DIVEROID Mini is a great way of combining a smartphone with your dive computer so that you can access more features without a price markup. You can not only keep track of your dive data but also take plenty of pictures and videos to create lasting memories. A major plus is that the dive data gets stored in your phone, and there's no hassle of losing dive history once the memory is full.
The quality of the display is, of course, dependent on your smartphone, but regardless of which one you have, it'll still be bigger and have better resolution than solo dive computers in the same range.
This dive computer is meant solely for recreational diving and misses out on some key features like air integration that are absolutely essential for professional divers. Another important thing to remember is that it can't function on its own, so make sure you charge your phone well before going underwater.