Oceanic Veo 4 Wrist Computer Review
Oceanic has been manufacturing quality scuba gear since 1972, and this beginner's dive computer is no exception. The Veo combines a sleek, compact design with a range of features, including Bluetooth connectivity and a number of operating modes. Its easy-to-use interface will make your dive safer and more interesting.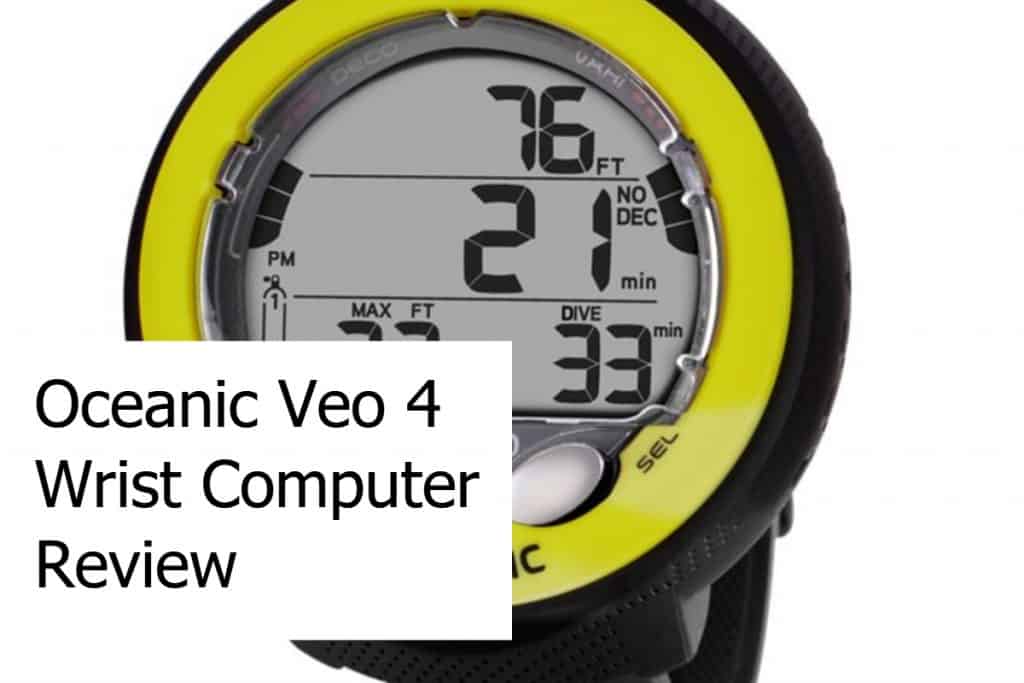 It is 20% sleeker than the Veo 2.0 and the text display is much larger, making the watch very easy to use underwater.
Specifications of the Oceanic Veo 4
4 modes of operation
Works with a mix of up to 3 gases at a time
2 push buttons
Automatic and manual activation
Dual algorithm
Automatic altitude adjustment
Automatic alarm
Backlit screen
Replaceable batteries
300 hours of battery life
Data retention
Operates up to a depth of 330 feet in normal/ free mode
Operates up to a depth of 399 feet in gauge mode
Bluetooth 4.0
Functional in a water temperature of around 28-95 degrees Fahrenheit.
Who is the Oceanic Veo 4 Best Suited for?
This dive watch has been designed for beginners and offers all the features a new scuba diver needs at an affordable price range.
It is not ideal for advanced and professional divers since it misses out on certain features like the ability to work with a Trimix tank or offering air integration.
Features of the Oceanic Veo 4
The Oceanic Veo 4 comes with a host of features, such as:
Multiple Modes
The Oceanic Veo 4 has four different modes:
Air – works on the standard gas mix for recreational diving
Nitrox – calculates decompression, etc. based on a Nitrox mix of compressed air
Gauge (with run timer) – this records only depth and time and the diver determines their own deco stops based on decompression diving tables. Since this dive computer doesn't have air integration, it will not display the remaining air pressure in your tank (a feature that air integrated dive computers display in a gauge mode).
Free – this mode is designed for divers who don't make use of any compressed air during their dives.
This dive computer can work with a gas mix which could be 100% oxygen or a combination of up to 3 gases at one time.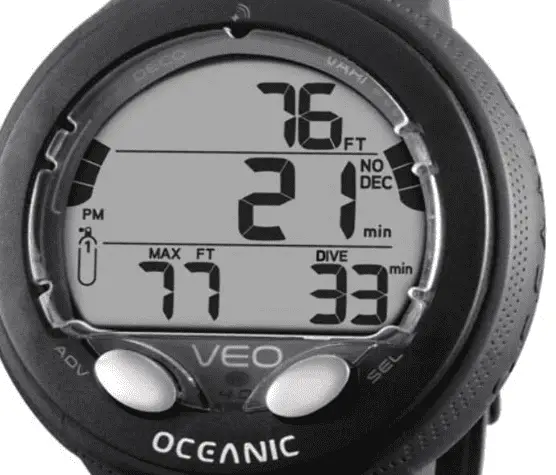 The Suunto Vyper Novo could be a possible alternative to the Veo 4
Dual Algorithm Function
There are a few well-known algorithms used by divers to calculate decompression. The Oceanic Veo 4 allows divers to choose between 2 of them based on which one they're more comfortable with:
1.      DSAT – this algorithm was designed for recreational divers by PADI and is well-known and used globally.
2.      Pelagic Z+ – this algorithm is designed to help divers maximize their dive time without affecting their safety, even if they perform multiple deep dives on the same day. It takes into consideration a range of factors, such as time, gas mix, and even water temperature. It incorporates the Buhlmann model used in almost all dive tables and by well-reputed scuba gear manufacturers like Suunto and Mares.
Modes are adjustable through the DiverLog+ App (discussed in the data transferability section below).
The watch relies on the concept of conservatism, which limits your dive time at the maximum depth to ensure safety and reduce the risk of bends.
Auto Controls
The controls for various features in the Veo 4 may be automatic or manual:
Switching gas mixes – manual
The watch may start when it comes into contact with water or when turned on manually
Automatic Altitude Adjustment
This dive computer has an automatic altitude adjustment to heights ranging between 2,000-14,000 feet (610-4200 meters).
It also includes a timer for deep stops for any dives deeper than 80 feet (25 meters). The safety stop prompt is automatic and is adjusted based on your depth and time spent underwater.
Display Features
The Oceanic Veo 4.0 has SmartGlo backlighting to make the screen visible and legible, even at night or when cave diving. The display text is also larger than many other dive computers to make it easier to see it underwater.
Display settings are variable based on the mode you have selected for your dive. In any mode, the watch will display when your battery is low.
Data Storage and Transferability
The dive computer stores past dive data, and by pressing just a single button, you can even view the data from your most recent previous dive. It can store data from the past 24 dives, after which you will need to transfer it; otherwise, the data will be automatically erased once you complete your 25th dive.
The Veo 4.0 offers Bluetooth connectivity and can be connected to any smart device through the DiverLog+ App. Through this app, divers can adjust their gas mixes, switch algorithms, customize the watch display, set dive alarms (for instance, for decompression stops), etc. Any of these features may be adjusted immediately before or after your dive.
Before your dive, you can set all the required alarms and the gas mix. Post dive, you can upload your most recent dive data onto the app, including any photos or videos from your dive.
Within the app, you can create a dive log to keep track of your depth, dive time, etc. and beat your own, personal best.
Optional Features
Apart from the basics, the Veo 4 also offers some extra features:
Color Options
You can choose between a black and yellow watch to match the dive computer to your scuba wear.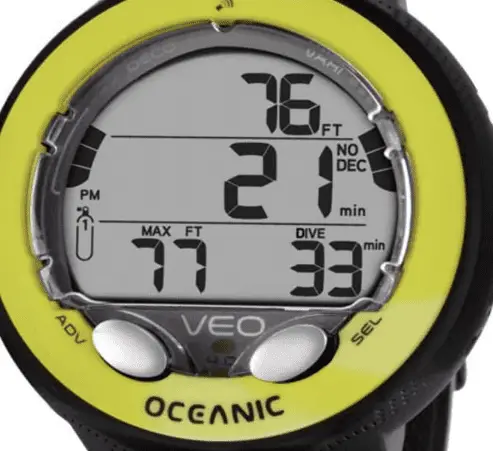 What's Missing in the Oceanic Veo 4?
Despite having almost all the essential features, the Oceanic Veo 4 misses out on a few:
No air integration – this is quite important since it allows divers to tell how much air is left in their tank just by looking at the watch screen. It is an important feature, especially for deep divers who need to control their already limited air supply and gauge their dive time accordingly.
Some other premium watches designed for beginners and advanced level divers tend to be more expensive, but they have built-in functions designed to make your dive easier. For instance, many dive computers have a compass to help you navigate your route underwater without having to carry any extra equipment.
This watch has no factory reset option, which is particularly important for dive shops that rent out equipment. The only way to clear previous data is to wait for the 24 dives to finish for the data to be automatically erased.
It is not suitable for re-breather diving (where divers re-use the same air which circulates through their mask).
Final Thoughts
Despite missing some features like air integration, the Oceanic Veo 4.0 combines a sleek design with one of the most easy-to-read displays on the market.
Its high battery life and ability to calculate decompression for depths up to 300+ feet makes it great for beginner and intermediate-level divers. While it isn't the best choice for advanced divers, it can still be used with a gas mix of up to 3 gases, has very high battery life (and replaceable batteries), and allows you to choose between 2 different dive algorithms.
Its Bluetooth connectivity and compatibility with the DiverLog+ App makes it easy for you to store dive data so you can access it no matter where you are in the world.
The best part is that it stores all these functions in a compact design, slightly lightening the load during your dive.
Please use the image below to pin this post to Pinterest!