4
Suunto Zoop Novo Dive Computer Review – Divers Buying Advice
The most crucial aspect that you should be looking for in a scuba diving computer is whether it is built for amateurs or professionals. As far as the Suunto Zoop Novo Scuba Computer is concerned, its design matches the needs of entry-level scuba divers.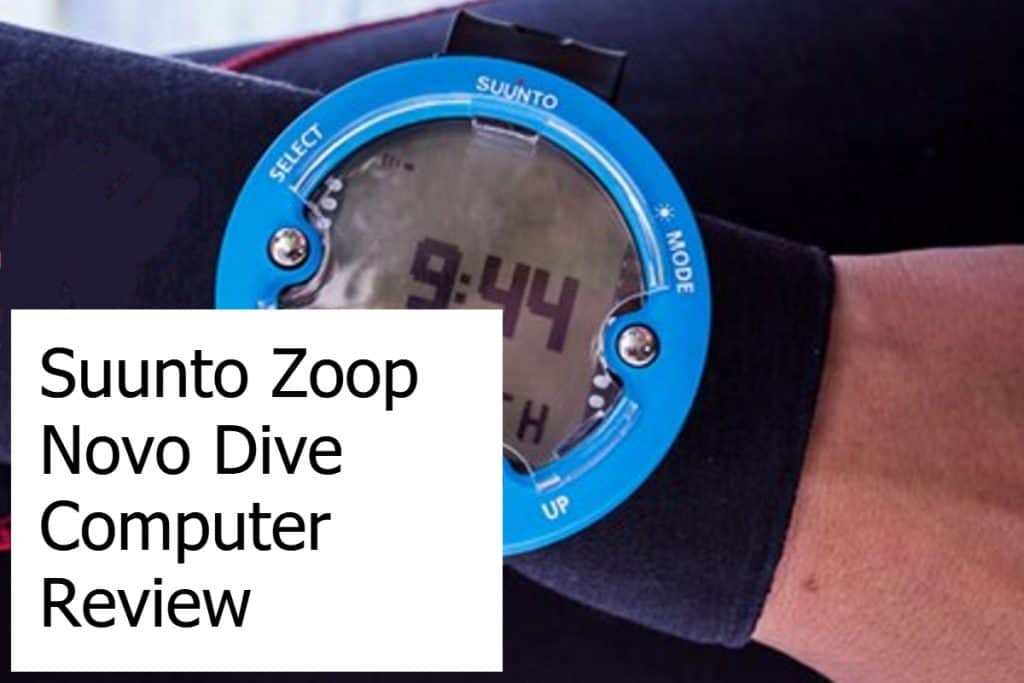 As per the requirements of a beginner of the sport, the Zoop Novo is an entry-level dive computer that comes with a big display screen so that the diver does not have to experience any difficulties in reading the information being displayed. The data can easily be read at a glance due to the size of the display.
We provide a detailed review of this particular Suunto scuba diving wrist computer below. However, if you are looking for answers on what you have to consider when buying such an entry-level dive computer, then please check out our buying guide that explains all the details you need to know when looking for a new dive computer!
Summary of the Suunto Zoop Novo Review
This dive computer is geared to address the needs of new scuba divers. It's an oversized wristwatch that cannot be used as an everyday watch due to its large size.
The navigation on this entry-level dive computer is managed through 4 buttons in the front. That allows Suunto also to offer the Zoop Novo as a console-mounted unit if you prefer that over the wrist version.
What we liked
A large and clean display
Simple to use
All features that an entry-level diver could need
Large logbook to store dive information
Off Mode to take the computer out of dive mode completely
What we don't like
Too large to wear as a watch
Summary
The Zoop Novo by Suunto is an outstanding dive computer for beginners. However, that does not mean that an experienced diver couldn't use this computer. It is easy to use and has a whole list of functions that benefit the entry to the mid-level diver.
Features that you would expect in higher-end dive computers are not offered, and there's also no possible expansion like air integration, etc. Needless to say, though, for the price, it is a great device.
Please check the Suunto Zoop Novo review below for more details. We hope you find the review helpful in your buying decision!
Review of the Zoop Novo Diving Computer from Suunto
You will notice that the display is quite clean as it is not stuffed or bombarded with strange abbreviations that beginners might have a hard time understanding. There are lots of scuba computers with advanced information displays that are better suited for professionals.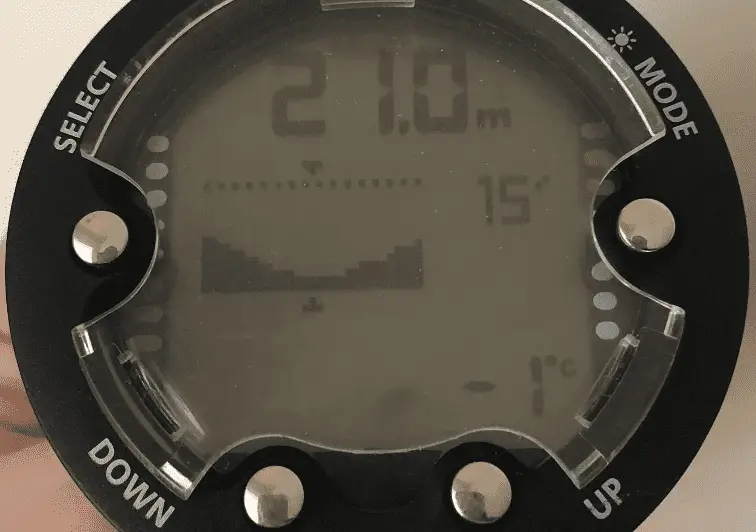 Best dive computers with air integration – Reviews and Buying Guide
The Zoop Novo is available in three different colors:
​​It is shaped like a regular watch but it is too large to be worn as a wristwatch. The large size makes it easier to read underwater, so it's a trade-off that a beginner might not be too concerned with.
Capabilities of the Suunto Zoop Novo Wrist Computer
It looks like a wristwatch, but it is way too big to be used as one. The benefit of this large size is that the screen is capable of cleanly displaying all necessary data at a glance.
Dive Modes
It can work with five different dive modes:
Air
Nitrox
Gauge
Freedive
Off Mode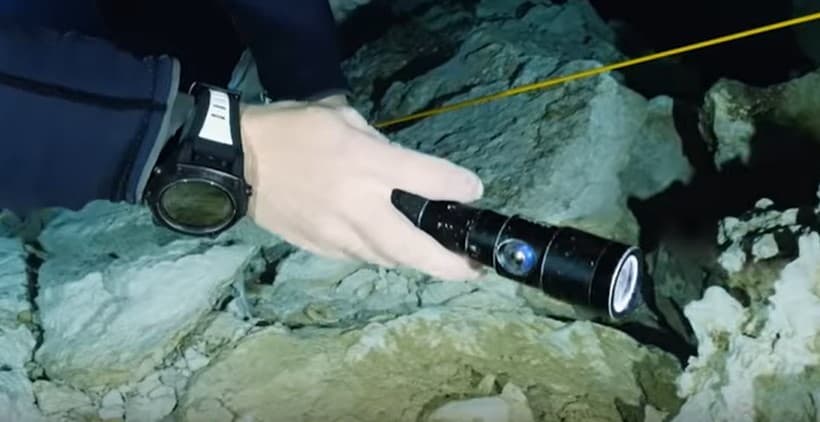 Screen Layout of the Zoop Novo
​The Zoop Novo is designed in the form of a wristwatch but is way too big to be worn every day. The large size does allow for an immaculate layout of the display, which makes it explicitly for beginners very easy to read the information.
All important and necessary information is visible on the screen, and the four buttons allow for easy navigation and adjustment. The battery level is visible to prevent you from running out of battery while diving.
Navigation
The navigation on this device is made as simple as possible for beginner divers. The four buttons are ergonomically placed and allow you to navigate through the different options, even when using thick gloves.
Compared to models with one button, the navigation can be faster if using more buttons as you won't have to step through every screen option with a single button.
This device has audible and visual warnings for a number of conditions:
Max. Depth
Ascent too fast
High pO2
Decompression ceiling violation
Safety Stop Timer
Deep stop violation
Keep in mind that the display is black and white so having a visible alarm is not as obvious as if you had a color display. If you, for example, look at the Suunto EON Steel then you'll see that visible alerts are a lot more obvious as they flash the immensely bright display in color!
Technical Capabilities
It can handle oxygen levels between 21% and 50% in Nitrox mode. The pO2 limits for this device are adjustable between 1.2 and 1.6 bars.
The maximum operations dive depth is 80 m (262 ft). It also features altitude adjustment settings up to 3,000 meters (9,843 ft).
Suunto's Algorithm
As one would expect, the algorithm is Suunto's own. It's an RGBM (Reduced Gradient Bubble Model) algorithm. The Suunto RGBM algo has been developed together with Dr. Bruce Wienke.
An exciting feature is its ability to allow the diver to adjust the conservatism of the algorithm. This allows increasing the safety levels for a dive if you want that extra level of safety. You can set the adjustment, and this way, set a more conservative dive profile.
Off Mode
Another useful feature is the off mode. This allows preventing the scuba computer from automatically switching into dive mode when it's taken into the water.
This can help to save battery life if you wear the device without needing it.​ You just have to make sure to switch the Zoop Novo back into dive mode when you go scuba diving!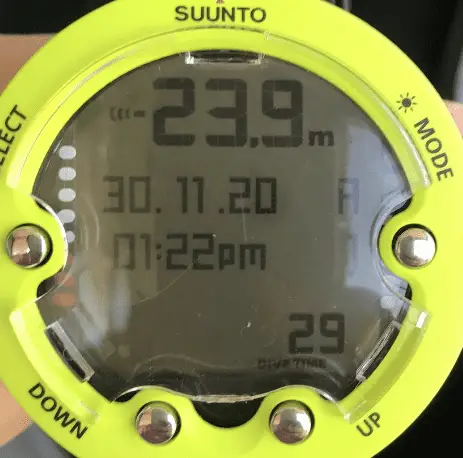 Zoop Novo Diving Log and Connectivity
​The log in the dive computer can hold data for up to 140 hours. For typical usage, this should be enough for around 100 dives. The sampling time can be set at either 10, 20, 30, or 60 seconds. This provides a comprehensive logbook of your past dives.
With the separately sold USB connector and the software (for Mac and PC), you can quickly analyze and alter the dive information. There are combos where you can purchase the Zoop Novo wrist computer together with the USB cable.
The Suunto Zoop Novo does not have Bluetooth connectivity. To download the data from the diving computer, you will have to connect it with the USB cable to your PC.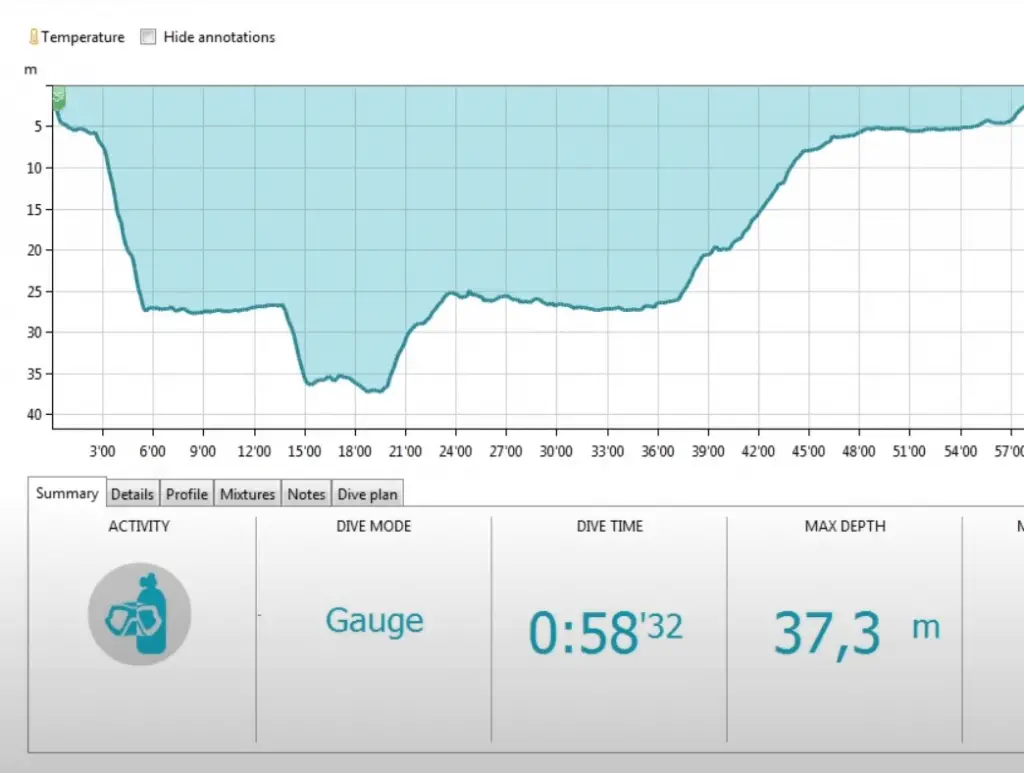 You can then upload the dive data to the Suunto Movescount portal. All exercise data from all Suunto exercise and dive computers (like the Suunto Vyper Novo Computer) can be stored and retrieved there. The portal allows you to add photos and videos to your dive data.
Missing Functionality of the Zoop Novo Dive Computer
There certainly is functionality missing in an entry-level diving computer like the Suunto Zoop Novo. The most apparent feature missing is the lack of a compass. Typically, this can be found on higher-end models.
No Air Integration
There is also no wireless air integration capability. Have a look at the Suunto Vyper Novo to have an air-integrated scuba diving computer. Recreational divers will not miss this feature, but more experienced divers will miss it.
Features/Specifications of the Zoop Novo
Easy to learn 4 button navigation
Alarms both audible and visual
Large and cleanly divided display that provides all important information at a glance
Five dive mode settings for Freedive, Off mode, Air, Nitrox, and Gauge (Bottom Timer)
Air Nitrox settings between 21% and 50%
Limits for PO2 between 1.2 and 1.6 bars
Full continuous decompression Suunto RGBM algorithm
Maximum operating depth 80 meters/262 feet
Three adjustable altitude settings up to 3,000 m (9,843 ft)
Recommended and mandatory safety stop timers
Imperial and metric display options
Dive log up to 140 hours giving you detailed reviews of your last dives
User-replaceable Lithium battery (CR2450)
Available in three different colors
2 year limited warranty
Pros and Cons of the Suunto Zoop Novo Wrist Computer
This is a reliable personal scuba computer for the beginner to the mid-level diver. Suunto incorporated features for recreational divers like a sturdy build and a great display. Suunto is the market leader, so you know you get an excellent device for the money.
You won't find some higher-end features that you might miss when you are a more experienced diver and you look for high-end dive computers. However, the Zoop Novo from Suunto is a solid choice for a beginner or even for a medium experienced recreational diver at a very reasonable price.
Pros
Easy navigation through 4 different buttons
Suunto's proven RGBM algorithm
Four different dive modes (Air, Nitrox, Freediving and Gauge)
Can connect to the PC/Mac through a USB connection
A great entry-level product that delivers all needed functionality
Cons
No compass
No air integration to monitor the oxygen in the tank
Not a wristwatch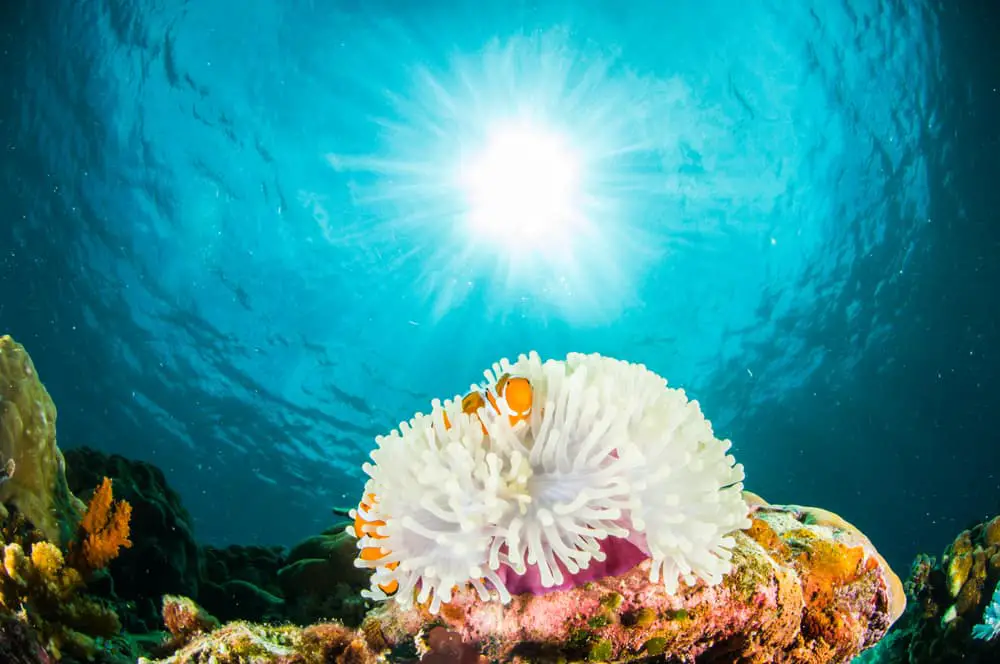 The functions offered by this Suunto dive computer are in line with what one would expect, considering that it targets the entry-level market. It covers the bases without adding features that higher-end dive computers require, e.g., Compass, etc. 
Unfortunately, it also does not allow to, later on, be extended with wireless air integration. At that time, it can't grow with the diver's additional needs and would have to be replaced with one of the dive computers that offer this capability if air integration became a requirement.
However, that is a big 'if,' and as such, we think that it's not that big of a deal that this capability can't be added later on. For the typical diver, it'll be a few years before you have to think about upgrading to a dive computer that provides more features.
Where to Buy the Suunto Zoop Novo?
Buy the Zoop Novo online or locally?
The Suunto Zoop Novo can easily be found online or at your local dive-shop. You probably discover the most selection online.
Not only can you find the dive computer itself but often also bundles that include the USB connector. The Zoop Novo also comes as a console-mounted unit if you prefer that over a wristwatch style.
Customer Feedback on the Suunto Zoop Novo
Checking the customer reviews and star ratings of the Suunto Zoop Novo quickly shows that everybody who purchased it is very satisfied. There's not any complaint to be found.
Being one of the best-selling scuba diving computers you'd quickly get negative feedback if the Zoop Novo would not be a great dive computer. It's been reviewed by customers countless times and the overwhelming majority only has good things to say!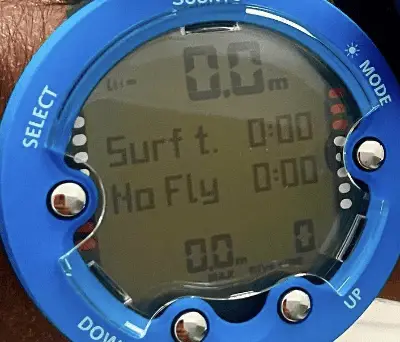 Do you need to know how to use Dive Tables when you have a Dive Computer?
Final Thoughts on the Suunto Zoop Novo Review
The Suunto Zoop Novo is one of the best entry-level dive computers you can get. In our opinion, it's part of the basic diving equipment you should consider.
This dive computer is equipped with all the features and capabilities that are essential for making the diving experience comfortable and safe. The necessary data is straightforward to read and is readily available with this diving computer.
With a bright and easy to read interface, it straightforwardly displays all the critical information. More importantly, unlike other beginner level diving computers, it has five operating modes, which are a vast improvement if we compare this product with other similar product offerings in the market.
The Suunto Zoop Novo does not pack all the features one would expect to find in a high-end dive computer. If you need the bells and whistles, then you want to look at other, more expensive dive computers that suit your needs.
Other entry-level dive computers that are in the same range as the Zoop Novo that you should consider looking at are:
You can check out a comparison of three of the best entry-level scuba diving computers to see how the Suunto Zoop Novo compares to other models.
Who is it not for?
​A more experienced diver will need more features than the ones offered with this dive computer. It will make more sense, in that case, to look at dive computers like the Suunto D5. This dive computer is a mid-level to a high-end device that can grow with your requirements as you gain experience.
The Suunto Zoop Novo has all the features you want in an entry-level dive computer. The only issue might be if you want a dive computer that can be used as your day-to-day watch. In that case, you might want to have a look at the Mares Smart for comparison.
If you like the design of the Zoop Novo but want more features then have a look at our evaluation of the Suunto Vyper Novo. It basically looks the same but is a step-up with regards to capabilities and features. You can get a better understanding of the differences between both models when you read through our side-by-side comparison of both diving computers.
Share It!
If you found this review helpful then we'd kindly ask you to share it with your friends. Please use the below image to share on your social media accounts. Thank you!