Suunto EON Steel Dive Computer Review
The technical diving computer by Suunto is well-priced. EON Steel offers divers many safety features, alarms, and customized settings; while allowing you to keep your display clean and simple. The unique ability to recharge the battery on the Suunto EON Steel dive computer makes this computer stand out from others available in its class.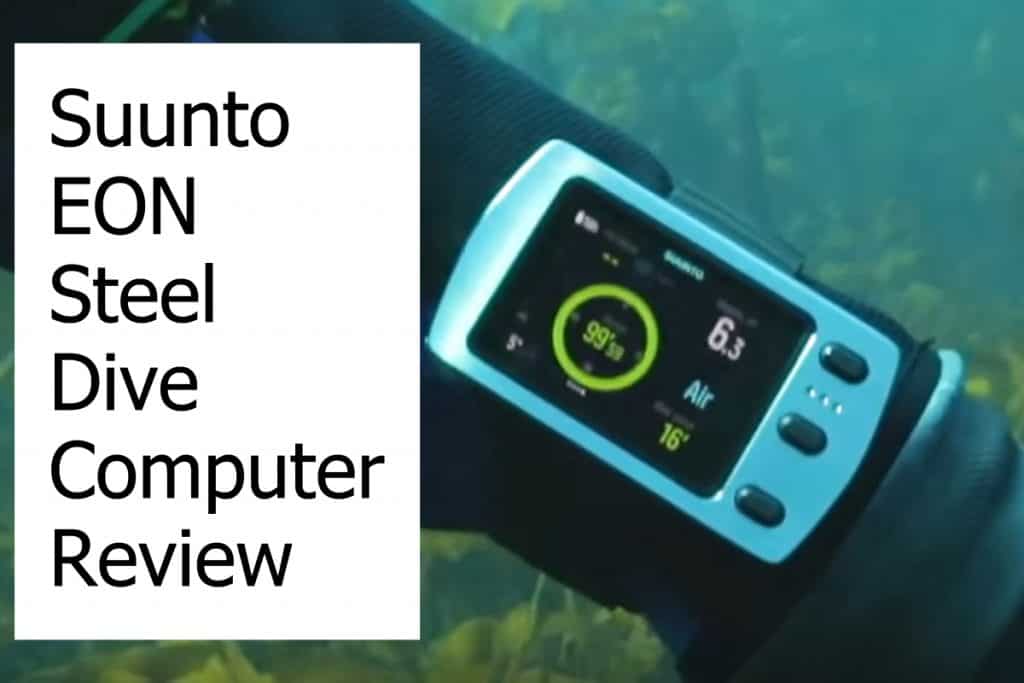 Suunto EON Steel Dive Computer Review Summary
The EON Steel is built explicitly for the experienced technical diver. It supports multiple gasses, and you can program it pretty much whatever way you want.
The sleek style of the Suunto EON Steel dive computer is attractive and provides easy visibility to all information on the easy to read brilliant color screen. The touchscreen and navigation of the Suunto dive computer are relatively easy to use. This one is right where you want to be for the price as far as high-end dive computers go.
What we like
Rechargeable Lithium-Ion battery
Audio and visual alarms
Lockout if safety stop is violated
Automatic Start
Extra-large onboard dive log
Bluetooth connectivity
A bright and easy-to-read color screen
Wireless air-integration with Suunto tank pod
What we don't like
Very technical computer
You can dismiss alarms easily
No compass
Three different levels of alarms can be complicated
Summary
The Suunto EON Steel dive computer has a rechargeable battery, setting it apart from the competition. There are plenty of audio and visual alarms, but the three levels of alerts can make it a little complicated to tell what's important and what's not. 
This is a technical diving computer and may be overwhelming for new divers. The automatic start and large onboard dive log can make this a fabulous dive computer simply for the fact that you do not have to remember to dump your dive log repeatedly.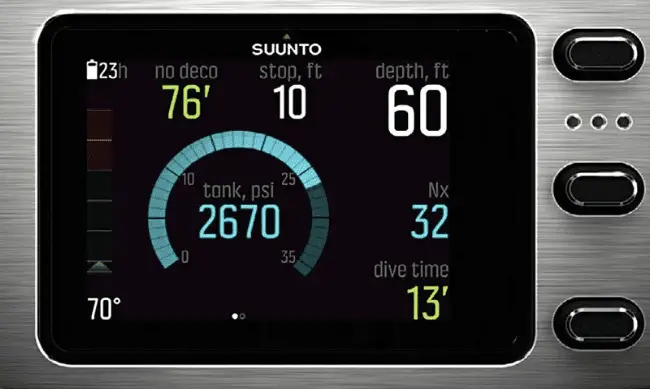 Best Dive Computers for Beginners – Buying Guide and Reviews
Overview and Review of the EON Steel from Suunto
The Suunto EON Steel is a fabulous technical scuba computer. This high-end diving computer has more features than a beginner will ever need or use. A beginning diver may find that this dive computer is intimidating and that they have a hard time finding the information they need.
The display supplies you all of the information you need without overwhelming you. All of the alarms and alerts flash brightly on the screen giving it a unique look.​
The navigation happens through three buttons in addition to the touch-sensitive display. It may take some practice before you are fully confident in your ability to navigate this technical diving computer.​
There are many add-ons that you can get, including air integration and attachments. The device itself is rechargeable, which is a rare feature in dive computers, making it worth its weight in gold.
Overall Capabilities
There is no doubt that the EON Steel targets the technical and very experienced diver.
It offers five different dive modes:
Gauge
Air
Nitrox
Trimix
CCR
There are many different functions housed inside the Suunto EON Steel dive computer. On the main display screen, you can see your present depth, active gas, dive time, tank pressure, safety stop, and battery time. Additional displays include:
​Gas Mixes for Recreational and Technical Diving
The Suunto EON Steel dive computer allows divers to choose from Air, Nitrox, or Trimix (mixed gas). The three options will have their separate display areas on the screen, allowing divers to see their ppO2 maxes. 
In Nitrox mode, you only see the oxygen percentage. In Trimix, the display shows the oxygen and helium percentages.
Wireless Air Integration
There is an option for wireless air integration when using the Suunto EON Steel dive computer. Air integration is available through a separate attachment. This attachment is available for purchase at an additional cost.
Digital 3-D Compass and Temperature Measurements
​The Suunto EON Steel dive computer integrates both temperature and digital compass features. To have the temperature displayed on the main screen, you have to customize your display. 
The digital 3D compass includes tilt compensation. You have to calibrate it, and a calibration icon will appear when you enter the compass mode. There are YouTube videos available to show you how to calibrate your compass correctly.
Vivid Color Display
​There is no backlight option because this is a digital display. You can adjust the brightness of the vivid color screen, which will affect the overall battery life of the Suunto EON Steel dive computer.
Because the battery is rechargeable, having a bright display should not be a considerable worry. You can recharge your batteries in between dives without worrying about having to send it off to a dive store or the manufacturer.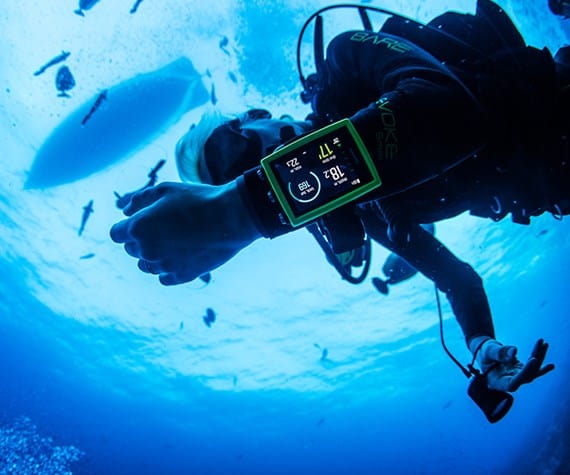 Alarms
​Suunto has three levels of alarm built-in to the EON Steel dive computer. Having so many alarms can make it difficult for the user to understand whether or not the audible or visual alarm is life-threatening. 
According to Suunto, the different levels of alarms, warnings, and notifications are designed to be scrollable pop-up messages that will display on the screen until conditions return to normal.
Alarms are considered a critical event and will always require immediate action. When an alarm situation is resolved (for instance, you ascend back to your safety stop depth after violating your safety stop), the alarm will stop automatically. Here are the following alarms found on the Suunto dive computer:
Ascent Speed Exceeded
Decompression Ceiling Broken
Partial Pressure of Oxygen Exceed Safe Level
Partial Pressure of Oxygen Below Safe Level
Warnings are events that can impact your health and safety if you do not take action but do not require immediate attention. Acknowledging a warning can be done on the Suunto EON Steel dive computer by pressing any button. The following are warnings available on the Suunto dive computer:
​Central Nervous System Toxicity 100% Limit
Recommended Daily Limit for Oxygen Tolerance Reached
Depth Exceeds Your Depth Alarm Limit
Dive Times Exceeds Your Dive Time Alarm Limit
Diluent Partial Pressure of Oxygen Exceeds Safe Level
Diluent Partial Pressure of Oxygen Below Safe Level
Gas Time Exceeds Your Time Alarm Limit
Safety Stop Ceiling Broken by More Than 2 Feet
Tank Pressure Below Take Pressure Alarm Limit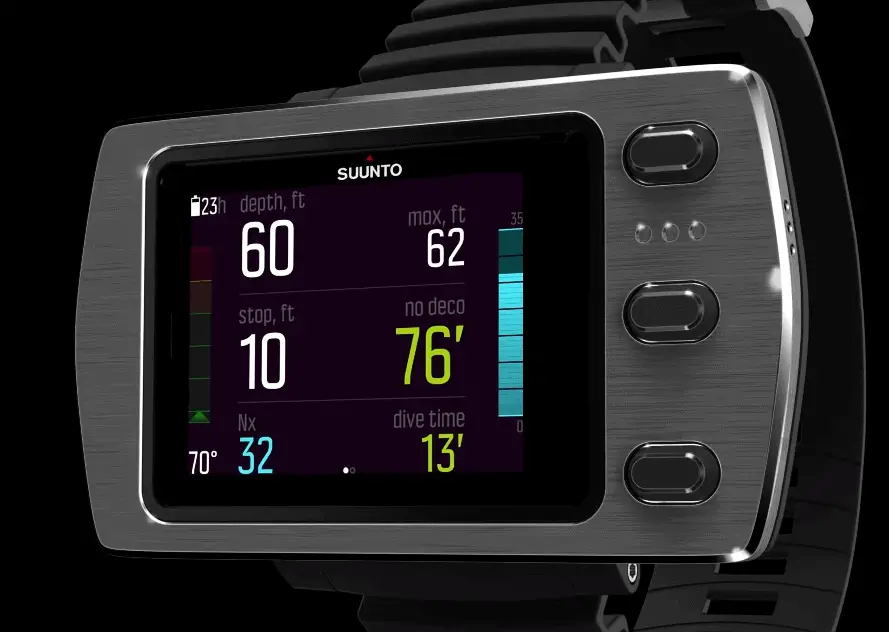 Notifications are events that require preventative action. These will display in audio and visual alarms under the Suunto EON Steel dive computer and can be acknowledged by pressing any button. The following are the notifications available on the EON Steel dive computer:
​Central Nervous System Toxicity Level at 80%
80% of Recommended Daily Limit for out
Change Gas: When Ascending on Multi-Gas Dives Indicates When It's Safe to Change Gas
Low Battery: Approximately Three Hours of Dive Time Left
Recharge Needed: Approximately Two Hours of Battery Time Left
Setpoint Switched Automatically on the Rebreather Diving mode
Tank Pod Battery Life Low
With all the alarms and notifications available on the Suunto EON Steel dive computer, it's easy to see how this could be overwhelming for a new diver. All this information is excellent for the technical diver who may be diving repeatedly or using Trimix. However, for a new diver, this information is going to make them feel overwhelmed and unsafe. There are four configurable alarms:
depth
dive time
tank pressure
gas time
Each of those has its limits and can be turned on or off.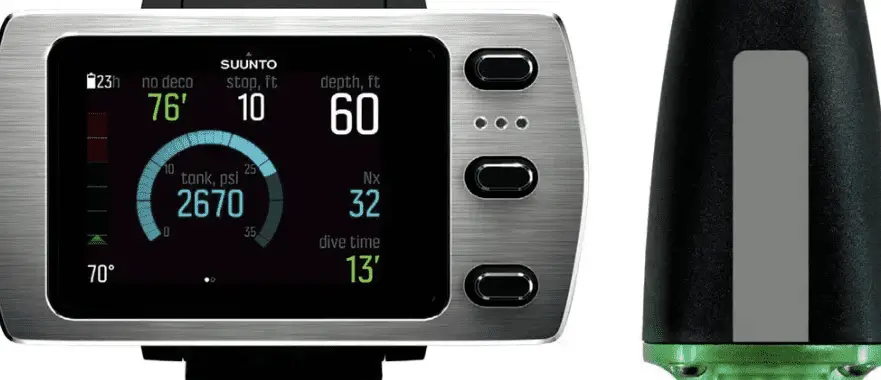 Technical Capabilities
The Suunto EON Steel uses the Suunto Fused RGBM algorithm. This algorithm does lock if you fail to complete a decompression stop longer than three minutes. This safety feature locks the Fused RGBM algorithm if you ascend above the decompression ceiling by more than 2 ft. There are both an audible alarm and a visual alarm that will alert you to go back down below the decompression ceiling to complete your decompression stop.
Two different gas mixtures, Nitrox and Trimix, are compatible with the Suunto EON Steel dive computer. The compatible gasses can be displayed in the following percentages: 
Helium 0-95%
Oxygen 5-99%
When in Nitrox mode, only the Oxygen percentage will display.
Dive Log and Connectivity
Suunto has created its mobile application that is available on both iOS and Android devices. The Movescount mobile app allows you to quickly transfer your dives to the online log without the need for wires. The Bluetooth integration on the EON Steel is a great feature you would expect from a high-end dive computer like this.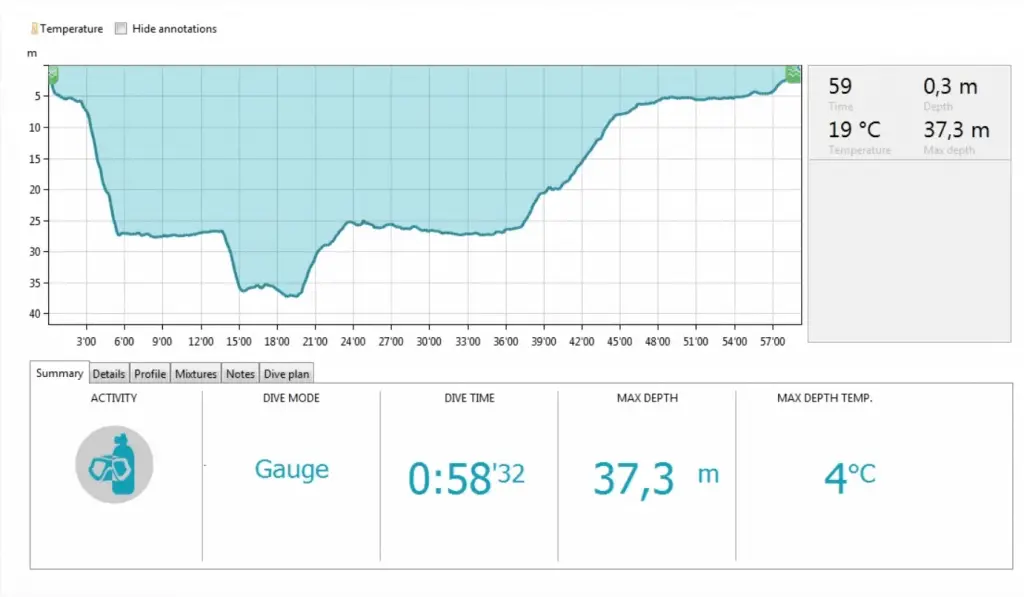 Missing Functionality
There is no freediving mode on this scuba computer. The lack of a freediving feature is surprising, considering how in-depth Suunto's programming is on this dive computer. The ability to turn off notifications would also be helpful. The sheer abundance of alarms on this dive computer is a little cumbersome. Turning some of them off would be a great feature.
Features/Specifications
Multiple Gas Mixes (Air, Nitrox, Trimix)
Bluetooth Connectivity
Rechargeable Battery
Three Bar Crush Depth
Mobile App Dive Log
1000 Hour Onboard Dive Log
Multiple Audio and Visual Alarms
150 m Maximum Depth
Built-In Thermometer
Tilt compensated Digital Compass
Bright Display
Switching between gases
Pros and Cons
There's a lot to like about this dive computer. First and foremost, the battery that's rechargeable is as good as gold. Having a rechargeable battery on a dive computer is getting more common. At the time the EON Steel was introduced, it was a rare feature making it one of the few high-end diving computers to provide recharge of the internal battery.
In addition to the impressive rechargeable battery, the dive log's Bluetooth connectivity makes syncing your dives to your mobile device simple and convenient. Finally, the sizeable onboard dive log means that if you forget your mobile device or are on a long dive trip with no technology other than your dive computer, you will not have to worry about losing dives.
Though there are a few things that aren't that great about the EON Steel dive computer, it is a very technical dive computer. The offered features and functions could be confusing for beginner divers and may be overwhelming.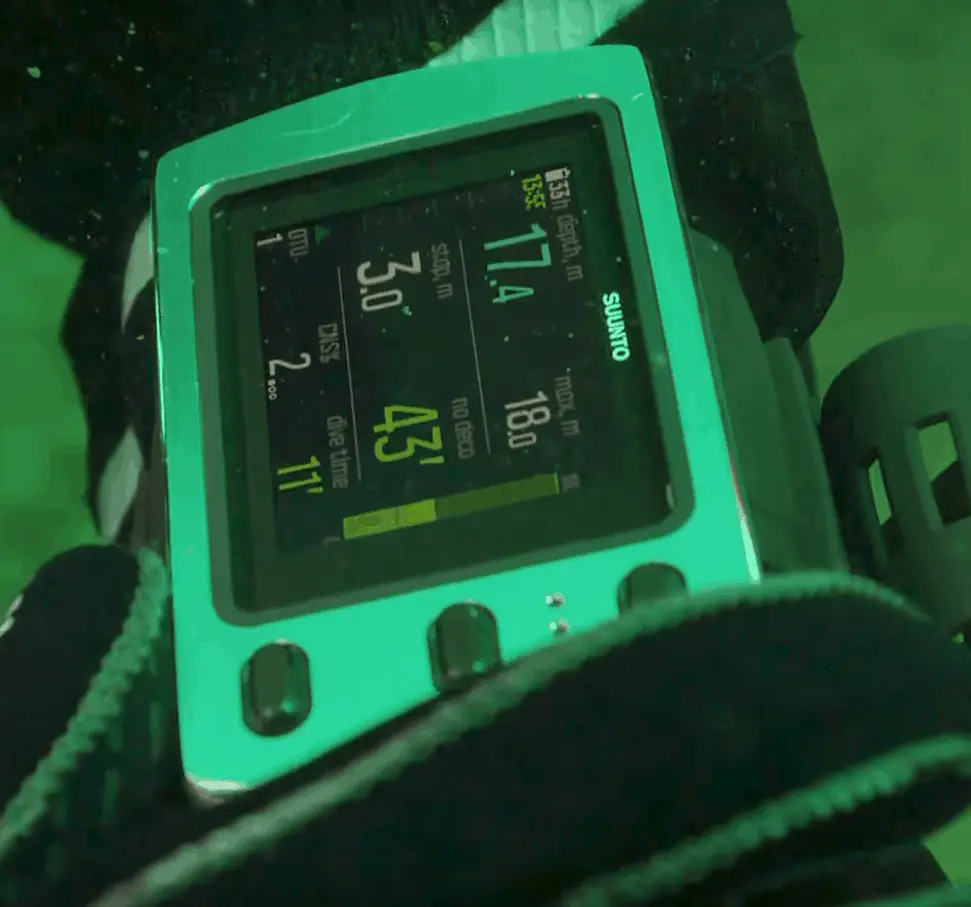 There are far too many alarms alerts and warnings that you cannot shut off. Not being able to customize all the different alarms alerts is a low point for this dive computer. 
Finally, the Suunto EON Steel lacks a freediving mode. You would think they would have included a free dive mode for all the bells and whistles that this computer has. Overlooking the single feature that many low-end dive computers have seems to be a mistake on Suunto's part.
Pros
Rechargeable Battery
Bluetooth Connectivity
Large Onboard Dive Log
Cons
May Be Too Technical for Beginners
Too Many Alarms
No Free Dive Mode
Where to Buy?
Usually, the best price and selection are found online at one of the large retailers like Amazon. Click on one of the Eon Steel displays throughout this post to get current availability and pricing and to read through some of the customer reviews.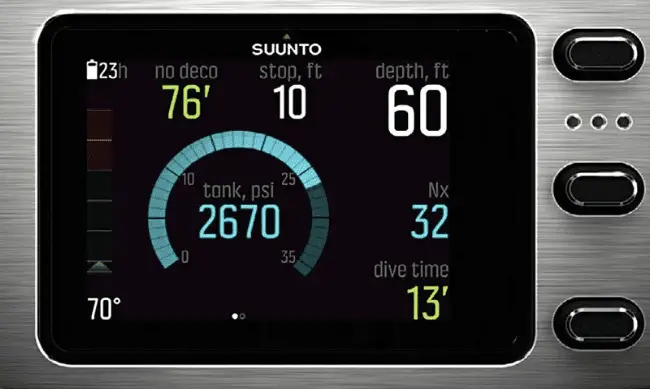 Customer Feedback
The reviews on Amazon have been overwhelmingly positive. Any negative reviews were due to sizing options but not the functioning of the dive computer. You can find and read the reviews for yourself by clicking here.
Conclusion
Overall the Suunto EON Steel is an excellent dive computer. For the price that you can find this dive computer for, it does have a lot of great features. If you can get past the fact that this dive computer is going to alert you to everything that you might ever want or need to know about your dive, then this computer has a ton of great features.
All of the display items conveniently fit on one screen, meaning that you don't have to flip through screens to get all of your information. This dive computer is going to give you that and so much more for those who want easy access to all their data. Suunto packs a whole lot of information on one screen with the EON Steel.
Who wouldn't like it?
People who prefer basic dive computers are not going to enjoy the Suunto EON Steel dive computer. Those who only want to be alerted to very vital information are going to dislike the mandatory alarms built-in to the Suunto EON Steel dive computer. The mandatory alarms that you can't turn off, along with the alerts and notifications, can be overwhelming to those who just want basic information.
Divers who are not very technical and don't need tons of technical information are not going to enjoy this computer. It is designed for people who enjoy having all of the technical information at their fingertips during their dive. New divers, especially, are going to find that this dive computer by Suunto is voluminous and has entirely too much information for them to use.