Best Scuba Diving in the Cayman Islands
The Cayman Islands consists of 3 islands, of which the Grand Cayman is the most famous. Collectively, these islands have a number of incredible dive locations with incredible marine life. Combine these with the numerous resorts and hotels in the area, and you've got yourself an ideal holiday destination.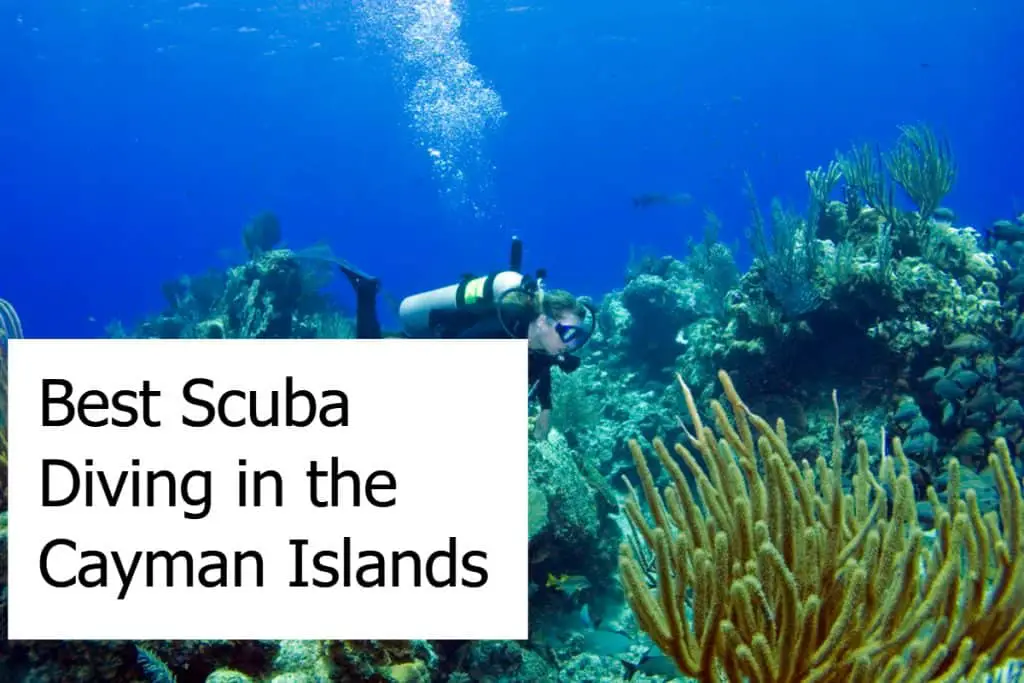 With warm, clear waters and beautiful beaches, you can either put your gear on and explore underwater, or find a shady spot on the sand and relax.
Why Dive In The Cayman Islands?
This tropical region is home to many world-famous dive sites featuring centuries-old shipwrecks that can be explored, deep, dark caverns, and fluorescent walls of corals. The temperature is neutral all year round, around 70-80 degrees Fahrenheit, and the water is around the same, making your dive enjoyable. You don't have to worry about dealing with icy winds and freezing waters with strong currents. It's a good holiday spot, especially if you're going with children.
Is It Good For Beginners To Dive In The Cayman Islands?
Most of the dive locations in the Cayman's are suitable for both beginners and expert level divers. However, some cater mostly to deep divers where the best views are seen at depths of 40 meters and below.
Given the clarity of the water, however, beginners can also enjoy a decent dive, either from the shore or a boat (depending on the location), and view some great corals and sea life. The wreck and cave dives are safer for more experienced divers.
Is It Easy To Get There?
After taking an international flight to get to the Caymans, the rest of your travel will mostly be by road. If you're traveling to dive spots on separate islands, you can book flights with Cayman Airways, which operates daily.
Getting around the islands is easy enough, and most of the popular dive locations are easily accessible by boat. The more distant ones will require access through a liveaboard.
Are There Good Dive Sites For Families?
Some of the less-visited dive sites and those known for deep diving are usually not visited by families. However, many dive sites are well-developed, with plenty of resorts and hotels in the vicinity. In some regions, dives start in waters as shallow as 6 meters, making them ideal for a family vacation.
What Aquatic Life Can You Find?
Apart from breathtaking corals and hidden passageways, the Caymans are rich in marine life. Many species are found in these waters, such as snapper, stingrays, hammerhead sharks, eagle rays, tarpon, eels, the rare blue parrotfish, and turtles. There are also smaller sea creatures found among the corals like nudibranchs, anemones, etc. Colorful tropical fish also frequent the waters. These include angelfish, sergeant majors, butterflyfish, and so on.
In fact, many famous dive sites in the Cayman Islands are named after the species found there, such as the Snapper Hole, Tarpon Alley, and Stingray City.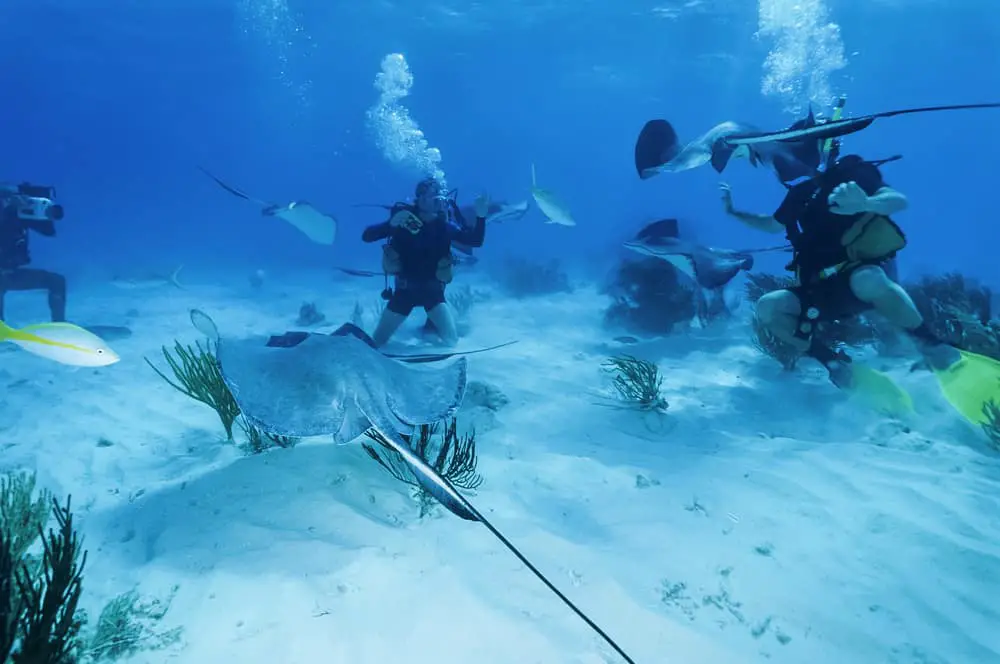 Best Scuba Diving Destinations in the Cayman Islands
The Cayman Islands are visited by scuba divers from all over the world, including beginners and pros. Some spots are quite tourist-heavy, while others are not as well-known but still contain some hidden gems underwater. We've listed a mix of both to help you decide which locations work best for you:
Snapper Hole
This dive site is well known for cave diving with plenty of tunnels and caverns to explore underwater. The rocks are studded with bright corals. It's an ideal destination for beginners with dive sites as shallow as 20 meters (66 feet), offering great views. You'll find a range of different sea creatures like tarpon fish lurking in the caves, snapper, black-tip and nurse sharks, denizens, and even eagle rays. Underwater visibility caters to entry-level divers and is more than 24 meters (70 feet).
The dive site is also famous for the sponge-covered remains of an anchor from an ancient 300-foot-long tanker wreck, the Methusalem. Divers reach Snapper Hole by boat and should typically have Open Water certification at the very least. This spot is popular among tourists and is family-friendly.
Eden Rock Dive Center
Eden Rock is a popular reef diving area with 2 globally famous spots – Eden Rock and Devil's Grotto. Both can be accessed from the shore at a depth of around 14 meters (45 feet). The dive sites are famous for caves, grottos, and tunnels rising from the ocean floor. Divers are greeted with a splash of color, not just from the corals but from colorful fish, sponges, tarpon, and sea fans.
These spots are frequented by underwater photographers from all over the world. There are many resorts in the area as well as other activities that the family can do together, like boat tours and snorkeling.
The Maze
Located in the southern region of the Grand Cayman, the Maze, as the name suggests, is an underwater labyrinth of corals and sponges. Dive depths start at around 17 meters (56 feet) and go down to around 30 meters (98 feet). This dive site hosts the world-famous Wreck of the Ten Sail, a shipwreck caused due to an event that occurred in 1974.
It is accessible by boat, and you can see many marine creatures like Caribbean reef sharks, spotted eagle rays, and turtles. The region has plenty of hotels and resorts and has activities on the land as well, such as the Wreck of the Ten Sail memorial park, making it ideal for a family vacation.
Babylon
Located in the North of the Grand Cayman, dives in the Babylon start at around 12 meters (40 feet) and go all the way to around 30 meters (98 feet). With hoards of plate coral, rope sponges and black corals lining the ocean walls, your dive here will be a truly unique experience.
Pros can dive deeper and find a stunning world with spectacular marine creatures like barracuda, spotted parrotfish, eagle rays, turtles, and occasionally, even hammerhead sharks! Diving in this region is either done through a liveaboard or a one-day safari if you're a beginner or intermediate level diver.
The region isn't particularly family-friendly and is mostly suitable for advanced level divers who don't need too many amenities and activities above land to keep them entertained.
Captain Keith Tibbetts' Wreck
Sunk deliberately in 1996, the Tibbett wreck is a Soviet-built warship accessible only by boat, a journey of about 5-20 minutes from the shore, depending on where you start your journey from. Dives range from depths of 17 to 34 meters. There is some incredible marine life to view, such as bright coral formations and sponges, barracudas, eels, scorpionfish, and other sea creatures native to the tropics.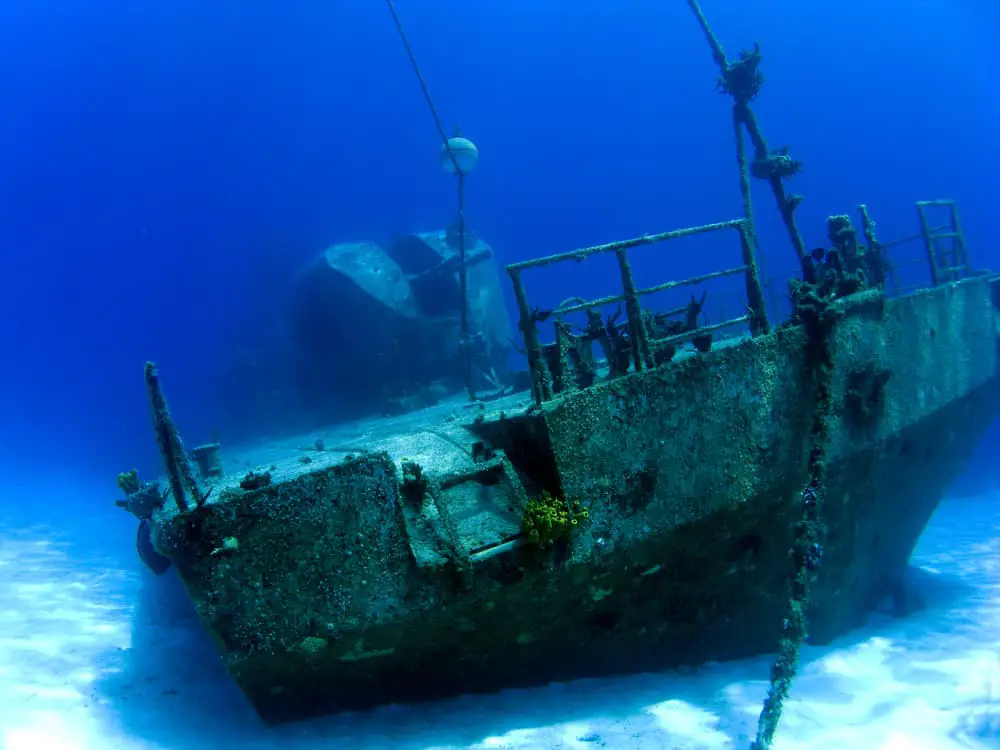 While the water is calm and clear enough for entry-level divers, the dive is more enjoyable for experts who can actually penetrate some portions of the wreck and truly explore the depths of the ocean.
The region is family-friendly with other snorkeling and boat tours and colorful views of the ocean, even for shallow divers.
Japanese Gardens
The Japanese Gardens are famous among recreational divers for shallow dive sites down to 15 meters (49 feet) and is located in the South of the Grand Cayman. Divers can swim through the underwater passageways and observe incredible marine life like the Bermuda chub, the blue juvenile fish, and corals swaying with the current.
The area is popular for both scuba diving (from a boat) and snorkeling but has lately become overcrowded with too many boats and people.
Julie's Wall
This dive site is opposite Old Man Bay town in the Grand Cayman. The region is quite windy and caters to intermediate and expert level divers. Visibility underwater is great – 20-30 meters (65-97 feet).
The underwater scenery is spectacular with black coral, stingrays, blue Chromis, and other sea creatures. It is a site not frequently visited, so the place won't be crowded with tourists, and you'll be able to explore the ocean undisturbed.
Bloody Bay Marine Park
This is one of the best and biggest dive sites in the Caribbean. It is visited by advanced, deep divers since the bright coral walls go down to an incredible depth of around 1,800 meters (5,900 feet)!
It does start from a depth of around 6 meters (20 feet), so shallow divers will also have something to observe. Turtles, lobsters, triggerfish, horse-eye jacks, and other tropical species are commonly found here. The corals and sponges themselves are bioluminescent and appear neon underwater, making for an unreal dive experience.
Although the diving experience here is incredible, it can be quite expensive. The dives usually take place from a liveaboard.
USS Kittiwake
This is another shipwreck to explore in Grand Cayman and is accessible by boat through the Caymans' infamous Seven Mile Beach. The marine life here is not as exciting as in some other locations, but the fun here is in exploring the shipwreck, which is 5 stories tall! The maximum dive depth here is around 20 meters, making it popular among beginners and expert divers.
Snorkelers can also get a good overhead view of the wreck, but divers are in for a treat – they can explore the hospital, mess, ammunition lockers, and deck. This dive spot is considered to be a very family-friendly location.
Stingray City
Located in the north of the Grand Cayman, Stingray City is home to some of the friendliest stingrays in the world. Divers and snorkelers can even feed them by hand. Starting at a depth of just 4 meters, divers can approach these enormous creatures assisted by trainers who provide them with snacks.
This shallow dive site is popular among beginners and is great for families since these stingrays can also be observed through snorkeling and boat tours.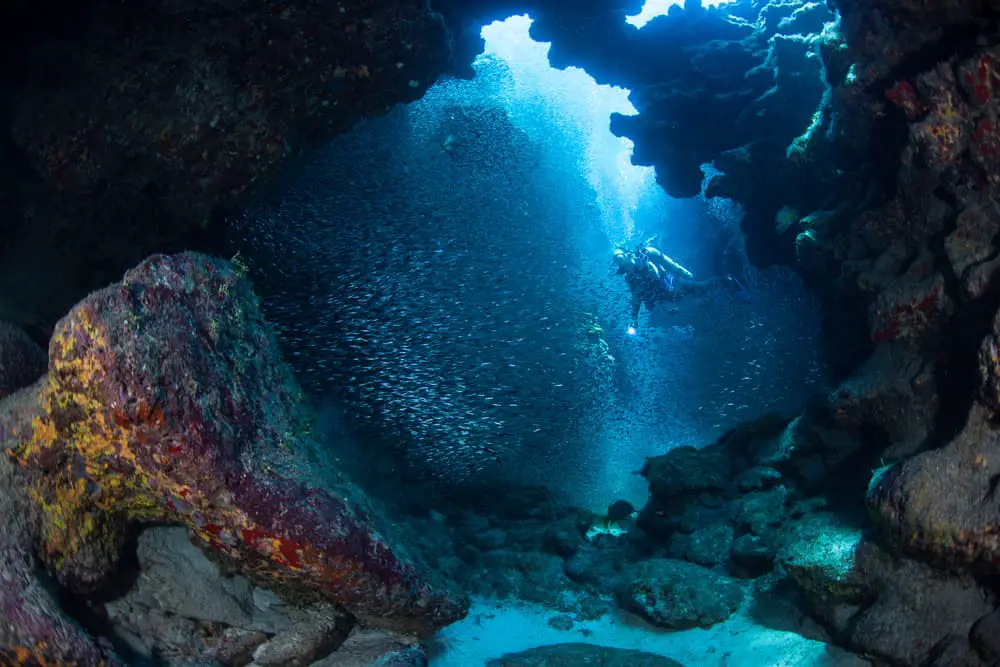 Tarpon Alley
Tarpon Alley is close to Stingray City, but dives start a little deeper – at around 15 meters to 24 meters. A hundred or more tarpons roam among the reefs here, and these beautiful silver creatures make for a fascinating dive. These massive creatures are over a meter long!
Other creatures like barracuda and yellowtail snapper are also found here. Similar to Stingray City, this location is popular among tourists, but the view from above the water is not that great. The real experience comes from swimming among the tarpon.
What Specific Gear Do You Need To Dive In The Cayman Islands?
Since this is a tropical region, you won't need a wetsuit or other special dive gear. You will need all the basics, such as a scuba mask, tank, wetsuit, fins, dive computer, etc.
For experienced divers who are going to visit the deeper corals at depths of hundreds of meters, Nitrox tanks may also be needed. Since the Caymans are popular dive destinations, you can easily rent your scuba gear from local dive stores. Professionals may carry their own equipment.
Is It Dangerous To Dive In The Cayman Islands?
The Cayman Islands are famous for their ideal dive conditions, combining spectacular underwater views and calm, clear waters. The current in this tropical region is not too strong, and visibility in most dive sites is around 20 meters or more, making it a relatively safe diving spot.
However, as with scuba diving anywhere in the world, divers need to be prepared for emergencies and must always be accompanied by a dive buddy. Deep divers also often opt to get dive insurance through which they can get access to proper medical assistance if the need arises. As long as you have the proper certification, expertise, and gear, you should be safe.
During the months of June-November, there may be hurricane warnings, so it is important to check the weather forecast before making any dive plans.
Final Thoughts 
Diving in the Caymans takes place all year round by both basic and advanced divers. The experience is surreal with ancient relics, glowing corals, tropical fish, and even sharks swimming by you.
Apart from scuba diving, the region is also great for snorkeling and plenty of land-based activities like hiking, bird-watching, experiencing the local culture, and so on. There are many famous tourist spots like "Hell," which features black limestone formations. The complete experience makes the Caymans a favorite among underwater photographers, historians, and those looking for a fun family holiday destination.
Please use the image below to pin this article to Pinterest!