Best Scuba Diving Destinations in the Caribbean
You can find a variety of legendary scuba diving destinations in the Caribbean. Each of them is known for one thing or another, like spectacular reefs, wrecks, sharks, whales, underwater walls, or cenotes. The best Caribbean scuba diving destinations have it all.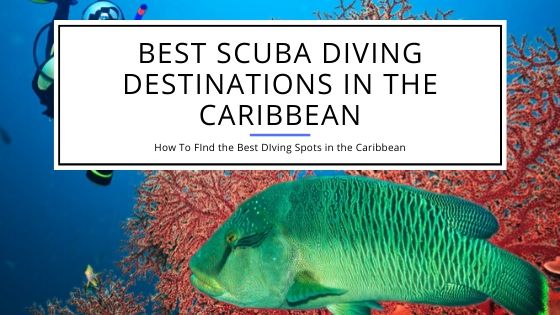 Scuba diving has been popular in the Caribbean for a long time. Many destinations have developed specialized equipment and a top-quality scuba diving infrastructure. There are marinas, diving gear shops with instructors, guides, boat rentals, and educational facilities. You will also find great hotels, world-class restaurants, and plenty of other water sports activities that will keep you busy and entertained, both over and under the water.
Is It Good for Beginners to Dive in the Caribbean?
The Caribbean has a massive tourism industry and offers excellent locations for scuba diving. Local businesses offer some of the best scuba diving instructors and guides who provide professional scuba diving services. You will find some of the best and most advanced scuba diving gear in the Caribbean stores that provides a high level of safety and comfort.
For many, the Caribbean offers its first true experience under the ocean. They start off their scuba diving journey here before moving on to other destinations around the world. The Caribbean is most popular among scuba diving enthusiasts from Europe and the Americas.
Is It Easy to Get There?
Much of the Caribbean consists of small islands. The most popular way to get to one of the islands is on a cruise ship to one of the bigger Islands. You can then catch a ferry to your particular destination.
You can also book a commercial or chartered flight to one of the airports at the bigger islands and then take a ferry to your particular destination. In most circumstances, it shouldn't take you more than half a day to get to your hotel and costs somewhere between $300 and $1,000 to get to a scuba diving destination, based on your mode of travel.
Are There Good Dive Sites for Families?
Family vacations with scuba diving are all about having fun while seeing all the amazing things under the sea. The first experience on a scuba diving trip can be very exciting for the kids in particular. It is similar to any other family holiday, as a farm trip, a vacation on snow-covered mountain tops, or through an exotic far-off city. It opens the kids up to an exciting new world and can create some of the best memories of their life. Many families fall in love with SCUBA diving on their first trip and take more scuba diving vacations in the future. It's also easy to get the necessary scuba certifications for diving while you're on a vacation!
Are full-face scuba diving masks good? What are the pros and cons?
The Caribbean can be an amazing family diving destination. It has been so for decades. Local economies have built a booming scuba diving industry and offer some of the best places to scuba dive around the world.
The scuba diving destinations across the Caribbean vary greatly based on service quality, price, and wonders you can find under the seat. They are generally less expensive than scuba diving trips on the U.S. mainland coast. If you are looking for low-price diving destinations with top-quality resorts, then you may want to give them a try with the whole family.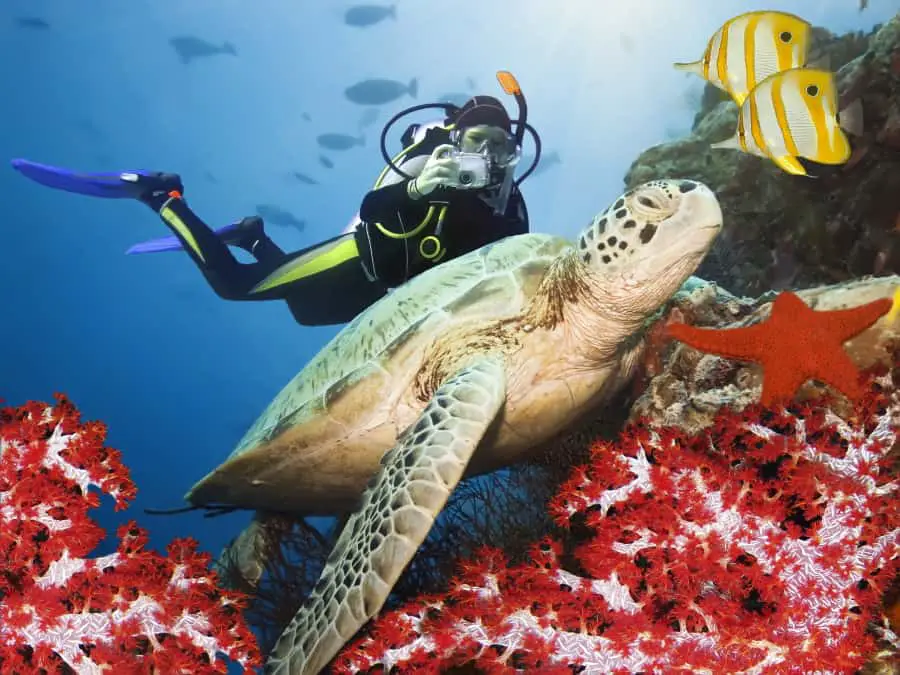 What Aquatic Life Can You Find?
The Caribbean is home to a diverse and rich species of creatures in the ocean and land. Here you will find iguanas bathing in the sun, turtles nesting along the shores, and monkeys swinging in the rainforests inland. You will swim with the dolphins and stingrays while shore diving, and even have a run-in with sharks and whales while out in the deeper ocean.
Land species include basilisk lizards, a variety of frogs, toads, and caiman. Some islands also have sloths, marmosets, capuchins, manatees, and the occasional jaguars, pumas, and ocelots. Hundreds of species of birds have also settled all over the islands and birdwatchers visit the place to observe them.
The most popular and commonly seen aquatic species include the banded tube sponge, coral shrimp, blue tang, dolphins, wrasses, damselfish, gorgonians, eels, angelfish, eagle rays, squirrelfish, parrotfish, and sharks.
10 Best Destinations for Diving in the Caribbean
The Caribbean is the world's most popular destination for scuba diving because of the abundance of perfect destinations for scuba diving. Here is our list of the top 15 picks.
Roatan
This small island in Honduras is the favorite among the scuba diving community. It offers shore diving, deep-sea boat-diving, and night diving for enthusiasts. Roatan offers perfect facilities for singles, groups, or families.
St. Croix
 A beautiful diving location that offers wall diving, reef diving, and wreck exploration for scuba divers. St. Croix is located in the U.S. Virgin Islands and it is very easy to get there by ship or an airplane. You can go for boat diving, shore diving, night diving, and even fishing trips. The Butler Bay just outside the town of Frederiksted on the west end of the island is quite popular.
Cozumel
This scuba diving destination is great for both beginners and advanced scuba divers. The west coast is great for new divers who are looking to get into the sport. The southern tip poses a significant challenge and is preferred by experienced divers. The island's natural beauty makes it one of the biggest attractions while the Maracaibo rock arch leads to one of the most memorable wall-dives you will ever find under the sea.
How do you choose a scuba dive computer? What do you have to consider?
Saba
The small island of Saba is like a paradise in the middle of the ocean. It is a satellite of St. Maarten and offers excellent offshore scuba diving facilities with a beautiful world to explore underwater. The destination is more suitable for advanced scuba divers as there is a strong current and you will need some skill to navigate the underwater tunnels, mountains, and coral reef.
How old do you have to be to scuba dive? Are there any age limitations for scuba diving? Find out!
Grenada
It lies off the coast of the Lesser Antillean island of Grenada. The area is filled with exotic ocean life and the wreck of the famous M/V Bianca also attracts a lot of tourists. You will need to take the ferry to the island. It offers both shore and boat diving.
Can smokers go diving? Does diving affect your lungs?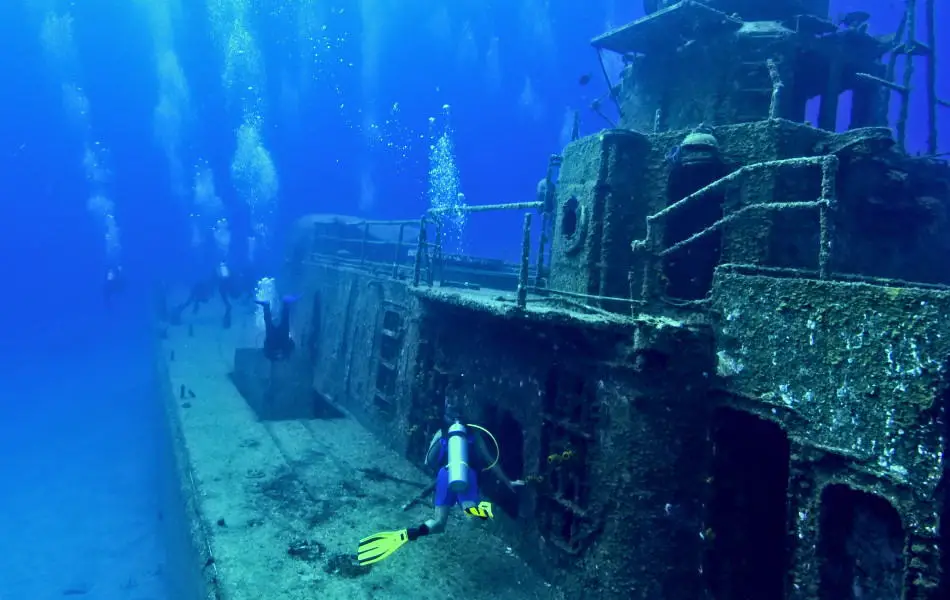 Bonaire
Bonaire ranks as one of the best shore diving locations in the Caribbean, and perhaps even the world. The tourism industry is booming as resorts continue to add new underwater scooters, guides, and scuba diving gear to their rental-gear inventory. Popular diving sites include Salt Pier, Andrea 1 and 2, Petric's Pillar, and Small Wall.
Tobago
Tobago has a rich history. It was one of the first lands sighted by Columbus on his monumental voyage. Today, it has become a welcoming island resort that offers exciting locations for scuba divers. You can explore lush sponge gardens, hawksbill turtles, and a variety of sea life at Tobago. Family and group trips are easy to book through Black Rock Divers and Undersea Tobago.
Do you want to dive in Europe instead? Check out the best diving destinations in Croatia!
St. Lucia
Another historic island that was often exchanged between European powers vying for control of the region. The island is great for people who do not like long, boat rides. It is a favorite destination for honeymooners and families looking to spend their vacation with kids. The undersea life is flourishing with a high density of corals and sponges spread across the ocean floor for miles – quite an amazing sight to see.
Statia
This is a Dutch island that is right in the middle of the sea stretch between Trinidad and the Dominican Republic. It has an exotic 300-foot long artificial reef known as the Charles L. Brown. Despite its small size, the island has an airport and you can charter a flight directly or take the ferry there. It is great for adults or groups of people looking to go scuba diving.
Ever considered diving western Mexico? Find the best dive locations in Baja California!
Cayman Islands
The Cayman Islands is a group of three islands, Grand Cayman, Cayman Brac, and Little Cayman that are located a little south of Cuba.  They are thriving with reefs that support a resident population of sharks and a variety of underwater attractions (are sharks attracted to the color yellow?). They offer record-setting visibility undersea along with a variety of diving attractions including the wreck of the USS Kittiwake (have a look at diving the wreck of the HMHS Britannic in Greece!).
What Gear Do You Need for Diving in the Caribbean?
If you are ready to experience the excitement of scuba diving and see incredible creatures then the Caribbean can be the perfect place to see new seascapes.  If you are unsure of what gear you need to bring here's a comprehensive dive packing guide to ensure that you don't leave anything behind.
Do you need to know dive table when you have a scuba computer?
There are some thoughts of whether all gear is required or not. We don't want to make that call for you or other divers as it's not our place to tell you whether for example dive lights are required or not. It also does depend on where you dive.
As a rule of thumb, here's a list of gear you might consider having for a dive trip in the Caribbean: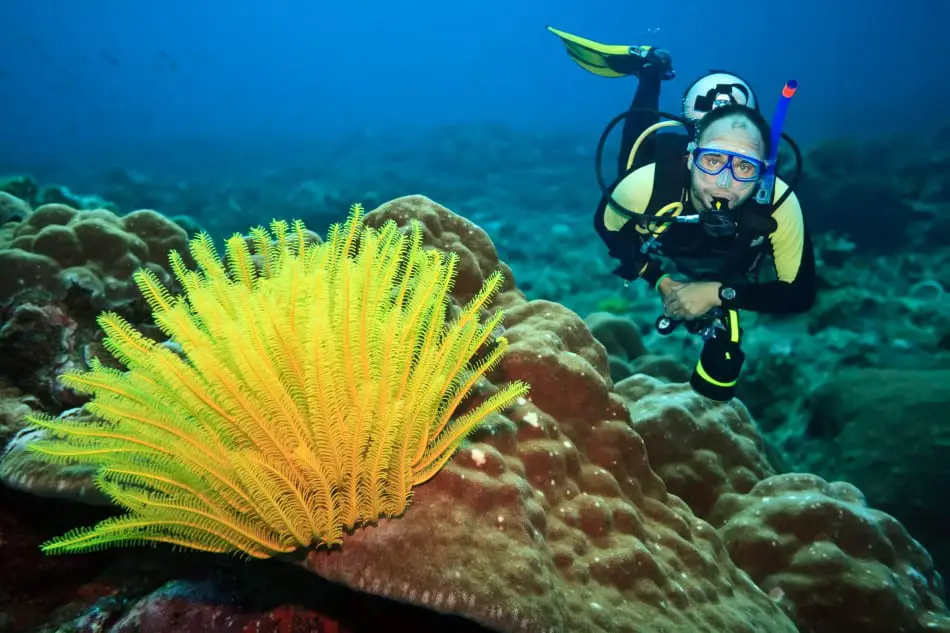 Final Thoughts
The Caribbean offers more than just golden beaches and tropical weather. There is a world of treasures and experiences, waiting to be discovered under the sea.
Scuba diving in the Caribbean can be an excellent way to spend your vacation while enjoying the beaches as well. It isn't very expensive and completely safe with hundreds of instructors available. You can go scuba diving with friends, family, in a group or even on your own.
All you need is the right scuba diving gear and a passion for discovering something fun and amazing. Do you have more questions or something to add? Share your favorite scuba destination in the Caribbean in the comments.