Best Scuba Diving in the Bahamas
Sitting in the Atlantic Ocean between Miami and Cuba is a cluster of more than 700 islands and cays known as the Bahamas. These islands are a popular spot for vacationers because of the warm weather, sandy beaches, and palm trees. These islands offer great cuisine, nightlife, relaxing beaches and of course water sports.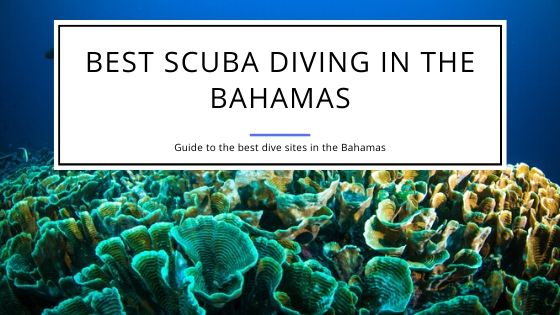 Some of the country's most popular water activities include snorkeling and scuba diving. This is because of the diverse variety of sites scattered around the cays and islands; there's a unique experience at every turn. Below we will discuss all of our favorite places to dive in the Bahamas, including wrecks, caves, walls and big fish spotting locations!
Why Dive In The Bahamas?
The Bahamas offer the chance to experience some of the most unique dives available. With multiple walls, caves, caverns, and grottos dotted around the coast of the islands, you can experience some once in a lifetime dives. The Bahamas are also home to the deepest blue hold on record.
You are not just limited to the natural architecture of the ocean; the Bahamas are home to many wreck diving sites, a lot of which have been strategically placed to give divers the best experience.
One of the best reasons to go diving in the Bahamas is the abundance of big fish that you can see close up. You can see a number of different sharks, dolphins and sea turtles close enough to touch them! We can promise a once in a lifetime experience.
Is It Good For Beginners To Dive In The Bahamas?
The popularity of the country's warm water and lovely weather has made it a place where everyone wants to go, not just diving enthusiasts. Beginners want to explore the distinct architecture underwater, see sharks and dolphins up close, and swim through shipwrecks just as much as advanced divers.
For this reason, beginner dives are very common all over. Purposely placed wrecks are also available just so beginners can get an exceptional experience!
Is It Easy To Get There?
Due to the booming tourism industry of the Bahamas, they have made sure they are very accessible to the world. You can catch direct flights into the Lynden Pindling International Airport in the capital city of Nassau. Airlines fly quite frequently into the international airport, where you can easily catch a local flight onto any of the islands.
Are There Good Dive Sites For Families?
The Bahamas are a very popular spot for vacationing for families. Because the country has such high demand in terms of tourism, they are well-equipped to handle guest parties of any size. Diving and scuba diving is a very popular activity, so dive schools have come out with packages and dive expeditions that the whole family can enjoy.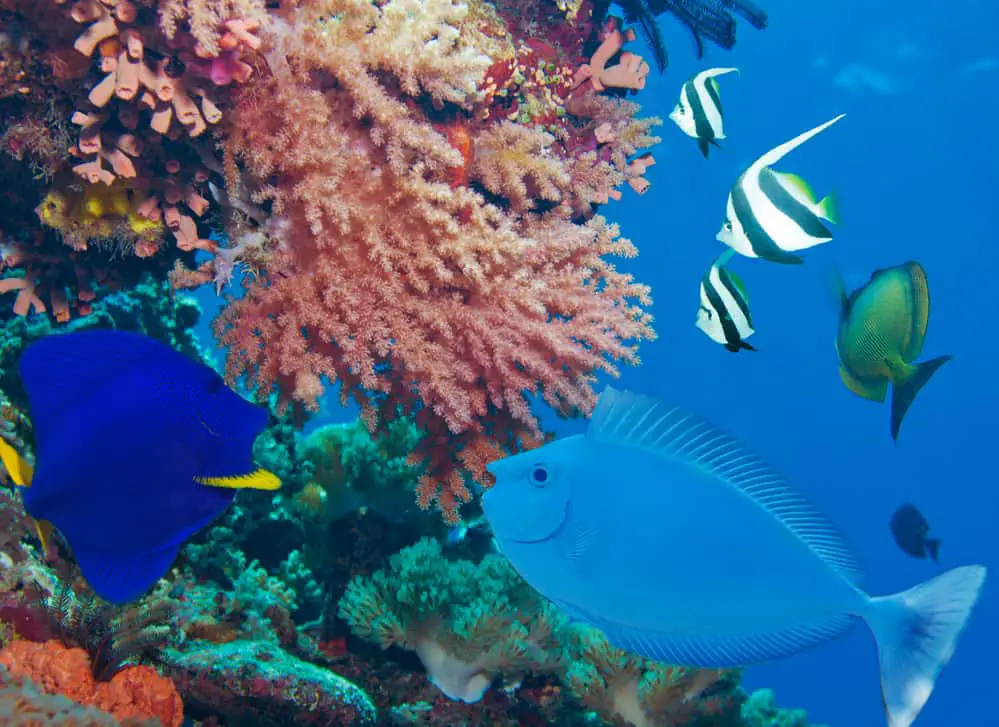 What Aquatic Life Can You Find?
The Bahamas are a wonderful place to experience all sorts of marine life, especially if you want to see some bug fish up close. But big fish are not all you see; the dive sites are full of beautiful coral from intricate brain coral, to long and winding red finger gorgonians, and even the endangered Elkhorn. You can even find the queen conch; a Bahamian seafood specialty! You can even swim to shallow sea floors and get the chance to pick up a massive sea star and observe it up close!
When we talk about fish, one of the most abundant little fish you can see is the blue tang. That's right, you will see many Dorys (from Disney's Finding Nemo) swimming around the water. Oh, and let's not forget her friend Nemo; the clownfish is also native to the Bahamian waters. If you are looking for something a little bigger, you will also be able to see the sharp blue marlin, and if you stay calm, even be able to go close to a barracuda. Finally, if you can spot the camouflage experts, these waters are also home to giant groupers.
Dolphins are also common around the dive sites. If they're feeling friendly, you might see an Atlantic spotted dolphin swim alongside your boat. You can even get in the water and swim with these intelligent creatures to really get a feel of what they are like. The Bahamas are home to a variety of different dolphins, which include the bottlenose dolphin, striped dolphin, and Fraser's dolphin.
The Bahamas take pride in their sea turtle population as well. Since these creatures are much endangered, you are likely going to be asked to be careful and respectful around them. You can find a few different species here that include the green sea turtle, the hawksbill turtle, and the leatherback.
Finally, the most coveted sighting in the Bahamas is that of a shark. There are many dive sites dedicated specifically to seeing these magnificent creatures swim around you. You can head over to New Providence any time of year to catch a glimpse of the huge Caribbean reef shark. If you are looking for bigger ones, head over to Grand Bahamas or Bimini to see tiger sharks and great hammerhead sharks in their environment. Other sharks you can see are the oceanic whitetip shark, lemon shark, or even the occasional, but dangerous bull shark. 
Best Scuba Diving Destinations in the Bahamas
The Bahamas are known for their diversity of dives. Whether you are looking for some advanced cave dives or beginner wreck dives, or just to look at big fish, the Bahamas have it all. Here are our top picks for wrecks, caves, and scuba diving sites for the best experiences:
Dive Sites
The Washing Machine
This extremely unique dive is a really fun way for divers to experience the Exuma Cays. It is a drift dive experience that swirls divers down because of the current and floats you back up gently over a reef before you ascend to the surface. This is one for adrenalin seekers!
Tiger Beach
Most divers are looking for a shark dive experience when they come to the Bahamas. Tiger Beach has become known as one of the best shark dives in the world. Divers are taken down 20m and stood in a large circle. Local shark handlers then feed the sharks close to the divers so they can experience the great creature up close.
Over-the-Wall
This is a dive that can be done in the day and night. The Bahamas are known for the walls and holes that can be found beneath the surface of the water, and this wall is one that should not be missed! The wall drops down a staggering 1,820m. On the way down, divers are asked to switch off dive lights under the water; once their eyes adjust to the darkness, they get a magical surprise.  Bioluminescent plankton particles light up the water around them and create an unworldly scene.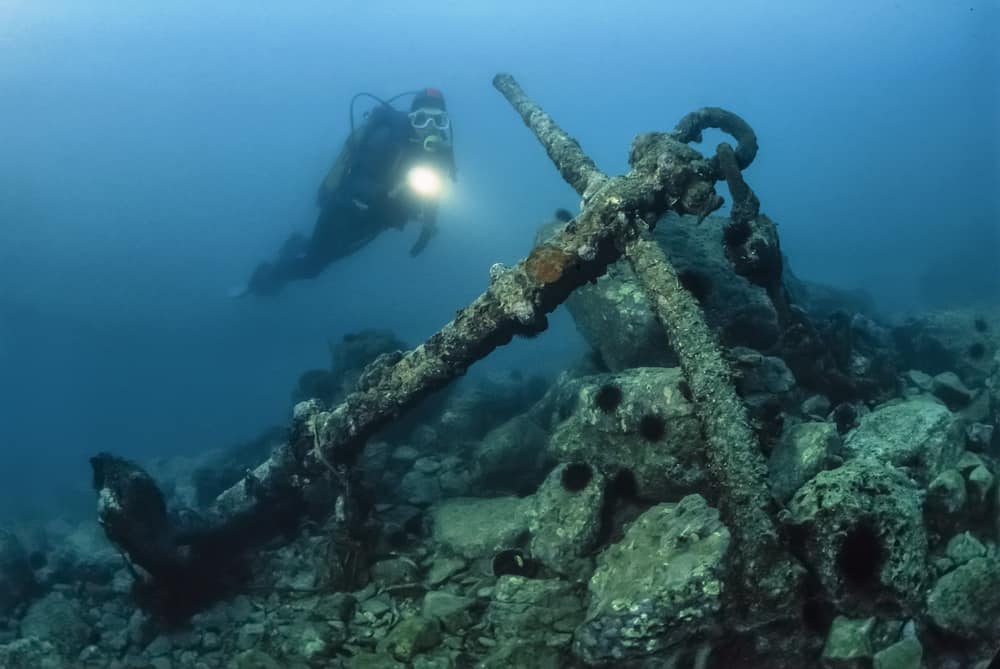 Wreck Dives
SS Sapona
This 82m long wreck lays just a mere 6m under the water. It is one of the only concrete ships in the world, making it a unique dive. Due to its depth, the wreck is very easily accessible and also great for beginners. You can spot marine life like gray angelfish and green moray eels swimming around the ship as well.
Theo's Wreck
This wreck was purposely sunk for diving purposes in 1982. The 80m long ship rests on its side at a modest 30m depth on the ocean floor. Because of the currents in the area, new marine life is brought to the wreck and has managed to cover the entire thing. Colorful corals and sponges that cover the surface have become home to a large number of species of fish and even have visitors like reef sharks and spotted dolphins.
Ray of Hope
This is known as one of the best dive sites that the Bahamas have to offer. It is a 60m long Haitian freighter that was purposely sunk in 2003 near one of the infamous Bahamian walls. It is truly a complete diver; you will get to do a wreck dive, a shark dive, and a wall dive, all in one tank!
Caves and Caverns
Ben's Cavern
If you are not a tech or cave diver, but still want to experience what it could be like, this is the place to go. You get to sample what it would feel like to enter larger caves and you get an idea of what other crevasses and caverns exist in the Bahamas.
Thunderball Grotto
A scene literally out of a movie, this location has been the star spot in many Hollywood films. It is a cave that exists in a large hollowed-out rock that creates a natural skylight; sunlight beams down into the water making the colorful coral and fish seem more vibrant than ever.
Dean's Blue Hole
This is the world's deepest blue hole to be recorded. Its depth has been recorded at 202m; this sight is regularly used by freedivers to practice for competitions. The dive site has great visibility year-round and very mild currents making it a must-do dive for enthusiasts. As a bonus, you might spot a sea turtle swimming around the area.
What Specific Gear Do You Need To Dive In The Bahamas?
It is difficult to lug around heavy diving gear with you when you are packing from a trip. Fortunately, the Bahamas are equipped for its fair share of scuba divers that frequent for their chance to dive among the sharks and the country's unique underwater architecture. You are most likely going to be able to rent any of this equipment very easily. With each dive site, your guide will be able to tell you what equipment is absolutely necessary, but here is a list just in case:
Compulsory Gear for Regular Dives (Scuba Diving Gear List – The Complete Dive Equipment Guide)
Additional Gear for Wreck and Cave Dives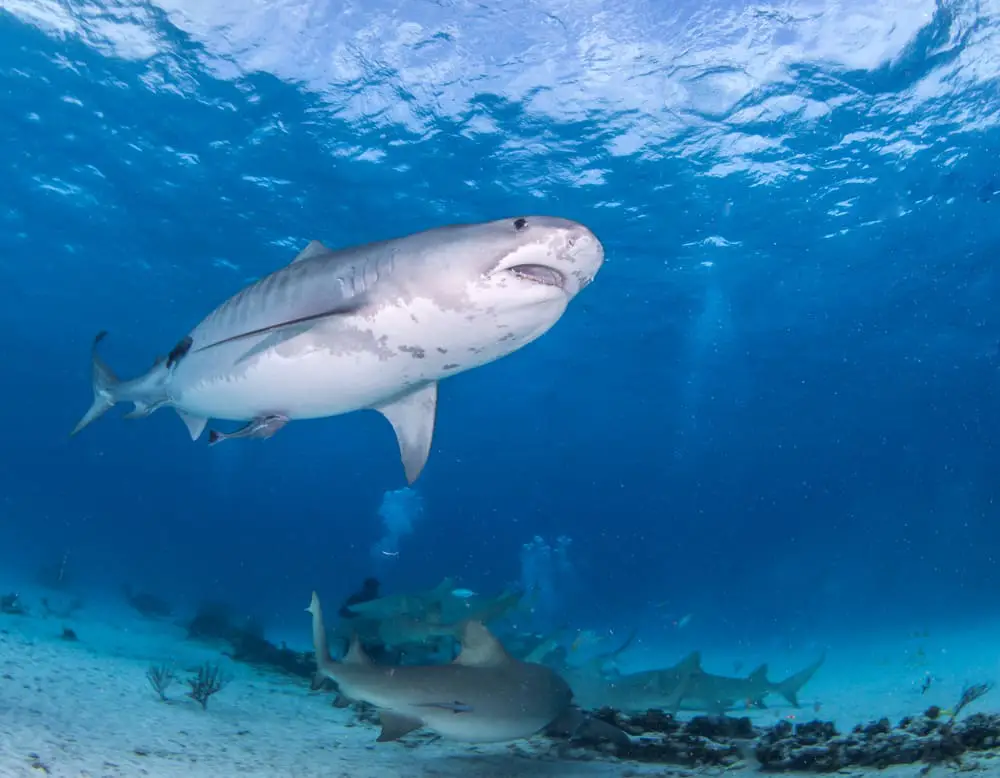 Is It Dangerous To Dive In The Bahamas?
Depending on the dive and your level of experience, the danger associated with these dives varies. All dives should be done with some level of caution. Experienced trainers on-site can guide you through the dangers of each dive individually. 
Wreck dives and cave dives can e more dangerous than regular dives, so make sure you have the knowledge of what you are getting into before going. Always dive with a trained expert if you are a beginner to avoid any mishaps.   
Final Thoughts 
If you find yourself in the Bahamas on vacation, don't hesitate to go to a dive center and get a chance to visit some of the most wonderful sights available all over the world. The Bahamas are equipped for all levels of divers, so don't miss an opportunity to try it out!