How to Become a Certified Cave Diver
If the hidden mysteries, the unexplored depths, and the challenges of the underwater world seem to thoroughly excite you, then cave diving might just be the best thing for you!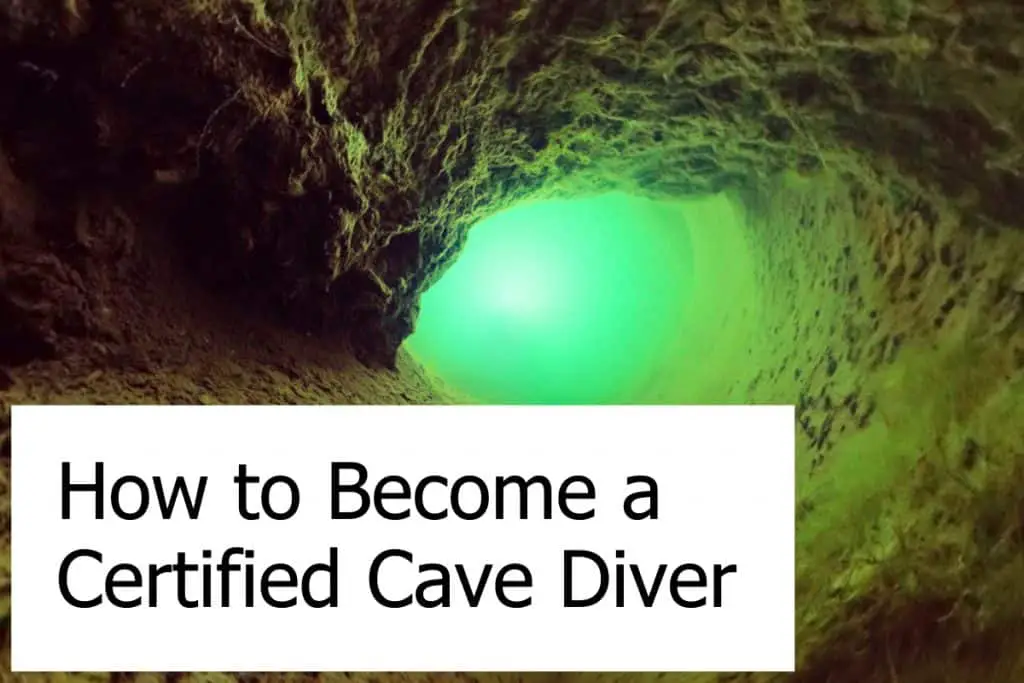 What is Cave Diving?
If you've ever done scuba diving before, cave diving won't sound alien to you because it is, after all, a more dangerous and more intense form of the sport. It is also commonly referred to as 'underwater diving,' and compared to other types of diving, such as cavern diving and open-water diving, it is more technical than recreational in nature.
Cave diving is an extreme kind of underwater sport that involves diving without an overhead environment. You have zero vertical access to any direct light or open air, and you can expect to find yourself diving miles underwater in areas without any natural light, along with limited water visibility.
As you descend deep into the water and enter a sinkhole or a cenote, you might even come across ancient rock formations from hundreds of years ago that have probably never been discovered before or seen the light of the day.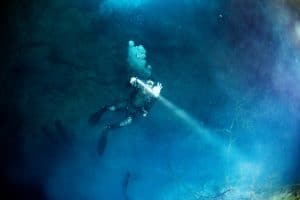 Cave diving is considered to be a very daunting and dangerous water sport, and while it is a little scary, you will find that with proper training, experience, and the right diving gear and equipment, it is one of the most incredible experiences as you descend into a world like no other.
If you think you are ready to embrace the depths of the water and go on professional cave diving expeditions, learn all about this thrilling sport below, including how to become a certified cave diver.
What Certifications Are There for Cave Divers?
Cave diving presents you with the perfect opportunity to experience the freshwater springs; however, you need a specific cave diving certification in order to be able to enter the dark, mysterious underwater caves.
Before we list down the different certifications that there are for cave divers, you must first understand the difference between cave diving and cavern diving since these two sports that are often confused with each other.
Cavern diving is one where you just touch the first part of the cave, close to the mouth of the cave where there is still some direct light coming inside. You can clearly see the light source as you look behind during a cavern dive. On the other hand, cave diving involves going much deeper into the cave until the light source starts to disappear, and the water visibility levels become extremely low.
Now that you know the main difference between the two, take a look at the main certifications for cave divers.
Cavern Diver Course
To become a certified cavern diver, you have to take the basic 'cavern diver course' because this is considered to be the foundation or basis for all cave diving training. It is generally a 2-3 days course and all you need to enroll in this course the standard diving gear that you probably already have, such as a diving mask, wet and drysuit, fins, cylinder, and dive lights, to name a few.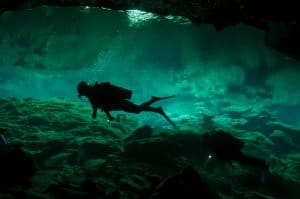 This Cavern Diver Course covers a great number of skills and topics. It includes an informational guide on safe cavern diving, gas management, the use of dive computers, the medical aspects of diving, how to follow the line without any visibility or light, etc.
The course typically requires divers to perform a total of 4 cavern dives that are divided into 2 or more cavern zones.
Apprentice Cave Diver Course
Previously, after completing the basic Cavern Diver Certificate, you were required to complete two introductory courses before you could move on to the final, advanced cave diver certificate course. However, the requirements have been updated over time, and the current process is a lot more straightforward and quick.
Now, you just need to take the Apprentice Cavern Diver Course, which is more comprehensive in nature, and it primarily focuses on mastering critical emergency skills. Additionally, this level of training for cave diving also teaches different diving techniques and procedures, emergency drills, cave conservation and awareness, safety techniques and practices, dive execution, and dive planning, among numerous other things.
This apprentice course allows you to practice enough fundamental skills that are essential for advancing to the final cave diving course and also gives you the chance to gain limited experience where divers are highly encouraged to observe the underwater environment, develop safe diving practices and be more of their surroundings.
Cave Diver Course
Once you successfully complete the Apprentice Cave Diving Certificate course, you move to a much more advanced cave diver course that greatly builds on the knowledge, experience, and skills that you acquired in the previous course. The duration of both these courses is typically six days, which includes a total of 16 dives or more and also requires at least 600 minutes of bottom time.
The main focus of this course lies in teaching divers how to use the open-water decompression technique inside the caves with a strong emphasis on the methods of cave navigation. 
The Cave Diver course has a few specific prerequisites that you ought to meet in order to become eligible for the course. The requirements are:
You must be 18 years of age or more
You must have logged at least 50 dives
Certification proof of prior cave diving or cavern diving experience from a reputed dive training organization.
Some training in decompression procedures
Advanced Cave Diver Course
This course is an alternative to the previous basic cave diver course with almost the same requirements and prerequisites. It includes all the academic and development skills taught in the preceding course, along with the same special training and exposure.
The only difference or deciding factor between the two courses is that of your personal 'need' or 'requirement.' In other words, as a newly certified cave diver, do you think it is necessary for you to go that far?
If you think that the basic cave diver course is sufficient for you and provides you with adequate training and experience, you need not take the advanced level.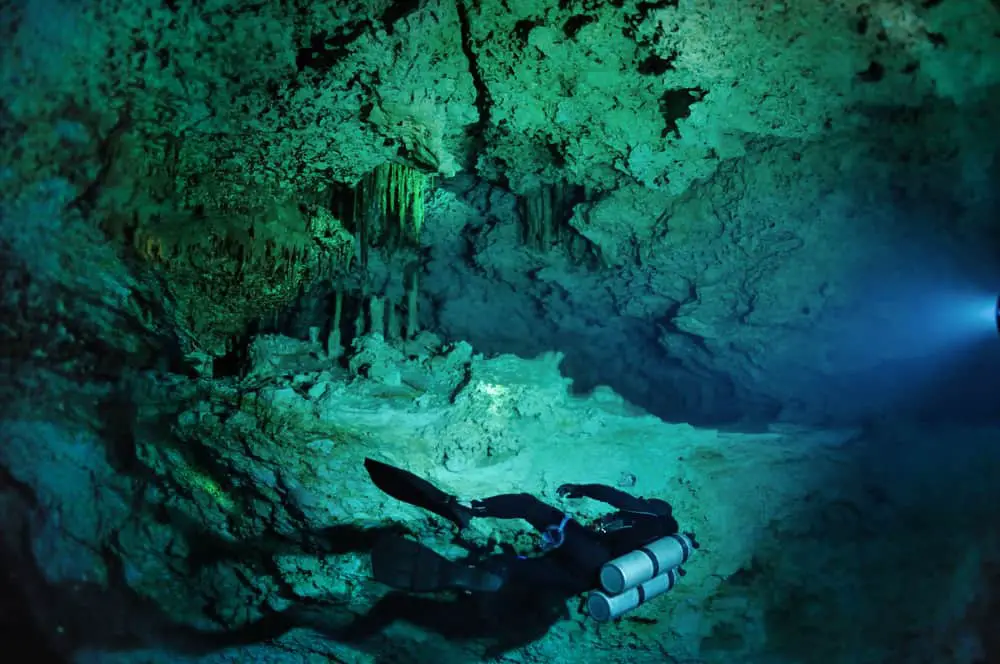 How Dangerous Is Cave Diving?
When done right, cave diving can prove to be an extremely rewarding activity; however, it is still quite dangerous and challenging, especially if you are new to it. The main reason why it is considered to be a dangerous sport is that it has several inherent risks attached to it that can also cause you personal harm if you don't exercise enough care and caution.
Here are some of the most serious risks that are entirely unique to cave diving.
Air Supply
Regardless of how much you plan for a cave dive, there are times when unforeseen circumstances or sudden changes in the surrounding conditions can lead to difficulties underwater. For instance, the underwater air consumption rate varies from one diver to the other.
This can become even more unpredictable in times when they become stressed out, and their breathing rate greatly starts accelerating. This particular instance would require a greater amount of air supply, more than what you might've had in mind initially.
Turbid Conditions
One of the biggest risks of cave diving is limited natural light, and there are times when you might have to deal with sudden blackouts, limited or zero water visibility, and unexpected movement inside the cave.
Physical Stressors
Since water is almost 800 times heavier than air, cave divers need to be well-equipped in order to be able to combat the ever-increasing pressure. They are required to carry heavy equipment to breathe underwater and are often subject to serious physical stressors such as the weight of the equipment, cold water temperatures, too much exhaustive movement, and heavily-enclosed environments that can cause claustrophobia and suffocation.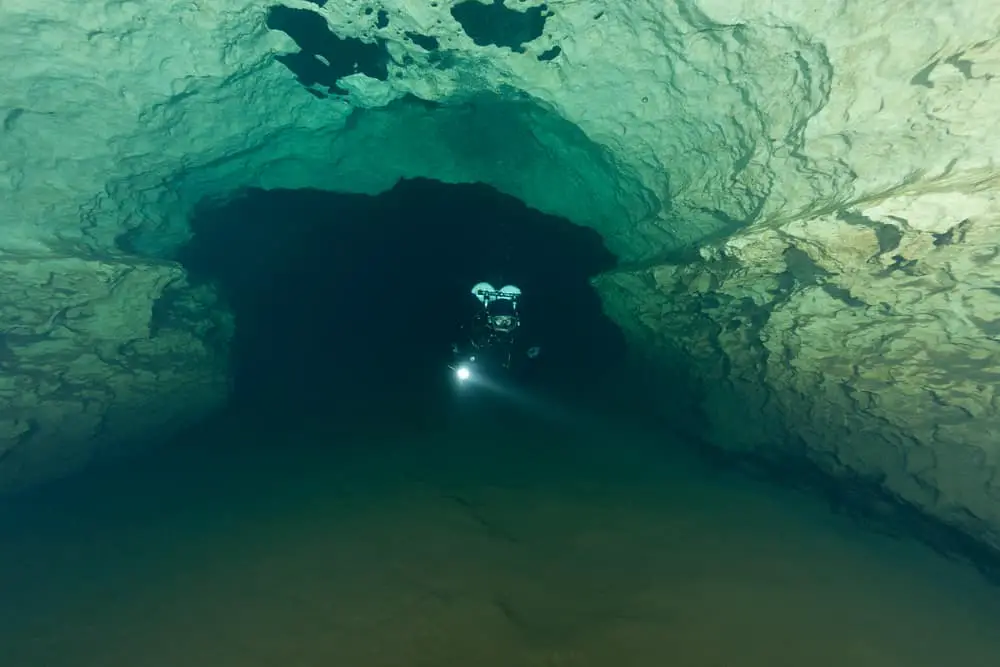 How Much Do Cave Divers Make?
The salary or earnings of a cave diver greatly depend on a number of factors such as location, personal skills, and attributes, commission-based or fixed salary, where you work, etc.
While these are some of the factors that determine how much you can make as a certified cave diver, the average earning can be as low as $500 per month or as high as $4000-$6000 a month.
Where Can You Go for Cave Diving?
Once you have acquired the required training and certification for cave diving, there are numerous incredible sites and spots for cave diving all across the globe where you can both practice or teach the sport.
These are some of the best cave diving sites that will surely test your limits!
Orda Cave – Perm Region, Russia
This is known as the longest cave in Russia and also as the longest gypsum cave in the entire world! It is home to some of the most beautiful scenery, and most of it lies undiscovered to this date.
Nereo Cave – Alghero, Sardinia
This is the Mediterranean Sea's largest underwater cave full of arches and tunnels that are some of its most attractive features for divers from all over the world.
Indian Springs – Florida, USA
Located on private property in Florida, this is one of the best caves in North America with several amazing points of interest inside the cave.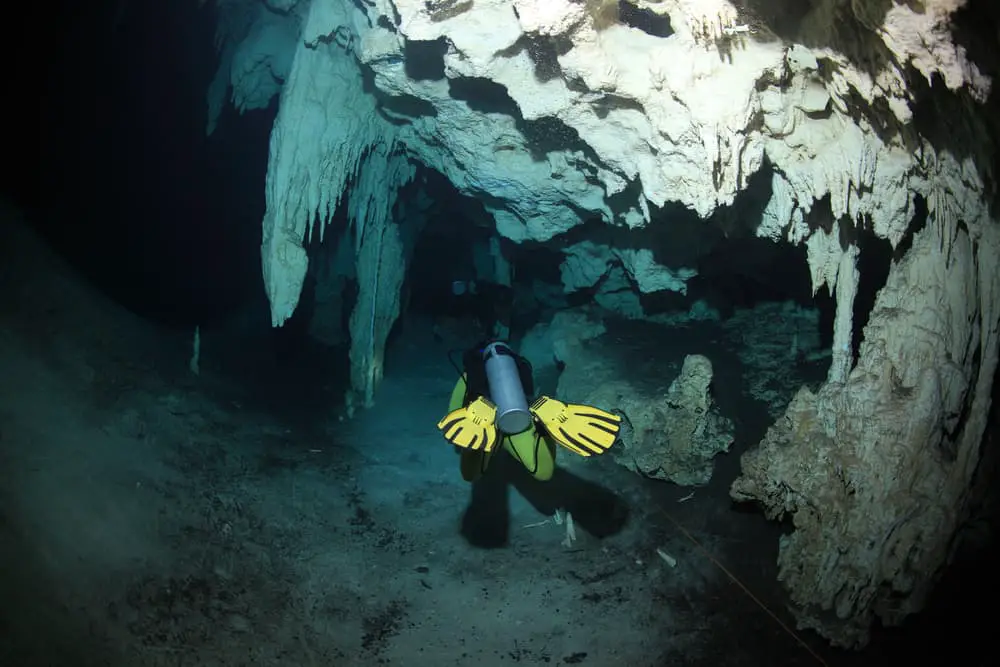 Do You Need Special Gear for Cave Diving?
One of the major requirements of a successful cave diving experience is the right kind of gear and equipment. Along with the basic scuba equipment, there are many other things and special kind of gear that you need for cave diving.
It is essential to note here that for every piece of equipment that cave divers possess, they are likely to carry an extra for it for emergency situations such as machine failure.
These are some of the most essential accessories required for cave diving:
Masks
To help divers breathe because they stay submerged underwater for long hours.
Fins
To move through the water easily without stirring up any sediment from the floor of the cave
Suits
This includes either drysuits or wetsuits. The ideal choice for cave divers is drysuits because they prevent major heat loss, and the material often has small spaces in between the layers that allow air insulation.
Tanks
Diving tanks ensure proper gas supply, and they store plus transport the high-pressure gas required by cave divers.
Regulators
These are devices that help reduce the supply pressure of breathing gas and ensure a balanced supply to the divers.
Lights
Since underwater caves are dark and have no direct natural light, cave divers need sufficient LED lighting to help them see and explore the underwater world.
Deco Bottles
The advanced cave diving course requires all divers to carry deco bottles with oxygen. These are essential to balance the amount of oxygen and nitrogen underwater.
Harness and Backplate
These are located on the tank, and their purpose is to hold the wings in position. They also help firmly hold the equipment in one place for the divers.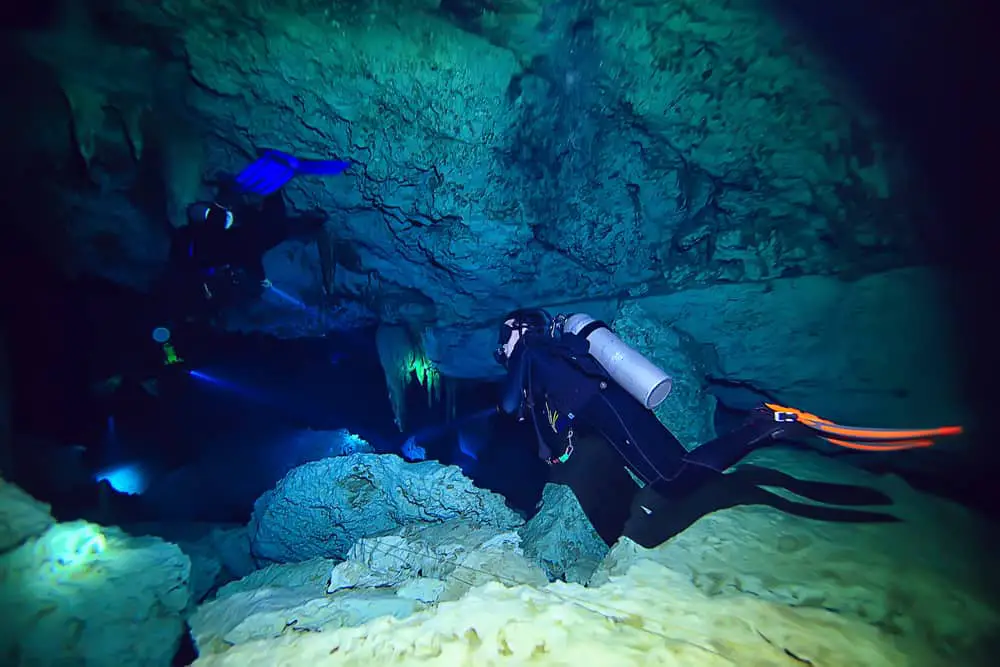 Final Thoughts 
There's certainly no denying the fact that cave diving is one of the most electrifying water sports out there, and it will seriously challenge your skills and test your limits. However, to become a successful and a certified cave diver, you must complete all the required training procedures and certification to make the most of your time in a dark, mysterious cave underwater!