Best Places to go Wreck Diving in the World
As a diver, you want to be able to explore unknown and unseen locations to gain new, unique experiences that you otherwise can't in real life. Exploring age-old shipwrecks and plane crashes allows divers to enter a new fantastical world; divers are transported to a world long gone by exploring treasures forgotten by people on land.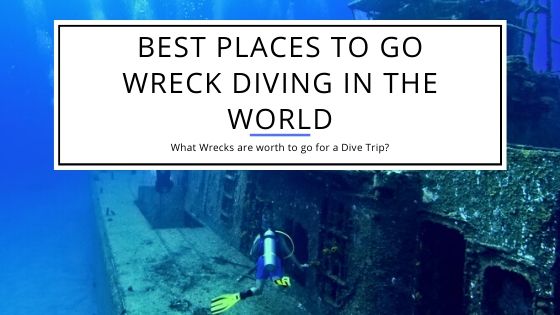 For scuba divers that have gone on multiple scuba excursions, it eventually becomes a little mundane. We aren't saying that it becomes boring because there is an immense part of the aquatic world that is yet to be discovered and seen by humans, but some divers are looking to see something a little different. This is where wreck diving comes in; every wreck is just waiting to tell a story of the past.
Why Dive Wrecks?
Wrecks aren't just interesting to see because of the tales they tell, they also serve as artificial reefs, creating a habitat that houses a multitude of marine species. The wrecks allow divers to see things that they normally would not get to see, like the ins and outs of these large structures. They also get to learn about the tragic or thrilling story of the vessel and how it ended up on the ocean or seafloor.
It is also more challenging to dive wrecks because of the level of maneuverability required to move around within the vessel. It is not a simple dive in the water and swims straight back to the surface dive if you are entering a vessel. It creates tests for the diver, making the dive more exhilarating. 
Is it Good for Beginners to Go Wreck Diving?
Wreck diving can be an extremely dangerous sport because of the unpredictability of wreckages that have been lying underwater for years on end. The corrosion on the metal of ships and planes can make them hazardous. There is a possibility of getting trapped, injured, or lost in these unfamiliar places, making it possible to run out of air or lose visibility. Wreck diving is dangerous even for certified and skilled divers; it is ill-advised to go wreck diving as a beginner.
Saying all this though, thanks to the advances in technology and in the field, modern ships have been purposely submerged in water to create wreck dives that can be accessed even by beginners. These dive sites are more controlled and monitored, making them safer to explore.
What Aquatic Life Can You Find?
The aquatic life found on wreck dives depends solely on the location of your dive. You might find sea turtles in Hawaii and Eagle Rays in Mexico while you can find Sand Sharks in North Carolina. You need to be aware of the native marine life to know exactly what you are going to see in the underwater vessels.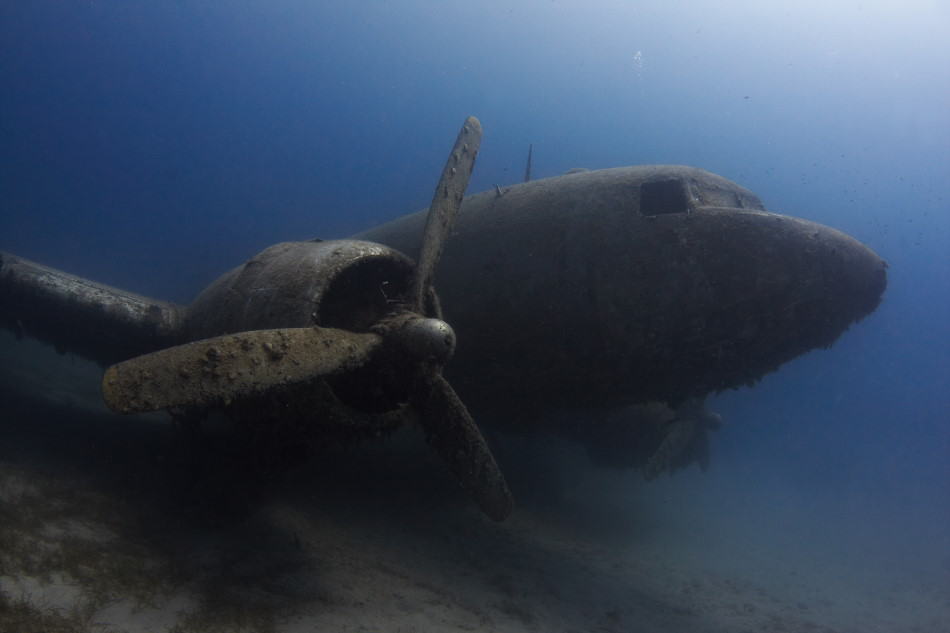 Shearwater Teric vs. Suunto D5 vs. Garmin Descent Mk1 – Best Wrist Watch Dive Computer!
Best Wreck Diving Destinations:
RMS Titanic, North Atlantic Ocean
Who wouldn't want to explore the legendary epitome of luxury; the one and only, Titanic. The vessel only opened up to underwater explorers in the middle of last year (May 2018) and offers an extremely exclusive dive into the notorious, well-documented world. The entire excursion takes eight entire days, and only allows nine divers at a time.
Divers are flown out by helicopter from Newfoundland to a yacht near the dive site. Here, they train the divers and get them accustomed to the environment, after which they will be divided into groups of three. The groups will be descended down 4000 meters underwater in a vessel called Cyclops 2.
The completely hands-on exploration trip allows divers to take part in research and analytics of data. This expedition lasts up to three hours, allowing divers to fully explore the wreckage while focusing on the mostly intact bow of the ship.
SS President Coolidge, Vanuatu
This is one of the largest and most accessible wreck dives in the world. This deep dive stretches 650 feet in length; its mammoth size allows accessibility to up to 10 divers at a time. The ship was originally a luxury cruise liner, converted into a World War II troop's carrier. The vessel was never meant for war, but, unfortunately, encountered some friendly mines and had to evacuate her 5000 inhabitants as she sank slowly to the bottom of the channel.
Due to the ship's history and dual purpose in its lifetime, divers that choose to explore her get the best of both worlds; they get to see the wreckage caused by mines on a marine ship and also get to see a local luxury cruise ship all in one dive. Over the years, the wreck has become home to many coral species, moray eels, and even sea turtles.  
Jake Seaplane, Palau
The Jake Seaplane was a long-range reconnaissance seaplane used by the Imperial Japanese Navy. This site is relatively easy to dive and is even accessible to snorkelers. During high tide, the plane is entirely visible through the clear water. The plane looks completely intact from the front, which makes it a very popular location for pictures. However, if you move to the side you can see that the tail and one of the floats of the plane broke away on impact.
The wreck is only a five-minute boat ride from the coast of Koror in Palau. Though it is an easy dive, it is recommended that divers be weary because there is still a live hand-dropped bomb near the side of the plane. 
Thistlegorm, Egyptian Red Sea
This British Navy Transport Vessel was sunken by German bombers during World War II on 6th October 1941.  The 400-foot long merchant trip was carrying everything from motorcycles to firearms, trucks and even trains. This made it a very interesting site to see underwater. Unfortunately, the site was completely forgotten.
Rediscovered by explorer Jacques Cousteau in the fifties, the wreck once again didn't stay in the limelight for very long. It was not until the 1990s when Sharm el-Sheikh developed the wreck into a dive site by making a dive resort, that it became popular among scuba divers. During the war, the blow the ship took in the center makes it open and very accessible to divers. The cargo held by the ship is still very much intact and a real sight to see for anyone diving the wreck.
Flying and Scuba Diving – How soon after a dive can you fly?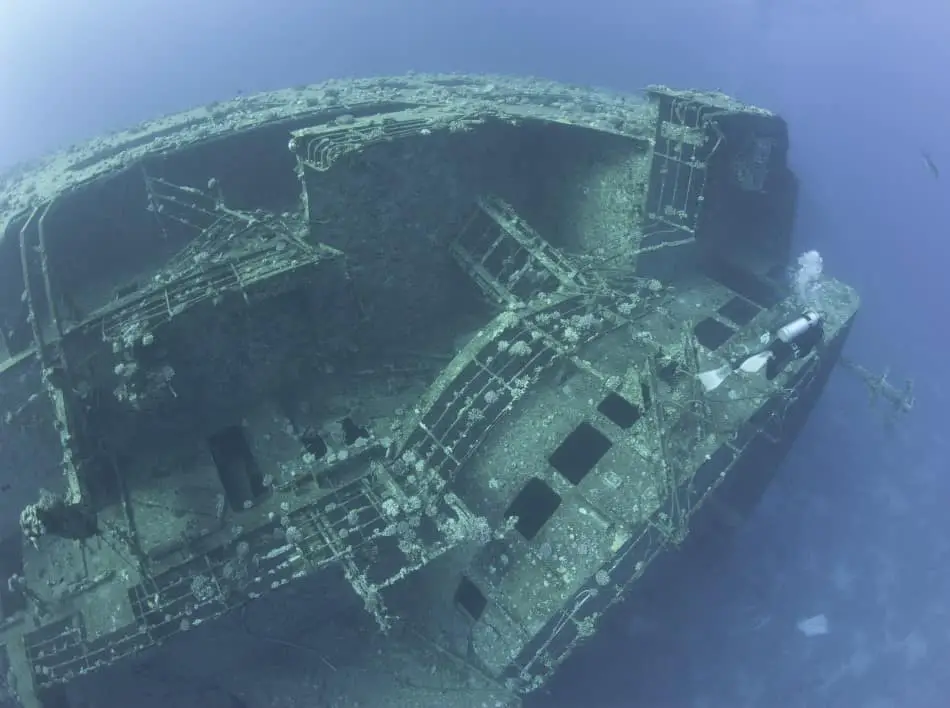 MS Zenobia, Cyprus
This Swedish-built ferry, unfortunately, sunk on her maiden voyage just one short stop from her final destination. The ship capsized in the Mediterranean Sea near Cyprus due to technical failures, taking down nearly $500 million worth of cargo with her. 
This wreck has consistently ranked as one of the top ten dive sites around the world because of its extremely well-preserved structure and accessibility. The site offers a range of different dive locations, all varying in levels of difficulty as well, making it a great sight for all divers.
Aquatic life around the ferry is plentiful. Divers can expect to see Moray Eels, Barracudas, Jack Fish, and Grouper Fish.
Shinkoku Maru, Chuuk, Micronesia
Chuuk is a playground for avid divers. There are multiple wrecks to explore in the area, alongside the beautiful coral reefs. The Shinkoku is a 500-foot long naval tanker that tells the tragic tale of war. Though originally used for transporting oil from the United States to Japan, this vessel was commissioned to be a part of the Pearl Harbor Striking Force.
Though the story of the vessel is sad, the cheery colorful coral disguising its cold metal exterior is quite a wonderful sight to see for divers. Though the outside of the ship is lively, inside the vessel you can still find the bones of a lost Japanese soldier eerily lying on a table.
S.S. Yongala, Australia
This steamship lies at one of the world's greatest sights; the Great Barrier Reef. This is a bucket list dive for many experienced divers and is known as one of the world's best wreck dives. This passenger ship sank during a cyclone it encountered in 1911 near Queensland, Australia. In this unfortunate accident, all 122 passengers aboard the ship lost their lives.
The ship is a well-known dive site because of how well preserved and large it is. Not only do you get to explore the greatness of the wreckage, but you are going to see a large variety of marine life in and around it. Divers can expect to see Giant Marble Rays, Giant Groupers, Barracudas, sea snakes, turtles, and Eagle Rays just to name a few.
Superior Producer, Curaçao
100 feet below the water lays this 400-ton cargo ship that was originally named 'The Andromeda'. It was 165 feet long with a beam of 25 feet and an 8-foot draft and resisted all attempts at being pulled up until it finally sank fortunately without any casualties.
The wreck sits upright and still intact, with an exposed cargo hold, making it easy for divers to penetrate the ship. Colorful cup coral and sponges cover the metal skeleton of the ship, making it a spectacular sight, while more experienced and adventurous divers can take advantage of being able to see the engine room and crew cabins within. Divers can also see the abundant aquatic life that lives around and in the wreck; everything from Barracudas to Angel Fish can be spotted here.  
This wreck can be accessed through boat, but more experienced divers prefer to go straight in from the beach so they can explore nearby reefs on the way back to the shore.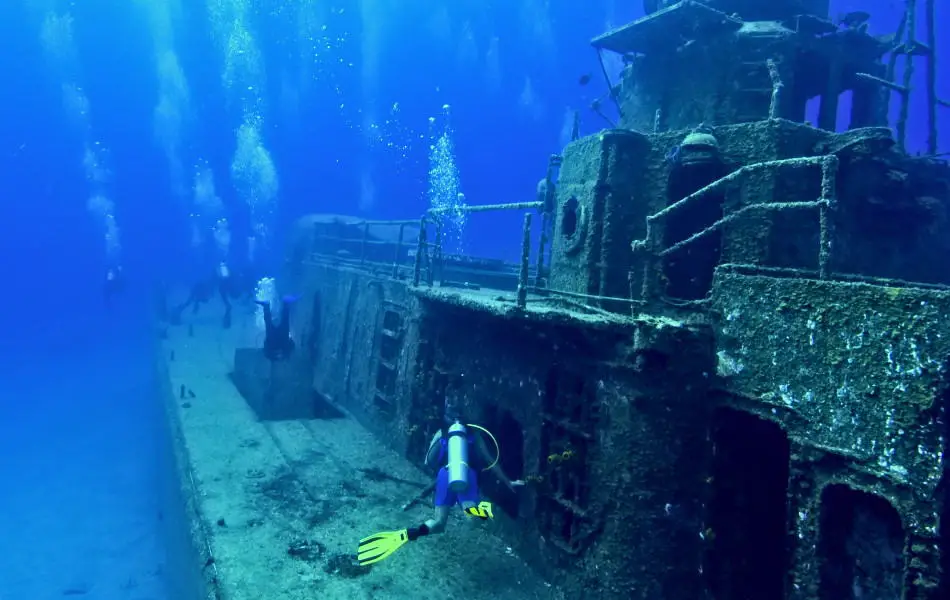 What Specific Gear do you need To Wreck Dive?
Apart from regular diving gear, there is some specific gear that is necessary for wreck dives. Wreck dives can be quite dangerous and dark, so it is advised to keep the following specialty gear with you if you plan to go:
Wreck line and reel
Underwater slate
Extra breathing gas
Thick gloves
Final Thoughts 
Wreck dives have become so popular that retired ships have been sunk, just for the purpose of creating new wreck dive sites, especially so that beginners can experience what skilled divers do. This just shows the level of satisfaction divers experience with these kinds of dives. It is still important to remember that these sites can be potentially dangerous and all precautions should be taken before actually jumping in.