How to find the Best Dive Knives – Reviews and Buying Guide (2023)
A dive knife is an essential piece of gear when you go scuba diving.
No… you usually won't need it to be James Bond and fight off other divers or sharks that want to make sure you won't surface again. You most likely instead will use them to cut an entangled line, seaweed, or use them instead of a tank banger.
Diving knives are very versatile and their importance is often underrated. Let's have a closer look at what you need to consider when you're looking for a new dive knife and also have a look at the best scuba diving knives there are.
Many divers carry a knife for different purposes, the most important of which is simply the peace of mind it offers. Knives can come in handy in case the diver finds herself tangled in seaweed, a fishing line, or kelp. They can also be used to pry or dig during a dive.
In very rare instances, diving knives may be used for self-defense against the many predators in the sea. However, it's an extremely unlikely occurrence, where a knife might not necessarily be the best tool to use.
Fascinatingly, dive knives are more often used on land rather than underwater. Some of the common uses of scuba knives include tightening or loosening screws, hammering or pounding items, and opening oyster shells. Furthermore, people who Spearfish frequently use their knives to prep and cut their prey for the ride back home.
What to consider when choosing a Dive Knife
Diving knives come in a wide variety of styles and features. But it's very important not to choose a knife randomly, since this is something your life may depend on. Here are some of the things you should consider when choosing the right dive knife for you.
Plain or Serrated Edge
One of the main purposes of a dive knife is cutting through ropes or other strong materials. If you would only consider this option, then a serrated blade will be the way to go. Straight edges are mostly used for cutting lines, especially on finer things.
Most diving knives have both a plain and a serrated edge on each side of the blade. Ordinarily, you wouldn't want to pick this knife, but keep in mind that diving knives aren't used to puncture things, so it can be a handy advantage to have an edge for slicing things and another for cutting rope.
Grip
The handle of the knife is another very important aspect to consider. Since you'll be in or around water most of the time, things are bound to get a bit slippery.
The shape, texture, and build material of the handle are some of the things you want to check when choosing a dive knife. A nicely textured handle can firmly keep the knife in your hand, while a proper shape will make it easier to hold.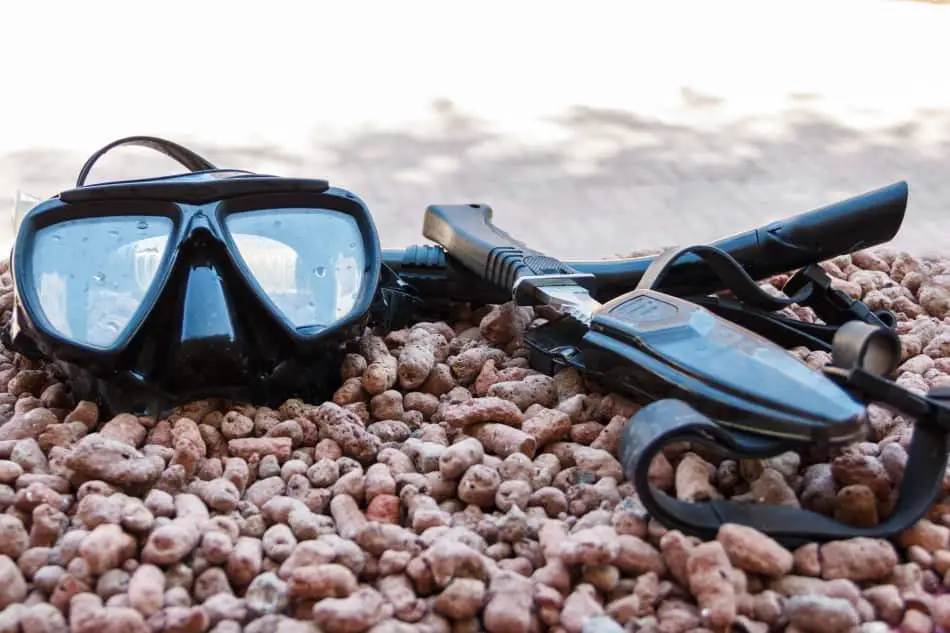 Sheath
The sheath is also very important since it's the only thing preventing your knife from sinking away while you're not using it, which is probably most of the time. Plus, whenever you need to use it, you want to be sure that the knife is there.
A great sheath ideally fits properly on your equipment or body and has a sheath retainer – a device that keeps your knife from coming out unexpectedly. If you choose to get a folding dive knife, you will notice most of them come with clips instead.
Pointed or Blunt Tip
This is often a matter of preference, but let's look at their differences. With scuba diving knives, unlike pocket knives, you don't necessarily need to have a pointed tip because the knife is rarely used for piercing or stabbing. As such, a blunt knife tip will make your knife much safer in an unstable water environment.
Some people may choose to dive with a pointed blade because it would come in handy during a shark attack. Again, this is a much rarer occurrence, and it's something you should keep in mind depending on how you plan on using the knife.
Blade Material
Most blades on diving knives are made from stainless steel. However, stainless steel is not rustproof, just rust-resistant. This means that after excessive exposure to the seawater, blades made from stainless steel are prone to rust, which is something you don't want to happen on your knives. There are higher-grade stainless steel blades that can hold up much better in water, so you don't need to completely rule it out if you spot a great knife that's stainless steel.
Titanium blades will perform much better in underwater environments because they never rust. The downside is that titanium has a propensity to chip when undertaking certain tasks.
There is also the H1 steel, which is a relatively new type of blade steel that's rustproof. It uses precipitation-hardened steel, which uses 1% nitrogen rather than carbon. It's mostly found in Spyderco Knives.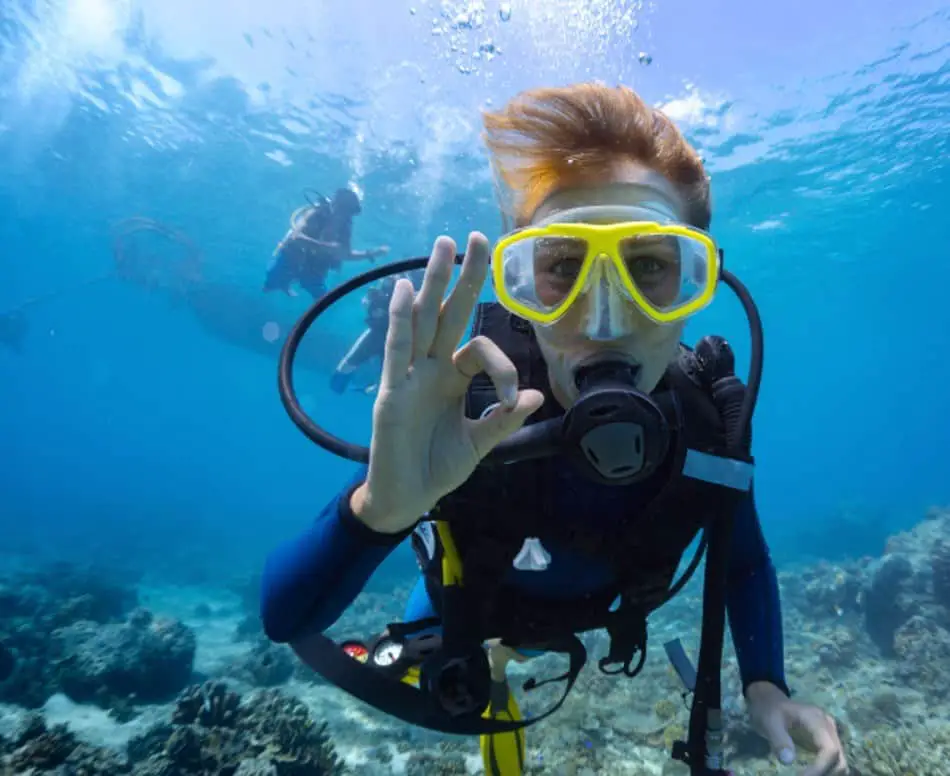 Folding or Fixed Knives
Previously, we would have only recommended fixed blades due to their reliability. However, the recent strides made by folding knives in terms of steel and materials, make them great options.
Folding dive knives can now hold a candle to a lot of scuba diving knives with fixed blades. Nonetheless, they come with the added advantage of taking up less room and being safer to carry around.
In general, if you're traditionalist, a fixed blade might be the way to go, but today, a folding dive knife is not making anyone fringe anymore, and it should definitely be considered.
Line Cutter
Cutting lines is one of the key uses of a dive knife, especially if you are tangled in a fine line. By itself, a dive knife is capable of cutting a line, but most scuba diving knives feature a notch on the blade specifically designed for this purpose to be used as a line cutter. So, it's great to have a line cutter on the dive knife for such situations.
Metal Butt
A metal butt on the knife is another great feature to have as it comes in handy when diving with a team. It usually comes as a metal cap at the end of the handle, which acts as a tap hammer or tank banger – a useful feature when you're trying to communicate.
Lanyard Hole
Another feature you might want to consider is a lanyard hole. Not every dive knife has it, but it can be convenient if you often find the knife slipping off your hand.
Holding the knife with a lanyard around your hand will keep it nearby and handy. It also greatly reduces the chances that you might lose the knife during a dive.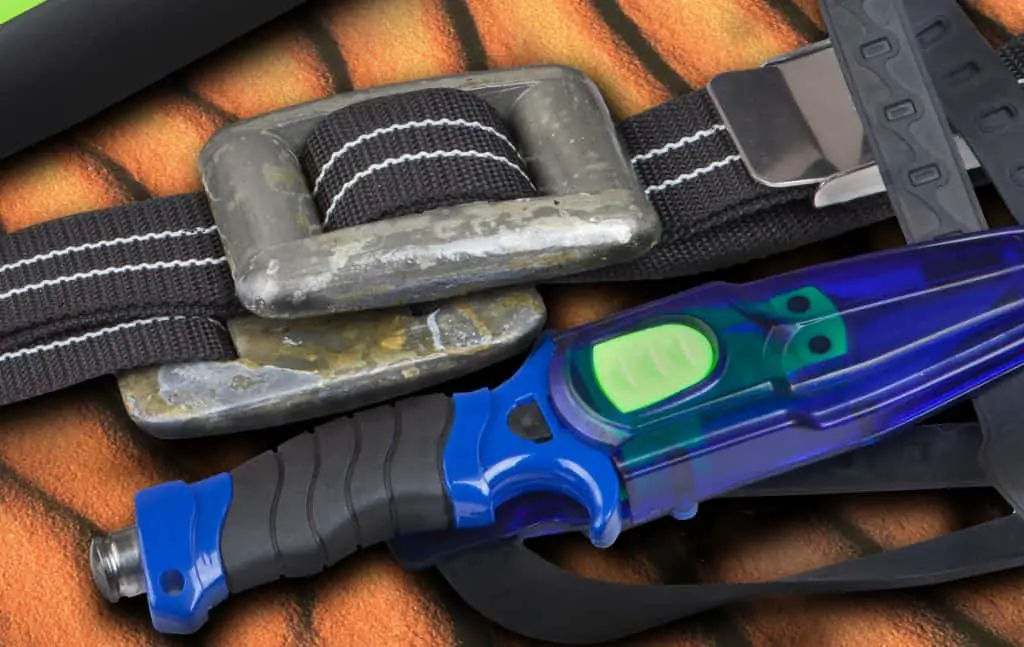 Visibility
Ever noticed that some scuba diving knives are brightly colored? This is not just a fashion statement. Diving knives are highly susceptible to sinking away and getting lost, especially if you often use them underwater.
Having a handle with vivid accents will ensure that you can see your knife from a distance. The bright handle makes it easier for yourself or your buddies to spot the knife in bad water conditions.
Best Dive Knives Reviews
Here are the five best dive knives we have chosen. Each of them has a variety of functions and comes at a different price range.
Our goal is to help you find the best diving knife to suit your needs and budget. We'd love to hear about your experiences with any of these knives or others. Please consider leaving a comment. We appreciate it!
Cressi Skorpion Dive Knife
The Cressi Skorpion is one of our top picks for the best dive knives. It's a very versatile diving knife with the main features most divers look for.
It has a serrated back edge for sawing and cutting harder materials, a line cutter ideal for safely and quickly cutting through lines, and a sharp front edge. The knife comes with either a sharp or a blunt tip based on your needs. It also has an economic handle that makes it comfortable to use.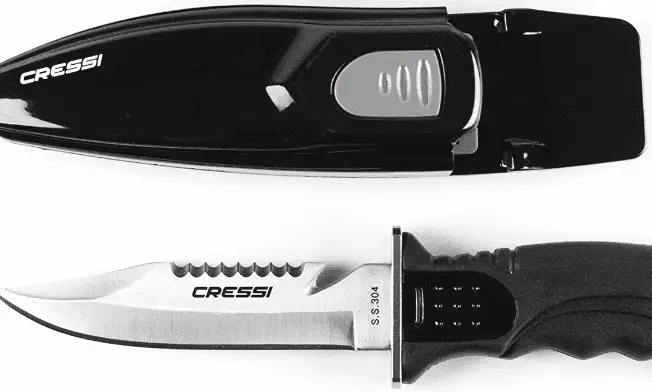 Its thick and robust blade is stainless steel, which is corrosion-resistant and easy to sharpen. For the blade, you have two options: one, the 420 Japanese stainless steel that's famous for its razor sharpness and use in the high-end blades, and two, the 304-stainless steel that's more corrosion resistant. The button lock hard-plastic sheath is well built and does its job well.
As a tip, always remember to rinse it after a saltwater dive with the rest of your diving gear. We liked that the Cressi Skorpion is extremely affordable, making it an attractive option as one of the best scuba diving knives to a wide range of divers.
Promate Titanium Dive Knife
When it comes to manufacturers, Promate is one of our favorites, as they've consistently shown that they can make high-quality scuba diving knives. The Promate Titanium has a medium-sized (4 3/8) titanium blade that comes in either a blunt or pointed tip. The sharp tip is ideal for stabbing fish, while the blunt tip can come in handy as a tool for prying.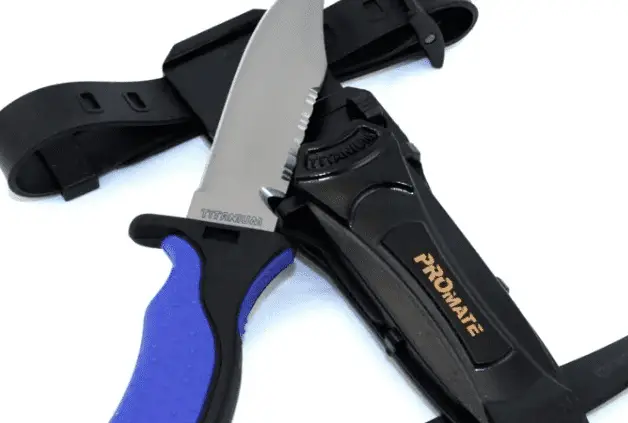 All the way through, the knife is made from titanium, meaning it's impervious to rust, and the knife can last for a very long time. There's also a hammer nub along the base of the handle, as well as an ankle sheath. The sheath comes with straps you can attach to your leg or arm or in your BC. You can also remove them if you don't need them.
The blade is half serrated with a line cutter notch along with a half straight edge blade. It's by far the most popular design for diving knives, and this is for a good reason. The economically designed handle is made from a soft rubber that easy to grip, and comfortable to use. It's also covered in studs for that extra grip, so it won't slip while in use.
We think that this is a great knife overall, and we really liked the addition of a hammer nub on its handle. If you're looking for an affordable titanium knife then the Promate Titanium might be the best scuba diving knife that you're looking for!
Atomic Aquatics TI6 Titanium Dive Knife
The Atomic Aquatics TI6 is a full-size dive knife that's lightweight, robust, and works excellently in most situations. It has a very comfortable handle, that makes it feel like the knife is an extension of your hand.
The blade comes with a heavily serrated edge, a smooth edge, as well as a notch to be used as a line cutter. The sheath of the knife is well built, actually better than those of a few knives on this list.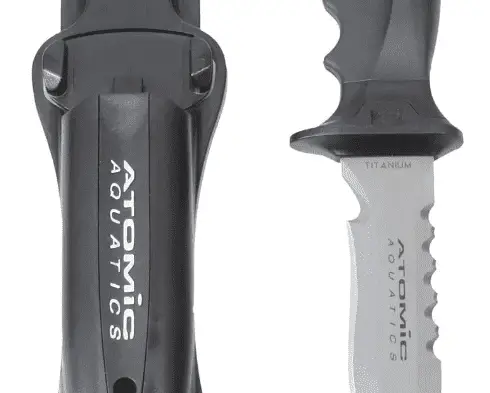 The knife can also be disassembled fully by unscrewing the titanium pommel. This makes it very easy to clean, which can come in handy especially when you plan to use the knife on land.
While it's very light, the Atomic Aquatics TI6 is very robust, though you wouldn't want to do heavy prying with it. The knife is an excellent choice for divers who need a full-sized knife that can serve them for a very long time and can do an all-around service.
Cressi Borg Stainless Steel Dive Knife
At first glance, the Cressi Borg seems like a big knife, but once you pick it up you'll realize that it's actually a really big knife. At 10.5 inches long, it has a 5.5-inch blade – one of the longest cutting edges of any knives we have evaluated.
It is also heavily built with a hammer pommel and a 3/16-inch-thick blade. With such beefy dimensions, the blade is robust enough to withstand any form of abuse from crushing oysters to prying hubcaps.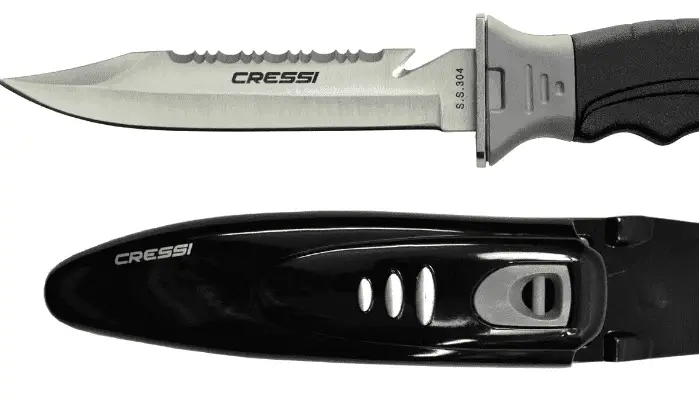 Its stainless-steel blade is also great at cutting through materials, and it easily cuts through pretty much any sort of line in a breeze only hesitating at double cuts through heavy lines. The hard-plastic sheath also did a good job of securing the knife in place, only releasing it with the press on the lock.
However, you need to have a long calf to strap it. The handle is also super comfortable, with a nonslip rubber and ensuring it fits well on the hand. In general, this knife is a great value even for those on a budget.
Tusa FK-940TI Dive Knife
The Tusa FK-940TI is an awesome allrounder, with a back edge that's heavily serrated and a front cutting edge that's wickedly sharp. It also has a line cutter specifically made for cutting through lines efficiently and quickly.
Its economic rubber grip is among the most comfortable ones we've come across in a long time. The sheath is made from high-quality, hard-plastic material, and comes with a push-button to release feature, which keeps the knife safe in place until it's needed.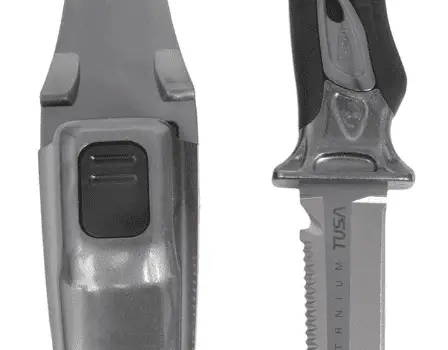 As a titanium dive knife, it requires a bit more effort to sharpen it, but once sharp it will stay that way for longer, and do a much better job at resisting rust from seawater than the cheap alloy diving knifes.
The titanium also makes it extremely lightweight, making it easy to carry around. Its price falls right in the mid-range category, and therefore strikes a great balance between high-end construction and cost.
Which dive knife is the best?
Out of the five blades we reviewed, the Cressi Skorpion Dive Knife is the one we'd recommend. It comes at a very attractive price, considering how extremely versatile it is, and all the features it brings to the table.
Having said that, depending on your needs and wants any of these five dive knives is a great choice to make. None of them would by any stretch of the imagination be called a bad knife and as such, you can't really go wrong with either one.