Best Scuba Diving in Indonesia
When you think about scuba diving, Indonesia is one of the few places that springs to mind immediately. Its oceans are full of a wide variety of marine life, many of which aren't found anywhere else in the world. From giant manta rays to pygmy seahorses, there's a lot for you to explore.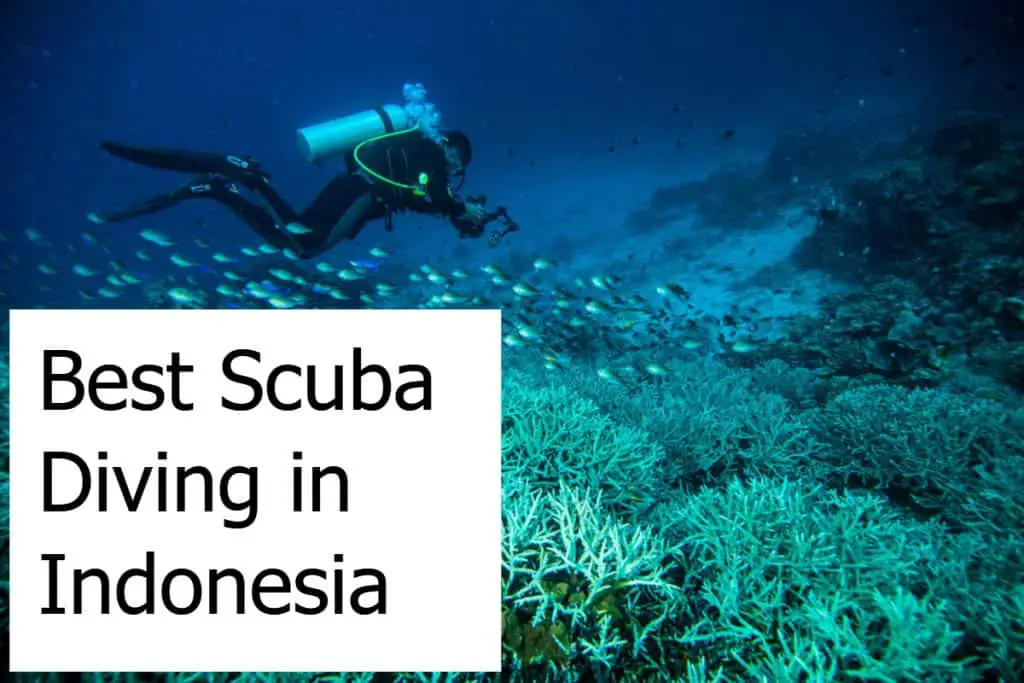 You can experience everything in these regions, including reef diving, cave, and wreck diving, night diving, and so much more. The best part is that scuba diving on a budget is possible here.
Why Dive in Indonesia?
Diving in Indonesia can be a great experience for beginners and professional divers. With a vast range of amazing dive locations, featuring spectacular coral reefs, aquatic life, and wrecks, your diving experience here will be unlike any other. In fact, apart from scuba diving, this culture-rich country has much more to offer and is an ideal holiday destination. Temples, scenic beauty, white-sand beaches, volcanoes, shopping malls, and tropical resorts make for a complete, fun-filled vacation.
What's more, is that you can do all of this in a relatively small budget. Scuba diving here is significantly less expensive than many places around the globe, such as the Maldives.
Is It Good For Beginners to Dive in Indonesia?
Many locations have calm waters and shallow dive sites, so they're safe for beginners, but still offer plenty to see underwater. Ideally, beginners should obtain their PADI Open Water Diving certification here and make the most of their tropical diving experience.
Is It Easy to Get There?
Getting to Indonesia is relatively easy. It has over 250 airports, with 20 of them being international. The airports that receive the most international traffic include:
Soekarno-Hatta International (CGK) in Jakarta, the capital city
Juanda International (SUB)
Ngurah Rai International (DPS)
Many travelers use any one of these airports and then make use of local airlines such as Air Asia and Lion Air to find budget-friendly tickets to help them get around the country.
Are There Good Dive Sites for Families?
Indonesia, and specifically Bali, hosts countless dive sites, some more well-known than others. While some of these waters have strong, unpredictable currents, others are calmer and beginner-friendly.
Many of the spots offer shore-diving and free diving, making them ideal family destinations. You can find out more about the various dive sites (including family-friendly ones) in the Best Scuba Diving Destinations section.
What Aquatic Life Can You Find?
You can find many incredible aquatic creatures in these tropical oceans. These include angelfish, lionfish, barracudas, and many different types of sharks, such as black tips, white tips, and on rare occasions, even tiger sharks. Other inhabitants of these oceans include sea turtles, snakes, octopus, and manta rays.
In some regions, you may even be fortunate enough to get the opportunity to swim with dolphins and orcas or even spot a great blue whale! Even a single dive on your entire trip will be an incredible experience.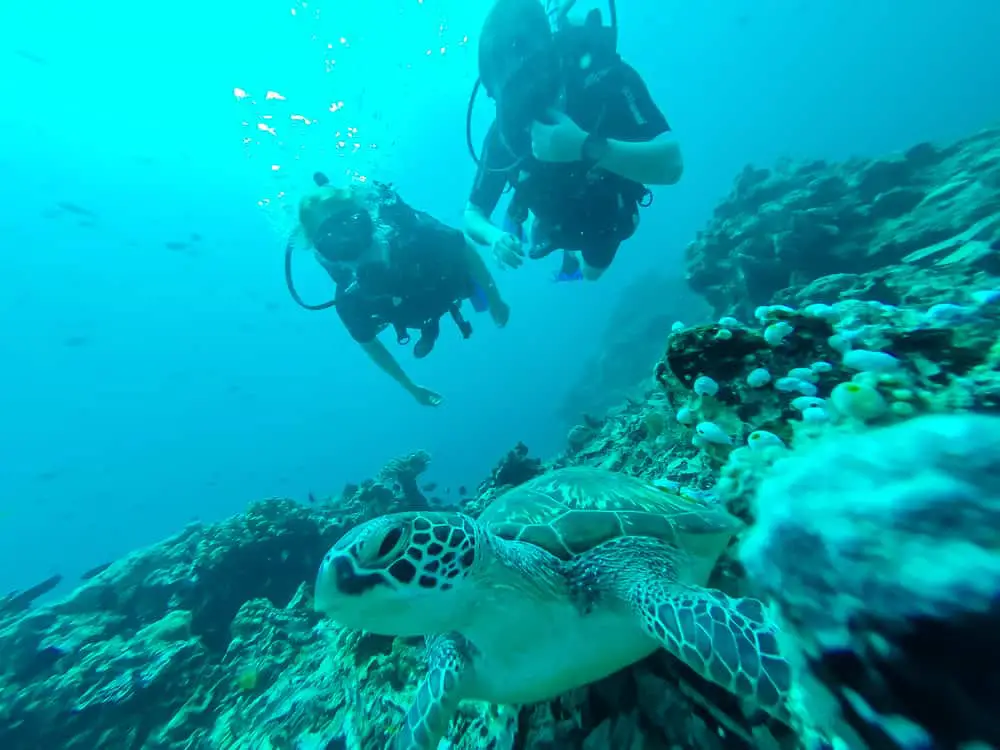 Best Scuba Diving Destinations in Indonesia
Some of the top destinations to go scuba diving in Indonesia include:
Alor, East Nusa Tenggara
This is one of the not-so-well-known scuba diving destinations in the region, which is also probably why it has some incredible marine life that hasn't been affected by extreme human traffic. With bright coral reefs, steep walls, and a number of muck sites (When do you need a Muck Stick?), the diving experience in Alor is quite unique and an amazing spot for underwater photography.
There's a decent variety of small and medium-sized sea creatures, and photographers can find a number of interesting subjects, such as leaf scorpionfish, seahorses, frogfish, eels, and so on. Sharks and other large animals may also be seen occasionally.
This region generally caters to intermediate and advanced level divers and is not the most family-friendly, especially if you have little children. The water current can be a bit strong and somewhat unpredictable, especially if you go in the offseason (March-December is the best time to go).
Alor is better suited to the serious scuba divers since it doesn't have too many resorts or other activities other than diving. Diving is mostly through a liveaboard.
Bali
Bali is one of the most popular tourist hubs in Indonesia and has plenty of dive resorts and scuba diving destinations. A plus point of Bali is that it can be considered to be a very family-friendly spot.
Unique sea creatures, wrecks from World War II, bright corals, fish, and muck dives are characteristic of this region. It is popular for both freediving and technical diving.
The USAT Liberty Wreck is one of the most-visited sites in the area and can be accessed by the shore – you get to see parrotfish, barracudas, turtles, and so much more.
Although scuba diving here is possible all year round, if you wish to see the unique Mola Mola, the best time is from July-October.
While most diving here is from the land, you can opt for a liveaboard package that will take you from Bali to Komodo to get the chance to see more sites.
There is much more to do in Bali than scuba diving, such as shopping, visiting the beach, etc. which is why it is so popular among families and beginner-level divers.
Ambon Bay, Maluku
This region is particularly well-known for its muck dives. You'll also see some incredible sea creatures such as rhinopias, ghost pipefish, Coleman shrimp, stonefish, wonderpus, cuttlefish, the psychedelic frogfish, and so much more.
There are plenty of resorts in the area, and most scuba diving trips are through liveaboards, some part of a combined tour with other islands like Raja Ampat and Banda.
The dive conditions are suitable for beginners as well as advanced divers, making it a family-friendly location. Just remember that the island doesn't offer any land activities of interest, and your experience will be centered around scuba diving.
Wakatobi
Wakatobi is another one of those less-visited regions with some incredible and unique marine life. It includes 4 islands and is well-known for some of the largest and brightest coral reef formations in the world. The ocean floor is full of walls and overhangs as well as sea creatures like eagle rays and reef sharks, seahorses, cuttlefish, and many other kinds of tropical fish.
Diving on these islands may be done from the shore or from a liveaboard based on the package you choose. Scuba diving is possible all year round and is ideal for both beginners and advanced level divers.
Other activities are limited, and the main attraction in Wakatobi is scuba diving.
Banda Sea, Maluku
The Banda Sea is usually a dive location that is on the way of a couple of liveaboard routes. Wall dives are common, and sea creatures found in this region include sea snakes and even hammerhead and reef sharks. 
This remote location is accessible only by liveaboard and is suitable mostly for intermediate and advanced level divers due to the unpredictable and strong water currents. As such, it is not the most family-friendly spot.
Lembeh, North Sulawesi
Another great spot for muck diving, Lembeh is home to a host of unique marine creatures such as hairy frogfish, harlequin shrimp, snake blennies, mandarin fish, anemones, batfish, and rhinopias, etc. In fact, there are over 130 species of aquatic animals for you to observe.
The region attracts macro-photographers from all over the world and is suitable for beginner and advanced level divers. You can dive here all year round.
If you do visit Lembeh, don't miss out on a land tour to see the Komodo dragons, especially if you're going with your children.
Derawan Islands, East Borneo
Derawan is a group of islands and has one of the three jellyfish lakes discovered globally. Apart from the jellyfish lake, other islands allow you to see manta rays, turtles, reef sharks, barracudas, and eagle rays. Drift and muck dives are common.
You won't find a lot of resorts here, but it's still a decent diving location and has a number of liveaboards.
Activities in this region are limited, but the place is still suitable for a family vacation, as the water is calm and clear enough for beginners.
Manado and Bunaken, North Sulawesi
Manado has great muck and reef diving sites and has some amazing sea creatures like mimic octopus and cuttlefish, squids, and nudibranchs.
The nearby Bangka Island has gorgeous coral reefs and larger fish like reef sharks, rays, tuna and barracudas, and even some smaller creatures like shrimp. Dolphins and whales may also be visible from your liveaboard. Shore diving is also possible here. Scuba diving is possible all year round and is suitable for beginner and advanced level divers. You also have activities like snorkeling here, which is great, especially if you're looking for family-friendly activities.
Komodo, East Nusa Tenggara
Komodo is only an hour away from Bali and is a group of volcanic islands, home to thousands of Komodo dragons. It offers an exciting scuba diving experience with bright coral formations, schools of fish, manta rays, and eagle rays.
One particular region, the Cauldron (or Shotgun), is known for its rip current, which "shoots" you through the channel, through which you'll see snappers, reef sharks, and schools of trevally.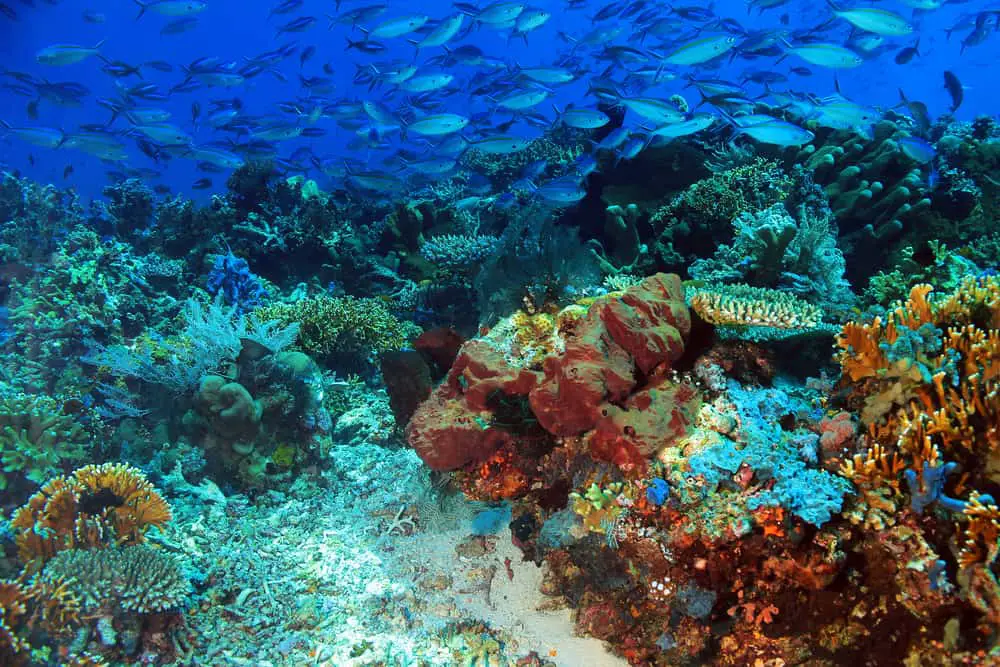 The waters in South Komodo can be quite chilly, so it is ideal to pack a drysuit.
This region is excellent for tourists since there are plenty of dive resorts and budget-friendly accommodations, liveaboard trips, etc.
The water current is quite strong and somewhat unpredictable, and you need intermediate or advanced certification to dive here. The extra effort is worth it for the unique underwater experience.
Raja Ampat, West Papua
Raja Ampat is probably one of the most coral-rich regions in the entire world! 72% of the world's coral species are found here, and over 1,400 fish species reside in this region. You can visit Raja Ampat a number of times and still find something new to look at. As dive sites go, it is one of the most diverse globally.
Soft corals and mangroves grow in tandem with some areas, even featuring corals growing from mangrove roots! There are also a few muck diving sites here.
Species such as the epaulet shark, wobbegong shark, garden eel, reef sharks, and manta rays are commonly seen.
Most divers spend over a week on a liveaboard to soak in the entire experience and explore the vast Raja Ampat region.
You do need to be an intermediate or advanced level diver to get through the waters, though. So keep that in mind.
What Specific Gear Do You Need to Dive in Indonesia?
For pretty much any scuba diving location, you'll need some basic gear. This includes a wetsuit, scuba mask, breathing tank, fins, and a dive computer if you're deep diving. Based on the region you're diving in, you may need special equipment:
For night and wreck diving – underwater light, bailout system, high-performance regulator, knife, etc.
For muck diving – underwater camera, torch, and a muck stick to stabilize the diver as they stay in one space to take pictures.
Is It Dangerous to Dive in Indonesia?
Indonesia is generally a safe place for diving, but scuba diving is not danger-free, and you need to be mindful of certain factors:
Water currents can be extremely unpredictable and may change from calm, slow water, to rough tides overnight. Even experienced divers may face difficulty in moving around, so it's best to consult tide tables before you dive. Beginners should avoid regions known for strong water currents.
Don't go for the first deal you find – if you go for the cheapest option on the list, you may find that the equipment is of poor quality, and safe diving procedures aren't being followed. This could put your life at risk. Do your research and look for operators with international level certification, such as PADI certification.
If you're an Open Water Diver, don't go diving among the sharks and exploring caves. Understand your limits and choose locations suitable for your abilities.
Listen to your dive guide and stay away from any sea creatures that they've warned you about to avoid endangering your life.
Make sure your feet are properly covered to avoid being stung or cut by any aquatic animals or pointy reefs.
Ideally, you should wait a few hours after landing before you dive to allow your body to hydrate itself. Diving almost immediately may put you at risk of decompression sickness – Why do Divers have to Decompress?
As long as you observe safe diving practices, you should be alright.
Final Thoughts
Indonesia has plenty to offer for scuba divers of all levels, which is why it is frequented by divers from all over the world. These tropical waters are host to some of the most unique and incredible marine life.
With its many tourist activities, both under and above water, Indonesia could be your ideal diving and holiday destination. 
Please share this post on Pinterest by pinning the image below. Thank you!