Best Scuba Diving in Iceland
Iceland is quickly becoming one of the most popular destinations for travel. It offers all kinds of experiences to visitors like the Northern Lights, volcanoes, hot springs, geysers, caves, and crystal clear water for diving. Some people are put off by the idea of the extreme cold temperatures in Iceland, but in reality, the temperatures stay roughly around 32 degrees in the winter months.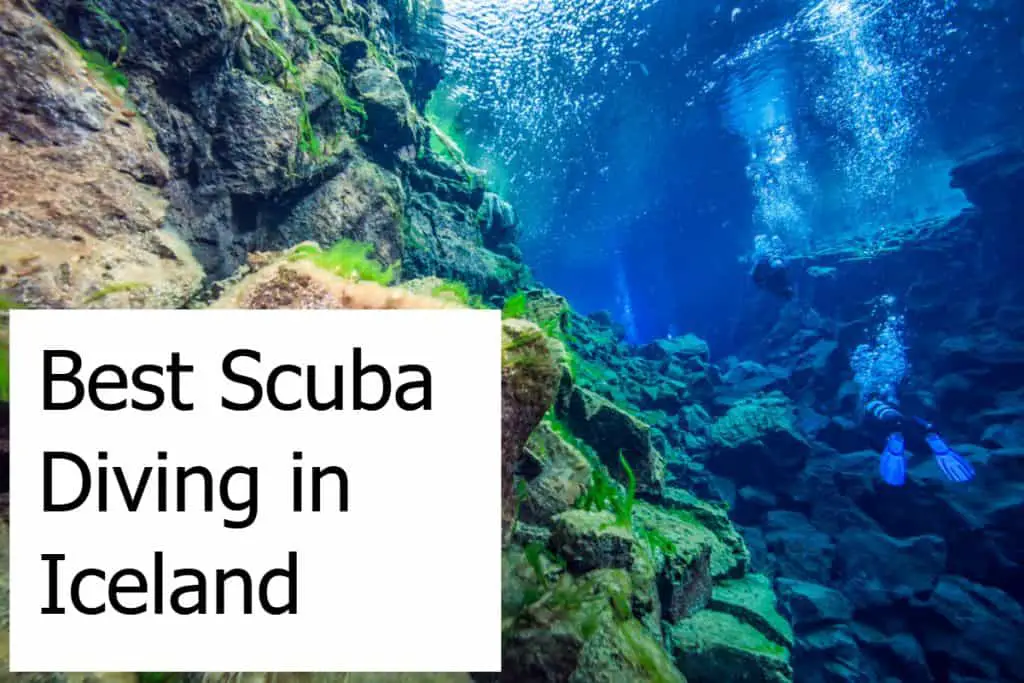 While enjoying the countless natural sights and activities that Iceland has to offer above ground, there's a true magic to be witnessed once you dip in. Below we will discuss all the best dive sites with unmatched architecture and experiences in Iceland, as well as the wonderful marine life you can see swimming around:
Why Dive in Iceland?
Iceland may not have been on your top list for dive locations because the cold temperature water seems off-putting, but you would be missing out on extremely unique and memorable dives if you didn't give it a shot.
Iceland is home to one of the top 10 dives in the entire world, which is the only place you can dive in a crack between two tectonic plates where two continents meet. Also, some dives in Icelandic water are warmer than the outside temperature, like the ones offered at Silfra and Strytan.
The water in Iceland also has some of the best visibility you can find anywhere in the world. Fresh spring water and melted glaciers clarify the water through movement, ensuring you get crystal clear views in water that is clean enough to drink!
Iceland is also home to some very strange looking marine life; monkfish and wolffish can be seen in the Atlantic Ocean. Divers also get the opportunity to dive with curious seals that love coming up to divers and exploring their equipment.
Is It Good for Beginners To Dive In Iceland?
Snorkeling in Iceland is an experience that is available to anyone and can be an exciting and unique experience. However, the same cannot be said for diving. Not to say that it is not exciting or unique, but rather that you are required to have a certain level of certification before you can dive here.
Most dive sites require an open water certification (even though legally you could possibly dive without any certification which is not recommended at all!), and a dry suit diving certification, but some require even more experience. The dives in Icelandic rigid waters pose challenges and require divers to be experienced in such waters to actually be able to start and complete a dive.
Is It Easy to Get There?
Iceland has two local airlines that offer flights from major cities in the US; namely Icelandair and WOW Air. International flights land at Keflavík International Airport, near the capital city of Reykjavik. From here, you can take a bus to wherever you need to go or catch a local flight to the northern city of Akureyri. A plus point for travelers from the US is that Iceland does not require you to get a visa, just a valid passport! 
What Aquatic Life Can You Find?
Iceland is home to more aquatic life than people realize. The country has a combination of cold arctic waters in the north and comparatively warmer ecological zones in the south. Species from both zones can be found in and around Iceland.
Let's start with the sponges and coral. The sponges found in these frigid waters resemble moss but are not as soft as the ones in warmer climates. They develop small needle-like spikes to survive in the cold water. Though coral is mostly associated with tropical climates, you can find soft coral that doesn't form reefs in Icelandic water. You are also likely to see sea anemones that often form their homes on the backs of snails and other sea creatures walking the continental floor. Other marine life like hydrozoans can be found; they are often confused as vegetation but are in fact animals.
Iceland is also home to jellyfish, sea stars, sea cucumbers, feather stars, the common starfish and sea urchins; you can find both the green sea urchin and red sea urchin slowly moving through Icelandic water bodies. Other interesting find occasionally seen here are the European flying squid and the elusive giant squid.
Iceland is also home to a variety of crustaceans. You can find everything from sea spiders to spider crabs, hermit crabs, and lobsters, to name a few; however, they aren't abundant enough for commercial catches.
In the north, variable conditions of the water make chances of seeing fish species unpredictable. The species that can be seen swimming around include polar cods, the strange-looking eelpouts, Atlantic mackerel, and the creepy monkfish. A larger fish that you can see is the Greenland shark. They can withstand the coldest temperatures out of all the shark species and are known for their slow, lazy movement through the water.
When you come toward the border of the north and south, you are likely to see the bright orange lumpfish, redfish, haddock, Atlantic cod, and Atlantic herring. As more interesting finds, you can see the bizarre flatfish, which seems to have its entire body on one side, the horror-film worthy wolf-fish and the shorthorn sculpin, which is green with white splatter and has big, human-like lips.
If you're looking to find marine mammals, Iceland is no stranger to seal, whales and dolphins. Less commonly seen whale species include blue whales, bottlenose whales, and killer whales; these species tend to stay away from the coast. Closer to the coast though, you are likely to spot minke whales and humpback whales.
Iceland is home to 7 different dolphin species. You can see the harbor porpoise, which isn't technically a dolphin but is grouped in with the species. Other common dolphins you can see are the Atlantic white-sided dolphin and the white-beaked dolphin, to name a few.
You can see grey and harbor seals settling on hidden and remote coasts along the water. They may be shy on the ground, but under the water, they are curious and playful with divers. If you go toward the north, you can spot walruses, hooded seals, and harp seals; these are just a few of the seal species you can find here.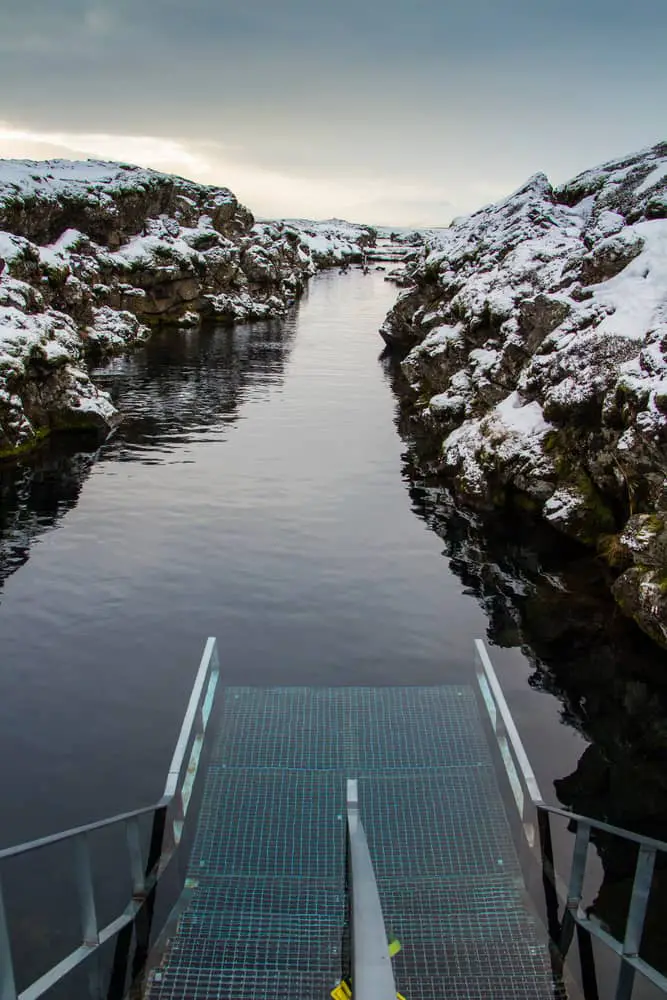 Best Scuba Diving Destinations in Iceland
Silfra
Known as one of the top 10 dive sites in the world, no Icelandic dive tour is complete without a visit to the Silfra Fissure. This site rests at the UNESCO World Heritage Site, Þingvellir National Park, just 60km away from the capital city of Reykjavík. The fissure lies between the North American and Eurasian tectonic plates that formed this rift in 1789 after numerous earthquakes. It is known as the place where two continents meet; a truly unique experience. It is the only place on Earth where you can dive in a crack in tectonic plates.
The fissure is filled with crystal clear water that is a combination of fresh spring water and melted glacier water. It has unmatched visibility that is free of any contaminants – yes, that means you can even drink this water! The water temperature remains at a constant 2-4 degrees throughout the year with a calm current.  This dive site offers up many experiences like caves, lagoons and unique architecture, all the maximum depth of a moderate 18m.
Don't Miss:
Swimming in the Big Crack, this is an opportunity to swim between two tectonic plates that are the meeting point of two continents. You can be at two places at once!
Strytan
In the north of Iceland in the middle of Eyjafjörður, divers can experience something truly exceptional. This 70m deep dive gives scuba divers the chance to experience underwater geothermal chimneys made of limestone. The chimneys are 55m tall, with their tops reaching 15m below the water surface. These chimneys expel 100 liters of hot 72-degree water every second. In 2011, this site was named a natural reserve.
Because of the warmer temperature, there is more marine life to be observed at this site than the others. The water here, however, has very strong currents, so it is only suitable for advanced divers that have great control over their buoyancy.   
Don't Miss:
Little Strytan; a 25m high chimney that sits upon an underwater hill that is dotted with multiple other chimneys. This hill has the biggest variety of marine life that can be seen in Iceland.
SS El Grillo
During WWII, a 150m long British oil tanker was sunk by German fighter planes in a fjord located on the east side of Iceland called Seyðisfjörður. This tanker leaked oil up until 2002 when it was finally pumped clean. The ship lies deep 45m under the water with its highest point at 28m. Due to the large size of the wreck, it cannot be explored in just one dive. This wreck is not for the amateur diver. It requires advanced certification in wreck diving as well as drysuit diving. 
Don't Miss:
The air defense guns; you can see some of the air defense guns, some of which are still very intact to witness what ships during WWII would use to protect themselves.
Gardur
About an hour south of Reykjavik, you get to take a shore dive into the Atlantic Ocean. Here, you can see the wonderful marine flora that Iceland has to offer. The site is also known for other interesting marine life like the wolffish, flatfish, monkfish, and scorpionfish. You will see desert-like patches of sand underwater, with the occasional coral peeking through, making for a relaxing and interesting dive on the eastern side of Iceland.
Don't Miss:
The 42 different species of colorful algae and kelp forests; Gardur translates to garden, perfectly describing the sight you see with the plant life.
David's Crack
Locally known as Davíðsgjá, this is an extremely deep fissure that exists in Þingvallavatn, Iceland's biggest open body of fresh water. It is extremely deep and challenging, starting at 7m under the water going down to a whopping 116m, though you can only dive to about 21m. Divers can enter the water through the shore, and use the preexisting guide till they reach the crack. As divers descend deeper and deeper into the water, they are awed by the brilliance of the visibility. Marine life divers are likely to see spotted brown trout and Arctic char. 
Don't Miss:
The one-of-a-kind architecture that can be witnessed in the crystal clear water, it is truly a sight to see.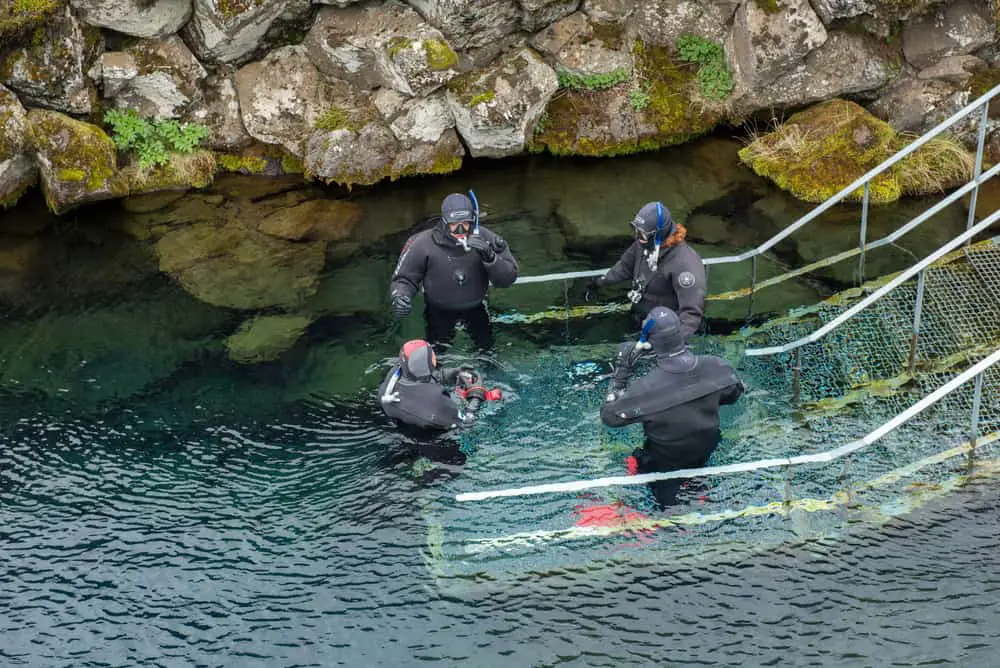 Click for the best prescription dive mask if you wear glasses or contacts!
What Specific Gear Do You Need To Dive In Iceland?
Iceland has cold water dives, which do require different gear than regular dives. It is difficult to lug around heavy diving gear with you when you are packing for a trip, but some gear needs to be brought along, such as exposure protection. Dive locations in Iceland are prepared for scuba divers to rent specific equipment, but you need to make sure your body does not go into shock when it touches the cold water, so layer up properly.
Another important difference in gear is the regulator. You need to make sure your regulator is suited for cold water. You don't want it to freeze up in the cold temperatures, which can be very hazardous. The regulator should offer environmental seals to make sure there is no hiccup at the first stage.
Since the locations are a frequent stop for divers, you are most likely going to be able to rent any of this equipment very easily. With each dive site, your guide will be able to tell you what equipment is absolutely necessary, but here is a list just in case:
Compulsory Gear for Regular Dives
Additional Gear for Wreck and Cave Dives
Is It Dangerous to Dive In Iceland?
The reason why so many different certifications are required is that it can be dangerous to dive in Iceland. Depending on the dive and your level of experience, the danger associated with these dives varies, but generally, all dives should be approached with some level of caution.
Wreck dives and cave dives can be more dangerous than regular dives, so make sure you have the knowledge of what you are getting into before going. Always get a trained local expert to guide you to avoid any mishaps.  
Final Thoughts
Many people write off Iceland as a destination for scuba diving. We hope with the extensive dive we have taken into what this country has to offer in terms of scuba diving, we were able to change your mind!
Please use the image below to pin to Pinterest!