Best Scuba Diving Destinations in Hawaii
Hawaii offers endless fantastic scuba diving destinations. We compiled a list of what you need to consider, where to go and what gear to bring. There certainly are many more locations to scuba dive in Hawaii than what we list. Feel free to add your own to the list in the comments!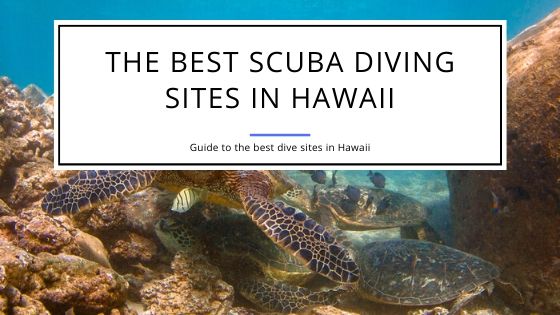 If you enjoy scuba diving there is a good chance that you have either been to Hawaii or have it listed as one of your future to-visit destinations. Hawaii includes a chain of exotic islands that offer fantastic scuba diving spots.
You will find thousands of species of fish and corals to explore and miles of reefs on the ocean bed. You will also discover sparkling clear waters and a variety of lava caves that will keep you fascinated for days.
Why Dive In Hawaii?
Hawaii offers a ton of scuba diving options to explore while visiting the islands. You can go from fishing with the Galapagos sharks to incredible adventures through the natural lava caves and rock formations under the ocean. The marine life in the region is well protected, away from human intervention. You will find an abundance of wildlife that you won't see anywhere else.
Hundreds of diving operators and guides are scattered throughout the archipelago. Most popular dive sites can be reached from the capital city, Honolulu. Each island in the region is home to diverse ocean life and you can also experience the local culture which is quite different from what you will find in the mainland U.S.
Every island on the chain offers its own flair and provides different options for diving. Hawaii is also a great place to achieve diving specialty certifications, especially when it comes to wreckage, night time and deep-ocean diving.
Is It Good For Beginners to Dive in Hawaii?
The best thing about Hawaii is that it offers so many diving options that there is something for everyone. Whether you are new to diving or an experienced veteran, you will find the perfect scuba diving spot for you in the archipelago.
There are plenty of diving schools, guides, and shops that provide complete gear and support for first-time scuba divers. As long as you avoid diving locations specifically for veteran scuba divers, you will have fun and learn to scuba dive in a friendly environment.
Is It Easy to Get There?
Honolulu is the biggest city in the region and most divers make it their first stop. Daily flights run from all over the world to Daniel K. Inouye airport and you can easily get there in a matter of hours from North America.
For those of you who prefer to avoid flying, you can also get a cruise to the capital city. Cruises run from the west coast, western Canada and many ports in Australia.
Once you get to Honolulu you can hire a ferry to your destination island. Several operators run ferries between the island chains on a daily basis.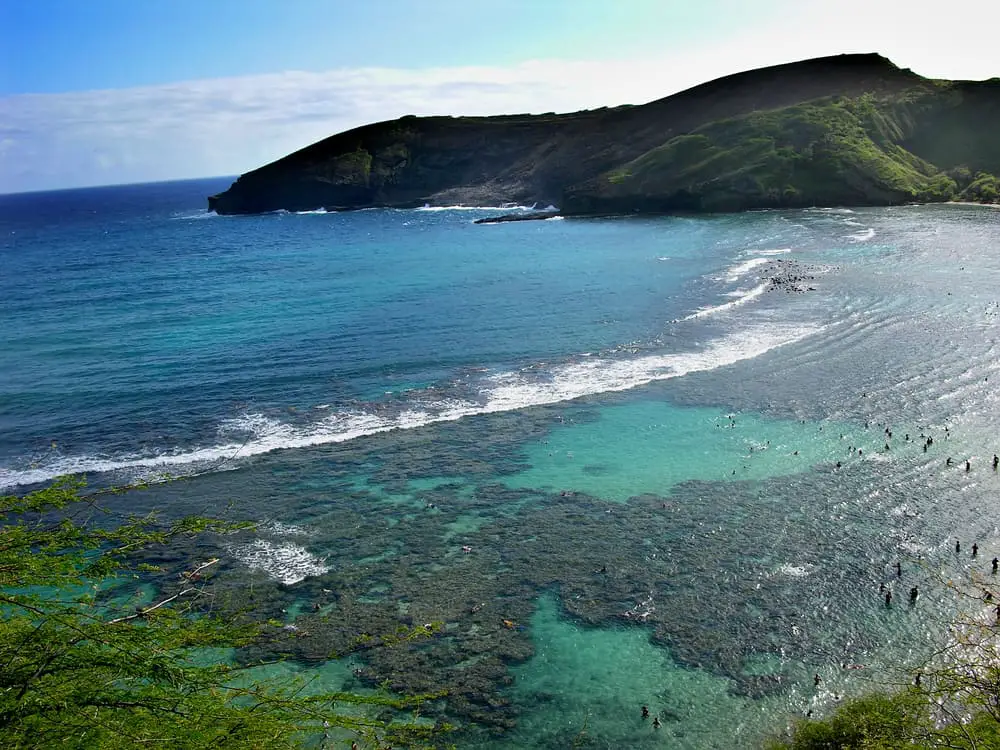 Are there good dive sites for families?
Hawaii is known as a favorite holiday spot for many families. The ideal time to visit is between April to June and September to November. During these times the place is not too crowded and the water is warm enough for scuba diving with your family.
It has luscious white sandy beaches, thick jungles, exotic wildlife, snow-topped mountains, and volcanoes.  Hawaii offers a perfect holiday trip with a world waiting to be explored on the island and under the sea. It is an ideal location for family vacations.
What aquatic life can you find?
Hawaii offers a large variety of unique fish, corals and marine life under the sea. You will find plenty of reef fish, lobsters, octopuses, crabs, shrimps, sea urchins, and sponges while scuba diving.
The islands have different species of sea turtles include the giant green sea turtles. If you go deep, you will find humpback whales, spinner dolphins, the famous monk seals, sharks, rays and squids as well.
Best Scuba Diving Destinations in Hawaii
The Hawaiian Islands have earned the admiration of scuba divers from all over the world. They offer some of the top diving sites in the world. There are more than a dozen excellent diving sites in the region.
O'ahu
O'ahu offers several diving spots for new and seasoned divers. The wrecks of YO-257 and San Pedro are great places to explore and scavenge.
The Atlantis submarine passes through the area and you can interact with its passengers. The more popular spots include the Makaha Caverns and the Electric Beach.
Maui
The island offers exciting marine life to see. You will find eagle rays, green sea turtles and schools of reef fish. You may also find the state fish of Hawaii, the lagoon triggerfish which is known by its local name, humahumanukanuka'apua'a'.
Other diving spots include the Molokini Crater which is a 30-minute boat ride and the wreck of St. Anthony.
Kauai
This small island in the archipelago has been given the name "The Garden Island" because of its lush gardens and miles of undersea corals. It is one of the oldest islands that were settled by humans and you will find a host of underwater marine life including sea urchins and dolphins. The most famous diving spot is known as three fingers.
Molokai
This is an all-natural island that is home to local fishermen and farmers. Molokai has more than 40 dive sites and three different diving schools that can meet all your scuba diving needs.
You will find Galapagos sharks and hammerheads away from the coast as well as colorful parrotfish and darting triggerfish in the water. Fish rain, fish bowl, and deep corner are the most popular diving spots.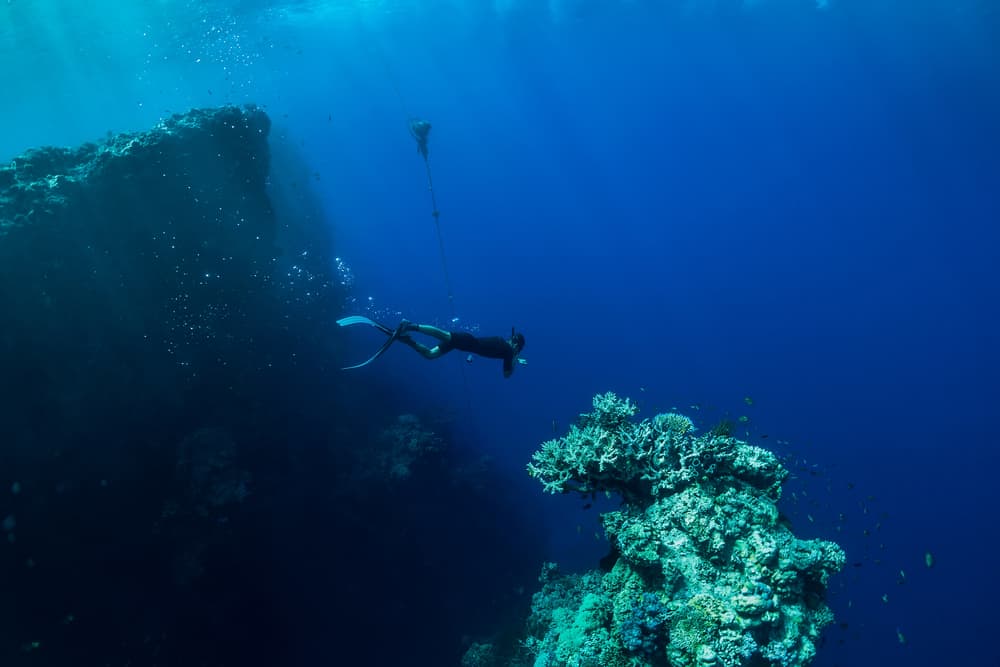 Hawaii
A great way to enjoy the islands at their fullest is to try the manta night dive in at Kona. Every night, the divers' lights attract a host of stingrays and plankton that they feed on. It is a serene, beautiful sight that cannot be described and only experienced in person.
The main island in the chain is also popular for its underwater volcano caves, Hawaiian fish, sea turtles and a variety of eels. Top diving spots include Kona, Two Step, Keauhou and Mile Marker 4.
Lanai
This island is popular for its underwater caves and volcano tunnels. Here, you will find unique vertebrae including sea urchins, crabs, lobsters, and corals. Top diving spots include Cathedrals I and II.
Molokini Crater
The Molokini Crater is a dive site that is more suitable for experienced scuba divers. It lies about 2.5 miles off the shore of Maui and offers abundant sea life including giant sea turtles, coral reefs and sharks.
Hilo
The dive site is located on the east side of Hawaii's Big Island. It is not as popular as Kona that lies on the western side. It offers some great dive locations that are more suitable for experienced scuba divers.
The Kilauea volcano lies close to it which is quite active. Hilo offers unique underwater terrains including hot spots and caves. You will also find spinner dolphins while scuba diving here.
Niihau
Niihau offers clear waters and abundant marine life under the sea. You can also explore its large underwater caves and impressive vertical walls that run for miles and covered with corals.
Haleiwa
This is another spot favored by more experienced divers. It lies about three miles off the coast and is a popular spot if you want to see sandbar sharks or Galapagos sharks. If you are really lucky, you may even find a tiger shark near the coast.
The best way to enjoy the sharks at this site is with cage diving or snorkeling tours. However, you may also go scuba diving in this area but make sure to keep an eye out for unexpected surprises.
What specific gear do you need to dive in Hawaii?
For scuba diving in the popular Oahu, Maui and other islands, you can get away with the 3mm neoprene full wetsuit, tanks, and regulators. If you visit during the winters, you may want to come with the 5mm full wetsuits.
Most equipment is also available for hire or purchase through local shops. Hawaii has a booming scuba diving industry and plenty of businesses supply divers with the necessary gear. If you bring the whole family then you will also not have any problems finding shops to rent or buy snorkeling or diving gear for your children!
Do you need a dive compass when you're scuba diving in Hawaii?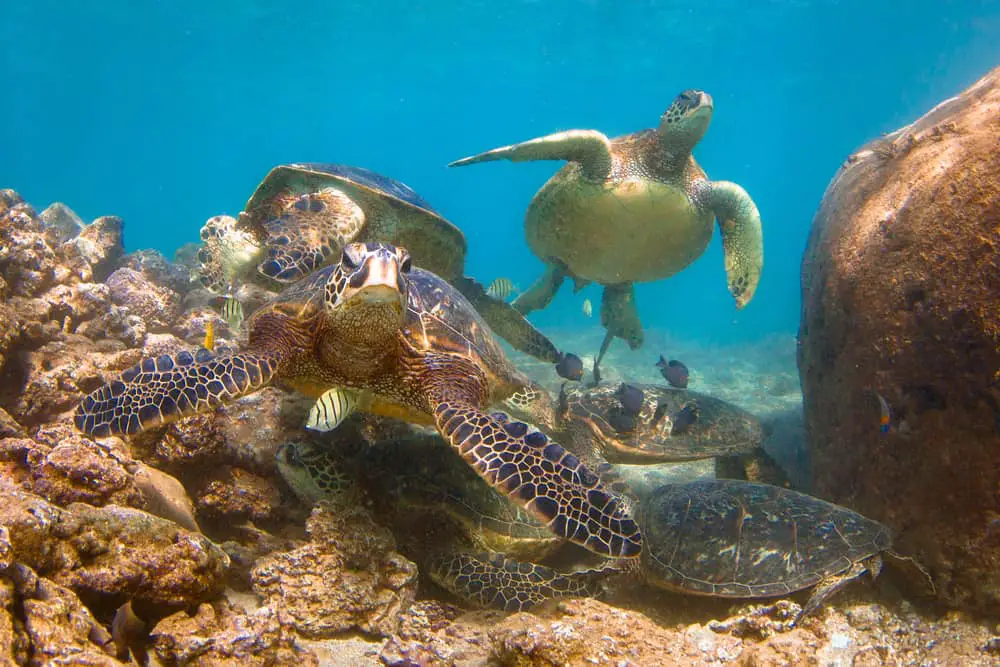 Is it dangerous to dive in Hawaii?
Hawaii is one of the most popular scuba diving and snorkeling locations around the world. Tens of thousands of divers visit it every year. It offers plenty of diving spots that will suit scuba divers with different levels of experience. As long as you go scuba diving with a group and hire local guides you should be ok. Make sure that you scuba dive near the coast where they have plenty of coast guards.
However, there are certain risks to scuba diving in Hawaii. If you attempt to explore a more dangerous location or go scuba diving in areas with sharks, it can be dangerous.
Final Thoughts
Hawaii offers exciting opportunities for scuba diving fans from all parts of the world. There is a world of exotic marine life, lava caves and coral reefs that you can discover under the sea here.
It is a great place for snorkeling or diving with family or a group of friends. There are more than a dozen islands that offer scuba diving spots for beginners and expert divers.  Whether you are new to scuba diving or a seasoned veteran, you will have fun and create many great memories scuba diving in Hawaii.
Do you have more questions or something to add? Share your Hawaii Scuba or Snorkeling experiences by leaving a comment below!