Best Prescription Dive and Snorkel Masks – Rx Lenses for Scuba Diving
One of the issues with scuba diving and snorkeling is that the masks can be a problem when you wear glasses and ruin the fun in or under the water. Depending on how strong your need for eye correction is you might not have to worry about it at all.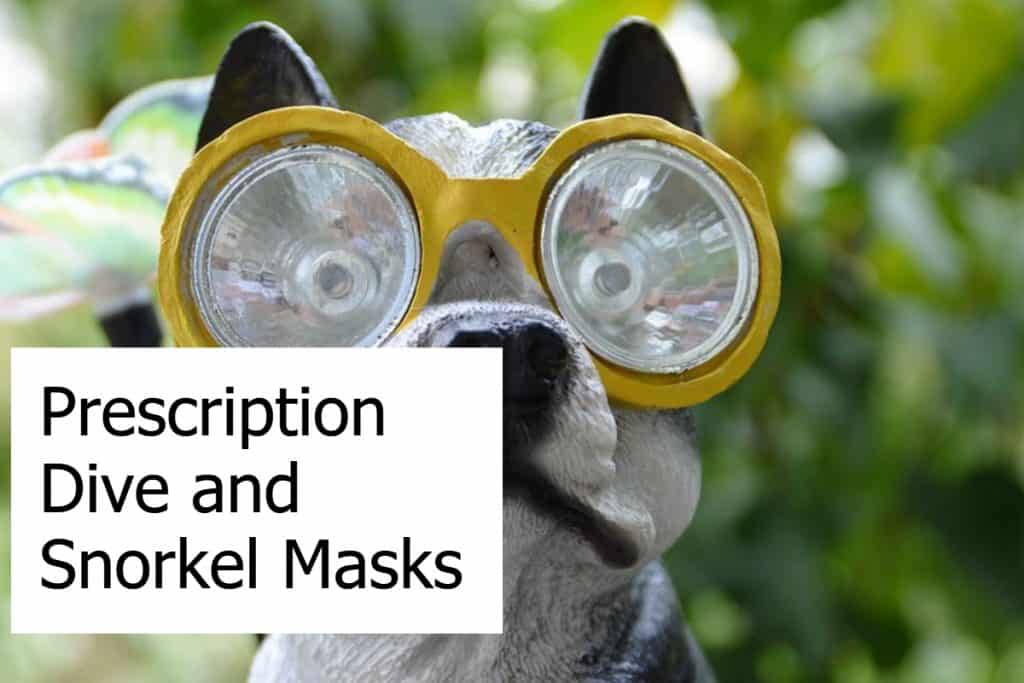 That is even true when you are farsighted and need reading glasses. You will need to be able to clearly read your gauges and that means that you somehow need to correct your reading vision while scuba diving with potentially using prescription masks. For snorkeling that might not be true as you don't have gauges to read that your safety depends on.

A dive mask will make any surrounding object around you appear larger and closer than they really are. If you're just a little nearsighted then this automatic correction of the scuba lenses might be enough so you can scuba or snorkel without needing your glasses or a prescription mask.

There are a few options available when you're nearsighted to be able to enjoy improved vision when you go diving or snorkeling.
What Options do you have?
Use your glasses
First, you can certainly wear your glasses and have some water drip into the snorkeling mask. In many cases, it'll end up being quite a lot of water as the skirt cannot create a tight seal with your skin.

If your glasses have thin and flexible arms then it might work. Otherwise, the leaking will pretty much be unavoidable.

There are divers that will take an old pair of glasses and remove the arms of the glasses. Then you can place the glasses on your nose or mount them inside the scuba mask. However, it will be a problem to keep the glasses in the right position and you can't adjust them when you're underwater.

Another problem is that standard glasses tend to fog up and without being able to take the mask off to clean the glasses you'll have a hard time seeing anything.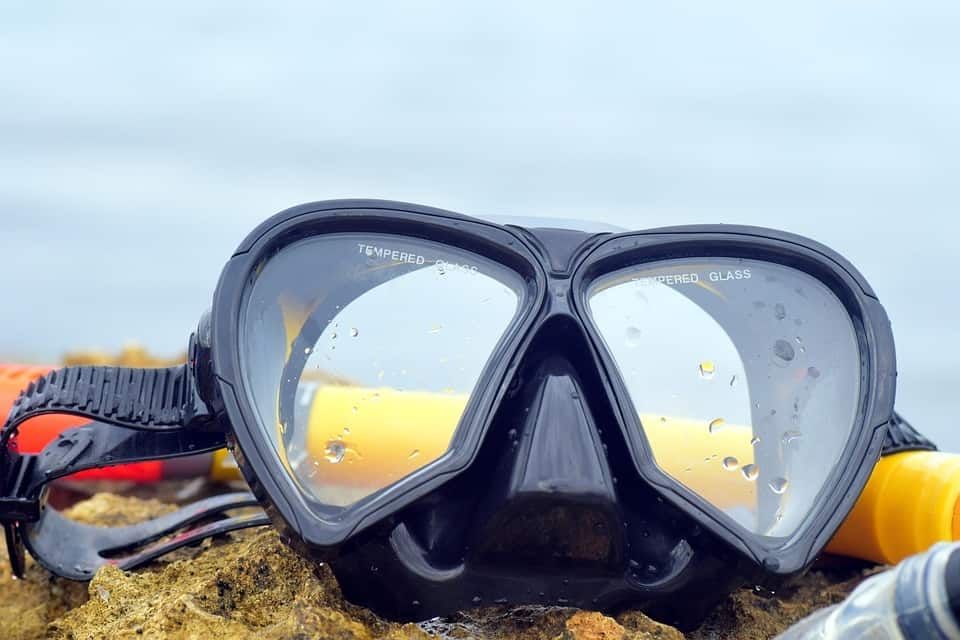 Use contacts
Another approach is to use contact lenses. Contact lenses can work ok but if you're not careful you could lose them if you get water in your eyes while wearing them.

Some people have no problem wearing contacts in the water while others cannot do that at all. If you can deal with wearing contact lenses in the water then it can be a great option for you.

One advantage you definitely have with contact lenses is that they won't fog up!
Glue Lenses into mask
One of the first possible solutions that were invented and at times is used until today is to glue your corrective Rx lenses onto the lenses of your mask. You will need to have special lenses created that have a flat surface on one side.

The side with the flat surface is what is glued against the flat lens of the mask. Most masks have flat glass so gluing the corrective lenses into the diving or snorkel mask works pretty well.
Does it really work to glue glasses into your scuba dive mask?
The advantage of this method is that you can have the lenses match your prescription exactly including any other correction that is needed like astigmatism or even bifocals. You can glue them in the exact place you want and get excellent visibility that way.

One thing to be considered is that the lenses have to be in the right position in your mask. If they are not in the right spot then you can't comfortably look out of your goggles. Depending on the size of your head and the distance of your eyes, the lenses have to be glued in the right location to make the mask work properly.

When does gluing your lenses into your snorkel mask not work?

However, there are not only advantages to this method. One of the problems you can have is that sometimes these lenses on prescription snorkel masks are very thick if you need a large correction of your eyesight.

If you have glasses with more than five diopters and regular glass is used then the lenses will be very thick. As the lens needs to be flat on one side you end up with a large curve on the inside of your lens.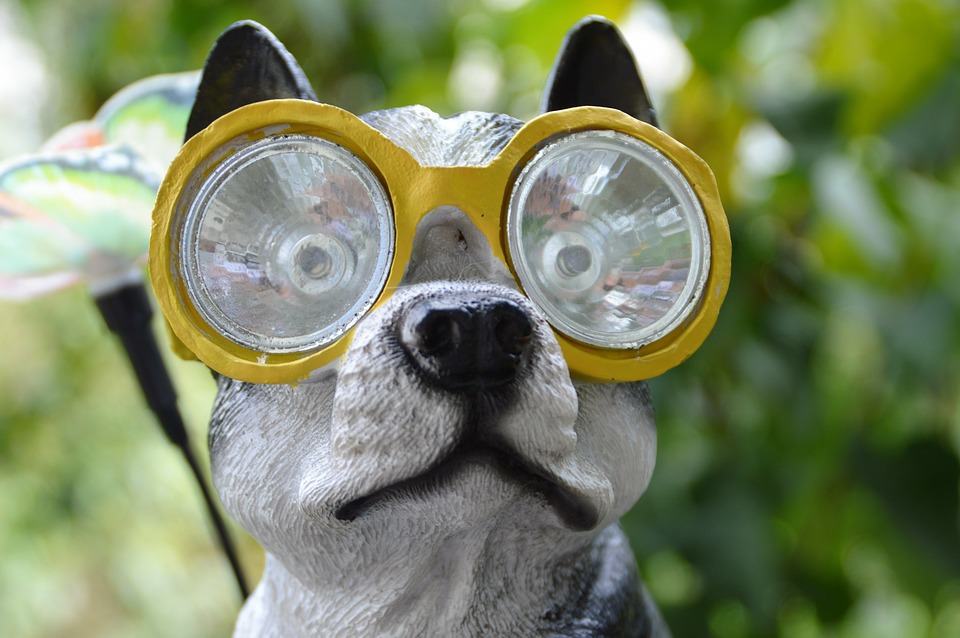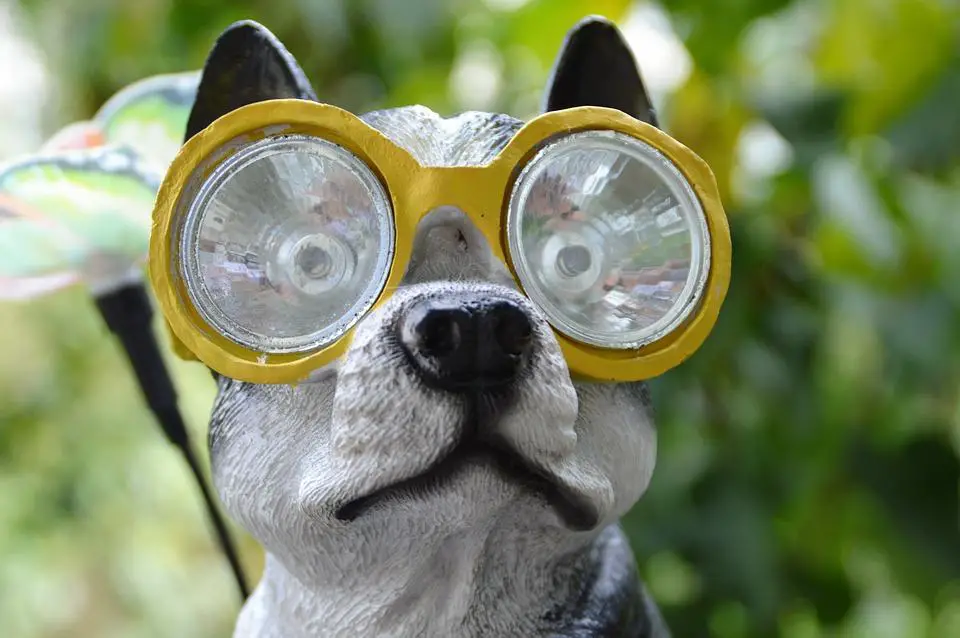 Your visibility can get negatively impacted that way as you get a lot of distortion. Newer lenses for prescription glasses often use plastics which can be thinner and lighter and provide less of such an issue.

Lenses don't always fit?

Another problem with glued in lenses is that they don't have the same size and shape as the visor of your goggles. This can make it quite difficult to effectively clean around the lenses. Eventually, you will have some dirt collect around the edge of the lens.
Can you remove your Rx lenses from your scuba dive or snorkeling mask after gluing?
Using this approach is somewhat final for the mask you're using. If you buy a new mask and it doesn't fit you well then you usually will not be able to get your lenses out again and you in many cases will better off getting a prescription snorkel or diving mask.

You want to make sure that the mask will fit you well before you glue the lenses in. That way you make sure that it is the right scuba diver or snorkeling mask for you. When you're ready to have the lenses made and places you will have to find an optician that can handle that placement.

This is a reasonable approach to get a corrective dive or snorkel mask that will allow you to see clearly in the water!
Custom Prescription Dive or Snorkel Mask
If you buy a mask with split lenses, then it can be possible to replace the lenses in the mask with Rx lenses that are specific to your visibility needs.  This does sound easier than it is as you have to get the optical corrective lens in a prescription mask to match exactly the lenses you replace.
On top of that, the lenses in high-quality masks are made from tempered glass. You do not want to replace them with standard glass or with plastic lenses as they can break easier and cause injury if you have an accident underwater. This is true specifically for dive masks. Converting your snorkel goggles to a prescription snorkel mask is somewhat easier as you won't dive deep down and have your lenses sustain high pressure – Comparing Snorkel Goggles vs Masks – What are the Differences?
This option also only works if you get a mask with a frame. Frameless masks usually have the skirt bonded to the lens and as such, you can't just replace the lens without basically destroying (or at least risking destroying) the mask itself.
Some dive stores specialize to help with finding a good mask (probably not a classic round diving mask) and getting the lenses replaced. If you find a specialist, then this is a great option. However, you can't typically get this done online for a cheap price!
Off-the-shelf Prescription Mask
These scuba diving masks are specifically designed to have lenses with corrections. You can usually find prescription masks online as well as in dive shops for reasonable prices.
A prescription snorkel mask works really well if you can find a corrective lens in a prescription mask that matches your correction needs closely. You will typically be able to get the lens corrections within 0.5 diopters as most off-the-shelf corrective goggles offer 0.5 increments. Prescription masks might not provide perfect visibility but they are usually a tremendous improvement over diving or snorkeling without correction at all.
What these off-the-shelf prescription masks cannot fix is if you require severe astigmatic correction. If you require a slight astigmatic correction or have just minor trouble with being nearsighted yet require a severe correction to see in the distance then you can consider prescription masks and fix the major visibility issue.
You will not get a perfect match for correction with such a prescription snorkel mask. However, these prescription masks are cheaper and pretty quickly available and as such, they are a great alternative to the other methods and approaches outlined above.
Best Off-the-Shelf Prescription Snorkel and Dive Masks
There were several offerings where a diver could buy a dive or snorkel mask with Rx lenses in the past. Most notably, prescription masks were offered by Promate and Scuba Choice.
You could even get some Promate scuba masks with bifocal corrective lenses as well as for far or nearsightedness. Unfortunately, these masks are no longer easily available and bifocal lenses are probably the hardest to find. You might be able to find them at a local shop still or online, but the major retailers do not seem to offer them any longer.
Nowadays, you will find many brands that offer specific masks that are prepared for add-on or replacement prescription lenses. All prescription masks that you can find nowadays with replaceable lenses come as dual-lens scuba and snorkeling masks.
Having a regular mask that you can fit with optical corrective lenses from the same manufacturer makes a lot of sense. You get perfectly fitting optical lenses for a mask that is top-quality. And some of them even offer bifocal lenses to drop into the mask.
Let's have a look at the best off-the-shelf prescription dive and snorkel masks.
SCUBAPRO Flux Twin Dive Mask
The Scubapro Flux Twin by itself is a great diver and snorkel mask. This mask comes with the quality you expect from one of the best brands for scuba gear.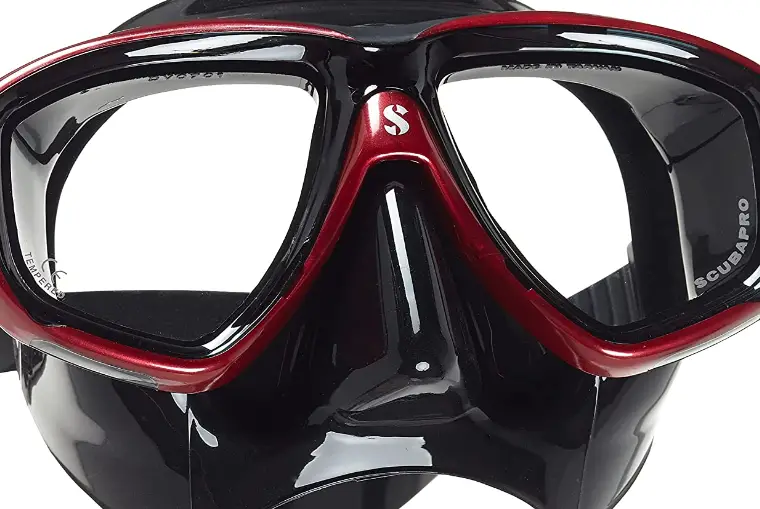 You might also be interested in checking out our Full Face Scuba Mask Reviews
Scubapro designed the Flux Twin mask to have two lenses and offers optical inserts so you can use it as a prescription dive mask. The optional optical lenses are replaceable. You can get them in corrections from -1.0 to -8.0. The optical Rx lenses can be ordered in increments of 0.5 diopters. There are no lenses available that you can use to correct astigmatism.
The skirt of the mask is made from hypoallergenic silicone. It features a double-feathered edge that makes these prescription goggles super-comfortable. The skirt tightly seals to your face and keeps water out.
Overall, the Scubapro Flux is a great scuba or snorkel mask. It's a low-volume mask, which makes it easy to go down as there's less air trapped inside.
Cressi Big Eyes Evolution Crystal
The Cressi Big Eyes Evolution Crystal is the latest evolution of this famous scuba mask. It features a crystal-clear skirt made from hypoallergenic silicone that provides a larger field of view for better visibility and improves the amount of light entering the mask. It can also help prevent claustrophobic feelings when you wear the goggles as you won't feel that closed in.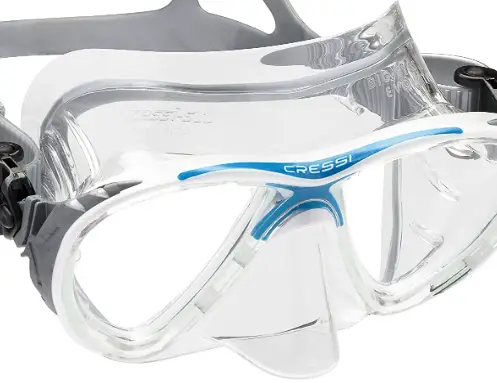 These scuba googles by themselves are some of the best you can buy. With the option of adding optical lens inserts, Cressi made this one of the best prescription dive masks you can find.
This scuba and snorkel mask has tear-drop shaped lenses that are position with a 15-degree incline. You get an improved visibility underwater that is hard to match with any other traditional mask. The optical lenses range from -1 to -6 in increments of 0.5 diopters.
The Cressi EVO scuba mask has large tempered glass lenses. Even though it's built as a low-volume mask that makes it easy to clear the mask underwater.
Atomic Aquatics Subframe Dive Mask for Scuba and Snorkeling
Atomic Aquatics is one of the best brands in scuba. They are known for their innovative designs and high-quality gear.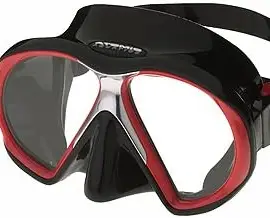 The maks is low in volume to make it easy to clear when you're diving. It's built rock-solid and is close to indestructible. The super-soft skirt is made from hypoallergenic silicone that you can either get in black or clear.
The Atomic Aquatics Subframe mask is available with optional Rx lenses. The available diopter ranges from -1.0 to -8.0 in 0.5 increments. The prescription lenses have to be installed at the factory!
TUSA M-2001 Paragon Scuba Diving Mask
The TUSA Paragon is a top-quality dive and snorkel mask. It's a mask made for divers that expect the best, and it is available with optional prescription lenses.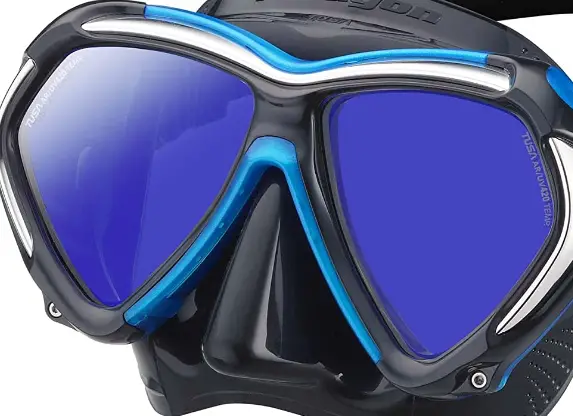 The TUSA Paragon is one of the best masks you can find, whether you need corrective lenses or not. It's available with a black or white silicone skirt and is built as a low-volume mask.
The Rx lenses for the Tusa Paragon are available in 0.5 increments for -1.5 to -6.0 diopters. These optical correction lenses are the same quality as the original ones and have UV and anti-reflective treatments.
Scubapro Zoom Evo Diving Mask
The Zoom Evo is Scubapro's first mask that is specifically designed to replace the lenses with prescription ones. The goggles are designed to replace the tempered glass lenses with corrective ones within a minute without tools.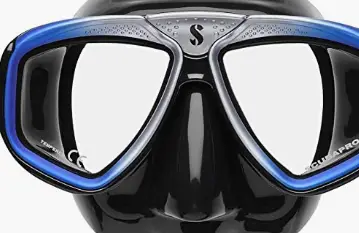 The Scubapro Zoom Evo scuba mask has dual tempered glass lenses and is a low-volume mask for easy clearing when you're diving. Scubapro made this a fantastic product with all the features you want from a high-quality mask. The skirt is soft silicone that creates a tight seal between the mask and your face while being comfortable to wear.
Scubapro also added the widest range of optical lenses available right now. You can get options to correct being nearsighted, farsighted, as week as bifocals. They range from +4.0 to -8.0 diopters in 0.5 increments.
The Zoom Evo is, in our opinion, the best mask if you need glasses for nearsightedness or if you require bifocals. You will have to get the Rx lenses at an authorized Scubapro dealer.
Ocean Reef Aria Full Face Snorkel mask with optional lens support
Ocean Reef offers an optional accessory that allows you to wear prescription lenses inside the Ocean Reef Aria full face snorkel mask. You order the accessory and then have your prescription lenses fitted into the frames and voilà, you have a prescription snorkel mask to call your own!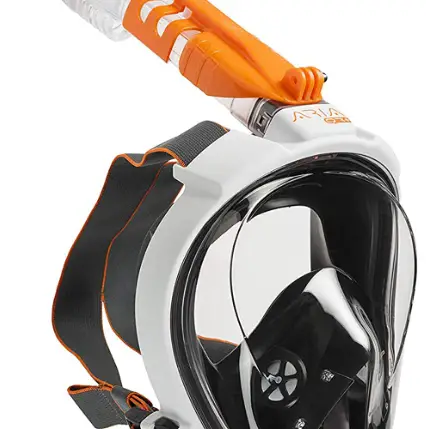 The advantage obviously is that you get perfectly matching lenses for your correction needs. Not only that, but you're also able to use a full-face mask for snorkeling which in our opinion is superior as they provide better visibility and comfort.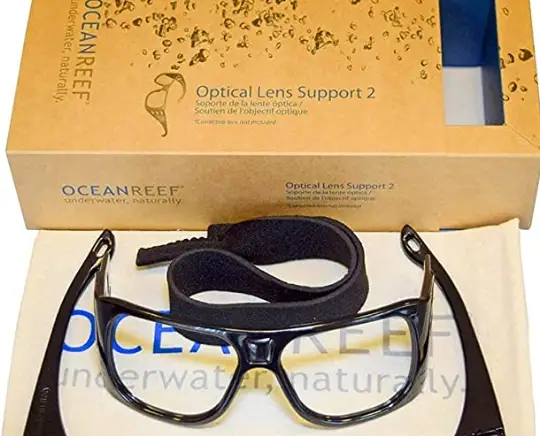 If you are into snorkeling and need prescription glasses then this is pretty much the best prescription snorkel mask choice there is. It's not useful in any way for scuba diving though. You can even try (usually successful) to combine the accessory with other full face snorkel masks.
Final Thoughts
There are a number of options available for both snorkeling and scuba diving with regard to prescription masks and lenses. Typically, the best is to use off-the-shelf masks with optical corrections as close to your needs as possible.

For snorkeling, you definitely want to have a closer look at the OceanReef Aria with the lens support accessory as your prescription snorkel mask. You get perfectly matched lenses and combine them with a full face snorkel mask to get the best prescription snorkel mask possible. It's hard to imagine a better combination when you want to go snorkeling and need a prescription snorkel mask.

Scuba divers should have a closer look at the Scubapro scuba diving mask. It offers many lens options and by itself is a high-quality mask and therefore our choice as the best scuba mask with prescription lenses.

Have a great time on your next dive or snorkel trip!