Review of the SeeReef Full Face Snorkel Mask
The SeeReef Full Face Snorkel Mask is one of the highest-rated in its price range. In this article, we'll go over the concept and features, and compare it to the competition.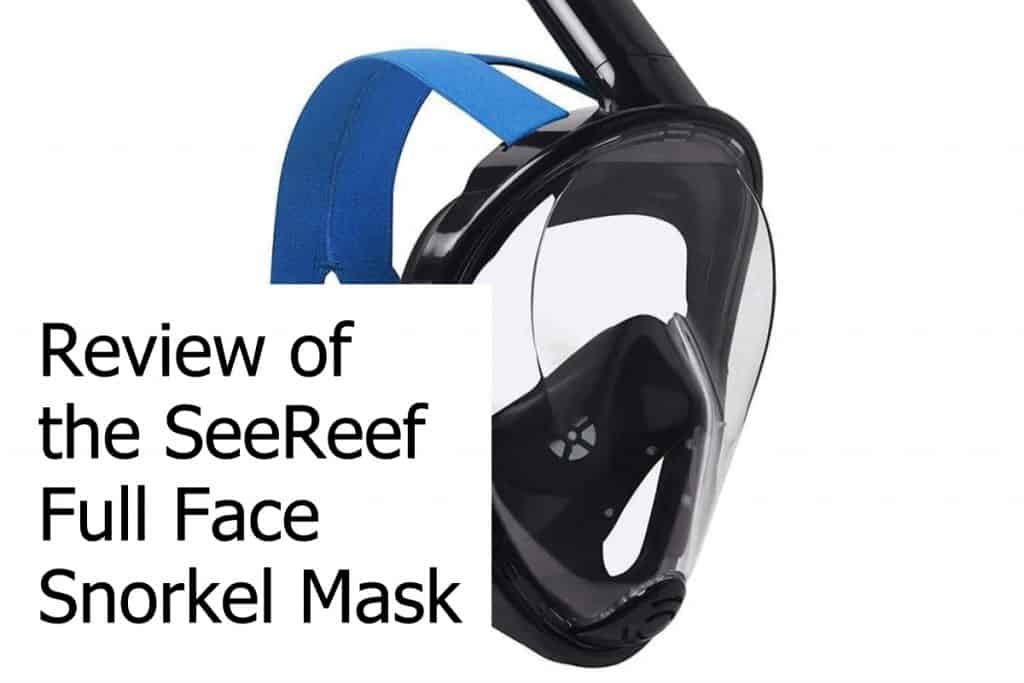 Technology has brought significant advances to diving equipment—even the simple mask has been transformed. Full-face snorkel masks have been developed that allow you to breathe naturally through your nose and mouth. They have a 180° view area, and you don't have to bite down on a mouthpiece as with the older two-element snorkel.
In Search of Better Snorkeling
Many would-be snorkelers have trouble breathing through their mouth, which is required by the original two-piece unit. Some suffer jaw pain after clenching a mouthpiece.
The SeeReef Full Face Snorkel improves upon a design first introduced by Tribord in 2014 (https://www.huffingtonpost.com/2014/05/20/tribord-easybreath-snorkel-mask_n_5355412.html). The innovative combined-function mask allows you to breathe naturally through your nose and mouth while underwater–without a mouthpiece. The SeeReef mask also reduces fogging and provides a wide area of view.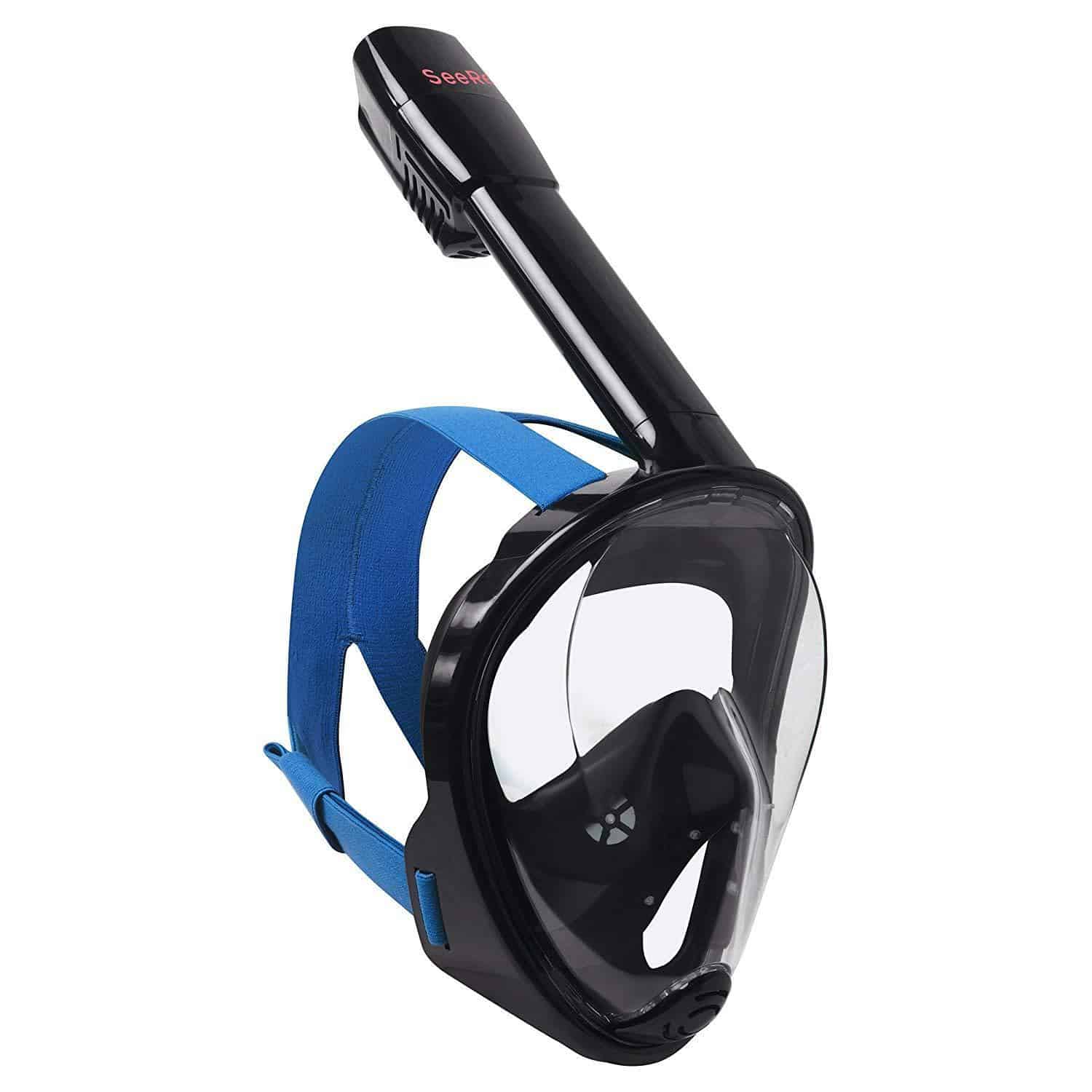 It is important to remember these one-piece snorkels are specialized gear: they are not intended for free diving or intense exertion while swimming. Though sold as a secure system for beginners and kids, problems can arise for the uninitiated—these masks should only be used under supervision or with a buddy.
The SeeReef Full Face Snorkel
The sleek, modern-looking SeeReef Full Face Snorkel combines the goggles and air tube in one unit. The upper viewing lens and lower breathing area are divided, and an extra long air tube connects through four intake valves in a floating-valve "dry snorkel" system. The shatter-proof flat lens allows clear and fog-free 180° viewing.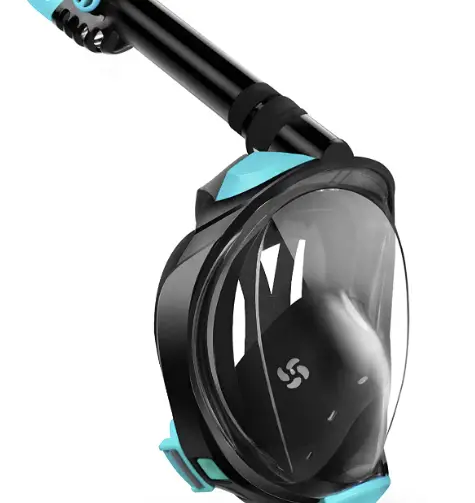 What you need to consider to find the Best Childrens Full Face Snorkeling Mask
The SeeReef mask promises natural breathing and a better view underwater. Exhaled air flows up through the snorkel instead of the lens chamber to minimize fogging. The innovative design reduces the chance of choking and swallowing water.
The SeeReef Full Face mask is priced more competitively than Tribord's EasyBreath. The SeeReef offers most of the performance of the original market leader with the addition of a flat lens for panoramic viewing. The SeeReef's second-generation design also adds a 4-intake valve system for easier breathing, and an extra long air tube and a dry-snorkel assembly to keep water out.
The SeeReef model comes with spare seals, two sets of earplugs, and a hard carrying case to keep your gear intact and the high-grade lens from becoming scratched.
Pro:
Allows easy, natural breathing through nose and mouth
Provides 180° degree clear vision
Minimizes lens fogging
Dry snorkel system helps prevent water intake
Con:
A tight seal can cause pressurized flooding if broken
Can lead to CO2 buildup under physical over-exertion
Straps can be difficult to remove quickly
Features & Benefits
Viewing Lens
The SeeReef Snorkel is a one-piece mask with a built-in breathing system. It uses two chambers to divide the viewing lens area from your nose and mouth, a feature which reduces fogging from breath moisture.
The separate compartments allow for broader, unobstructed panoramic viewing. The single lens is engineered with a flat design to decrease distortion and increase visibility beyond the capacity of older "bubble" masks.
4-valve Air Intake
SeeReef updates the original Full Face mask design with four intake valves for maximizing air flow. Three intakes are positioned in the breathing area, and one valve is fitted at the top of the air tube. This arrangement allows you to breathe more naturally than most other masks, providing effortless and unencumbered air flow.
When fitting the mask, you want the breathing area to fit snugly. You can test the fit by standing out of the water and breathing into the mask: the upper viewing section should remain clear, with fogging only in the bottom compartment.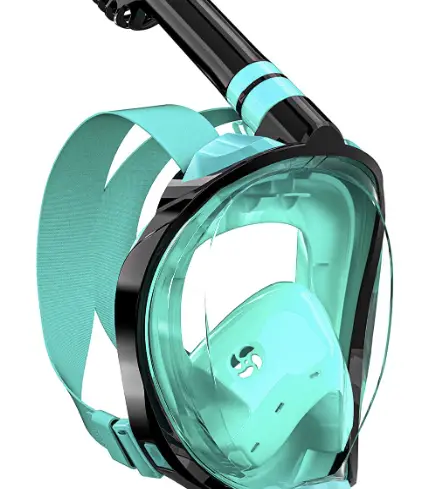 Dry Top Snorkel System
Adding to the comfort of the SeeReef design is a dry-top mechanism that uses a ball float to prevent water from entering the air tube when submerged. If you dip your head below the water, the ball rises to block intake.
Any water that gets in will drain when you raise your head above the surface. You don't have to blow out air through the tube as with most older snorkels. Many traditional units include the dry system too.
Enhanced Air Tube
The SeeReef's has updated their model with an extra long breathing tube to ensure natural air flow. The system expells air through side chambers and out the top. The angle of the breathing tube is optimized for surface viewing.
Straps & Appearance
The mask is held securely by bright sea blue straps behind the mask's oval frame. They come in Jet Black or Pacific Blue. The blue option is a white frame with blue straps. The strips aren't friendly to long hair, and mats it easily—but they are visible and attractive.
A good seal is necessary for the unit to function correctly, so the wide straps are placed to distribute pressure around the frame. The setup is not complicated to learn, but it is not made for quick release. Even if you're an experienced diver, the straps may be different than you are used to, so practice out of the water first so you can release quickly.
Sizing
The apparent key to getting the proper seal is how well the mask's frame fits your face, and one size can't fit all. The SeeReef takes a step in the right direction by offering two sizes, small/med, and large/XL.
The mask should fit snugly but not tight. Pay close attention to the fit of the area around the breathing chamber. To find your size, measure between your eyes and chin. Get a small/medium if the distance is less than 4.7 in (10cm), and the larger size if more.
The smaller size is suitable for many children.
Safety
Full masks have been in the news from a rash of snorkeling deaths in Hawaii (https://www.cbsnews.com/news/hawaii-full-face-snorkel-mask-related-deaths/). The issue seems to involve cheap, mass-produced knockoffs that duplicate the look of the mask without the engineering know-how behind it. This is an essential piece of gear, so you want to avoid a cheap copy.
The concern highlights some issues:
The intake chamber isn't entirely expelled with each breath so that CO2 may collect under exertion. The SeeReef is designed to discharge air into a small, isolated chamber which leads out through 3 separate valves, potentially reducing CO2 buildup that can happen if breathed and unbreathed air are mixed. Be aware that cheaper units may not have safety engineering.
The mask is made to produce a tight seal and, if the seal is broken, water can flood in with unpleasant pressure. This can be a scary moment if you aren't aware it can happen. The larger air volume of a Full Face mask prohibits safe diving.
Beginners may be prone to trouble with claustrophobia and panic, but all users should practice taking off the straps. These can be difficult to remove quickly, and you cannot reach your nose to clear the air as with a traditional mask. Take time to become familiar with the different sensations to avoid surprises.
To reiterate, the SeeReef and other well-made Full Face Snorkels safe for recreational use while comfortably floating on the surface—they are not to be used for diving or intense exertion while swimming – find out more whether full face snorkel masks are dangerous.
Don't do this, at least not for longer periods of time: 
Extras
SeeReef includes a hard carrying case to protect the lens. Even its scratch-resistant lens won't keep away marks if you mix them in with your other gear. There is also a soft cleaning cloth included.
Two sets of earplugs are also included: a standard set and a pair of in-ear super-molds. You get some spare seals just in case.
Warranty
SeeReef stands behind their product with a full money-back guarantee, with no special conditions or waivers. Specific manufacturer information can be challenging to find, so check with your retailer for the details of their policy.
Social Proof
Looking across the internet at online discussions about Full Face masks, you'll see some people are happy with their quality Full Face masks while others warn against cheaper models.
TravelAdvisor has users with a lot of real experience, and the SeeReef has earned good marks.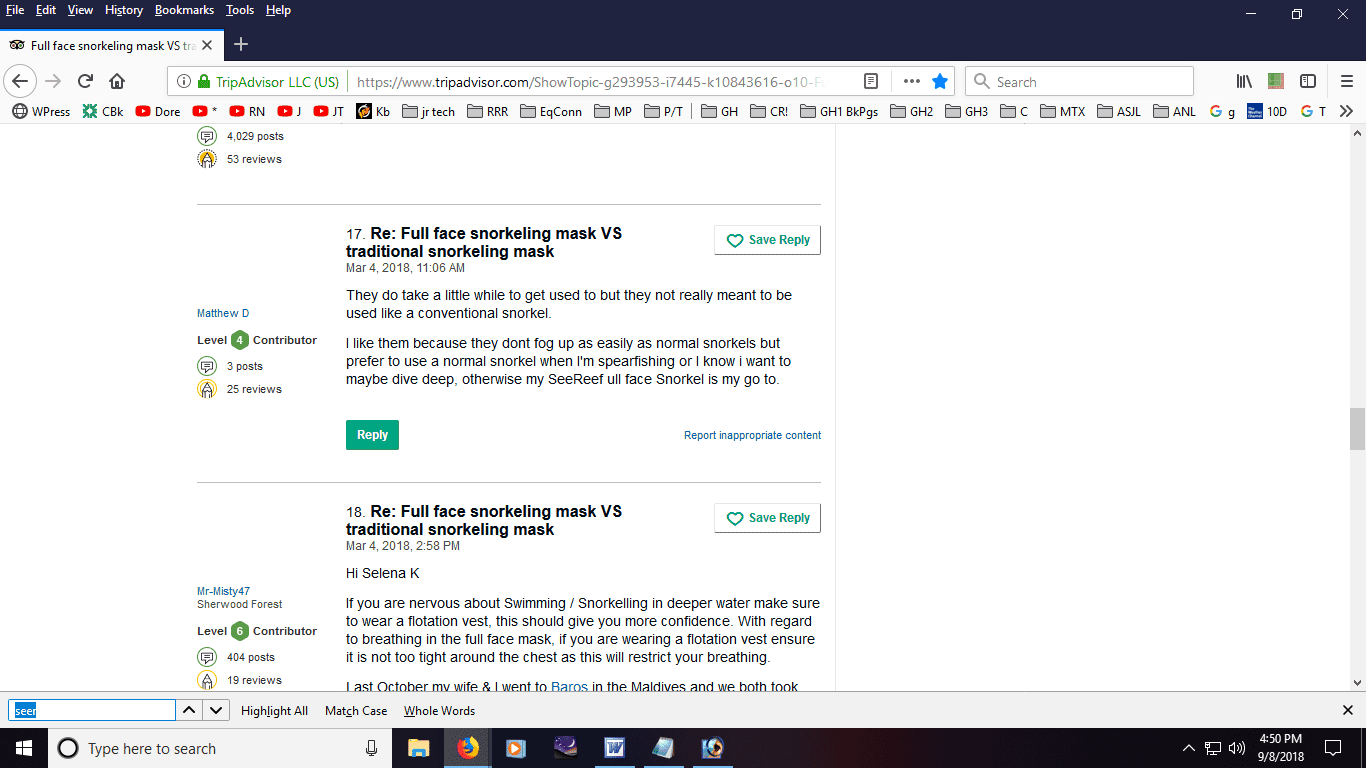 Alternatives
Tribord Easybreath
The Tribord Easybreath was updated in 2017. They added the name Subea and introduced an improved airflow setup that reduces fogging. As the company was the first to introduce the recreational Full Face design, their Easybreath mask is still a top competitor in the market.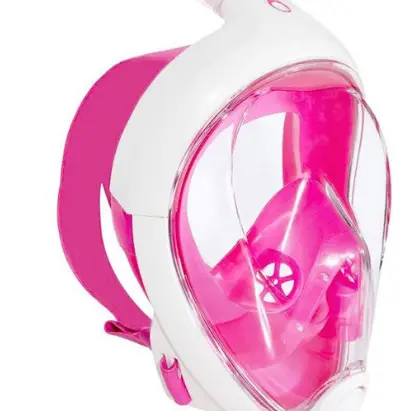 If we're to be picky, the unit doesn't quite have the sleek SeeReef's visual area. The SeeReef also has a longer air tube, but since both have dry valve protection, it doesn't make a huge difference. The Easybreath is a little more expensive than the SeeReef for possibly better performance, as they have more experience to give their product.
Original Full Face Snorkel developers
Quality parts and design
Optional GoPro mount
Click to have a look at our review of the Subea Easybreath!
Wildhorn Outfitters Seaview 180
The Seaview 180 is another competitor in this range. Its high-quality lens with super-wide viewing area is this popular unit's standout feature. Its integrated GoPro mount was the first on the market, and the well-regarded assembly still fits all existing models.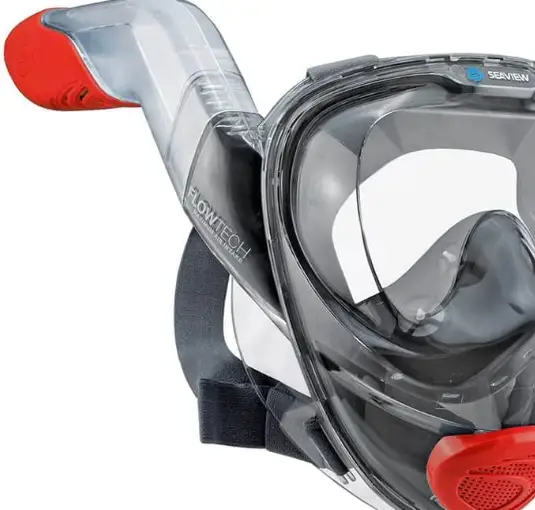 The Wildhorn mask it is a little pricier than SeeReef's for much the same performance. It's close to a choice between styles you prefer.
A maximum field of vision
High-grade premium silicon processing
Action camera mount
Click to have a look at our in-depth review of the Wildhorn Outfitters Seaview 180 v2!
Ocean Reef Aria
Ocean Reef's Full Face mask is much like the Tribord Easybreath, but it comes in twice as many sizes and many different color combinations. You can't fault the design, but there are complaints about durability, especially after significant time spent in storage.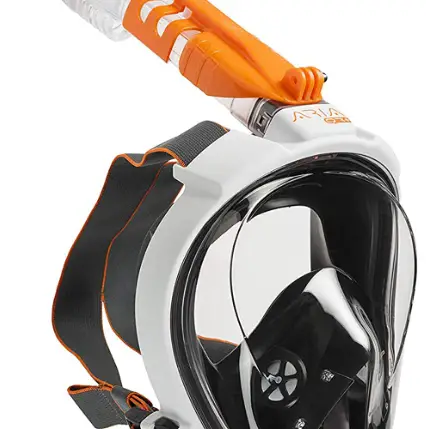 The Aria fogs up more than the SeaReef, and the price is higher than the SeeReef. These brands are similar enough in overall performance that it comes down to which appeals to you most.
A maximum field of vision
Multiple color options
4 Sizes
Please also check out our in-depth review of the Ocean Reef Aria!
Conclusion
The great thing about the SeeReef Full Face Snorkel and other top models is that they allow you to breathe naturally underwater. You don't have to bother with a mouthpiece, and you get more great high-quality viewing than ever before.
Full Face masks are very limited in use, suitable only for quiet floating at the surface. By delivering a smooth and comfortable experience within these parameters, SeeReef's performance opens up simple snorkeling to more people. With the SeeReef mask, you can breathe naturally and not worry about choking on intake water or gagging on the mouthpiece.
Do you use the SeeReef snorkeling goggles? Or any other full face mask? Leave us a comment below and share your thoughts and experiences. We'd love to hear from you!