GoPro Mount for the Tribord/Subea Easybreath
The Tribord Easybreath was the first full-face snorkel mask. It undoubtedly even today is the best one you can get.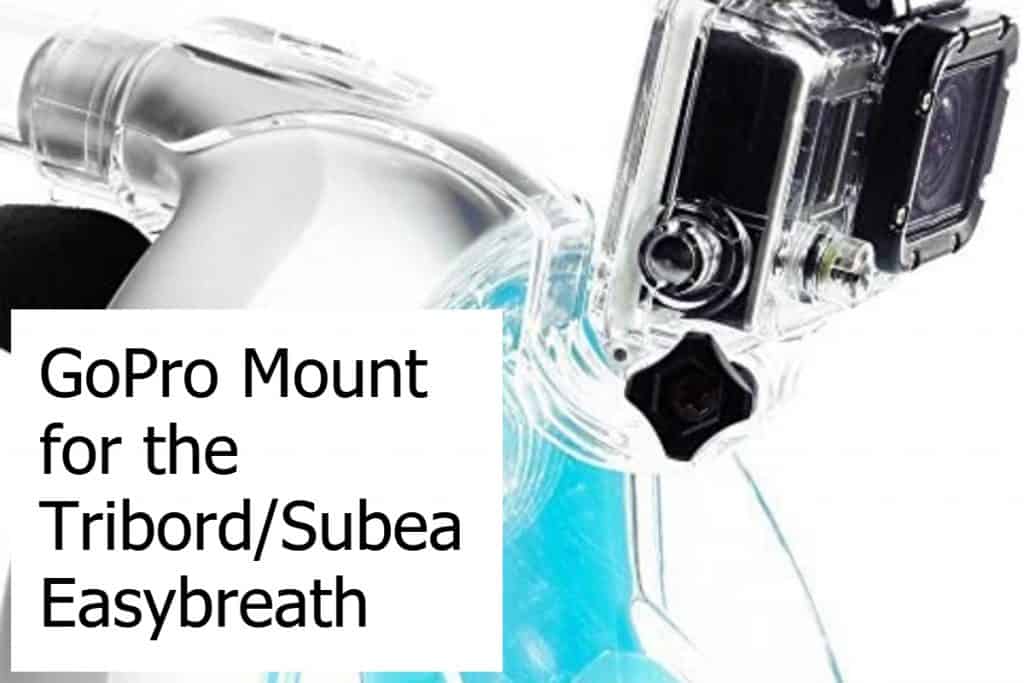 Yet, there was one little flaw with this mask. You couldn't get a mount for your GoPro. Using a GoPro on your snorkeling excursions allows you to capture the amazing world underwater to watch with friends, post on YouTube and so on.
When snorkeling it is most convenient to be able to mount the GoPro camera directly to the mask so you can keep your hands free. Many, if not most, full-face snorkel masks have at least an optional mount for your GoPro camera.
Clipping it on
One of the few exceptions was the Tribord Easybreath. This has finally been resolved with the optional GoPro mount that you can get for this snorkel mask.
The mount conveniently clips onto the base of the snorkel and then positions the video camera on top of the mask. The engineers designed it cleverly so the camera always stays in the water while your head is submerged. This guarantees that you capture the same view that you see out of the mask.
The mount simply clips onto the base of the snorkel. It sits secure and won't simply fall off by accident. You can rest assured that your camera is safe and won't get lost. That might not be true for third-party mounts or mounts you built yourself.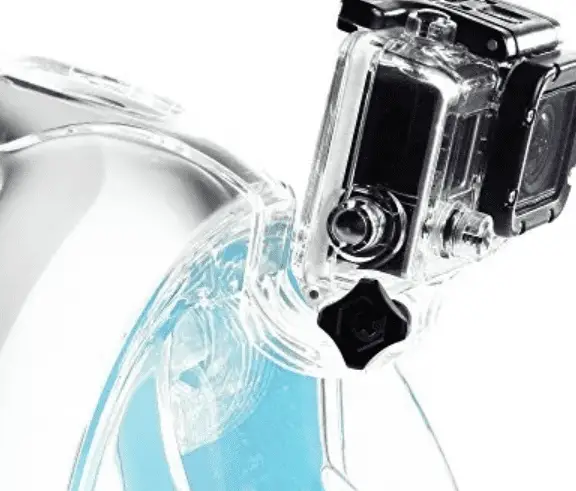 Adjust the Angle
Another great feature of the mount is that you can adjust the angle so it can point farther up or down. This does allow to get a better view of what you see when you snorkel.
The mount does not only fit a GoPro camera, but you can also attach a Decathlon G-Eye if you have one of those cameras instead. The designers made sure that the mount works for both types of cameras.
Removable Mount or not?
You might find people arguing that a removable mount is not as safe and good as a mount that is integrated into the mask. However, there's one big advantage with a removable mount: you can remove it when you don't need it.
If you don't own a camera and you're not looking to get one for snorkeling then you won't need the mount at all. You also don't know what type of mount you might need for cameras coming out in the next few years. An integrated mount will always limit you to what currently is available. A removable mount might get updated to match new and different cameras.
If you want to capture your underwater adventures on video then the combination of the best full-face snorkel mask and your GoPro will be about the best combination you can find. The Tribord Easybreath was the best snorkel mask covering your whole face before and with the GoPro Mount, it became even better!