Find the Best Fins for Snorkeling
There are only a few pieces of gear you need for snorkeling. You need a mask, snorkel, and snorkeling fins. Luckily, none of these will break the bank but you still want to look for good quality. Have a look at our top picks for the best snorkel fins. Let's dive right in!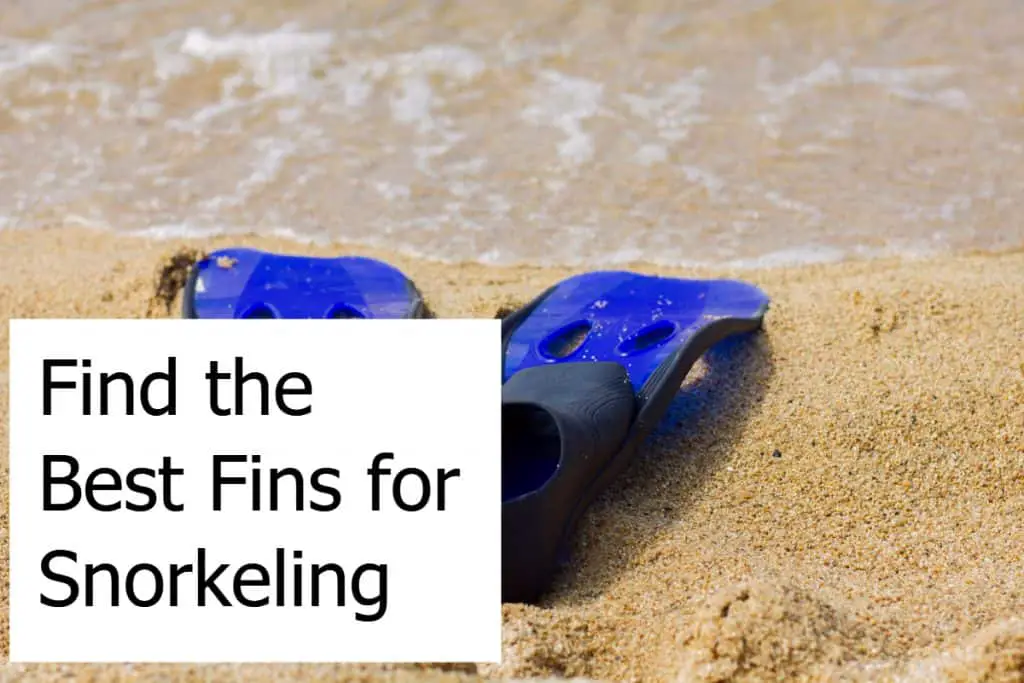 If you're looking for a great recreational activity for the whole family including young children, then snorkeling should be pretty high on your list. You'll get a nice workout while being able to see the amazing underwater sights that are usually hidden from your view.
You do need a few pieces of gear for your snorkeling trips. Masks and snorkels are pretty obvious (Best Full Face Snorkel Masks – Reviews and Buying Advice). A snorkeling vest (Snorkel Vest vs. Life Jacket – Which is better for Snorkeling?) is optional but very helpful when you'll be out on the water for a long time.
The main advantage of using a set of snorkel fins is that they provide you with forwarding thrust and maneuverability that you don't have without them. The push of snorkeling fins allows you to minimize the effort you need to move around in the water even if you experience oncoming currents.
The Contenders
If you're in a rush, then here's our list of the Best Snorkel Fins.
Cressi Palau Snorkel Fins – Best Overall
Wildhorn Topside Snorkel Fins – Best Shoe-like Fins
Seavenger Torpedo Snorkel and Swim Fins – Best Versatility
Phantom Aquatics Speed Sport Fins – Most comfortable foot pocket
Oceanic Vortex V-16 Split Fins – Best Long Split Fins (Split Fins vs Regular Fins and Blade Flippers for Scuba Diving)
US Divers Trek Travel Fin – Best for Travel
Cressi Agua Snorkel and Swim Fins – Best Closed Heel Short Fins
Mares/Head Volo One Snorkel Fins – Best Technical Advanced
Cressi Kids Snorkel Fins – Best for Children and Youths
How to find the Best Snorkel Fins?
You might think it's enough to get a pair of scuba diving fins and use them as snorkeling fins. Yet, there are a few things to it that you should take into consideration when you're specifically looking for snorkel fins then check out the reviews of the best fins below.
What do you need to know? – Guide to Find the Best Fins for Snorkeling
Before we look at the different best snorkel fins in detail, have a look first at what you need to know so you can find the best pair for you. We compiled an exhaustive buying guide for snorkel fins that will equip you with the knowledge to pick the best snorkeling fins! Check it out and then have a look at our top picks for the best snorkel fins below!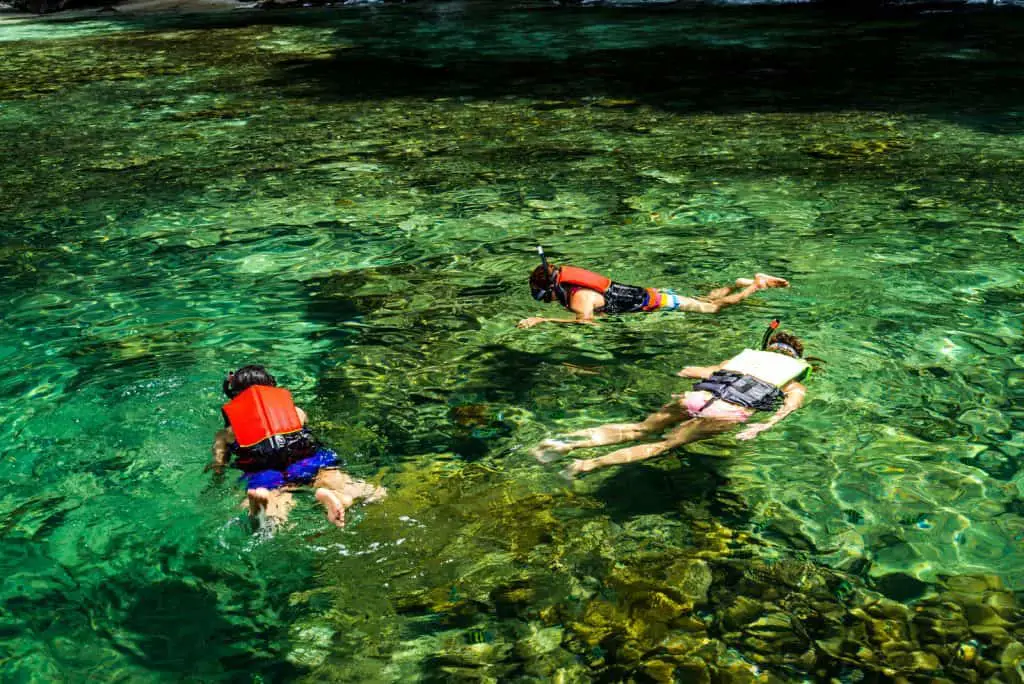 Best Fins for Snorkeling
You'll find a lot of fins for snorkeling and scuba diving everywhere. If you stick with the usual suspects (brand names), then you will usually not be disappointed. To make it easier for you we picked the best snorkeling fins for different uses and styles for you. Without further ado, let's dive into the overview of the best fins for snorkeling!
Cressi Palau Snorkeling Fins – Best Overall
Cressi is one of the best-known brands in scuba diving and snorkeling. Some of the best gear comes from them and that is the case for decades. The company is located in Italy and was founded in 1946!

The Palau fins are no exception. They are some of the overall best snorkel fins you can find. They come with short blades, so it's easy to see that they are great travel fins. You'll be able to put them in your standard-sized suitcase and not worry about how to get them to your vacation location.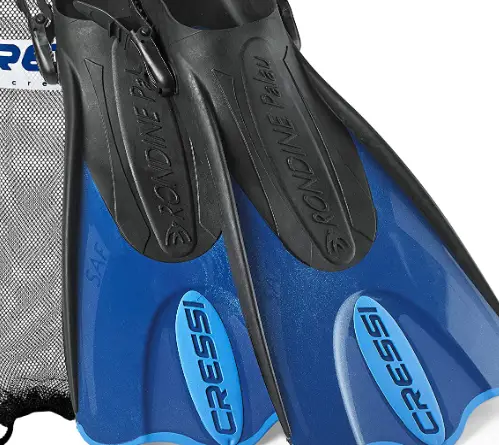 Short or Long, Open Heel or Full Foot Snorkeling Fins?
Short bladed fins, as mentioned above, produce less propulsion than long flippers. Cressi certainly knows that, so they also offer the Palau fins as a long fin. These long fins produce more thrust but are not as easy to handle.

Both Cressi Palau flippers are open-heel fins with adjustable straps. The only downside on the fin straps is that they don't have rings at the end where you can easily pull your finger through to adjust them – Open-Heel vs Full-Foot Scuba Diving Fins.

Usually, this is not a big deal, but when you snorkel, you should not forget to put sunscreen on your skin. After you do that your fingers are greasy and you can slip off the fin straps when you try to tighten them. Having a ring for your finger eliminates that issue as you slide your finger through and pull.

In our opinion, you'll be happy with the short snorkeling fins. They provide enough thrust to get you where you want to be in reasonably calm waters. Snorkeling isn't that enjoyable in rough seas anyway and you usually do not need the propulsion that a long blade can generate.

The short length fins come in four different sizes. You can also pick some different colors if you're not convinced that the blue variant is the right for you. You can choose from six different colors to match your snorkeling outfit.

If you also need a mask and snorkel then check out Cressi's Palau snorkel set. It combines these great snorkeling fins with a sturdy mask and an excellent snorkel.
Wildhorn Topside Full Foot Snorkeling Fins – Best Shoe-like Fins
The Wildhorn Topside fins are indeed a fascinating type of snorkel fins. We wouldn't expect anything else from the makers of one of the best full face snorkel masks (Should you Buy a Full Face Snorkel Mask?).
Fitting like a shoe
These full foot flippers do fit like a shoe. These snorkel fins have a neoprene boot into which you slide like into a shoe. This boot is the foot pocket of the full foot fins and your feet will feel like they do in comfortable shoes.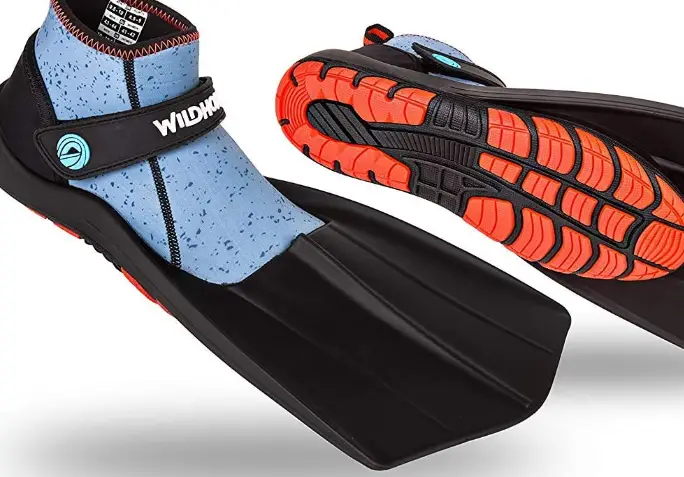 Wildhorn realized that many snorkelers only go occasionally to swim and want a very comfortable and easy to use a pair of fins for snorkeling. The result is that these full foot fins have a real sole as you have it with shoes, so they are quite comfortable to walk in on land. The unique design and performance made sure that they made it into our list of the best snorkeling fins.

In the water, they fit like a glove. The strap keeps your foot in place securely and you get a reasonably good thrust when in water.

The Wildhorn Topside full-foot fins are pretty short so don't expect as much thrust as you'd get from long fins. The design that makes them most comfortable walking also makes them pretty hard to use in the water. You need more strength compared to other fins as they are pretty stiff and don't bend very well. The advantage of that is that they are excellent for strengthening and conditioning your leg muscles.

These full foot fins, due to their short length, are easy to transport and to travel with. As they have an integrated bootie, they end up requiring more space than other fins with short blades for travel. They do easily make up for that with their fit and comfort level though but they are not your perfect travel fins.

As these full foot flippers have a closed foot pocket by using a bootie you can't easily adjust the fit. They come in three different colors and some different sizes for men and women which allow you to find the right size for nearly every foot.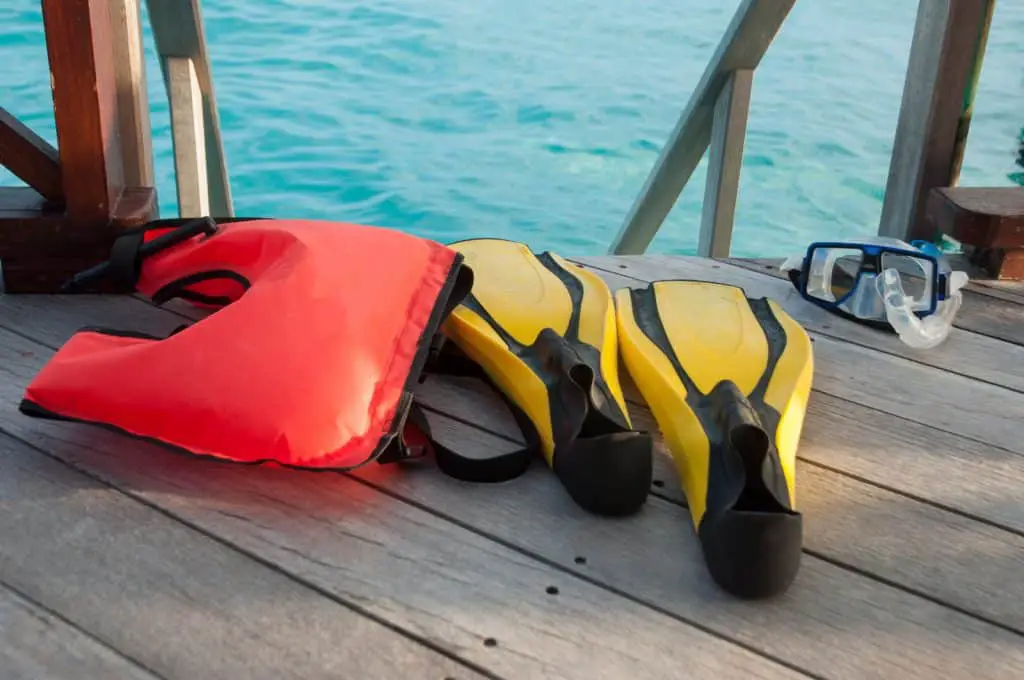 Seavenger Torpedo Snorkel and Swim Fins – Most Versatile Fins
The Seavenger Torpedo snorkeling fins are usable for a range of purposes. Not only are these flippers good for snorkeling but you can use them for bodyboarding as well as swimming.

Being so versatile has its roots in being very flexible snorkeling fins. They are short blade fins with an open heel design made from flexible yet sturdy material.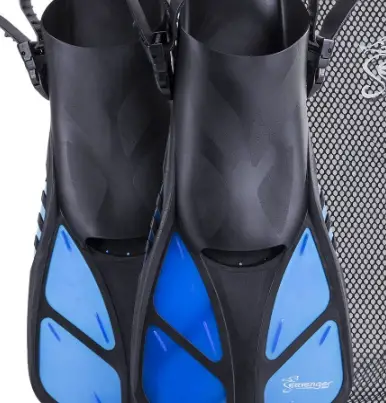 The strap on the heel of the snorkeling fin, similar to the Cressi snorkel fins above, does not have a ring at the end which means that you might end up having to work a little harder to fasten the strap around your heel when you have greasy fingers from applying sunscreen.
Not the sturdiest straps on these open heel fins
The snorkel fin straps also are not giving the impression that they are made to last. The most negative feedback that can be found about these fins is that the heel straps break and don't last for a long time. They are replaceable and as such it's not a complete waste, but it can be annoying to have to replace fin straps regularly.

The Seavenger Torpedo pair of snorkeling fins, as mentioned, are fins with short blades. The fin has a wide paddle and produces a reasonable amount of thrust. If you are in calm waters, it is enough propulsion, but in stronger currents, you might end up having to work quite a bit harder to produce enough thrust to get going at an excellent speed.
The blades of the snorkeling fin are designed to provide agility over speed in the water. This makes sense as you don't necessarily want to be the fastest snorkeler around but you do want to be able to make effortless turns and control your propulsion.

The foot pocket on the fin for snorkelers is comfortable and you should have no problem using them with bare feet. On the other hand, the pockets are large enough so you can wear booties when snorkeling if you prefer that.
The snorkel fin comes in nine different color combinations and three different sizes. Compared to the Cressi above you don't get as many different sizes which means that if you either have very little or very large feet, you might end up having a hard time fitting comfortably in them. The flippers come with a mesh bag to easily clean and carry them.

Seavenger also has a number of different masks as well as a quite highly rated snorkel set with bag, fins, snorkel, and mask.
Phantom Aquatics Speed Sport Fins – Most comfortable foot pocket
Phantom Aquatics is one of the most renowned brands when it comes to snorkel and scuba gear (Can You Take Snorkel or Scuba Gear On a Plane?). Their fins are excellent and the Speed Sport fin is a great fin with short paddles for snorkeling.

This snorkel fin is somewhat stiffer and less flexible than many of the fins you find. This does lead to less thrust and propulsion with each kick and when you're swimming against stronger currents, you have to work harder.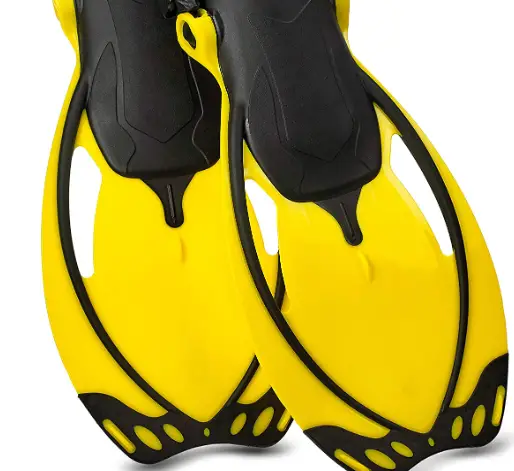 Even though the Phantom Aquatics Speed Sport fins themselves are pretty stiff, the foot pocket is quite comfortable. That is if you can find a size that fits as they only come in two different sizes. An interesting design feature is an extended footplate where the bottom part of the foot pocket is prolonged and reaches farther back towards your heel. This does provide less stress on your ankles and feet when you're using these open heel pockets.
Fins that Fit like a Glove
The foot pocket is contoured which makes it fit like a glove around your foot. You shouldn't run into any issues using these fins with booties though.
What Phantom Aquatics got right with these snorkel fins is the hinge point. The blades have a specific area that allows them to bend in the best overall position for the most amount of thrust. This does compensate for the overall stiffer blades.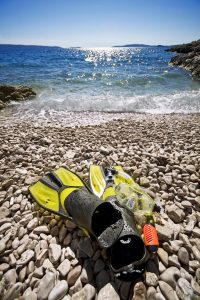 The fin straps don't offer a finger loop and, like many others, can provide some issues when you want to tighten them with sunscreen on your hands. They are otherwise made from high-quality materials and offer a good adjustment range.

The Vortex snorkeling fin comes with a nice mesh bag so you can rinse each snorkel fin while they are in the bag. If you intend to swim and snorkel in stronger currents, then you might want to look for different fins that offer more propulsion. The stiffness of the snorkel fin blade in combination with being short blade fins can make it somewhat hard to use them in strong currents and rougher seas.
Oceanic Vortex V-16 Open Heel Split Fins – Best Long Split Fins
The Oceanic Vortex V-16 are split fins with long blades to provide excellent propulsion. This is not your cheap snorkel fin that you get for your occasional swim trip. They are quite expensive and they are made for extensive use in varying conditions.
The fins are equally as good for snorkeling as they are for scuba diving. When you look at them then they are probably overall the better choice for scuba diving. They are open-heel fins with a spring strap that makes it easy to get in and out of the snorkeling fins while holding them reliably in place.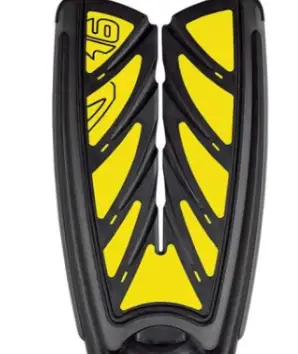 The split fin blades are made from a variety of different materials to make them softer around your feet and provide differing stiffness along the blade. The channels in the fin blades funnel the water during your kicks to maximize the thrust you can produce.
Split Fins for Snorkeling
As with all split fins, the downside is that they aren't as agile and maneuverable as paddle fins. They do produce continuous thrust with minimized energy. If you prefer to take long snorkel swims, then these are among the best fins for snorkeling.
The quick-release straps even make it easy to go or jump into the water without wearing your fins. With many other snorkel fins, you feel like you're risking drowning if you try to put them on in the water.

The Vortex snorkel fin comes in four different colors. There are not that many different sizes to be had, but due to the open heel design with spring straps, you should find a match for nearly all different shoe sizes.
The snorkeling fin has a long blade. You'll have a hard time traveling with them without specific bags to transport them. In other words, if you're looking for travel fins then you can find better options than the Oceanic Vortex V-16. If you are a serious snorkeler and scuba diver, then these fins can be a great piece of equipment for both activities.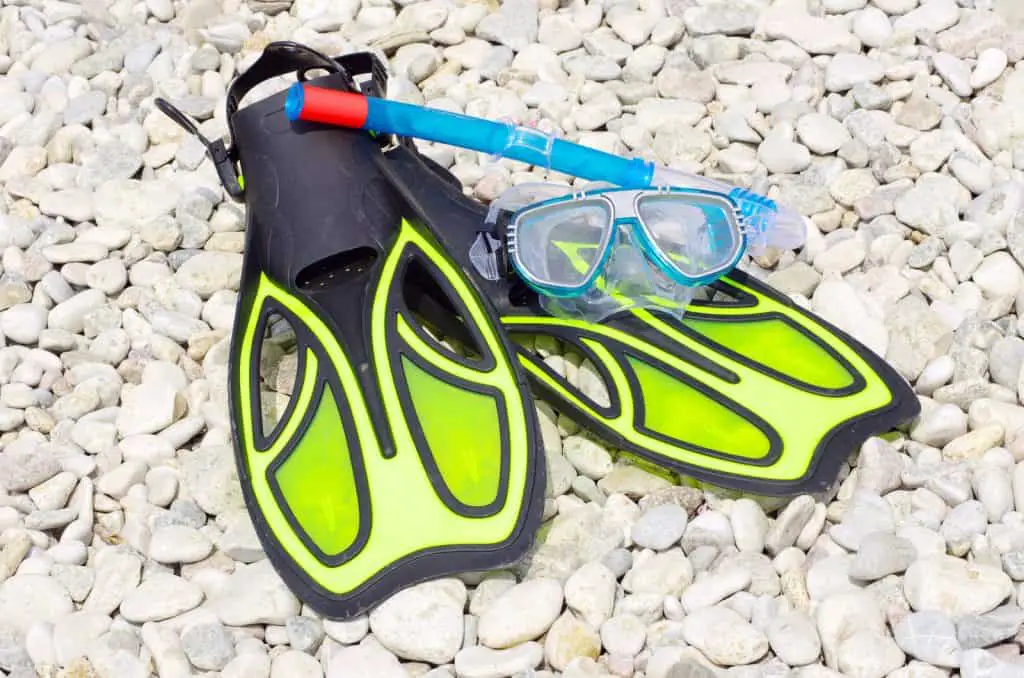 US Divers Trek Open Heel Fins – Best for Travel
The U.S. Divers Open heel fins are made for travel (Choosing the Best Travel Fins for Scuba and Snorkeling). They are some of the shortest fins you can find that are specifically designed to make it easy to transport them. Due to their compact size, you shouldn't have any issues finding some space in your suitcase or travel bag to put them in.
They are lightweight and made from dual composite material for the travel snorkel fins. That way they provide a good balance between being stiff and too flexible.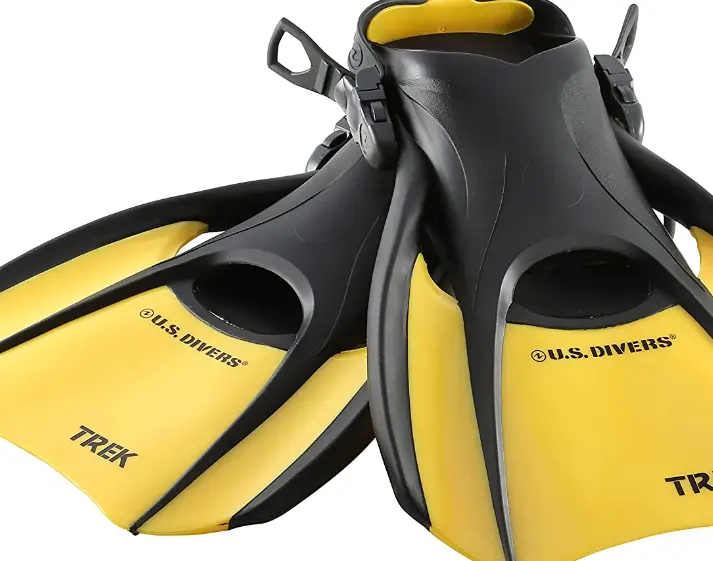 The snorkel fins are open-heel fins with adjustable straps that fit over your heel. The fin straps have a hole at the end where you can slide a finger through to tighten them. This makes it easy to put the fins on as you only need one finger to tighten. Even with greasy fingers, it's no problem to tighten the strap.
While the fin straps are easy to use, they do also get lose over time. They start to slip when you wear the fins for a while and that means you have to readjust the fin straps during your swim.
Snorkeling Fins with very short Blades
While the blades are very short, they are also quite wide. This makes up somewhat for the shortness but not completely. You will still need to put in a reasonable amount of energy to produce a solid kick and thrust. You do not want to use these snorkel fins on long swims or snorkeling trips though as they will eventually tire your legs out.
Having such a short fin makes it easy to walk with them. Not quite as easy and comfortable as the Wildhorn fins but pretty good nonetheless. The foot pocket is made from soft material and is easy on your feet.
The fins for travel come in three different colors. You can get them in four sizes making it easy to find a good match for your feet.
The short, yet wide paddles make the US Divers Trek great travel fins!
Cressi Agua Snorkel and Swim Full Foot Fins – Best Closed Heel Short Fins
Another contender from Cressi is the Agua full foot fins. They are snorkel fins with short blades similar to the Palau fins listed above. The main difference is that the Agua fins are a closed heel, also known as a full foot.
Closed heel foot pockets can't easily be adjusted like open heel fins. Such full foot snorkeling fins don't have straps, but instead, you slide into the foot pocket like you would in a pair of shoes.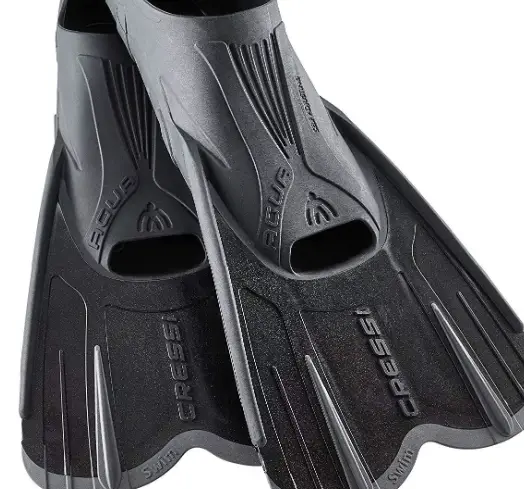 If such full-foot fins don't match your feet, then it's hard to adjust them and as such, they might end up too loose or too tight. If you fit them correctly, then you have excellent control in full-foot fins, and your power from your strokes is sent directly to the fins and blades.
Self-Adjusting Fins for a Perfect Fit
These Cressi Agua full foot snorkeling fins are somewhat different though. They do self-adjust underwater and start to mold around your feet. So, even if they feel a little loose on land, these full foot flippers do fit tight underwater.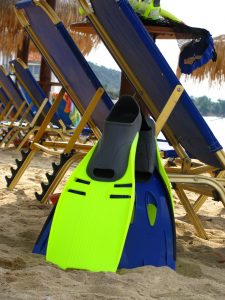 The blades on these full foot fins are very compact. This makes them great for traveling, but they do not produce as much thrust as many of the other fins we reviewed above.

They are not what we would suggest you use in heavier currents in the open water. If you use them in calm lakes or lagoons, then the Agua snorkel fins are a great piece of equipment. They are also a great set of fins if you want to use them in the pool for swimming laps.
Mares/Head Volo One Open Heel Snorkeling Fins – Most Technical Advanced
The Mares/Head Volo One flippers are pretty new fins and they are quite impressive. The reason why they are on this list is the simple fact that they have one of the most advanced snorkel blades you can find. The blades have what Mares/Head calls OPB hinge technology which is short for Optimized Pivoting Blade.
This technology ensures that during the kick cycle the long blade is positioned at an angle that produces the most thrust with the lowest amount of energy put into the kick. The fins are extremely flexible and provide a rather powerful thrust for these rather short blades.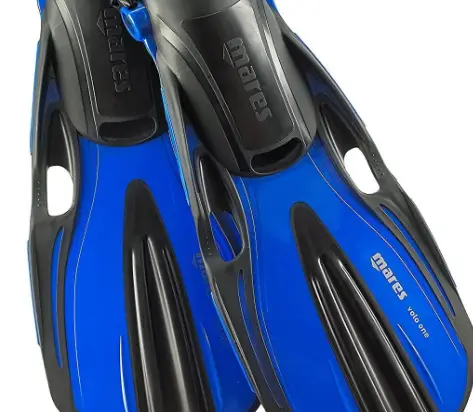 Another interesting part of the Mares/Head Volo One fins is the material mixtures and the inserts in the blades. These are along the length of the blade and are called Channel-Thrust by Mares. This technology regulates the distortion of the blade during a kick to optimize the thrust that is produced. This distortion increases the amount of water being thrust behind the fin to increase the power of the kick.
The technologies that went into the design of the fin are based on what Mares have used for their great Volo fins for scuba diving. These are long fins and some of the most regarded fins for snorkeling that you can find.
Open-Heel fins with Quick-Release Buckle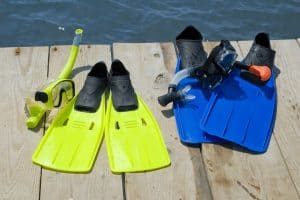 The Volo fins are open-heel fins that come with a quick-release buckle system. That way you get in and out of the fins quickly. The straps have rings at the end so you can quickly and easily tighten them with one finger.
The fins are available in five different color combinations and four different sizes. They come with a mesh bag (Best Dry Waterproof Bag for Snorkeling) that makes rinsing your fins easy after a snorkel trip.
Cressi Kids Snorkel Fins – Best for Children and Youths
Cressi, among their other fins above, has a great set of snorkel and swim flippers for children and youths. Not only are they quite colorful and sized specifically for the feet of young snorkelers, but they are also great overall fins.
The Cressi Kids snorkel fins are open-heeled with adjustable straps. This makes it easy to fit them tightly and securely, yet comfortably on your children's feet – What Is The Minimum Age For Kids To Snorkel?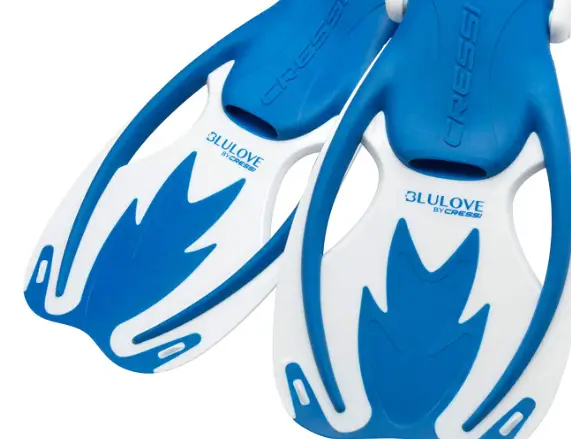 Finding the Best Full Face Snorkel Mask for Kids – Reviews and Advice
The blades are sized for shorter people and allow them to kick with optimized effort. The thrust produced is reasonable for snorkeling and swimming in calm environments.
The short fins are lightweight making them great for traveling. Cressi made these fins a great addition to your child's snorkel gear and they are priced keeping in mind that your kids will eventually grow out of them.
They come in two sizes and two color combinations. Unfortunately, they do not come with a mesh bag, so you have to get a bag for transporting them separately. Otherwise, they are our pick as the best snorkel fins for kids.
Conclusion – Best Fins for Snorkeling
If you are serious about snorkeling with friends or family and you're going to do it regularly, then it makes a lot of sense to get your flippers. You can make sure they fit perfectly and that you get the best fins for snorkeling for your needs.
Short Snorkel Fins for Traveling
A short fin allows for easy traveling with them. Most travel snorkel fins are also reasonably priced so they won't leave a big hole in your wallet.
Any recreational pastime, snorkeling included, that depends on gear will be more enjoyable with the right equipment. Get a pair of the best snorkel fins based on your needs from the list above and you'll end up with a great pair of snorkeling fins!
Pin It!
Please use the image below if you like this article and want to share it with your friends and family on Pinterest!