What Is The Minimum Age For Kids To Snorkel?
Some people are just more comfortable in the water than they are on land. There is something calming about going underwater and exploring life under the surface. Snorkeling is a great activity or sport, which is suitable for almost everyone. Let's dive right into the basic requirements you need to fill before you snorkel.
What is the Minimum Age for Kids to Snorkel? There are no hard-set rules. The most common age for children to start snorkeling is around 5 to 6 years. By that age the skills required are manageable by kids to make it a safe adventure for them to go snorkeling.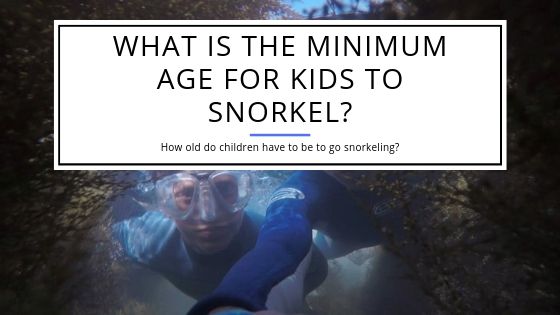 For starters, whether you're young or old, having a snorkel vest on is always a good idea.
At What Age Are You Ready to Snorkel?
In towns and villages located by the ocean, practically everyone snorkels, including little children. However, this doesn't happen everywhere and not everyone grows up in the water.
For the most part, children do not always have a great sense of understanding the amount of danger that may lurk under the surface. Factors like mortality are not something they tend to think about. The sparkly water and the beautiful treasures under it may make them feel a bit too relaxed and comfortable.
It is absolutely essential for your child to be a good swimmer. They must be comfortable and maintain control in the water. This, paired with a proper understanding of water safety, are essential before you let your child snorkel. If your child isn't a great swimmer, they can still enter the water with the help of a junior snorkel set and adult supervision.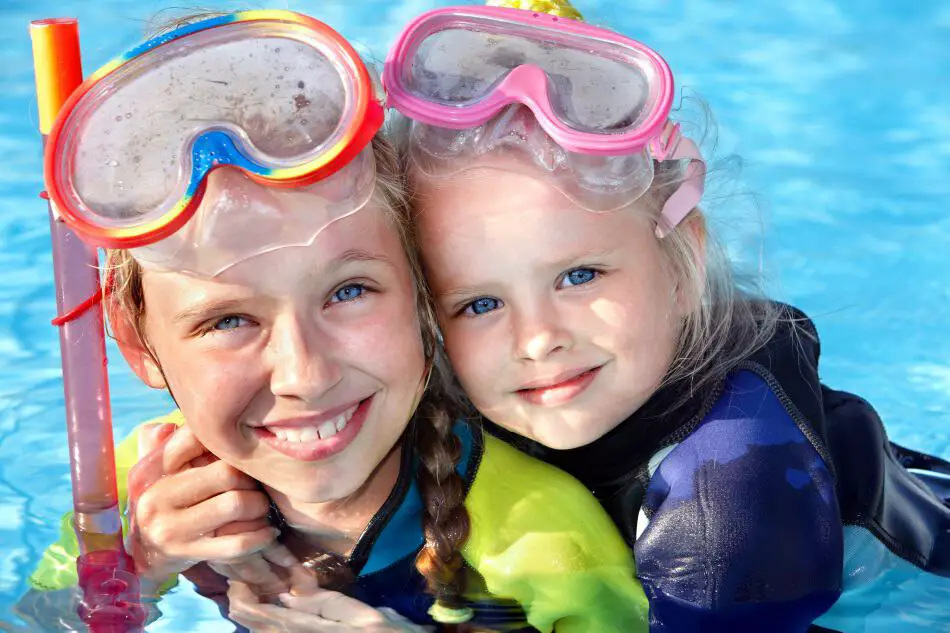 Making Your Kids Comfortable With the Water
If you've got a tropical vacation planned or you live close to the beach, you might be getting your snorkeling gear ready for the summer. Make sure you've got the right junior snorkeling equipment for your kids. Try getting them accustomed to the water before taking them on the trip.
Practice At Home
Whether it's just experimenting in your bathtub at home, or using an inflatable pool in your backyard, make your kids feel at home in the water. Help them maintain their stability and control their movement in the water.
Visit a Local Swimming Pool
Go to your local pool with all your snorkeling gear and practice, practice, practice! Help your children practice swimming underwater and swimming with their snorkeling gear on. The larger the pool, the more it will be like a simulation of the real deal.
Let's Go Snorkeling!
Your kids might even be okay with the water, but they may face some issues with the fish. Whether they're frightened or just uncomfortable with how close sea creatures are to them, if something like this arises, you need to get them out of the water immediately. If you're out with the kids, be prepared for the fact that you won't be engaging in any serious snorkeling yourself.
A great tip is to take your kids with you when you go snorkeling, but not necessarily in the water. Let them hang out in the boat, and from time to time, they can dip their head (mask on of course) in the water to get a feel of what it's like.
Don't get your children into the middle of the ocean. Even if they can stay afloat, they might still not have the ability to maintain their balance and control in the water. Snorkel near the shore, and you can venture out till the water is a few feet deep. If you feel like your child may be struggling, return to the surface, recharge and give it another go.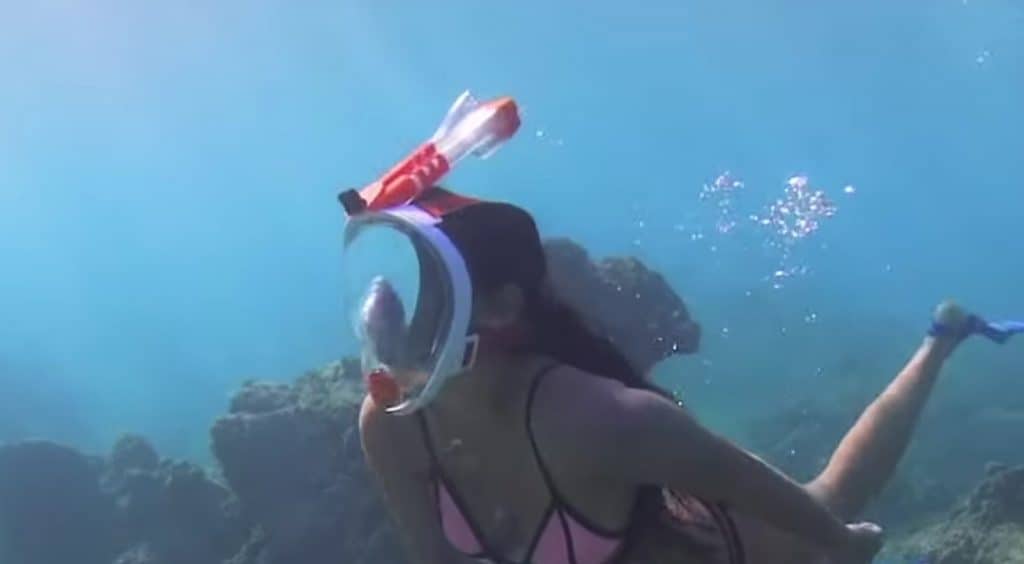 Just Keep Swimming
Even after all your preparation, chances are your first snorkeling experience with your kids might not be 100% successful. They may be scared of the movement of the waves, the current of the water, or proximity to the fish and other sea creatures.
Try to make them feel more at home. If they seem too stressed out, get out of the water and calm them down. You can practice over a few days, and if your vacation is over by then, you can always try again the next year. Getting them accustomed to the ocean may take time, but once they're comfortable, you can have a great snorkeling experience together.
Getting the Right Equipment
Junior snorkeling equipment is not the same as that for adults. Make sure you have the right items for your kids before you head to the beach.
Full Mask
This mask allows children to clearly see underwater and breathe comfortably since they don't have to fiddle around with a breathing apparatus. In fact, some even have an action camera mount so you can have your child's first moments underwater captured on camera. There is really no age limit for this, and other than getting used to the mask sealing onto your face, it is super simple to use.
If you feel like your kid's mask is fogging up too much, make some room in your budget and invest in a defogger.
Precautions When Using a Snorkel Mask
The snorkel mask presents the possibility of carbon dioxide buildup inside since there is no proper room for the gas to be dispelled. Make sure you invest in a proper mask and always have a snorkeling buddy. Many unfortunate incidents happen because snorkelers are alone and don't have anyone to call out to.
Junior Swimming Fins
Snorkeling fins for children are optional, but they're certainly fun to use. Especially with the amount of zeal and energy kids have, fins are ideal. And if you ever feel like you don't want to use them, you can instantly detach them.
Junior Wetsuits
Water temperatures can affect how comfortable you are. Especially for colder climates, a wetsuit can really help your child get accustomed to the water and move around freely. If you don't snorkel frequently, you don't need to buy one. Most places where you can snorkel have places where you can rent a wetsuit.
Junior Floatie
Whether your child is still learning how to swim, or you plan on covering a longer distance, a kid's floatie or snorkel vest will definitely be useful. Not only does it add a little more safety, it also allows your kids the chance to freely experiment in the water and learn how to swim without the danger of losing their balance or getting tired midway.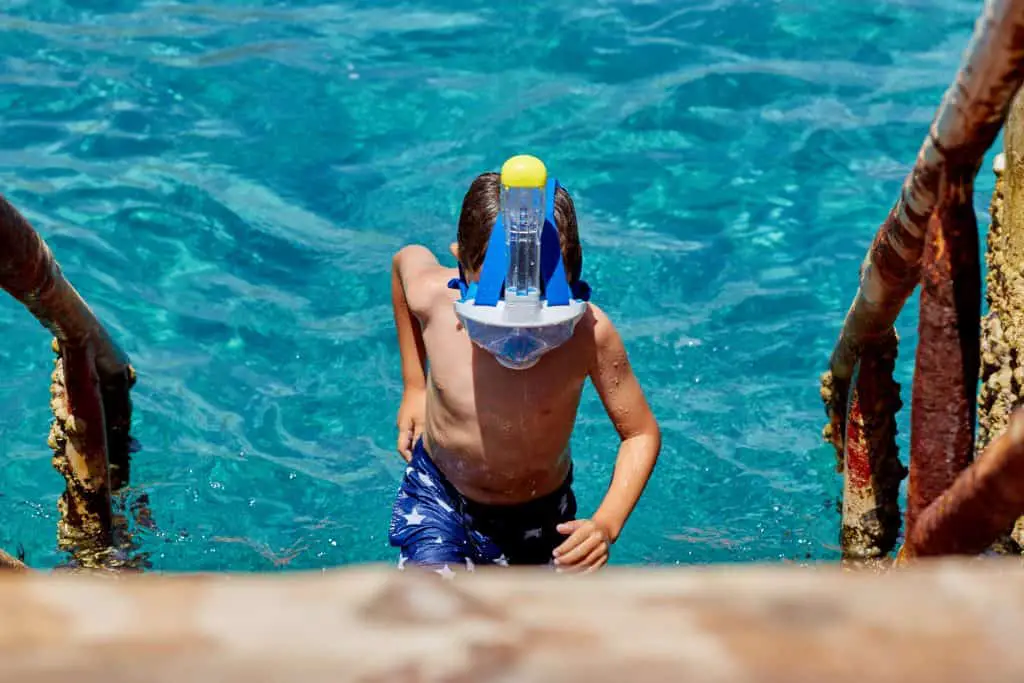 Get in the Water!
There isn't really an ideal age for kids to start snorkeling, but a generally accepted age is around 5-6 years old. This can vary. For instance, there are many children who may have become comfortable with the water at the age of 3, and there may be some who will be afraid till they're much older.
Once your children are comfortable in the ocean, you will be able to sense it and put your mind to ease. The important thing is not to rush the process or to hinder it entirely. Just practice before you actually get in the water, have the right equipment and start off with snorkeling close to the shore.
By teaching your kids how to snorkel, you'll be able to open a world of water sports for them and it'll become a great way for your family to bond as well! So get practicing and start planning your next trip to explore the underwater world!