Guide on Scuba Fins Sizing and Size Charts for Various Brands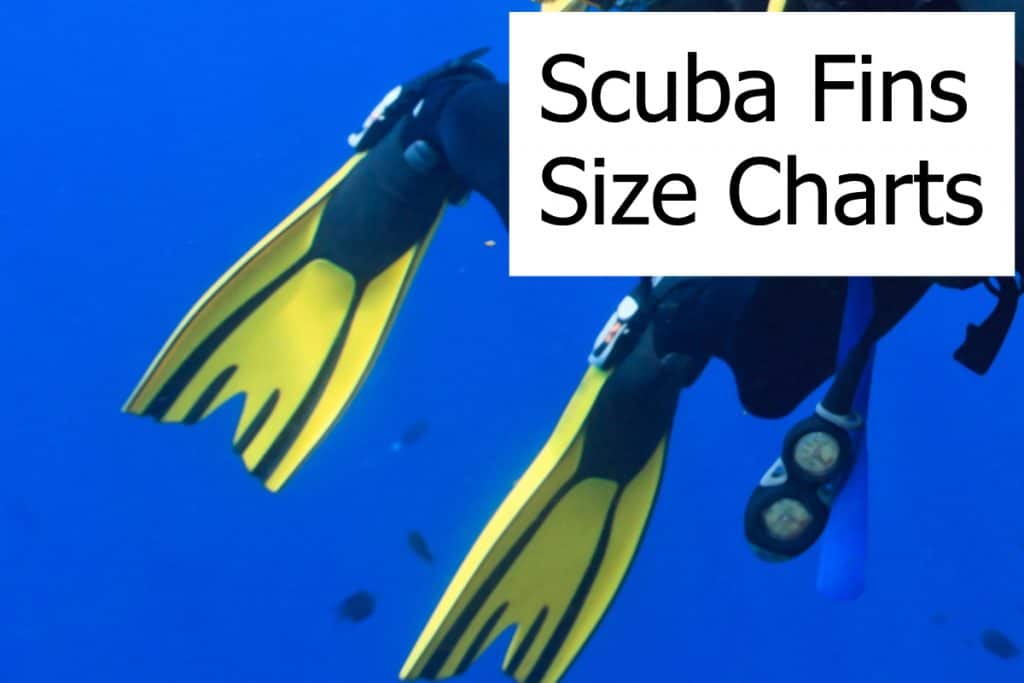 Any scuba gear that does not fit perfectly will ruin your dive. Having a pair of fins that are the wrong size will either lead to cramps, blisters, or potentially you'll lose the fins while you dive.
The same is undoubtedly true for your snorkel equipment. Snorkel fins that do not fit cause the same discomfort as if you scuba dive, and you won't be able to enjoy your snorkeling.
Fins specifically have to fit you well. If they are too large, then you end up with blisters, or you might even lose a fin during a kick. If they are too small, then your feet get squeezed, and you end up with pain or cramps.
Fins should fit comfortable and end up being a 'natural' extension of your legs. Every brand has slightly different sizes that correlate to shoe sizes for open-heel or full-foot fins.
We compiled the following tables by a brand to help you with getting the perfect fitting fins based on your shoe size. Please check back often as we continuously add new brands and update the existing fins sizing tables and charts for each brand.
Let's dive right into it and start with some thoughts on sizing for full-foot fins and open-heel fins.
Full Foot Fin Sizing
Full-Foot fins should fit tight without causing any pressure. The size should match your shoe size. Usually, you will not require boots in your full foot fins so you can match the size of the fins to your shoe size.
Typically, the sizing of fins, full-foot or open-heel, is not covering just a single shoe size. The fins will usually span two or even three shoe sizes. If you, for example, are a shoe size 9 and the fin sizing is for size 8 and 9, then you might find our toes sticking out of the foot pocket. If this feels uncomfortable, then switch out the fins and go with one size larger. In most cases, you can go with the size that matches your shoe size, and you'll be having a perfect fit.
Open Heel Fin Sizing
Open Heel fins are a lot more forgiving when it comes to sizing. The sizes that the different brands offer are usually small, medium, large, etc. That does not translate well to specific shoe sizes. 
In most cases, you can translate those different sizes by brand into a few shoe sizes. As the fins have an open heel with an adjustable strap or bungee cord, you most times don't have to worry about getting the exact size.
If you dive in colder waters, then you also have to take into consideration that you'll wear a scuba boot in your fins. In that case, you want to go for one size larger to make sure your foot and booties fit into the fins comfortably. Take your booties with you when you try the fins on!
Men's Scuba Fins Sizing Table and Chart
Small: 2 - 6
(except for the Shot FX which is 2-4)

Regular: 6 - 9
(except for the Shot FX which is 4-6)

Large: 6 - 9 for the Rocket and Rocket II only;
 6 - 9.5 for the Shot FX

X-Large: 9.5 - 12
(Rocket and Rocket II call this size 'Super')
Women's Scuba Fins Sizing Table and Chart
Small: 2 - 6
(except for the Shot FX which is 2-4)

Regular: 6 - 9
(except for the Shot FX which is 4-6)

Large: 6 - 9 for the Rocket and Rocket II only;
 6 - 9.5 for the Shot FX

X-Large: 9.5 - 12
(Rocket and Rocket II call this size 'Super')