Best Flotation Belts for Snorkeling and Swimming Review
Snorkeling is a relaxing and easy activity that does not require a lot of equipment. The typical items you need are a mask, snorkel, and fins. Everybody knows that.
One lesser-known piece of equipment are flotation belts. These devices make it easier to float for a long time without requiring you to know how to swim or to exhaust yourself when snorkeling – Can You Snorkel if you can't Swim?
Flotation belts for snorkeling help specifically inexperienced snorkelers to stay afloat. Instead of concentrating on staying afloat, you can pay attention to the underwater sights and the aquatic life around you.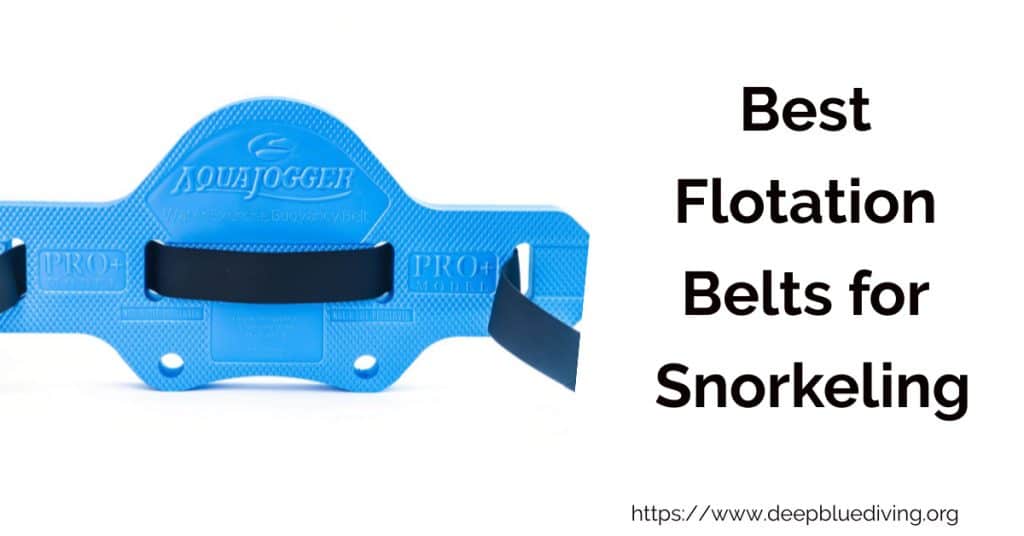 Why would you want a Flotation Belt for Snorkeling, and What is it?
A snorkeling flotation belt provides you with buoyancy to make it easy to stay afloat while you snorkel. The advantage of the belt design is that it doesn't impact your ability to move around. A snorkel vest (Best Snorkel Vest Reviews – Buyer's Guide for Safe Snorkeling Vests) can potentially limit movements which does not happen with a float belt.
You simply put the flotation belt on like a regular belt. Most snorkel belts have clips to secure them. 
They are often used by snorkelers that just start to pick up the activity and by older snorkelers. In addition, they can be tremendously helpful for athletic snorkelers with low body fat. The low amounts of fat result in a lot more work to stay afloat, and the snorkel flotation belt reduces the effort to stay on top of the water.
Besides flotation belts, there are other devices that can help you as a snorkeler to stay afloat with minimal effort. Check out snorkel vests as a great alternative for flotation belts for snorkeling.
Check out our guide here: How Does a Flotation Belt for Snorkeling Work – Do you need one?
Our Recommendations for the Best Flotation Belt for Snorkeling
The following sections provide you with short reviews of the best snorkeling flotation belts.
Aqua Jogger Pro Plus Belt
The Aqua Jogger Pro Plus Belt is the best flotation belt you can get if you have an athletic build. AquaJogger specifically designed this belt to have around 50% more buoyancy compared to the Classic model.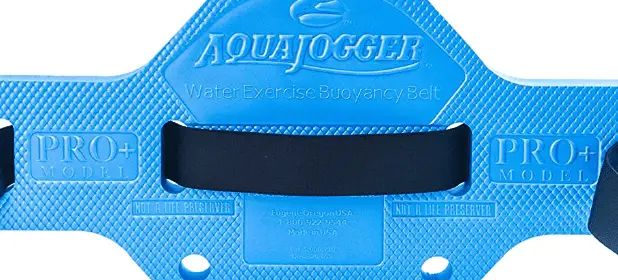 This belt is usually more often than not used by men. However, there's no reason why women can't use it!
The quick-release buckle is easy to open and close. It's easy to use and is overall very comfortable to wear, even though it uses pretty thick foam. Some snorkelers find the thick closed-cell foam a little harder to handle. The advantage is that the belt produces more buoyancy. The closed-cell foam will not absorb water which allows the belt to dry fast. It's also better protected against chlorine and salt compared to a more porous foam.
Aqua Jogger designed the Pro Plus to have a high back. This is perfect for snorkelers as it positions you to keep your face in the water.
If you do not want to be positioned with your head towards the water, this is not the best choice for you. You'll end up struggling and fighting with the belt to stay upright, which will eventually simply be annoying. It'll be easier to use a less-contoured belt with a lower back.
You can wear the belt in various ways. Snorkelers use it upside-down or on their front. Try a few of these different ways to find the perfect position of the belt for your snorkeling.
Overall, this belt is fantastic when you want a lot of buoyancy. Typically, that's the case for people will low body fat. The AquaJogger Pro Plus belt fits both women and men.
TYR Aquatic Flotation Belt
The TYR Aquatic Flotation Belt is useful for both swimming and snorkeling. It's a great choice if you look for more than just a snorkeling belt.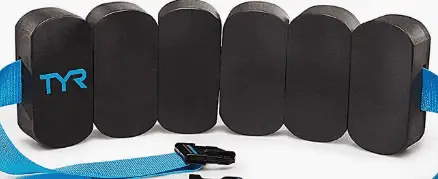 The TYR belt is the best choice for heavy-set snorkelers as it can be used up to a 52″ waist. It provides less buoyancy compared to the Aqua Jogger Pro belt.
TYR constructed the flotation belt with 3.5″ high high-quality EVA foam blocks. The belt is easily adjusted and features a secure plastic clip system. You can adjust it to fit waist sizes ranging from 27 inches to 52 inches.
It's a versatile belt designed for snorkelers, swimmers, or other activities like water aerobics. It's a very affordable product but unfortunately not the longest-lasting you can get.
TRC Recreation Super Soft Buoyancy Belt
The TRC Recreation Super Soft Buoyancy belt is soft and provides lower back support for swimmers and snorkelers. So, if you suffer from lower back pain, this might be your best option when looking for a flotation belt for swimming or snorkeling.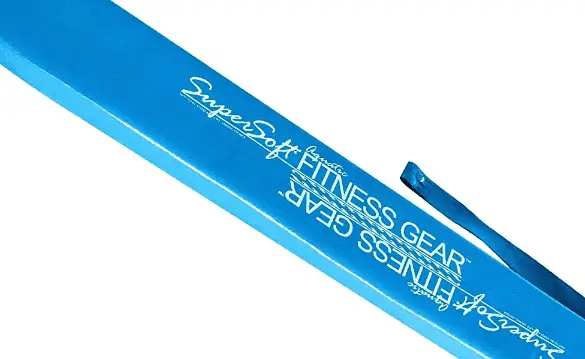 The TRC Recreation is constructed of vinyl-covered foam. The smooth surface makes it a joy to wear. It's the least likely belt to give you chafing or any sort of skin irritation.
This belt does have a fixed length. Instead of being adjustable, you can get the TRC belt in two different sizes. The smaller size works for waist size between 26 and 34 inches. The larger model is made to fit waists from 34 to 44 inches.
You can use the TRC Recreation Super Soft Buoyancy belt for any water activity that requires you to stay on top of the water. It's a great device to use for snorkeling, swimming, or water aerobics.
WaterGym Water Aerobics Float Belt
The WaterGym Float Belt provides the highest levels of comfort. There's no rubbing or bruising. It simply fits excellent and is comfortable.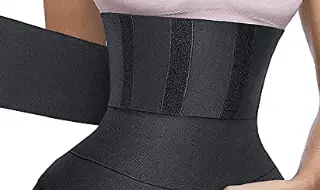 The belt is made from a soft foam that hugs your body. You pretty much don't even remember wearing it while it helps keep you afloat when snorkeling.
As it's non-intrusive when worn, it's a great choice for snorkelers that are not the best swimmers. The straps can be replaced or expanded. The clips provide a secure closure that keeps the belt safely in place.
The WaterGym Water Aerobics Float Belt comes in two different sizes. They provide secure fits for waist sizes between 26 and 50 inches.
It's great not only for snorkeling but also for water aerobics or swimming. It does not offer the greatest lift in buoyancy, but for the recreational snorkeler, the WaterGym Water Aerobics Float Belt is an excellent float belt to pick.
Aqua Fitness Deluxe Flotation Belt
The Aqua Fitness Deluxe Flotation Belt is a reasonably affordable belt that offers a lot of quality. It is a comfortable belt that will help you stay afloat whether you snorkel in deep or shallow waters.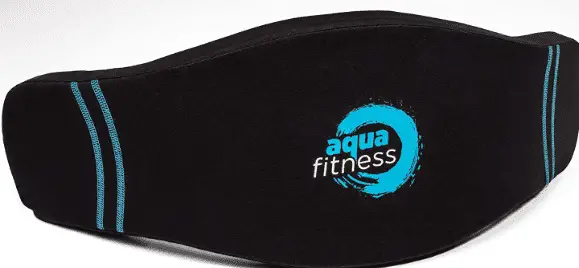 The belt is very comfortable to wear. It has a contoured cut which makes you forget that you even wear it. The straps are adjustable and can be configured for waist sizes between 26 and 52 inches. The minimum recommended age for the belt is 14 years.
The belt is made from EVA foam resistant to chlorine and durable. The high-quality materials prevent performance degradation even when used for extended times for snorkeling or swimming.
This belt is a great choice when you're looking for an affordable snorkeling belt.
Buying Guide for Snorkeling Flotation Belts
Finding the best float belt for snorkeling is pretty straightforward. You only have to consider a few requirements and features outlined below.
The criteria discussed in the following sections are the most important yet most basic considerations. When looking for a new flotation belt for snorkeling for the money, keep those in mind.
Size
Without a doubt, having the correct size of your snorkeling flotation belt is the most important consideration. A belt that is not the right size might be too tight or too loose and cause chafing.
Most belts you can buy today are adjustable within a certain range. A lot of the models above come in different sizes, and it can quickly become a problem if you buy a flotation belt that is the wrong size. Reference the sizing instructions of the manufacturers to pick the right-sized model for you.
A new belt might feel a bit weird or even uncomfortable in the beginning. You have to get used to wearing it, and the material of the belt has to be 'broken in.' That'll take a few times of wearing it, and then you'll probably don't even know that it's around your waist!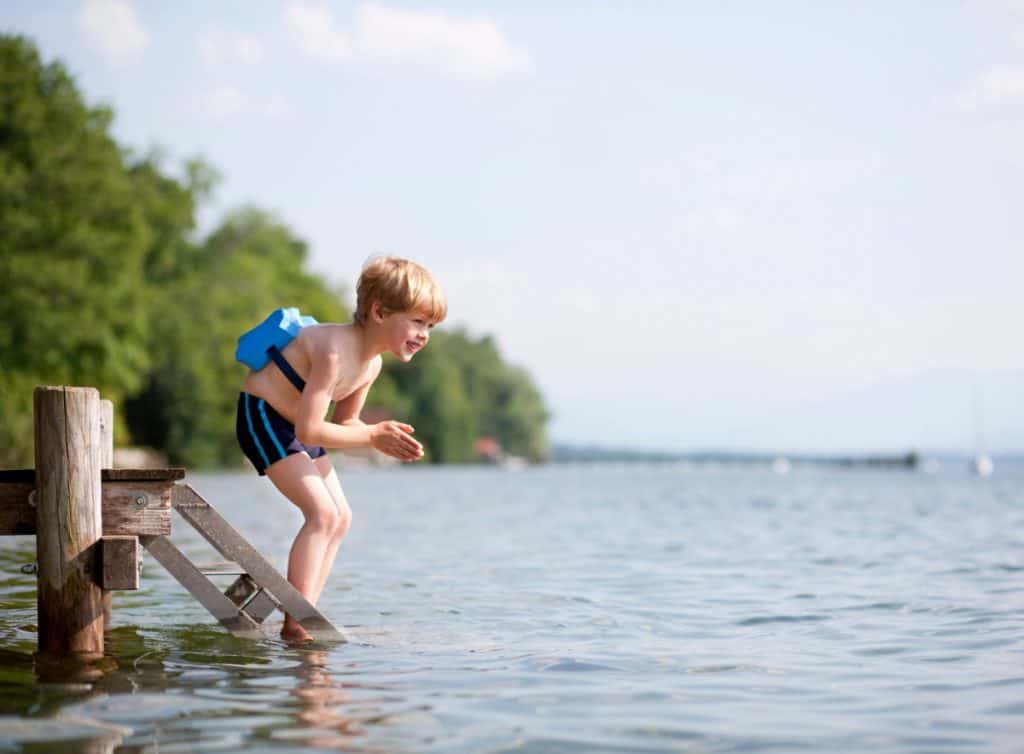 Snorkel Vest vs. Life Jacket – Which is better for Snorkeling?
Buoyancy and Weight Limits
Any flotation belt has a specific maximum weight it can support and provide buoyancy for. It will depend on what you want to use the belt for when it comes to how much buoyancy you want. When you're snorkeling, you want enough lift to keep you conveniently floating in the water. However, if used for water aerobics, you want more lift which lets you stay on top of the water.
Many belts are built modularly, so you can remove foam pieces to adjust the lift. That's important if several adults share the same belt. A 130-pound woman will need a lot less lift compared to a 250-pound male. Keep that in mind when selecting a flotation belt. You want the belt to keep your midsection in the water and not completely above. That way, you can snorkel and enjoy sightseeing the underwater wonders without sinking or floating to high.
Belts for adults will offer very similar weight ratings. When it comes to flotation belts for children, it's a different story. You'll have to check the weight ratings of the specific belt and match that to your child's weight.
Belt Design
Nearly all belts available consist of a nylon strap or belt and attached foam. The main differences are what kind of foam is used and how it is shaped.
Most belts use a number of foam blocks with the belt weaved through them. Another very common type is where there's a single long piece of foam with nylon straps at each end. You wrap that single piece around your waist.
The best types of snorkel flotation belts use a piece of molded foam. The foam is shaped to fit perfectly around your lower back and close at the front. These kinds of floatation belts are usually the best fitting kinds with the most lift.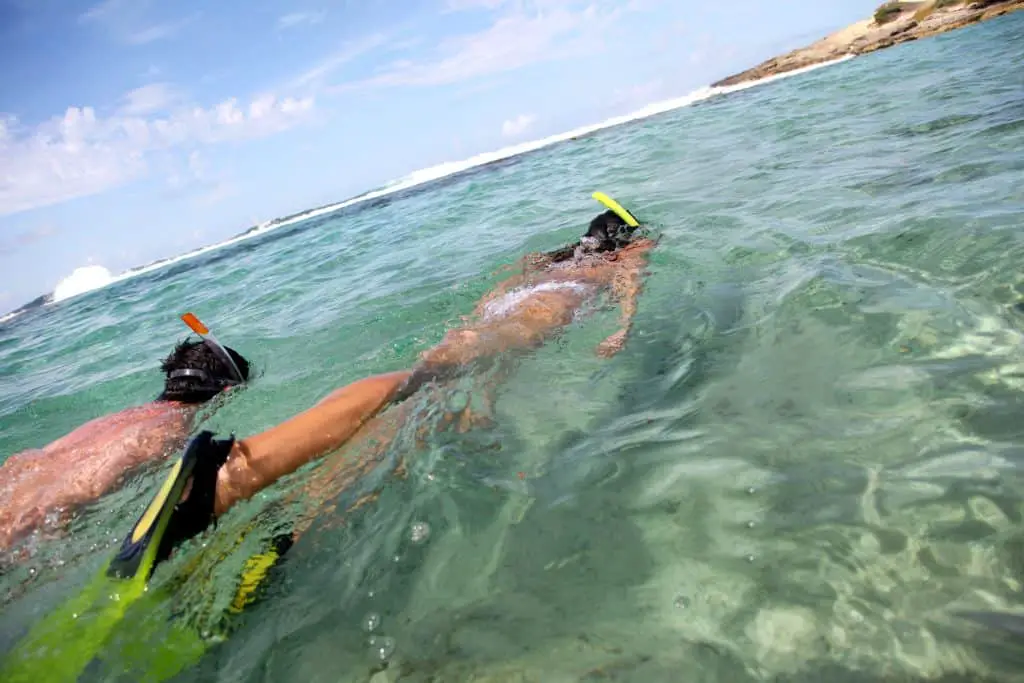 Material
Most of the belts consist of a nylon strap with plastic clips that's weaved through different shapes and quantities of foam pieces. Usually, that foam is closed cell to prevent it from soaking up water. This is also often referred to as EVA foam.
Some belts have foam parts and pieces covered in vinyl. This increases the resistance of the material to chlorine and adds another layer to prevent water from being absorbed. The vinyl coating also makes the foam more pleasant against your skin. The foam itself can otherwise rub against your skin and cause skin irritation.
Very few belts that are available today use inflatable polyester pieces. These do usually not provide the same support that foam offers. Therefore, you do not often find these types of flotation belts.
Sizing and Fitting
Most belts come in two or three sizes. These are specifically tailored to fit a range of waist sizes.
Check the sizing chart of the floatation belt for snorkeling you are looking for to pick the best match. It is vital that you do not have a too large or too small. If the belt is too large, it will not sit correctly, and it might slip off of you or not provide a good lift. If the belt is too small, you will feel uncomfortable and not enjoy the snorkeling.
It's imperative to ensure you get the correct size when you're getting a belt for children. Not only might a large size be too big for them, but you also might have to remove a foam block or two, so they won't be lifted completely out of the water. 
Taking care of your Flotation Belt
Any snorkeling gear requires maintenance and care. Flotation belts are no exception. They are exposed to water and sunlight when you snorkel and on land.
Ignoring the basic care of the belt will limit the time you can use it until you have to replace it. Proper care and maintenance are essential to extend the life and make sure that the belt performs as expected.
Rinsing
The belt is exposed to water, and that, unfortunately, means that chemicals and dirt are getting stuck in the belt. All material will be exposed to chlorine in the pool or salt when you go saltwater snorkeling.
The best care you can give your snorkeling belt is rinse it with fresh water. After every time you use the belt, you should thoroughly rinse it with fresh water. Don't let the flotation belt lay around and give the chlorine or other chemicals time to work their way into the foam or belt. Give it a thorough rinse after you use the belt in the swimming pool or ocean, and you'll be enjoying a clean and durable flotation belt for years to come!
Drying
After every use and rinse, you need to let the belt dry completely. If you pack or store the belt without rinsing and drying, you'll run the risk that mold starts growing.
Mold is dangerous for your health and can destroy your flotation belt. It's also not that easy to completely get off the surface of the belt components.
If you have to carry the belt right after using it and it's still wet, use a mesh bag to allow air to circulate around the belt. This will allow the belt to dry inside your bag without the risk of growing mold.
The best case is that you let the belt dry in a dark place with lots of air flowing around. Make sure you do not let it dry in direct sunlight. The sun's UV rays will degrade the materials used in the belt and shorten the life of the flotation belt. You'll run the risk that the vinyl around the foam or the foam itself develops cracks. In that case, you'll have to buy a new belt. A little care by letting it dry out of the sunlight will prevent that.
Storage
Your snorkel belt should be stored in a well-ventilated, dry, and dark place. This will prohibit mold growth and reduce any impact on the material through UV rays.
Additionally, you want to store the snorkeling belt separately from your other snorkel gear. This way, the harder and sharper edges of your fins, snorkel, or mask won't put pressure on the soft foam of your belt.
Lastly, store your belt flat to preserve the shape of the foam. These few precautions will ensure that your snorkel belt will stay in great shape.
Final Thoughts
Using a flotation belt for snorkeling is an excellent approach to enjoy the underwater world with less effort. The snorkel belt will keep you above water which allows you to conserve energy, be able to concentrate on what goes on in the water, and stay snorkeling for a lot longer.
Another great feature is that they are very affordable while being effective and safe. They are made for both new and experienced snorkelers.
As pointed out above, you should consider size, buoyancy and weight limits, belt design, material, and fit when you're looking to buy the best flotation belt for snorkeling. We evaluated many of the available models, and the above list are, in our opinion, the best snorkel belts for the money.
Stay safe and have a blast snorkeling with your new belt. Keep our maintenance tips in mind and you'll enjoy your new snorkeling belt for many years.