Best Reef Safe Sunscreen – Top 10 Reviewed
Looking to enjoy scuba diving, snorkeling, or any other water-related activity without harming your skin or the delicate coral reefs? Then you need the best reef-safe sunscreen to provide you with reliable protection against UV rays while not being toxic to reefs.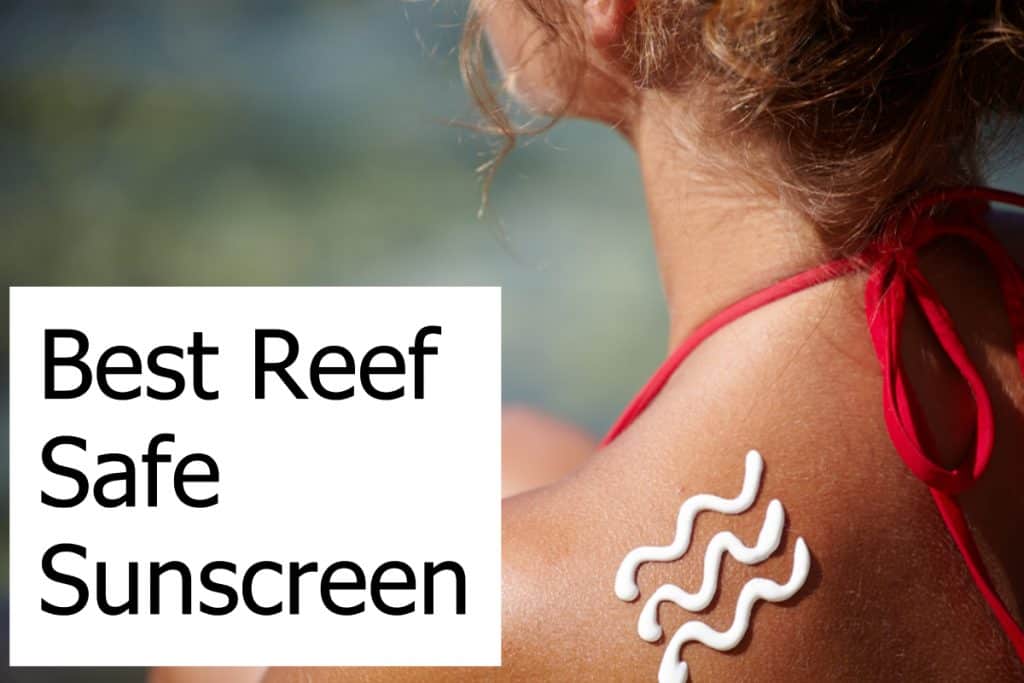 Today, we'll be helping you accomplish your mission as we present you with a list of the top 10 reef-safe sunscreens your money can buy. So let's not waste any time and get started!
Why do you need sunscreen when scuba diving or snorkeling?
It's a common misconception for people to think that going scuba diving or snorkeling means you won't be needing sunscreen. However, you should keep in mind that you won't be underwater all the time. The trip to get there is going to expose you to harmful UV rays so you want to be ready.
Besides developing unwanted tan lines, exposure to sun rays can lead to painful sunburns. While most cases are 1st degree, prolonged or repeated exposure to UV rays without proper protection can end up causing skin cancer.
This is why you should never underestimate the intensity of the sun's rays, even when you're not particularly aiming to sunbathe!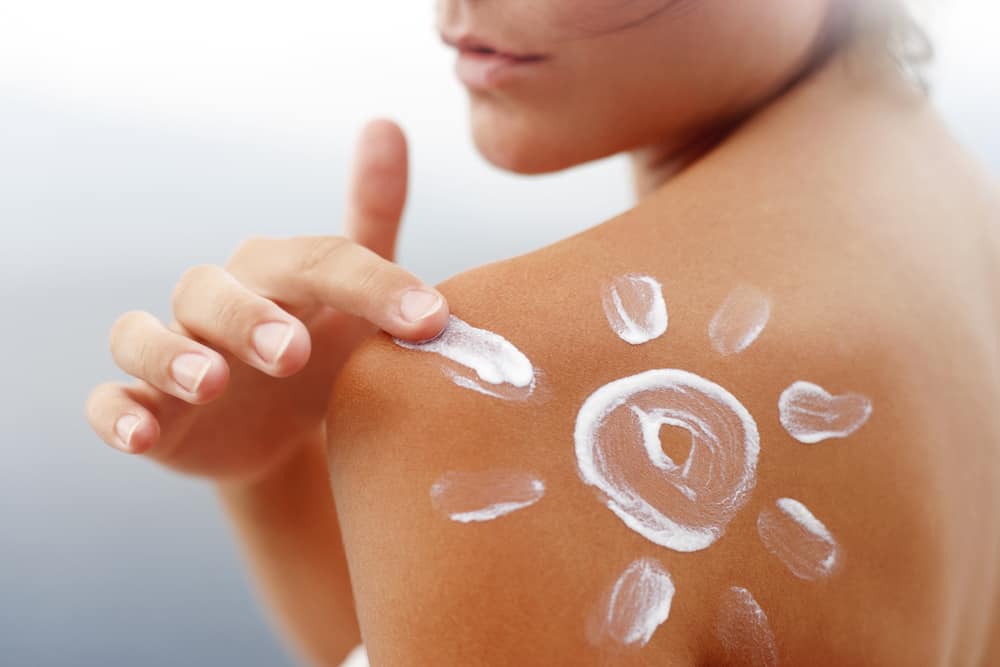 How does sunscreen harm reefs?
When you apply sunscreen before scuba diving or snorkeling, some of the product is very likely to wash off your skin and into the surrounding water when you're actually in or underwater.
Sunscreens typically contain chemicals such as oxybenzone and octinoxate that can harm marine life. When such compounds accumulate in coral reefs, they can induce bleaching, cause DNA damage, deform baby coral, and even kill reefs.
What sunscreens are bad for coral reefs?
Sunscreens come in 2 main types: chemical and mineral. Mineral sunscreens create a barrier to block sun rays physically, while chemical sunscreens absorb UV rays. The mineral type is generally considered reef-safe, but chemical sunscreens are far from being safe.
Why? Because most, if not all, chemical sunscreens contain oxybenzone that has been proven to cause coral bleaching.
What ingredients in sunscreen are bad for reefs?
According to the National Oceanic and Atmospheric Administration, the list of ingredients in sunscreens that can harm coral reefs include:
Oxybenzone
Benzophenone
PABA (Para-aminobenzoic acid)
Nano zinc oxide
Nano titanium dioxide
What sunscreens are banned in Hawaii?
Sunscreens containing oxybenzone and octinoxate are banned in Hawaii. This will go into full effect starting January 1, 2021, at which point the sale or distribution of such sunscreens will be prohibited.
What are the best Reef Safe and Friendly Sunscreens and Brands?
After learning the possibly devastating effects of regular sunscreens on coral reefs, you're probably asking: What is the best reef-safe sunscreen? What brand makes the best reef-friendly sunscreen products? Well, here's a list of the top 10 reef-safe sunscreens available on the market to answer your question!
Reef Repair Reef Safe Sunscreen SPF 50+ All Natural
Combining both reliability and value for money, the Reef Repair Reef Safe Sunscreen offers amazing protection on a broad spectrum level as it blocks UVA and UVB sun rays up to 80 minutes with SPF 50.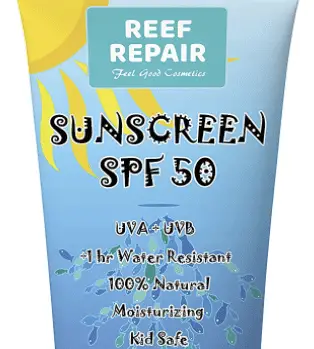 This non-stick sunscreen is free of Oxybenzone, Octinoxate, and other chemicals. It's a non-nano Zinc Oxide based mineral sunscreen made using 100% cruelty-free all-natural components to boost sun care protection such as coconut oil and raspberry seeds.
The Reef Repair Reef Safe Sunscreen is also non-whitening so you won't have to look like a ghost whenever you apply it. It spreads smoothly and evenly on the skin, leaving a transparent non-oily layer with a moisturizing effect to soothe sensitive or damaged skin.
Pros
Cruelty-free
Organic
Nice scent
Good value
Cons
Thinksport Safe Sunscreen SPF 50+
This sunscreen from Thinksport is the first sunscreen to pass the requirements of Whole Foods Premium Care and it's been top-rated with a "1" by EWG (Environmental Working Group) since 2010. It delivers broad-spectrum protection against harmful UVA and UVB rays with SPF 50+ for reliable coverage.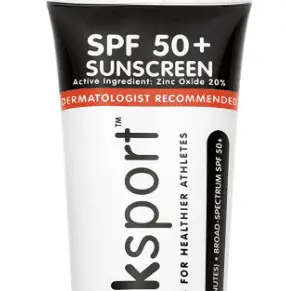 Thinksport Safe Sunscreen offers the highest level of water resistance in compliance with the FDA, remaining intact up to 80 minutes. It contains highly biodegradable ingredients without any biologically toxic chemicals.
Its formula consists of non-nano zinc oxide and it's free of parabens, phthalates, oxybenzone, PABA, as well as UV chemical absorbers.
Besides being reef safe, Thinksport Safe Sunscreen is also vegan and cruelty-free certified by Leaping Bunny. It spreads easily on the skin with a non-oily finish to avoid unwanted shine.
Pros
EWG "1" rating
Leaping Bunny cruelty-free certified
Vegan
Gluten-Free
Cons
Tends to leave a whitish residue
Alba Botanica Sunscreen Spray with Coconut Oil SPF 50
Sporting thousands of positive reviews, the Alba Botanica Sunscreen Spray is highly praised for its long-lasting performance, easy application, and affordable price.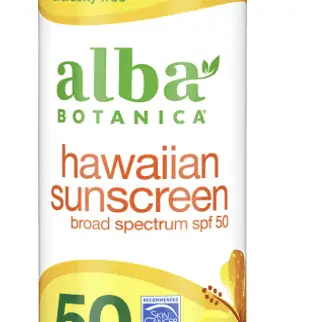 This Hawaiian Sunscreen offers SPF 50 protection against UVA and UVB rays for reliable coverage. It comes with a non-greasy finish to save you from the annoying feel of oily products.
Moreover, the Alba Botanica formula uses plant-based emollient ingredients such as coconut oil, avocado oil, and shea butter to effectively nourish and moisturize your skin for a smooth and healthy look.
Reef friendly and completely vegetarian, this sunscreen is 100% free of oxybenzone, octinoxate, gluten, or artificial scents. It's also recommended by the Skin Cancer Foundation and certified for cruelty-free by Leaping Bunny.
The Alba Botanica Sunscreen Spray is clear, lightweight, and maintains its water-resisting action for up to 80 minutes.
Pros
Very moisturizing
Affordable
Recommended by the Skin Cancer Foundation
Quick to apply
Cons
Kokua Sun Care Hawaiian Natural Zinc Sunscreen SPF 50
If you're looking for a premium-quality sunscreen to shield your skin under harmful UV rays, then the Kokua Sun Care Hawaiian Natural Sunscreen may be just what you need.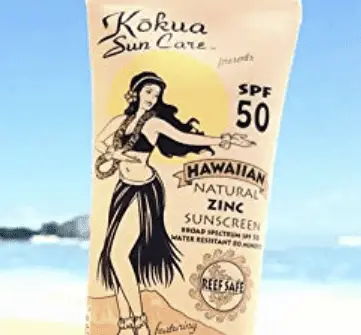 Utilizing SPF 50 protection and 25% non-nano zinc oxide, this mineral sunscreen offers higher reliability compared to most physical sunscreens on the market.
It's top-rated "1" by EWG as it contains absolutely no toxic ingredients, harsh preservatives, or synthetic fragrances. It has a pleasant faint scent of coconut/vanilla extracted from natural components.
The Kokua Sun Care Hawaiian Natural Sunscreen is 100% free of oxybenzone, octinoxate, parabens, and phenoxyethanol. It doesn't stop here, this sunscreen is also loaded with 23 antioxidants that work to neutralize free radicals and nourish the skin, keep it young and radiant.
The Kokua sunscreen is suitable for babies and adults. It's non-comedogenic, vegetarian, gluten-free, and doesn't leave any color behind.
Pros
High non-nano zinc content
Strong antioxidant action
Non-irritant for sensitive skin
Clear formula
Cons
Sun Bum Mineral SPF 50 Sunscreen Lotion
This Mineral Sunscreen Lotion is a popular product from Sun Bum that works great for adults as well as kids, so it's a tube that you can use for the whole family including small kids when you go snorkeling or scuba diving!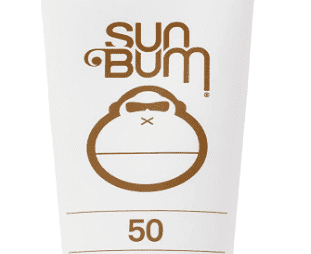 Made in the United States, this mineral lotion is compliant with the SCF (Skin Cancer Foundation) standards and the American Cancer Society guidelines.
The Sun Bum Mineral Lotion offers broad-spectrum coverage since it protects you against UVA and UVB rays with SPF 50.
It delivers up to 80 minutes of water resistance coupled with a moisturizing action to maintain soft and healthy skin.
Additionally, the Sun Bum Mineral Lotion is vegan, cruelty-free, as well as reef-safe since it doesn't contain oxybenzone. It's also hypoallergenic and contains no parabens, PABA, gluten, dyes, silicon, or oils.
Pros
Compliant with SCF guidelines
In line with the American Cancer Society guidelines
Good for sensitive skin
Matte finish
Cons
Blue Lizard Sensitive Mineral Sunscreen SPF 30+
Another popular product on our list is the Sensitive Mineral Screen from Blue Lizard. This Australian sunscreen is developed in collaboration with dermatologists to bring you true broad-spectrum protection from UVA and UVB rays, blocking the dangerous effects of up to 97% of the sun's radiation with SPF 30.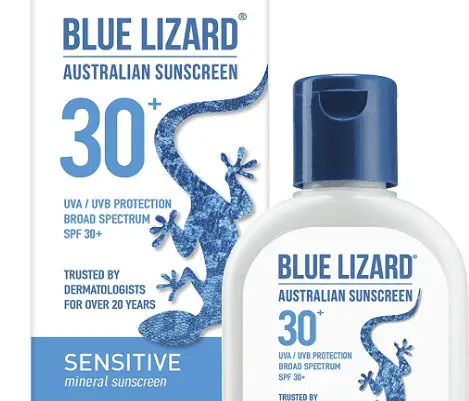 This mineral sunscreen uses zinc oxide and titanium dioxide for physical reflection of sun rays, unlike absorption which often happens with chemical sunscreens.
It's free of parabens, artificial fragrances, and other skin-irritating compounds. It also contains no oxybenzone and no octinoxate to help preserve the reef ecosystems.
The Blue Lizard Mineral Sunscreen is ideal for sensitive skin, providing water resistance up to 40 minutes per application. We also love the unique packaging of the sunscreen, built with Smart Bottle Technology to turn blue when exposed to harmful UV rays.
Pros
Bottle detects harmful UV rays
Works for easily-irritated skin
Uses zinc oxide and titanium dioxide for maximum protection
Cons
Takes some time to settle in
Ocean Potion Sunscreen Lotion SPF 50
The Ocean Potion Sunscreen Lotion has a lot more to offer than just a sweet rhyme! This non-greasy sunscreen provides a high level of broad-spectrum protection with SPF 50 to help prevent sunburn and early aging of the skin that results from exposure to UVA and UVB rays.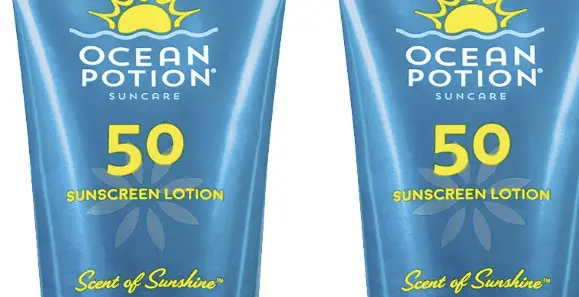 The formula contains antioxidant vitamins B, C, and E to boost your skin defenses against free radicals. It's also enriched with deep-sea minerals, seaweed, and algae extracts to nourish and moisturize your skin for an overall healthier complexion.
The Ocean Potion Sunscreen Lotion is oxybenzone and octinoxate free with no added parabens or gluten. It's fast-absorbing and lasts for a long time.
Pros
Contains antioxidant vitamins
Used seaweed and algae extracts
Pleasant scent
Lasts long
Cons
All Good Sport Sunscreen Lotion
The All Good Sport Sunscreen Lotion is an excellent option if you're on the hunt for reliable yet safe protection while out and about under the sun. It contains zinc oxide particles that act as barriers to harmful UVA/UVB rays with SPF 30.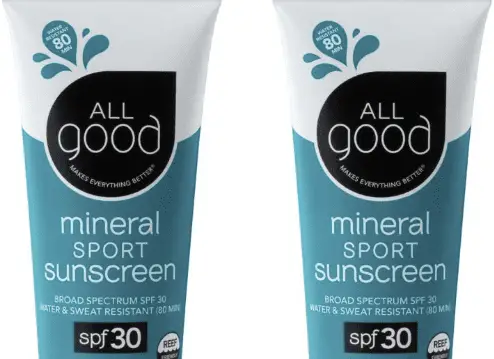 This mineral sunscreen can resist water up to 80 minutes and it rubs in pretty easily. It also includes natural ingredients such as farm-grown calendula, rose hips, organic green tea, as well as olive oil to nourish and repair your skin.
The All Good Sport Sunscreen has no oxybenzone, no gluten, and no GML. It's biodegradable, vegan, and cruelty-free. The manufacturer recommends you moisturize before using the product and reapplying every 2 hours in dry conditions.
Pros
Good for various activities
Skin-repairing ingredients
Absorbs well
Cons
TropicSport Mineral Sunscreen Lotion SPF 30
Showing off hundreds of soaring reviews, this Mineral Sunscreen Lotion by TropicSport is made using both zinc oxide and titanium dioxide to offer you the ultimate broad-spectrum protection against UVA and UVB rays with SPF 30.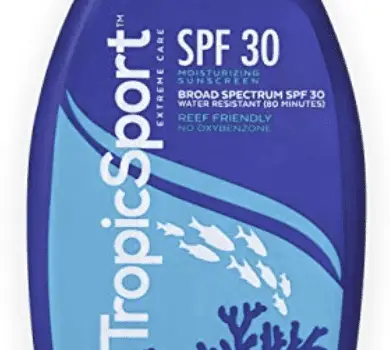 Containing no oxybenzone, no octinoxate, and no avobenzone, the TropicSport Sunscreen is free of harsh chemicals that may irritate sensitive skin. Moreover, this sunscreen passed the U.S. FDA 80-minute water resistance test as well as the Australia 240-minute test, allowing it to last 3 times longer than other competitors.
The TropicSport Mineral Sunscreen is approved for use on babies 6 months old and over, which means it's suitable for everyone in the family. The formula is lightweight, quick-dry, and non-oily.
Pros
Last for extended periods
Light smell
Works for babies starting from 6 months
Heavy duty
Cons
Reef Safe Biodegradable Sunscreen Lotion SPF 45+
Last but definitely not least, the Reef Safe Biodegradable Sunscreen Lotion is labeled as non-toxic to sea life since it contains ingredients that are totally biodegradable in oceans, lakes, and rivers.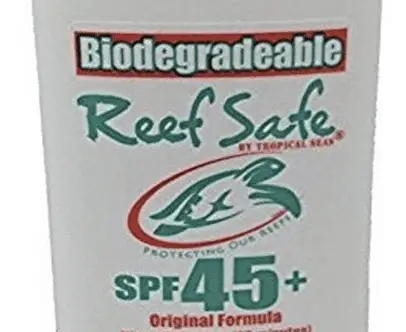 It offers broad-spectrum protection from UVA-UVB rays with SPF 45, battling the signs of early skin aging and reducing the risks of skin cancer. This lotion can also last up to 80 minutes in water, so it's great for all sorts of water activities.
That being said, the Reef Safe Biodegradable Sunscreen Lotion does contain oxybenzone and octinoxate, so it's actually reef-friendly rather than reef-safe. It also includes algae and aloe extract for extra nourishment and moisturization.
Pros
Non-oily
Odor-free
Good consistency
Cons
Which common brands harm coral reefs?
Upon banning chemical sunscreens in Hawaii, several popular sunscreens brands such as Banana Boat and Hawaiian Tropic would be prohibited in the state as long as their formulas contain oxybenzone and octinoxate. 
Luckily, many of these renowned brands are producing new versions of sunscreens free of such harmful chemicals in compliance with the Hawaiian law. So let's see what some of these manufacturers are up to!
Is Banana Boat Sunscreen Reef Safe?
For the most part, Banana Boat Sunscreens aren't reef safe. However, the Banana Boat Simply Protect SPF 50+ Sunscreen is actually reef safe. Be careful, the spray version is the safe product, not the lotion
Is La Roche Posay sunscreen reef safe?
Once again, most of La Roche Posay sunscreens are chemical and not reef safe. But La Roche Anthelios Mineral Sunscreen is their approach to reef safe products since it uses zinc oxide and titanium dioxide for protection.
Is Sun Bum allowed in Hawaii?
Now that the company makes sunscreens free of oxybenzone and octinoxate, then it's absolutely legal. In fact, we included the Sun Bum Mineral SPF 50 Sunscreen Lotion on our top 10 list.
Is Neutrogena safe for coral reefs?
Some Neutrogena sunscreens are safe, while others aren't. For example, the Neutrogena Sheer Zinc Mineral Sunscreen is reef safe, but their Ultra Sheer Dry-Touch Sunscreen isn't.
Final Thoughts
Choosing the best reef-safe sunscreen can get confusing, which is why we only included the most reliable and safest mineral sunscreens to ensure you can't go wrong with whatever you pick!
That being said, if you're here for a quick decision, then we recommend you go for the Thinksport Safe Sunscreen SPF 50+. It offers broad-spectrum SPF 50 protection while being free of practically everything toxic to reefs including PABA.