Best Scuba Diving in Costa Rica
Lying between the Pacific Ocean and the Caribbean Sea is the long stretch of land called Costa Rica. It is a country full of culture and adventure, but more than that it is known for its profusion of wildlife and nature. It may come as a surprise to you, but the small country boasts 5% of the world's entire biodiversity; why wouldn't you want to visit somewhere with so much to offer?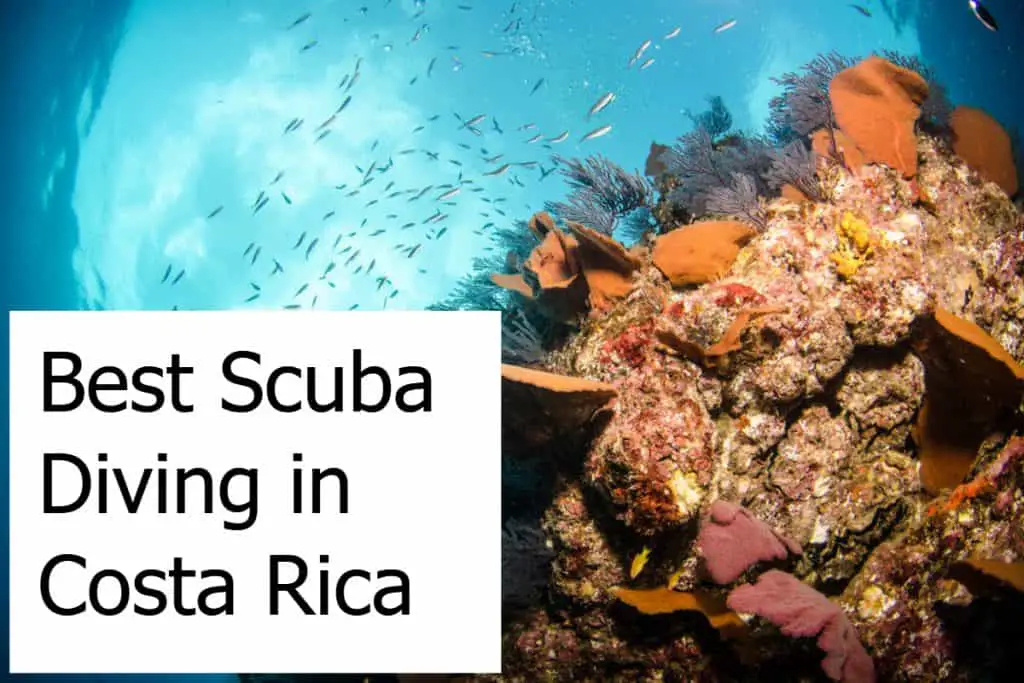 Apart from its forests full of wonderful animals, birds and plants, and volcanoes, waterfalls, and caves, the country is known for its aquatic diversity.  Coral reefs and deep waters are home to a plethora of different fish and marine mammals; all that can be seen by divers. Below we will discuss all the marine life that can be experienced as well as the best places to go see them!
Why Dive In Costa Rica?
Costa Rica may be small, but it packs a punch when it comes to marine life. Costa Rica is called the Rich Coast because of the abundance of flora and fauna that call its warm waters home.
The dive sites on the island are extremely diverse not only in terms of marine life but also in architecture. You can find caves, drops, and wrecks depending on which island you are diving at.
Mostly though, Costa Rica is known for its abundance of sharks; it is one of the only places in the world you can get into the water with bull sharks without a cage. You can experience swimming among these magnificent creatures (if you have the courage!), as well as other marine life you might not get a chance to elsewhere. You can see endangered sea turtles, a variety of whales and of course, a wealth of rays that frequent these waters!
Is It Good For Beginners To Dive In Costa Rica?
Most dive sites in Costa Rica are only good for experienced and advanced divers because of the strong currents of the water and unpredictability of visibility. This does not mean that there are no dive sites for beginners; you can find locations in places like Caño or Tortuga islands which will offer sites that beginners can dive.
Is It Easy To Get There?
There are two international airports in Costa Rica that have frequent flights from all over the world; the Juan Santamaría International Airport just outside San José and Daniel Oduber Quiros International Airport near Liberia. It is easy to travel to the country as long as you have the correct travel documents.
Are There Good Dive Sites For Families?
More than diving, Costa Rica is known for snorkeling as a family-centric activity. There are few sites, such as the ones on Tortuga Islands that are suitable for beginner or novice divers, but most of the sites around are more suited to advanced divers.
At these sites, you can find day tours that can be done with your family; make sure to tell the guides what your level of experience is before getting in the water!
What Aquatic Life Can You Find?
Since Costa Rica is a tropical destination, warm water allows marine life to thrive. The coasts on the Caribbean Sea are teeming with coral reefs full of life and color. The abundance of marine biodiversity can be chalked up to the flourishing coral reefs; they provide shelter and food for over a hundred different species of tropical fish.
Once you have moved past the swaying soft coral and intricate sea fans, you can focus on the fish you can catch in the area. Keep an eye open for the Cortez angelfish; its black body looks like it has been spray-painted with white and yellow colors. Or then, see the colorful and cute butterflyfish swim by. Some of our favorites are the joyfully Technicolor parrotfish and the notoriously nervous pufferfish.
Another fun find are the little sea horses you can see galloping past; they might be small but they are wonderful creatures to observe. You might also find sea urchins, eels and even barracuda in the vicinity. Some parts of the island, you can see sea snakes slithering by as well; they are venomous and short-tempered, so keep a distance!
Costa Rica is also famous for its abundance of rays. You can catch the beautiful spotted eagle ray in the early months of the year, or then devil manta rays and giant manta rays as well. These large creatures can grow up to 22 feet wide and weigh up to 3000 lbs!
Costa Rica is also home to a few different shark species. You can catch the oceanic whitetip shark or nurse sharks swimming around the pacific coast of the country. You can also find the odd hammerhead shark or the bull shark cruising through shallow waters.
The water bodies around Costa Rica and also known for their dolphin and whale sightings. You can see the playful pacific spotted dolphin or the common bottlenose dolphin swimming by you casually. Pilot whales and humpbacks are not uncommon either. If you're lucky you will get to see the massive blue whale or celebrated orca.
Finally, the endangered sea turtles are also native to this region. You can see the green sea turtle, Oliver Ridley turtle or the large leatherback turtle immersed in the water where you're diving!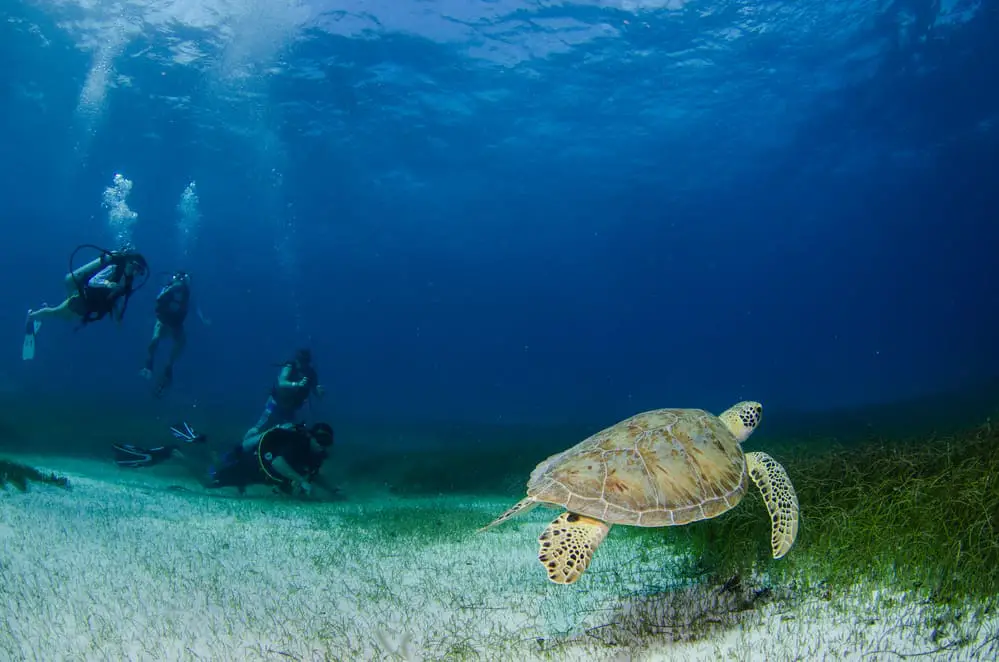 Best Air Integrated Dive Computer – Reviews and Buying Guide
Best Scuba Diving Destinations in Costa Rica
Cocos Island
Isla de Coco was named a UNESCO World Heritage Site in 1997; the national park is known as one of the top dive locations in the world. The island has 20 different dive sites, where you can see pelagic fish such as sharks. The island has many waterfalls and valleys within it and is surrounded by oceanic water. Here, you can find flourishing coral reefs, caves and deep-sea dive sites.
The ocean currents at this location aren't very forgiving, so the dives are only recommended for experienced divers; access is available through liveaboards and boat rides.
Top Pick
Marine life! You can see white tip, whale and hammerhead sharks, giant manta rays, marlin, yellowfin tuna and 300 other species of fish!
Caño Island
This island was made a protected reserve in 1978 because of the underwater habitation of coral, as well as the native artifacts on the island. The island is known for its amazing dive sites and snorkeling experiences which can be accessed through boats from the nearby town of Drake Bay. During your dive, you can spot sea turtles and dolphins. If you go during the migrating season, you might get a chance to see humpback, orca, and pilot whales swimming through the area. Not to mention the many species or medium and small fish and well as mantas and stingrays.     
Top Pick
The stunning coral reefs. The reefs are home to 19 different species of coral that grow together to form dazzling reefs that enrich the marine biodiversity of these waters.
Catalina Islands
If you are diving in Costa Rica, you shouldn't miss the opportunity to dive at Catalina. The island is well-known for the large population of rays all year round. You can see many species like manta rays, spotted eagle rays, and stingrays. Though rays are what the dives here are famous for, there are many other marine animals that you can see here like sharks, humpback and orca whales, plus turtles and colorful fish! If you want to experience a different dive, Catalina also has some great caves, many of which are adorned with coral and interesting arches because of volcanic formations. The currents here are strong so the dive is recommended for experienced divers only. 
Top Pick
The rays! Catalina Islands are known for their abundance of rays; not only in number but also in the species.
Bat Island
This island is known for its deepwater drop-offs and steep dives. The dives usually require quick descent before you can go explore the rocky ocean floor. The island is home to sites such as The Big Scar; it is known for a large number of bull sharks that like to gather in the area. The dive here is about 30m and has unpredictable visibility. It is only recommended for advanced divers.
Top Pick
Bull sharks. This is one of the only places in the world that you can dive with these intimidating creatures outside of the cage.
Tortuga Islands
Along the Pacific coast, these islands have a variety of dive sites at varying depths. Because of the varying depths, Tortuga is good for all levels of diver experience. More than the accessibility for beginners, this island is known for the multiple wrecks scattered in its waters. There are three wreck dives that can be explored at varying depths, with the shallowest one sitting at a moderate 16m, making it available for divers with less experience.
Top Pick
The wrecks. The Coronel Lafonso Monge, the Franklin Chang Diaz and the Caroline Star have all become popular dives in the area.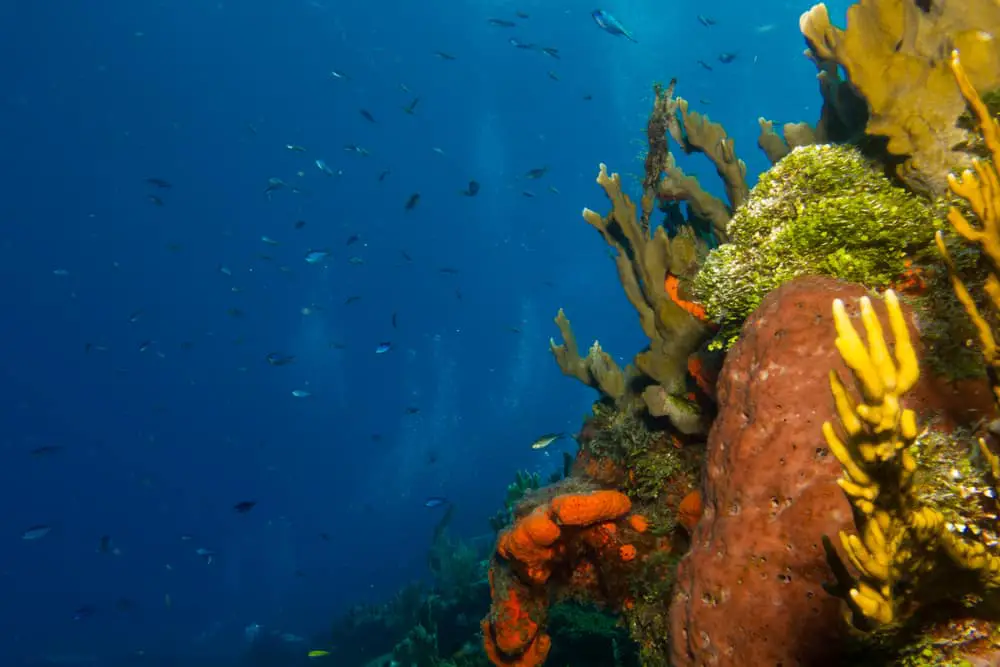 What Specific Gear Do You Need To Dive In Costa Rica?
It is difficult to lug around heavy diving gear with you when you are packing from a trip. Fortunately, the various dive locations in Costa Rica are prepared for scuba divers to rent equipment. Since the location is a frequent stop you are most likely going to be able to rent any of this equipment very easily. With each dive site, your guide will be able to tell you what equipment is absolutely necessary, but here is a list just in case:
Compulsory Gear for Regular Dives
Additional Gear for Wreck and Cave Dives
Is It Dangerous to Dive In Costa Rica?
Depending on the dive and your level of experience, the danger associated with these dives varies. All dives should be done with some level of caution.
Experienced trainers on-site can guide you through the dangers of each dive individually. Wreck dives and cave dives can e more dangerous than regular dives, so make sure you have the knowledge of what you are getting into before going. Always dive with a trained expert if you are a beginner to avoid any mishaps.  
Final Thoughts 
Costa Rica is a naturally rich and diverse place to visit, with abundant aquatic life. Thrilling shark caves, brilliant coral reefs, and huge manta ray fevers are all a part of the dive experiences you can get here. There is no question of why Costa Rica is on the bucket list for so many divers! 
Use the image below to pin it to Pinterest if you liked the article!